Today I'd planned to leave the safety of my garden & venture out to a new location to shoot some proper street fashion, like a big girl blogger. However, as I have a rotten cold involving spontaneous coughing fits resulting in tears streaming down my face (nice look) I decided to stay put for the time being.
My outfit today is a real UN of fashion labels but basically it's another leather skirt number.
This time a light grey leather pencil skirt in midi length from Urbancode London.
It is super soft luxurious leather so despite the fitted shape feels amazingly comfortable to walk in, not a Morticia Adamms in sight. You've probably noticed that the leather pencil has been given new lease of life courtesy of the bootyful Kim Kardashian. Sadly my once pert tooshy not only went as flat as a pancake by the time baby number 3 arrived but also inexplicably dropped a good 2 inches! If anyone knows why this happens would you please let me know?….sigh
My t-shirt is from Sainsburys kids clothes, I kid you not! A boys size 12 so it'll get a second life when my son Jasper, wears it in a couple of years (Re-Use is my 2nd favourite of the Re's).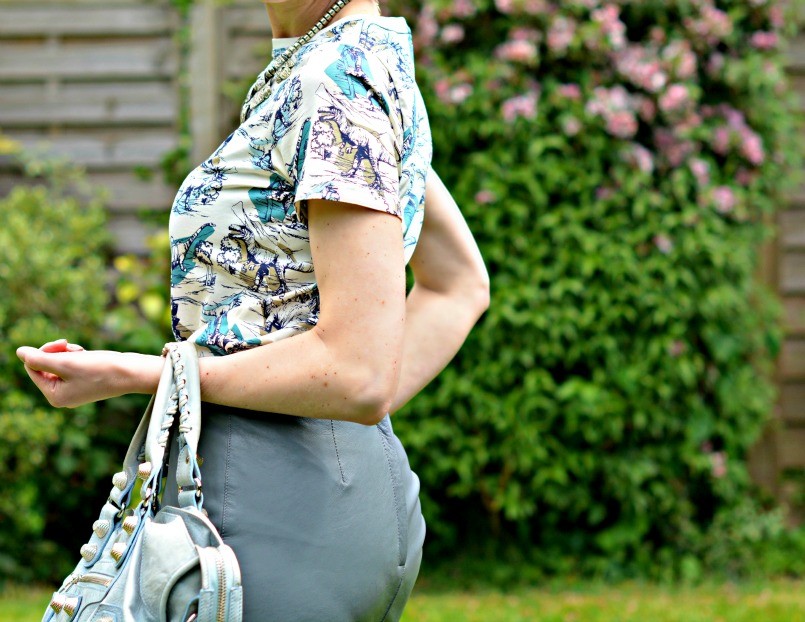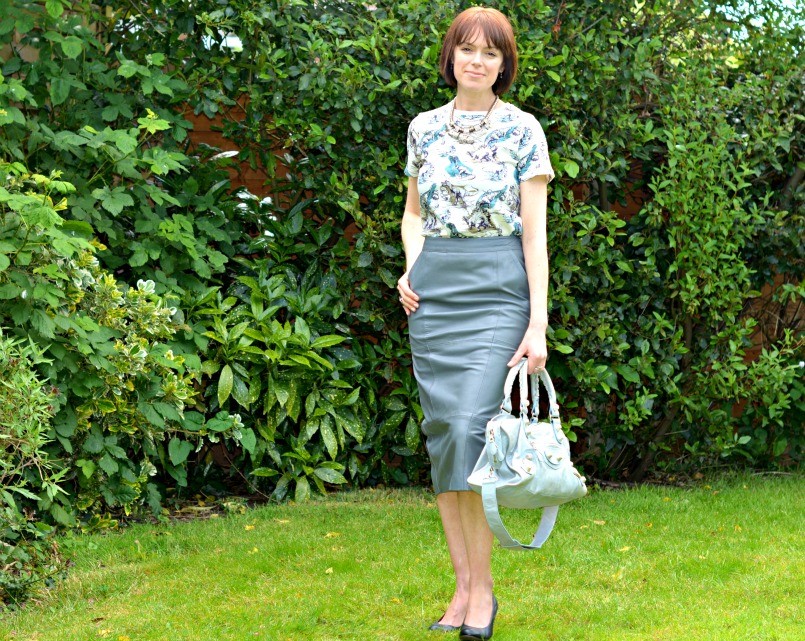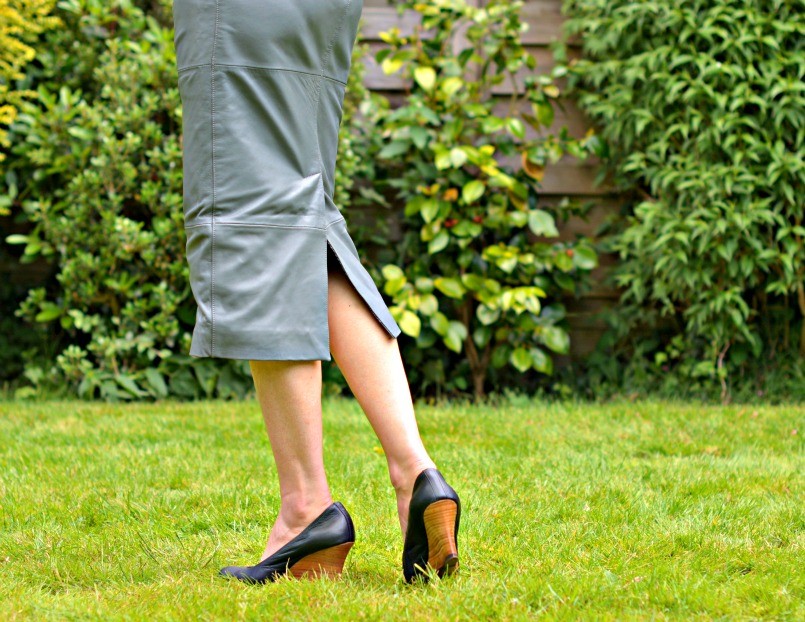 I really like the colour combinations in the print & who doesn't love dinosaurs right?
Wearing my chunky retro silver statement necklace from the 90's with it to soften the crew neck & to tie in with the bag hardware.
My shoes are Lanvin wedge heel ballets. Their flat ballets are incredible too because of the small hidden heel & padded in-sole. My shoes really must be comfortable these days, I am so past crippling myself for fashion, fortunately this isn't too hard to achieve if you know where to look.
Now for the bag….yummy Balenciaga in light blue with giant silver hardware, what can I say about this beauty? In truth I could go on ad nauseam but don't worry I'll let the photos talk. Suffice to say it's beauty & brains, a practical inflight travel bag & with the long strap you can carry it to capacity comfortably across your body all day.
This black cocktail ring is from Marks & Spencer & the funky sunnys are handmade from 3.1 Phillip Lim.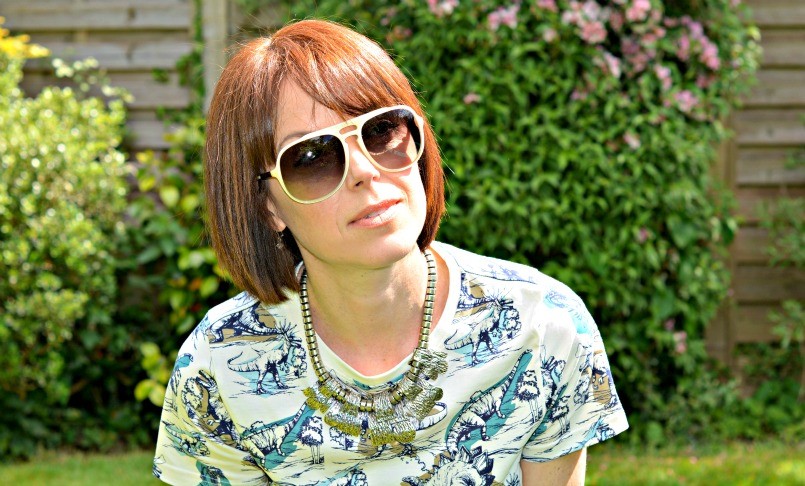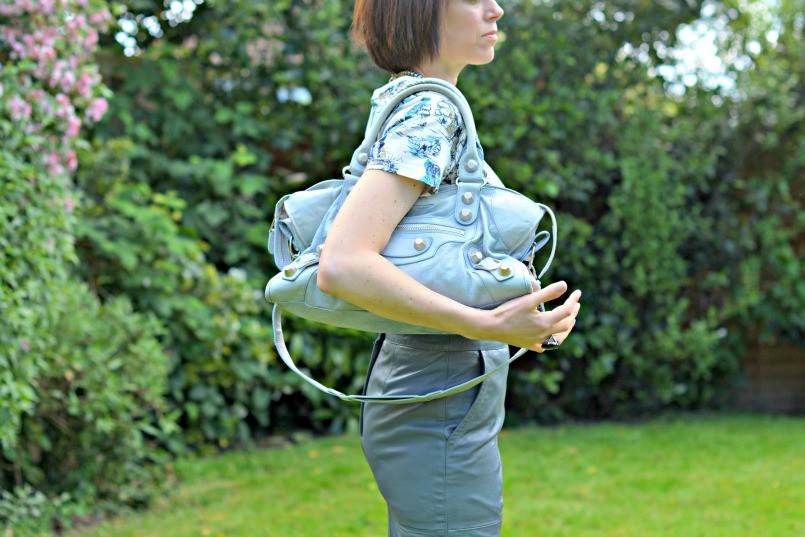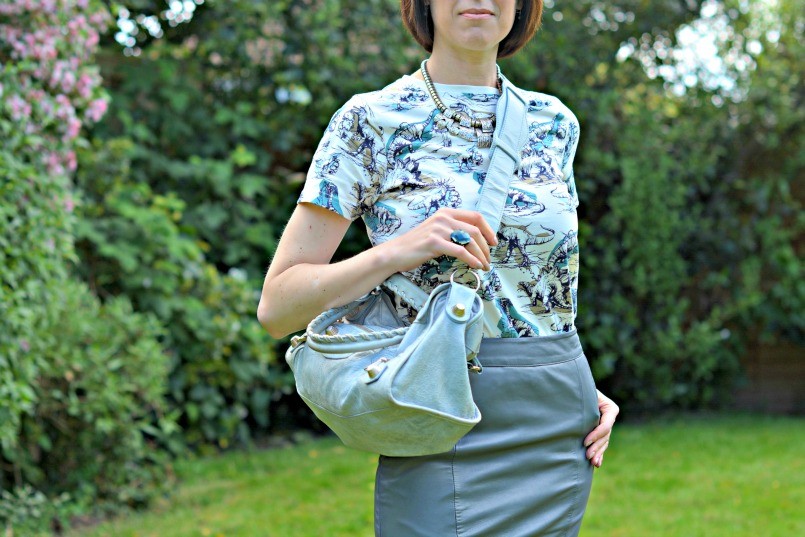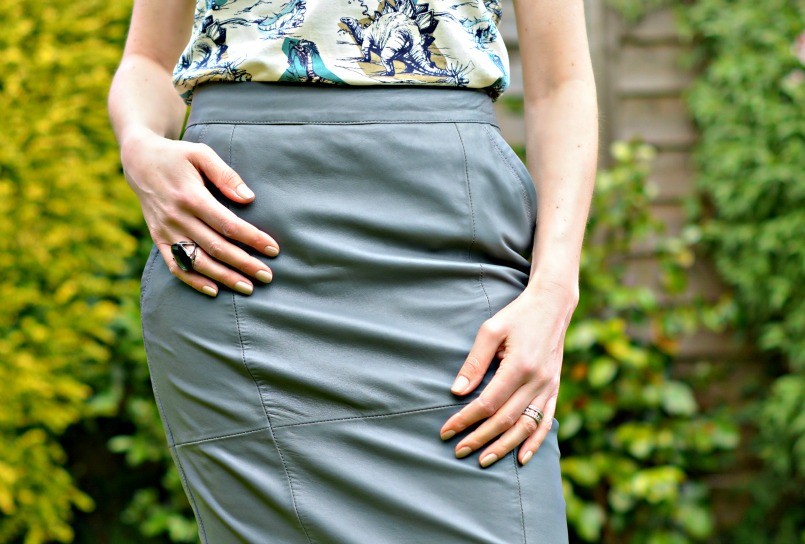 My gorgeous putty coloured nail varnish is OPI – Do You Take Lei Away? Don't you just love the names they come up with? I recently bought one of their mini boxes so have 4 new colours to try, I'll keep you posted on what those are like.
See ya, Mx