Recently my darling friend & her beautiful family came all the way from Melbourne to stay with us for a week. It's such a treat having overseas visitors every summer but this lady is extra special. You know how difficult it is to keep up with your friends who live locally imagine trying to stay up to date with their lives if they lived in a different time zone!
We met back in the old days (read free & easy) when I did her make up for a Channel 7 hospital drama in Sydney. To say our lives are different now is a massive understatement, we're both married with 3 children need I say more?.
I have 2 girls & a boy, she has 3 boys of similar ages & we're both just getting back into the work force. Clever girl has landed a part in a brilliant new Aussie comedy & I am basically starting a new business in the form of this blog. Our lives couldn't be more hectic right now so it's wonderful to have this time together. The children are getting on famously leaving us to catch up on all the detail & of course, talk make up & fashion.
Speaking of which, the latter being why they're here! Her husband is co-founder of über cool label Neuw jeans, the whole family have come over for the Stockholm wedding of his Scandinavian partner. Later we'll all meet up again in Tuscany, sharing a villa in the stunning Lucca region for 10 days of food, sun & wonderful Italian culture. Pop back for my posts from there.
Now to todays outfit….Neuw Jeans of course!
These are vintage wash denim, mid rise skinnys cut to fit like a glove, so soft I could be wearing leggings but with enough structure to hold their shape. Unique details of a black suede logo patch, repair stitch on the rear pocket & branded metal ring through the front belt loop give Neuw it's instantly recognisable sophistication. This brand is truly up there with the big guns of the genre & I can honestly say I'd be a fan even if I wasn't a friend of the owners. I should also point out that they gave both my husband & I a couple of pairs of jeans as gifts for having them stay which I'll be posting about later in the year.
Keeping it simple yet with lux detail I've paired my Maje tank top & Sigerson Morrison suede shoes. A touch of glamour comes with this pretty little sequined clutch that I found in my local charity shop many years ago & a blackish grey cocktail ring from Marks & Spencer that I also wore here. These over-sized sunglasses are from Marc Jacobs, the purple haze lenses & silver trim detail tie in the colour scheme perfectly.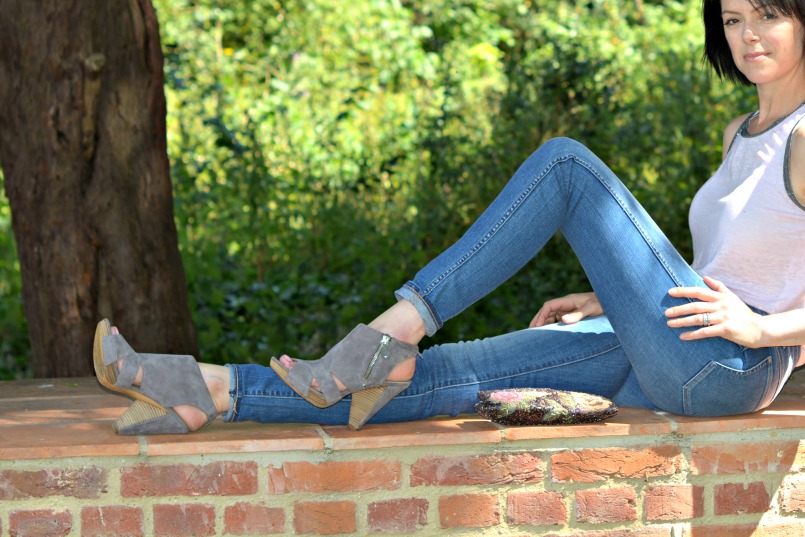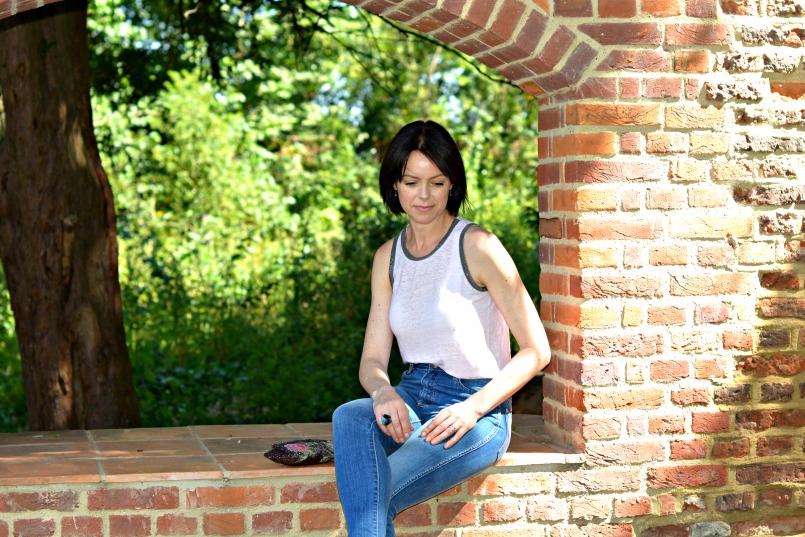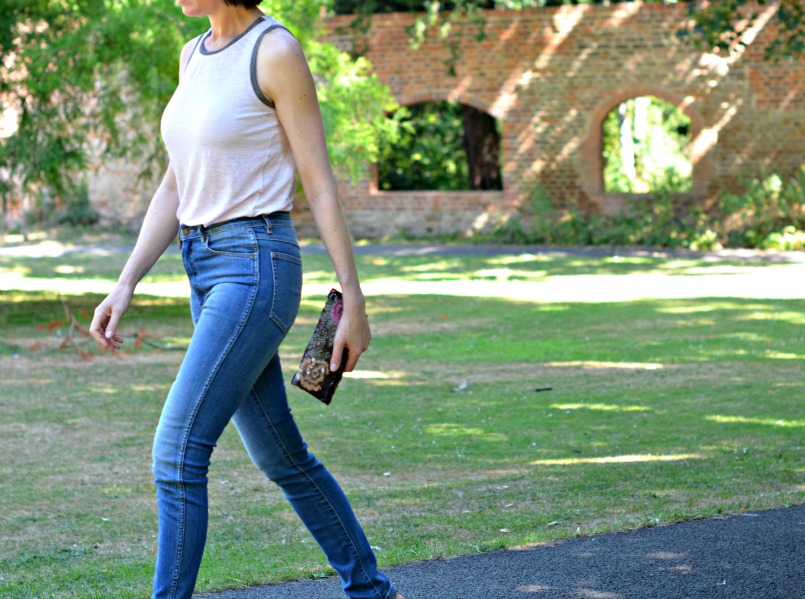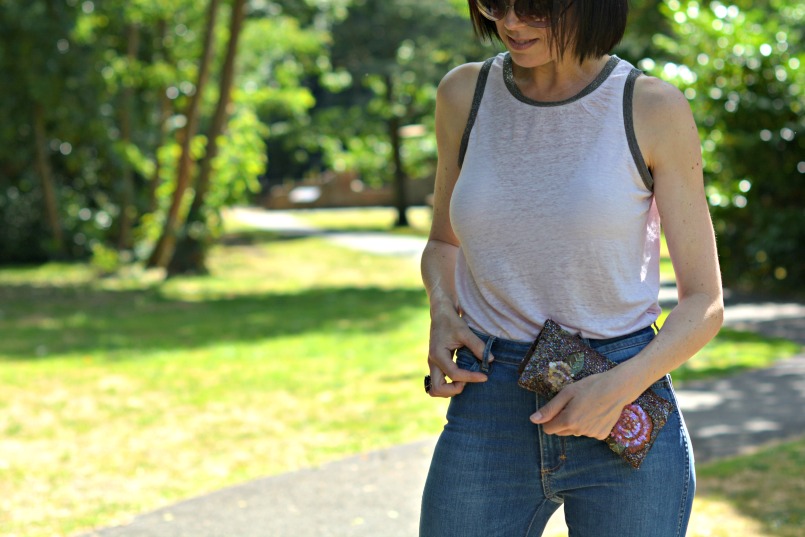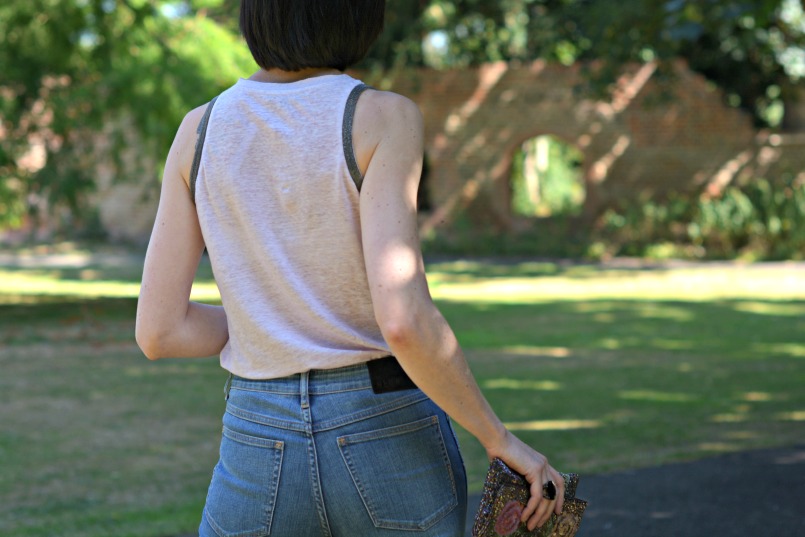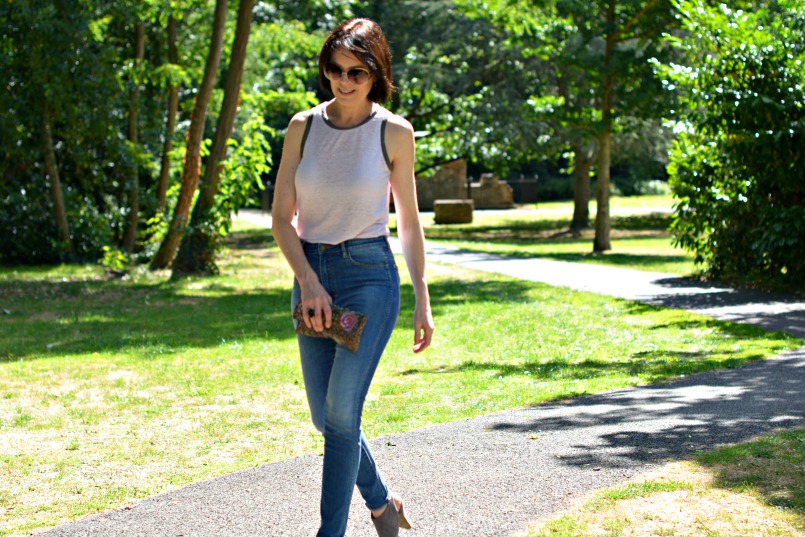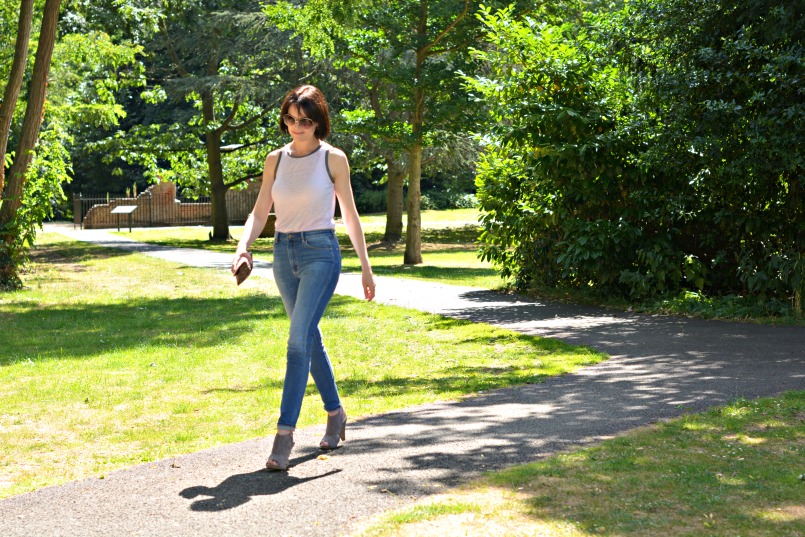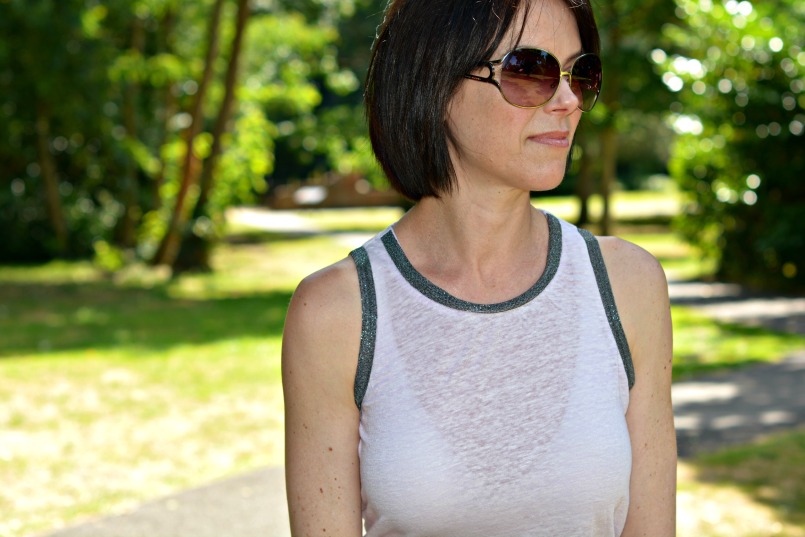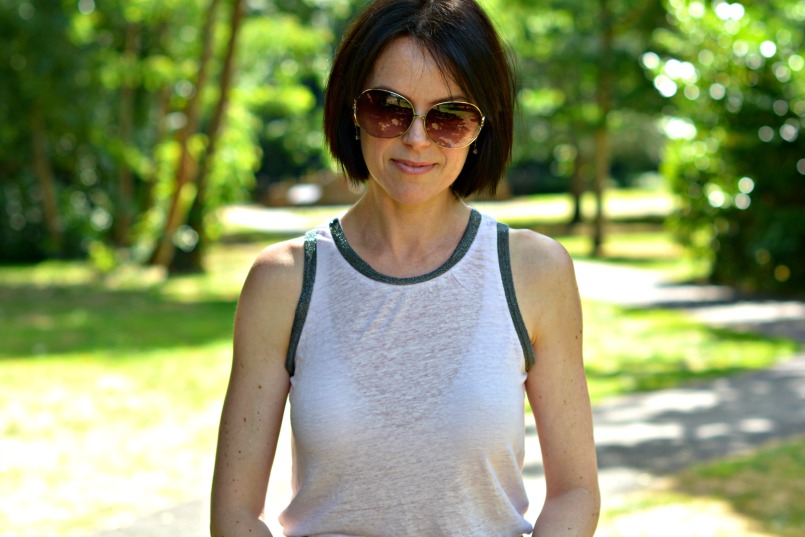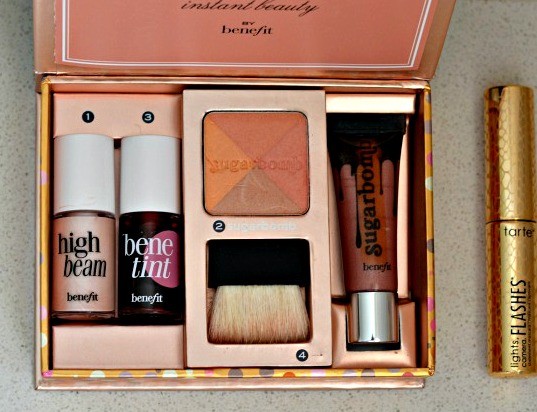 Lately I've noticed a new word being thrown about in the make up world…strobing.
O.k so here's some "strobing" for you ladies, ahem it's my usual every day make up with a little extra Benefit highlighter I always use TAH DAH! I added a touch to the centre of my pout & on the brow bone plus the usual up high on my cheekbone. I also wiped some clear lip gloss across my eyebrows so they shine in the sun plus it helps them stay perfectly in place. Just out of curiosity I wanted to try a different Tarte mascara, this one is called Lights Camera Flashes. It's another winner for me giving a slightly thicker coating than Lights Camera Lashes although doesn't re-apply as well so I'd still use the latter when I have a long day to night wear ahead of me.
Do you remember when strobing was a lighting effect on the dance floor of nightclubs? Has anyone else heard of cheeky re-branding to sell new products? See ya soon, Mx