I have a real thing for a leather skirt as you can see here & here, particularly a black leather skirt because it's easy to dress up or down & always looks chic. I've dressed this Whistles skirt down today by wearing flats & a boyfriend shirt. The boyfriend shirt is really just an over-sized or voluminous shirt, same as boyfriend jeans. I guess that's the reference to the boyfriend?…you're wearing his clothes so they'll be too big for you, duh! Personally I don't think the boyfriend shirt & boyfriend jeans should be worn together but hey if you like a completely androgynous look go for it.
This boyfriend shirt I'm wearing hits another popular genre at the moment – chambray. Although this isn't true chambray fabric which derives from linen, but lyocel which is a man-made fibre from wood pulp. Lyocel is a clever eco fabric that's sustainable & has a very long life. Additionally, it absorbs moisture then naturally releases it into the atmosphere so the clothing doesn't get smelly & that saves on washing therefore water consumption. Or in other words – no more stinky pits!
Although this is a simple look I didn't want it to be boring so the flats I chose are my Office leopard print with a narrow ankle strap. I wore them here in a completely different look with my Zara white broderie anglaise dress & Chanel mini 2.55 bag.
I'm keeping this look all very streamlined by matching the colour of the shirt with my Balenciaga bag. Oh how I love this bag… let me count the ways. I adore the rock & roll palladium giant silver hardware, am passionate for the softly distressed lamb leather & swoon over the bulky hand stitched handles. I dream of one day owning another colour like my friend Stefy has or perhaps with the rose gold hardware? For now my heart belongs to Ice Blue. You know when you're about to have your second child & you worry how on earth you could love another human being as much as you love this first born? When that second baby comes & suddenly your heart expands, it almost hurts how much you love them?….Well I have 3 children so I know there is plenty of room for at least 2 more Balenciaga bags!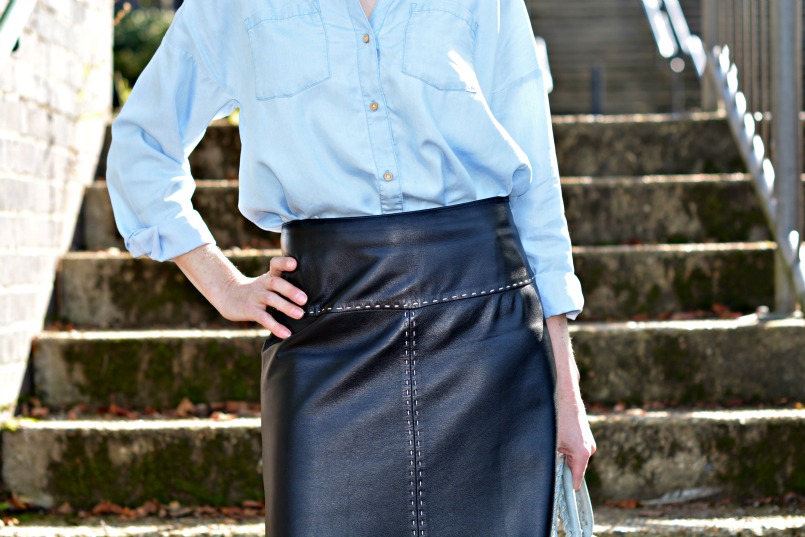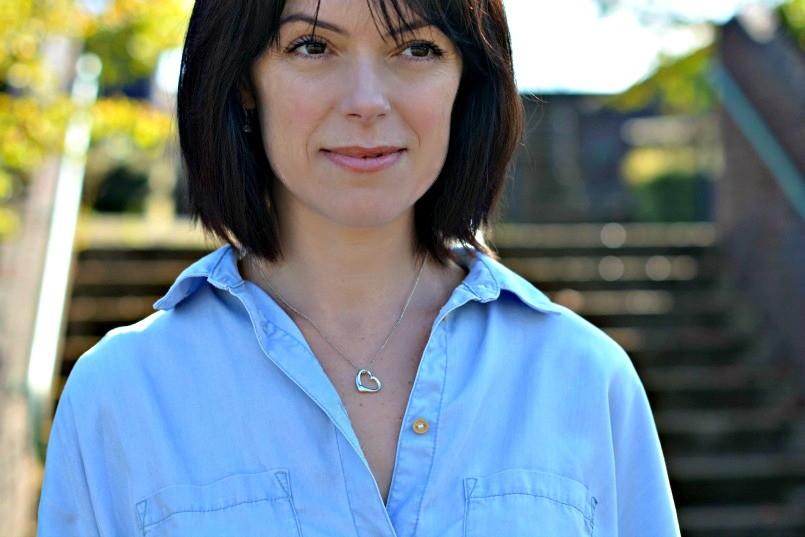 Here I'm trying out my new Chanel Ultra Noir mascara that I got for my birthday & I think you'll agree it is very nice indeed! Let me tell you since shooting this I've worn it several times & not once have I had the panda eyes, even on a really long day. So that is a massive thumbs up from me 'cause I really hate panda eyes.
Leather Skirt – Whistles | Shirt – H & M | Shoes – Office | Necklace – My Great Aunty Pat & Uncle Bill
[vc_separator type="normal" position="center" color="" border_style="" width="" thickness="" up="" down=""][vc_column_text]
Thanks for popping by & a HUGE thank you to everyone who left a comment on my birthday post – you're awesome, it made my week!
New post Thursday, see ya then!
M x