Eternal Collection asked me if I'd be interested in doing a collaboration with them
I wasn't familiar with their costume jewellery so I had a thorough look through their online store first. I will only ever collaborate with brands I genuinely like & would choose for myself. If I'm not satisfied with the first look they won't get a second look I promise you that.
What I found was a huge array of differing styles of costume jewellery at very reasonable prices. From Murano glass beaded necklaces to crystal bracelets – rings & earrings of both modern & traditional designs. You'd be hard pressed not to find the style you're looking for to go with any outfit!
Two thirds of the costume jewellery is actually handmade by the company founder & his team of jewellers which is always pleasing to know. They offer a personalised service to cater to individual taste so will alter a necklace length or change a clasp on request. Intrigued, I decided to accept & chose a couple of pieces for closer inspection.
The beautifully packaged bangle & bib arrived & I was suitably impressed by the quality. My first outfit is with the Diamante Bib necklace which I decided to wear on a day out shopping. Teamed with my Whistles black blazer & Markus Lupfer t-shirt for a chic casual look. I wore my Neuw Denim skinny jeans & comfy Lanvin ballet wedge shoes ideal for lots of walking.
I can imagine quite a few very different outfit looks going well with this Bib, it matches beautifully with my wedding rings & I love how it sparkles. I'm thrilled with it actually, what do you think?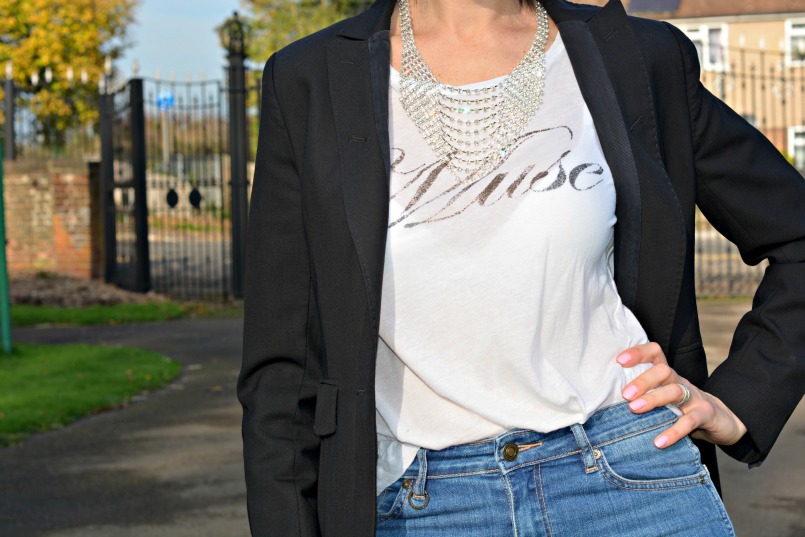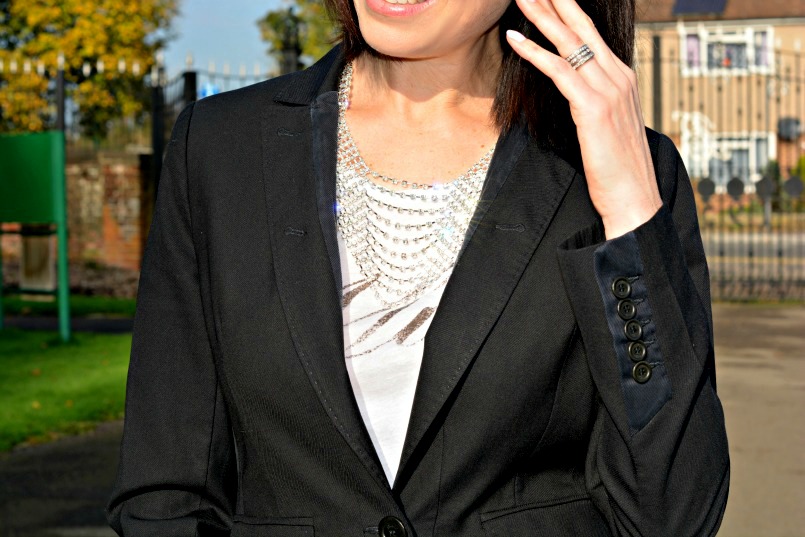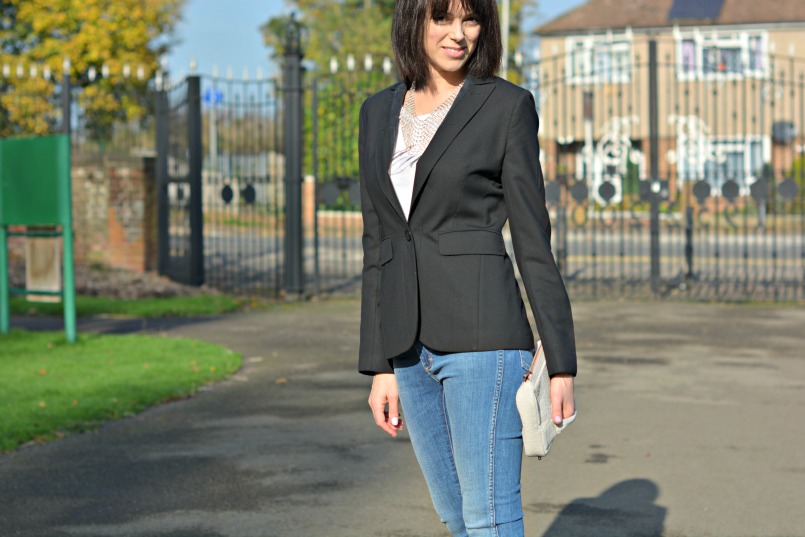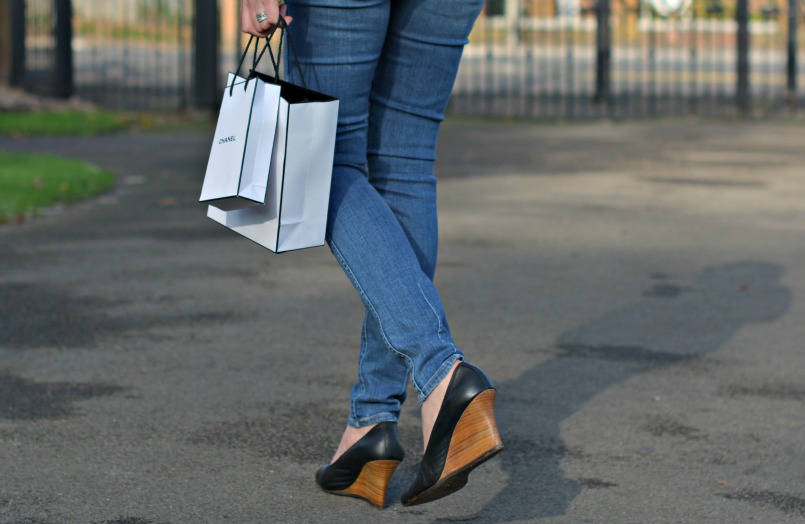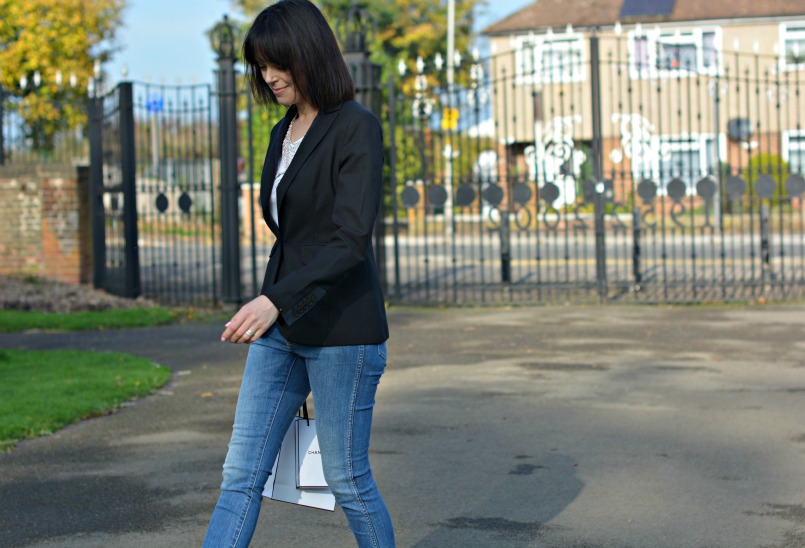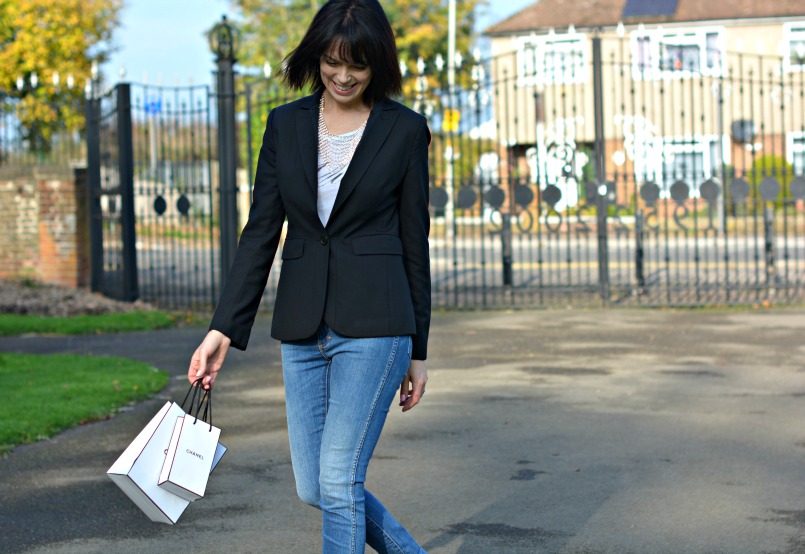 Bib – Eternal Collection | T-shirt – Markus Lupfer | Blazer – Whistles (similar) | Jeans – Neuw Denim | Shoes – Lanvin
The second piece of costume jewellery I chose is a fine filigree design rose gold tone bangle that can also be worn as a cuff.
I wanted to contrast the delicate appearance of the bangle with a heavy knit over-sized cardigan so decided on a winter white look. My cosy belted wrap cardi is from Gharani Strok teamed with my favourite white skinny jeans from The White Company & very (very ) old Prada beige suede kitten heels that I haven't worn in over a decade! I became bored with the kitten heel so they were relegated to the back of the shoe queue, however now I feel they're back in style. Because I had an extra sole added in their early life they still look gorgeous! Check out my post on how to make your wardrobe work hard for you by holding onto old purchases for their eventual comeback!
At some point, possibly a Christmas party, I'll also be styling this cuff with an all black outfit. I think it'll make a stunning stand-alone statement piece don't you?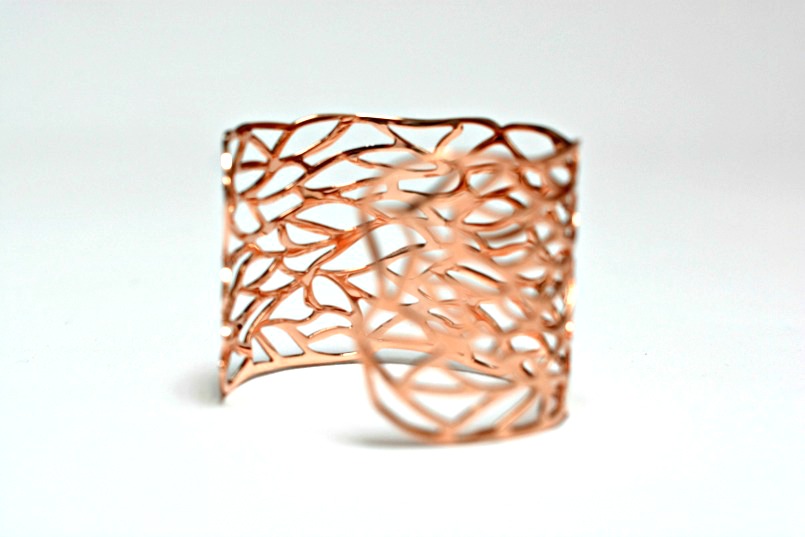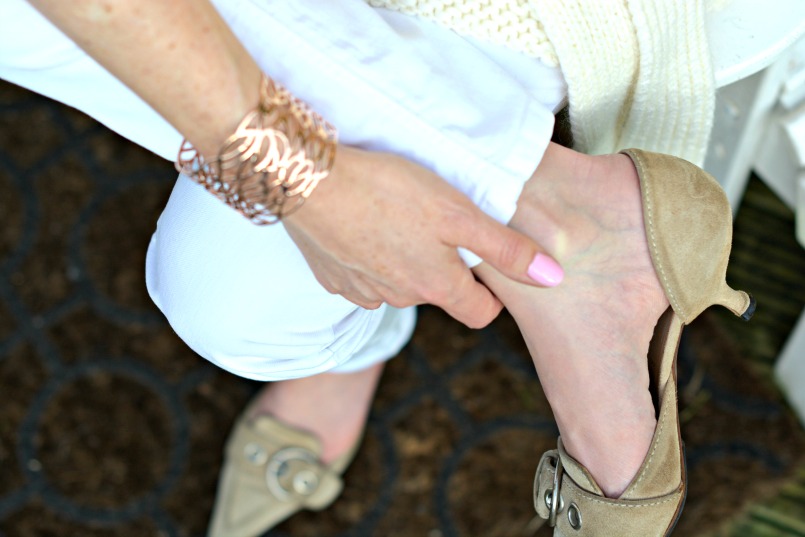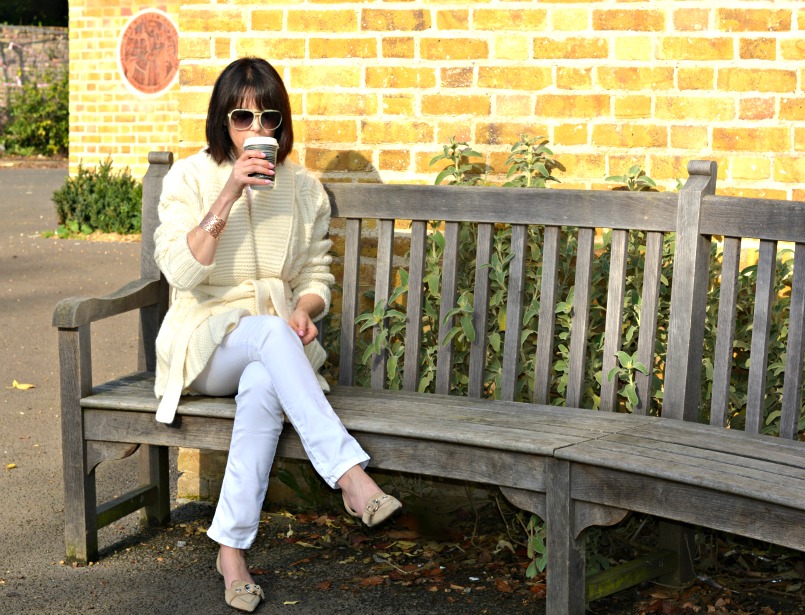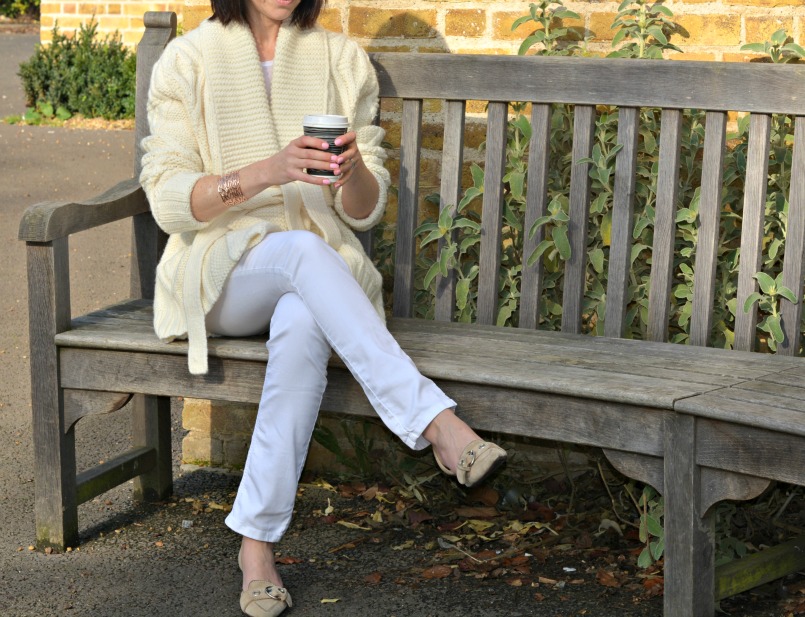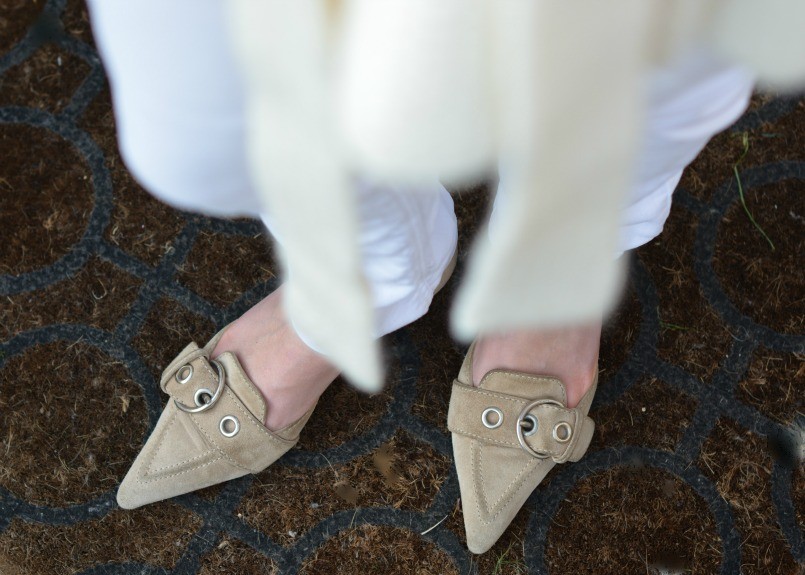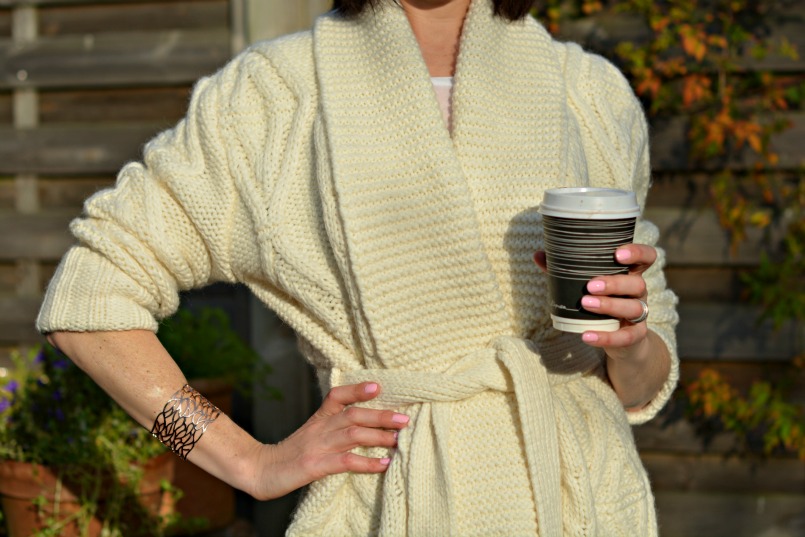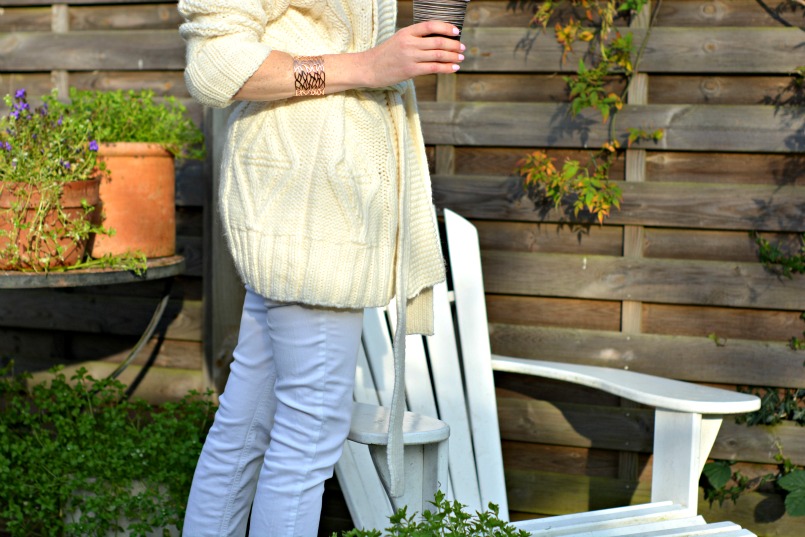 Bangle – Eternal Collection | Jeans – The White Company (similar) | Shoes – Prada (similar) | Sunnies – 3.1 Phillip Lim | Cardi – Gharani Strok (similar) | Nail varnish – OPI
It's quite handy knowing a good go to costume jewellery online shop especially coming up to Christmas. I think Eternal Collection has a lot to offer, what do you think?
Thanks for popping by, Mx