I absolutely adore the combination of knee high boots with a dress or skirt
See this post for a different mix of it. By Autumn I'm desperate to pull on my boots again & none more than todays high knee high pair. These boots have a slight platform making them oh so comfortable & easy to walk in but most importantly for me Ms skinny calves they fit like the proverbial glove!
The reason is simply Ted & Muffy – the re-branded British boot makers Duo of Bath. You've probably heard of them, never the less check out their new-ish website for a surprisingly vast selection of tailored boots. They make it the easiest thing in the world to accurately measure your calf fit by providing detailed instructions. That done you'll find the size & fit to suit anywhere from the skinniest to widest calf & also foot!
By the way this is not a sponsored post however I did notice Ted & Muffy are offering 25% off right now so it might be worth a look. Not me of course, I meant you…Ahem, well perhaps a little peek through the ankle boots would be OK?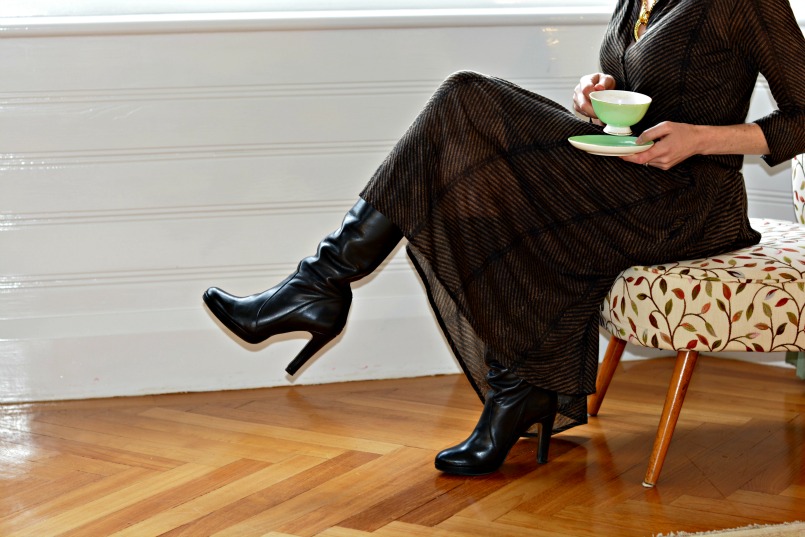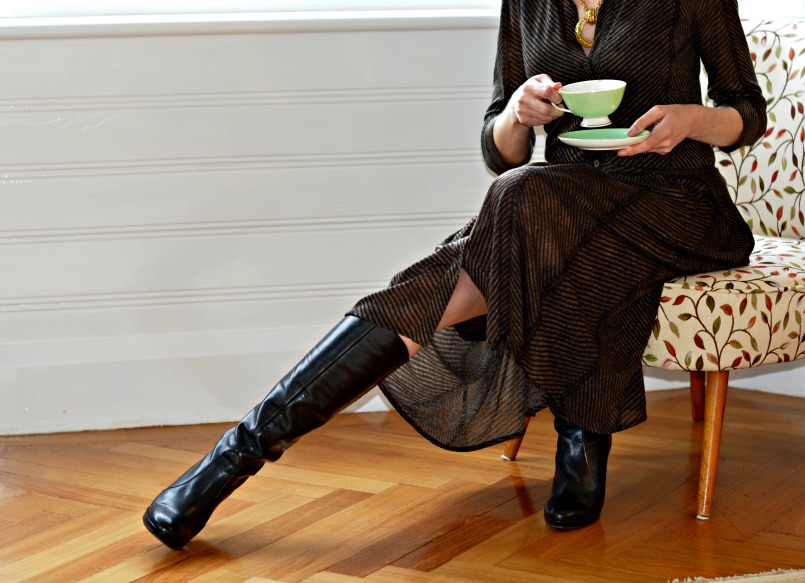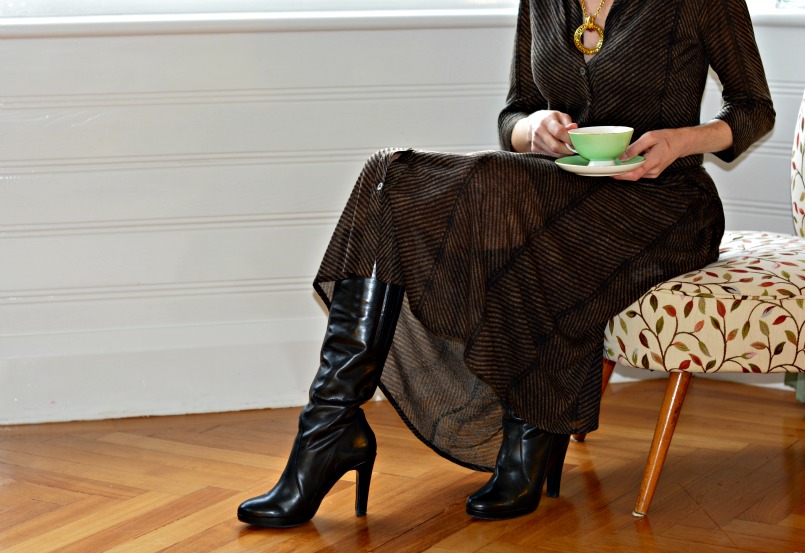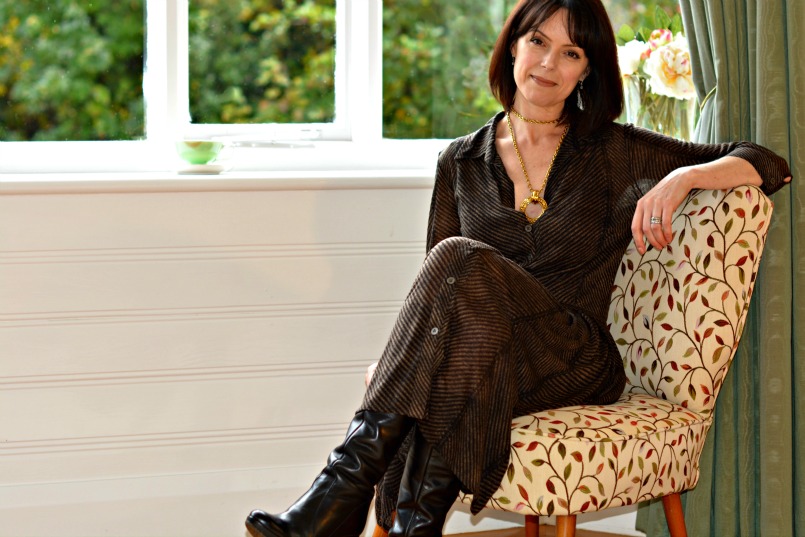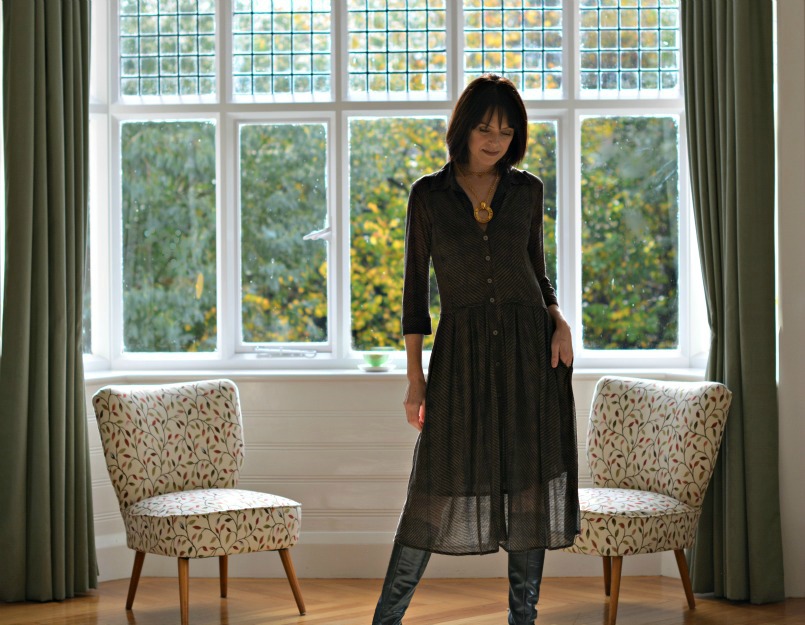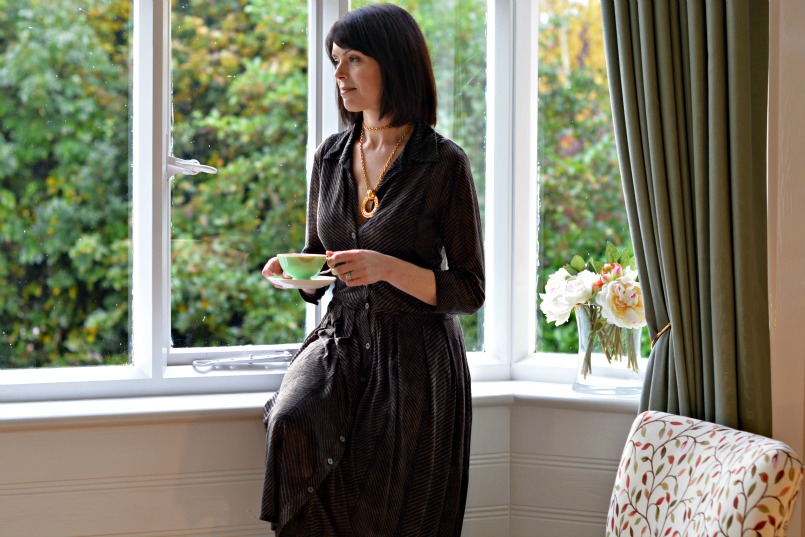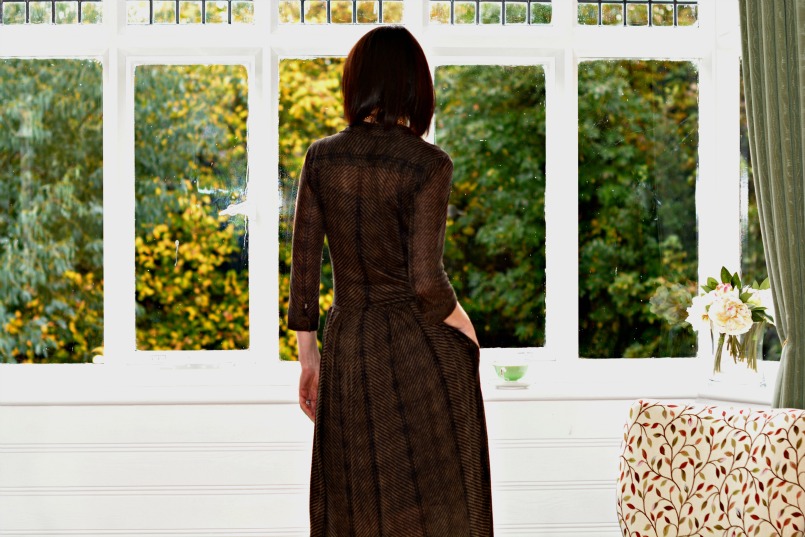 My sheer chocolate brown button through dress is by Samantha Sung.
They do a range of 4 specifically designed dresses, only changing in print & fabric each season. This one is the Audrey dress from a couple of years ago. It looks equally amazing with a leather biker jacket as with a denim one, in fact it looks beautiful with an array of knitwear styles too. Once we hit Autumn & Winter I lose count of the hundreds of style combinations this dress lends itself to so no doubt you'll see it here again at some point!
With thoughtful detail & classic design it is truly a timeless classic. Although it was expensive there's no doubt that per wear it is exceptional value.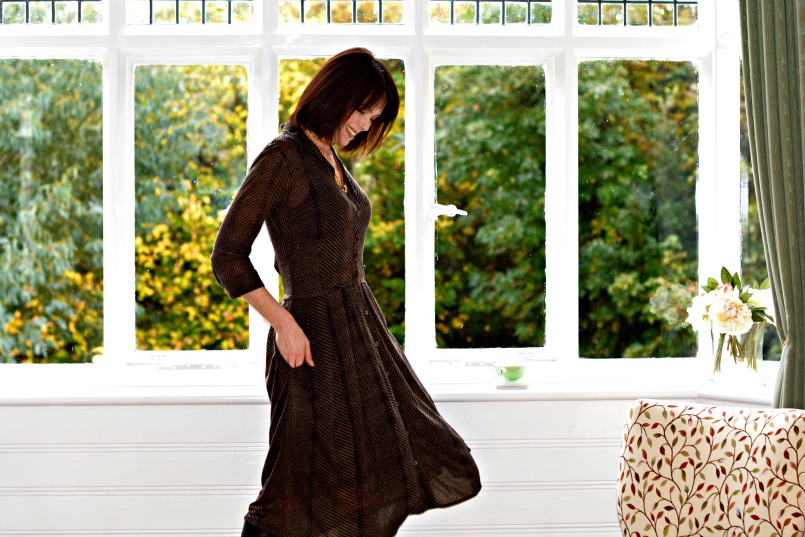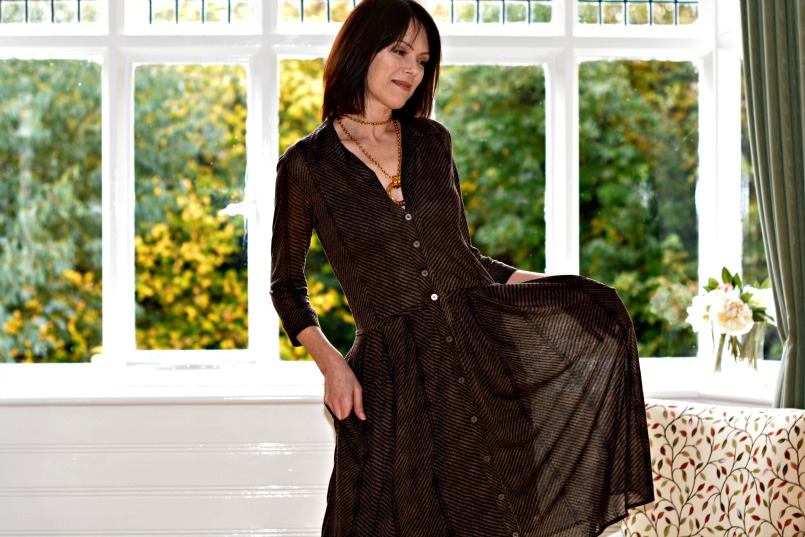 I've punctuated a rather subdued outfit with a loud gold vintage necklace by Chanel.
It has quite a lengthy drop although for today I've doubled the chain around my neck making it even more of a statement piece. I bought this baby from Yuko, a trusted seller on Ebay where I also bought my sweet Chanel mini bag that I reviewed here.
My semi matt brown lip colour is achieved using M.A.C Antique Velvet over The Body Shop Beech lip pencil. I then blotted with tissue & applied Nars Liguria lipstick to lighten the centre of my pout giving the illusion of fullness. See my post on achieving a long lasting burgundy lip colour that you can hack to suit any colour of your choosing.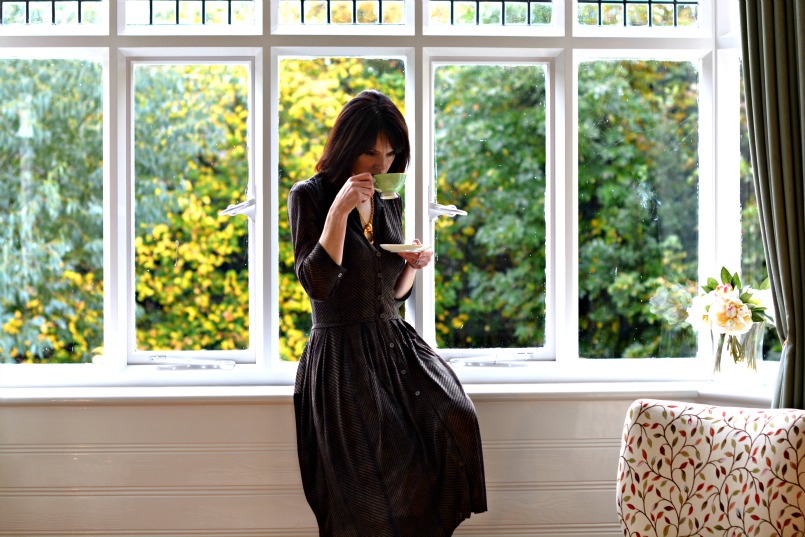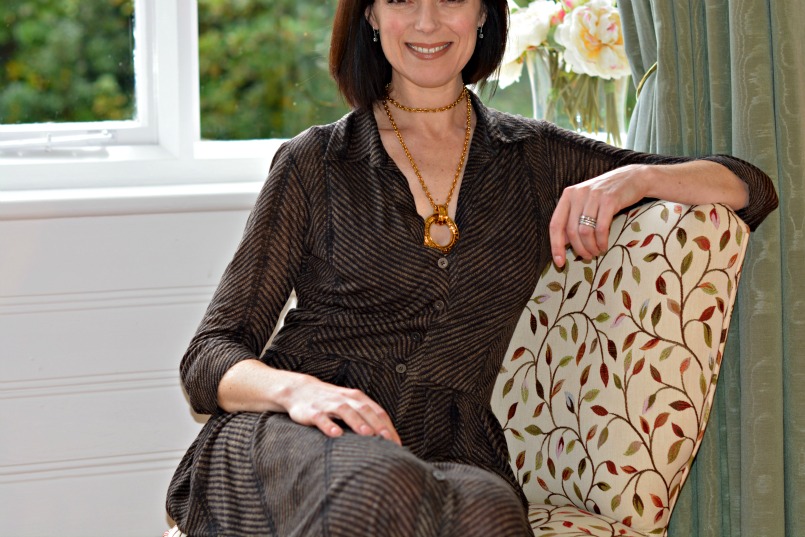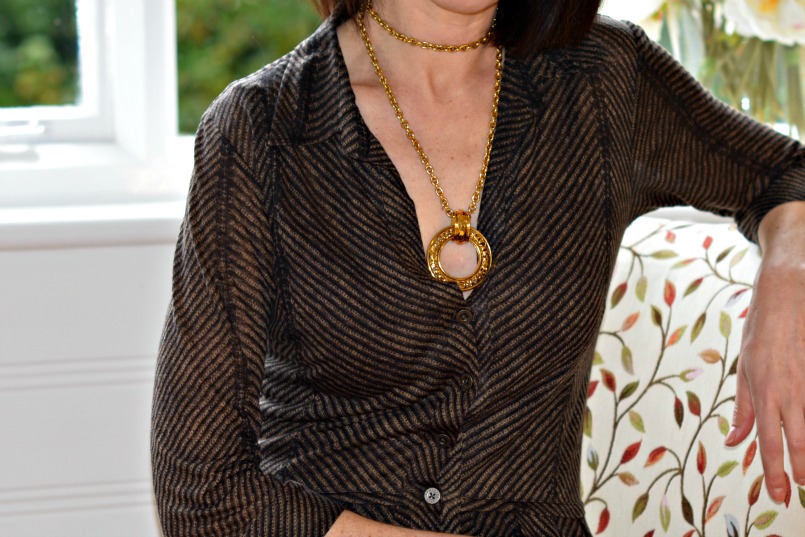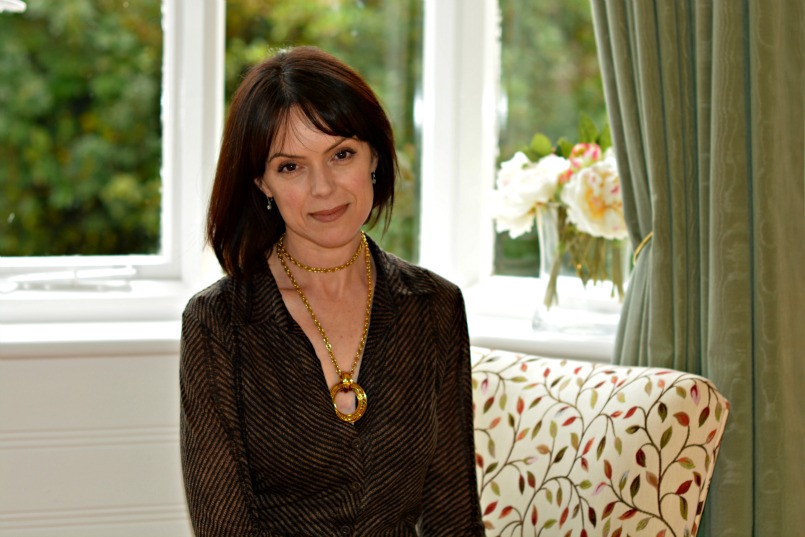 Boots –
Ted and Muffy
| Dress –
Samantha Sung
| Chanel necklace –
Do you have trouble finding knee high boots that fit properly? It's a bit like finding the perfect pair of jeans isn't it? Be sure to subscribe to RCM so you never miss a post! See ya soon, Mx