It is still so mild out for this time of year. Particularly before midday most days I haven't needed a coat so I've been enjoying my collection of knitwear & shooting some of my favourite jumpers. I'm really into knits of every description – fine knits, chunky cardigans, intarsia, polo necks, the jumper dress & of course the cable knit.
Meet my latest, the AllSaints funnel neck they call Penryn.
It was the one thing I purchased in the black Friday sales because AllSaints had 30% off their entire collection. I find a lot of brands only have certain items in a sale or frustratingly have no stock of what I like. I'm not interested in a "bargain" if it isn't something that I'll get a lot of wear out of.
Which is absolutely not the case with this particular jumper! I've coveted the AllSaints funnel neck for some time so offering £44 off was all I needed to go ahead & buy it! Besides it's eye-catching uniquely designed funnel neck I really drawn to the hip length of this jumper. The boxy shape lends itself to skinny jeans but will also look amazing with skirts & trousers unlike the ubiquitous cocoon shape which does not. I'm keen to pair it with my grey leather skirt & this denim pencil skirt with knee high boots. Additionally my flares & wool trousers will suit the square shape that can also be partially tucked in at the waist, all in all an exceptionally versatile piece wouldn't you agree?
Unsure whether to get the black or pale pink I bought both online to try at home. AllSaints have free delivery when you spend over £200 so I made a saving there plus they provide easy free returns on all purchases allowing a super convenient way to get my choice right the first time.
I'm glad I did because the pink, although a pretty colour, made my skin look awfully pallid however the black was gorgeous! As far as sizing goes I would rate this as true to size although you could go a size smaller for less of the over-sized look which is what I did. Remember, if you're unsure you can order two different sizes & send one back at no extra cost. I immediately re-packed the pink, stuck on the returns sticker provided & dropped the box at post office – easy peasy ! I received the refund promptly 5 days later without an issue.





DIY busted knees
I cut these very old J Brand jeans with a stanley knife the last time I wore them for a change of look & now they've been washed I'm getting some lovely soft fraying.
The Gucci horsebit bag is a limited edition by Tom Ford. With rose gold hardware, leather & silk detail this monogrammed canvas bag is now considered a vintage collectors item. I did a search on the internet if you're interested in adding this sweet little beauty to your collection. There are still quite a few in pristine condition circulating Vestiaire Collective & Ebay
.
Gianvito Rossi suede plexi pumps get a second outing in a row – well wouldn't you?
If you missed my last post & would like more information on how I got them half price you can catch all the details here with my vintage leather skirt. Or take a moment to sign up for the RetroChicMama email & never miss a post….WINK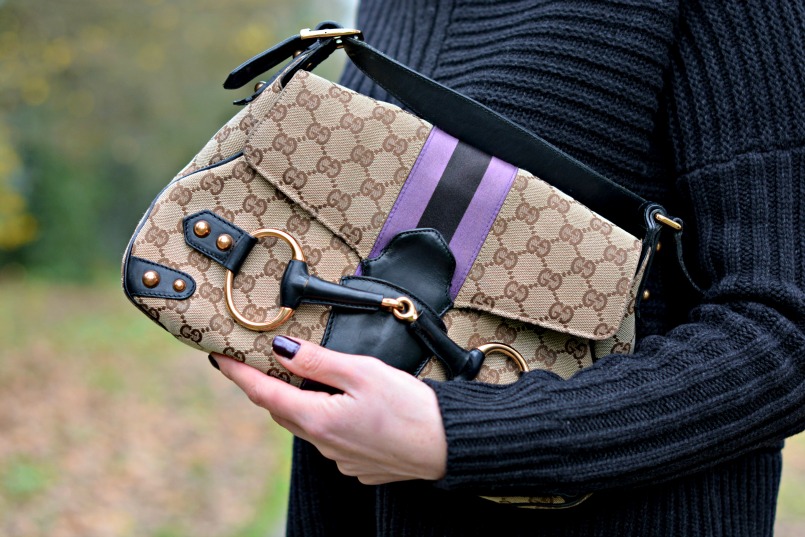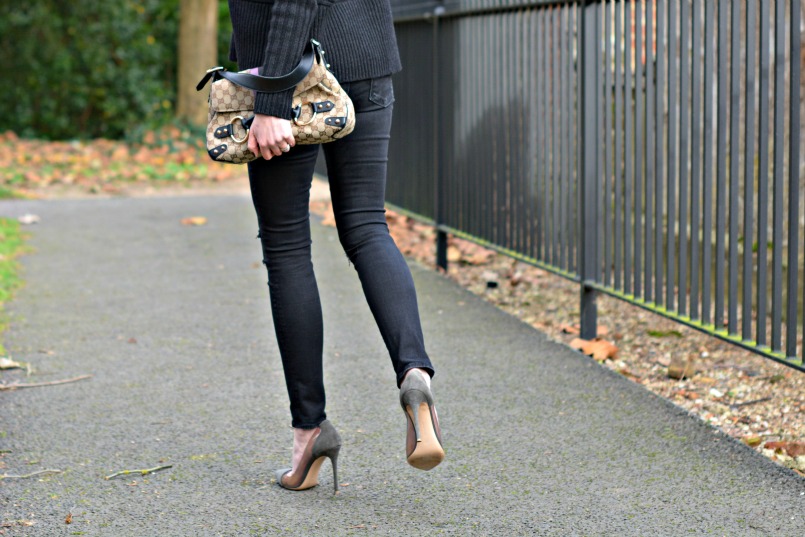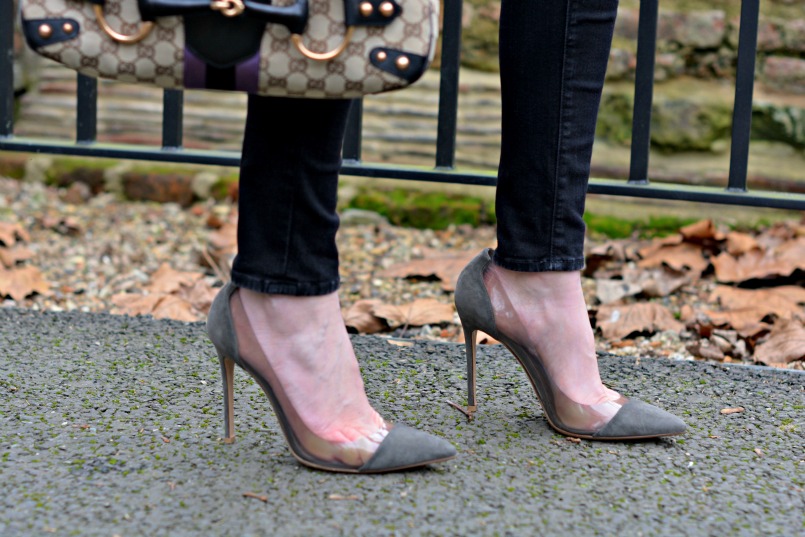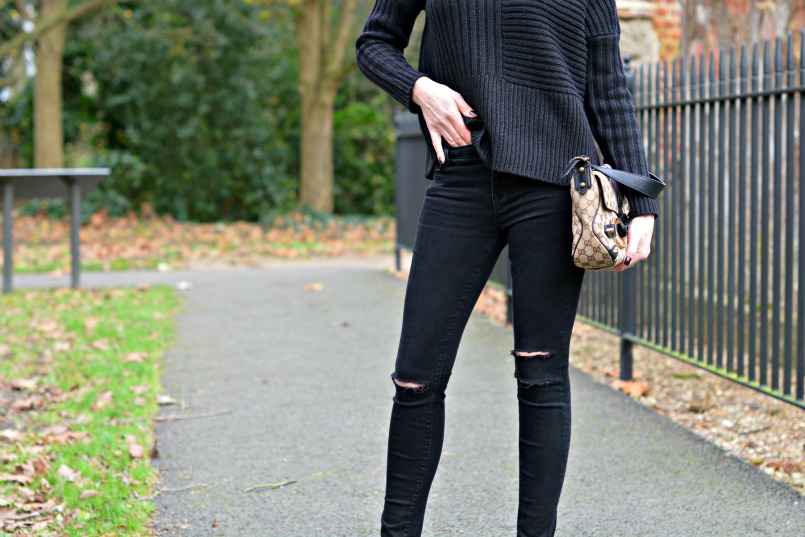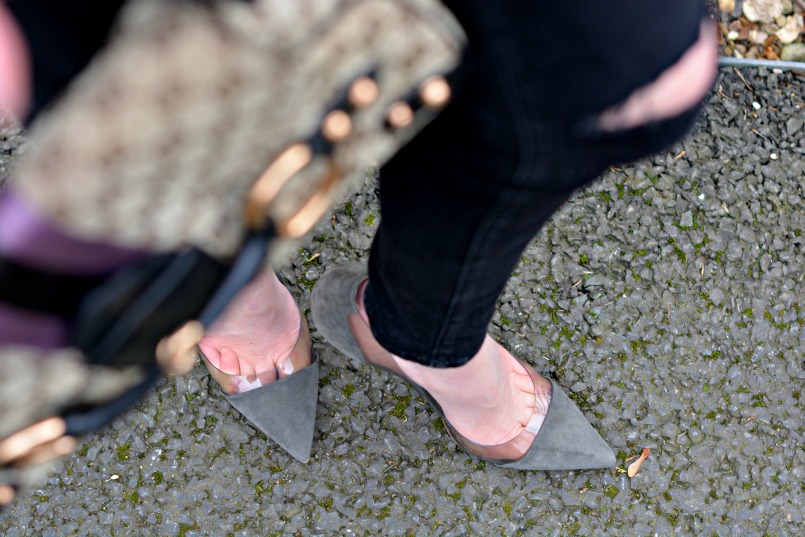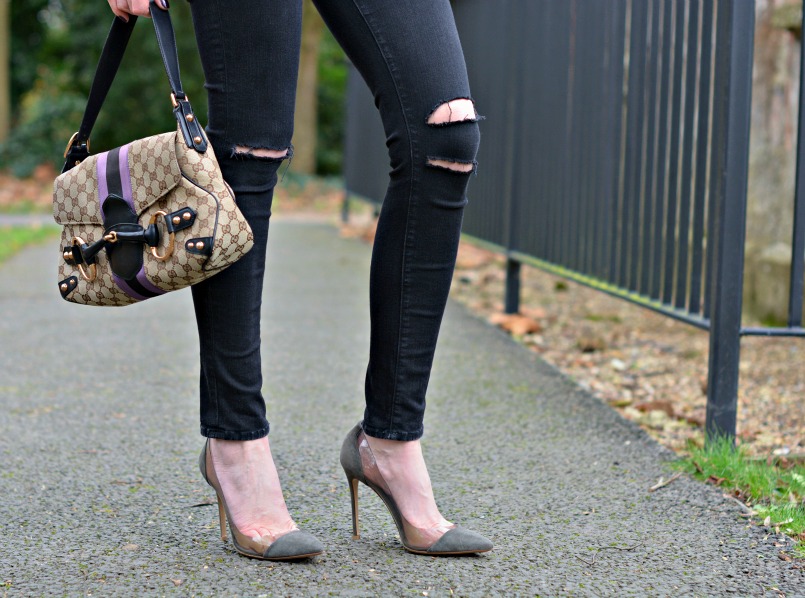 Did you bag a bargain in the black Friday sales?
See ya, Mx