I know most of you have seen this little beauty before – Chanel Vintage 2.55 Mini me love youuu! Sorry I'll grow up now. Anyway, here we have THE ONLY THING YOU NEED   to make your day outfit work for the evening.
When you have one of these or something similar that is otherwise known as an investment piece, it will immediately transform your day attire for the evening ahead.
If you work outside the home or happen to be out all day, occasionally you'll have plans that same evening.
Instead of traipsing home to change clothes, dispense with all the faffing about….
What you need is an easy day to night outfit.
This little Chanel can be kept inside it's dustbag in your large day bag to be whipped out like a fresh dash of lippy. It is your bag & jewellery all in one that will elevate any ordinary daytime outfit to blingy eve!
Dream bag no 2. is Le Boy although it'll no doubt be quite some time (if ever) that I get my mitts on one of those. Meanwhile I'd be more than ecstatic with a Vintage Flap bag – possibly red however I could be persuaded to green or pink SWOON
It all depends what I find when I get there so to speak. Vintage Chanel bags are becoming more & more collectable therefore quite rare to find in mint condition. Speaking of which, if you happen to be in the market for one have a look at my post "How to buy a Vintage Chanel bag" before you do anything.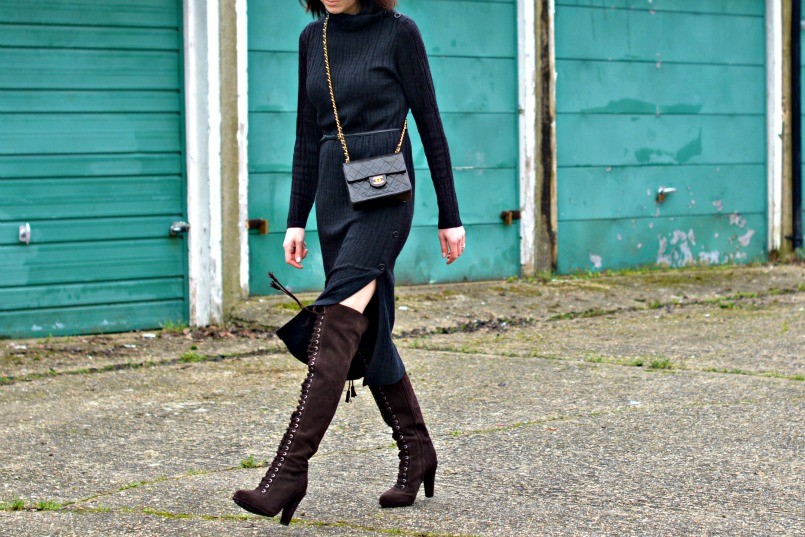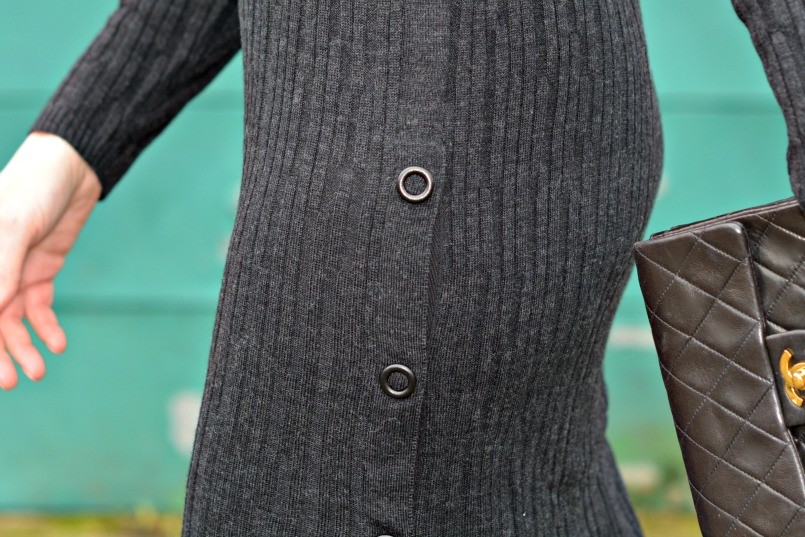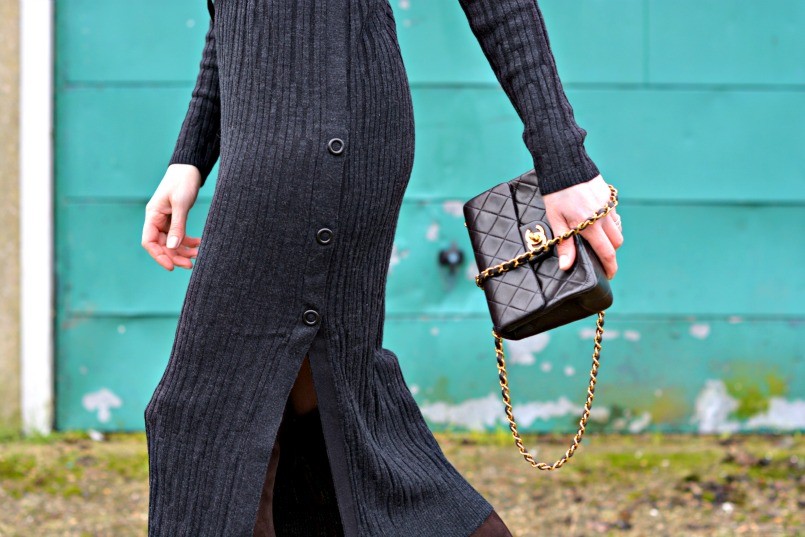 Of course there's room here for more embellishment with a belt
Although how far you go with that is subjective. Personally I like to keep it minimal in this instance because my heart belongs to Chanel.
Although a wide belt of exotic leather or an ornamental buckle would look amazing with this simple dress however may not be practical for day wear. Todays post is all about simplicity therefore I'm keeping it limited to just changing your bag & nothing else.
Onto footwear, aah yes THE boots…Do you remember when I bought this pair of over the knee lace up boots? Have a look at this post for the back story.
I have to say the best thing about these boots is how bloody warm they are! No seriously I was freezing the day I shot this but my feet & more noticeably my legs, were toastie. Now there's another tick for over the knee  style.