So it's mid-week of week 2 of my children's school holidays which coincides beautifully (NOT) with the final big push to finish our loft conversion. I can't remember exactly when we started the project because I blocked it out at week 5.
Translation? I am knackered…
Sweeping building dust from the stairs every afternoon & wiping down surfaces is essential for the 2 asthmatics of the family. Having excess furniture rammed against wardrobes makes putting laundry away a pain in the buttsalad so it's often piled high by the end of the week. Finding time to work on RCM whilst appearing to my children as a present & interactive parent is proving difficult, to say the least.
However my greatest challenge in life right now is keeping up with the ironing! Which FYI I bloody despise at the best of times. The ironing board optimistically standing upright weeks on end – What to do?
I'll get back to that. For now let's think how a weary, wrung out 48 year old Mama can wear,
simple trans-seasonal classic chic
At times like this having an effortless "go to" outfit is imperative for an easy life. In Summer this would be a humble dress but it's still a little chilly right now & the wind whooshing up my skirt is not my idea of a good time. It's equally easy in Winter to achieve a classic chic by merely pairing a jumper dress with boots.
Therefore today I'm showing you my fail safe outfit for Spring/Summer – I wear an H&M boyfriend fit lyocel shirt in light blue (also worn here) with white mid-rise skinny jeans from The White Company. I like my new Dune London shoes for this comfy ensemble although any block heel shoe will work.
The trick is in the simplicity – the look is clean & pressed, I feel clean & pressed..although my hair's dirty so I've scraped it back into a pony tail.
My zebra bag from Prada & a statement necklace from Marks and Spencer add a little someit someit & that's it…wink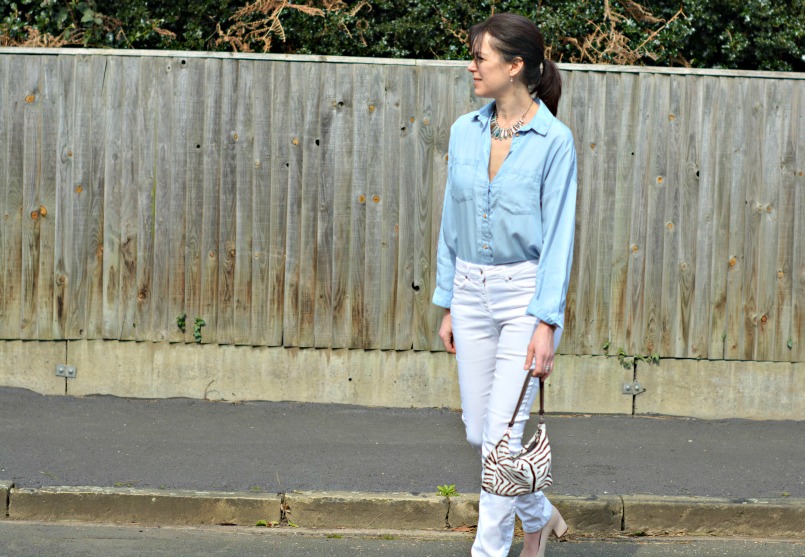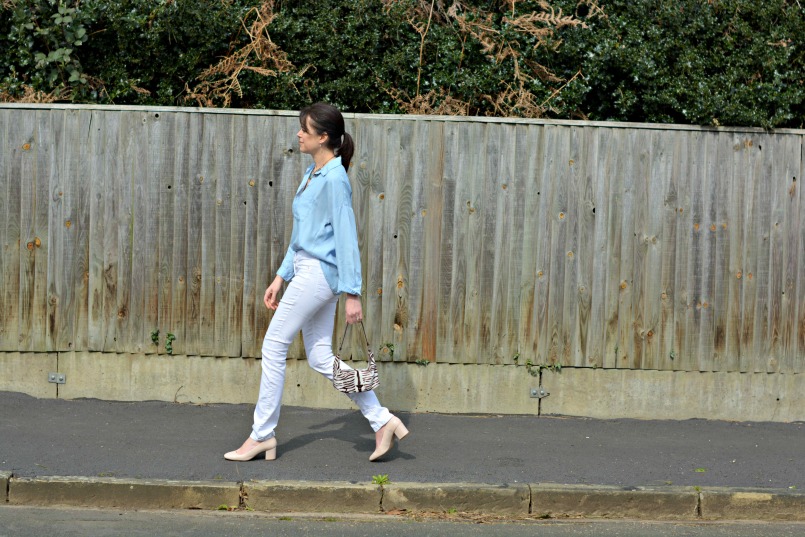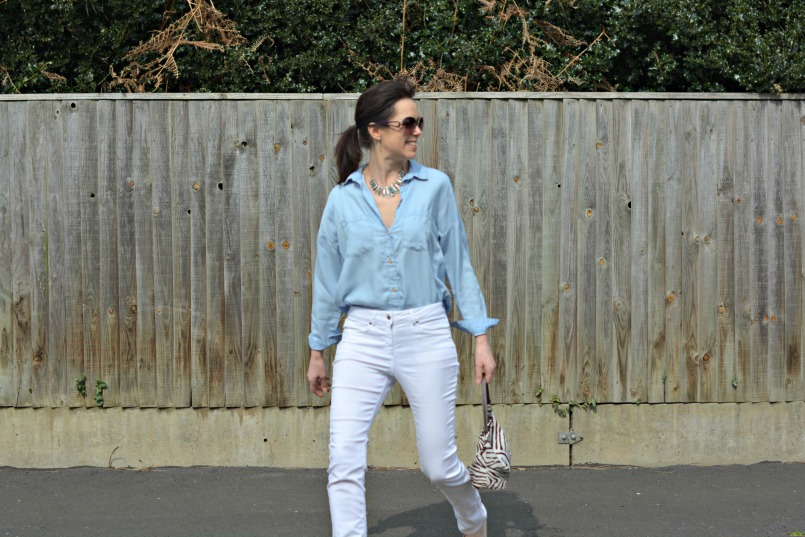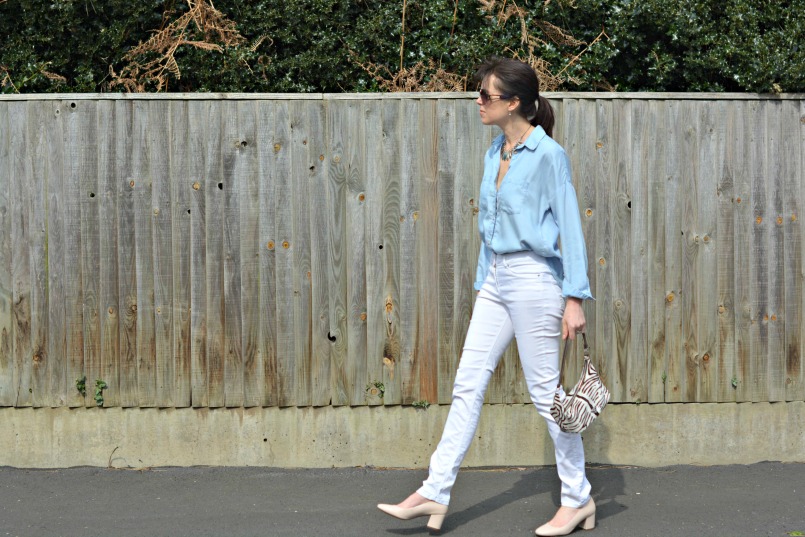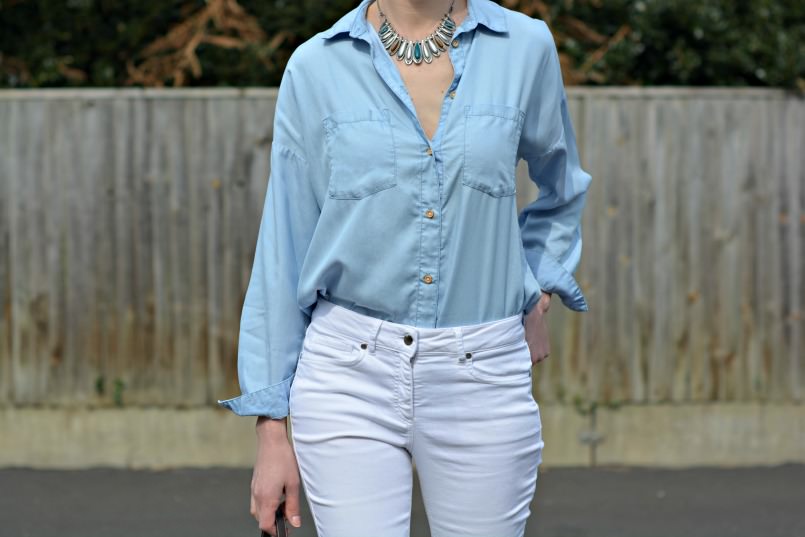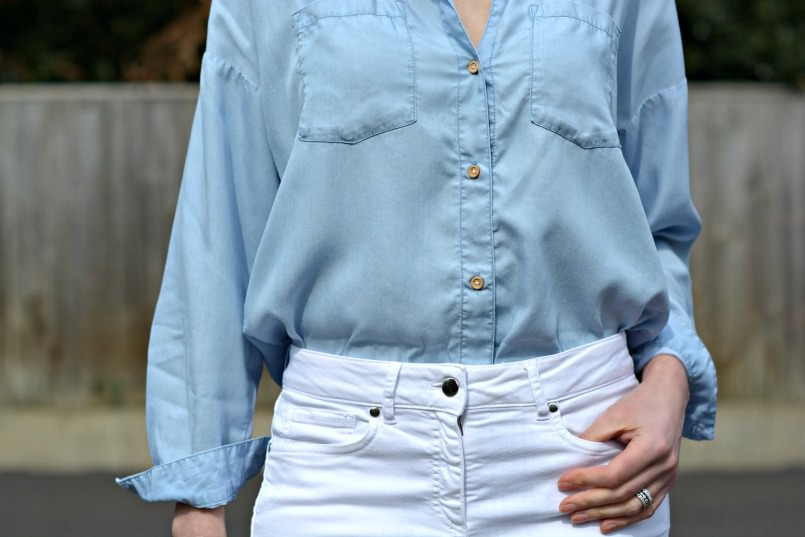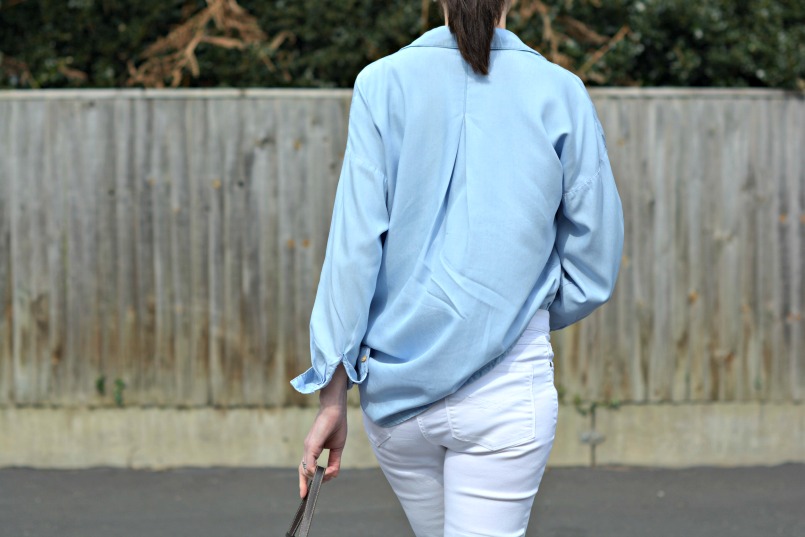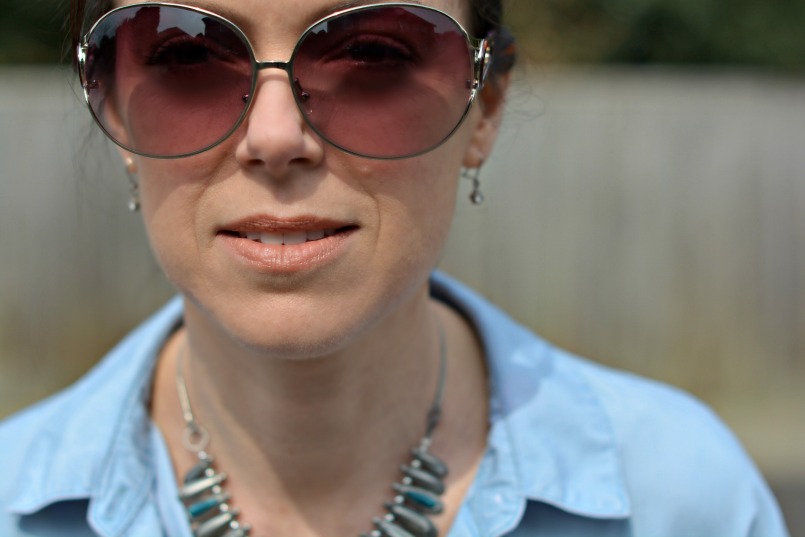 With eyes this tired the only thing to do is wear the largest over-sized sunnies I own. Marc Jacobs to the rescue!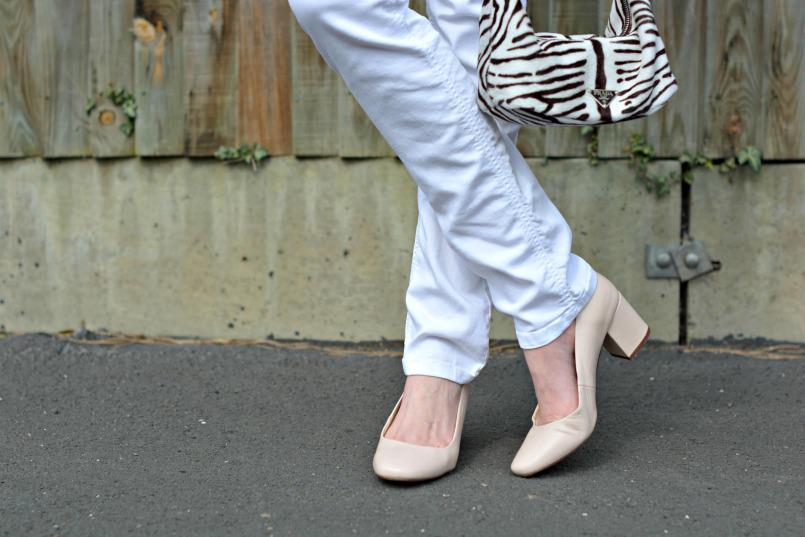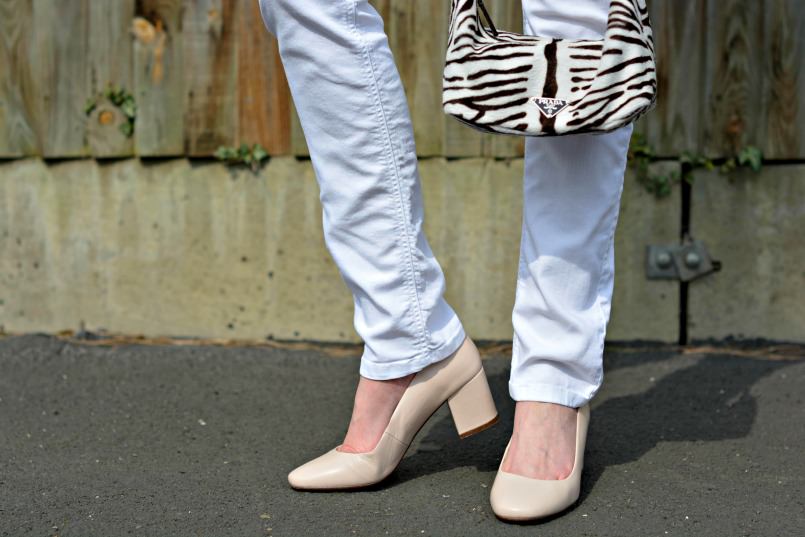 Now that we've covered the outfit I have to tell you THE most marvellous thing happened to me last week. A wonderful website contacted me to review their product. Who, you may wonder, what could be so amazing? Think for a second & it'll come to you…
Here's a hint .
Yep it's the ironing fairies HOORAH! I Hate Ironing is an online laundry service covering the UK (sorry US & Aus readers) who collect from your door.
Now you may think I've written this post purely to promote the website but you'd be completely mistaken, I kid you not. I was at my wits end when ihateironing emailed me, it felt like a gift from the gods! Ask my husband how happy I was. He's still completely puzzled by the skipping & singing "I don't have to iron, I don't have to iron" around the house all weekend hahahahaha
The brilliant thing about this is it doesn't have to be every week, it can be just for when you're super busy. I had another idea too – When a friend is under stress or having a hard time wouldn't this make a fabulous gift? Personally I'd bloody love it! Simply go to the website & purchase a gift voucher. Your friend merely puts their laundry or ironing into a bag & ihateironing do the rest. They contact you via text message when the driver is nearby & they'll text you again to confirm you're home when they return your clean or ironed clothes the following day. It couldn't be easier plus they also do alterations & shoe repairs so you can tick those running around jobs off your list too.
Now when things get on top of me all I have to do to alleviate the pressure is go online & book out my ironing!
Is this outfit a wardrobe staple of yours?
Thanks for popping by a little earlier this week. I'm taking the children out for a few days so I wanted to publish before Friday. Lot's of love, Mx