The last time I went out out (not a typo Dad) was to Soho London for the Blogosphere Magazine issue launch. The dress code said "Dress up in what makes you feel most glamorous" which I love to do for a party that's for sure. However as it was an unusually balmy evening coupled with the fact that I'd be indulging in a glass (or five) of Prosecco, I decided to wear flats.
Read – Swollen feet/Falling over. Oh sensible me where did you come from?
I know that doesn't sound particularly glamorous either, does it? Hmmm…
How Can I wear flat sandals with an LBD?
Easily!
Really the only stipulation I would make is to ensure the LBD in question is long or midi length. So I wore a long black silk dress from AllSaints with my tangerine coloured Prada sandals & carried my Raoul black clutch. Very simple if it weren't for the bright orange giving the outfit a burst of colour. I definitely felt dressed up yet I was safe in the knowledge I could navigate the steep stairs of the tube stumbling getting home later that night.
The little black dress I'm wearing in today's post is not the one I actually wore to the launch, neither are these the sandals. You see the idea had me pondering the many ways I've actually worn this look over the years. So I decided to test the theory that flat shoes can be glamorous enough for a party.
Here's what I came up with…
Keep the dress plain black although some kind of unique detail will elevate it's status. That could simply be amazing fabric or an unusual cut such as a racer back or plunging neckline. My dress has both of these things in spades! It is cut in the style of a Cheongsam & the fabric has a shiny damask appearance. There is the added subtle detail of Cheongsam-like covered buttons at the front & rather high split on one side – Hello Mama…
I bought this dress in Paris specifically to wear to my 30th birthday party. Sporting a super cropped pixie cut & deep purple smoky eye I remember feeling bloody amazing as I stepped out to greet my guests at the venue. And you know what else? On my way there a woman stopped me in the street to tell me I looked stunning! I'll never forget that, it was such an incredible gift & made me realise how much it means to be complimented by a perfect stranger. I've been doing it myself ever since & why not? A random compliment to a stranger will probably make that girls day yet costs me nothing – Try it, if you haven't already.
At this particular time in my life I was actually living in Sydney & due for a change of scene. Getting itchy feet & feeling inexplicably unsatisfied I eventually moved back to London for the second time. I could never stay away long, London has always been my spiritual home.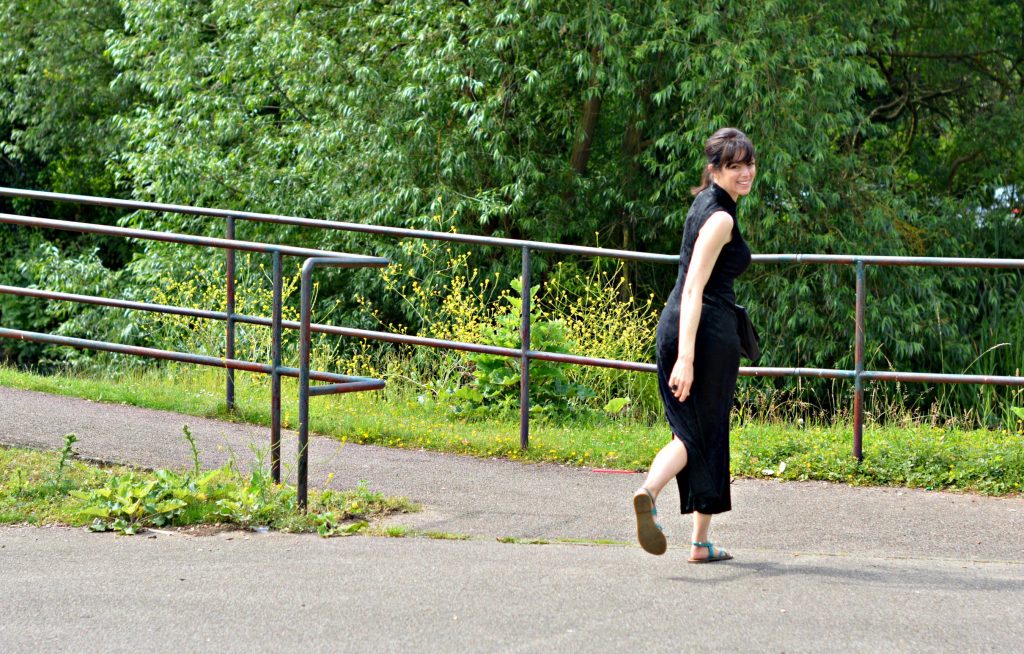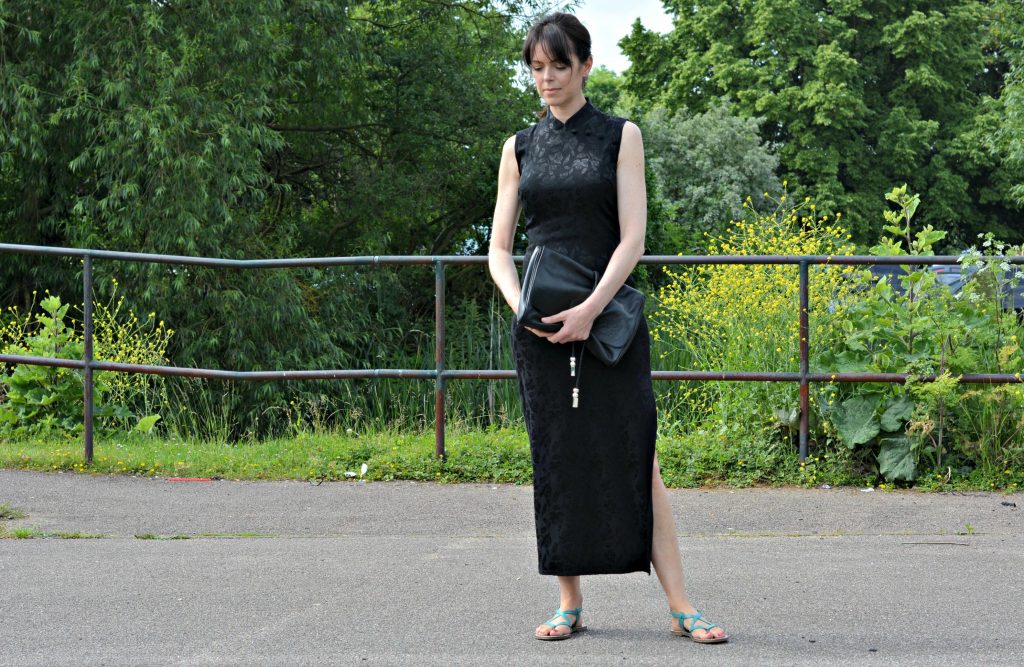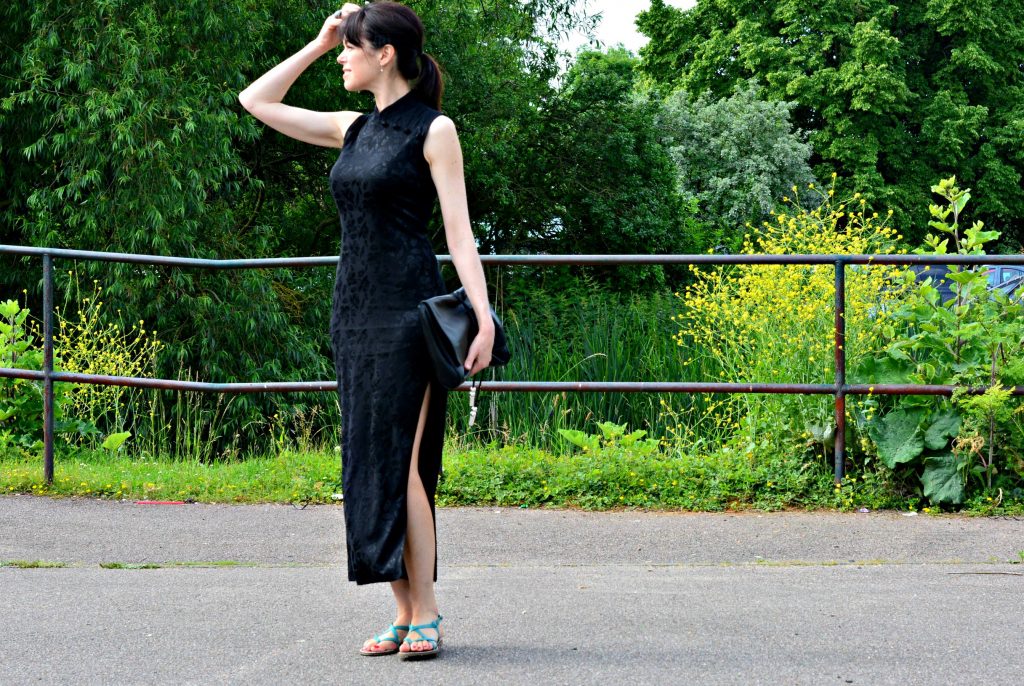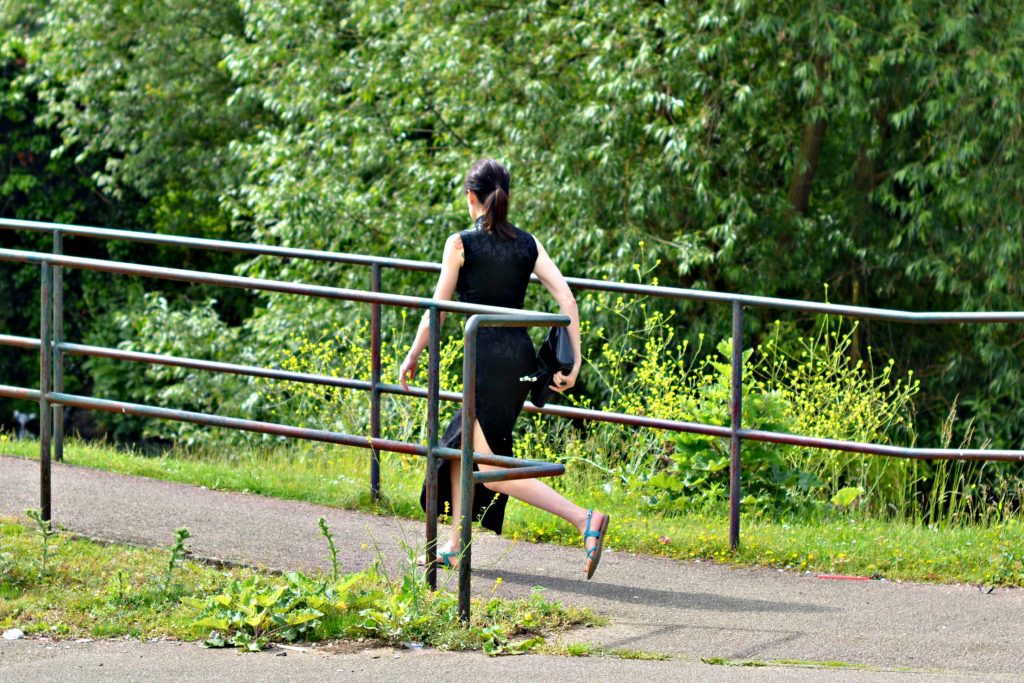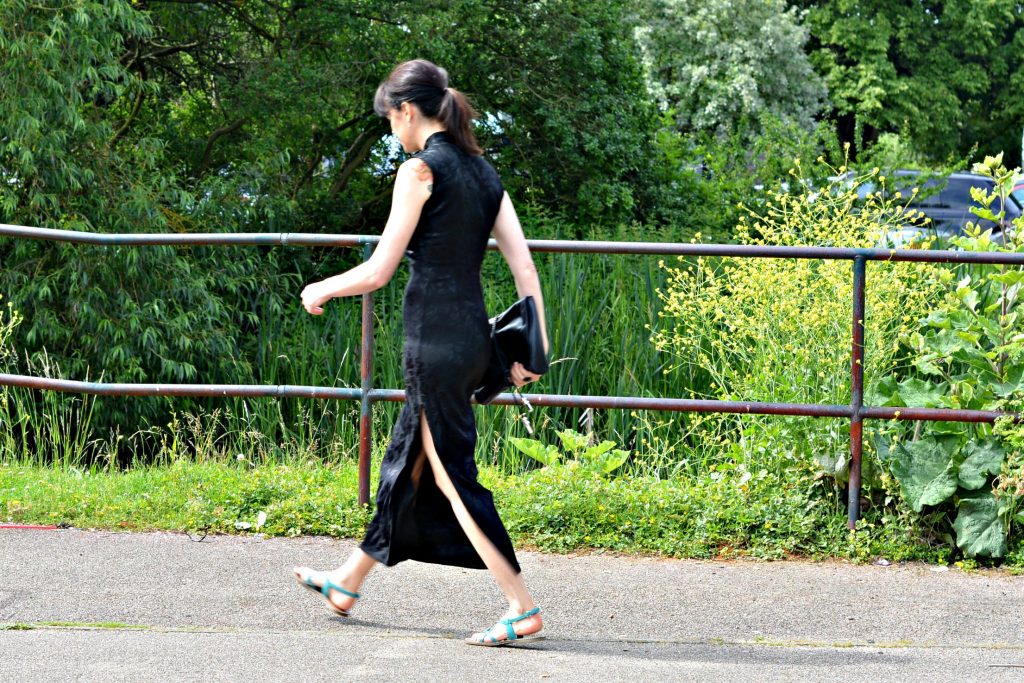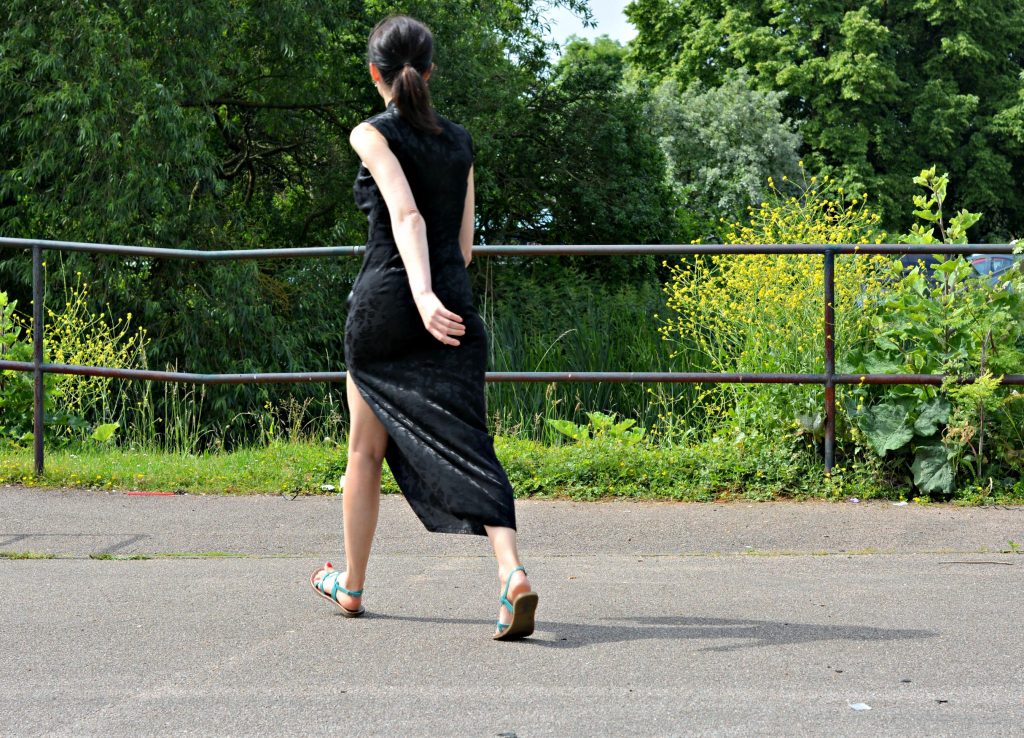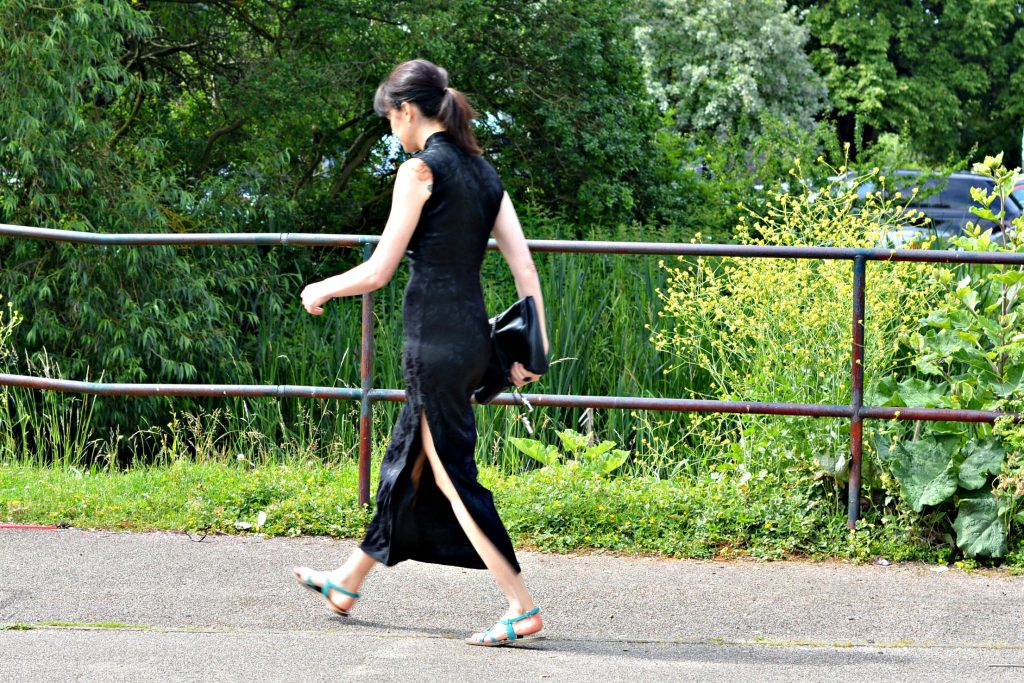 As usual the contents of my wardrobe dovetail the narrative of my life – Now back to this dress. From the Paris Sinequanone store which is still going strong 20 years on! Offering a very wearable collection even for an old bird like me Hahaha.
Obviously it would have been quite something to find the same cheongsam among their range, sadly it's not to be. However I managed to find this long black dress equally as eye-catching. Although an entirely different cut it demonstrates my point perfectly that the right LBD will easily hold its own paired with flats – Agree?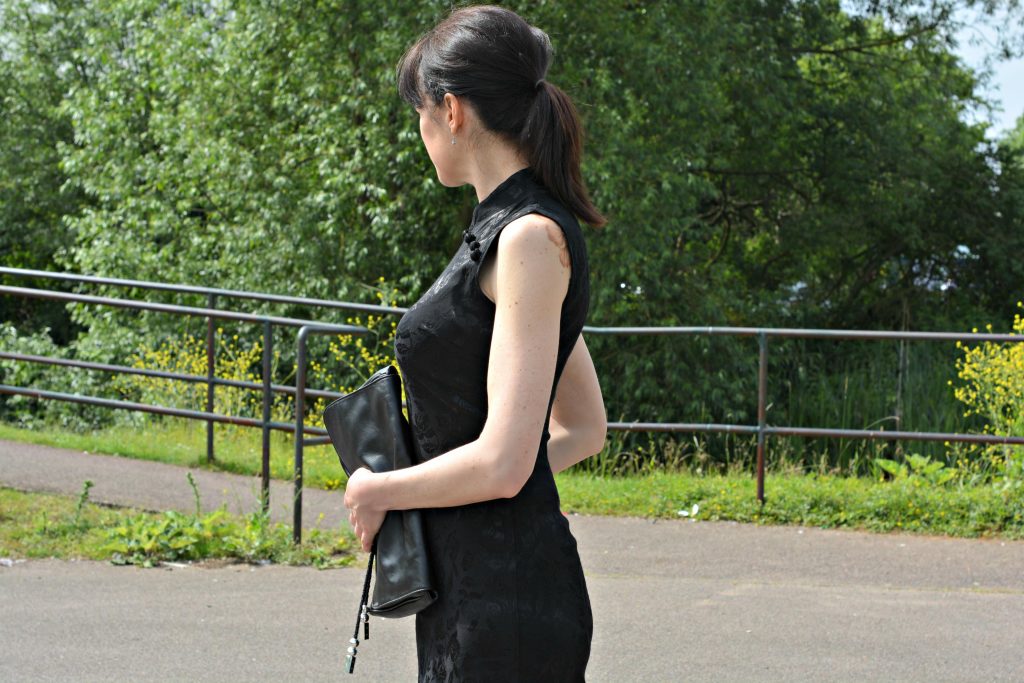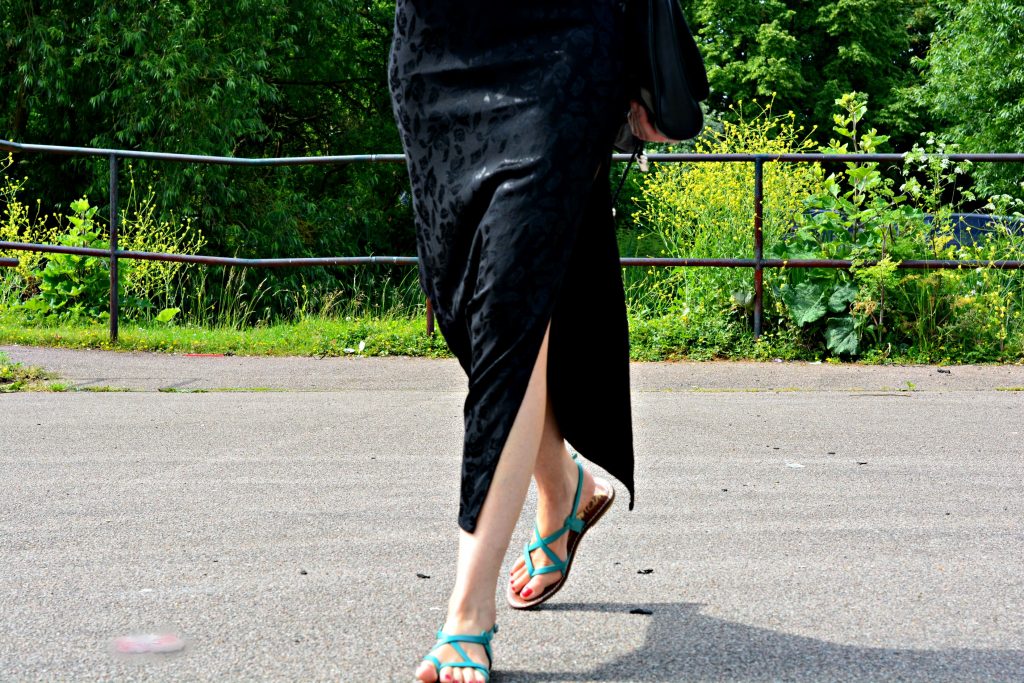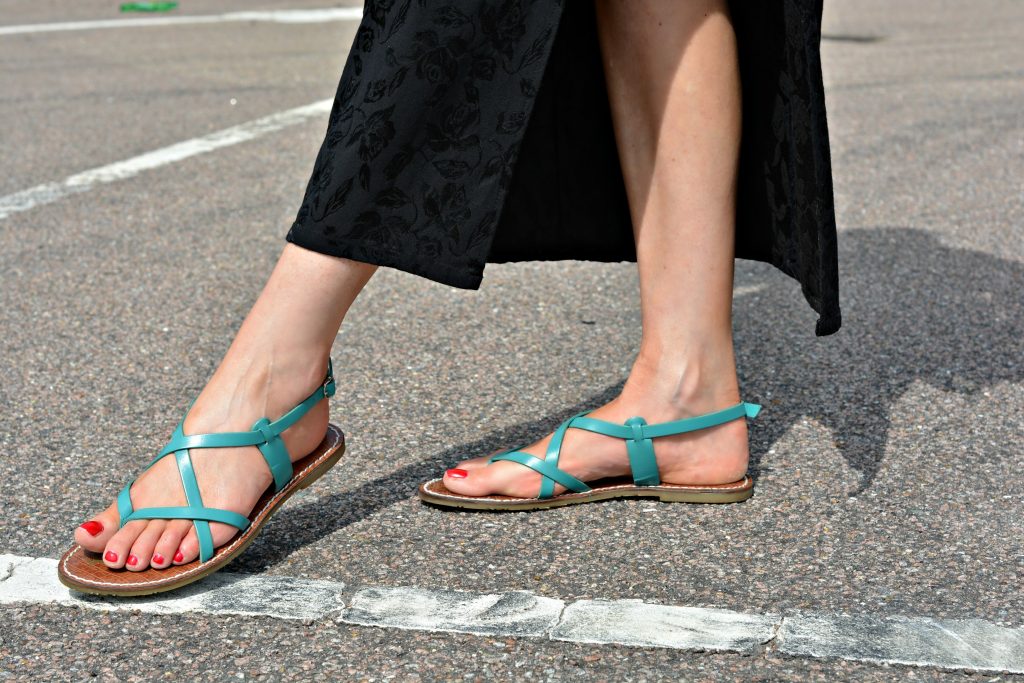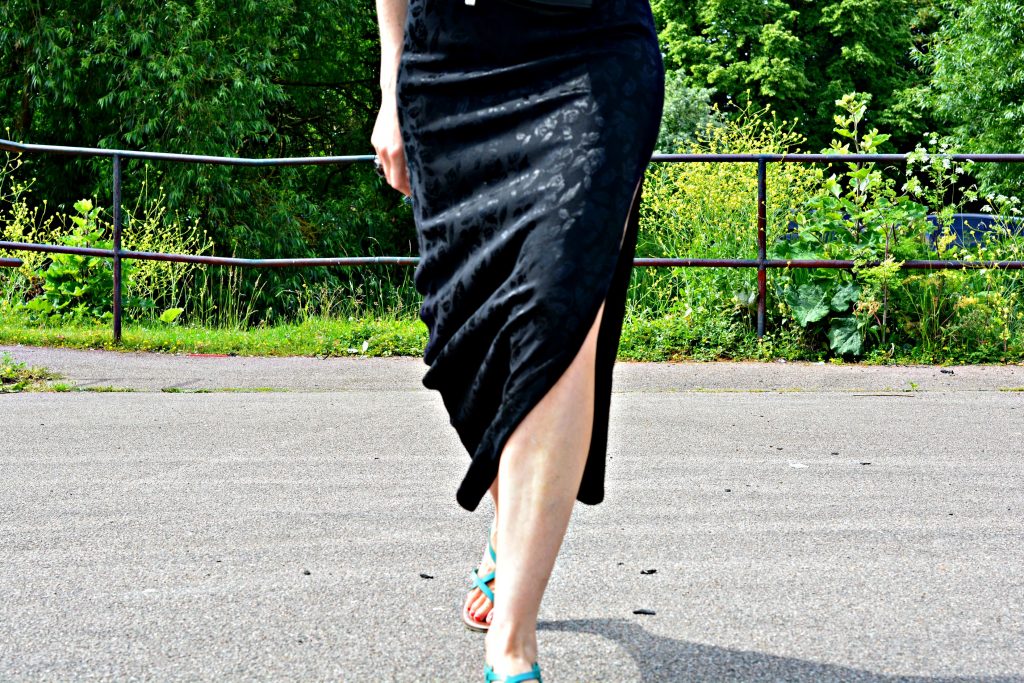 Satin Leg Gloss & Pirate toes
So we move down to the sandals, but first you must try the phenomenal Satin Leg Gloss from Evolve Organic Beauty. I'm rarely excited about cosmetics especially leg lotions, yet this glorious gold gloss won me over the first moment I smoothed it onto my legs. It is LUSH ladies & smells divine!
In lieu of fake tan or to add a subtle golden sheen this Satin Gloss does exactly what it claims.
Finally, my shoes are Sam Edelman from Tkmaxx a cheeky £15 of turquoise comfort & joy. Am wearing Chanel Pirate red on my toes because I like a strong colour contrast between shoe & toe – Ya know? wink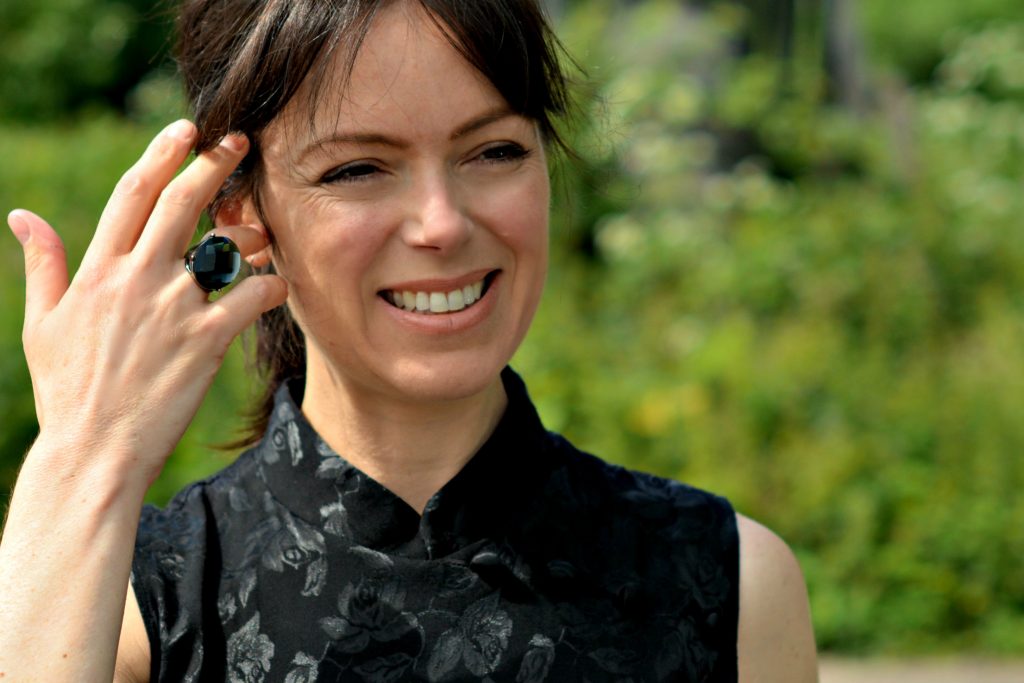 Another outing for a most versatile cocktail ring from Marks & Spencer.
An update on our home improvement
I realise it's been ages since I promised the reveal post of our new loft bedroom en suite. Unfortunately there have been a few issues, one particularly serious, that we're still trying to resolve. If you follow my Instagram you'll be aware of some venting on my part.
I haven't decided how to proceed with the post as I'm feeling incredibly down hearted. Halfway through the build, work was clearly being messed up then patched up, rushed & poorly completed. I was growing more & more worried by what I was witnessing so decided to have a serious talk with our builder. He sat down opposite me at my kitchen table, looked me in the eye & promised to make sure it would all be completed to the highest standard.
He went on to say I shouldn't worry or lose sleep because he knew what he was doing & he wouldn't let me down. He actually said the words trust me.
Well he & his merry band of incompetent trades (excluding one man) have made a dogs breakfast of the finishes & left us with a hot water pipe on the outside of the house!
After 14 weeks they are gone but not forgotten, as we carry on correcting the mistakes they made.
The dodgy plastering has been "made good" by a wonderful decorator I found. Although it riles me that it would've been perfect were it done correctly in the first place!
Sadly there's no hope for my beautiful Italian tiles, chipped & roughly cut. I wonder every day how long 'til we notice a leak from the gaping joins of the patched together jigsaw puzzle walls hidden behind them.
I could weep for my beautiful hand finished gold taps. Merely glued into position ad hoc, in the final moments. What about my taps I cried? He literally shouted out the window of his van "They'll be fine" as he sped away for the last time.
And what became of the lonely hot water pipe, I hear you ask?
Well obviously any idiot will tell you, it won't make it through the next Winter. It'll have to be moved. A good heating engineer has been recommended but how much more money & how much more stress can we afford? I can't say. I never ever thought adding a simple dormer & a small shower room to an already existing loft room, would ever be so utterly soul-destroying. That was probably my first mistake.
Builders are charming bastards aren't they?
Mx