In my previous post about being a conscious shopper I mentioned Marks & Spencer's brilliant sustainability initiative – Plan A. So I was delighted when the idea for today's post was bandied about the office. When I say office I'm referring to the 6 fashion bloggers I share my days with via WhatsApp.
Full disclosure – office is actually a laptop on my bed in my spacious new master suite Heeheehee Soz. Annnd stretch…
Ahem, anyway as my only experience shopping at M&S is clothes for the kids & Mark it was a terrific opportunity to put my money where my mouth is & buy something from the Ladies Department.
A couple of Summers ago I realised I've never owned a white blazer. Having discoed (spellcheck?) like Travolta in the late 80's it's a pretty shocking truth!
In actual fact my wardrobe would really benefit from a good quality, well cut, white blazer. However I haven't yet managed to find one at an affordable price.
That is until,
The Over40Collective posed the Question,
Can we each find a simple white top from Marks & Spencer to style with denim?
So how well does Marks & Spencer cater to women over 40 or indeed over 50? Are they able to provide a stylish range of good quality garments at affordable prices?
The answer was a real mixed bag to say the least, as you'll discover when you read The O40Co posts. Unsurprisingly each of us happened to choose something different & we all had varying experiences of the process.
We're hoping you'll benefit from our over-all review, as our needs are quite different there's something to glean for everyone. Additionally, our images will serve as a catalogue for real women over 40 like our previous Winser London collaboration.
I happily purchased this Per Una one button Blazer online in both size 10 & 12 because I'm basically a 10-12. I chose In-Store Collection so I could immediately try them on & return the one that didn't fit. I only did this because my local M&S didn't have the particular Blazer I wanted in stock.
As I suspected the 10 was a perfect fit, meaning if you're a 10 it'll be slightly large on you. Although It must be said that I have this issue a lot, particularly with jackets.
The quality is terrific as is the cut which you can probably see from my photos. The length of the blazer is perfect & the little gold button details elevate its high street status. I did my best to get some close shots for you so hopefully they do the job? If you're not keen on gold this linen blend blazer is another similar option.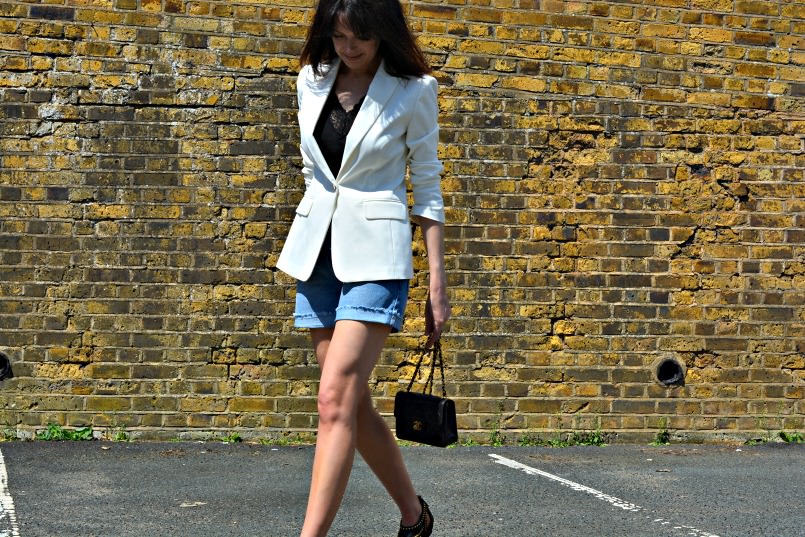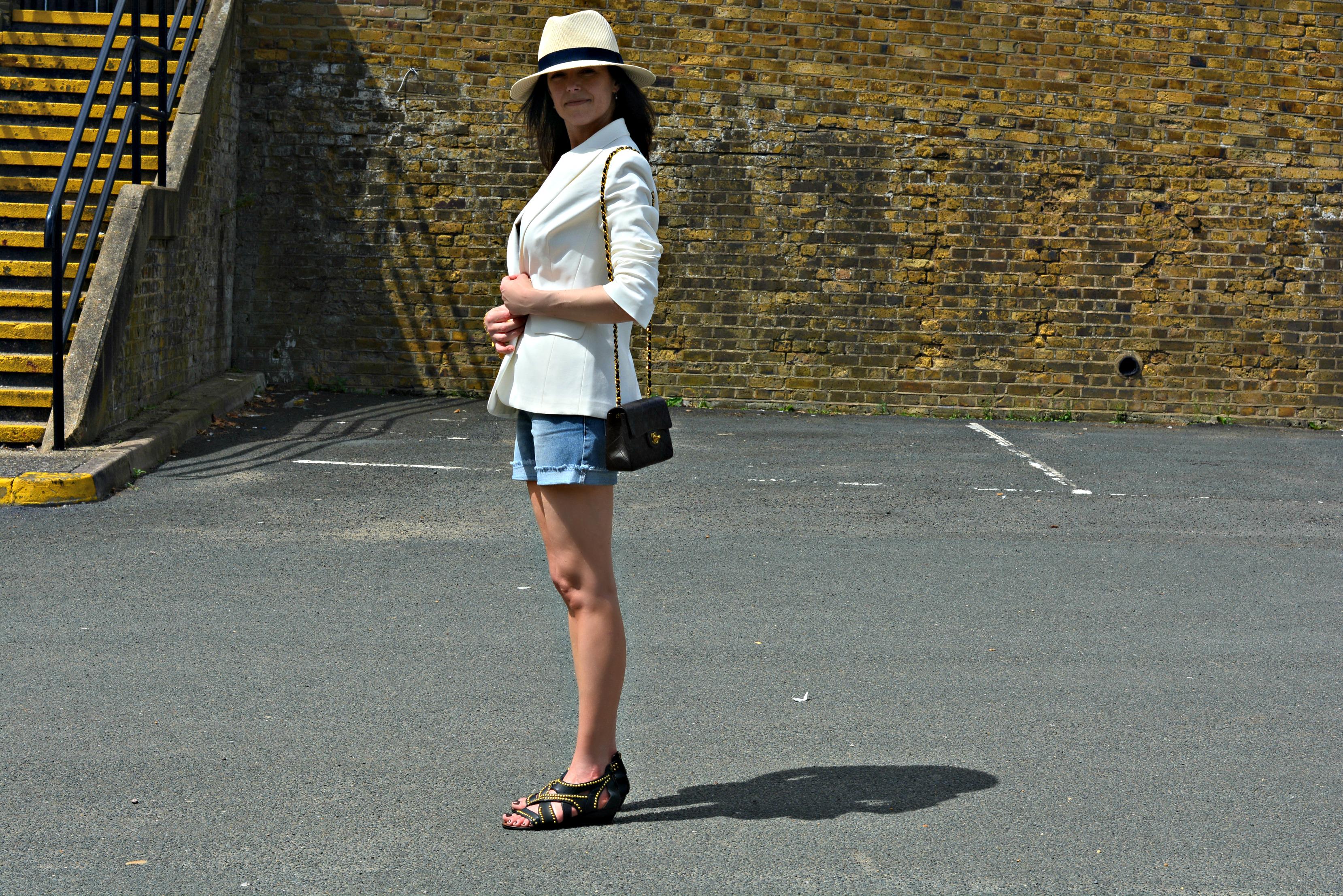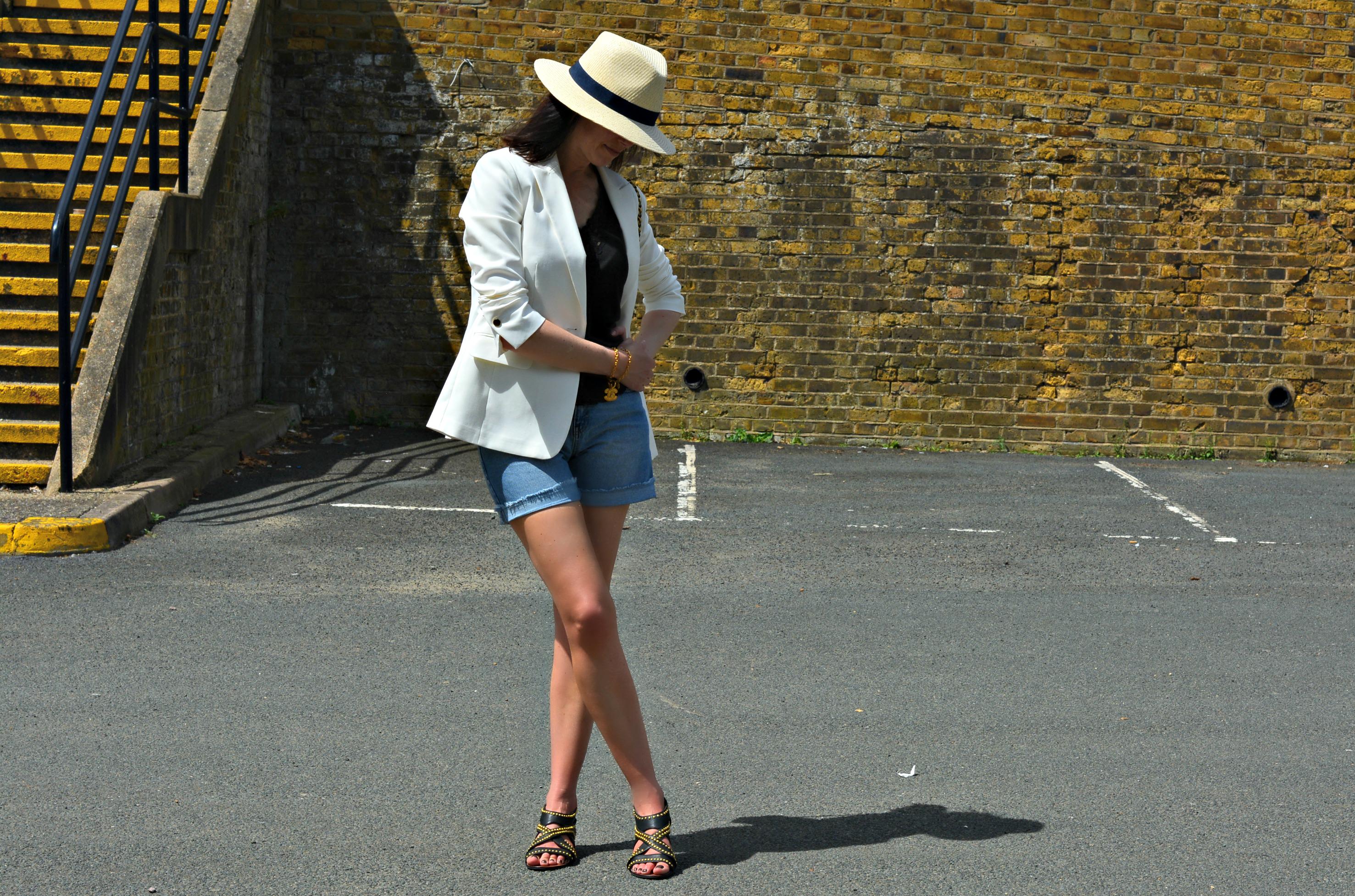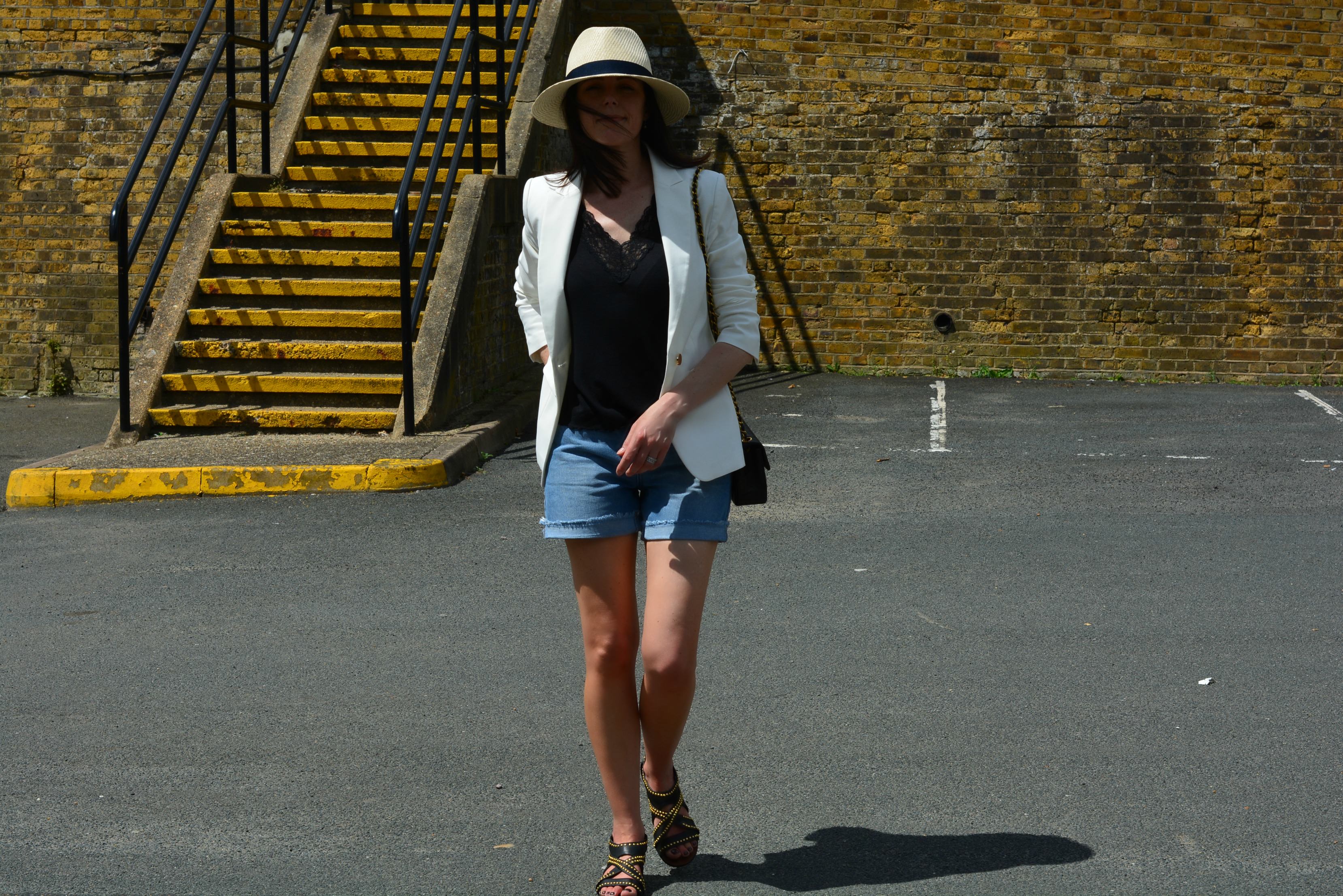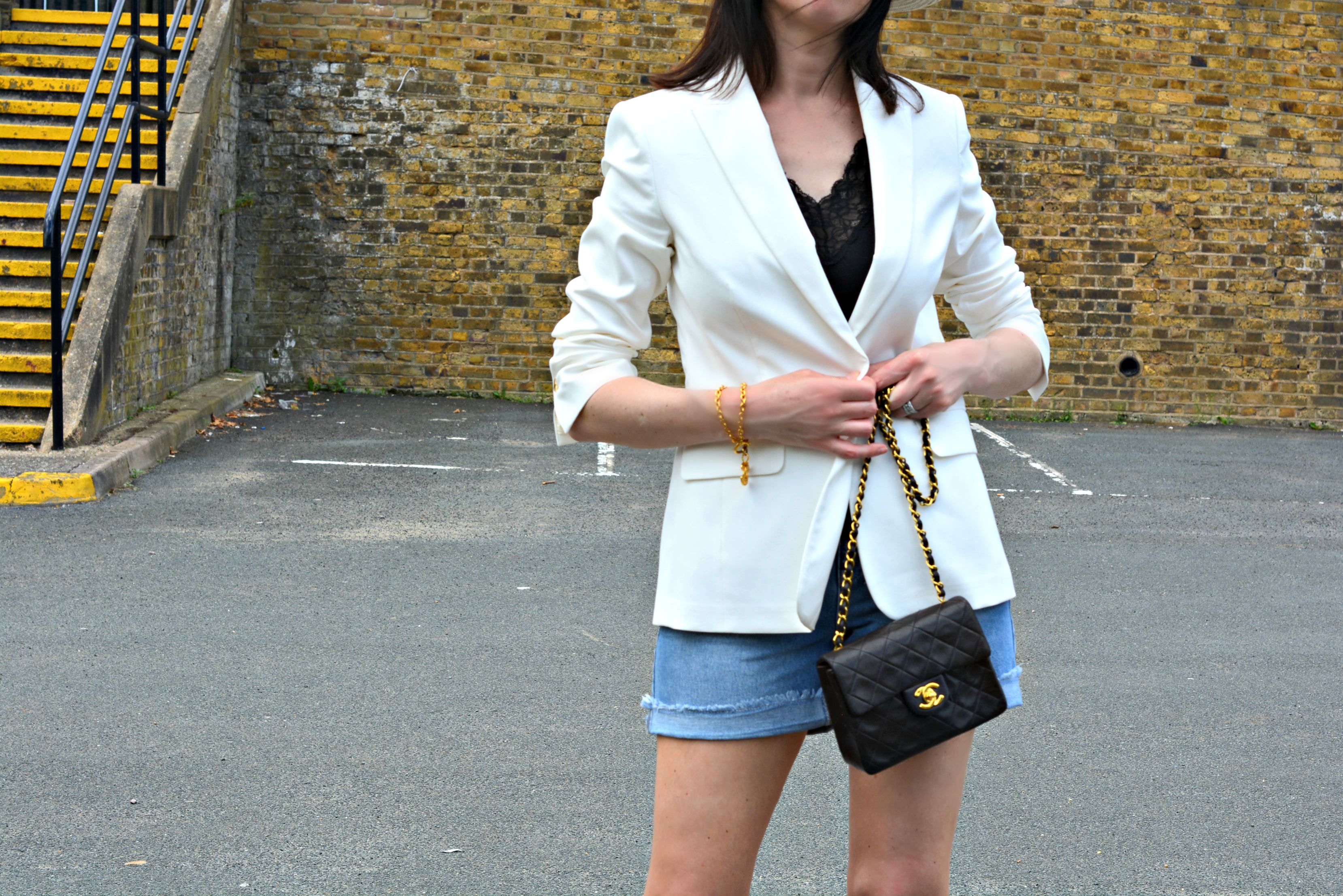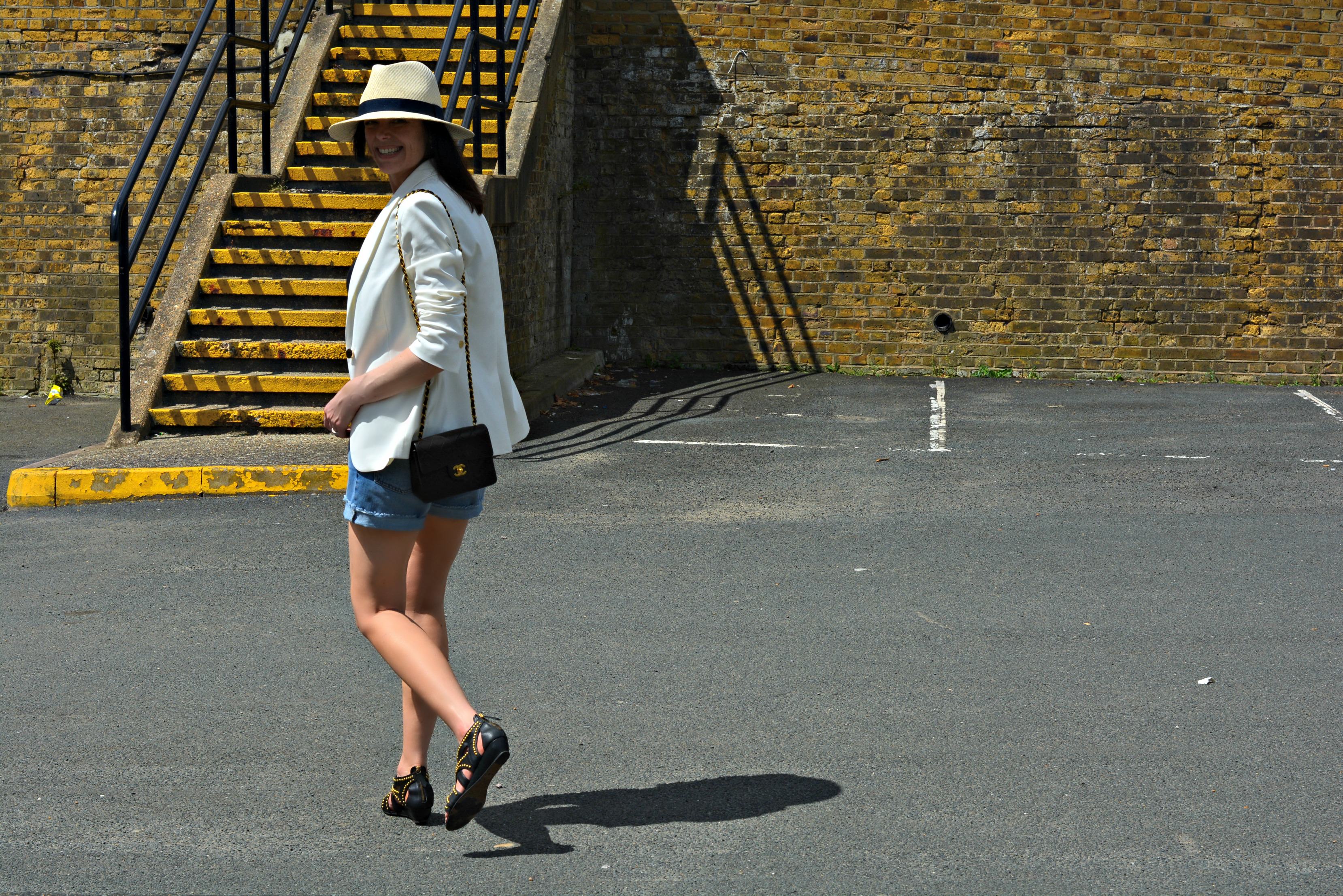 I really love shorts with blazers
& this combination of denim & white is a Summer winner wouldn't you say? My shorts today are from the Whistles sale last Summer when I also bought a white pair. In this post earlier in the year I describe how brilliant Whistles sales are. It's definitely worth waiting for one to come up if you have your eye on something there & don't be afraid to phone the store, as I did. You never know if the very last one of your hearts desire is hiding out back waiting for an extra 10% off!
I contemplated wearing heels with this ensemble, however for the gold studs I decided on my old Carvela low wedge sandals. I accessorized with my Vintage Chanel Bag & Bracelet which is actually a choker. For exquisite Vintage Chanel jewellery you should always try Vintage Heirloom first. You are certain to find stunning & genuine vintage pieces plus they offer 10% off your first order. My next dream purchase to add to my collection is definitely going to be a Chanel brooch. I'm doing positive affirmations as I type Bahahaha crazy obsessive laugh…
The black lace trimmed vest is super old from Aussie brand Bonds who are known for top quality cotton under garments.
Now to the Panama hat…
Confession time – It's actually Marks hat. The children gave it to him for Fathers Day, coincidentally it's also from Marks & Spencer! This lovely Panama works so brilliantly with the outfit I had to steal it even before he's had a chance to wear it. Marks & Spencer always do fantastic offers on clothing for Fathers Day. This year I bought a Polo T-Shirt, Shorts, flip-flops & the Hat all for under £50!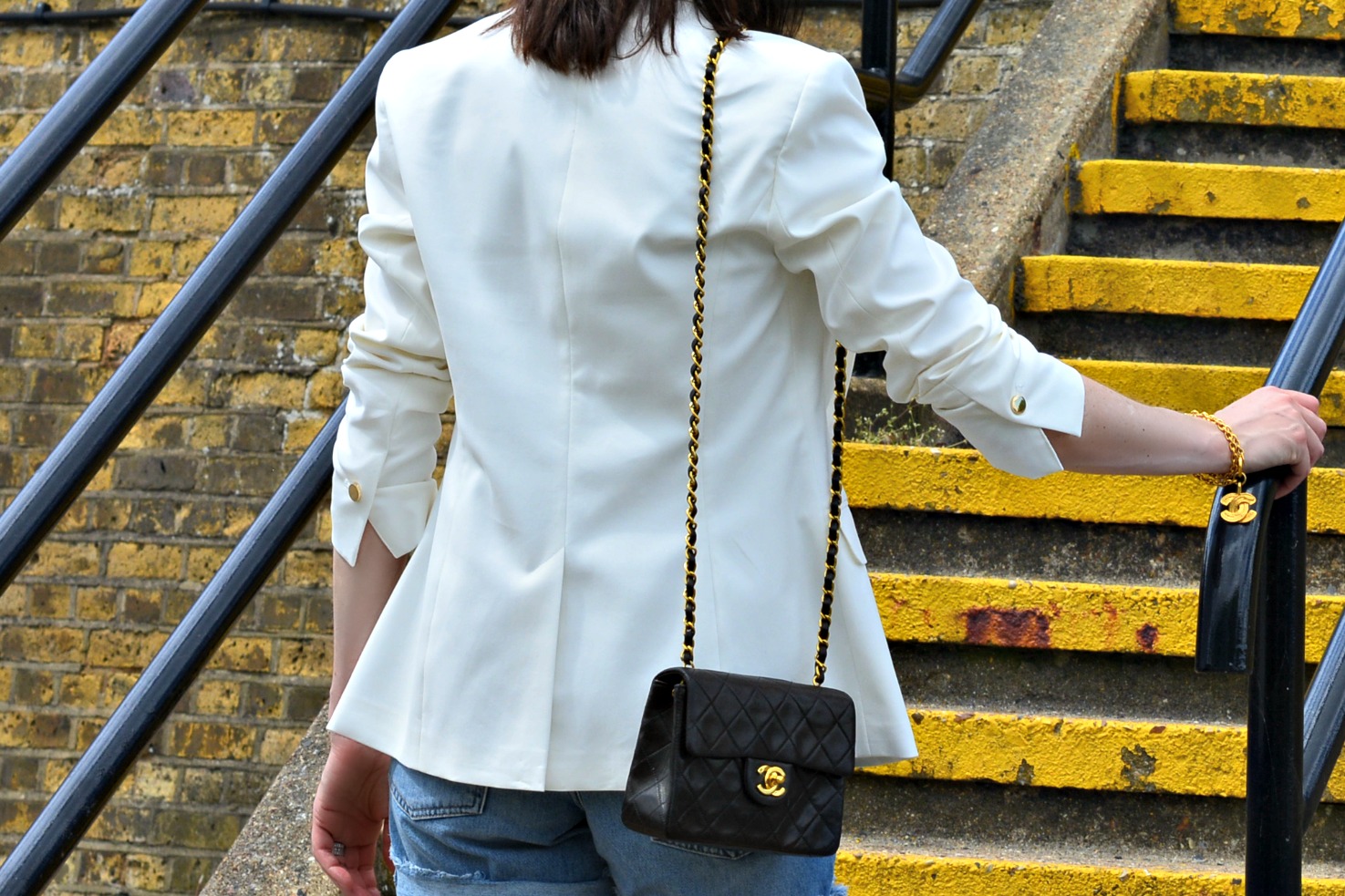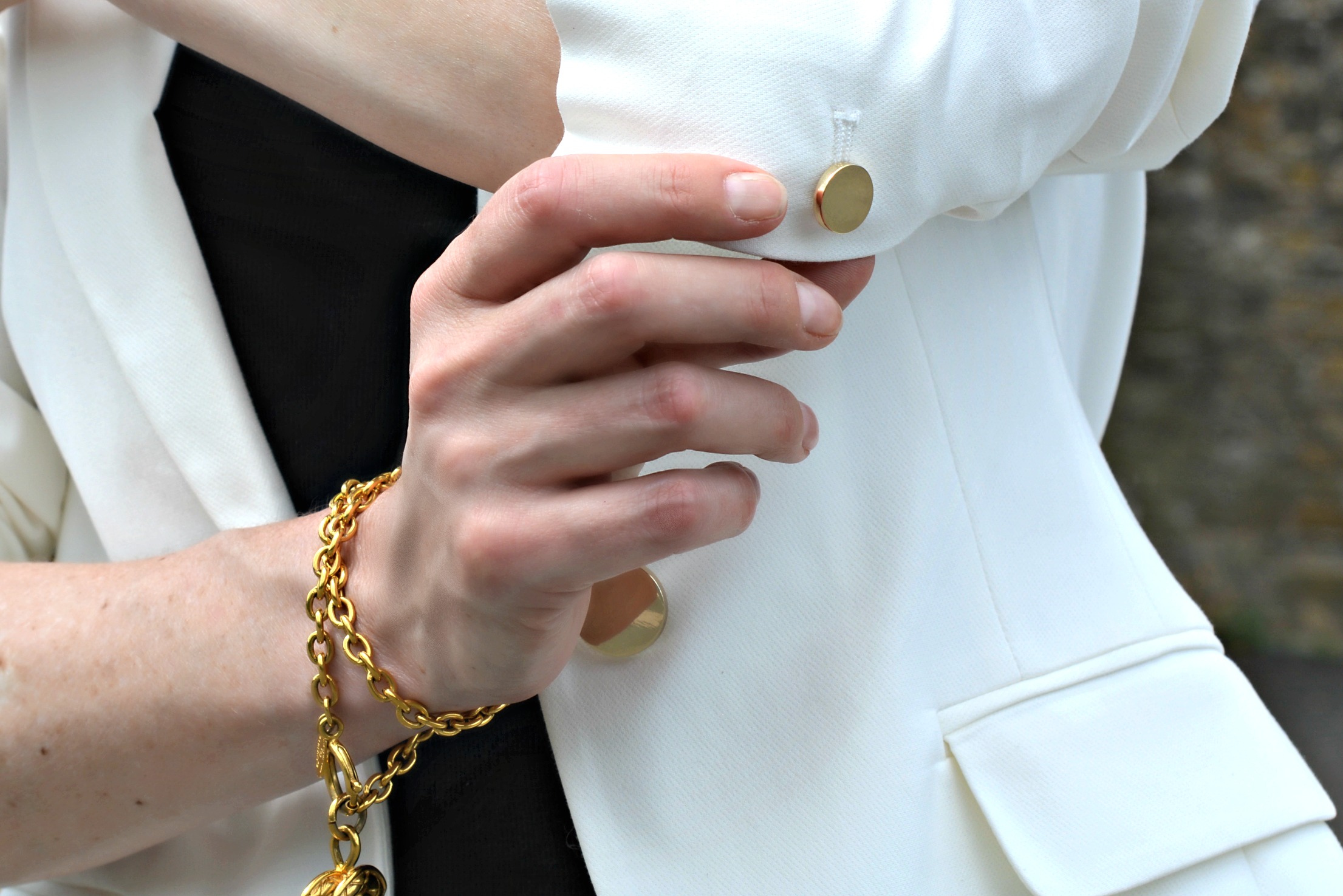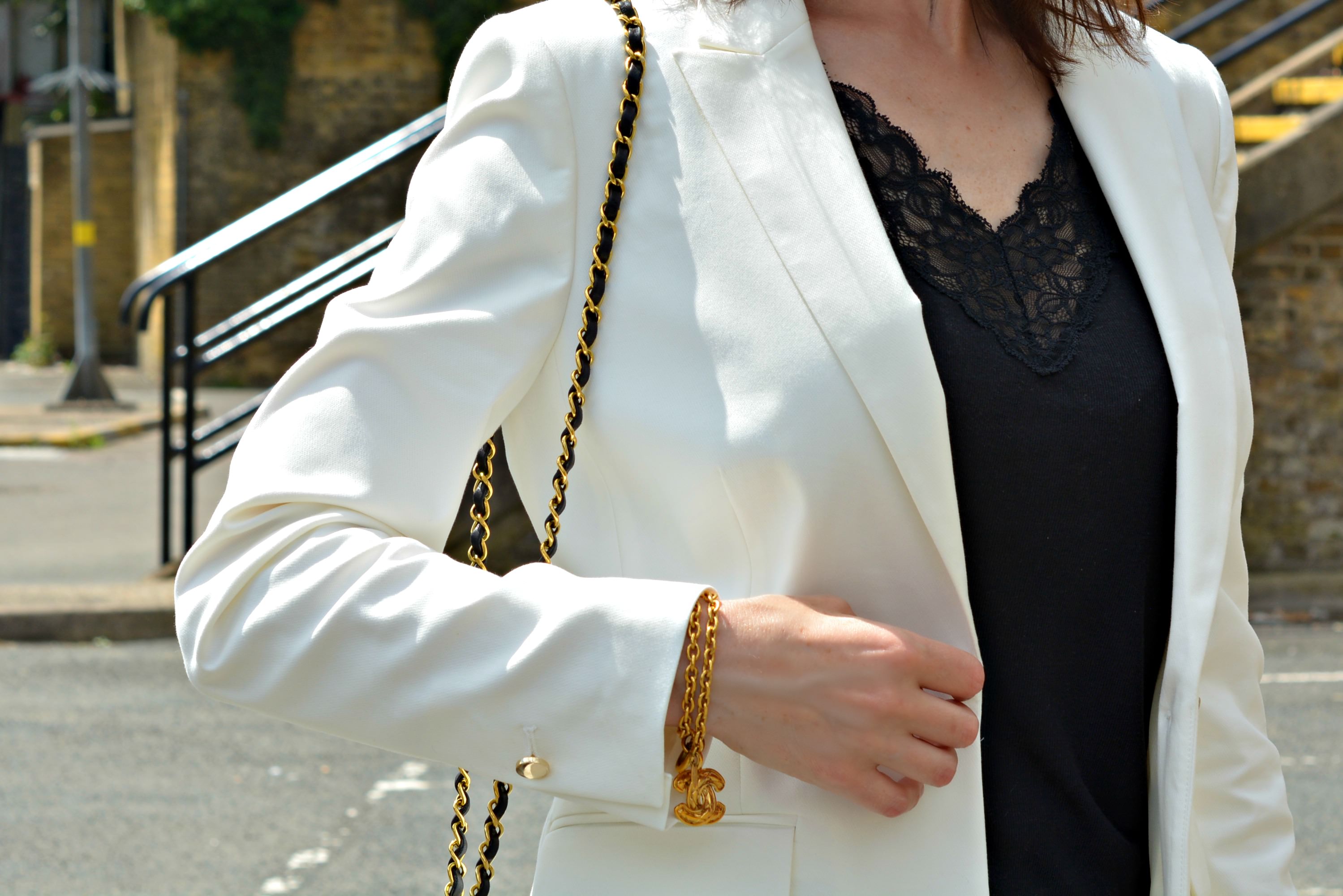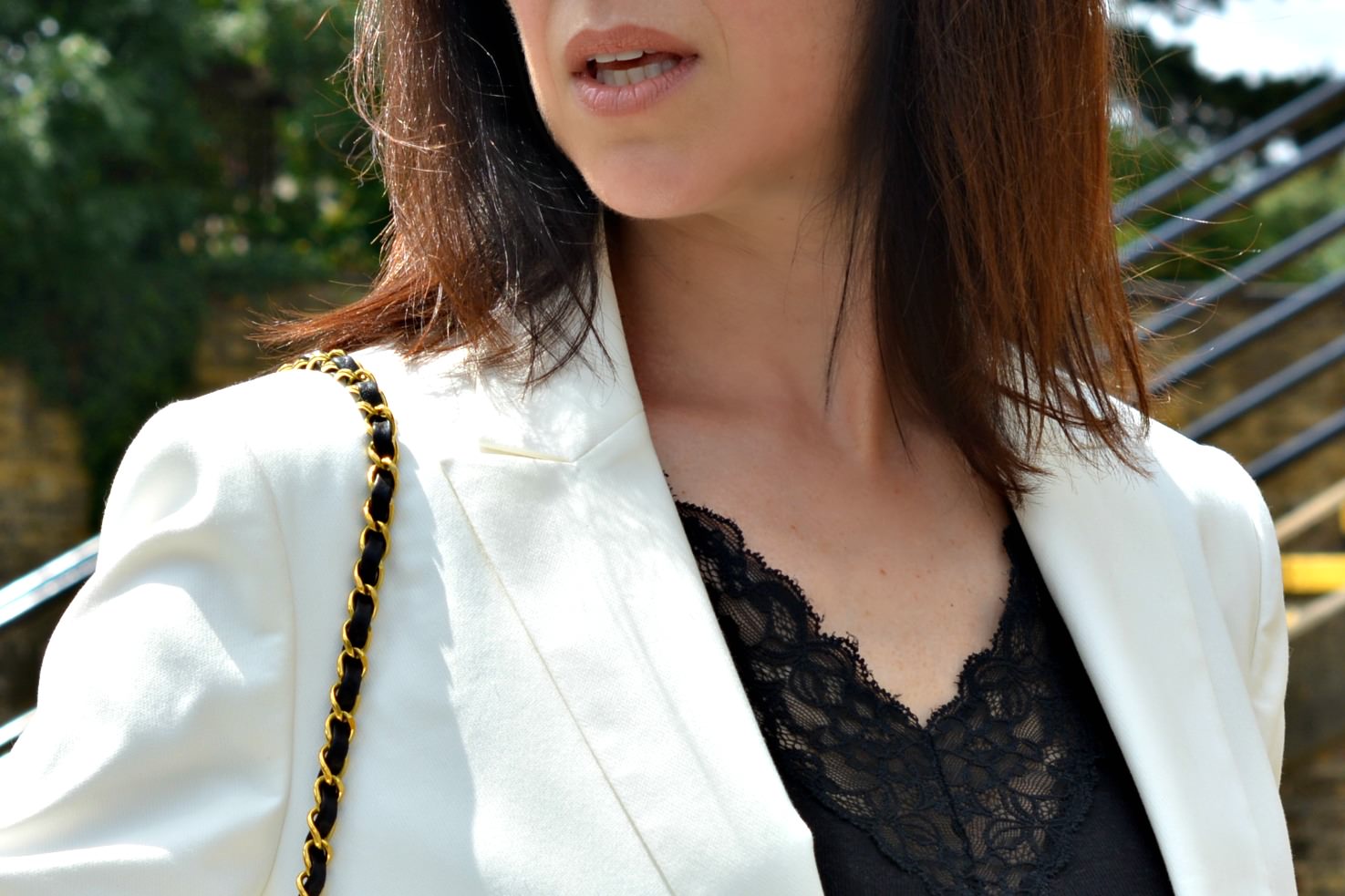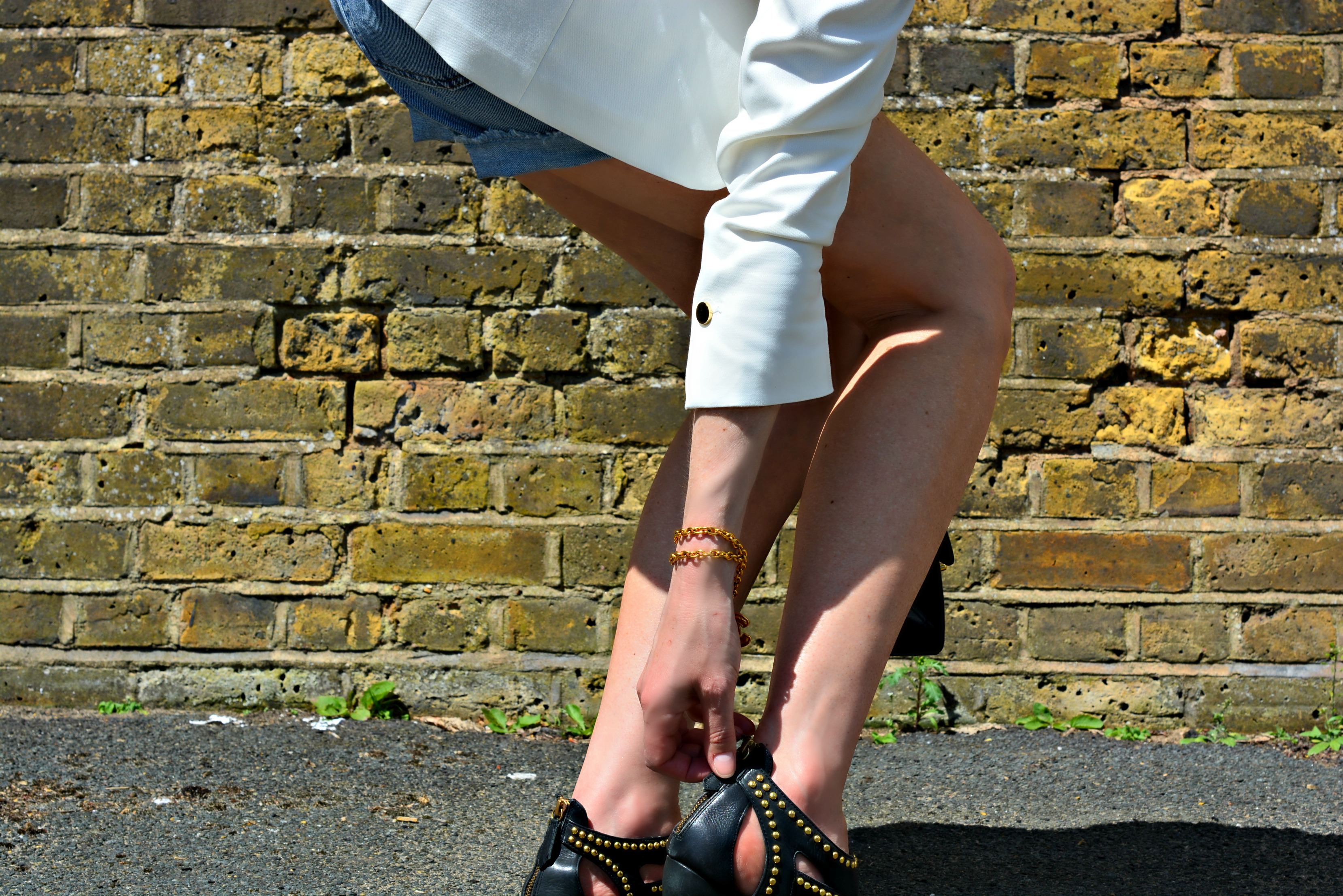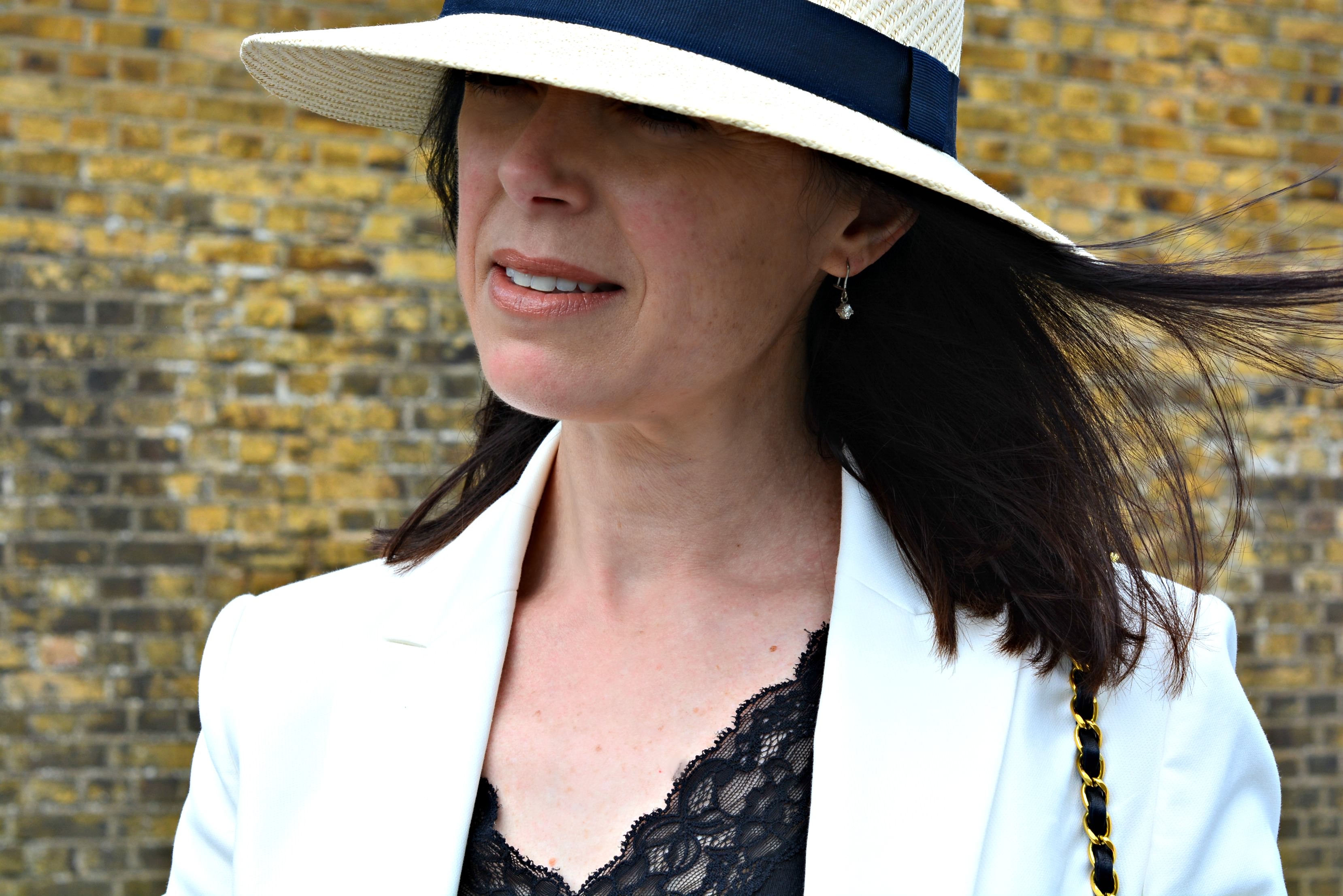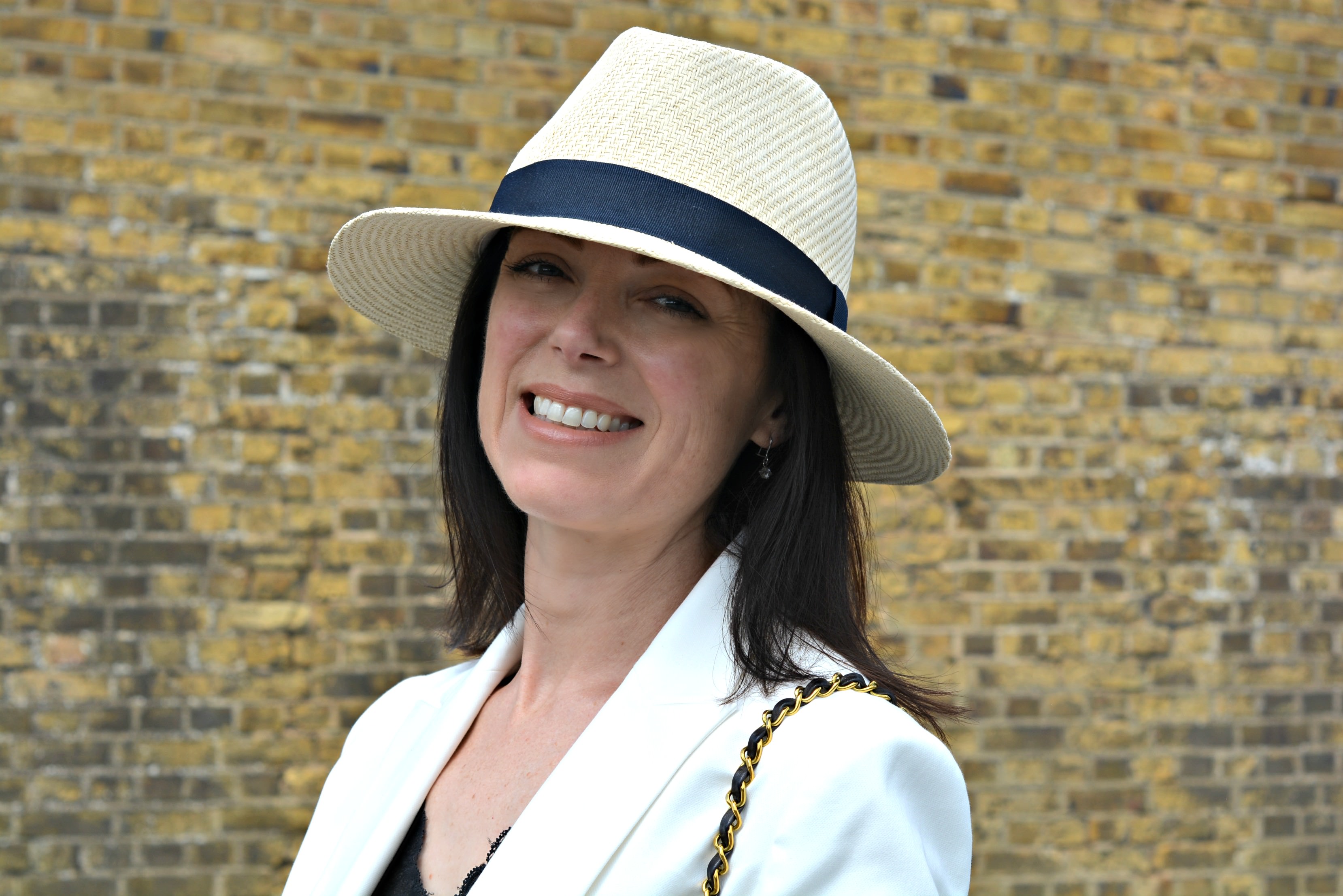 Now it's onto the rest of The Over40Collective with their White Top Challenge choices…
The Sequinist – Lisa's Instagram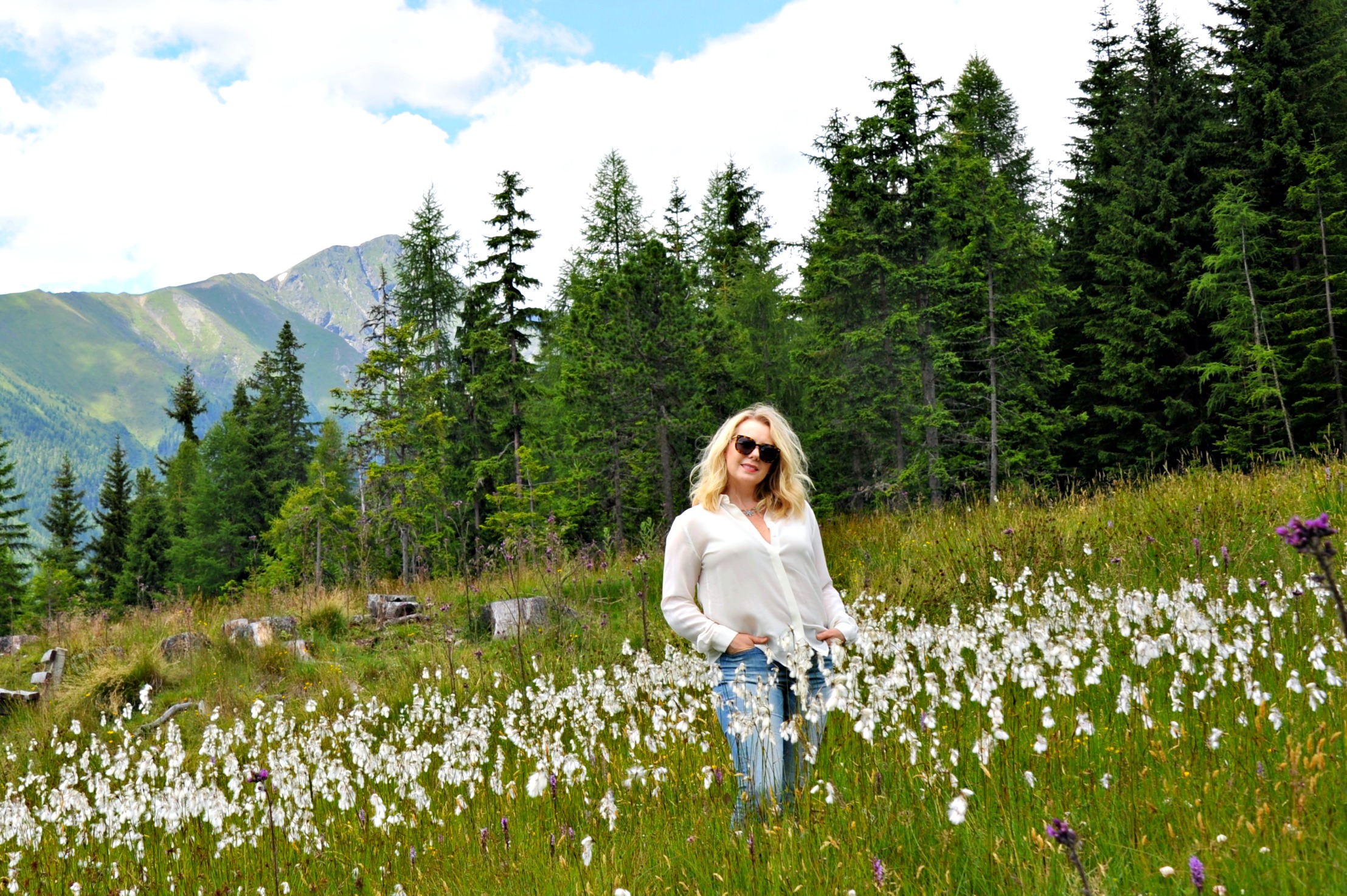 Midlife Chic – Nikki's Instagram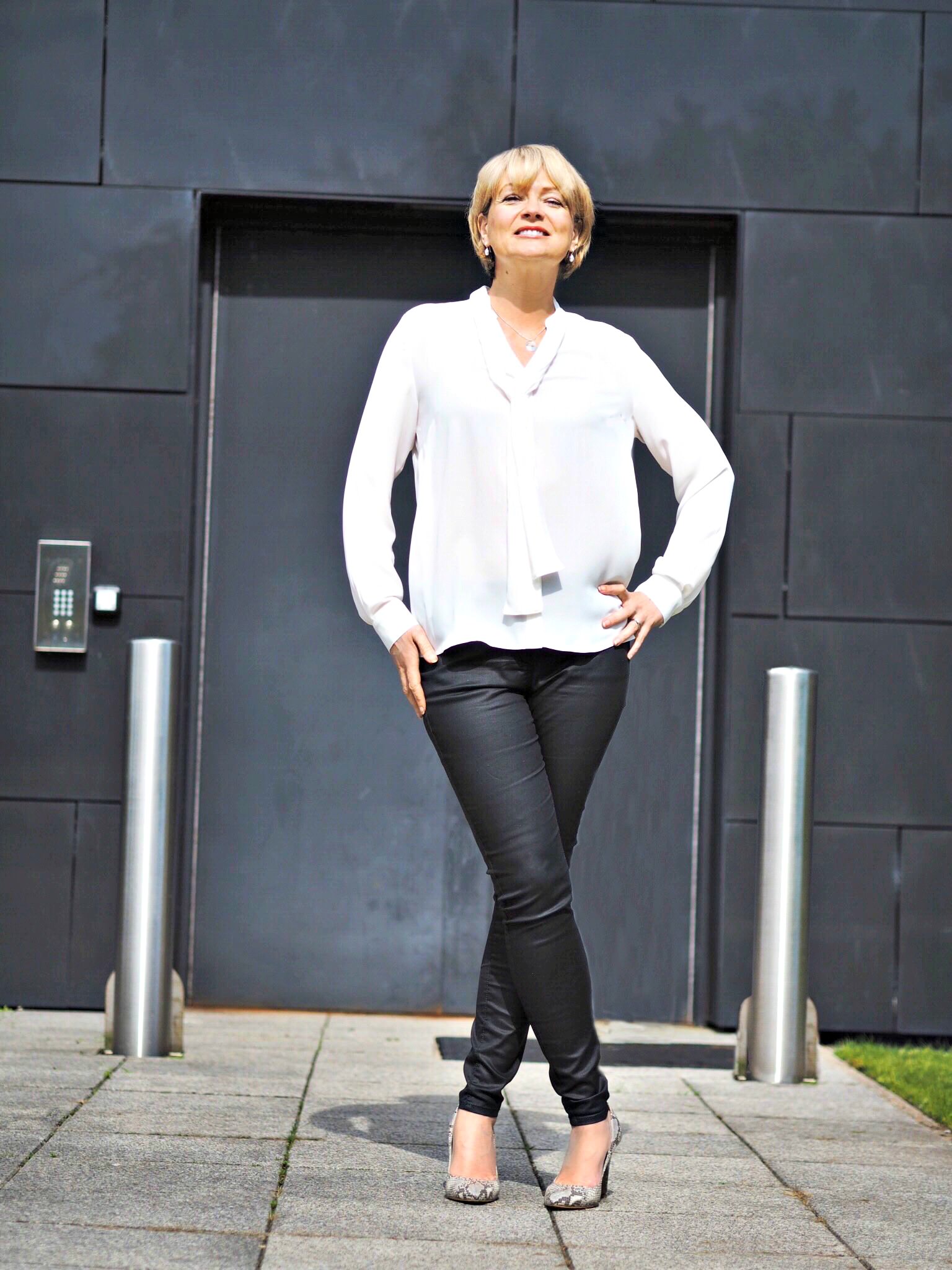 What Lizzy Loves – Liz's Instagram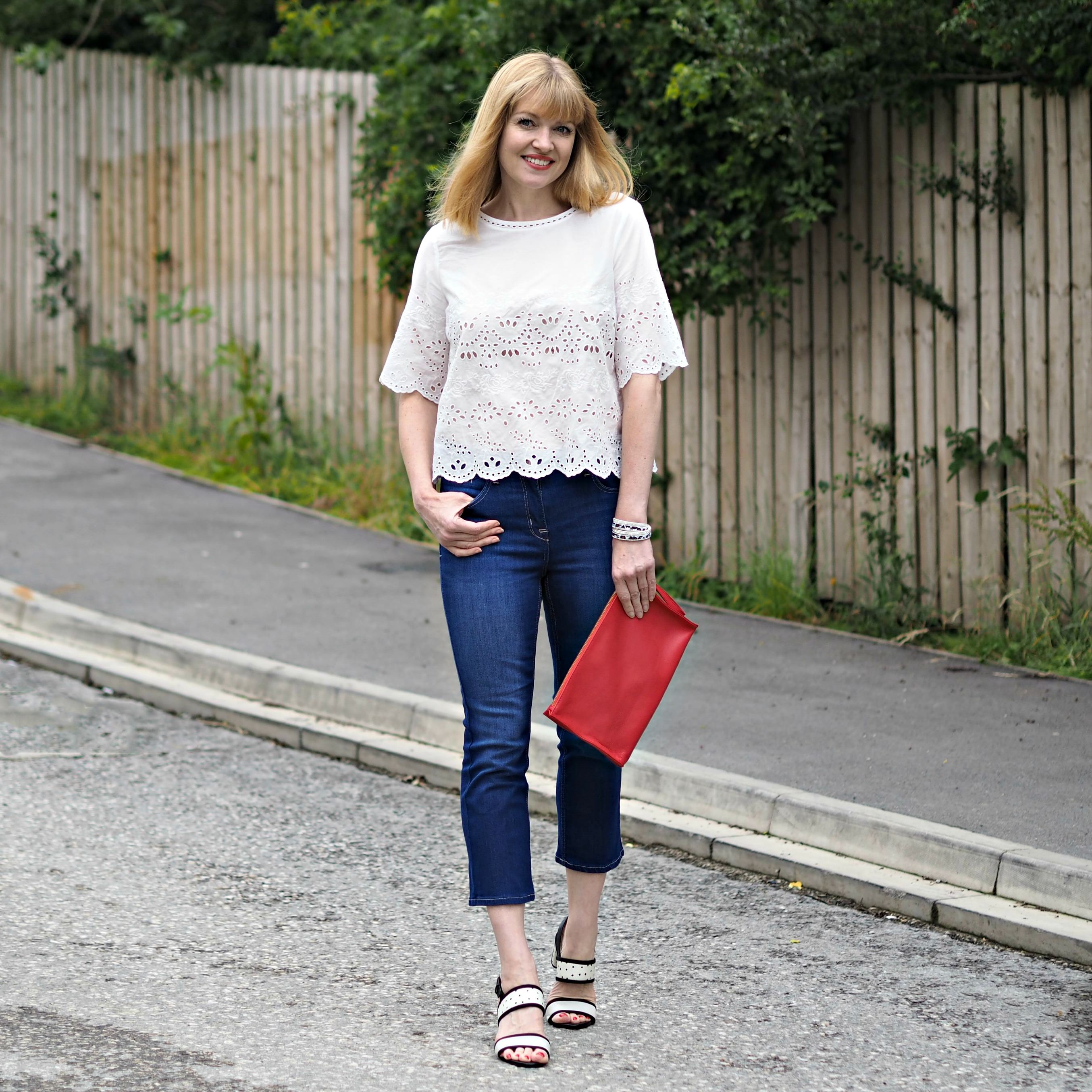 Lady of Style – Annette's Instagram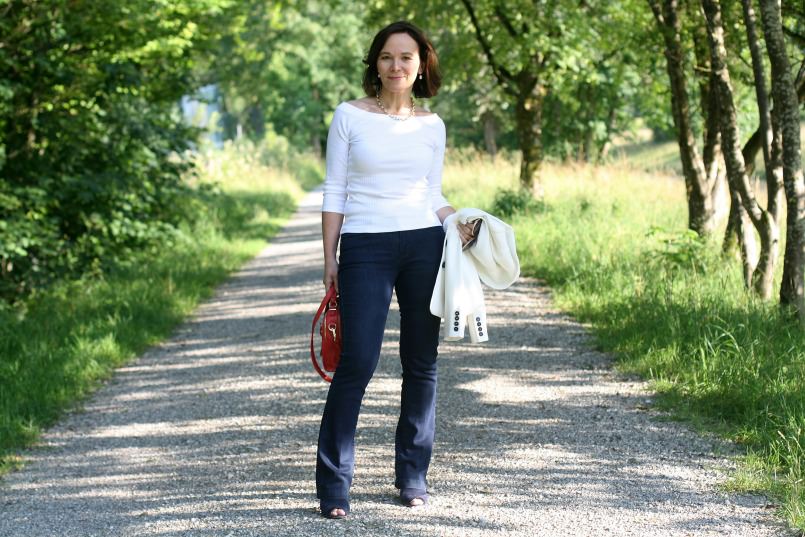 The Barefaced Chic – Michelle's Instagram
Not Dressed As Lamb – Catherine's Instagram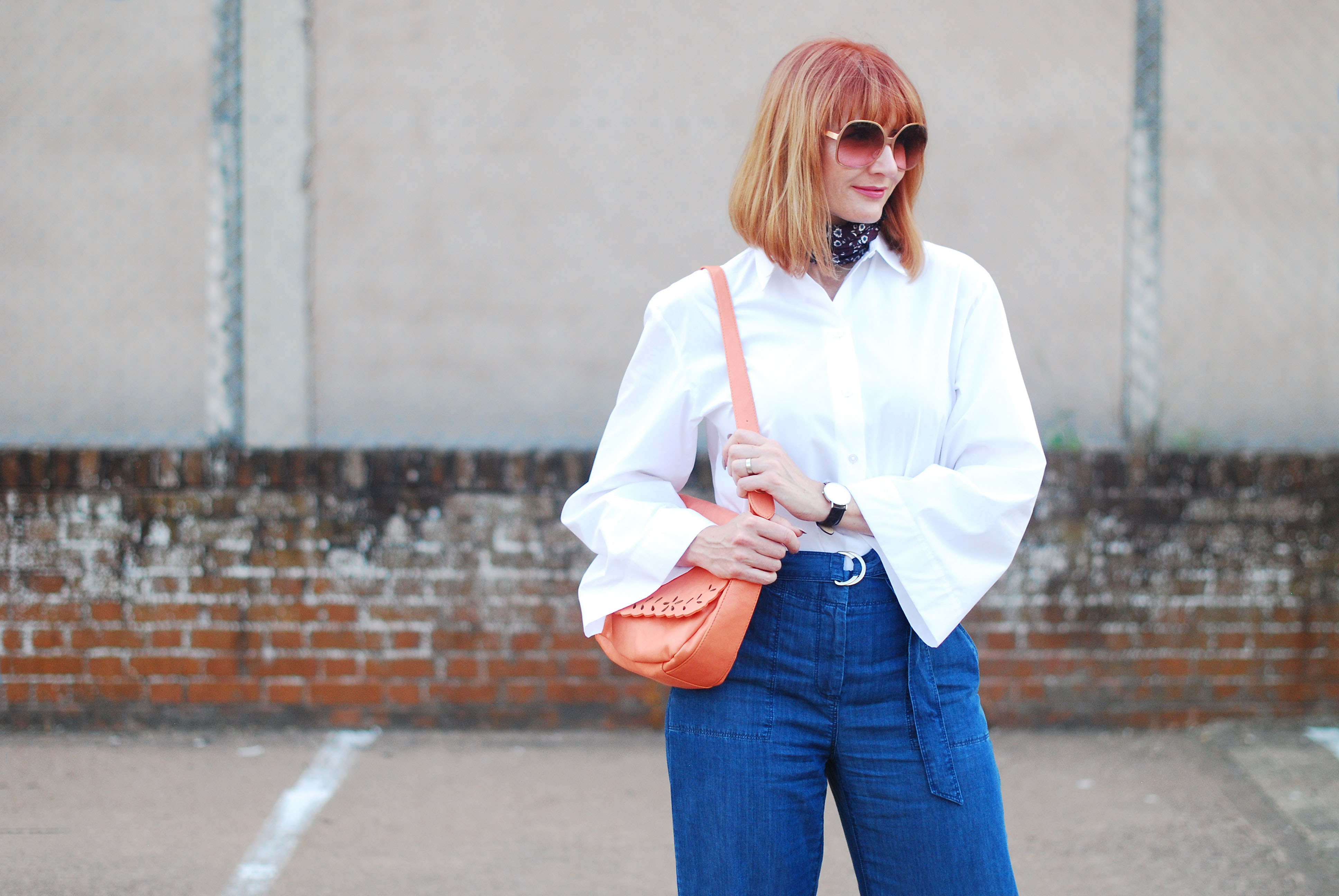 There you have it ladies – 7 Fashion Bloggers over 40, styling a Marks & Spencer white top with Denim. I've visited all of their blog posts now & let me tell you it makes for very interesting reading! I'd love to hear what you think of The Over 40 Collective results & if you'd like to see other style challenges.
Bye for now, Mx