It's common for women at a certain age to start collecting high quality wardrobe staples known as Investment Pieces.
In my case this began in my early 30's when I was completely & utterly comfortable in my own skin. For the most part I had developed a definitive style although I peppered it with unique or "trendy" bits for detail. I was fairly certain what suited my body & my personality, in other words I knew what I liked.
As I grew older I held off from buying what I wanted, to afford the more expensive option. It helped that I had more patience & equally more funds. Of course wearing the superior garments only served to refine my taste further beyond my means yet I would persist, wait for sales or scour Ebay & later Vestiaire Collective. You see the high quality item will not only wear well, it also tends not to date. Therefore it stands to reason going down the 2nd hand route is an excellent option well worth investigating.
Have you heard of #30wears? More like #100wears in my case! If you're unfamiliar with the campaign check out this post.
Something interesting happens before I fork out large sums of money on my wardrobe, I stop & think. I mean when you need a new car you don't rush out to buy the first one you see do you? You research other makes & models, figure out what size would work best & so on….Give it due diligence.
You get my drift right?
This is "conscious shopping" for your wardrobe which basically means putting deep thought into what you buy. After all I'm curating an important collection that needs to work hard for me. I'm not a Kardashian with unlimited funds coupled with a walk-in wardrobe the size of Jersey. However I do love fashion so I invest in the classics & what's more I wear them OFTEN. Honestly, what is the point of owning something exquisite such as this silk shirt only saving it "for best"? If you need some inspiration here's my post with 5 tips on how to get your collection started.
Additionally there's often provenance of fair trade & in many cases highly skilled artisans at the source of your purchase. A perfect example is my recent birthday/xmas present featured in today's post. Last year I visited the Louis Vuitton exhibition in London & stood mesmerised by the craftswoman creating a masterpiece before my very eyes. There's a photo of her in my review of the exhibition here.
It's important to note that my wardrobe is by no means vast however it is mighty! Due to the ethos of buying investment pieces I now have some fabulous shoes, clothes & bags – Some of which are almost 20 years old! Apart from the very special Vintage items which are quite a lot older than that!
Although I tend to stick to the same designers & top quality Brands there are always new ones popping up on my radar.
Recently I've discovered the beautifully manufactured label Winser London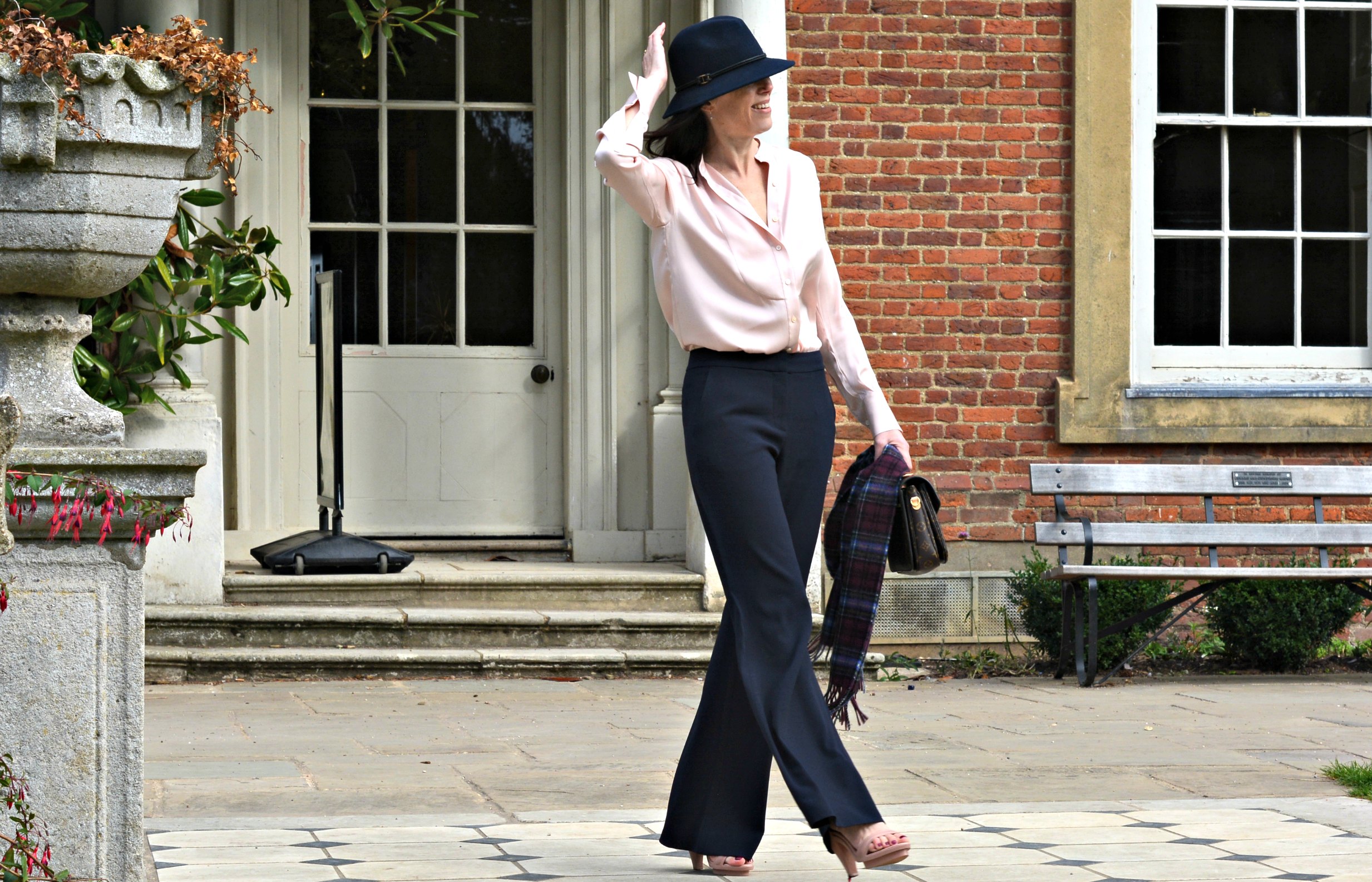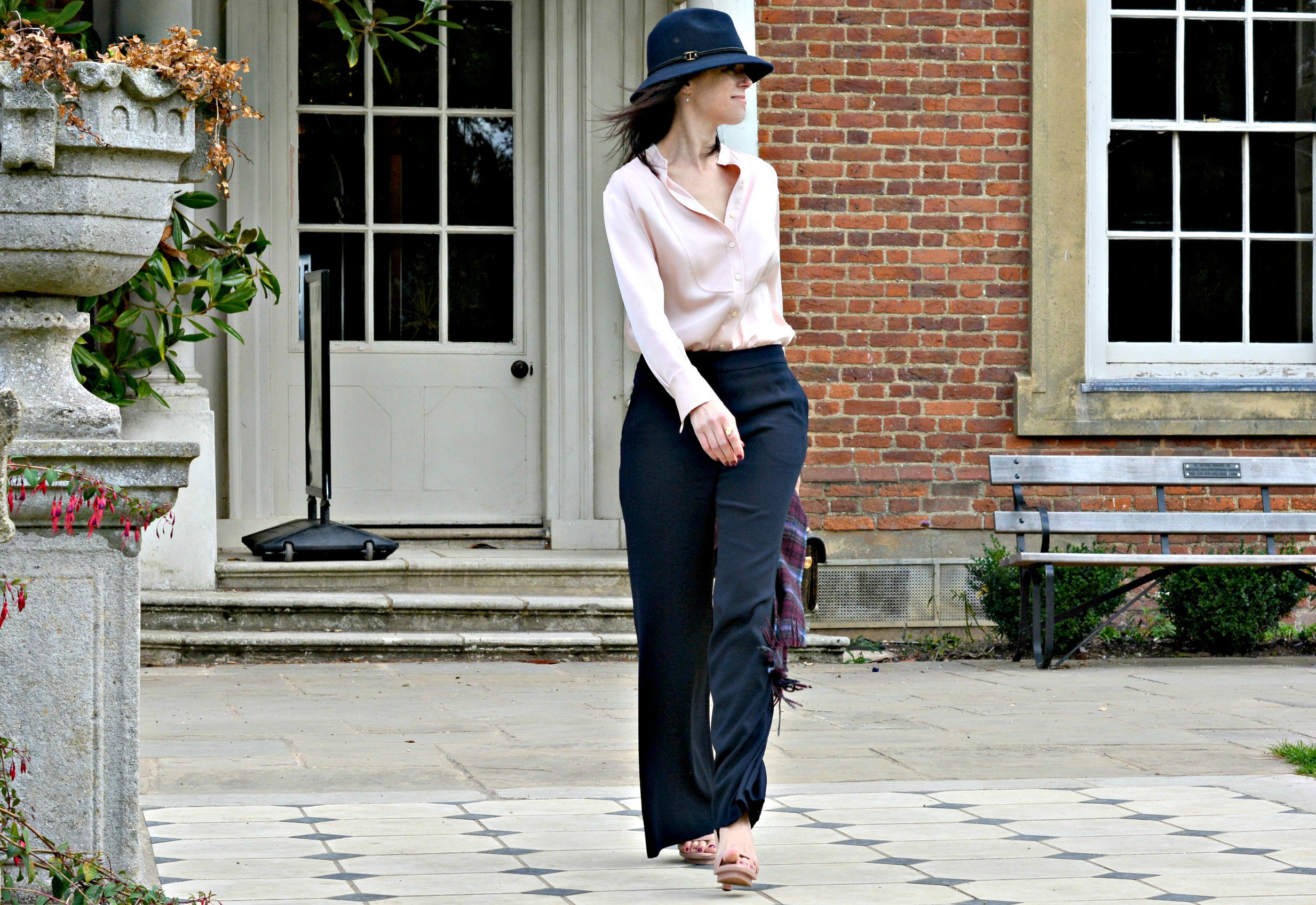 My Winser London outfit today
Consists of a classic Silk Shirt in blush pink & Wide Leg Flat Front Trousers. In my opinion this combination is the very definition of investment buying. A pair of flattering beautifully cut trousers & feminine silk shirt is the epitome of timeless style.
The Laura Ashley hat I'm wearing is a similar dark blue to the trousers & as it was an incredibly windy day, worked in keeping my hair out of my face. N.B I bloody detest wind – Grrrr Although it did serve to display the fluid nature of both fabrics brilliantly!
On the subject of colour, these trousers are midnight blue although can also appear either black or navy depending on the light. I think of this as a bonus because they will have dual purpose & work across all Seasons. I've tried to capture the variation in colour for you in my photos below.
My Joules scarf was another birthday present this year, from my oldest friend Lisa – "Hi mate" The girl knows my taste & has impeccable timing, no? As I mentioned earlier my Louis Vuitton bag was my combined birthday & Christmas present from Mark & the children that I clearly chose & (yearned for) indeed purchased Heehee I've also worn it here with the long strap attached which was ideal for hands free sightseeing in Paris as well. Smart buy Marky! Teeheehee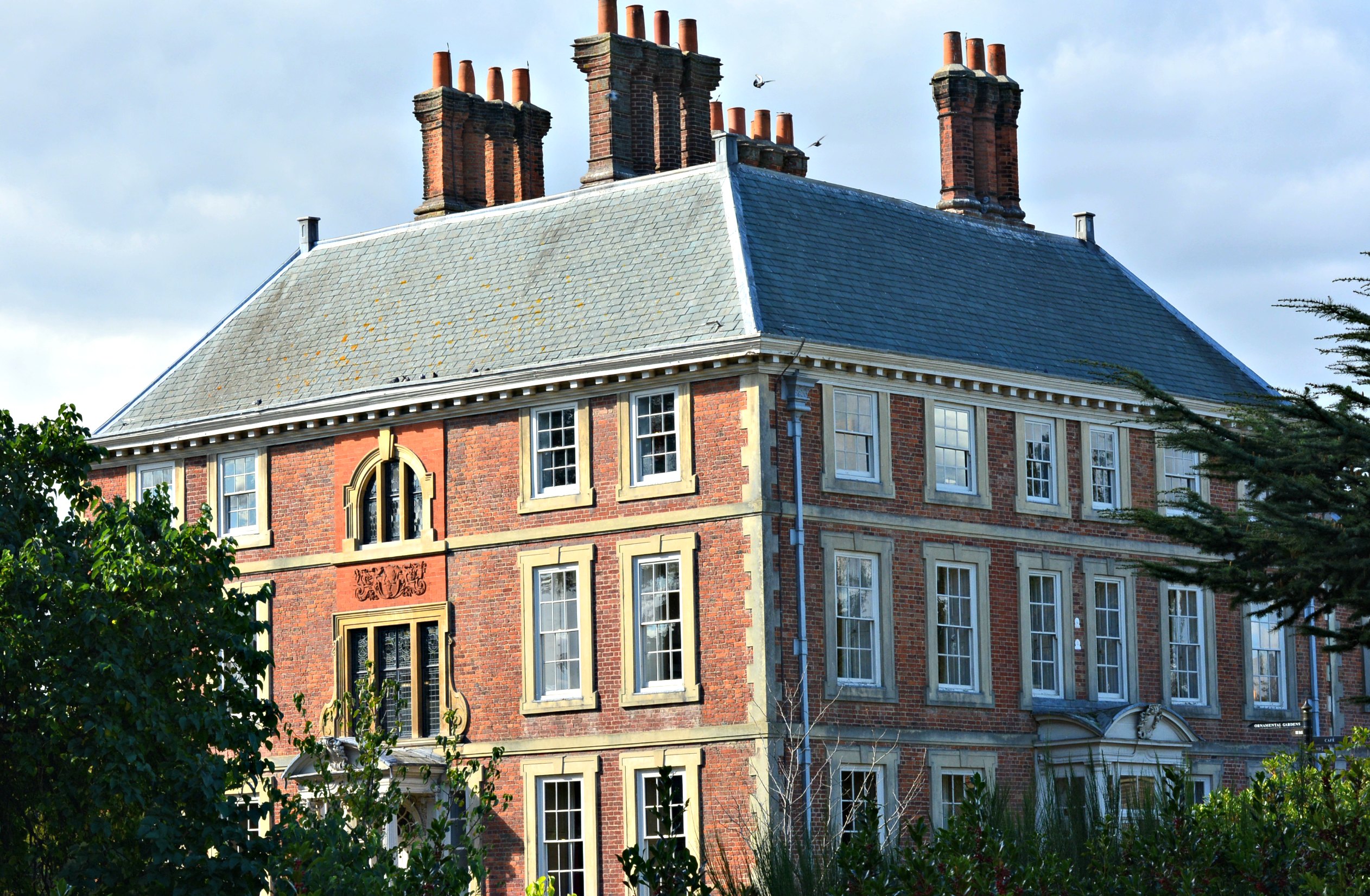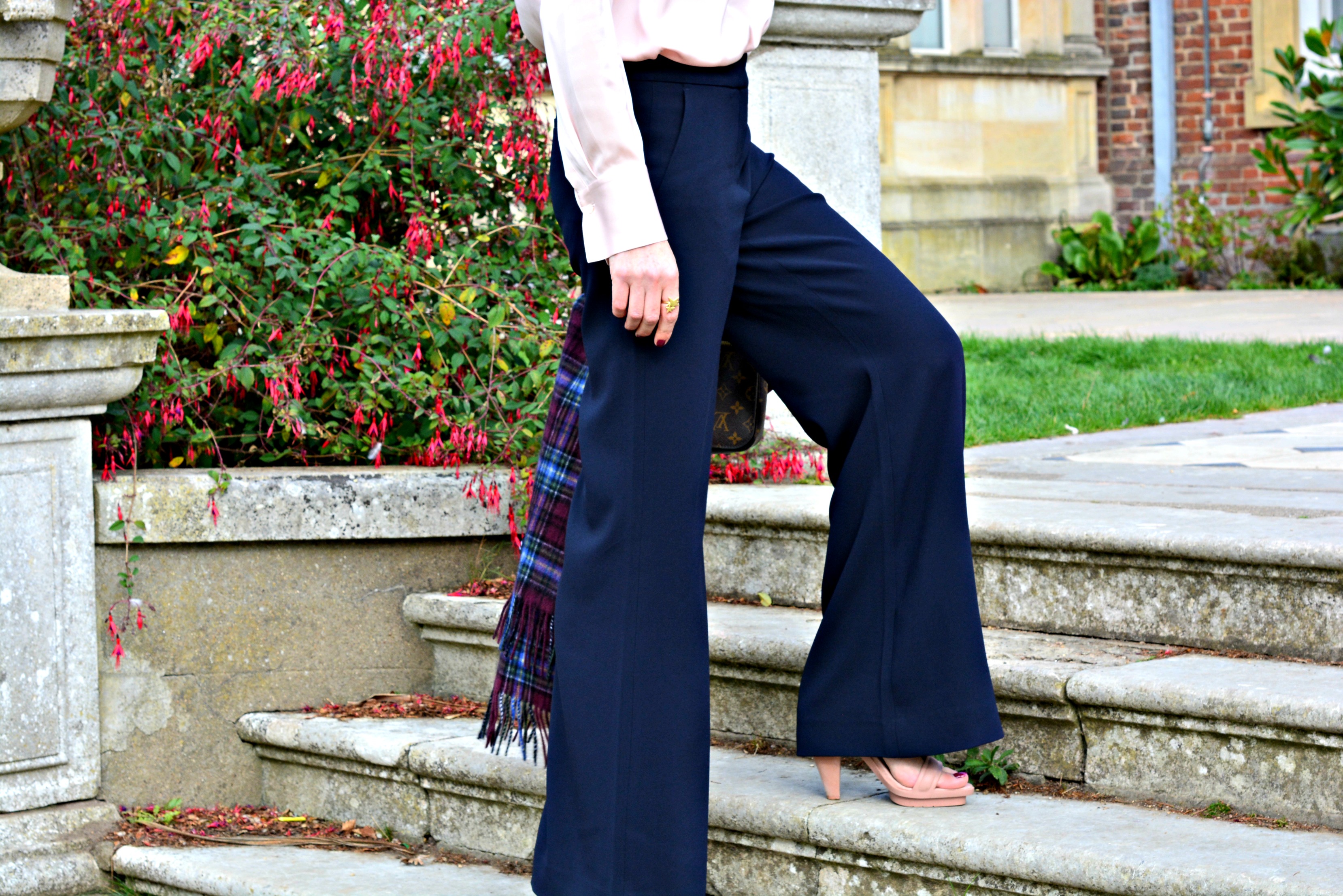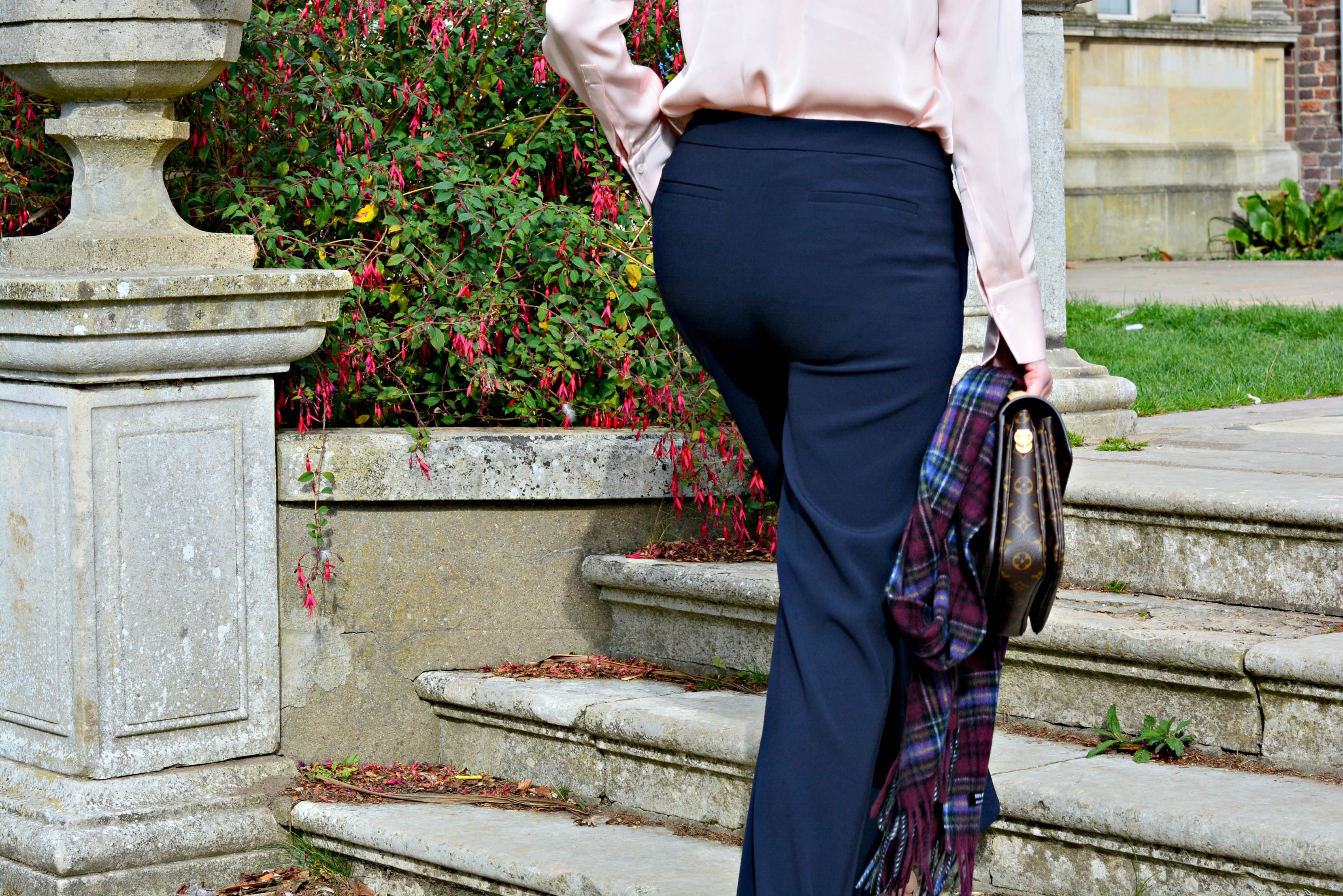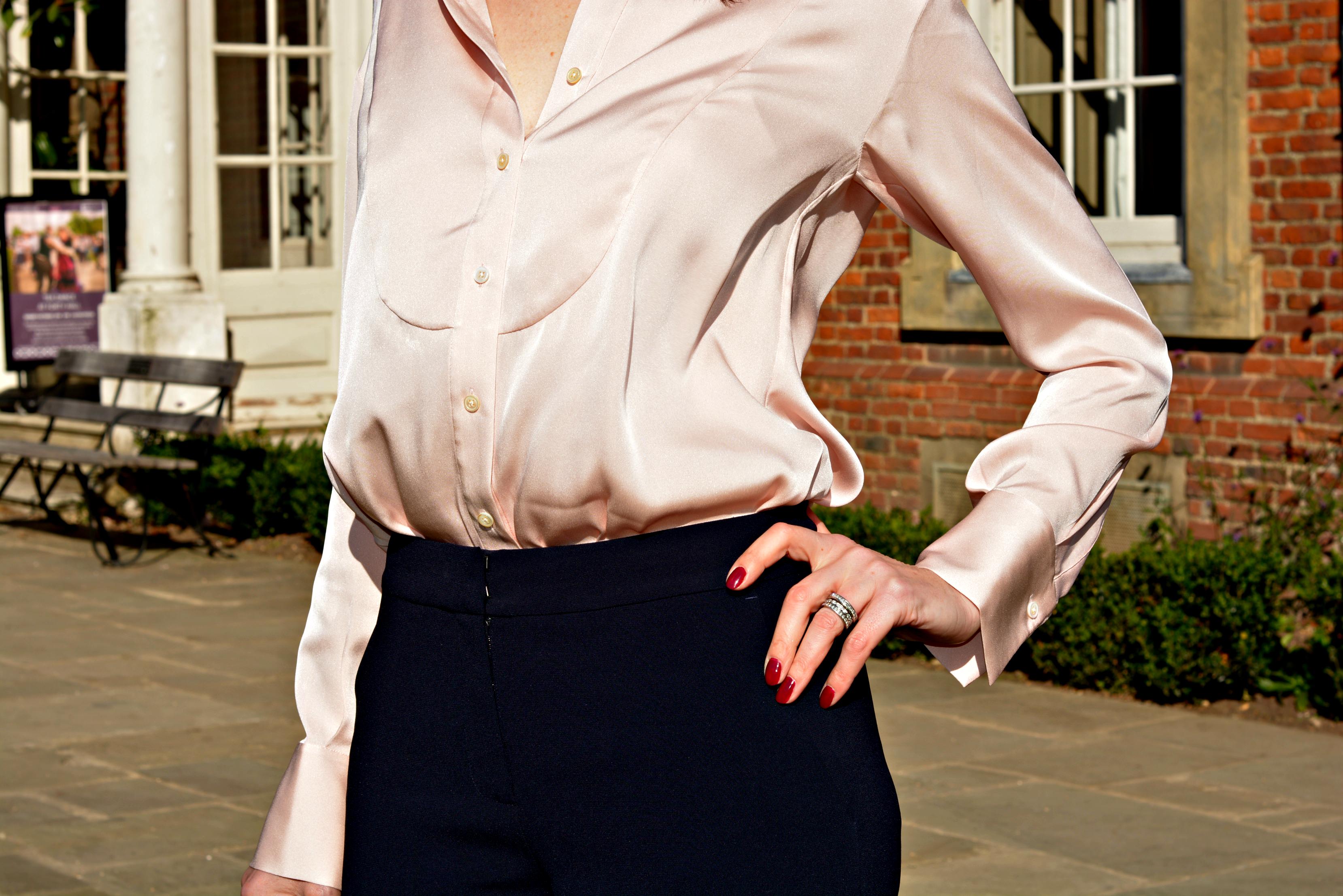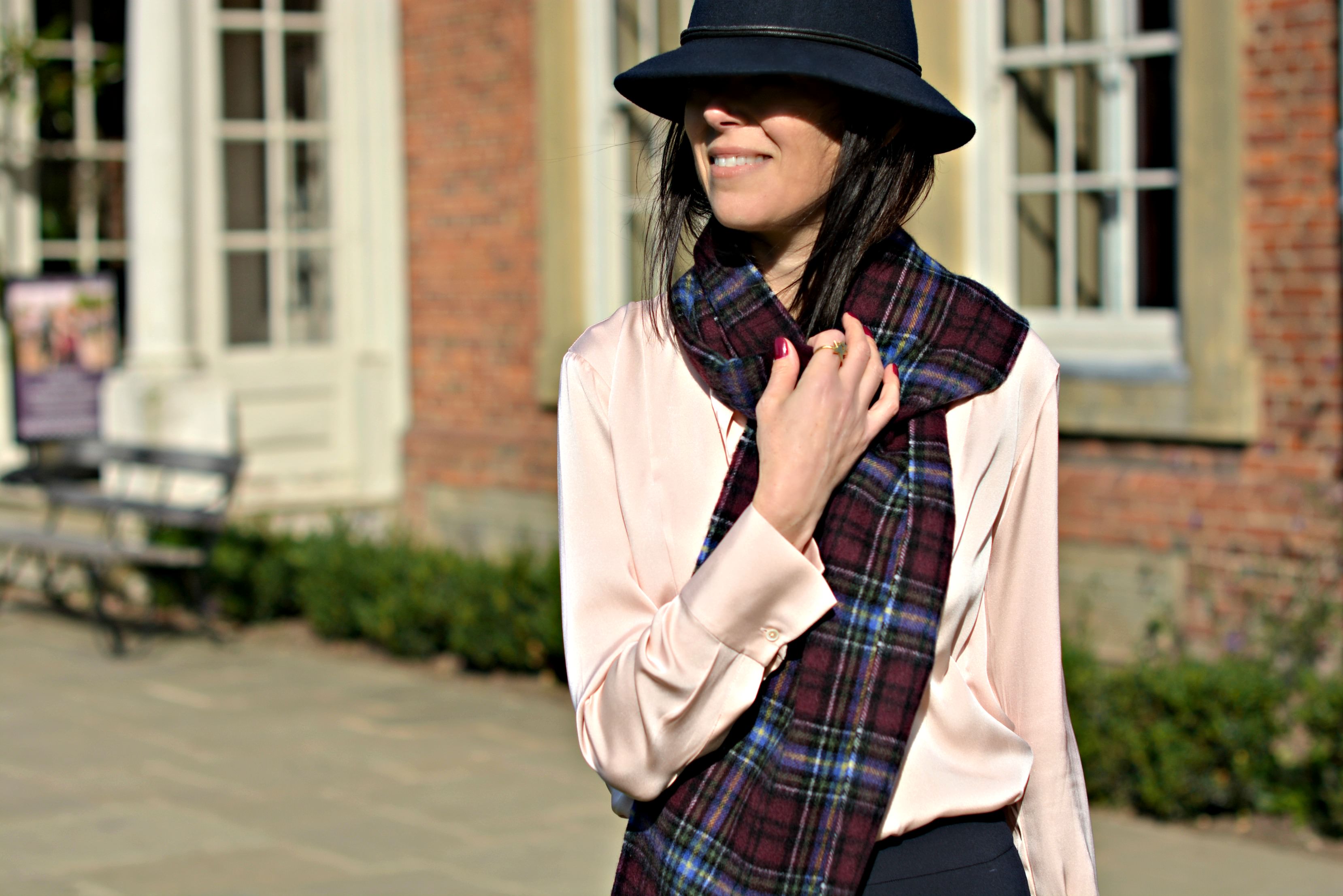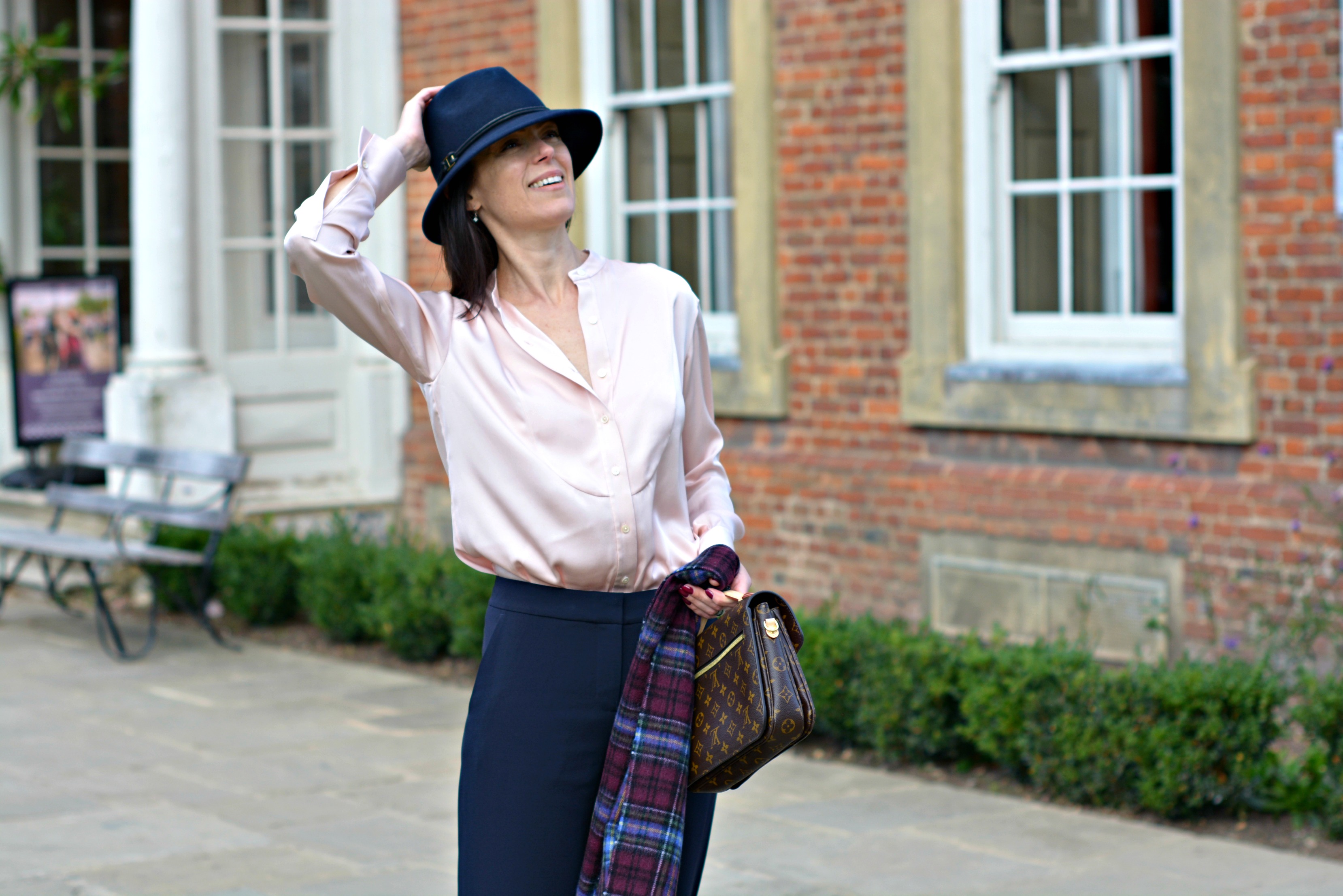 Melissa shoes made from moulded rubber
That smell like bubblegum YUM YUM! I love these Melissa shoes soooo much!!! I bought them from Vestiaire Collective & have written a blog post about them – Naturally.
I wear them loads because they're incredibly versatile, don't believe me? See here & here too.
My berry coloured OPI nail polish has just a tinge of blue tone tying in the shirt with the scarf perfectly.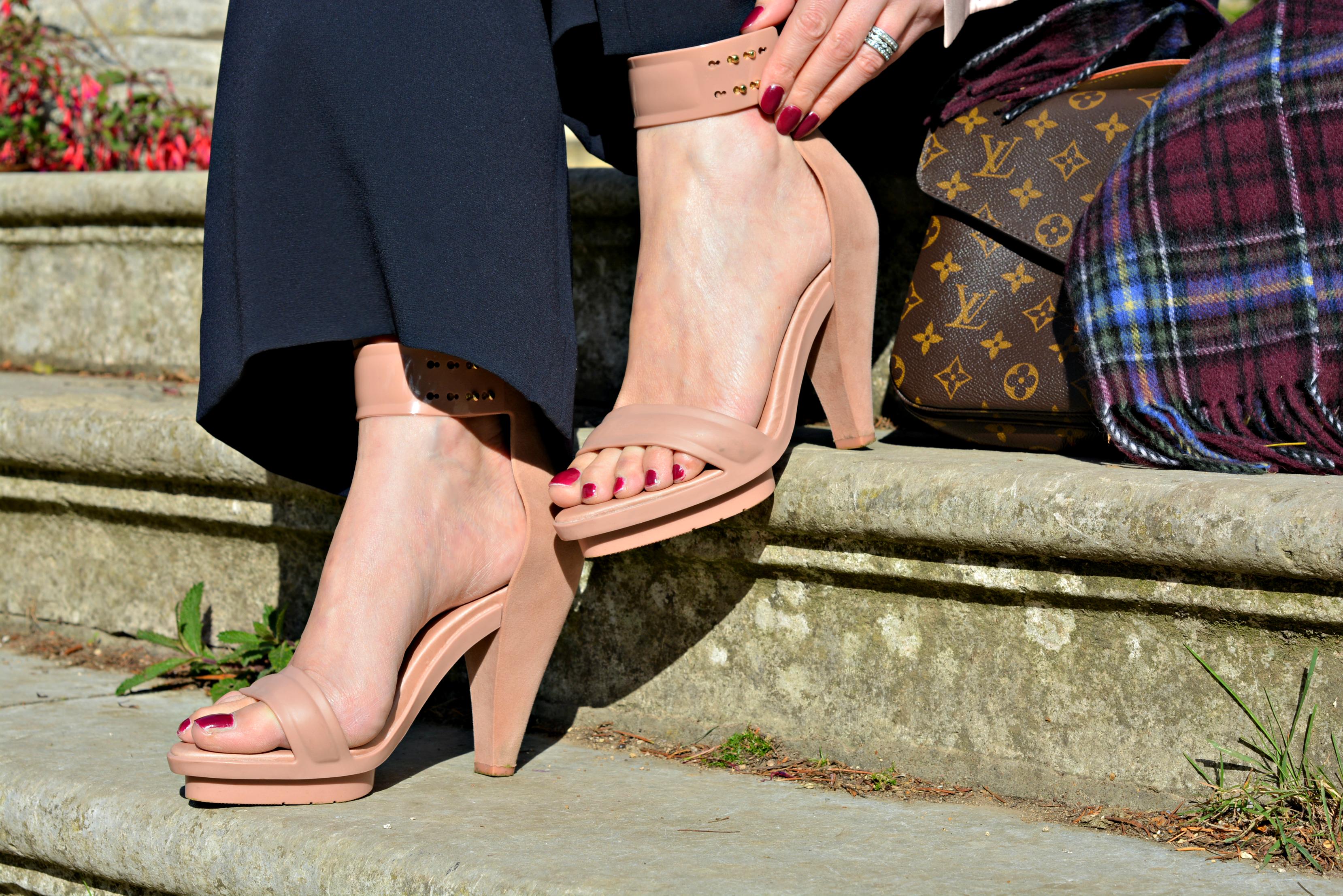 This gorgeous Gold Double Star Ring is from Lizzy O Boutique
Now from the rest of The Over 40 Collective
We have our Real Women Catalogue of outfits from Winser London. I'm blown away by the incredible photography & variation of styling each of the team has produced for this latest collaboration. Please do click-through directly to each of their Blogs for a closer look of what they're wearing. Furthermore we've launched the Over 40 Collective Blog if fancy a sticky beak pop on over.
Enjoy!
Lisa of The Sequinist has chosen to style all black in this striking cashmere Audrey jumper & cropped Miracle trousers ensemble.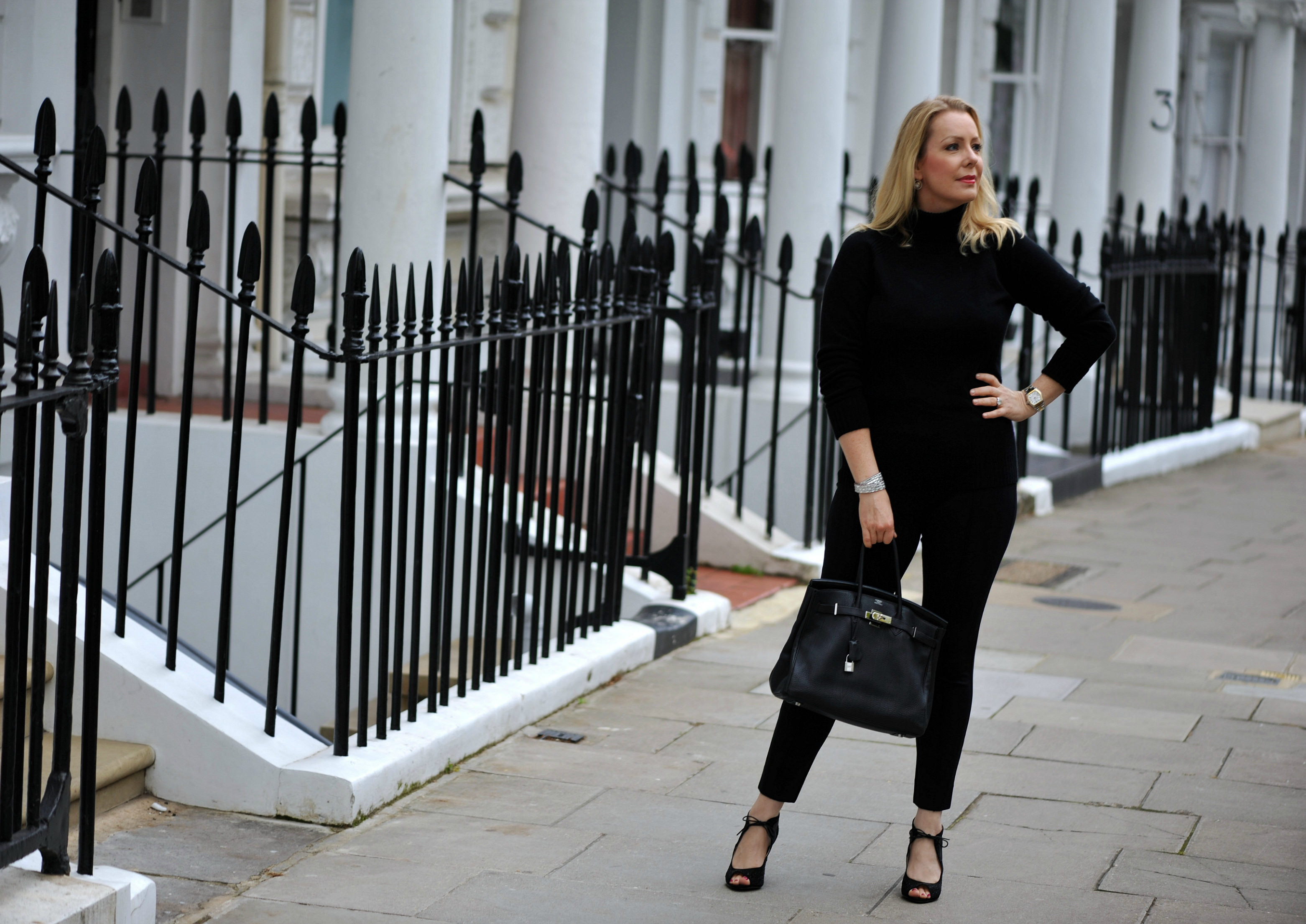 Annette of Lady of Style opted for the magnificent Milano Wool Car Coat in black styled casual chic with her fabulous faux leather leggings.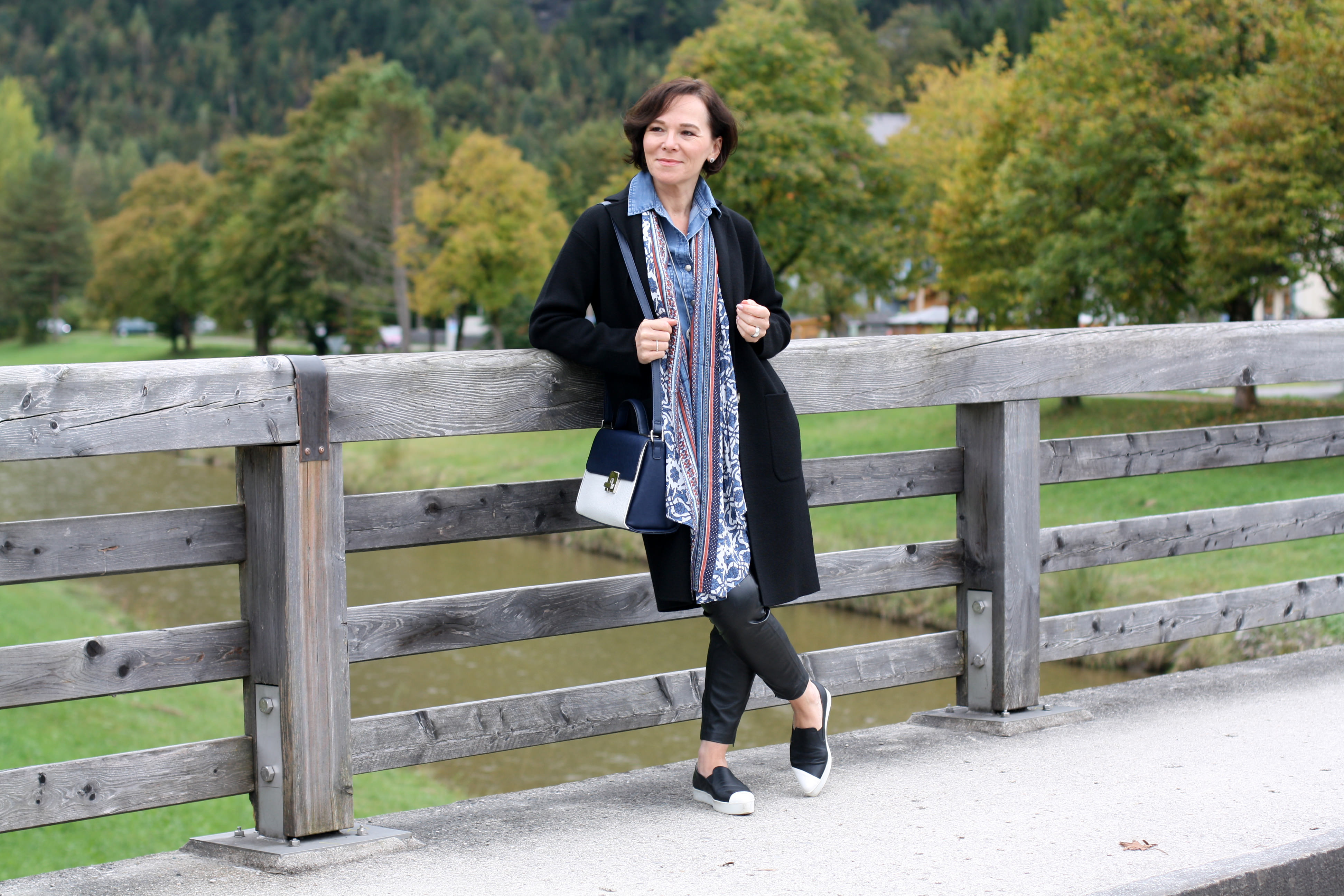 Liz of
What Lizzy Loves
is simply breathtaking in this sheer-sleeved
Miracle Dress
of the most stunning Royal blue. p.s Have you noticed the name of the boat?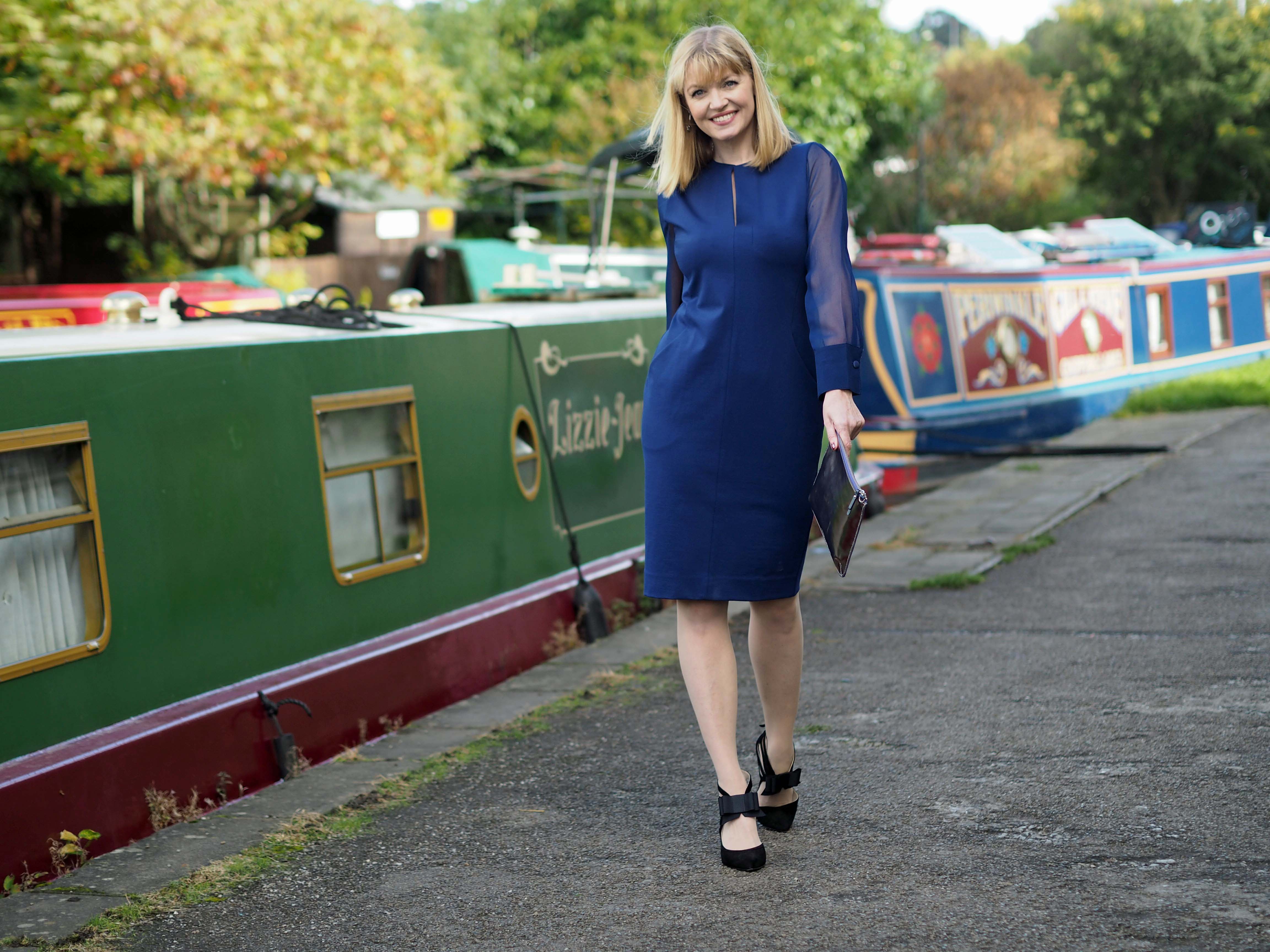 Catherine of Not Dresses As Lamb chose the pink version of the Milano Wool Car Coat which is just as amazing in real life as it is on her!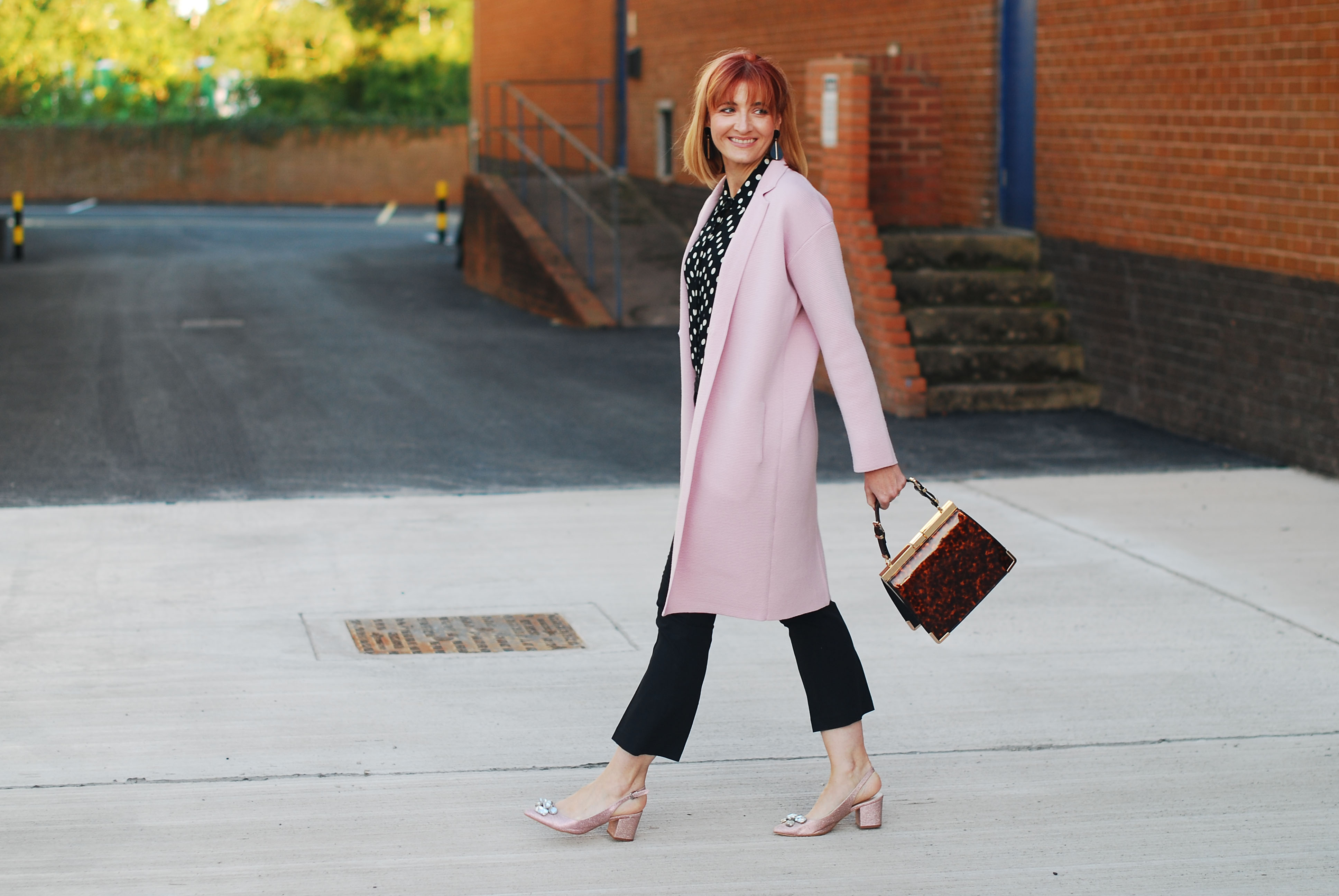 Next up is Michelle of The Barefaced Chic who proves that even on a Sunday stroll it's easy to look stylish when you have a classic Trench coat & cashmere scarf!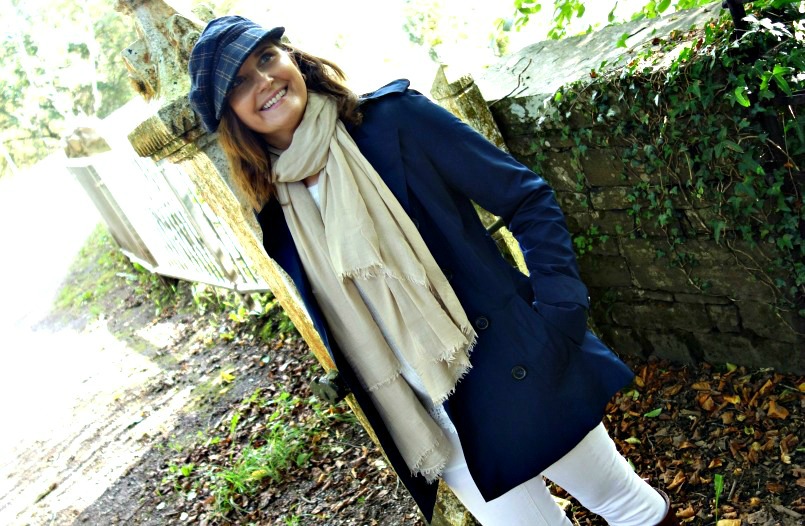 Last but not least is Nikki of Midlife Chic looking elegant in the showstopper burgundy Wool Wrap Coat.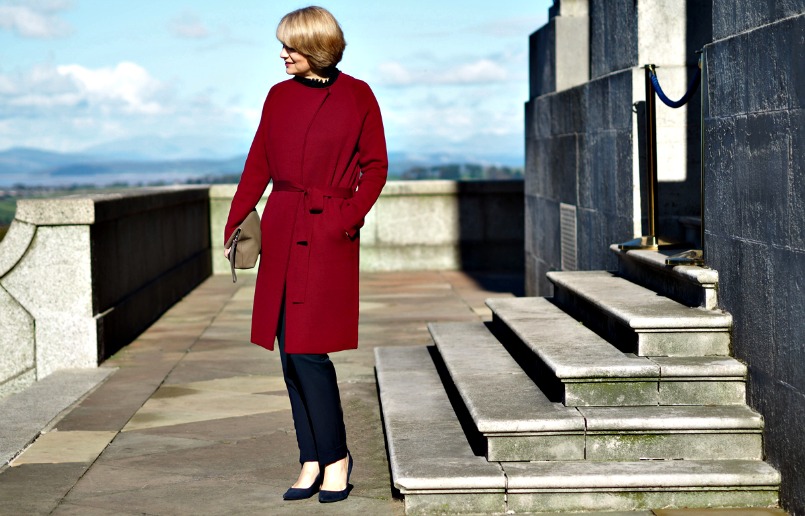 So what do you think of our second collaboration with Winser London? See anything you like? For a re-cap of our first collab with this luxurious brand click here.
Finally I'd like to extend an enormous THANK YOU to the generous team at Winser London for gifting all of the outfits to The Over 40 Collective. In particular the lovely Yasmin who always goes out of her way to ensure everyone is happy.
Love, Mx