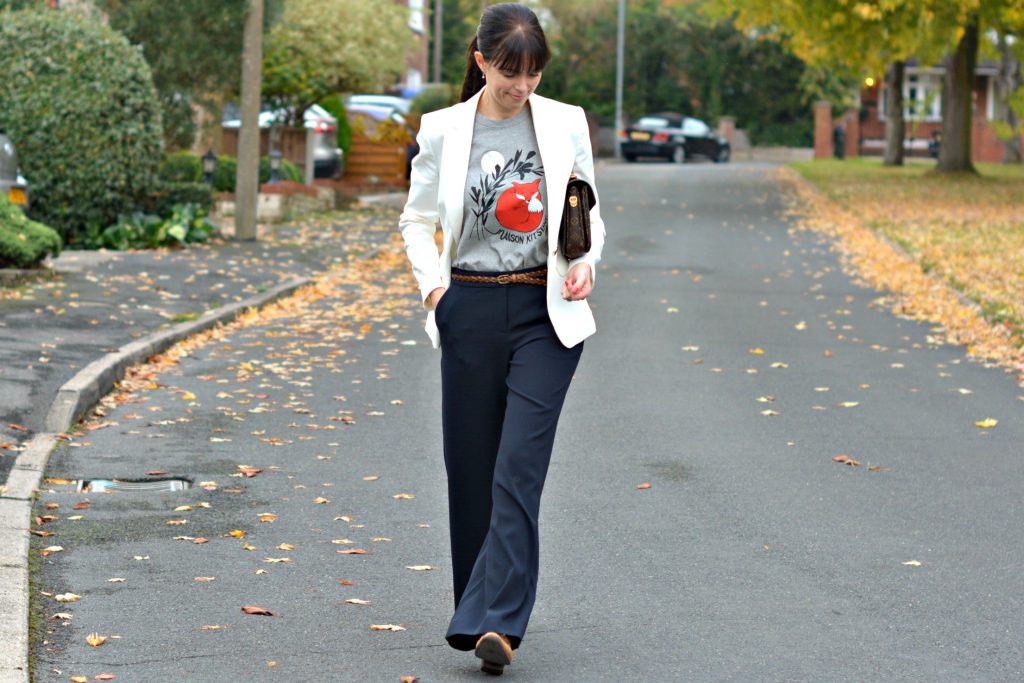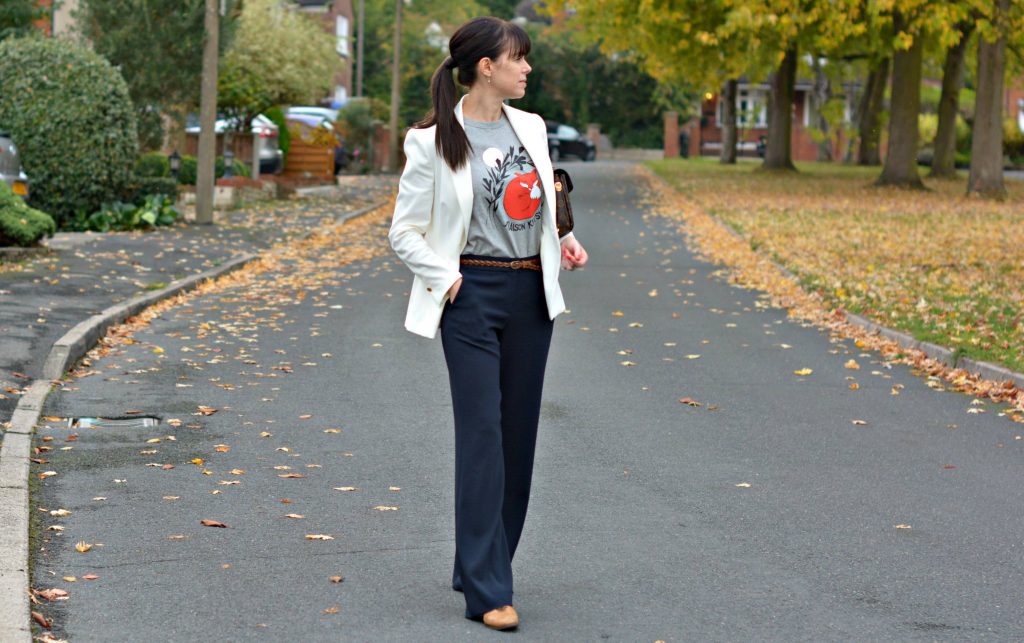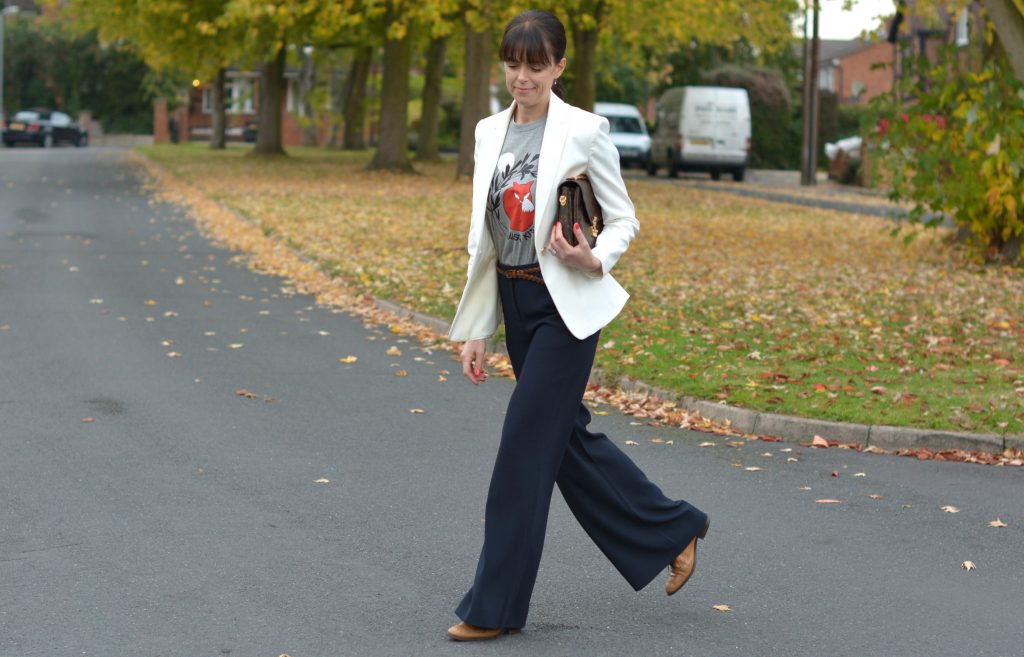 This is exactly the kind of outfit I feel very at home in although until now I wouldn't have had a name for it. Then the lovely ladies of The Fab 40's collective kindly invited me to be a guest in their regular link up with this months theme of "Preppy". Unfamiliar even perplexed by what "Preppy" actually means I turned to Google & Pinterest for guidance. Wikipedia's explanation references the style of dressing by Upper class students in American Preparatory Universities. That coupled with the British equivalent being the Sloane Ranger & hey presto I had my key pieces – Blazer, Trousers & Brogues!
As far as the literal definition, I couldn't be further from a genuine "Preppy". I didn't grow up wealthy or even go to University in fact I left school at 16 to start work. Yet here I am age 49 wearing one of my favourite styles that has all the hallmarks of being Preppy. To me it's merely relaxed chic.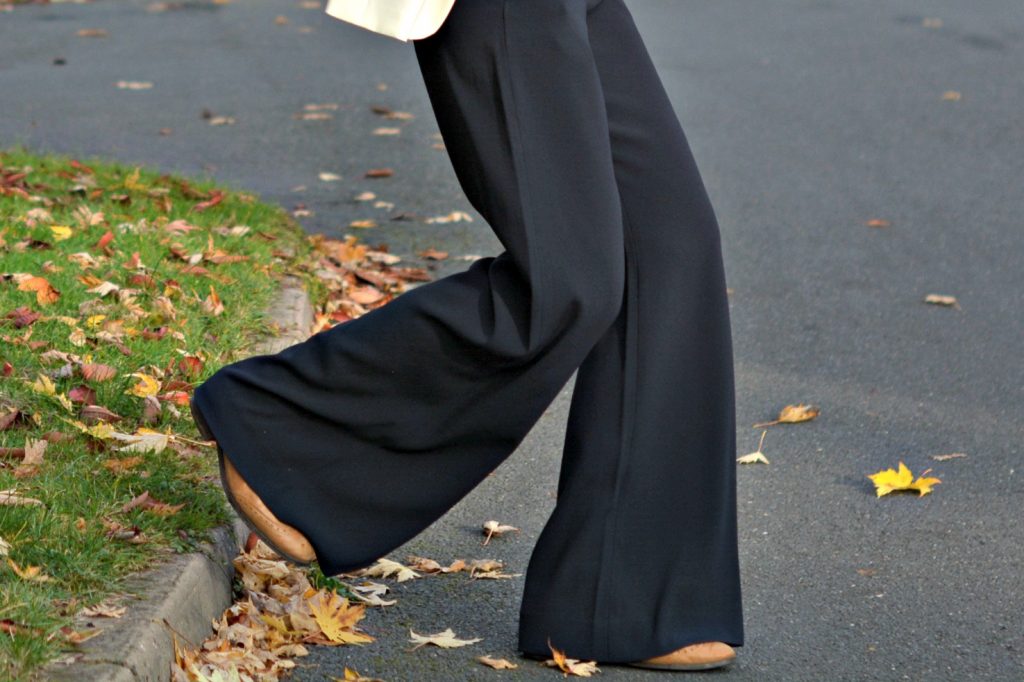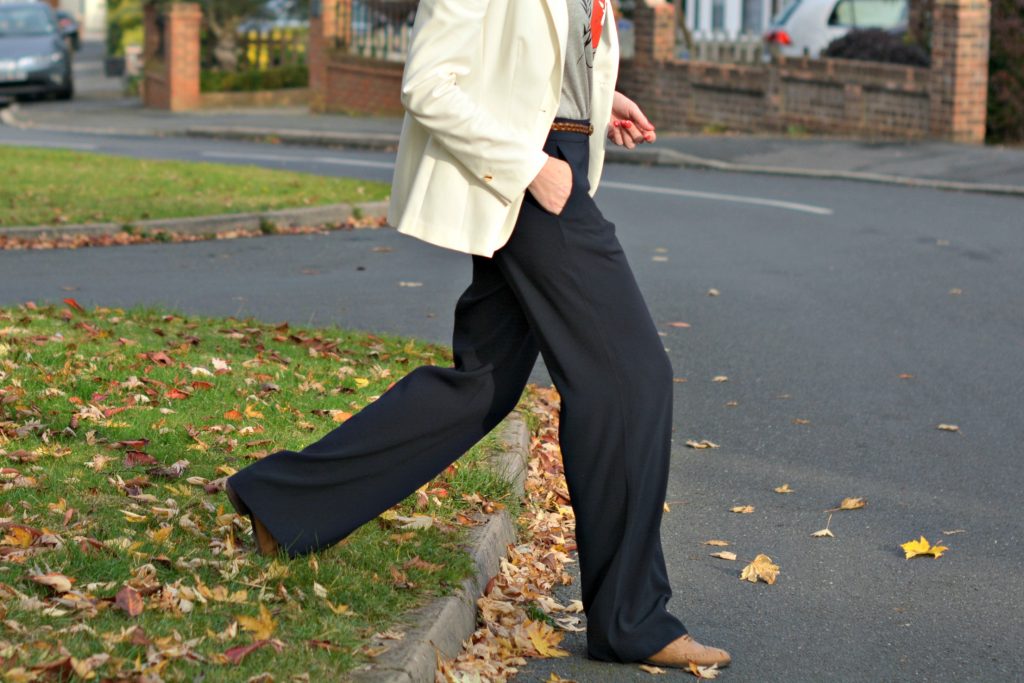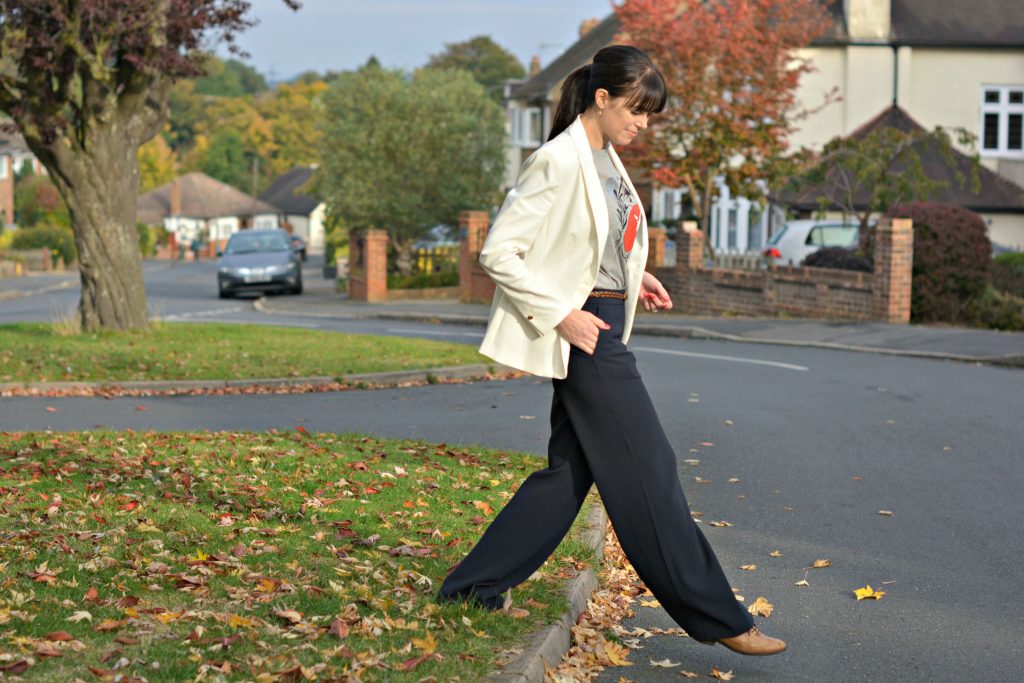 This is my grown up preppy look
With a twist or more precisely, a ponytail! Perhaps you saw my recent Winser London outfit post wearing these beautiful trousers? I'm pleased to be able to show you how versatile they are so soon after that post. I realise they're an expensive item however you will most certainly get your money's worth out of them & I intend to prove that over the coming months.
You see it's the superior quality of these trousers that elevate this simple ensemble to a class act. Well that's the secret to effortlessly pulling together any outfit isn't it? Therefore with a great fitting, beautifully cut pair of wide leg trousers in your wardrobe you'll never be stuck for a chic look.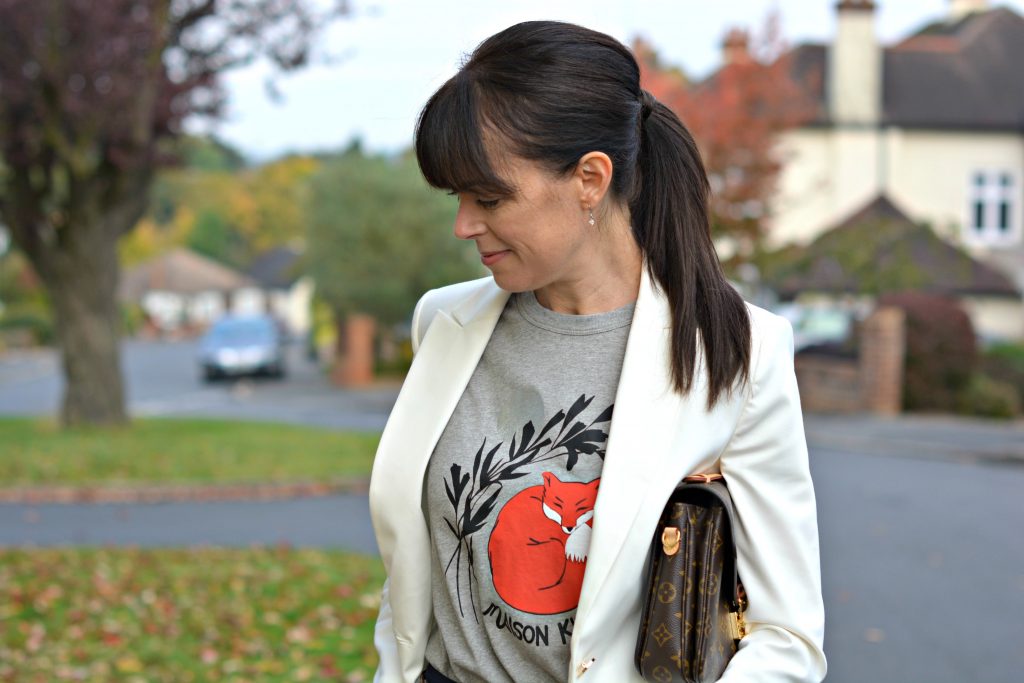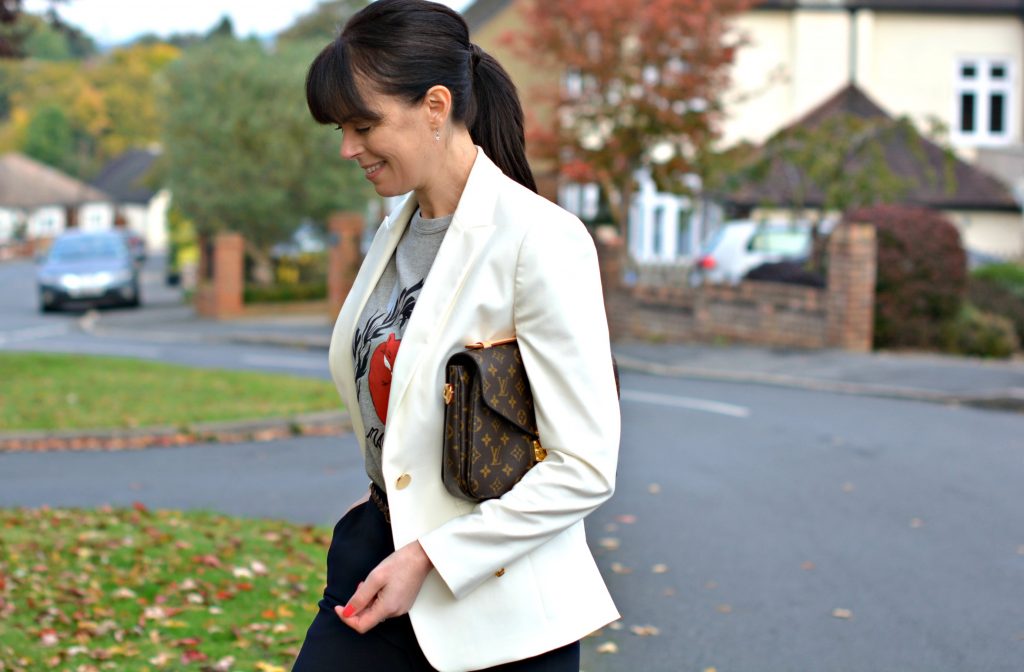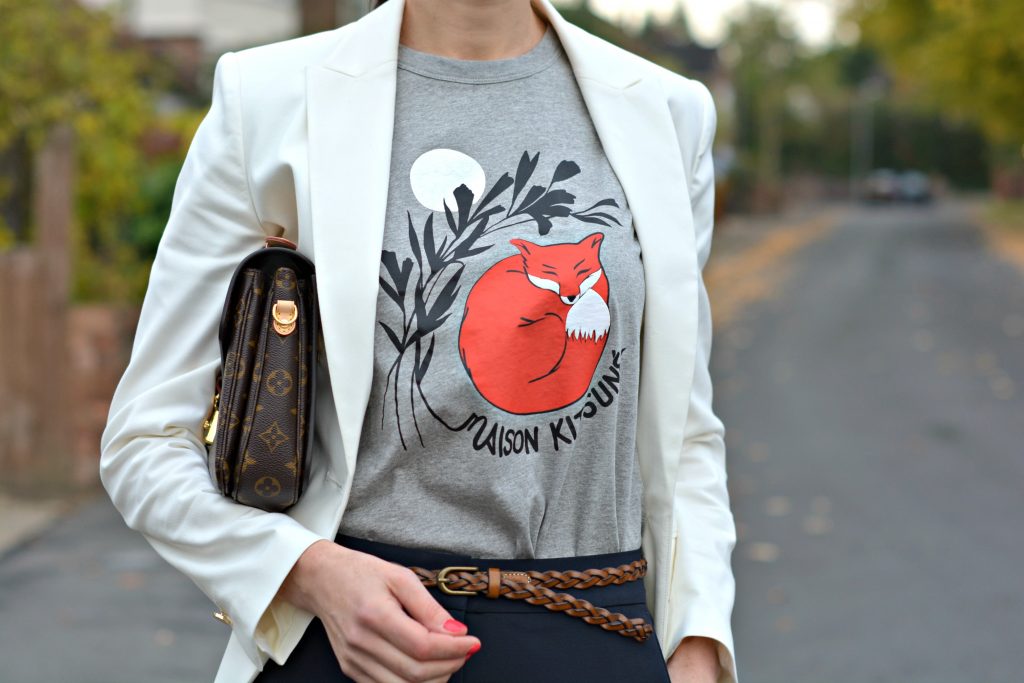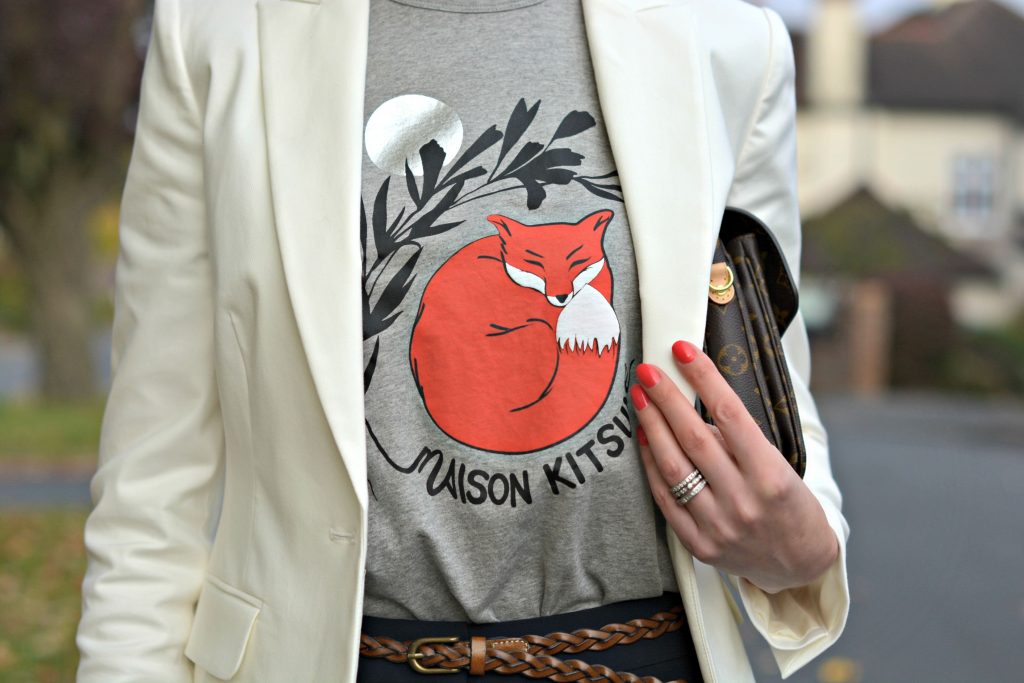 The Maison Kitsuné red Fox T-Shirt
That's like saying FOX twice hahaha! Anyway I bought this funky T-shirt at the Maison Kitsuné Store in Paris recently. There were so many gorgeous things in that shop that I could've gone on a crazed spending spree if I wasn't such a mature grown-up Mother type person UGH Dull…
Oh well she sighs – Take a look at their online offerings & you'll see what I mean.
My new T-shirt works perfectly with these trousers pairing my Marks and Spencer white blazer with my old Dune brogues to produce my specific version of Preppy – For a completely different take on the blazer see it here with shorts – My belt & bag are perfectly matched tan accessories although polar opposites in price! See the thrifted belt here & LV bag here for some interesting contrast.
As for this stunning nail varnish, I have to admit it was sheer luck that I even had it. I usually wear OPI polishes however I was given this Nails Inc one coat Gel as a gift & as it happened to match FOXY I thought I'd give it a try. Well let me tell you I'm completely converted! It really is just one coat! This super coverage is actually one quick drying coat, can you believe that? Now of course I'm desperate to try more of the fantastic Nails Inc colour range.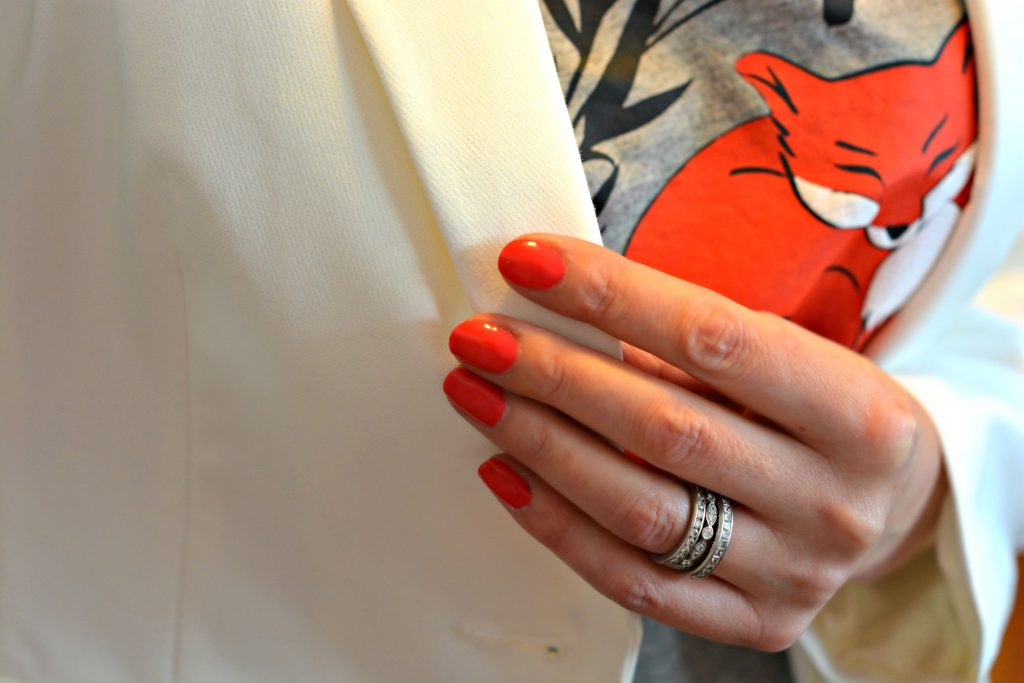 I'm having such a fun time with my new Clip In Hair Extensions
Using the main section from my full head of clip in wefts I created a lovely thick ponytail that compliments my Preppy look. A ponytail can take years off your face when you have a fringe, it's schoolgirl like hence the "preparatory" association.
If you'd like a demonstration of how to achieve this simple sleek style go to my YouTube Channel button at the top of the page or click here. Don't worry it's better than my last Vlog although still pretty amateurish Teeheehee but you'll get the gist. To purchase your own set of silky Hair fun go to the Irresistible Me website.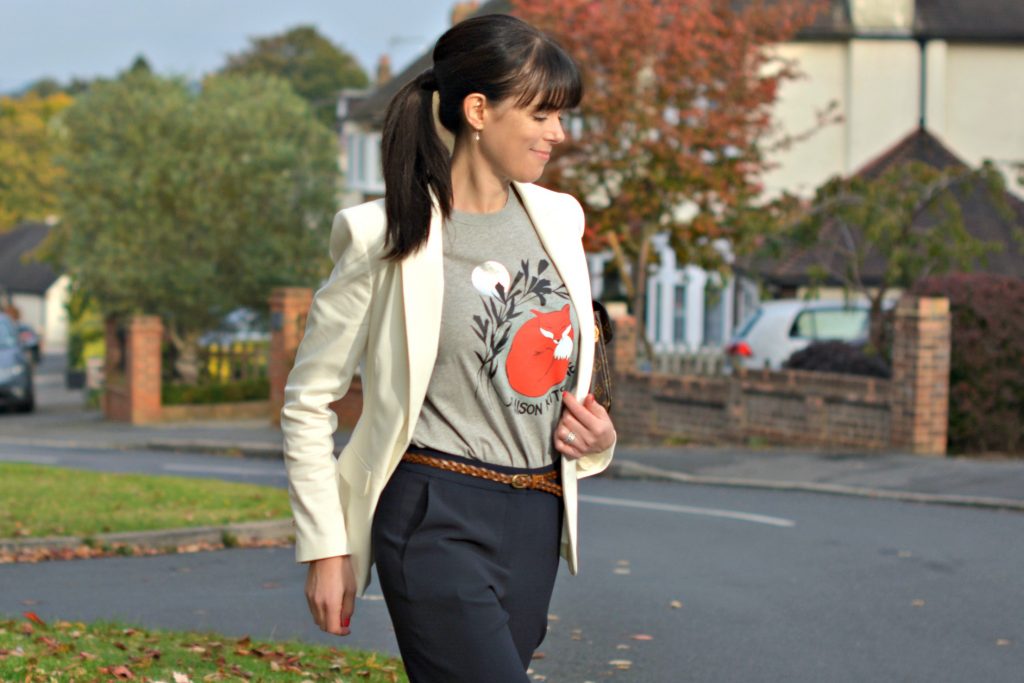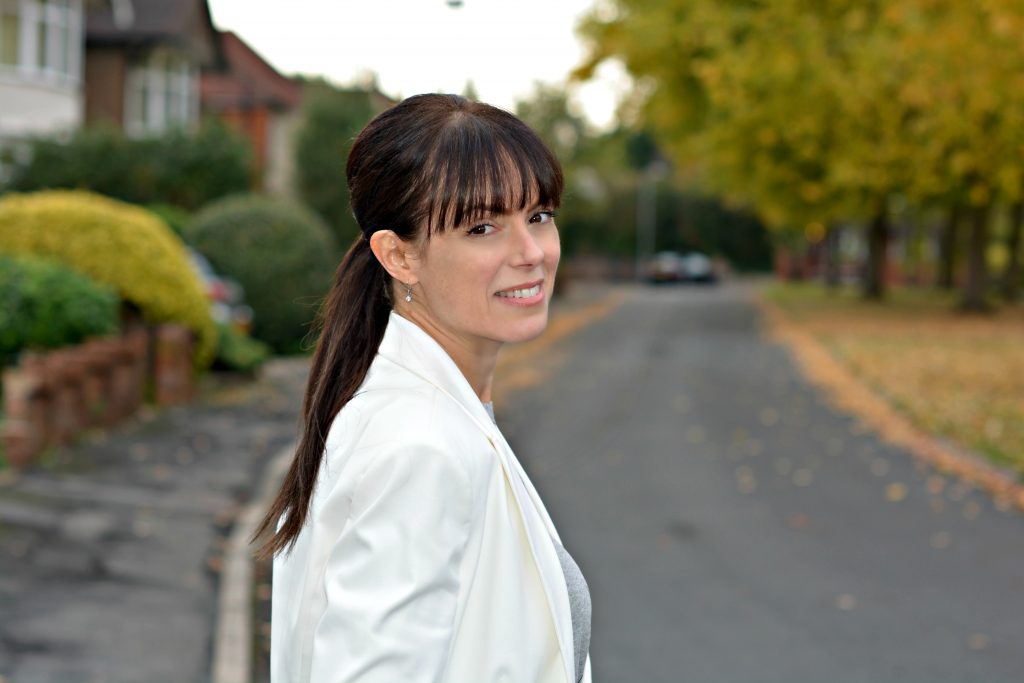 So what do you think of my interpretation of Preppy? Scroll on further for those gorgeous FAB 40's bloggers I mentioned earlier with their take on a Preppy look. Click on their Blog names to go straight to the full outfit post…
Bye for now,
Mx
Sheela of Sheela Writes Blog /  Instagram