Dear Santa,
Now that the most powerful twat man on Earth has deemed CLIMATE CHANGE a myth & shaken my conviction to its very core, I thought I should re-assess my other mystical beliefs or non beliefs as it were. Science? PAH I reject you & your idiotic claims!
Therefore I have come to the conclusion that YOU Father Christmas, your pal THE EASTER BUNNY and the whimsical yet generous TOOTH FAIRY are all actually REAL!
This now being unequivocal gospel (at least for the interim) motivates me to rush my Christmas list to The North Pole before it's too late & the world wises up!
BOOM TISH!
A Christmas Wish List
Anyway ladies, I thought I'd attempt something I've not tried before here on RCM. If it turns out to be unpopular it'll be my one & only Christmas shopping guide. I decided it might be fun to create an eclectic top 10 list of gifts that I would be thrilled to receive or have already given. It's basically my edit of awesomeness! Hopefully something on here will tickle your fancy or even help you out with that tricky family member you're still struggling to buy for.
I've linked the photos directly to the retailer so you can simply click-through to purchase.
Not your average Christmas Shopping Guide 2016
1. CUSHIONS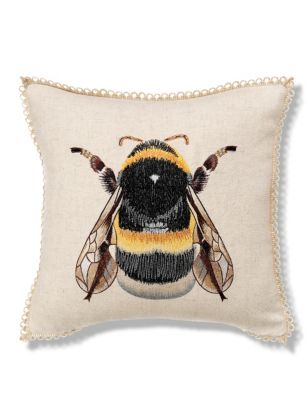 I adore anything to do with Bees so when I saw this cushion it was love at first sight! Beautiful quality & detail at an incredible price. I also bought 3 small square cushions, each with the letters K T & C on them for Kiara Tyler Cooper (my eldest) to put on her bed. I think cushions make a terrific present & have indeed gifted them many times over the years. The only trick is to match the style of the cushion to the person receiving it.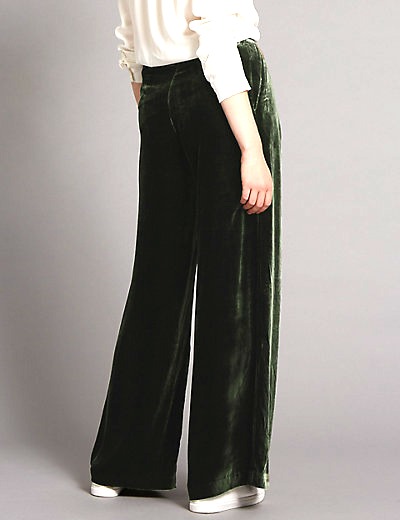 These trousers are the perfect way to dip your toe into the velvet trend & trust me, they're so comfy & chic you won't want to take them off! For some styling inspiration check out my Pinterest Fashion Board. Although I'd probably just wear them with ballet flats & a cosy knit on Christmas day – Also plenty of room to sloth out after dinner right?
3. ROOM MIST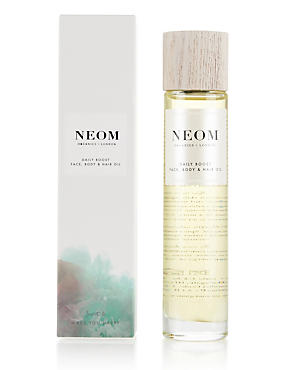 This is another gift I have already purchased so I can tell you first hand it's a winner! I gave this to my friend Lisa of The Sequinist as a thank you for having me stay in her lovely home last weekend during our Blogger meet. Because the two days in London were so jam-packed she kindly suggested I stay over at her house where Sundays shoot was based. That way I didn't have to worry about getting home late Saturday evening & back again early Sunday morning. As for the room mist, Lisa was so impressed with the scent she has actually worn it as perfume!
4. GROOVY CLOCK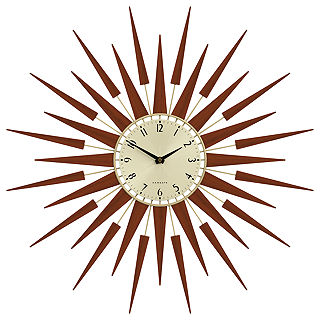 This clock is the Newgate homage to an iconic Mid Century Modern Sputnik wall clock. I am constantly on the lookout for an original one of these but they're very rare therefore super expensive. Have a look at my Vintage Pinterest Board & you'll see how awesome they look in situ. My friend Suzy has one in her home that belonged to her Grandmother but I've yet to convince her to sell it to me Heeheehee that's cheeky. In the meantime this one is a serious contender for its convincing authenticity & very reasonable price. To me a clock or watch is a special gift, something about "time" resonates. Perhaps subconsciously I feel as if I'm giving someone time? Isn't that what we all truly crave?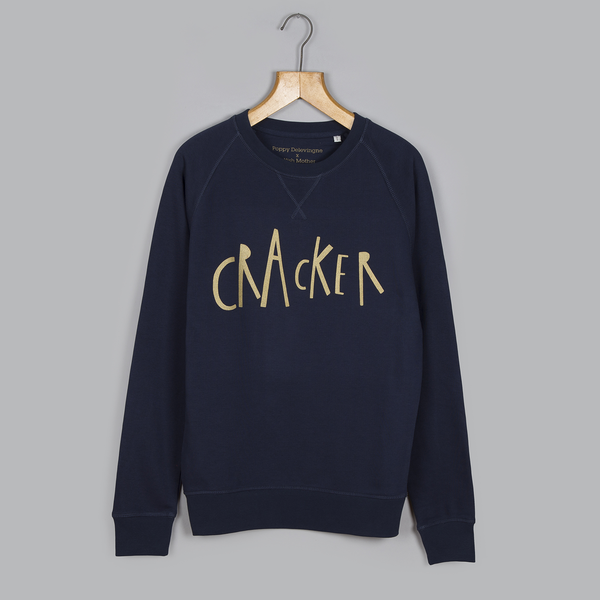 Festive & stylish this jumper has got it all – So I bought one for myself! Additionally, 50% of the price of the jumper goes to SAVE THE CHILDREN Charity so it's a win win. The team behind Selfish Mother have joined forces with some well known faces including Poppy Delevingne to design this years Christmas theme jumper. In the past I have also bought their other tops as gifts including this one that I was so impressed with I also purchased for myself.
6. FACE CREAM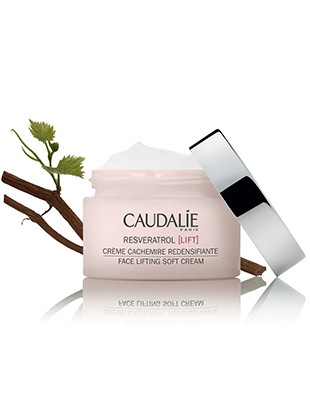 Now some of you may be wondering why an anti-wrinkle cream is on my Christmas gift list. Bear with me a moment it isn't as insulting as it may first appear – True.
Last Summer a dear friend of mine gave me an unexpected, VERY expensive & rather random gift (it wasn't my birthday) of face cream! Now I have never splashed out on beauty products EV-ER in my entire life, it's just not something I like to spend money on. Therefore you'll be as stunned as I was at my reaction to opening said gift – FLIPPIN' FLIPPED OUT! I bloody loved it! I think coming from a friend this is the kind of present that says "I want to spoil you because you deserve it". Just like giving someone a spa treatment, you know?
So the reason I chose this particular cream is simple – I love the companies ethos which you can read about in my post here. Plus the main ingredient, Resveratrol is turning out to be quite an incredible scientific discovery that is showing some exceedingly interesting results.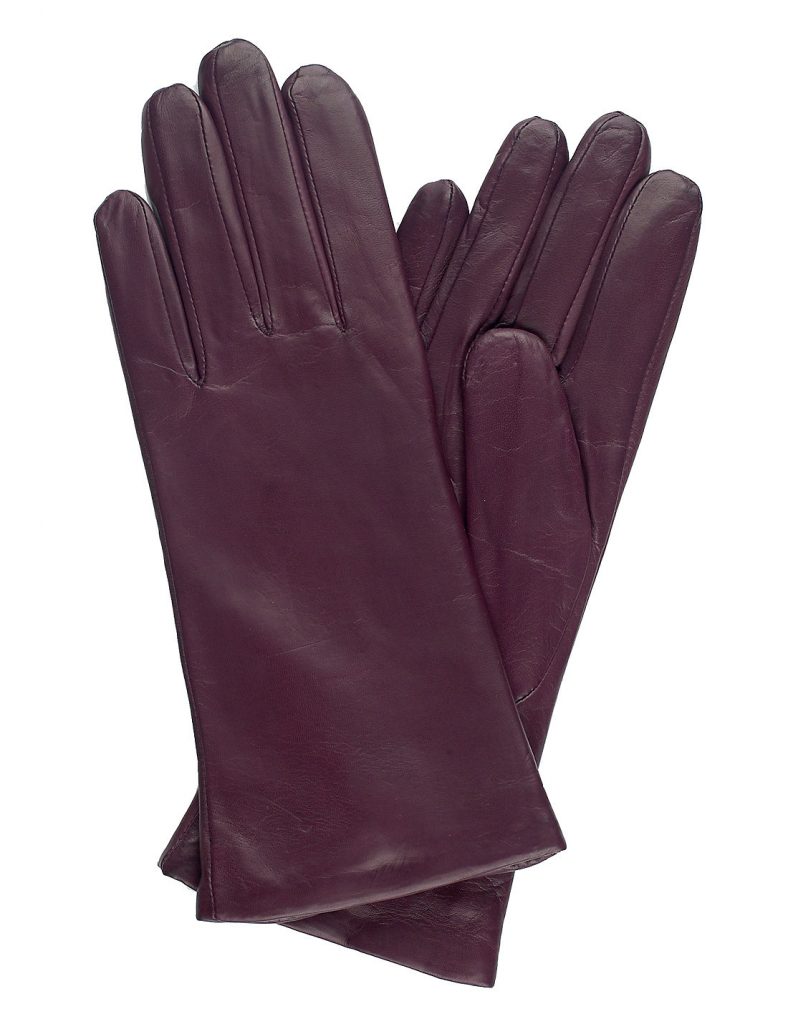 OK so if you live in Australia this is not such a great gift at Christmas WINK I get that. However if it's cool at Chrissy where you live I believe a pair of butter soft leather, cashmere lined gloves is a spot on pressie for the woman (or gent) who has everything. Leather gloves, although quite a long-lasting item do tend to wear out eventually & often one or even both end up left somewhere, lost in transit or mysteriously vanish from the pocket they had been previously shoved into. Perhaps they end up in the same black hole as that single missing sock? The moral to the story is, you can never have too many pairs of gloves. Or socks evidently.
This beautiful berry coloured pair I have already worn, see here in my recent blog post for Marks and Spencer.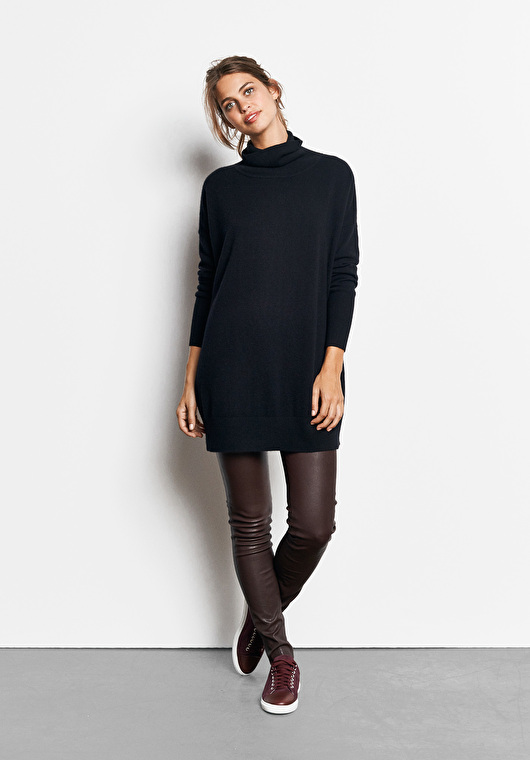 OK so this isn't strictly for someone else, more like the very special treat you give yourself. AKA the scenario where Hubs doesn't know what to get you for Christmas. Cue you to buy these, wrap them & place under your tree ready for him to hand to you on Christmas Day Bahahahah! Right?
The thing about stretch leather leggings is how completely wearable they are. I mean not only can you easily style them for any occasion, dressed up or down but lo & behold the miraculous invention of the stretchy cow! Leather that moves with your body, leather designed to fit as comfortably as skinny jeans – This incredible contemporary material has become THE NEW wardrobe staple, words I never thought I'd utter. Because to me, wardrobe staples are tried & true pieces I've been collecting for 30 years never mind #30wears!
Therefore this rather expensive item is a new addition to the coveted investment piece category. And what better way to make owning them a reality than by gifting yourself a pair? Job done wink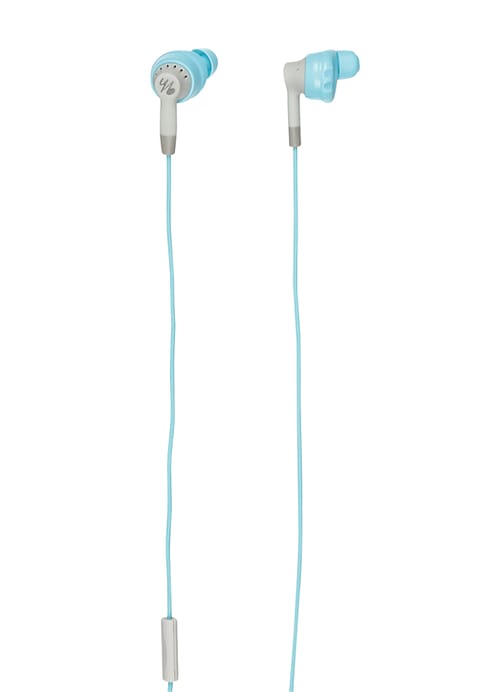 Ear buds or Headphones have been at the top of my list of perfect gifts for many years. Well since the advent of being able to carry our music around in our pocket to be precise. I often buy one or the other type for my Husband & Children because seriously THE NOISE around here with all our various devices going at the same time OY VEY! Headphones are great for the children, predictably they'll have broken their existing set. Although this year I've bought the eldest ear buds instead because she does everything on her phone now & ear buds are slightly more portable. I like this pair for the high comfort factor & quality sound to low price ratio.
10. DONATE




The gift of a donation to your favourite charity on your behalf is something I've never given however I have received & I think it's absolutely marvellous! There are many worthwhile causes of course but Water Aid is a very special charity to me that I've been donating to by direct debit for many years. Water Aid works directly with communities in the areas of most need having reached 18 million people with sanitation since 2004. diarrhoea caused by dirty water & appalling sanitation is the second biggest child killer worldwide. Furthermore a lack of clean water keeps girls out of school & women from working as they spend all day fetching it. I could go on but you know how it is – Unacceptable.
Almost every morning as I stand under my hot shower I feel grateful that it's so easy for me to be clean & experience the most wonderful feeling in the world. If you've ever had to go without a shower for more than a couple of days you'll understand where I'm coming from – There is literally nothing like it! Everybody deserves to have a shower, a toilet & clean drinking water. Can you imagine getting your period or delivering a baby without water on tap? These are the reasons I'm a dedicated advocate of Water Aid & the worse the climate crisis gets the bigger this problem will be. What better time to put your hand up to help than at Christmas & you never know perhaps your gift will turn into a monthly pledge?
If nothing here strikes your fancy or you're still in search mode you should check out The Sequinists Gift Guide – Obviously she's thrown in some sequins for you!
Happy shopping, Mx