When a "new to me" look is trending I don't like to part with a lot money until I've tried it out on my existing wardrobe.  Sometimes I'm just not that into it & wonder if I'll wear the style enough to warrant the investment. Obviously I could easily find a cheap as chips version on the High Street but most of those Brands use child labour to keep their prices so low & to me no trend is worth supporting that abhorrent practice!
I turn to Ebay for the second-hand option
Todays pleated skirt is the perfect example of what I'm talking about. You've seen them in the fashion mags & all over Instagram, you may have even bought one? I think these skirts are lovely & definitely perfect party wear although wait, I don't really go to parties much – Hmm what about dressed down, smart casual? I'm not sure. Over to Ebay it is then.
Initially I was searching for the ubiquitous silver foil pleats, I remember admiring the Whistles one last year. For those Ebay novices out there all I did was type in Whistles pleated skirt & check my size in the filter. I mean I don't have time to muck about on Ebay all day, there are thousands of pleated skirts listed many of them would be from questionable factories. I like to cut to the chase, bypass the rubbish & simply type in a Brand I know. Which is how I came across this baby blue chiffon pleated skirt!
Baby blue wasn't on my radar, yet when I saw this skirt it immediately hit me how amazing it'd look with a black jumper for Winter! Incidentally pale pink is also knockout worn this way.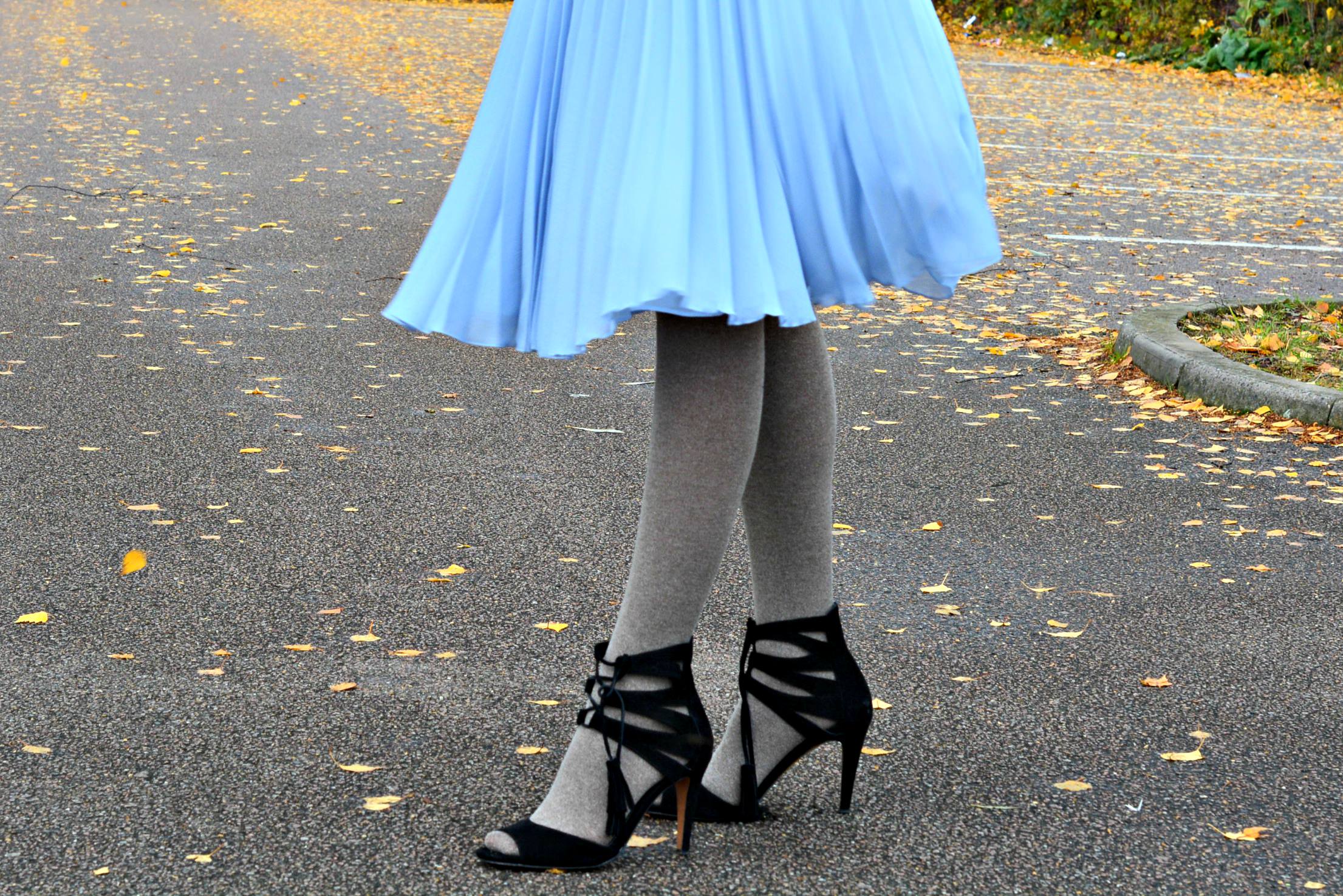 Open toe shoes with tights
I'm not afraid to wear socks with my sandals when the days grow colder as you can see here & here. However for todays outfit I inexplicably decided to go with tights paired with sandals. It was completely random, make of it what you will. Although I did contemplate scrapping the whole idea of sandals to wear my black knee-high boots. Any excuse to wear boots! To me there is little better in Fashion at Winter time than BOOTS BABY!
Yet here I am in my lovely lace-up sandals from Ted & Muffy – I know, random. If you'd like to read more about Ted & Muffy's awesome sales I wrote this post when I snapped up these for the incredible price of £35!
By the way my next footwear purchase will be caramel tan ankle boots – When the right pair comes along that is. Ahem have you noticed I often refer to fashion as if it were a lover? Sorry I digress…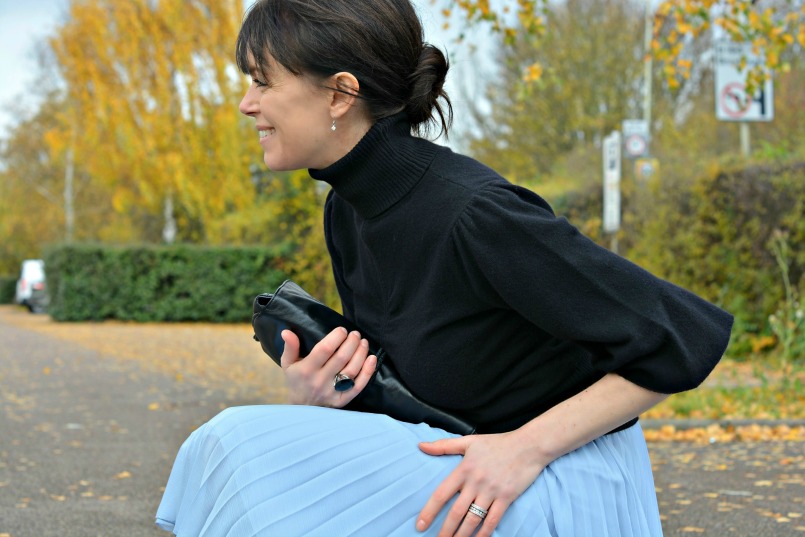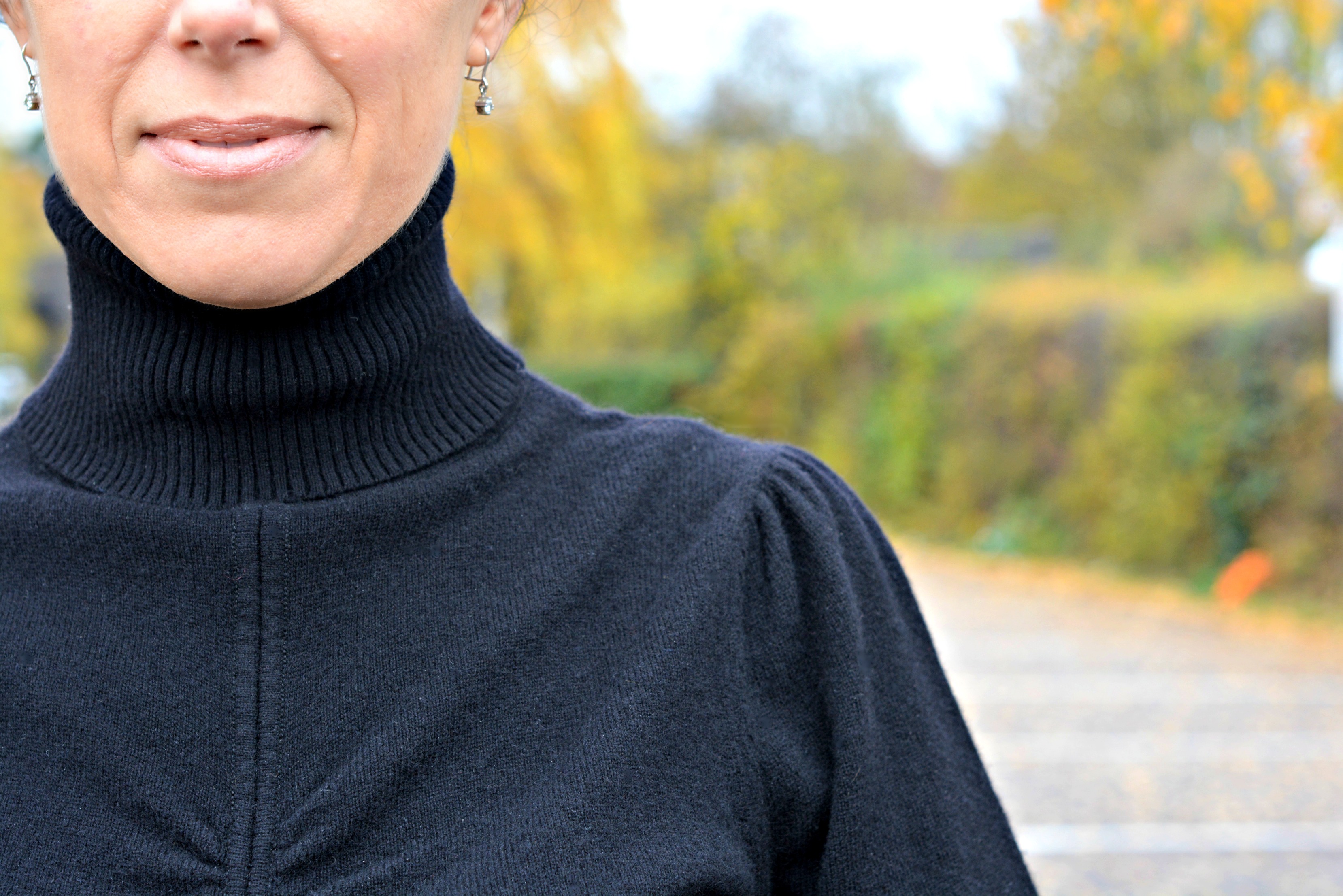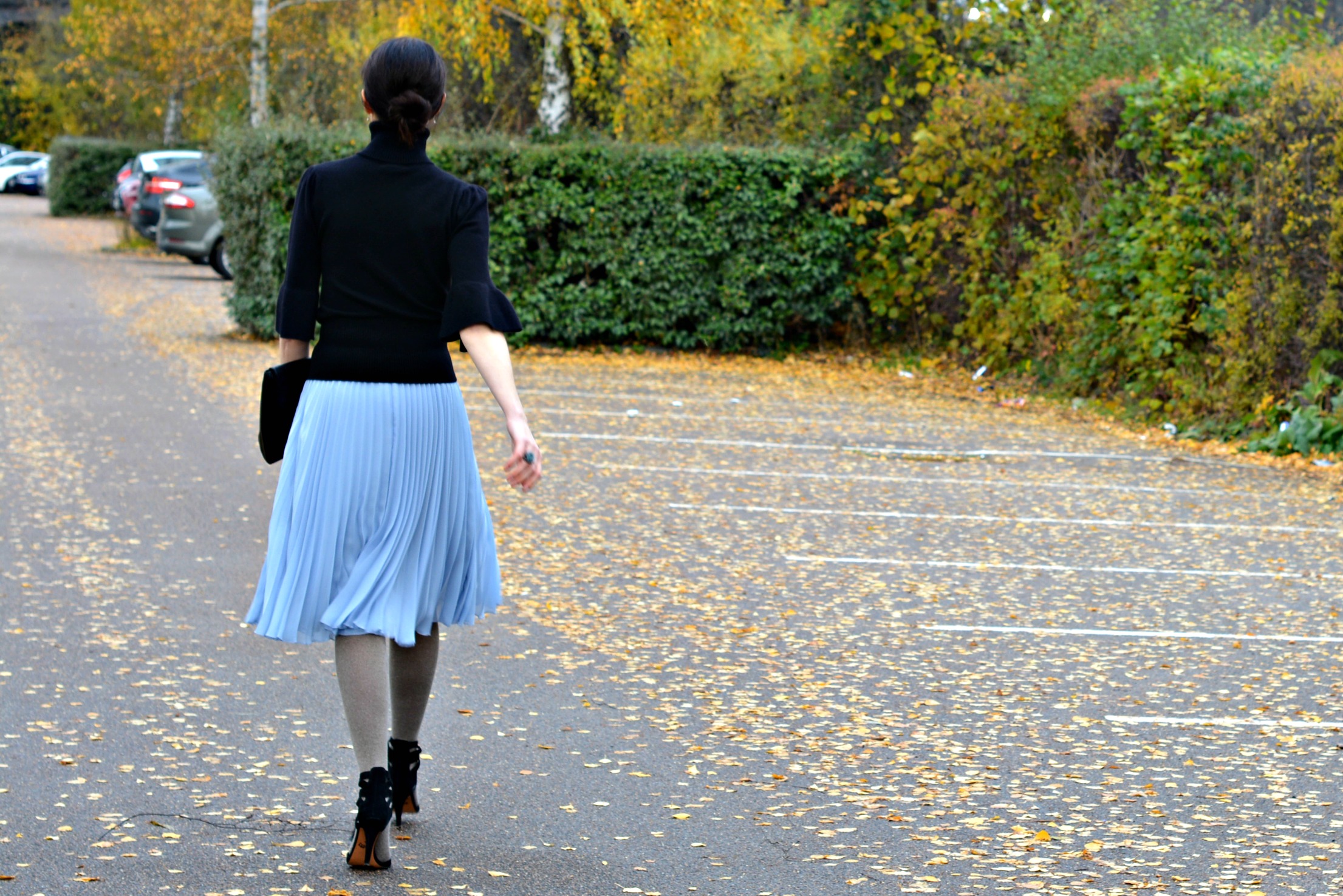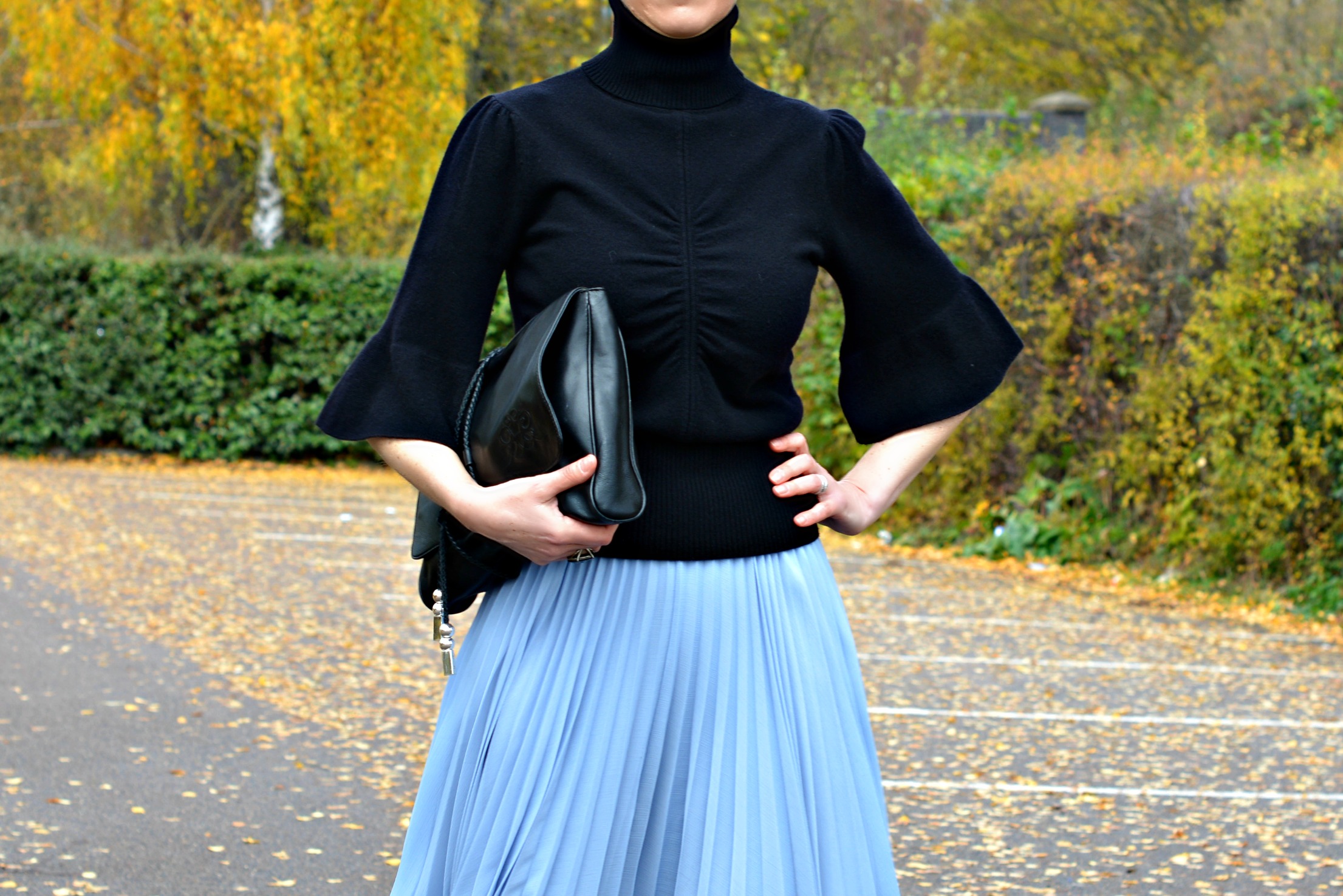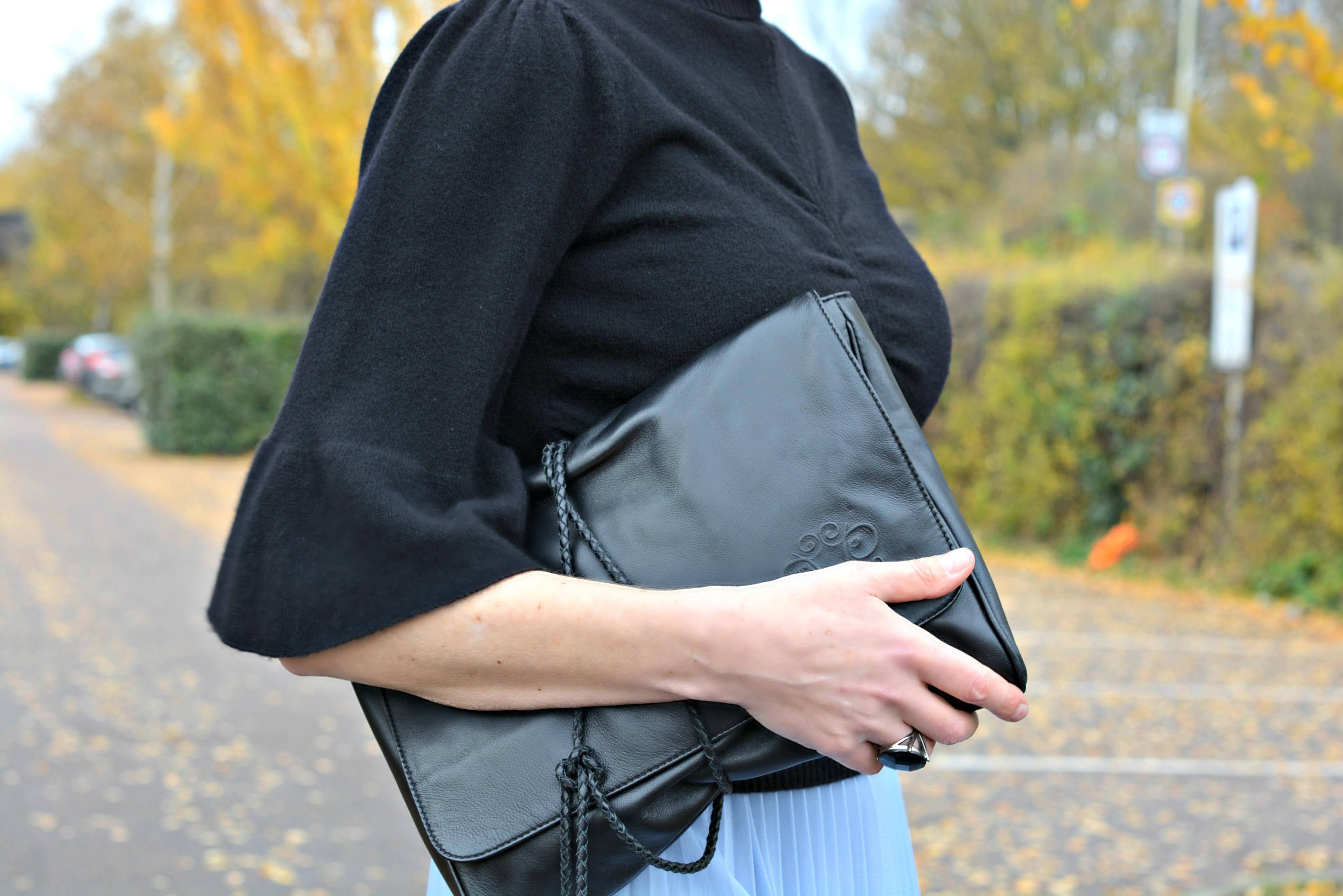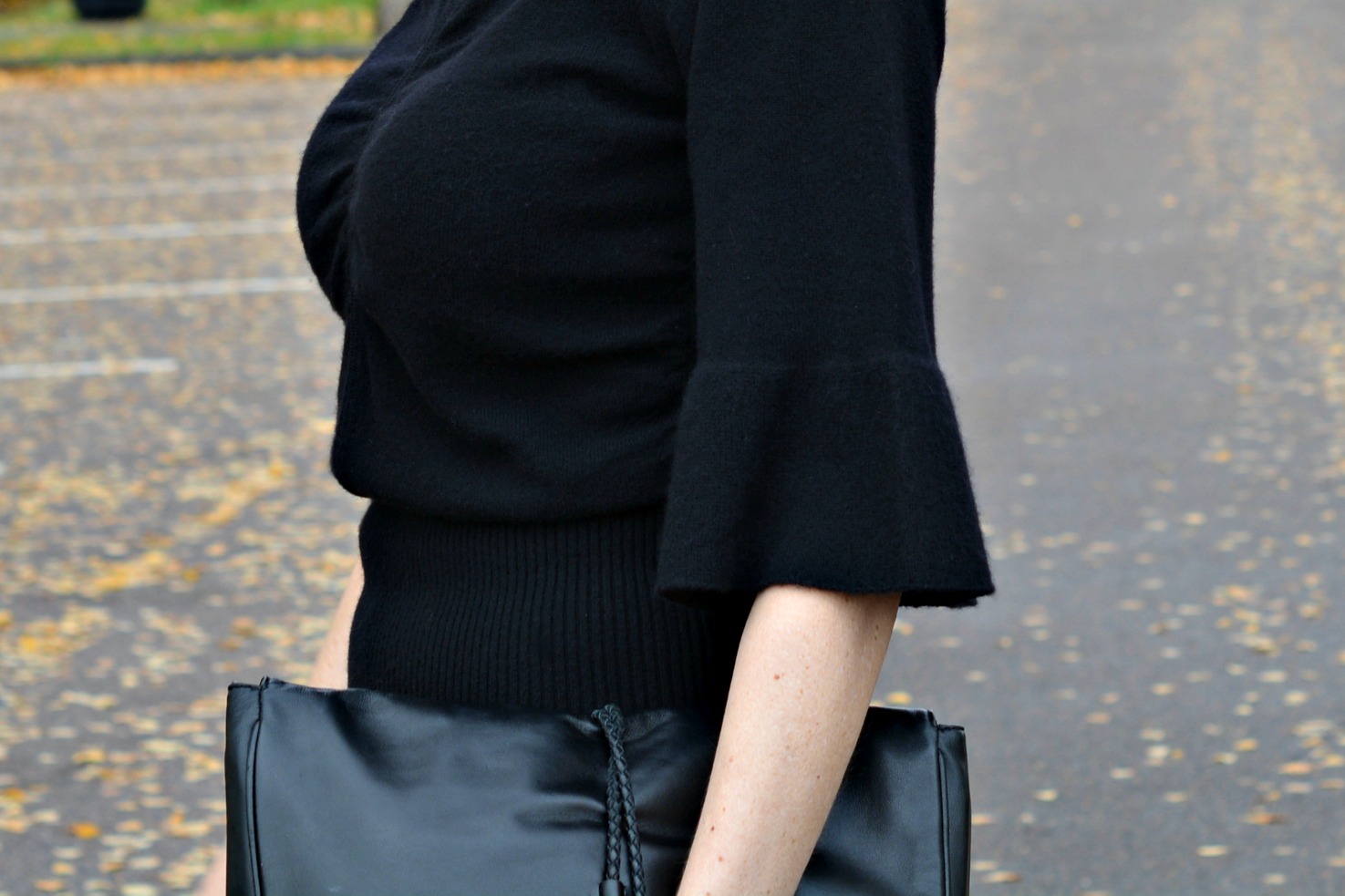 Todays black jumper of choice
For my foray into pleats experiment I chose a rather high polo neck cashmere jumper with elbow length flared sleeves. As usual with cashmere this fine knit is surprisingly warm & super cosy, hence I wear it often throughout Winter – See it again here.
The sleeves, shoulder & front detail make it extra special however I believe any basic black jumper would work equally as well with the skirt. I was merely looking for a reason to wear this specific one. The point being it's the juxtaposition of colours – Heavy, strong black against soft, light pale blue.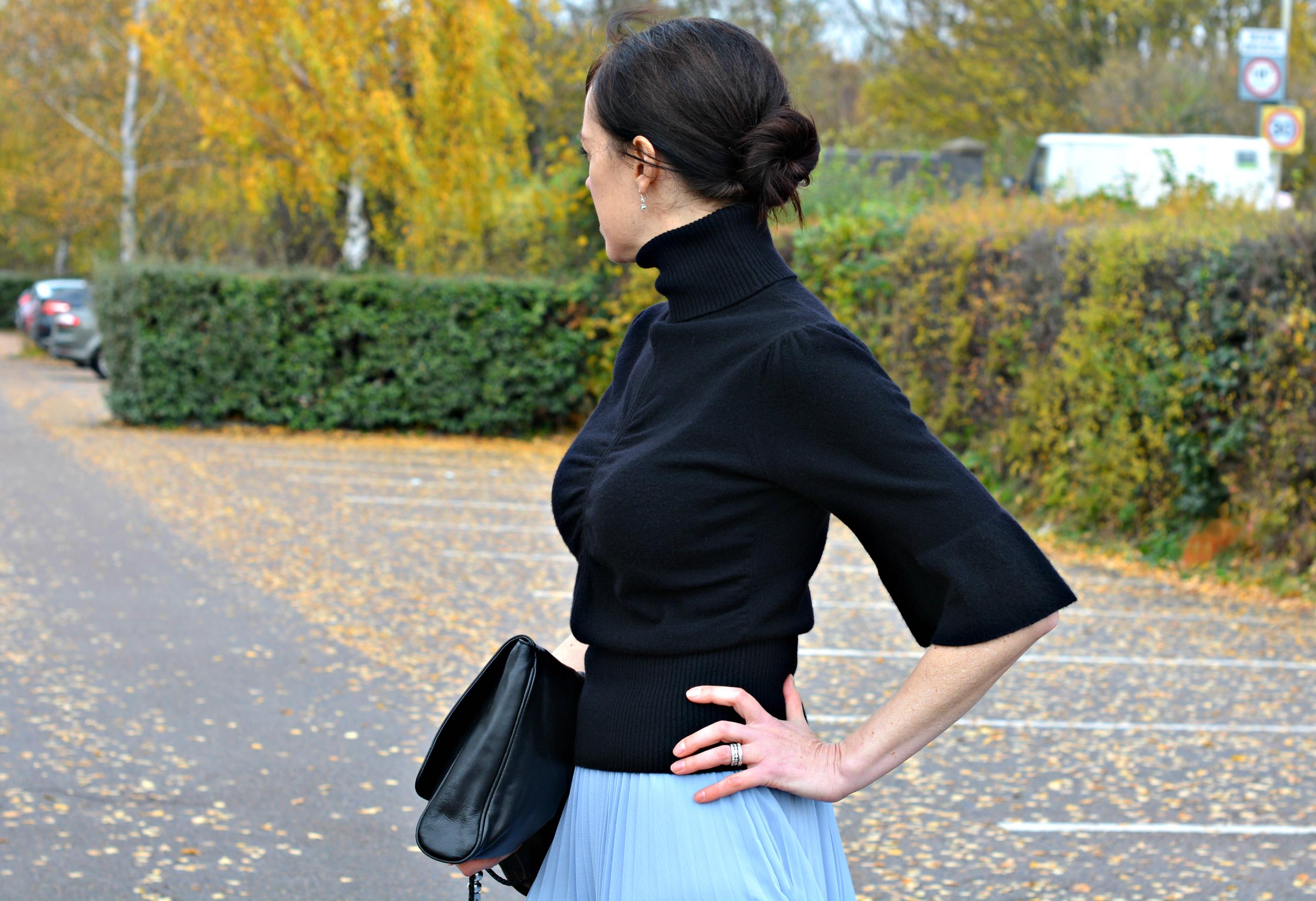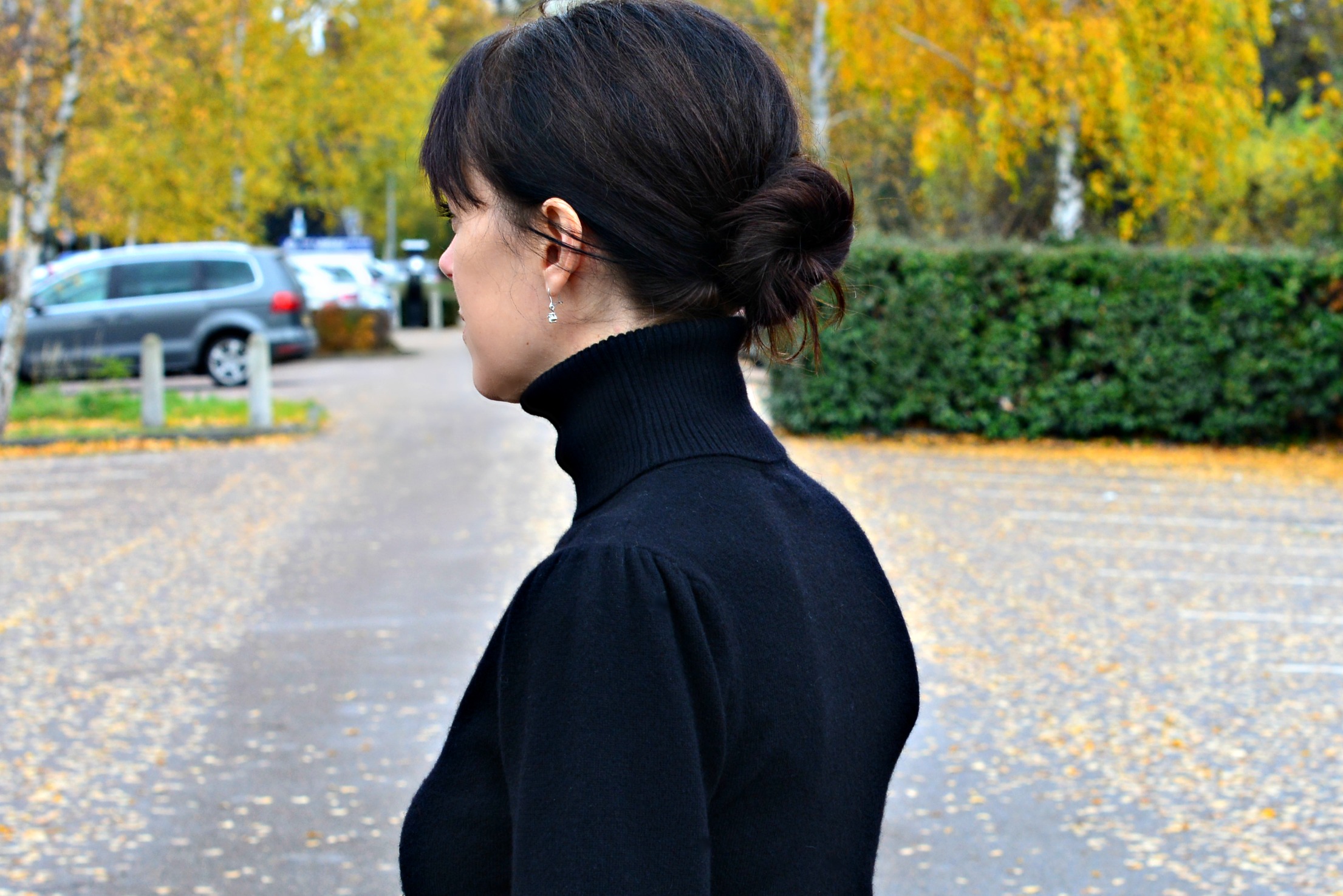 A messy bun using One clip-in Hair Extension
Since I've had the irresistable Me clip in hair extensions I've played around with how to utilize them efficiently. Quite frankly I don't fancy adding extra time to the effort I make with my hair at this stage of life. Which is why I'm using the extension wefts sparingly, coming up with ways to achieve good results super-fast is more practical than creating elaborate hairstyles I'll never actually wear. Additionally there is an important comfort factor that goes along with pretty much everything I do these days & that includes hairstyles! You know what I mean? I can't be dealing with clips biting into my scalp or pulling on my hair by midday as they drag down over time. Furthermore, being distracted by the fear of one of them falling out in public is unacceptable to me. No, the entire hairstyle must not only be secure but pain-free too or I simply won't bother.
Now you'd think that would limit my options, wouldn't you? Well so far it hasn't & to prove that, Friday I'm publishing a post of all my looks using these extensions.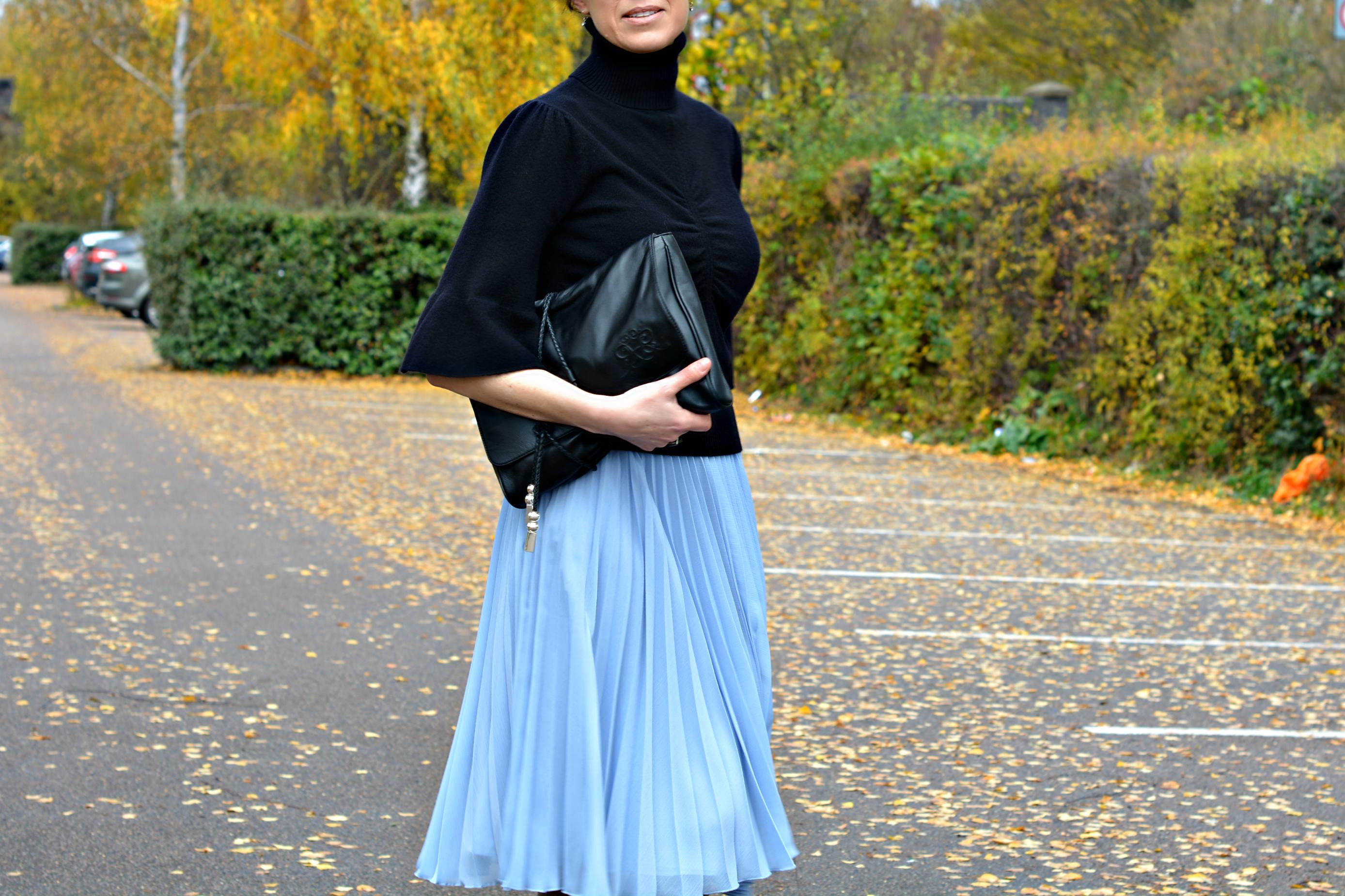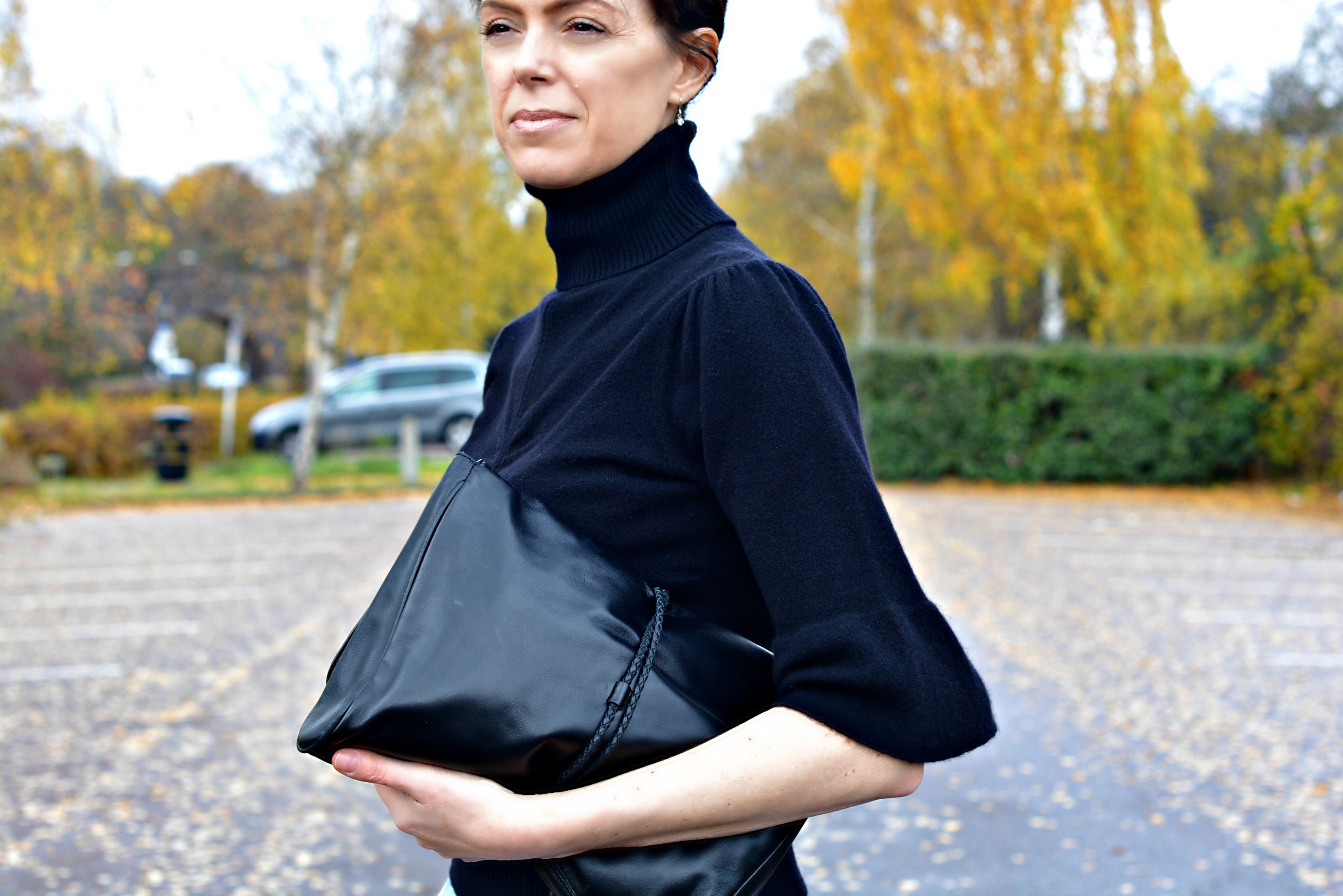 I have literally just found this phenomenal light blue pleated skirt on sale from John Lewis for anyone loving my outfit. There are still sizes UK6 through to UK12 plus they deliver worldwide! You simply click on the pic to take you through to John Lewis website, so grab a bargain as the saying goes wink.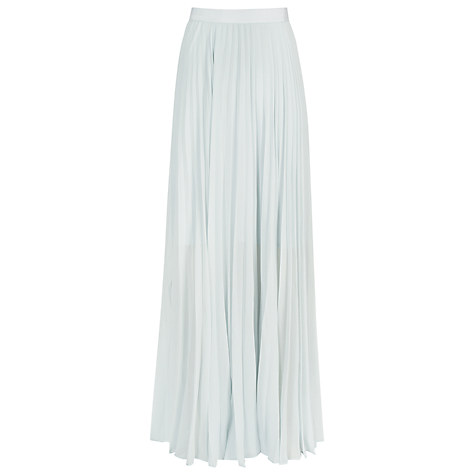 Chat soon,
Mx