If you're looking for Christmas party outfit inspiration you have come to the right place today my friend. The Over40Collective has collaborated once again to bring you our individual styles for some diverse glam outfit inspo.
Christmas party outfit
Actually I must confess I never go to the trouble of finding a new outfit for Christmas. I'm just not that bothered & I have plenty of party clothes to easily throw something together. Look last year was a Vintage leather skirt & Nana's old bag! For me Christmas is completely & utterly about the children so it doesn't ever occur to me to buy something new to wear. However this year I happen to have a new dress so I'm calling that "My Christmas Party Outfit" although I've already worn it once, because I luuuurve it! You see I was standing in a queue at the checkout, having a cheeky flick through a crappy magazine I had no intention of buying when I made an audible WOW. Yep this killer dress caught my eye HUBBA HUBBA
I literally fell head over heels in love with it on sight! The beautiful blush colour & the fact that it happens to be velvet, this seasons must have material, are two pretty good reasons for my swoon. Yet so much more appealing than that was the twisted piece in front & general shape of the dress pushing me over the edge to ecstasy. Thing is, this type of cut is extraordinarily flattering to my particular figure. Naturally I raced out of the supermarket tout suite, headed straight home & immediately logged onto Zara. As you do.
I must admit I was a tad dubious of the colour actually appearing as lush as it did in the advert but it was definitely worth a shot right? Well let me tell you, when the dress arrived a couple of days later I wasn't disappointed, it really does possess a subtle iridescent shimmer. Now although the dress has an unfinished edge, the fabric contains stretch so it works well, in fact I doubt a hem would be of any benefit at all to the way it sits. Nor does the absence of a stitched hem detract from its beauty. On the contrary the raw edging of the dress ties in brilliantly with the raw silk edge of my necklace!
So guess what? This is my Christmas party outfit TA DAH!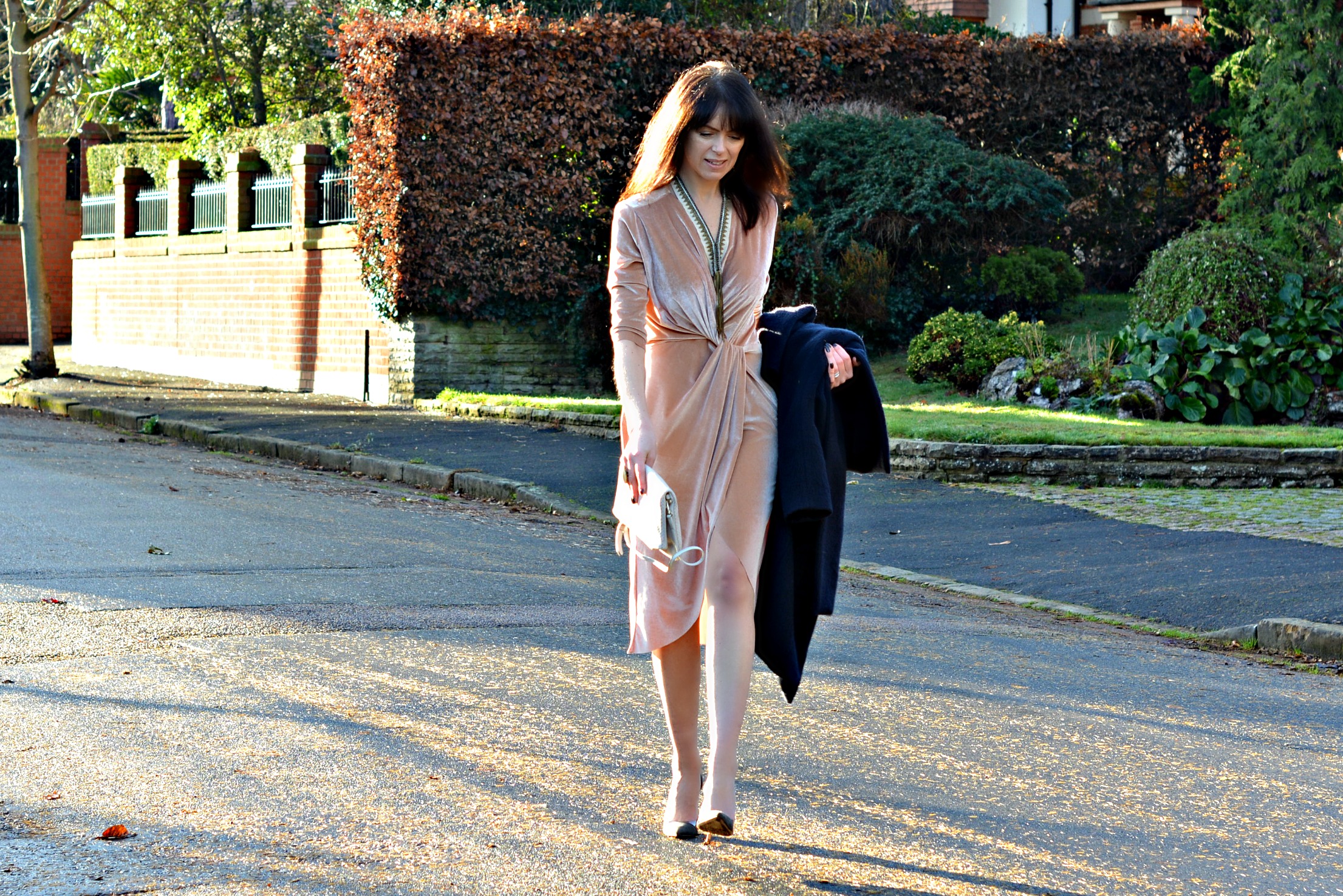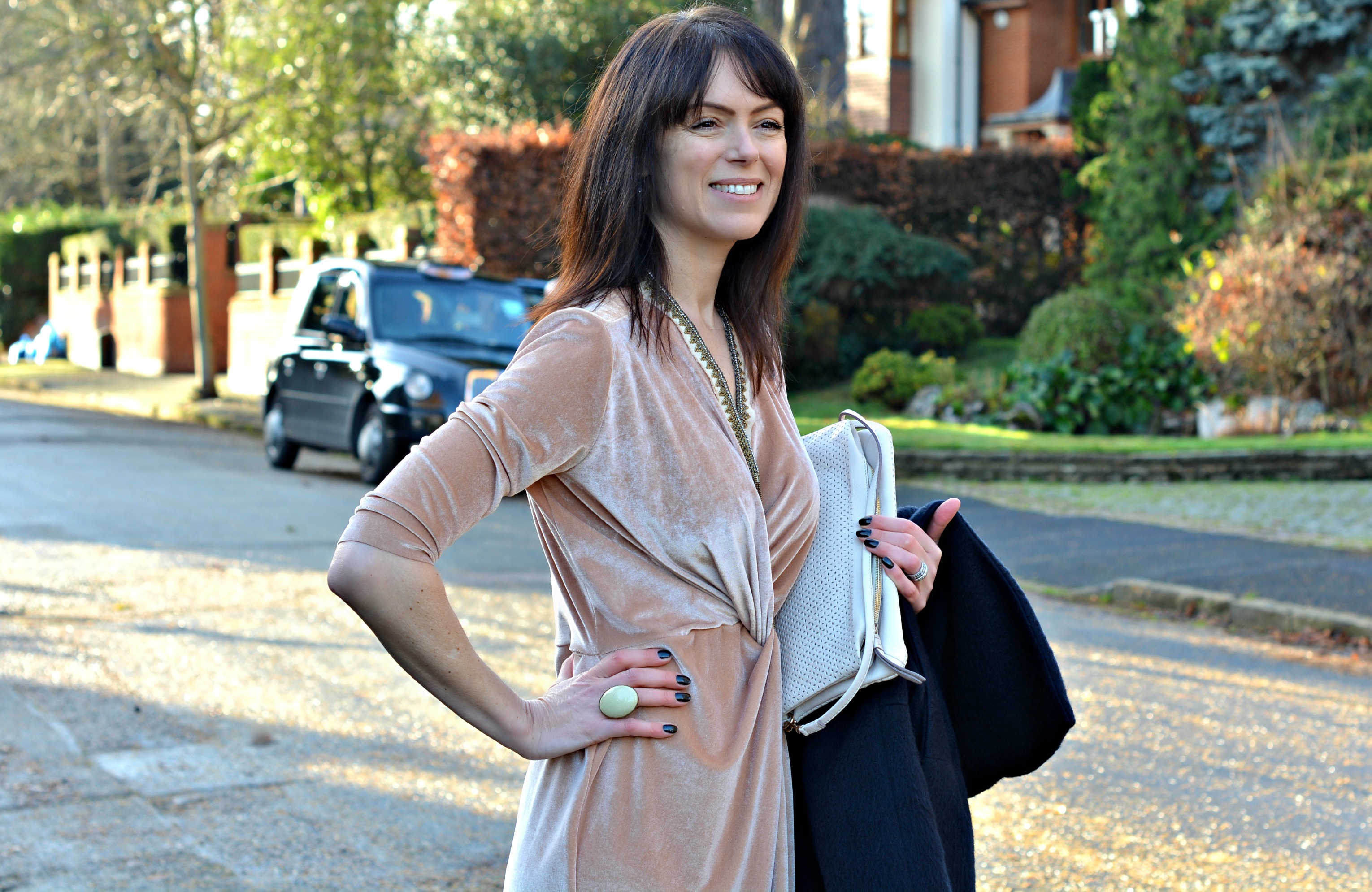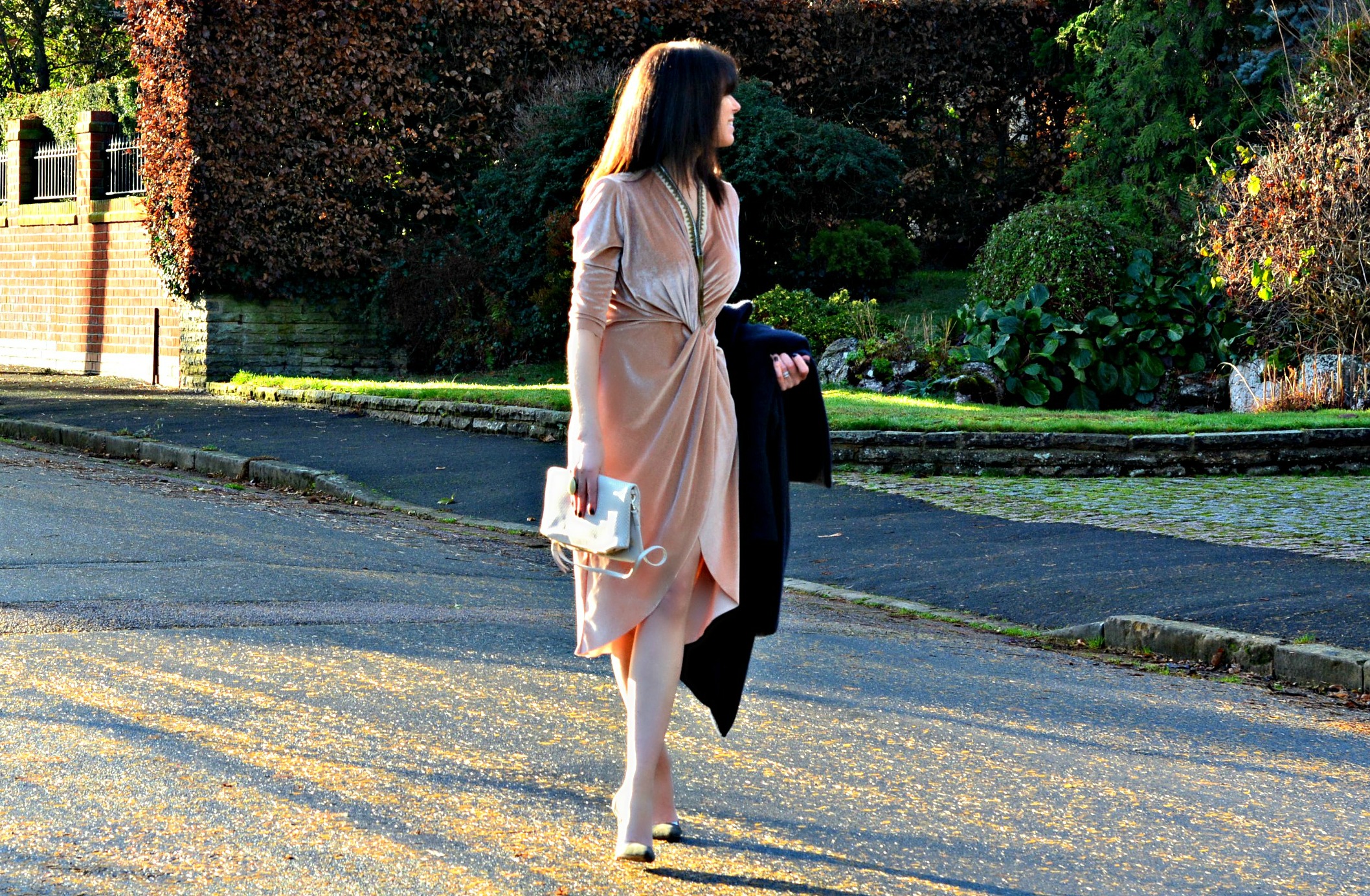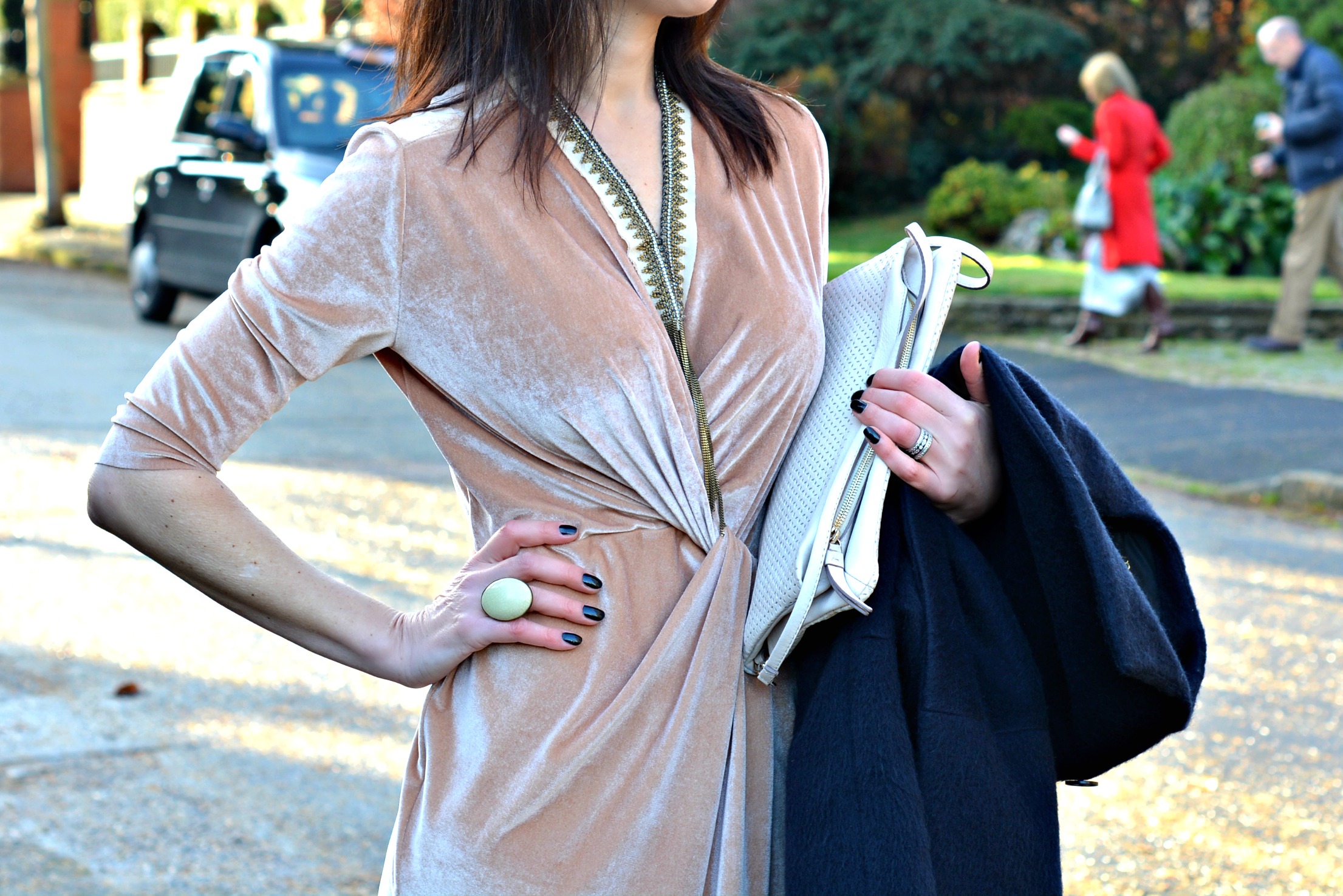 I turn my back for a second & a couple of party people steal my black cab! Hahaha nah not really, I think it was theirs anyway although I was using it in my shot Damn it!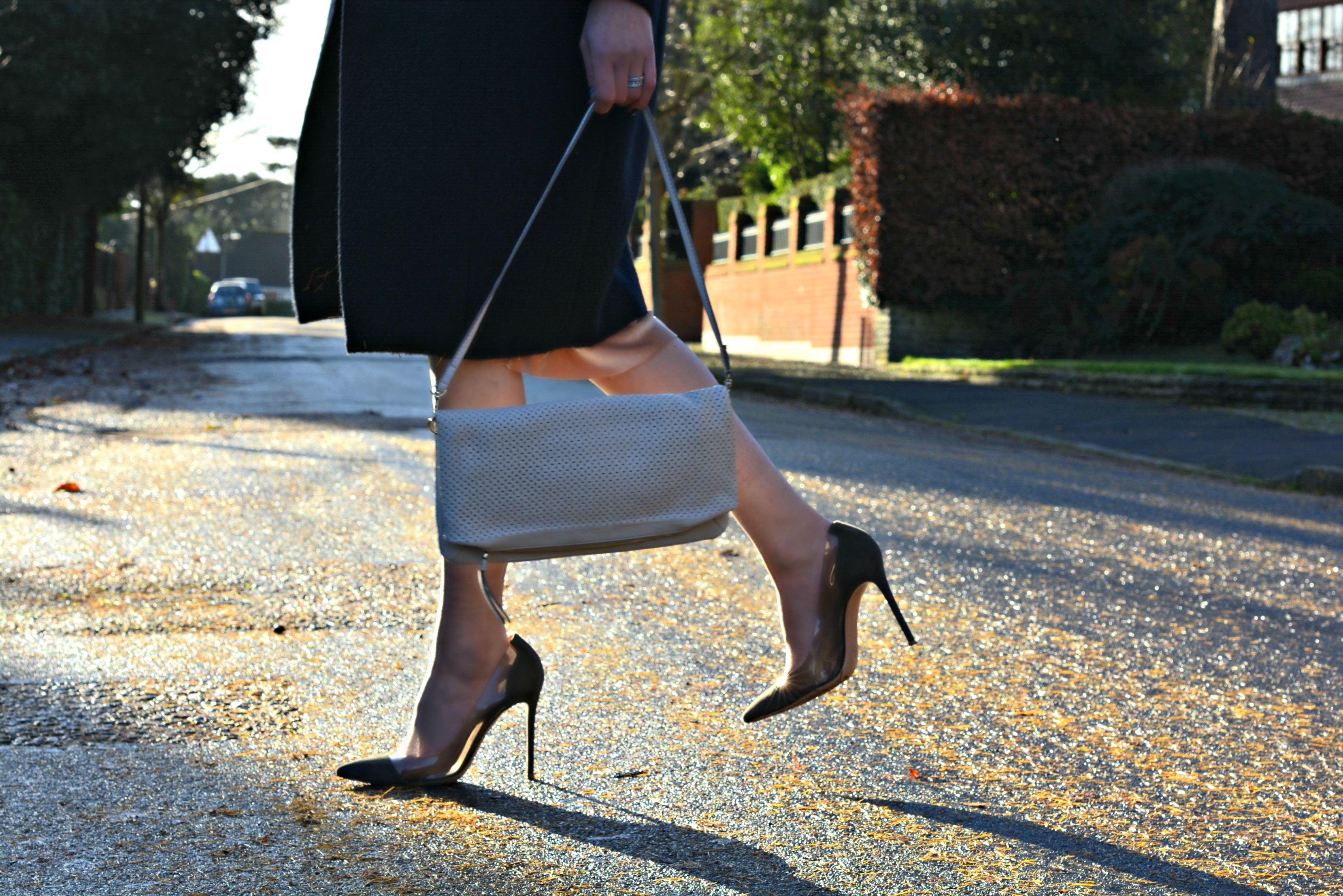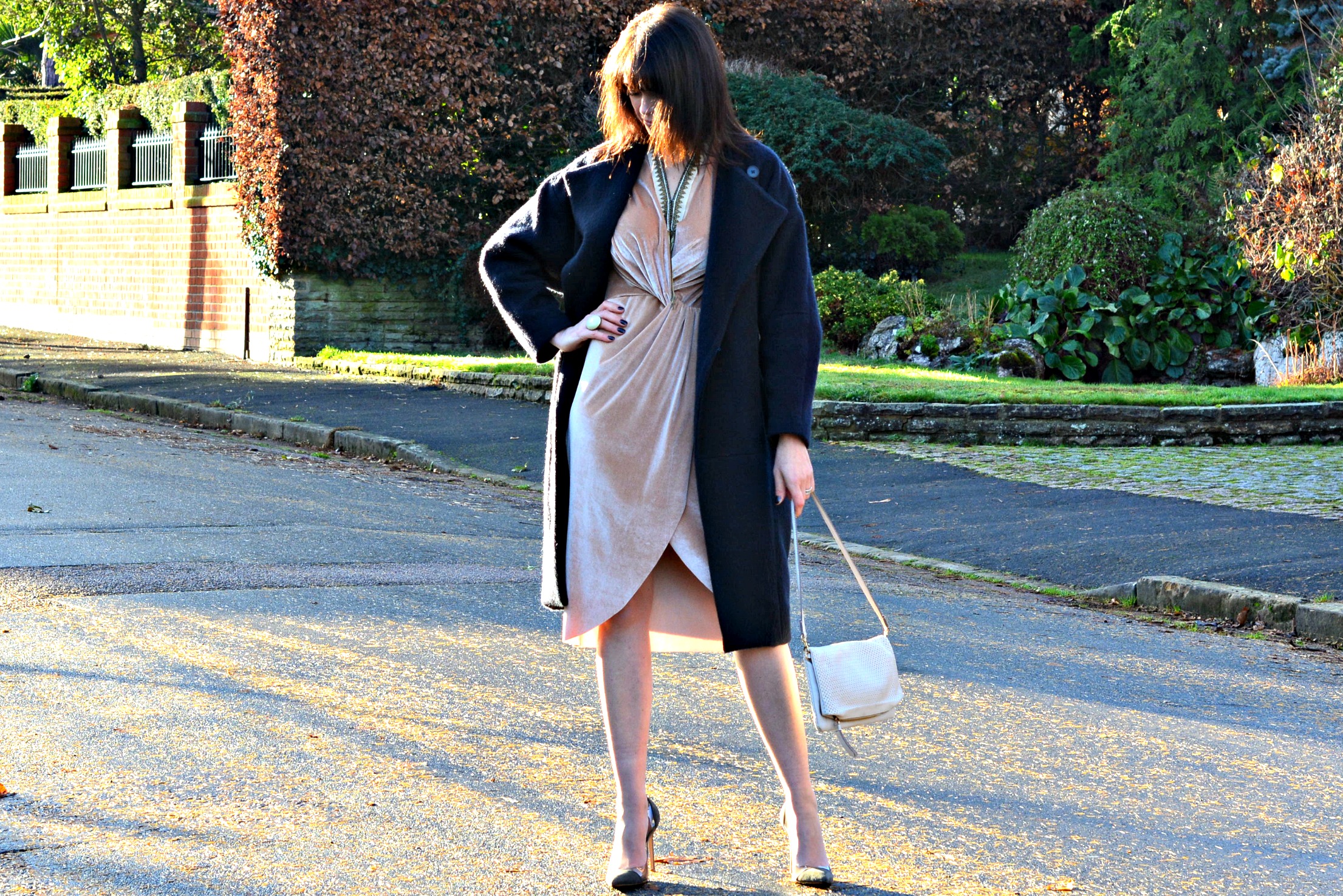 Accessorizing my Christmas Party Outfit
Ok so how many of you thought my necklace was actually part of the dress? I KNOW! How bloody perfect are they together? This incredible hand crafted piece of jewellery is by Parisian designer Marie Laure Chamoral. Her collection is nothing short of exquisite & although rather pricey (for obvious reasons) every item is infinitely wearable. You can see a completely different look I've worn with my necklace here.
I sourced some more stunning examples from Marie Laure Chamorel for you above along with a couple a sensational white cocktail rings. My enormous Isabel Marant cocktail ring features regularly in my outfits so you've no doubt seen it many times here on RCM. I think if you only ever buy one cocktail ring it should be either black or white for it to work with your entire wardrobe. For this reason it's worth choosing carefully & spending a little extra on the best quality you can afford. Do this & you'll enjoy wearing it for decades, perhaps even pass it down to the next generation.
Moving on, my cream leather clutch from Jigsaw, also old but again a very handy style & colour to own that will also go with just about everything. I did find another pretty clutch from Jigsaw that actually matches this dress to perfection & is equally versatile in pale pink. If I didn't already own this bag I'd definitely invest in the one I listed above.
Lets talk about these shoes!
Oh.Em.Gee!
G for Gianvito…
Gianvito Rossi Son of Sergio, King of shoes! Ugh I constantly scour Vestiaire Collective, Ebay & Shona Mac for my next dream pair, the Vamp Bootie. Until then I get my kicks (heehee) out of my grey suede Plexi Pumps. Smokin' right?
Personally I prefer grey as a neutral shoe, particularly when it comes to a pale palette such as todays outfit. However, besides black, leopard print would also work well here. Finally I chose my navy Maje coat as a strong contrasting colour because I thought black would be too harsh & brown too muted against blush – I don't own a grey coat.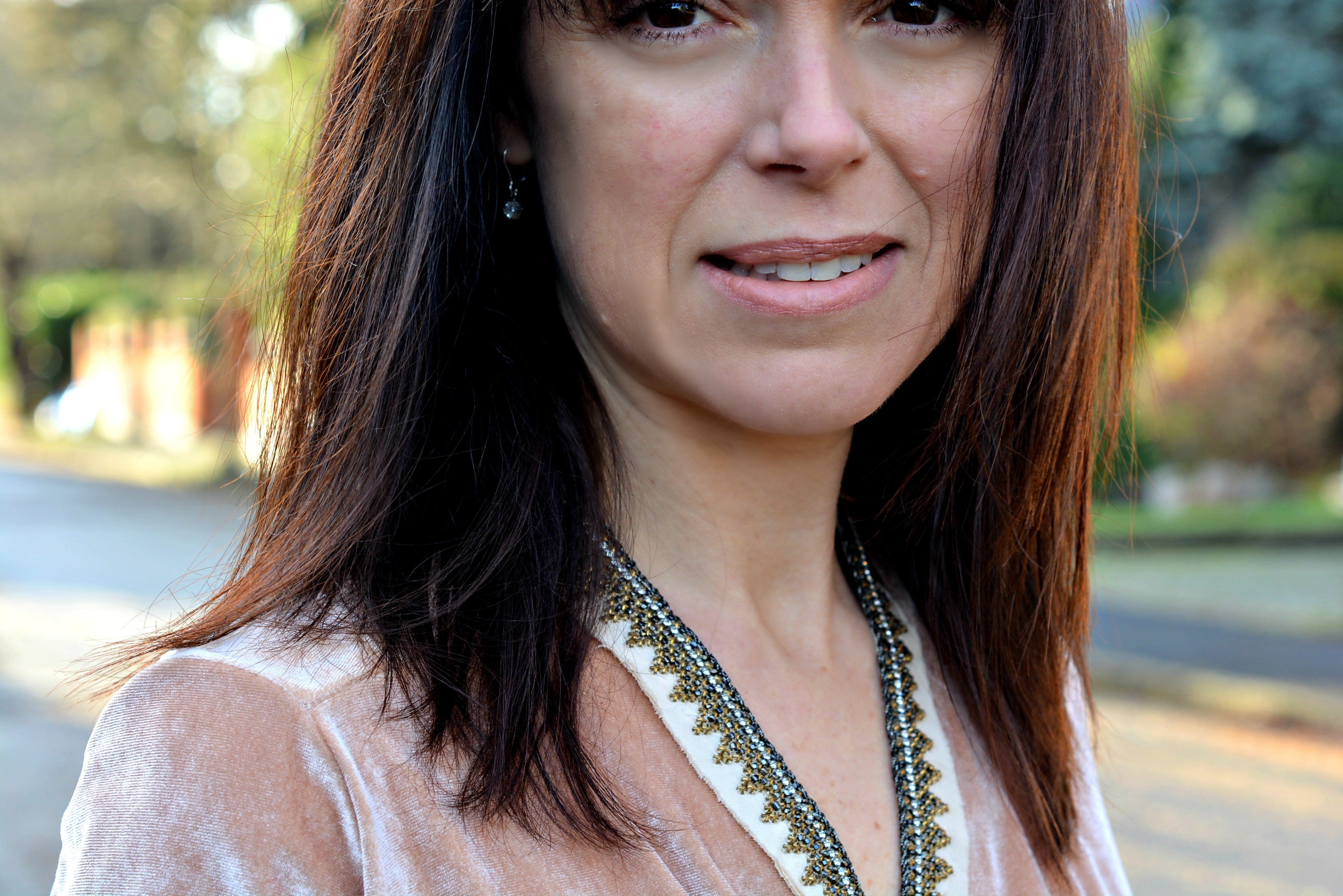 Make-Up
My make-up is as usual, simple & clean. I've been incredibly tired lately so decided against eyeshadow preferring a fresh & natural look. Piling on more make-up when you're tired only serves to highlight the fact so my advice is pare it down instead & keep lips glossy. These 2 products definitely help get my glow back – See here for a detailed tutorial.


Perhaps my velvet dress isn't the right shape for your figure? No worries, I found four different styles for you to have a look at. Perhaps one of them will be the bomb?
Next up my girls from The Over40Collective with even more festive fashion inspo. Every one of these beauties has their own style of Christmas party outfit to share with you, so click on their pic & go enjoy the party!
Merry Christmas & lots of love, Mx
Linking up with Turning Heads Tuesday