However much I enjoy my Winter wardrobe I miss wearing dresses, don't get me wrong I still wear them just not as much. So without fail come March I'm ready to expose my legs sans tights & boots! Brrr I hear you cry in this northern hemisphere, still too cold! I beg to differ, so long as I have a chunky knit it's all good. I'm constantly extolling the virtues of the over-sized chunky knit cardi & this one is my current favourite. Taken from the Men's department of Tkmaxx I adore the snuggly feel of its high collar & extra long sleeves that go all the way down to the tips of my fingers. No mean feat with these monkey arms let me tell you, It's rare to find a women's jumper with arms that long. You can see me wearing this one with my DIY cropped jeans here, it's really such a versatile piece so don't underestimate the gems you can find looking in Men's.
The funkiest way to stay warm over the brief time between seasons is also my personal favourite of the contrasting styles genre. Take a pretty feminine dress then layer on the most masculine chunky knit you own. To me this is all the better for it's unlikely mashup plus I adore the cuddle of a chunky cardi on a breezy day.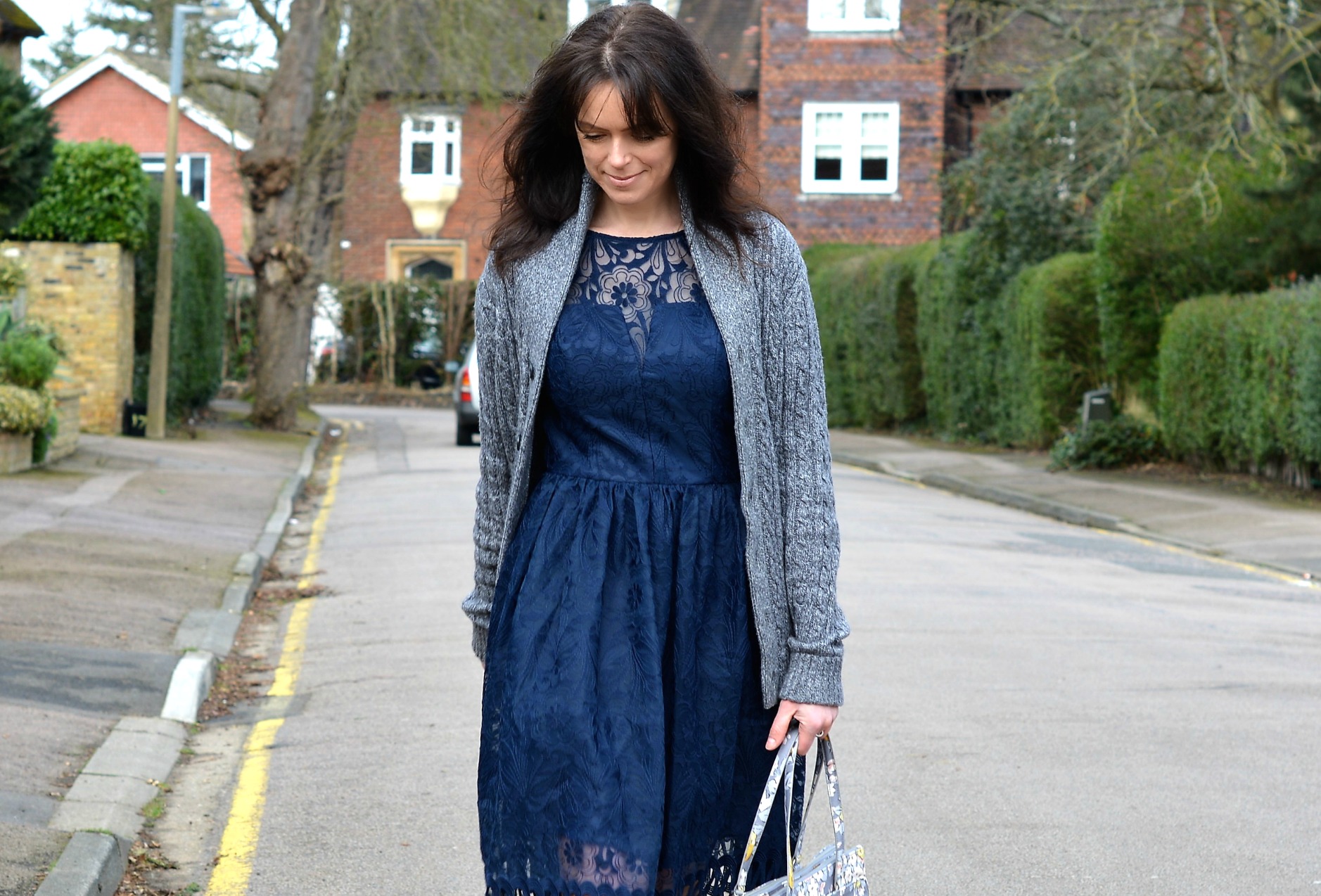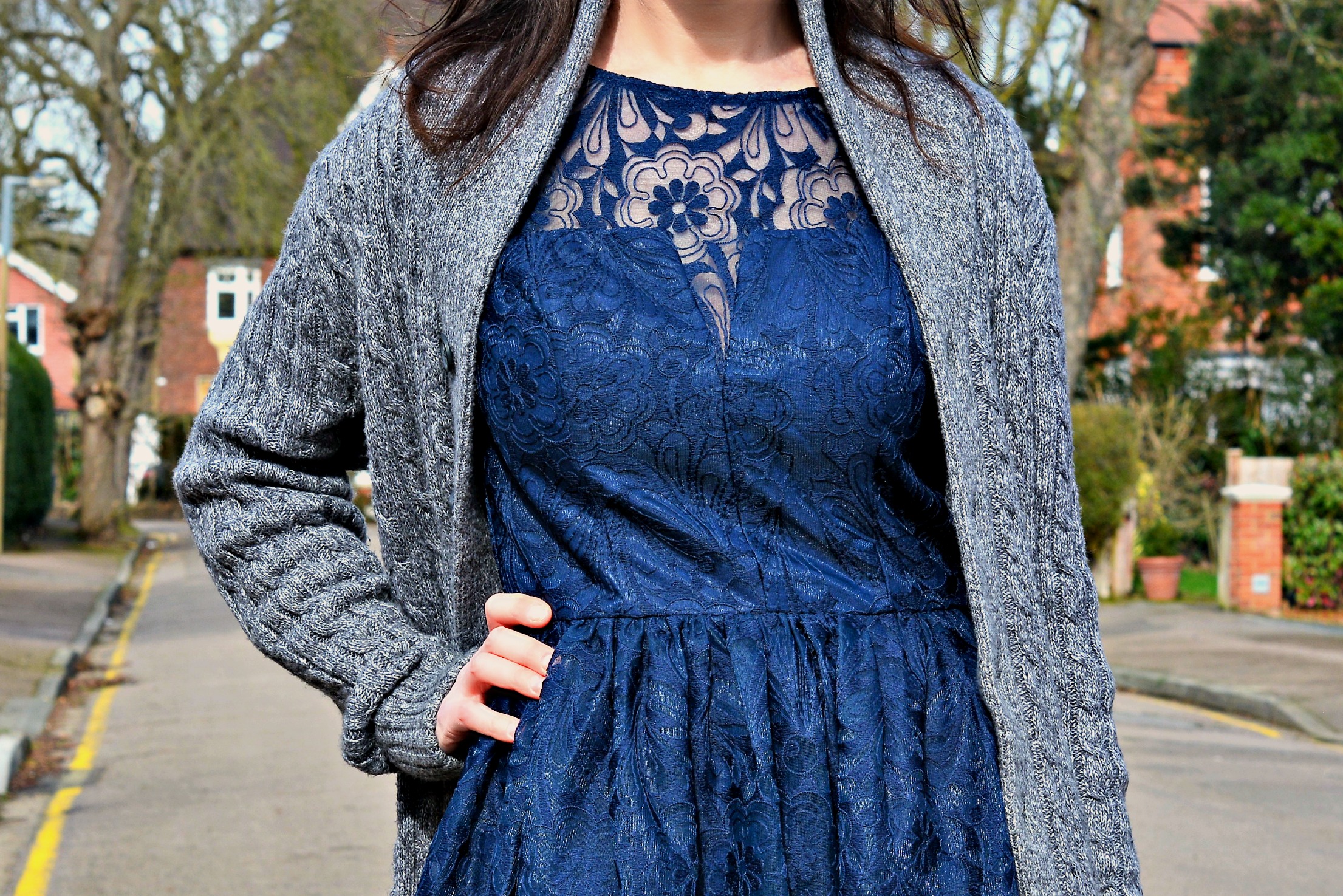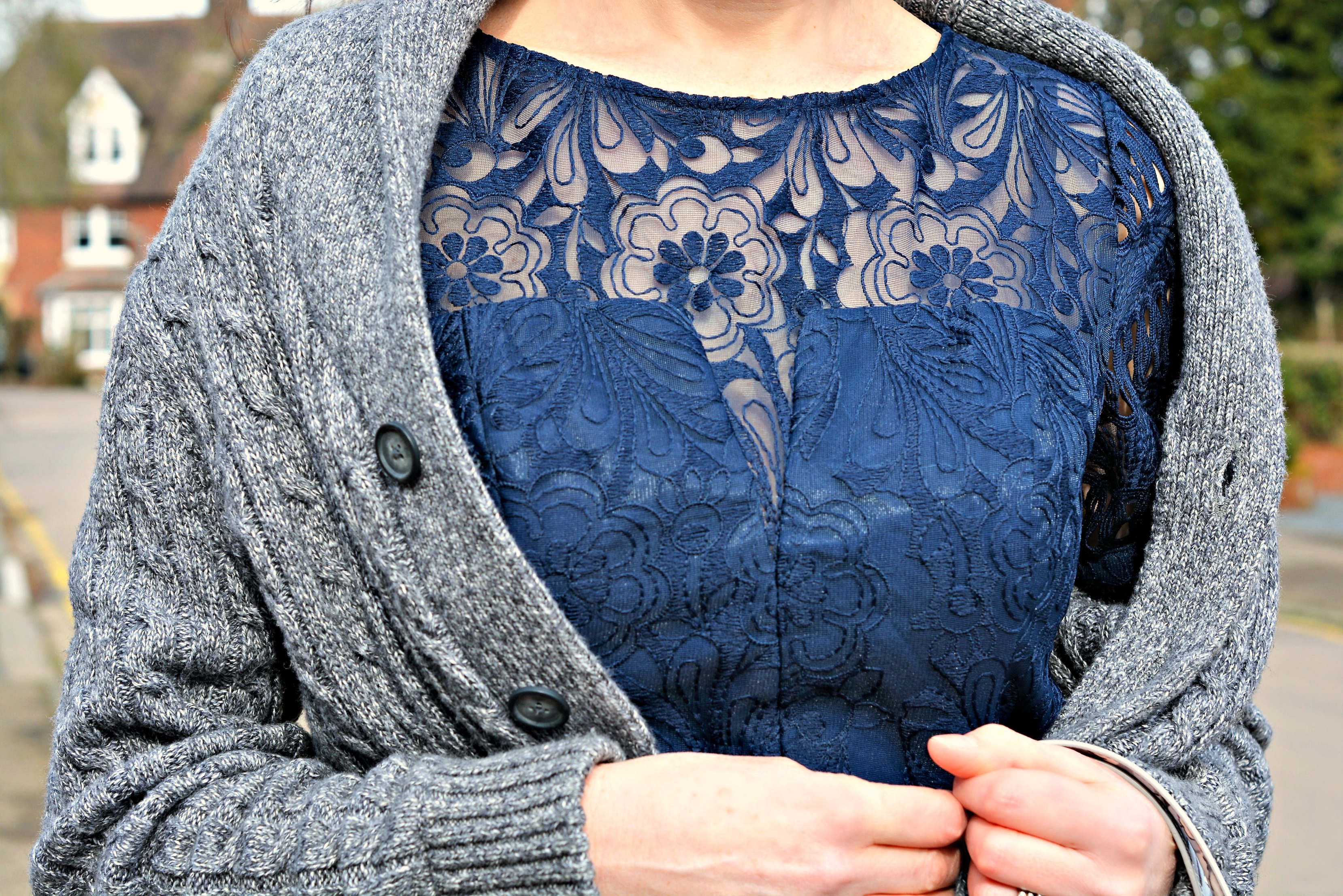 A Chunky knit Cardigan Over Broderie Anglaise
This Chi Chi Sheridan dress from Aspire Style is the perfect example of a feminine summer dress to transition nicely for spring simply by throwing on a chunky cardi.
I love the bright navy blue colour & the 1950's fitted bodice with flared to knee skirt but it's the intricate combination of lace & broderie anglaise that make it so delightful. I'm planning to wear it without the cardigan paired with my navy Lanvin ballets as the weather warms up through spring.
Although there's a lot going on with a broderie anglaise dress which seems a departure from my usual uncomplicated style, I am actually a huge fan. In fact I have two more that you can see styled here & here. The shorter dress works really well layered over jeans so if you'd like more styling options from a broderie anglaise dress go for above the knee. That way you can also style it down with trousers & jeans.
Now for my bag, which also happens to be from Aspire Style where you'll find a small but lovely selection of handbags to choose from. The Cath Kidston tote is a good size with loads of handy compartments although not so large that it looks cumbersome against such a girlie frock, if you know what I mean? I like the oil cloth bags Cath Kidston do because they're so incredibly durable yet with fun prints & an exceptional finish they take a hiding day-to-day & remain in terrific condition. They're almost indestructible! See another one I styled here.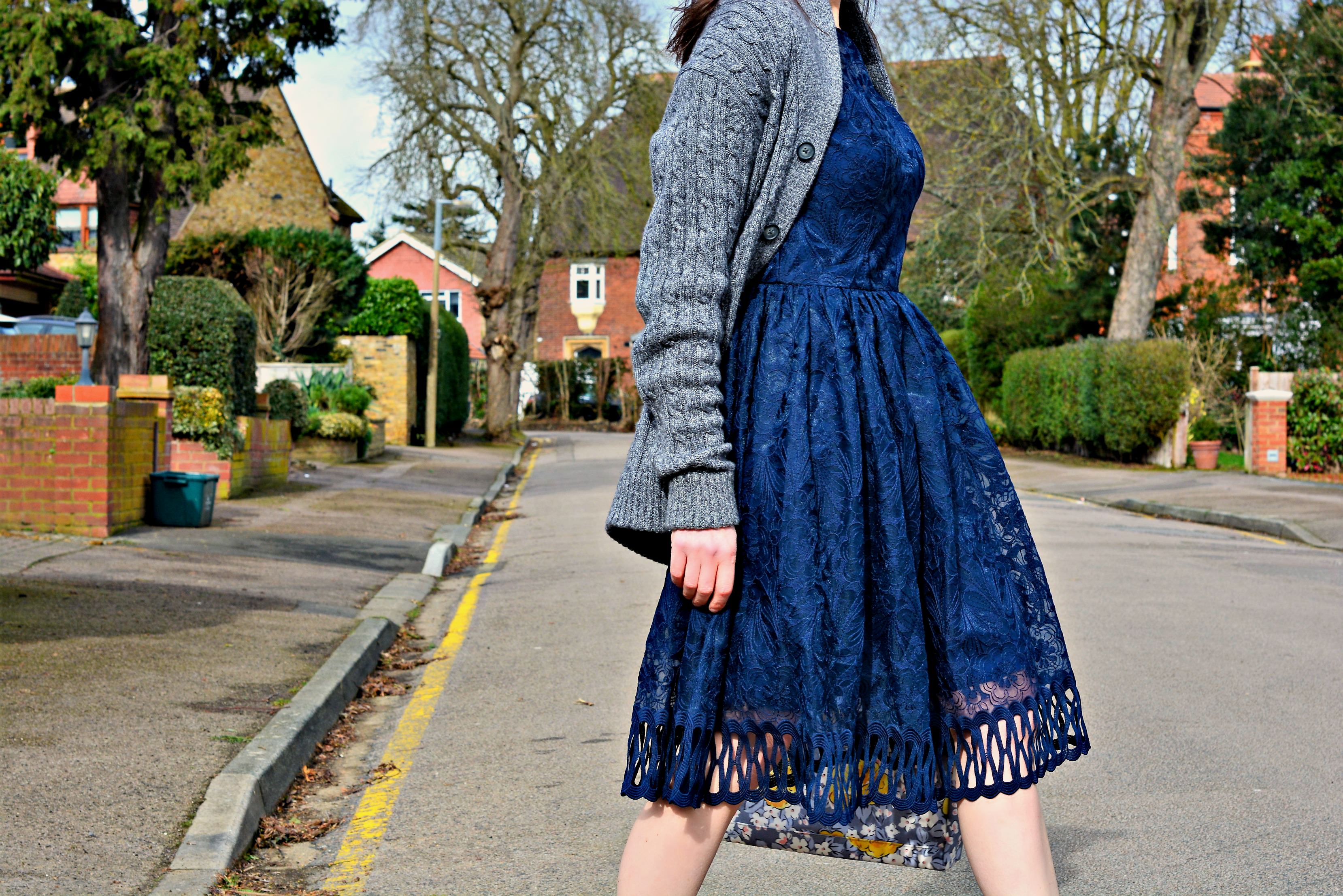 Shop my pick of the best Broderie Anglaise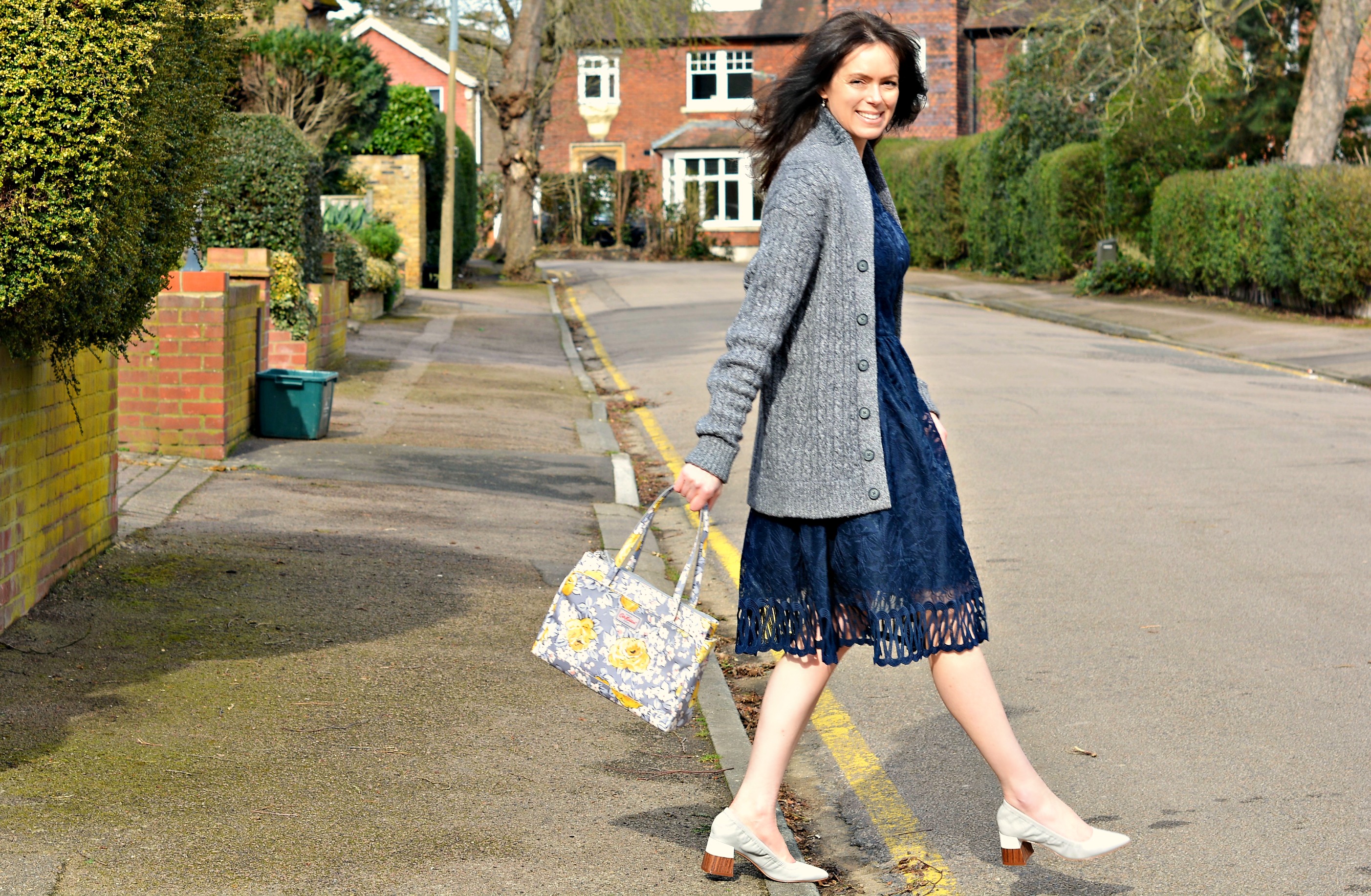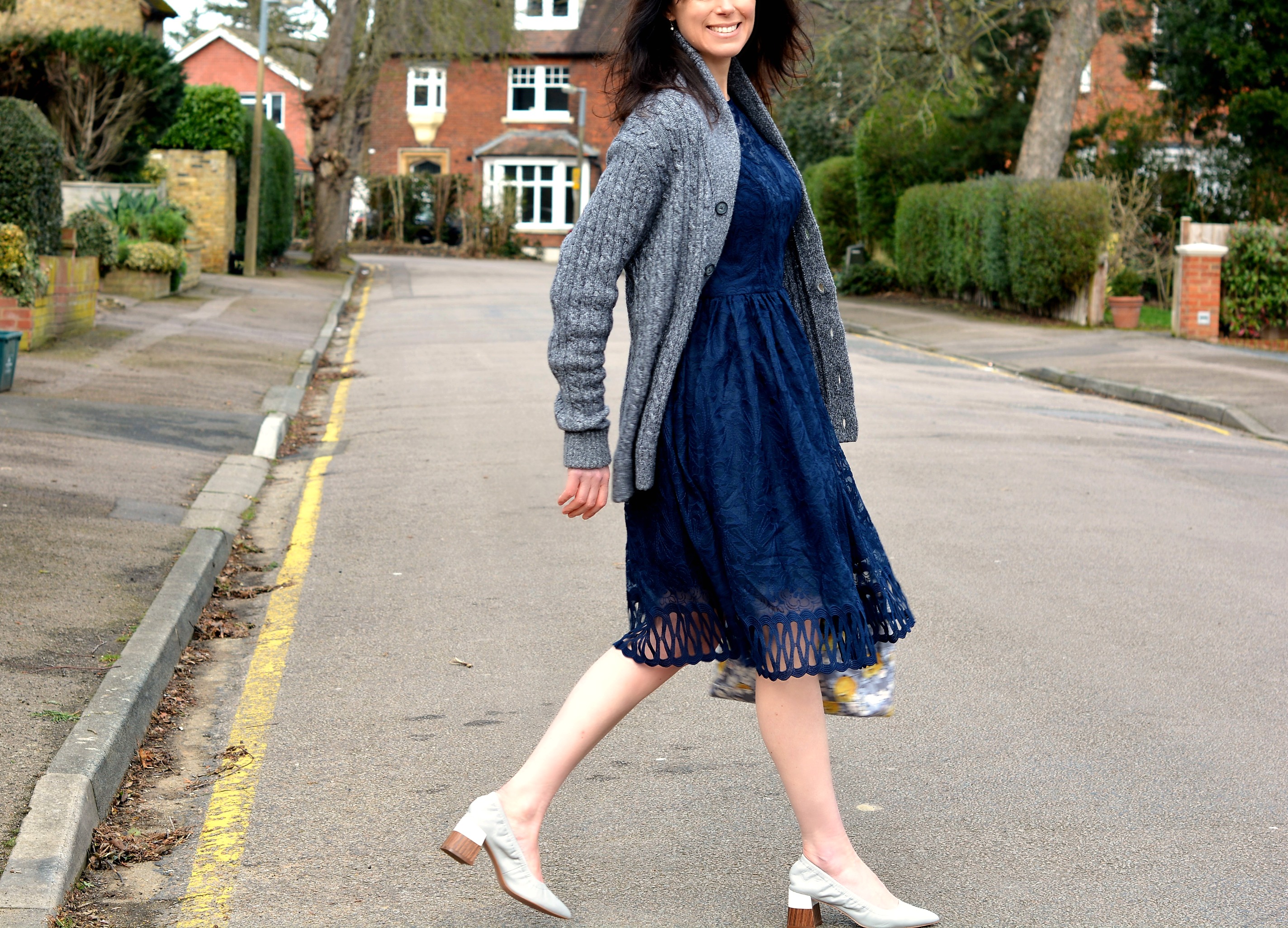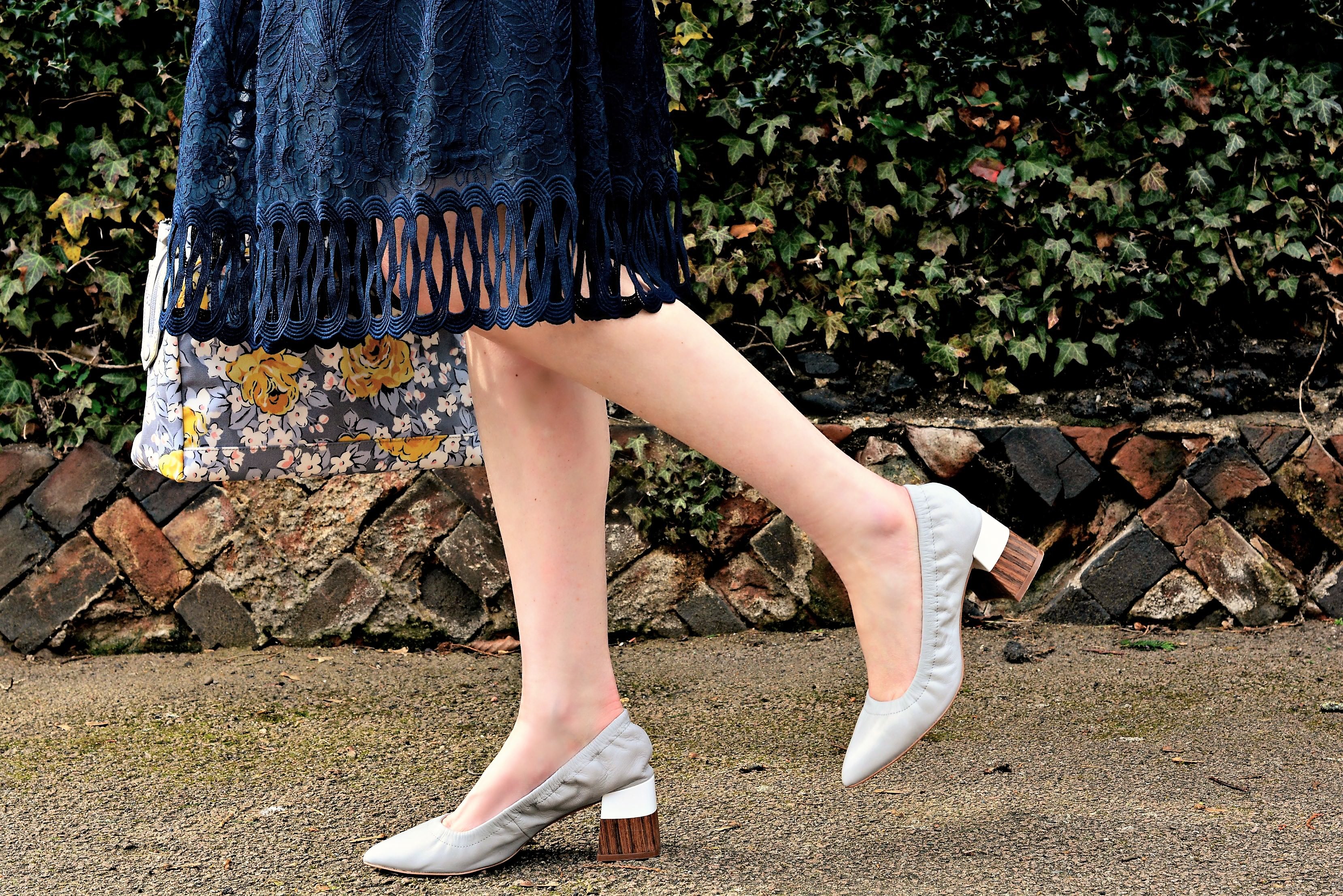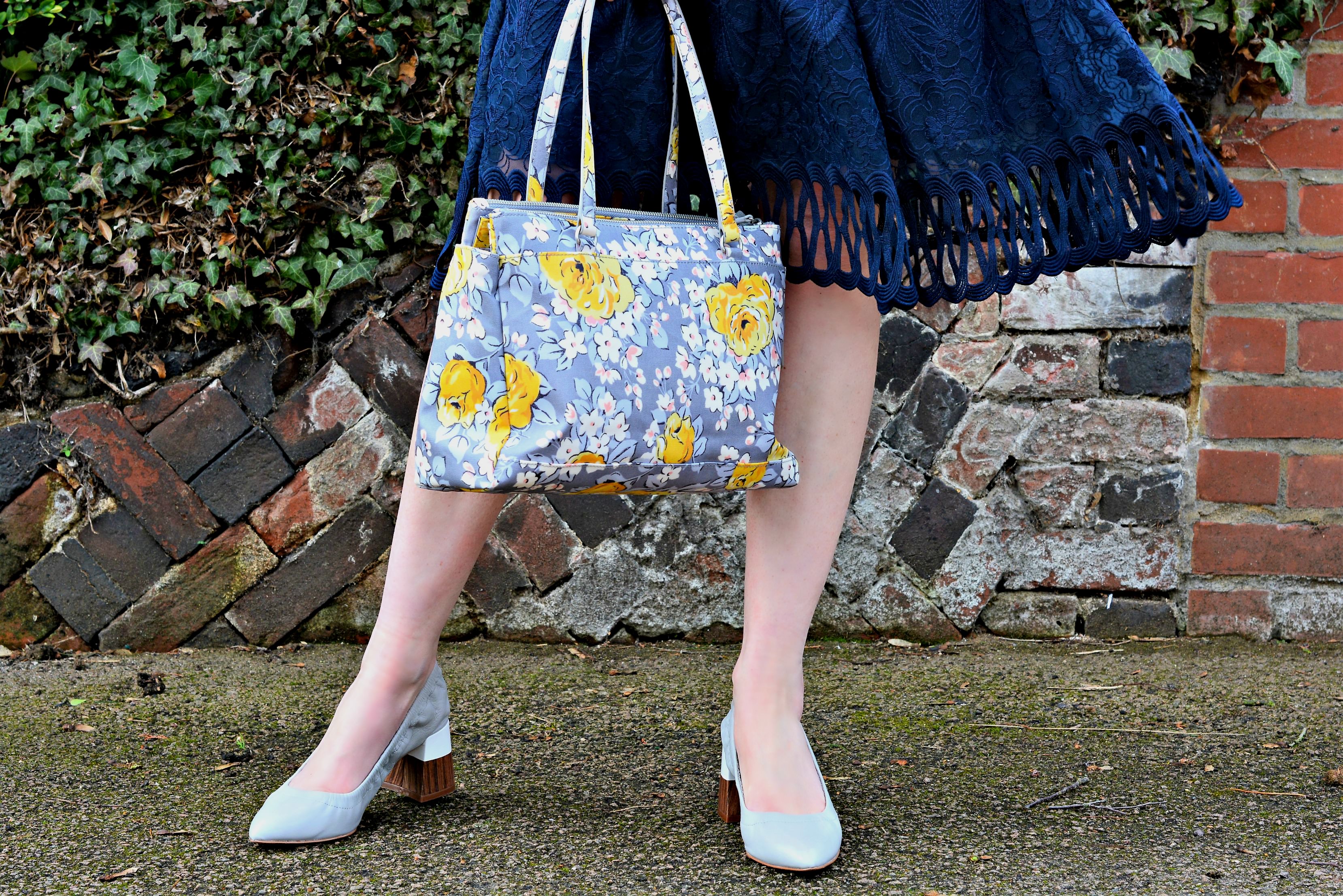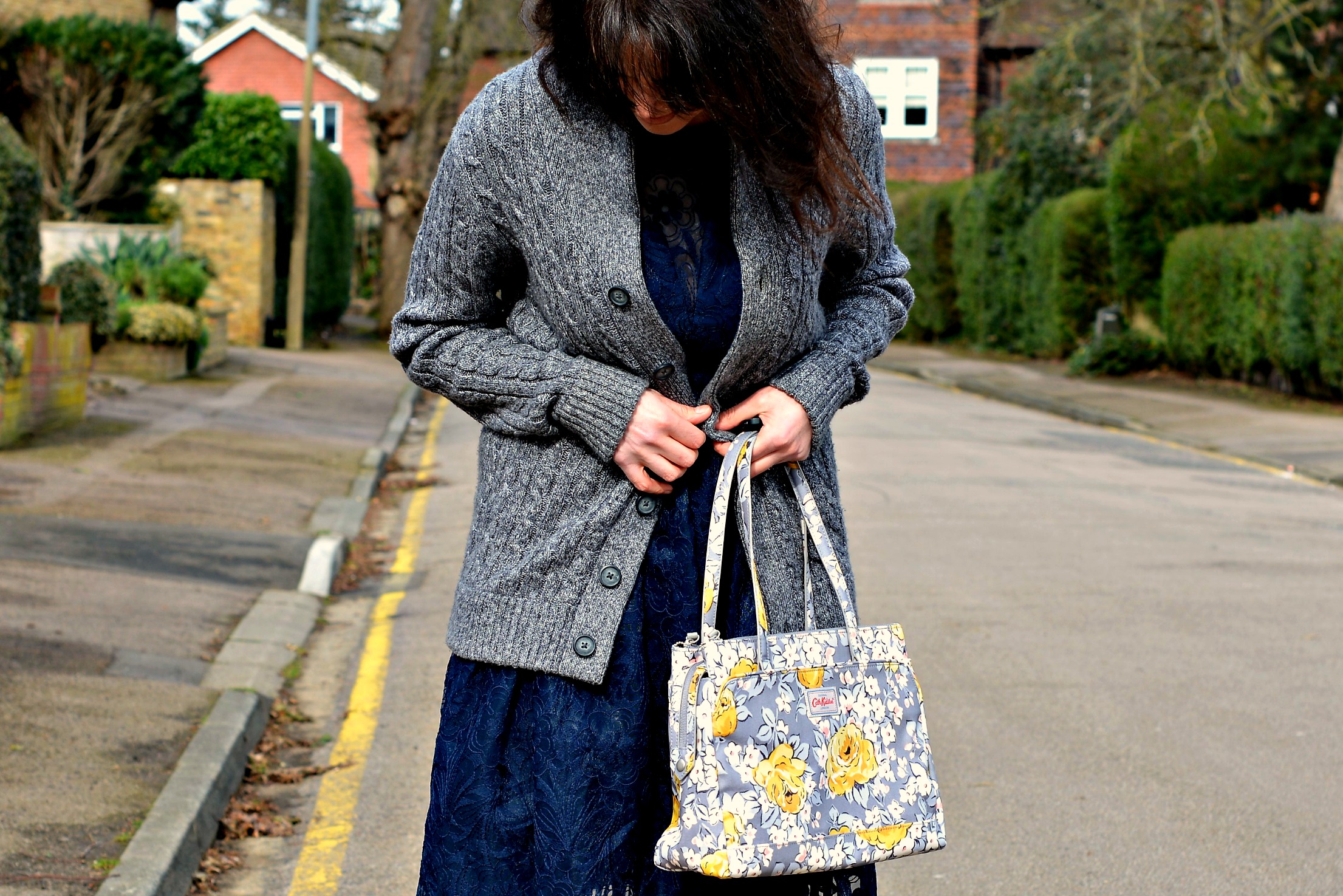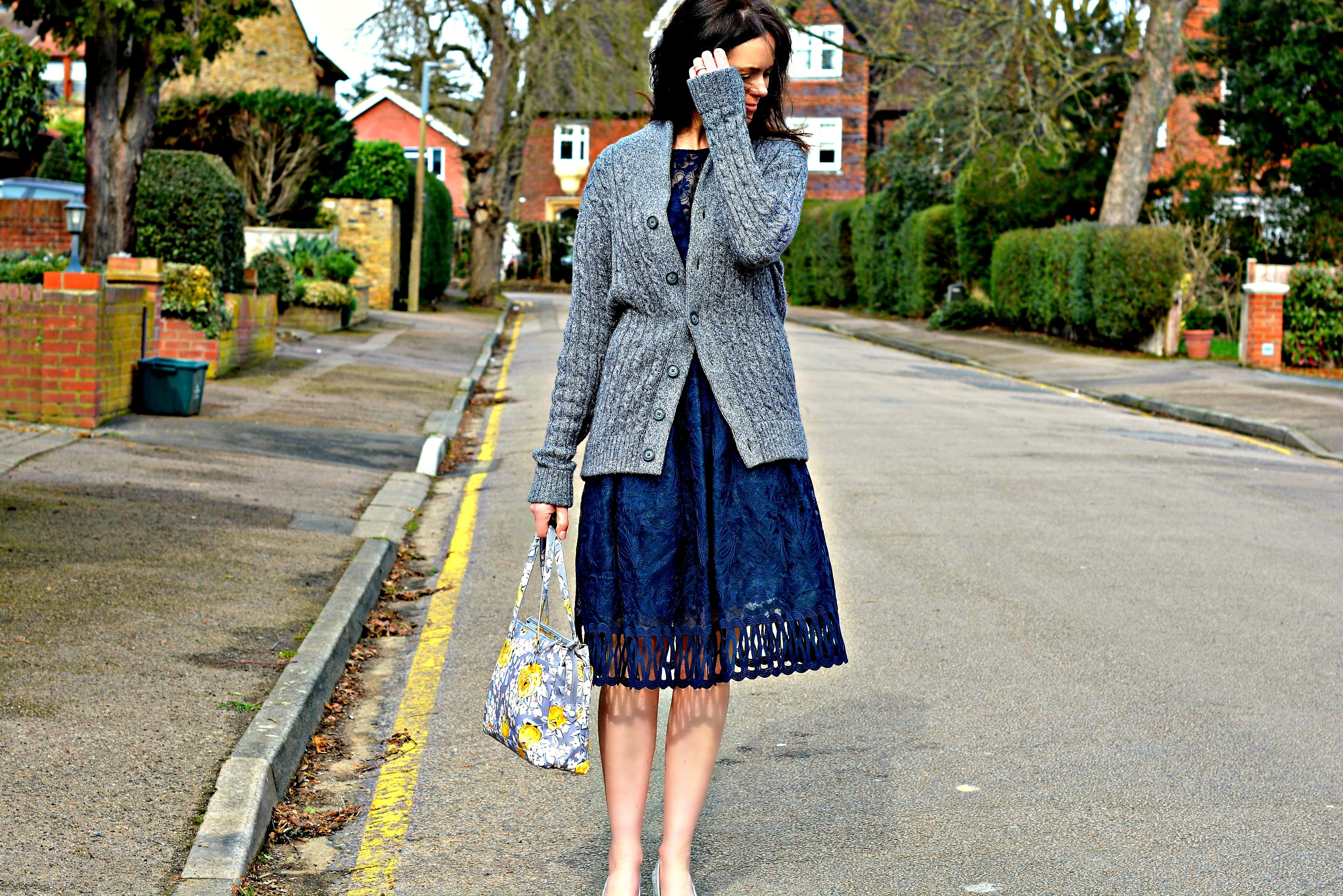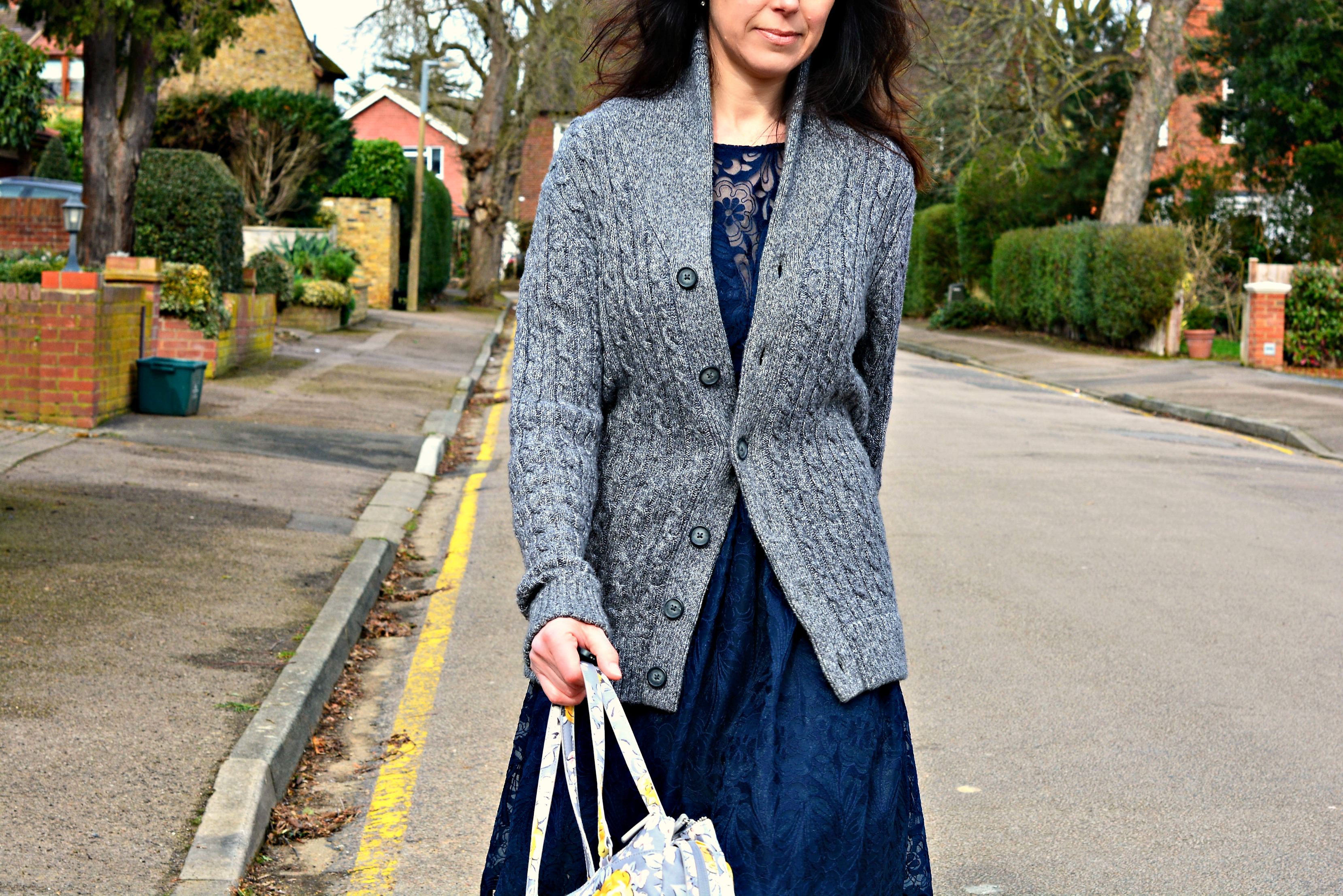 To button or not to button?
I also quite like the cardi buttoned once at the waist to give an hourglass shape which you could also define further using a skinny belt. As for these shoes, well I've grown to like them more today than when they first arrived. I bought them online from Zara & to be perfectly honest their images looked more Celine-like than the shoes turned out in real life. To be fair there is a price difference of about £600 Hahahahaha. Sorry I actually can't stop laughing at that…
Although I was skeptical at the time I thought the silver grey colour would be a super match to the grey of my bag so I went ahead with the purchase. When they arrived I wasn't completely happy with the elasticized leather & probably should have returned them right away. However as it stands now I'm warming to them, confident they'll get a Celine vibe when I style them with these Acne trousers.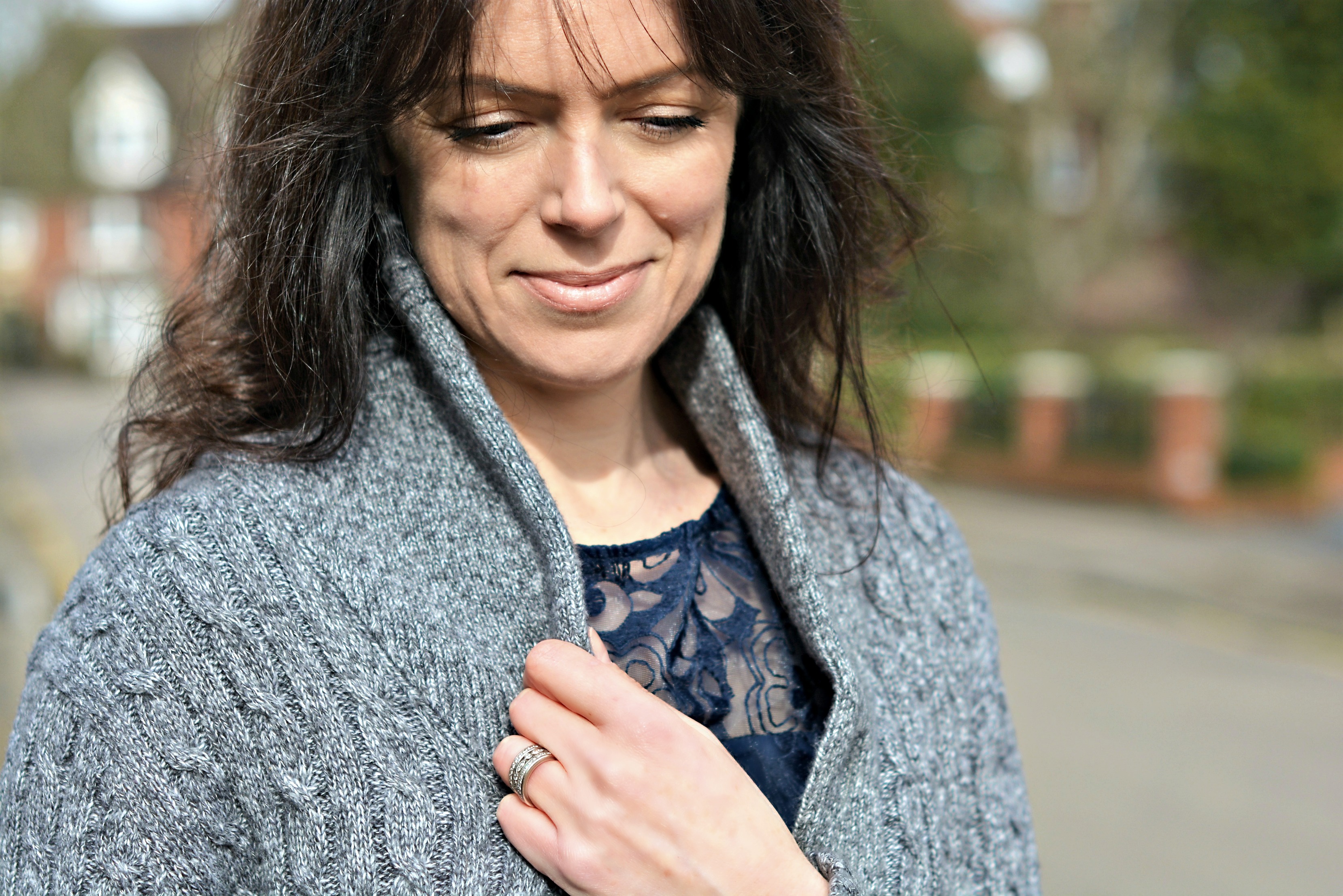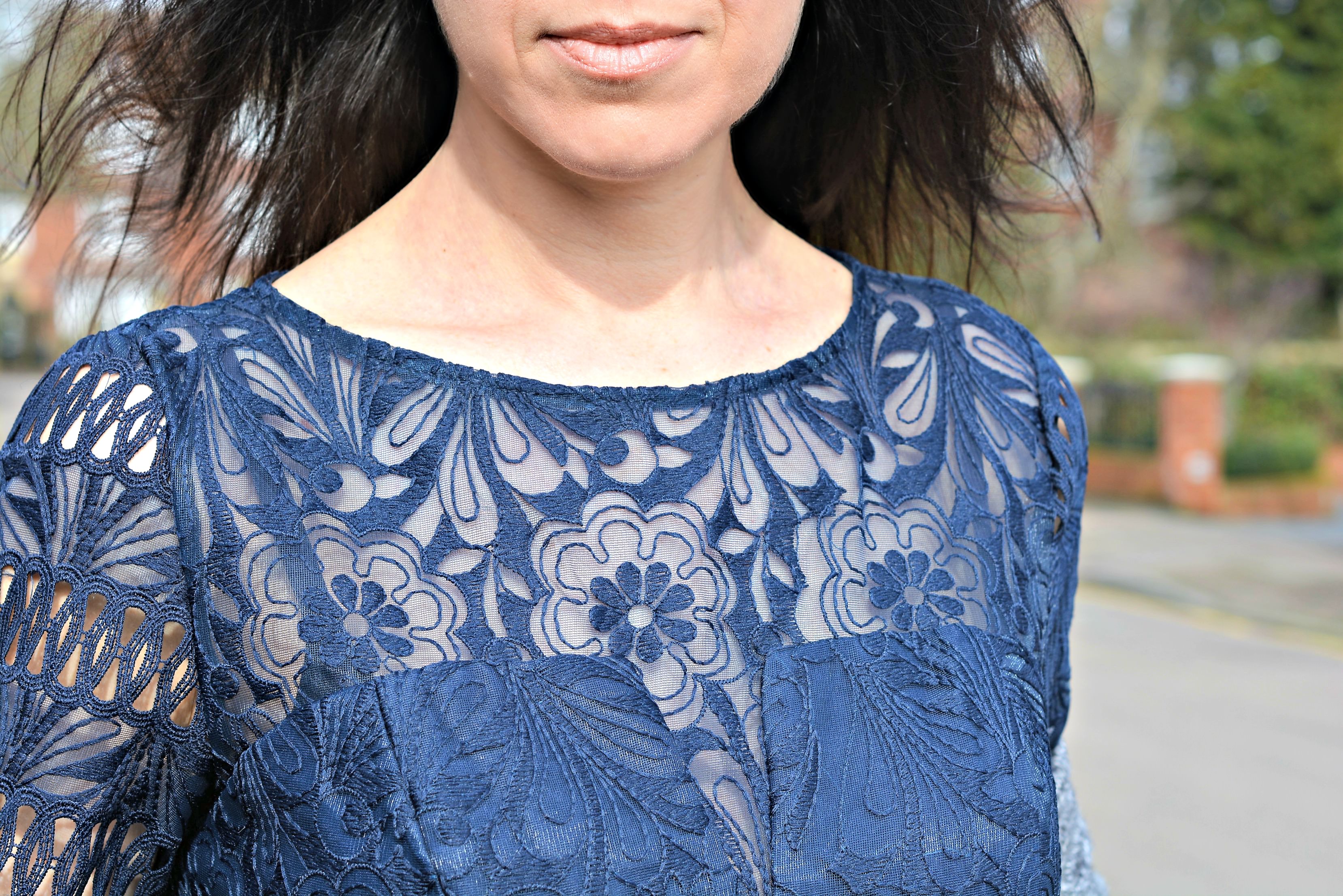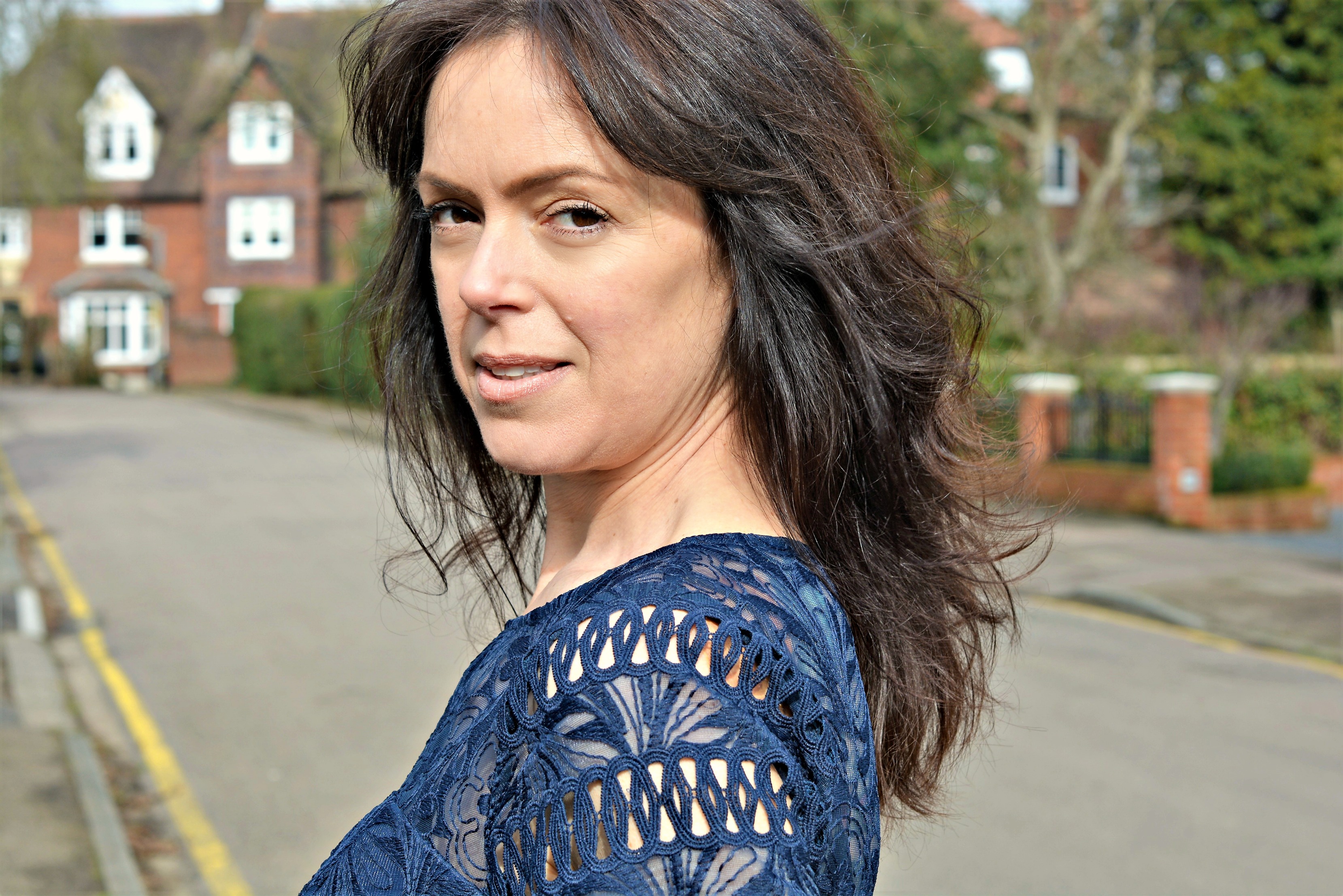 Shop at Aspire Style
This has been in collaboration with some of the Over40Collective & Aspire Style. Please click on each photograph to go to the full article on their Blogs. My dress & bag are courtesy of Aspire Style & as always my opinion is my own – If you like what you see or happen to find something else on the Aspire Style site use the code OVER40 to receive an extra 10% off at checkout.
Bye for now lovelies, Mx