I've always really liked the slip dress look. The first one I wore in my twenties was actually a genuine slip of my Grandmothers', you know the undergarment women wore in the 1950's? It was baby blue silk with a cream lace edge at the hem, very pretty. I wore it as a dress sans bra, with just a G-string or thong if you will, underneath – Have a look at my Pinterest board for images of this barely there styling – Rather daring I suppose when I think about it now, slutty even although back in the 90's Madonna was wearing underwear as outerwear making it sartorially acceptable for us all. Furthermore I was lithe, firm & cellulite free, it didn't feel overtly racy at all. Perhaps that was just my youthful naïvety, although of course I did feel rather sexy draped in nothing but molten material held up rather tenuously by fine spaghetti straps.
The next couple of slip dresses I bought were also the genuine article, picked up from Vintage shops in London Spitalfields where no doubt they can still be found today. However if Vintage isn't your thing there's no shortage of this style on the High Street even now, mine is actually from Marks and Spencer! So why has this dress remained so popular for decades? Simply because a feminine, sophisticated slip dress works equally well for the Princess as the Bad girl, it's always in fashion! From cashmere cardi & strappy sandals to bomber jacket & biker boots plus everything in between including Stans & a leather jacket. The only issue is whether you're comfortable wearing nothing underneath or indeed showing your bra?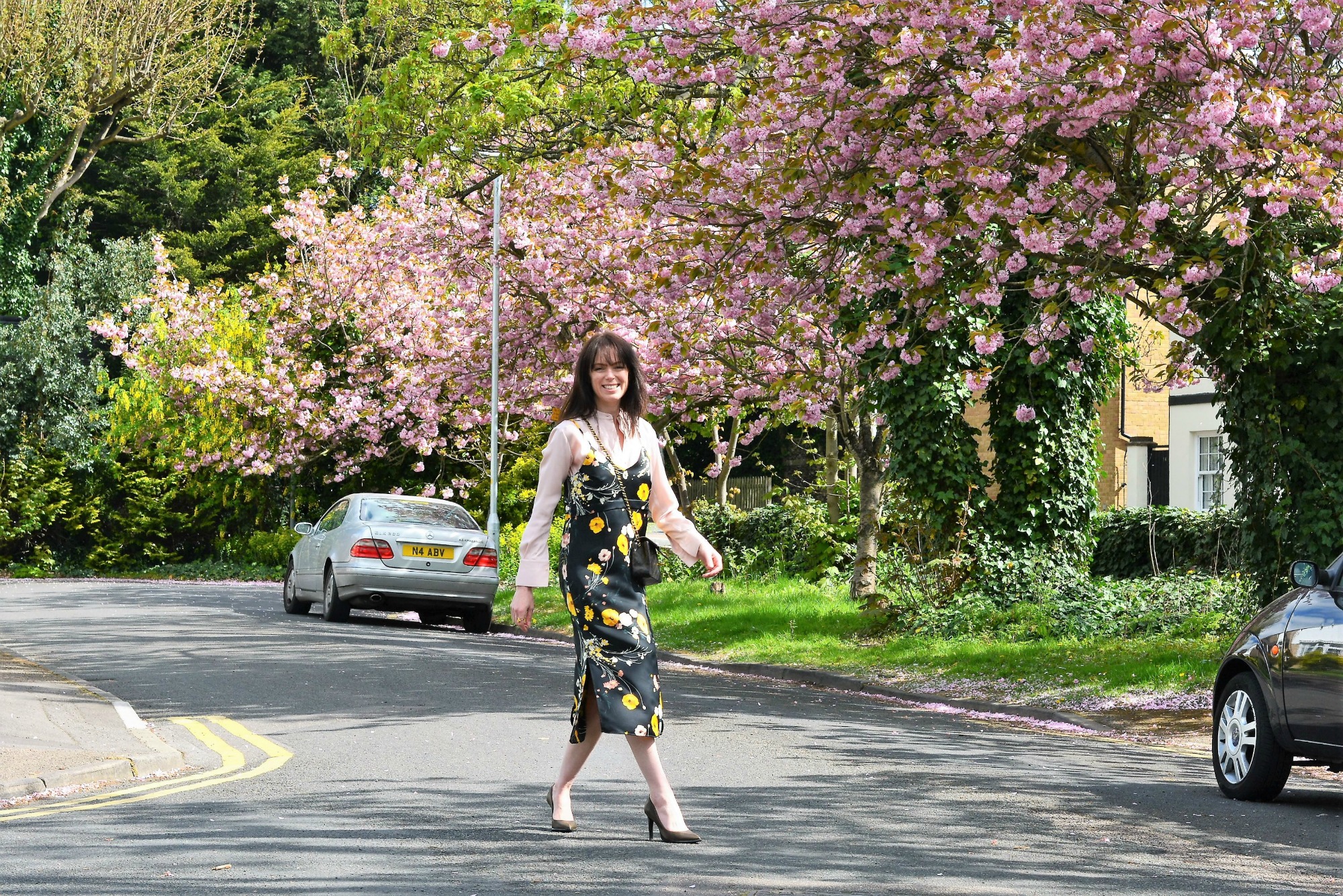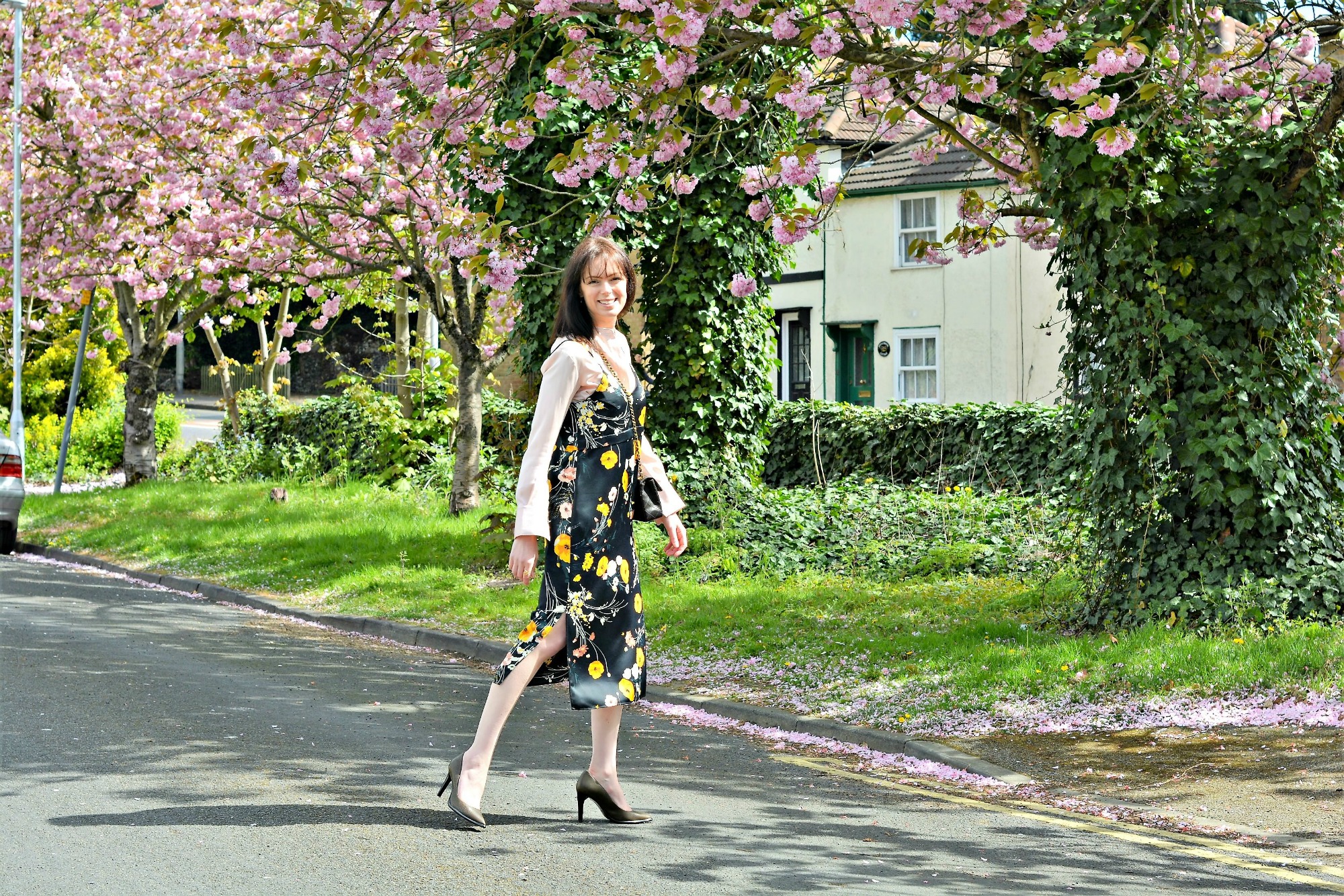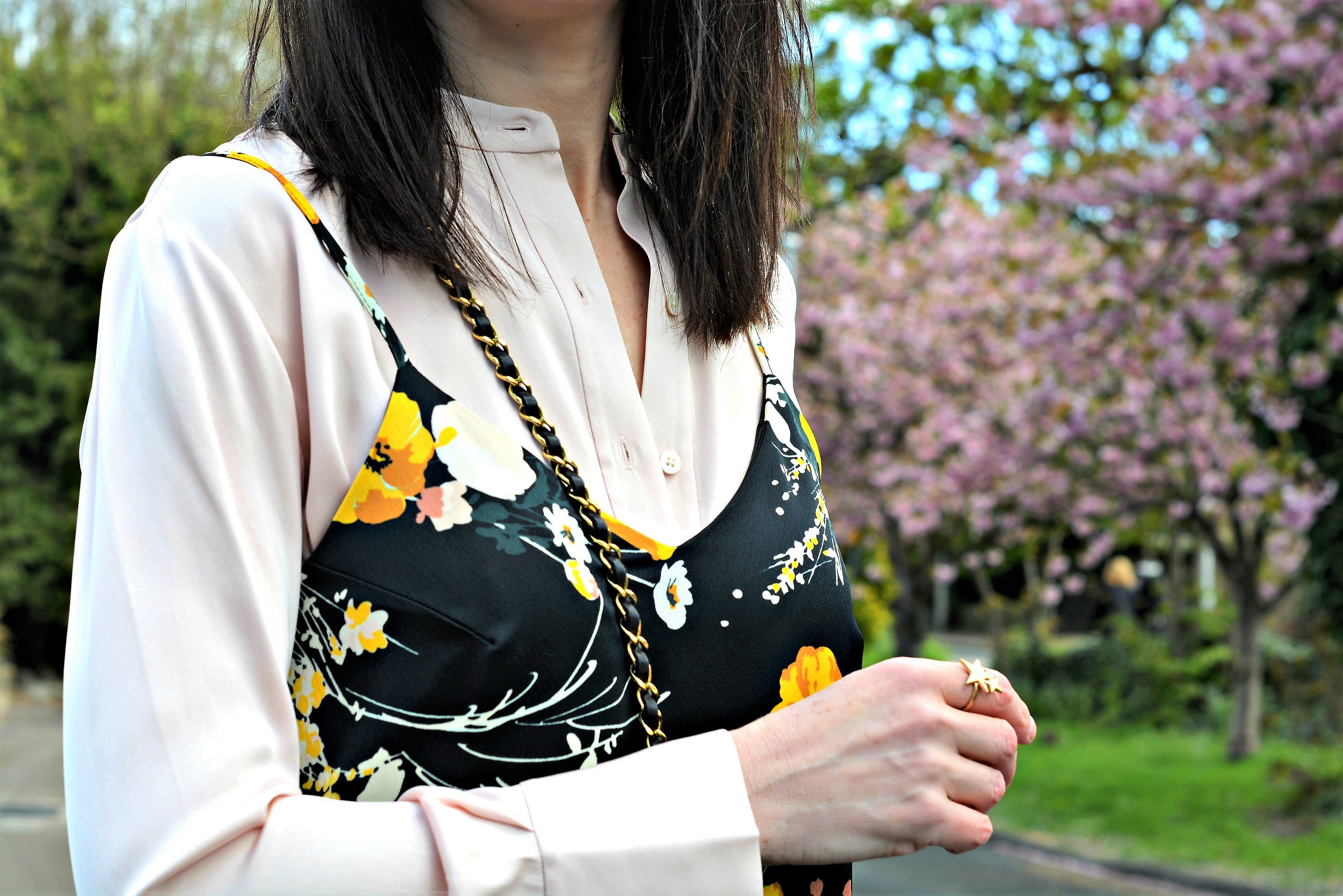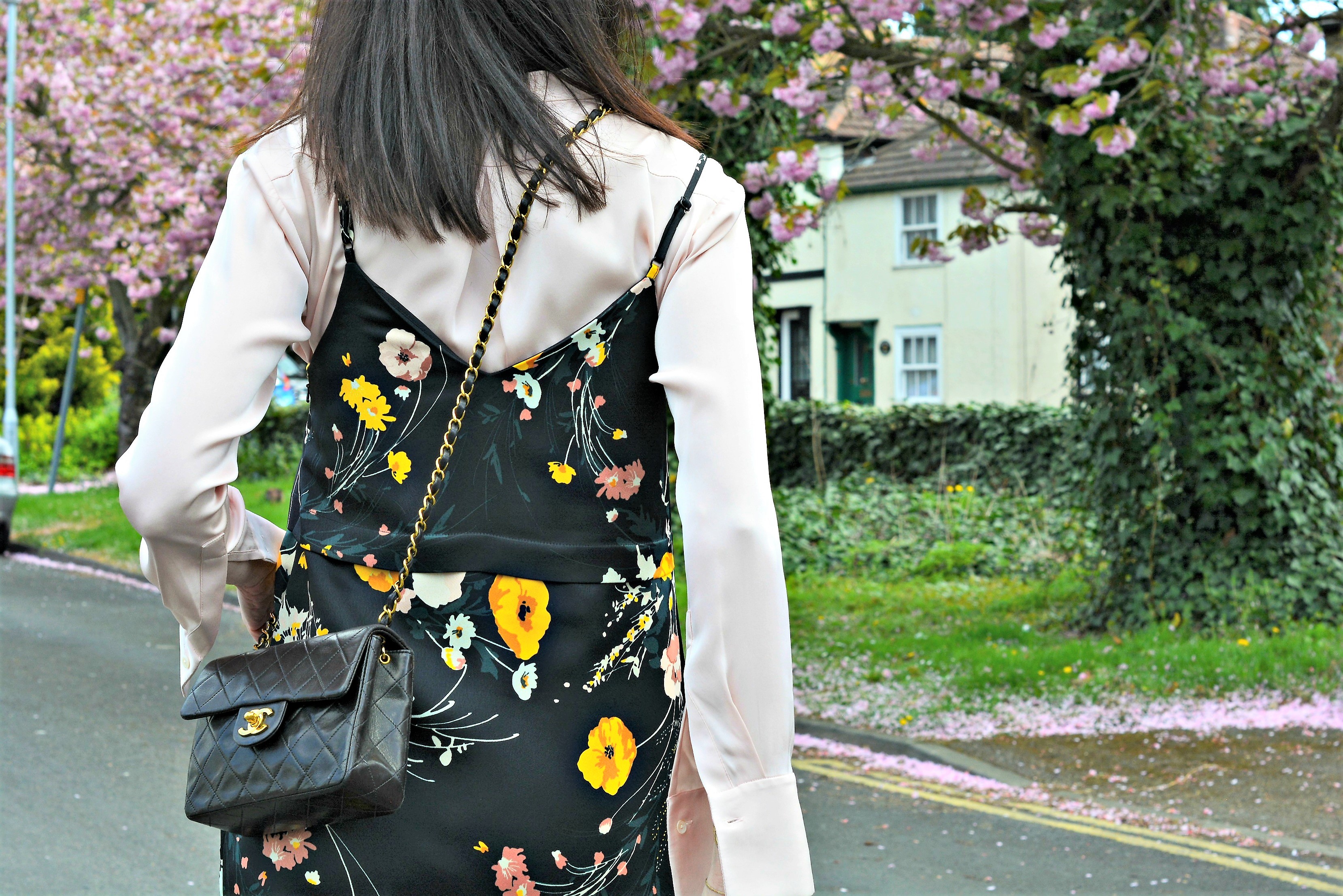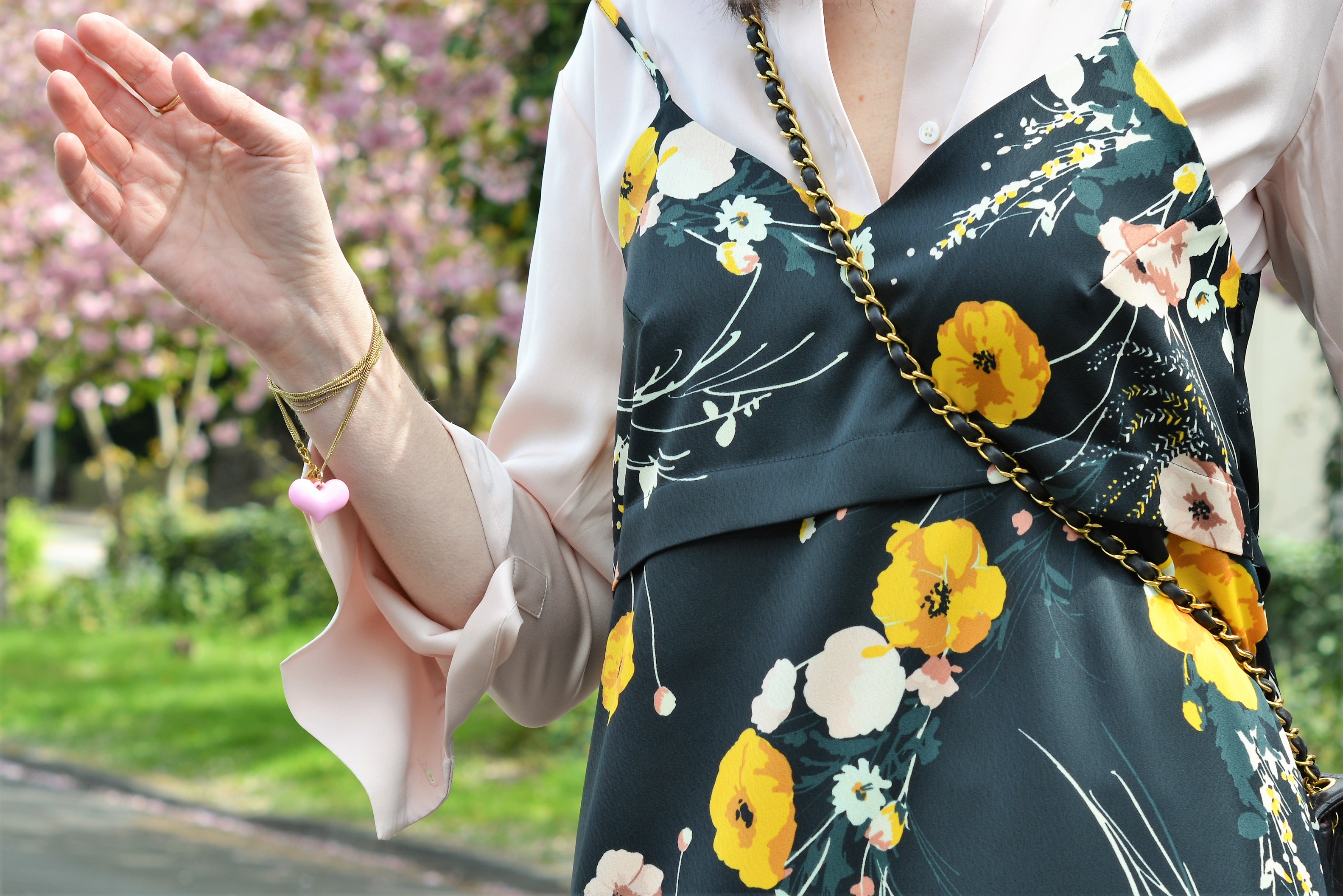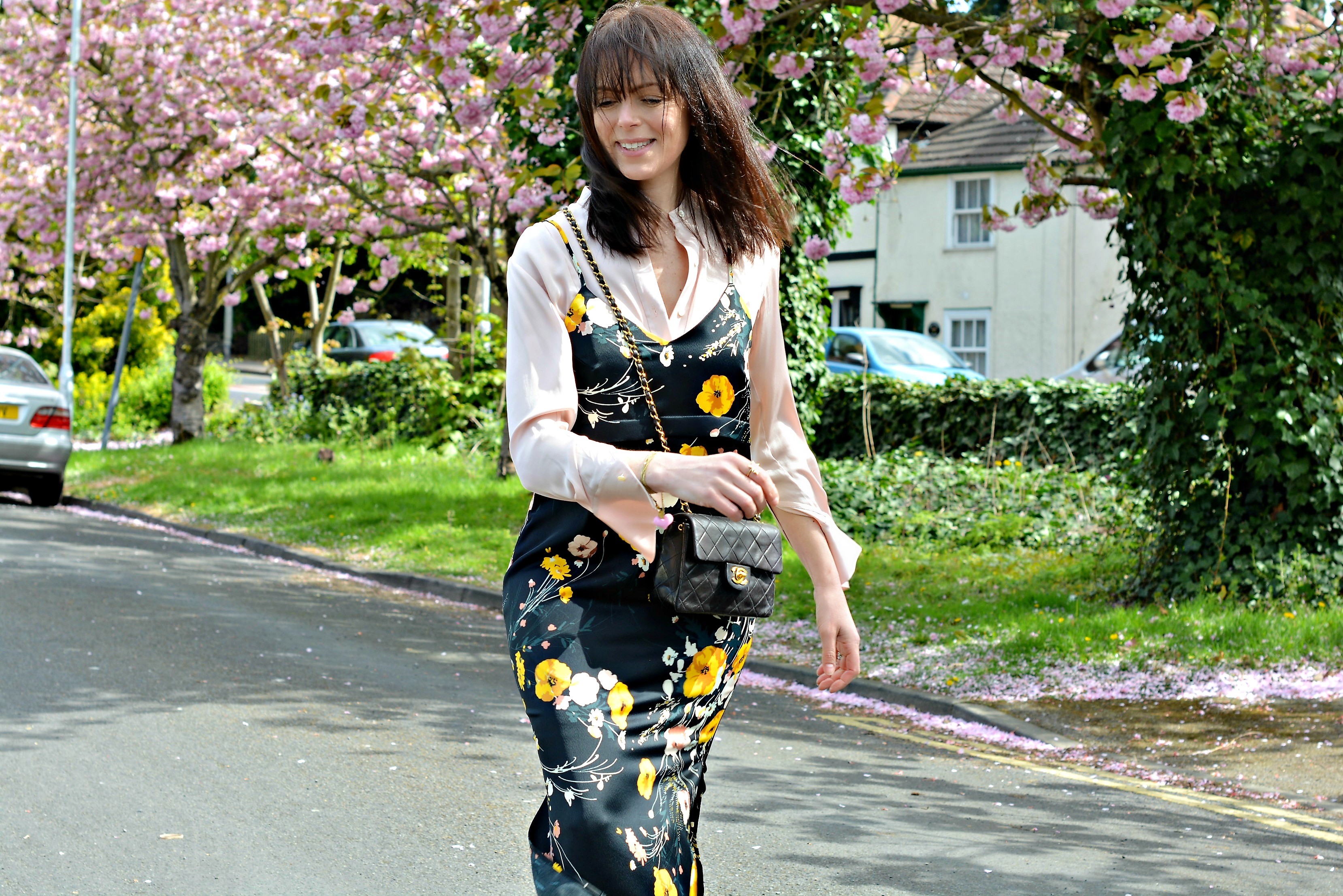 Shop Slip Dresses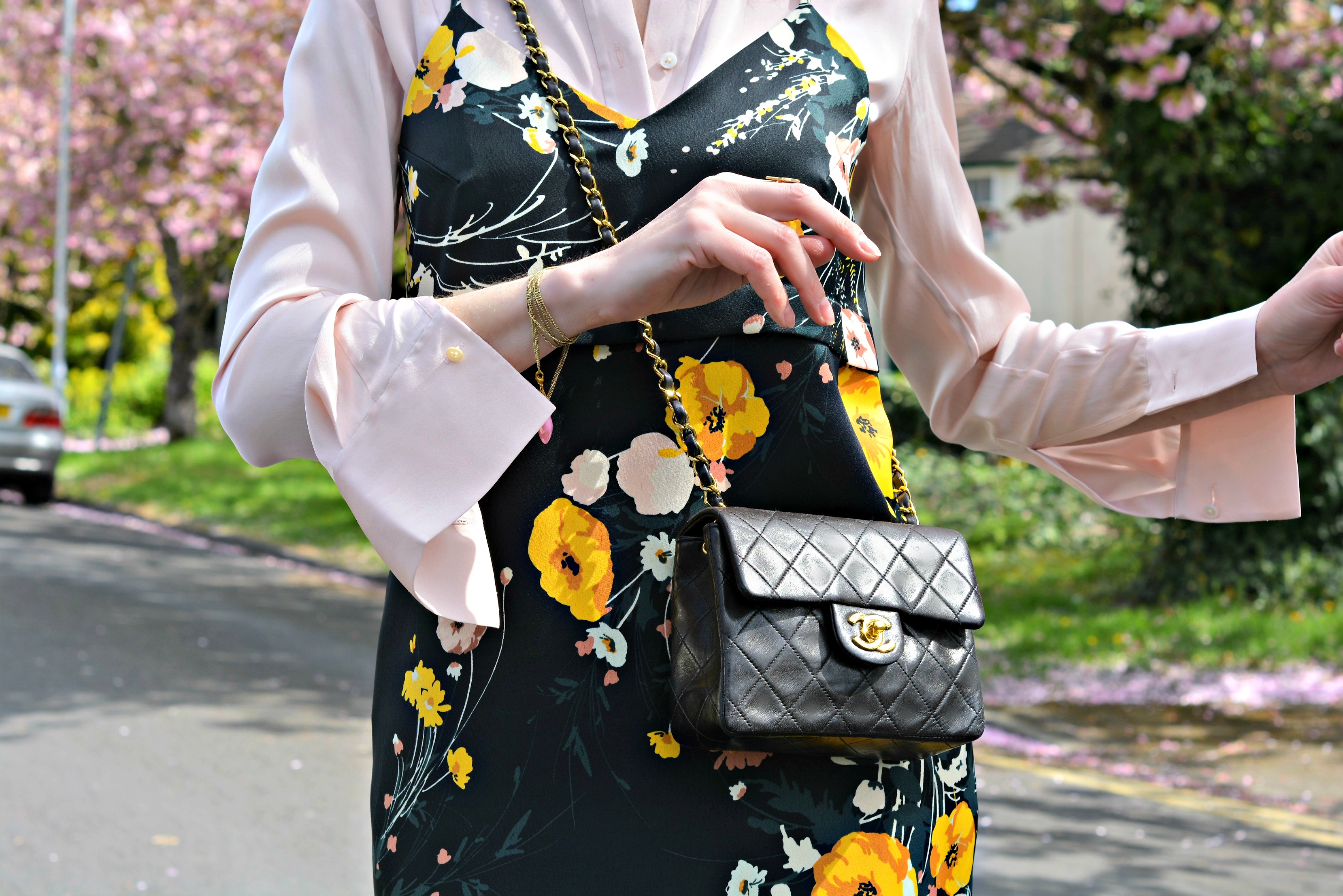 How to Wear a T-Shirt or Shirt Under your Slip Dress
Although a couple of decades have passed my fondness for the slip dress remains strong however my body not-so-much. Unfortunately my boobs are far too saggy to swing freely under satin & I'd feel incredibly self-conscious, something I've not experienced in a very long time nor do I intend to. Of course I could wear a bra with the slip but exposed heavy bra straps are not a good look in my opinion.
As you can see from my photos there's a simple solution to wearing the slip dress without fear of a boob mishap or bra fail. I've picked out the soft pink in the dress pattern & matched it to my lovely silk shirt from Winser London but a T-Shirt would do just as well. I decided to unbutton the cuffs for a more fluid feel & to accentuate the flare of the sleeves. This outfit post shows once again how choosing high quality staples will furnish your wardrobe with endless options. See this shirt worn completely differently here & the dress with trainers here.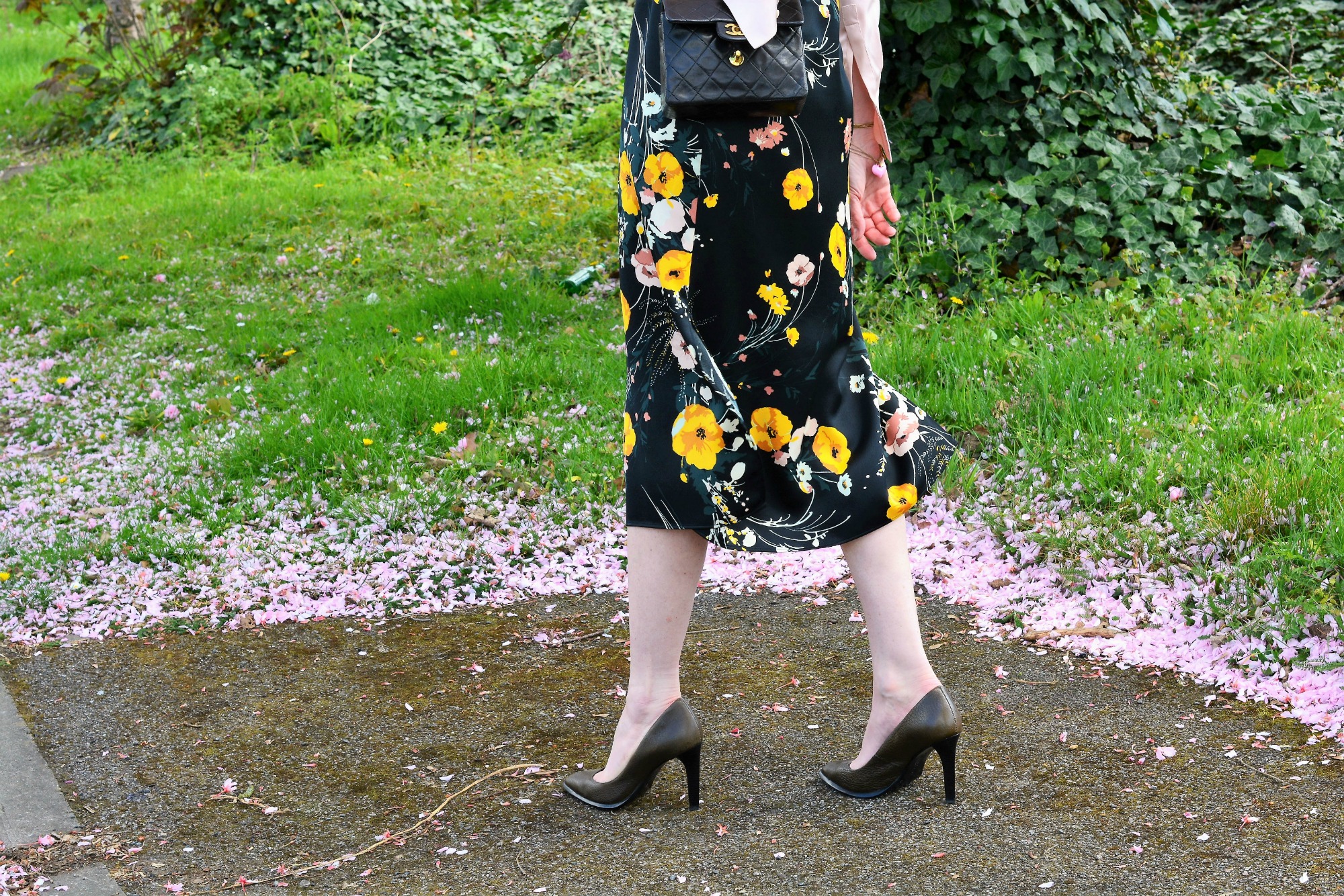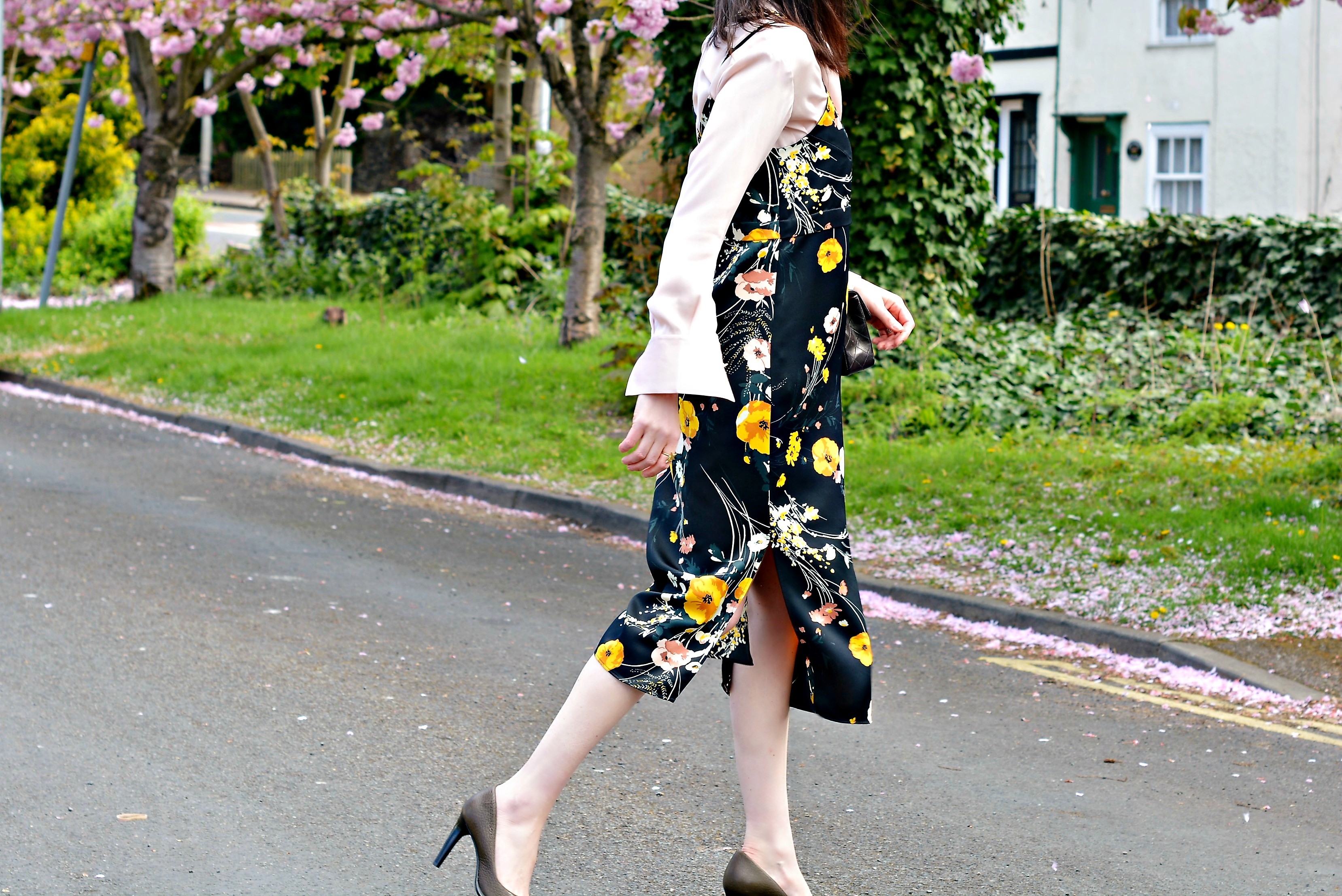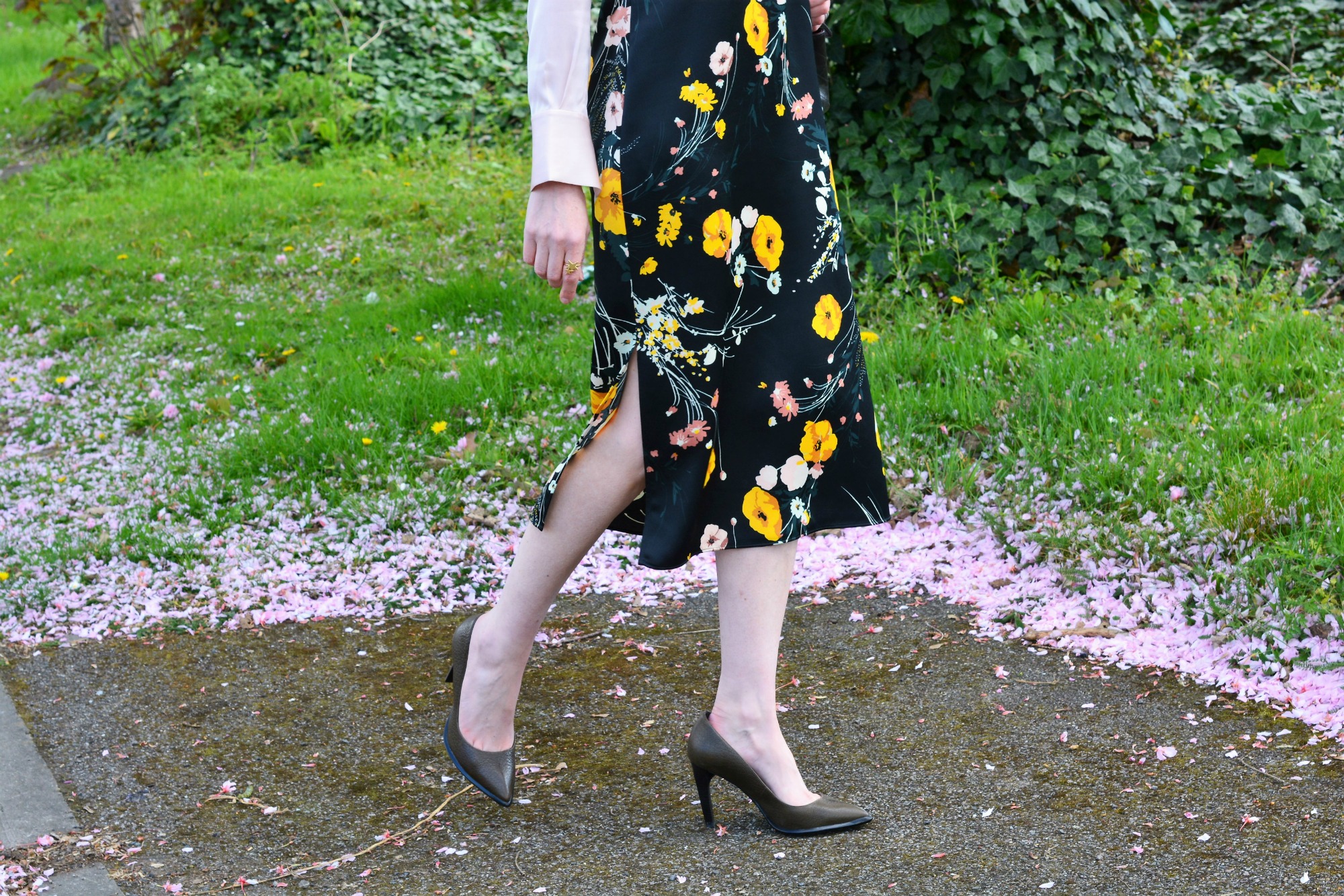 Now For The Rest
Double Star ring from Lizzy O Boutique | Vintage Chanel mini bag try Vintage Heirloom | The khaki pumps from AllSaints were an obvious choice being a more suitable neutral than black which I felt was too heavy in this case. On the other hand black strappy sandals would also look terrific, it was just that my tootsies were cold this day.
You may have noticed from my Instagram that I'm going to the UK Blog Awards with the Over40Collective this Friday? Catherine & Nikki are both nominated for awards so it's a very special night for us. Before you ask…No I don't know what I am going to wear arrgh! I was planning to pop over to The Dressing Room in St Albans but by the time I'd done all my chores, blogged & bought mice for Snowy it was time for the school run. Looks like I'll be pulling an old faithful out of my wardrobe, luckily I have a couple of options Hahaha.
See you all next week with goss from the awards, lots of love Mx