There are ruffles, basket bags & espadrilles everywhere I look on social media at the moment. It's like the Bella Freud 1970 jumper of last Winter!
I love a lot of it but no sooner had I laid eyes on a particularly beautiful piece than every Instagrammer & her dog is wearing it! Take the basket bag for example. Love a basket bag. Use a basket bag. Basket bags are a summer essential & have been since Ancient Egypt, kinda.
Well you get my drift. Then the circular basket bag shows up – I think to myself, ooh ahh me likey Imma get one of those. Not a week goes by when every single micro influencer has posted it on Instagram with 10 different outfits! Damn that's me out then. I'm just not into looking exactly like everyone else. I realise my style isn't especially unique but that doesn't mean I want to be a carbon copy of the latest trend. So what to do when you happen to really like said latest trend? Well here's the thing – Aint nothin' new no more anyway baby – Great R&B song title there if I do say so myself – Anyway, back I come to the point, If you're over 40 you've seen it all before. Am I right? Crikey if you're like me, you probably even have an element of the trend still in your closet!
Sure let's take inspiration from our favourite bloggers but then work our own magic on what we already have. That's probably a controversial view since us bloggers are constantly trying to sell you shit stuff clothes, bags & shoes yadda yadda yadda
Needless to say as I advocate conscious consumption this doesn't sit well with me. I'm happy to make suggestions because we all have gaps in our closet that could be filled to good use. Curating a hard-working wardrobe is a work in progress & one I happen to enjoy very much. Yet conversely I don't like shopping for the sake of it, I actually enjoy the challenge of creating an outfit with what I already have. To me this also makes better sense for the planet & those working in the rag trade, full stop.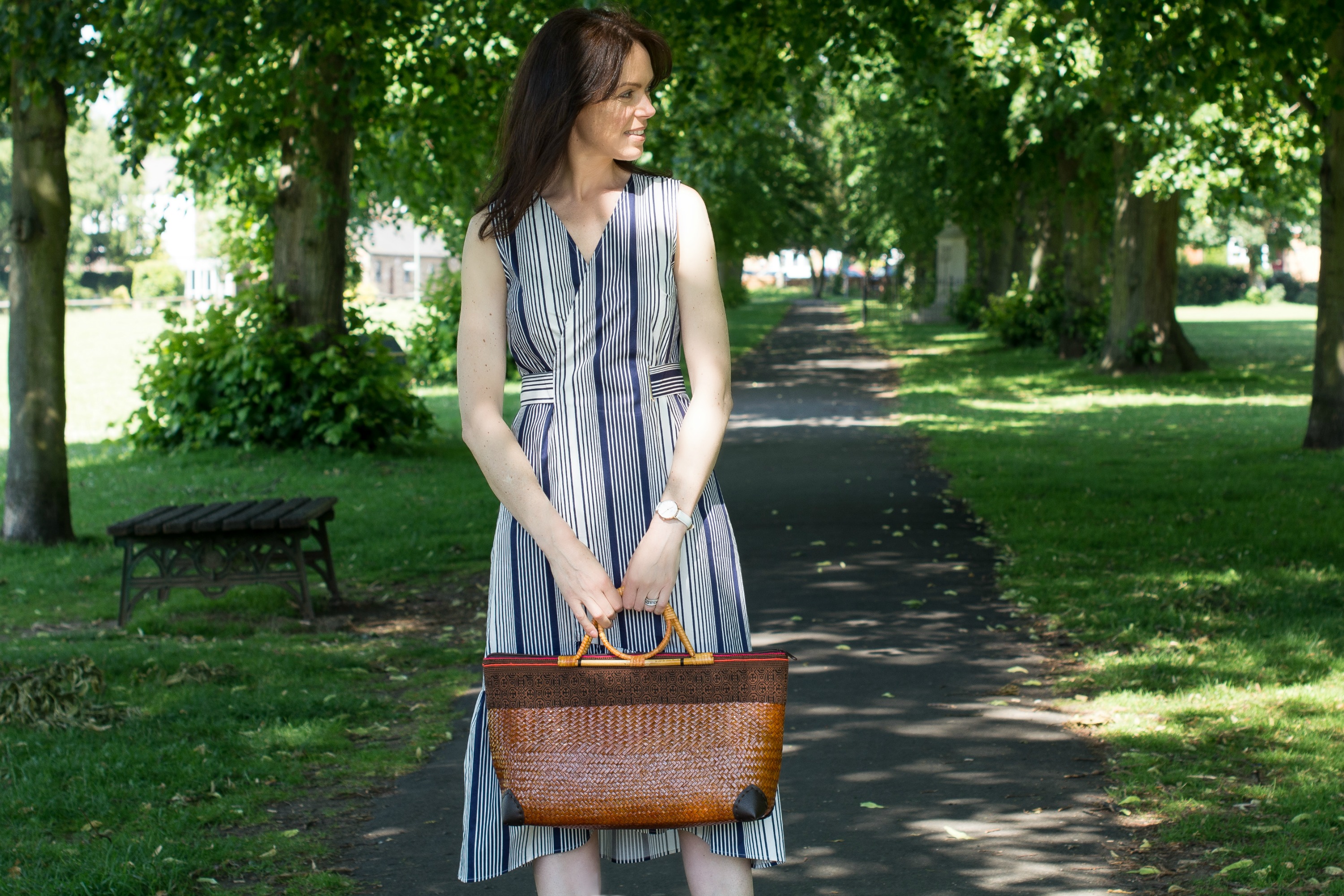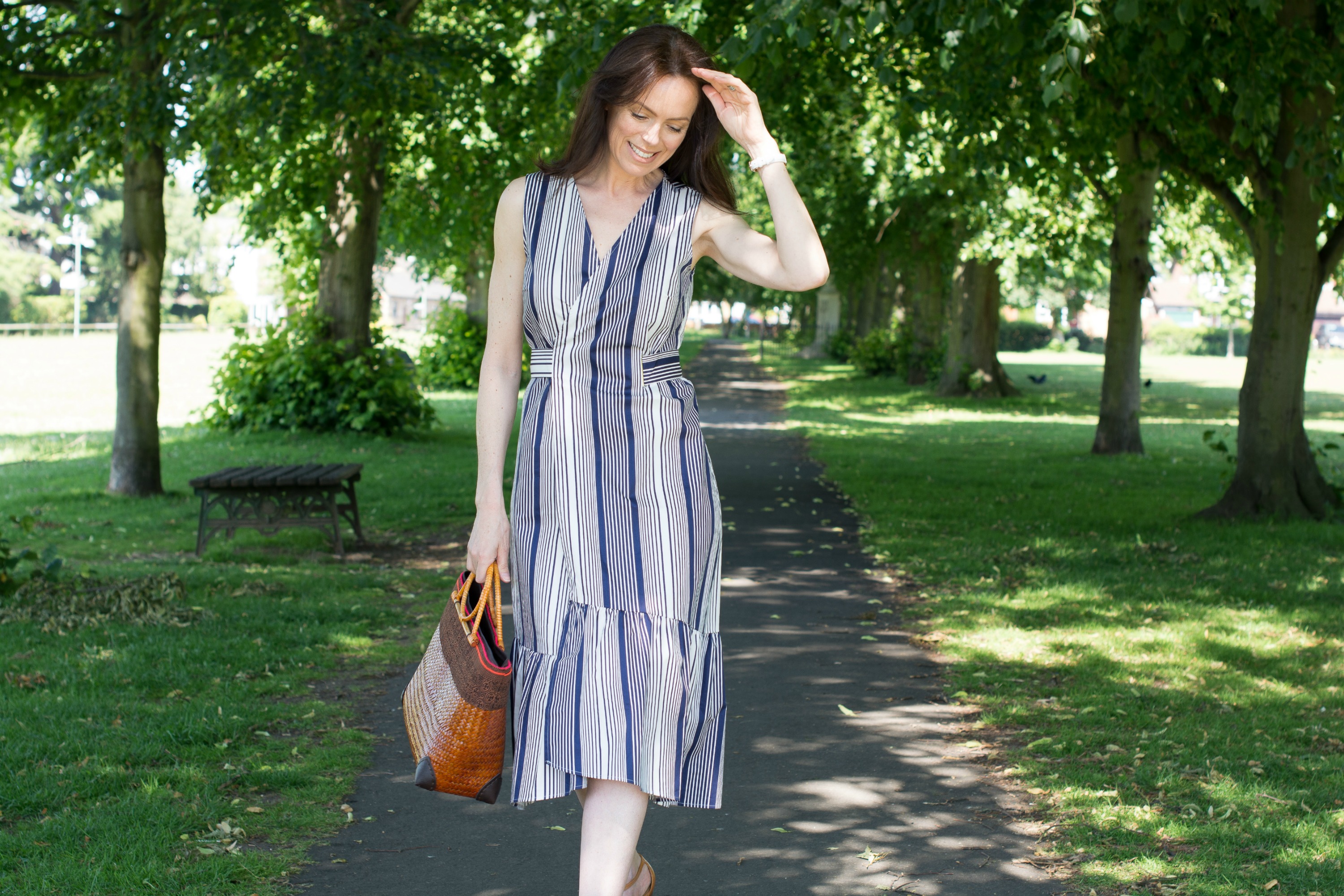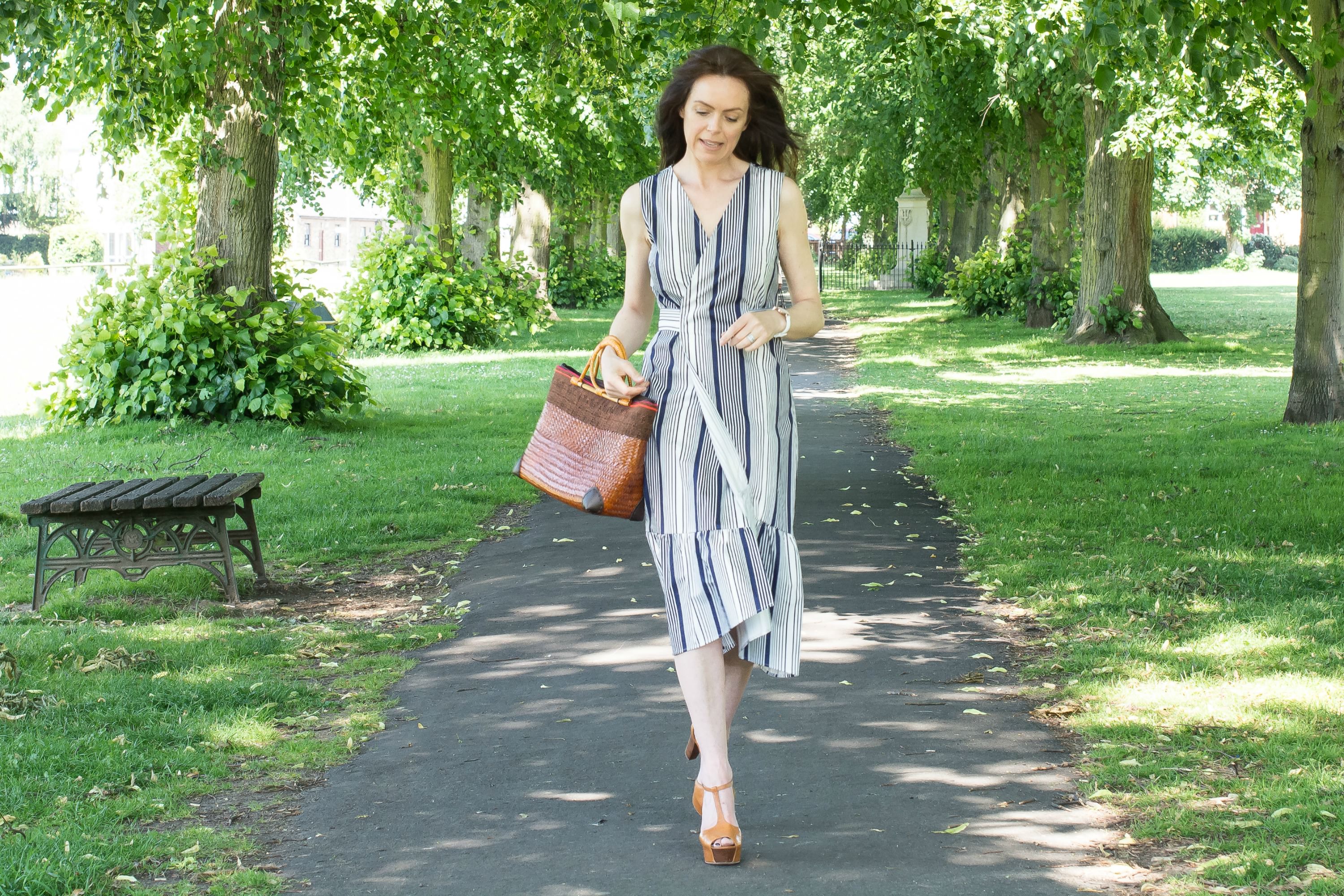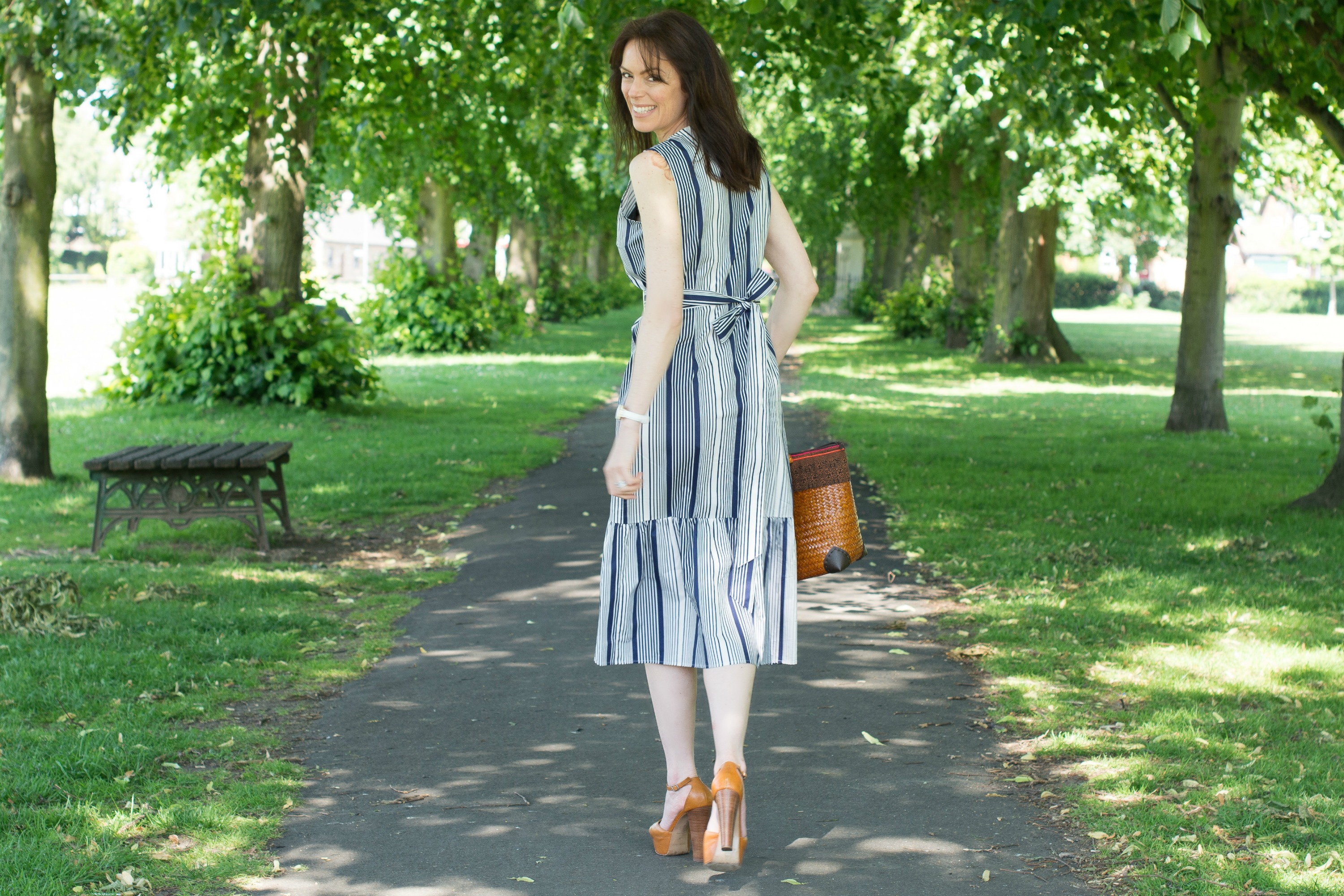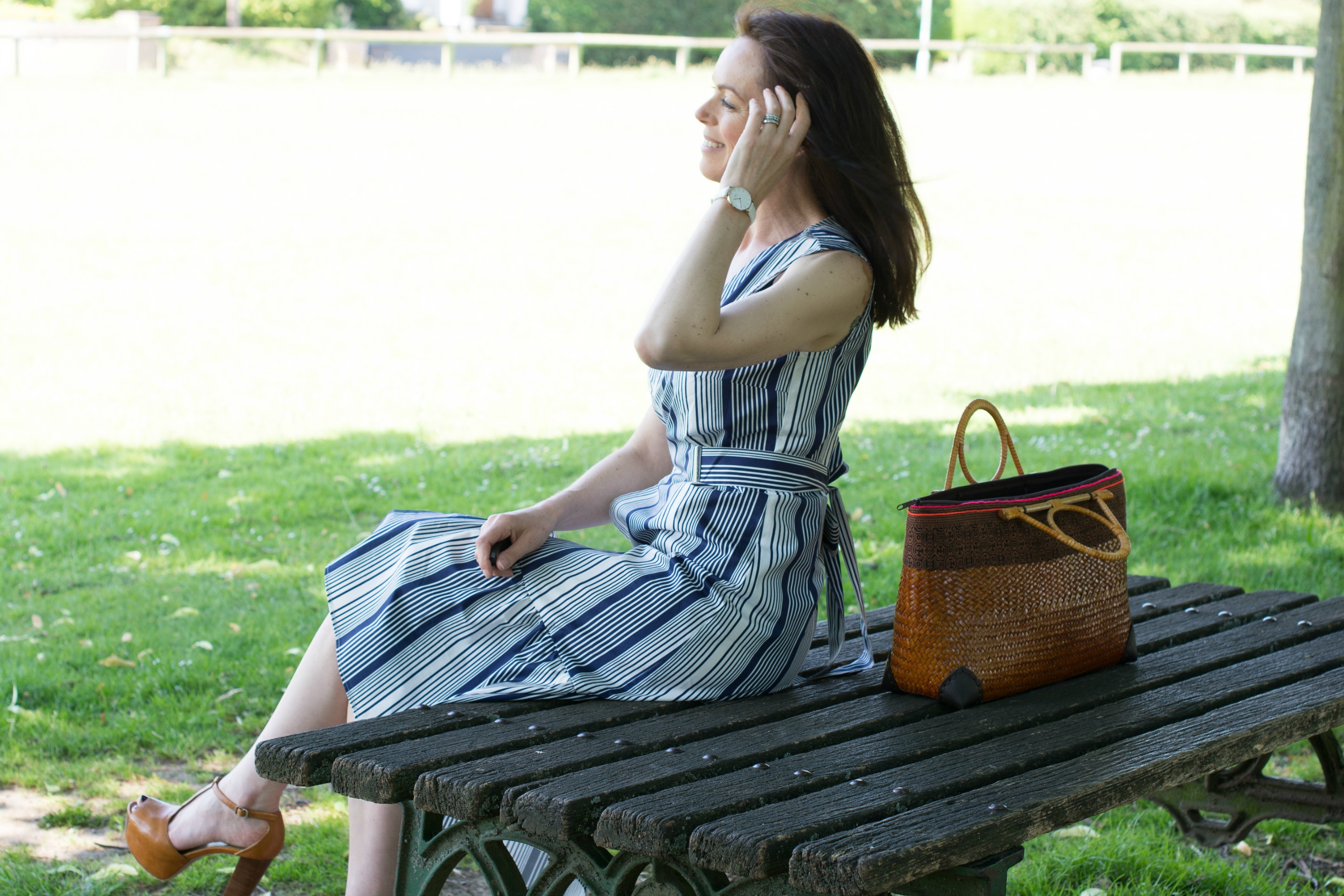 Tie a bow at the back
Little things such as the way you tie a wrap dress set you apart from the crowd. I do this a lot with my clothes, check out how I styled my Finery dress differently by adding another element. Today I simply wrapped the self tie around the back of my waist & made a bow. Really basic stuff that takes a little forethought yet makes a nice change from the norm.
I really love this dress for many reasons which is why I bought it. The stripes for one (love striped anything) but also I see myself layering this over jeans & white trousers a lot. I've always been a huge fan of styling dresses over pants so when a dress comes along that lends itself to this I know it's versatile therefore a good buy. By the way although this dress is a size 10 & fits me perfectly up top the fold over is, shall we say, lacking in material. However worn over jeans this isn't a problem, today I'm flashing like a pro with even the slightest breeze, oy vey. If that bothers you but you really like the dress, simply place a single stitch at the strategic height of the flap to save your modesty. Another point to make about today's dress concerns how unflattering ruffles can be on some of us. For example I wouldn't entertain the thought of ruffles anywhere near my ample bosom however I adore a ruffle or two at the bottom half of my outfit. Whether that's as high up as my waist or as low as my hem & anywhere in between. So if you think you can't do the ruffle trend perhaps have another try but this time remember to keep them in proportion to your body shape i.e away from the widest part. Let me know how you get on.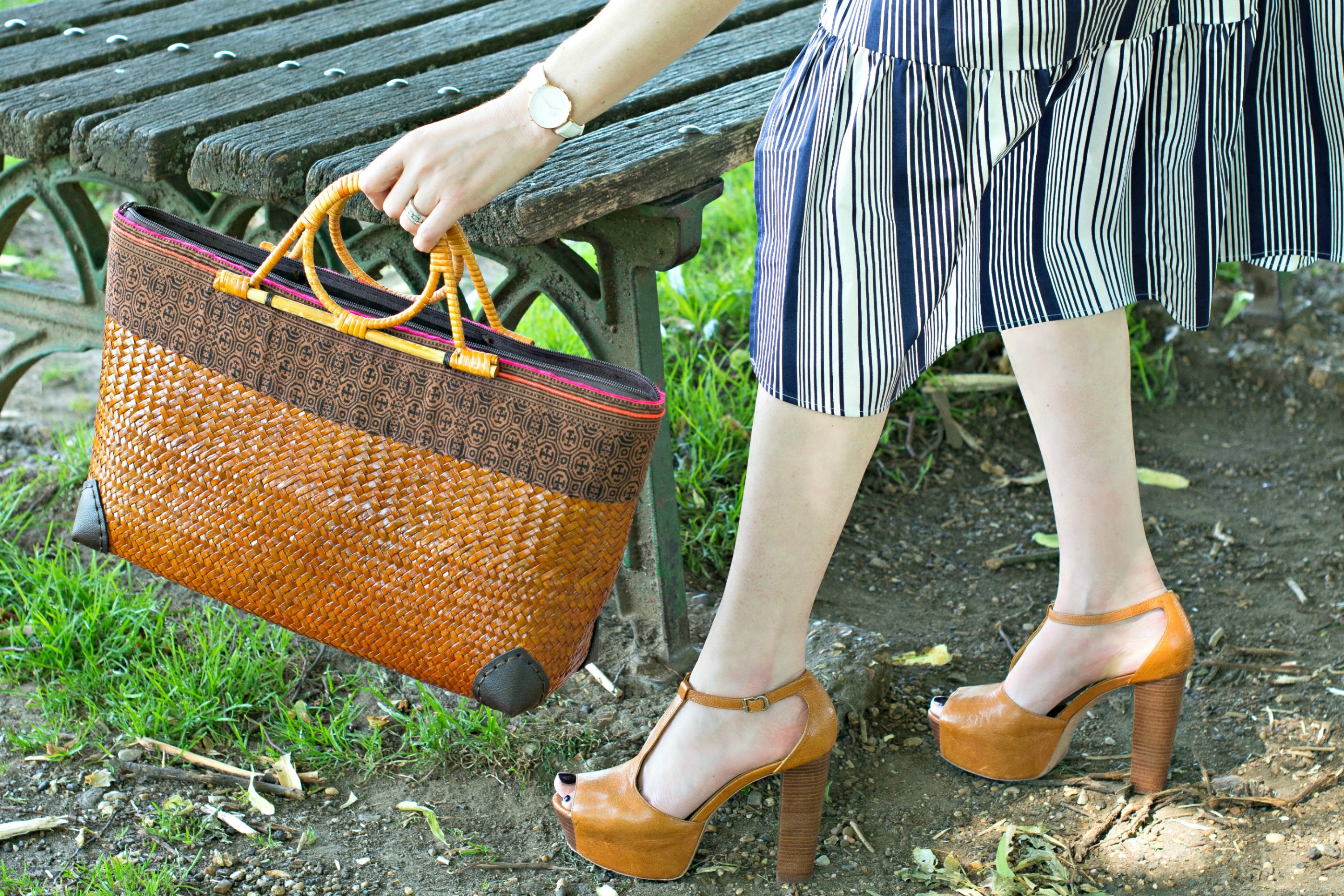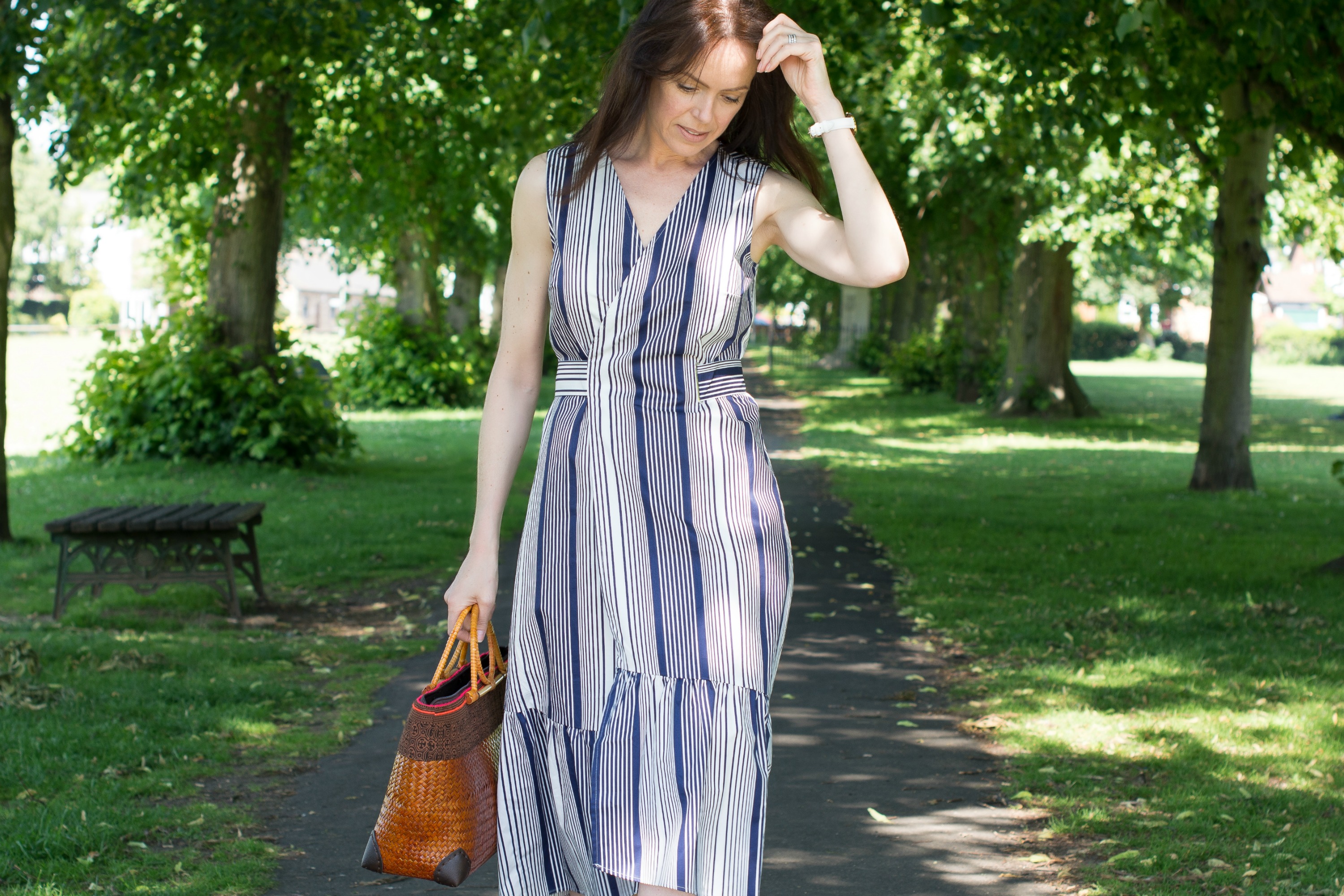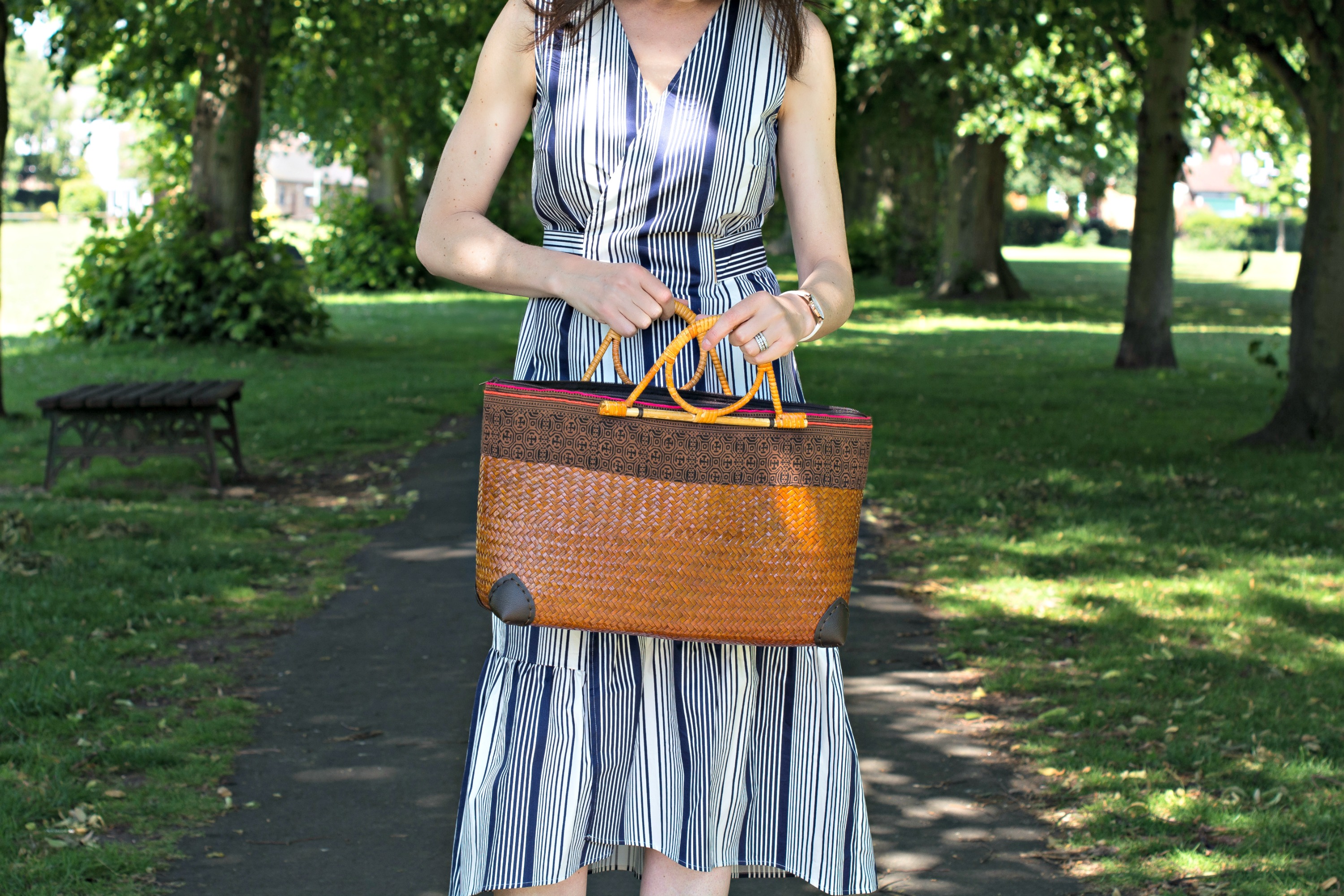 A different take on the basket bag
Instead of going for the typical basket bag I've chosen one with colour & print just because it's different. I'm firmly in the basket bag moment like everyone else, however my bag stands out from the sea of natural raffia everywhere. That's just how I like it. To me tan is still a neutral & will easily work with a myriad of tones such as my turquoise & white outfit here. I've yet to pair this basket bag with a maxi & Greek sandals but I'm confident it'll be a winning look on our summer holiday.
My Chloe platform heels are super old but here again is the opportunity to make this popular look uniquely mine. In fact tan is such a handy shade to have in your shoe collection you probably already own a pair in this colour. If not, let me just say when you do buy a pair try to have a reasonably good budget so you can choose high quality. That way they'll last the distance because you will wear them FOR-EVER!
Trust me, shoes of this style & colour are worth saving your pennies for. Their ability to work with a high proportion of your wardrobe as well as being incredibly comfortable makes them a smart investment. You can see another couple of ways I styled them here & here.
Obviously you'll have seen this latest trend of styling Espadrilles with ruffles & basket bags all over Instagram & Pinterest lately. However there's no reason to feel pressured into buying a new pair of shoes just because they're hot at the moment. In short, if you have an alternative, why not just go with that? Don't get me wrong espadrilles are fab indeed I wore my pair from Kate Spade every summer for well over a decade. Actually until they fell apart! My point is I wouldn't rush to buy a pair just so I'm on trend as they say. I do intend to replace the espadrilles I threw out, just haven't got around to it yet. I like the good old rule of thumb, ONE OUT – ONE IN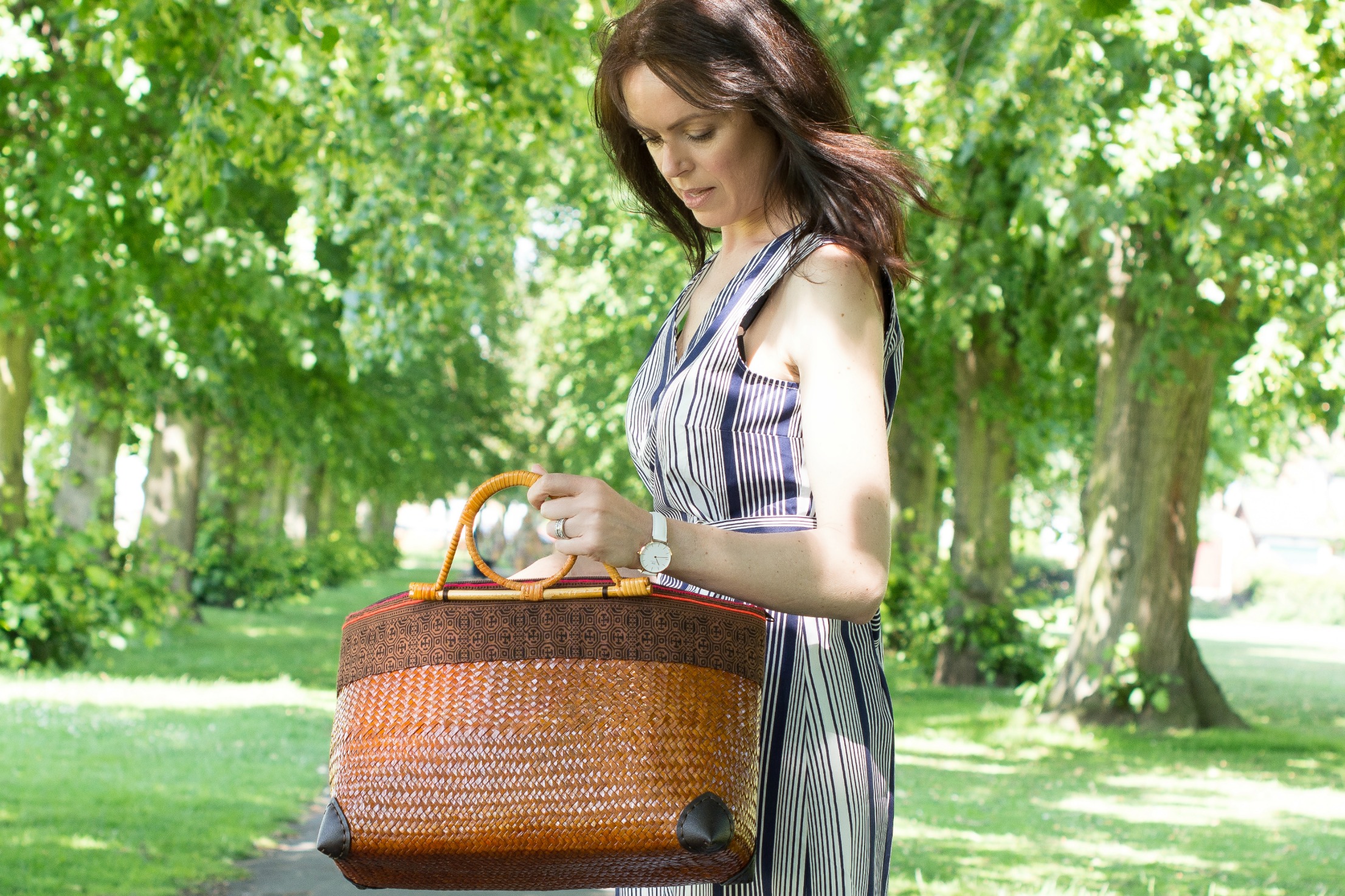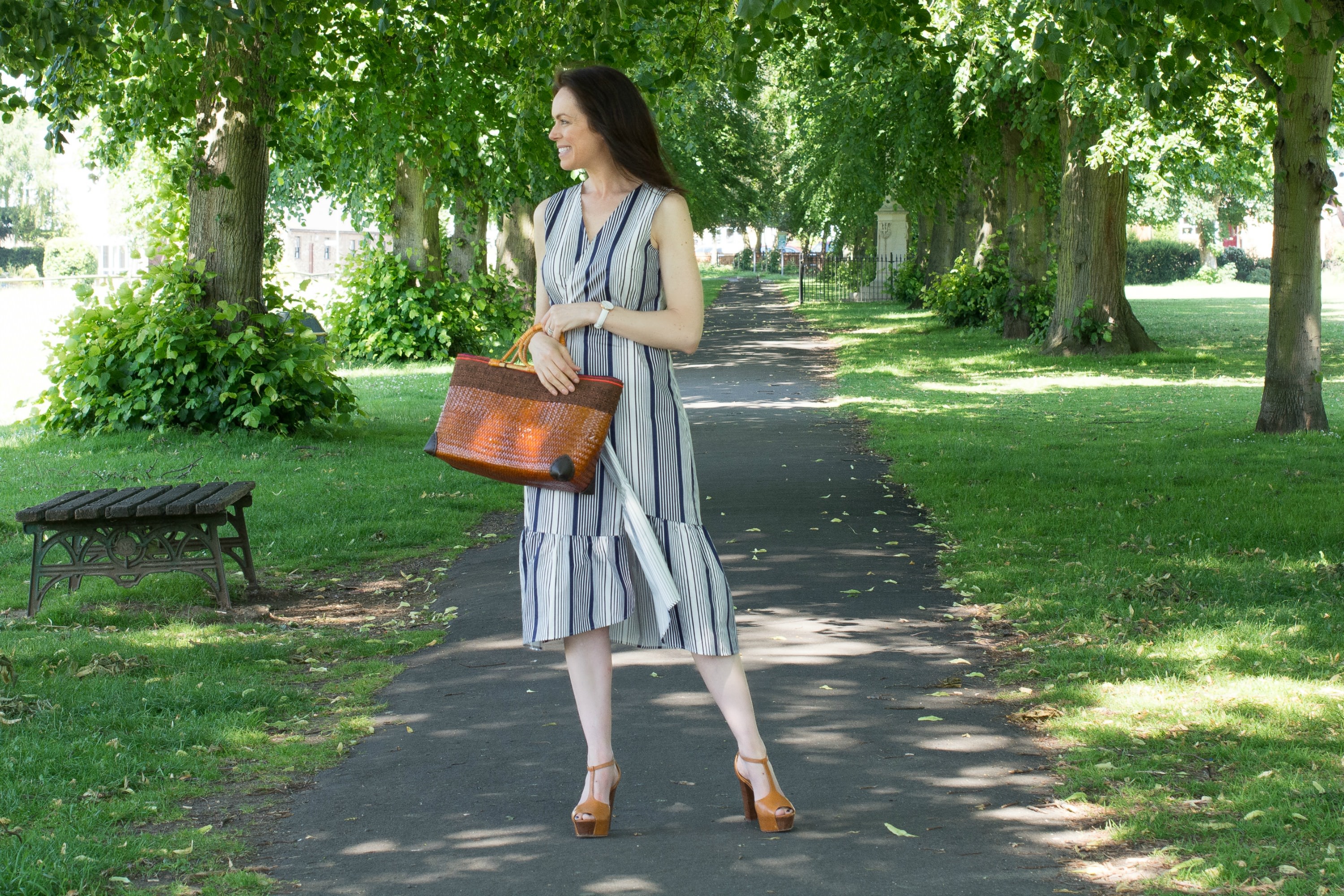 Shop the Outfit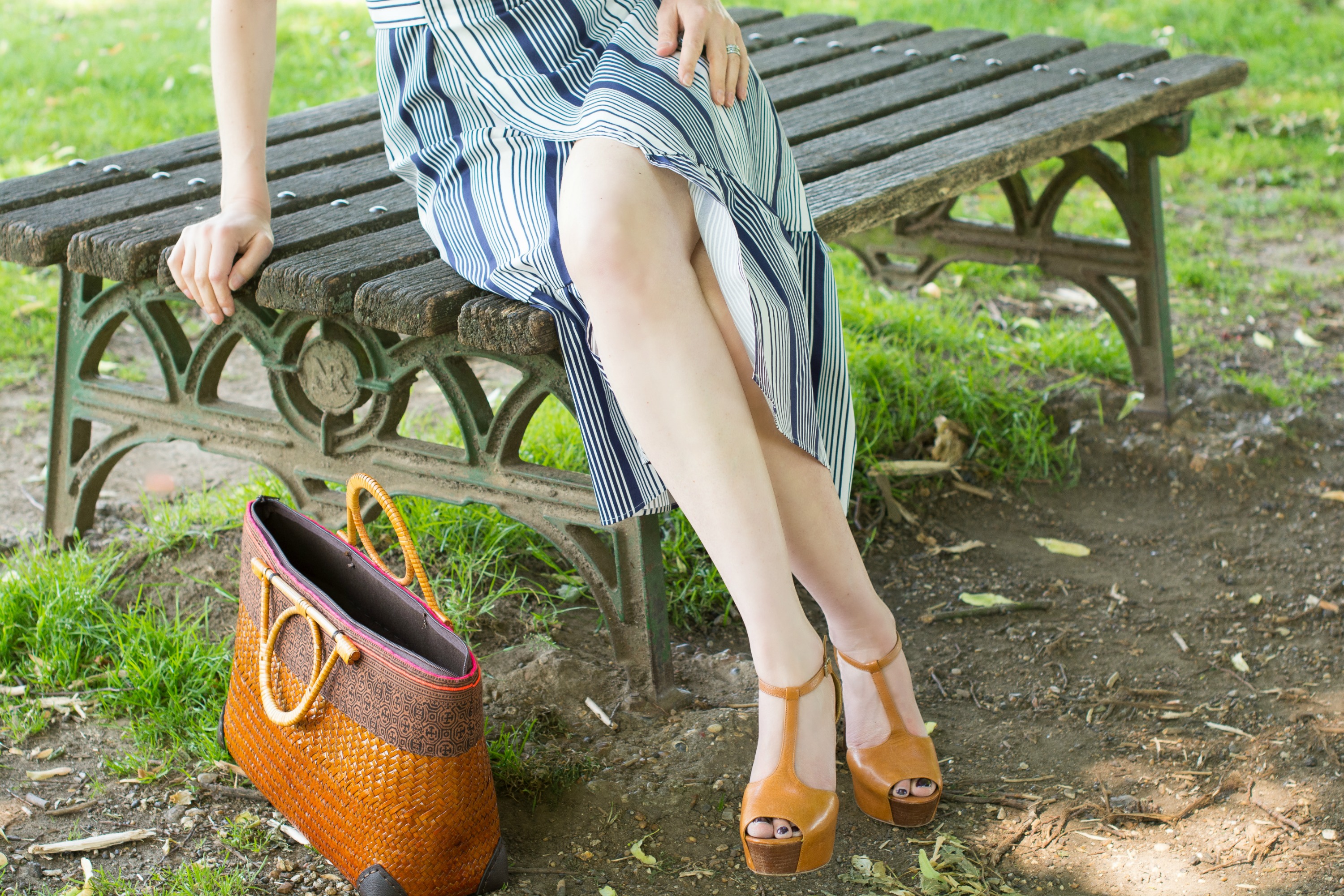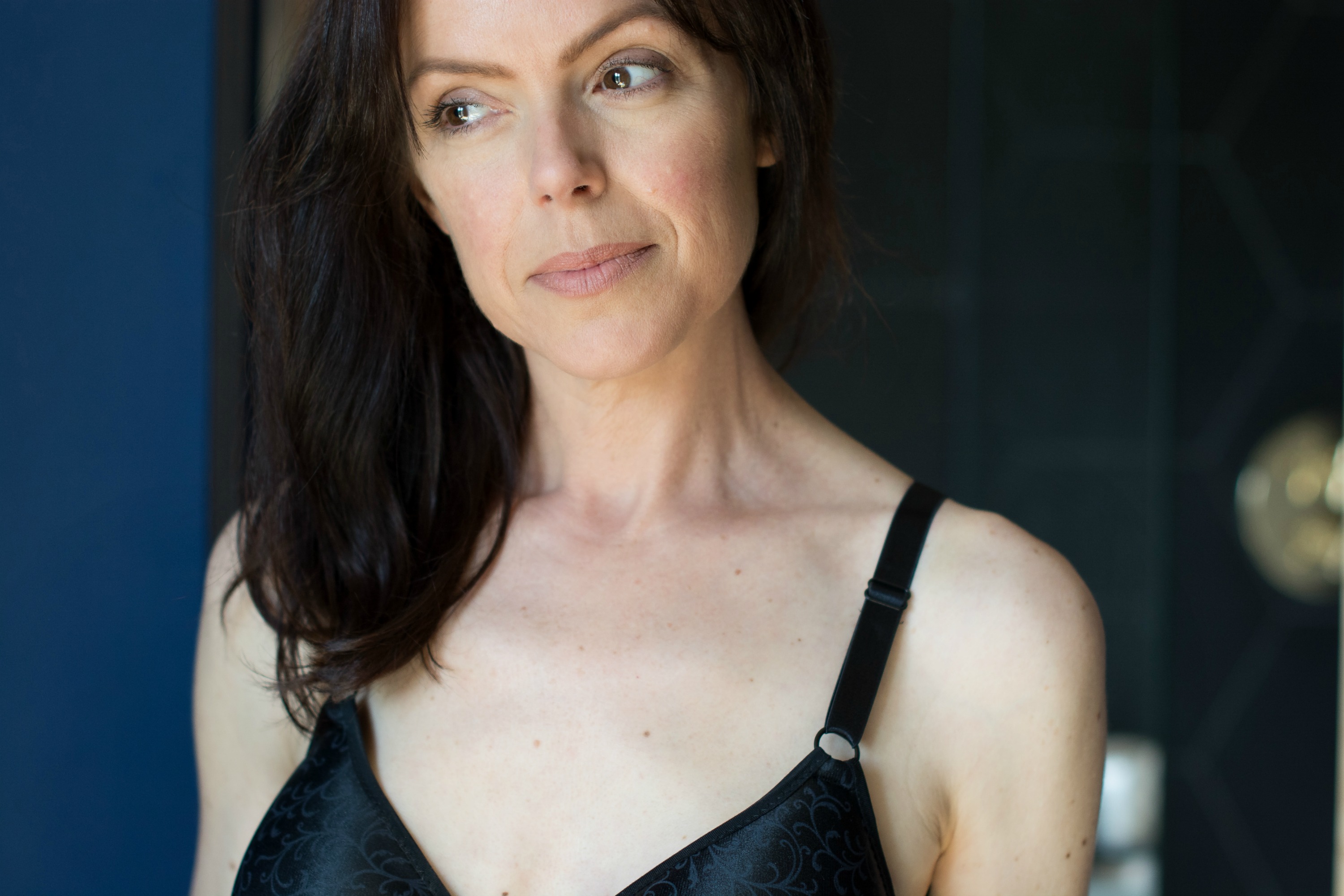 How to get a smooth line under your clothes
All my talk of flashing & here I go again…Heeheehee
It's all for a good cause & believe me you'll love this. I'm wearing an amazing bit of boob kit here ladies. This is like a vest or tank top & bra all in one & it has revolutionised my wardrobe. I can't tell you how comfortable this is! I have never not noticed I was wearing a bra! It's always the first thing I take off when I walk through my front door, even before I go up to my bedroom it's off. You know the magic trick pulling it out of your sleeves?
The first time I wore the Shapeez Ultimate Pretty was with a very thin jersey dress on a full day schlepping around London. Not only could you not see the line of my bra through the dress, it actually enhanced the contour of my shape underneath. Surprisingly what impressed me the most was that it didn't once roll up in the body!
I'm going to buy the nude version Ultimate Pretty now that I've experienced how phenomenal this one is. Although it's essentially a back smoothing undergarment you don't necessarily have to wear it for that reason. After all I don't need that aspect of it but I appreciate the smooth result none the less. I rather like the all-in-one vest style as I often wear a vest over my bra & underneath a top for extra warmth which is not a good look & rather bulky. Imagine how perfect the nude would be underneath a fluid silk shirt? It's the ideal upgrade from my vest wearing days, indeed an absolute revelation to me!
Just so you know, if you do buy from Shapeez be sure to watch their video on how to measure your bust. The way they size is completely different to what you're used to, so is the way they measure. It's important to get it right for a perfect fit. Don't worry it's not difficult at all, the short instructional video is brilliant & super easy to follow. I watched it & measured twice, I thought "that can't be right?" it was too easy! Yep it was right alright, as you can see a perfect fit.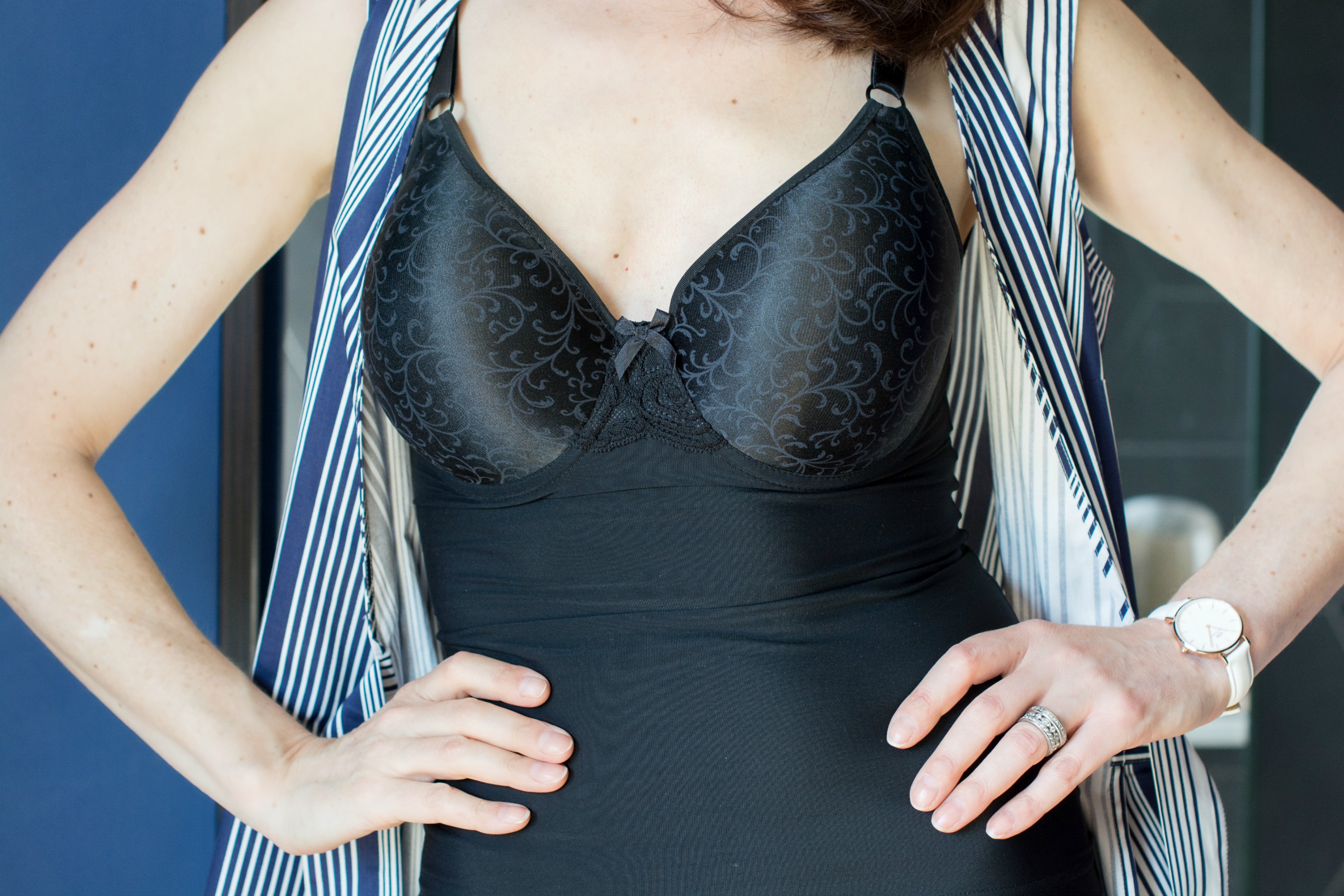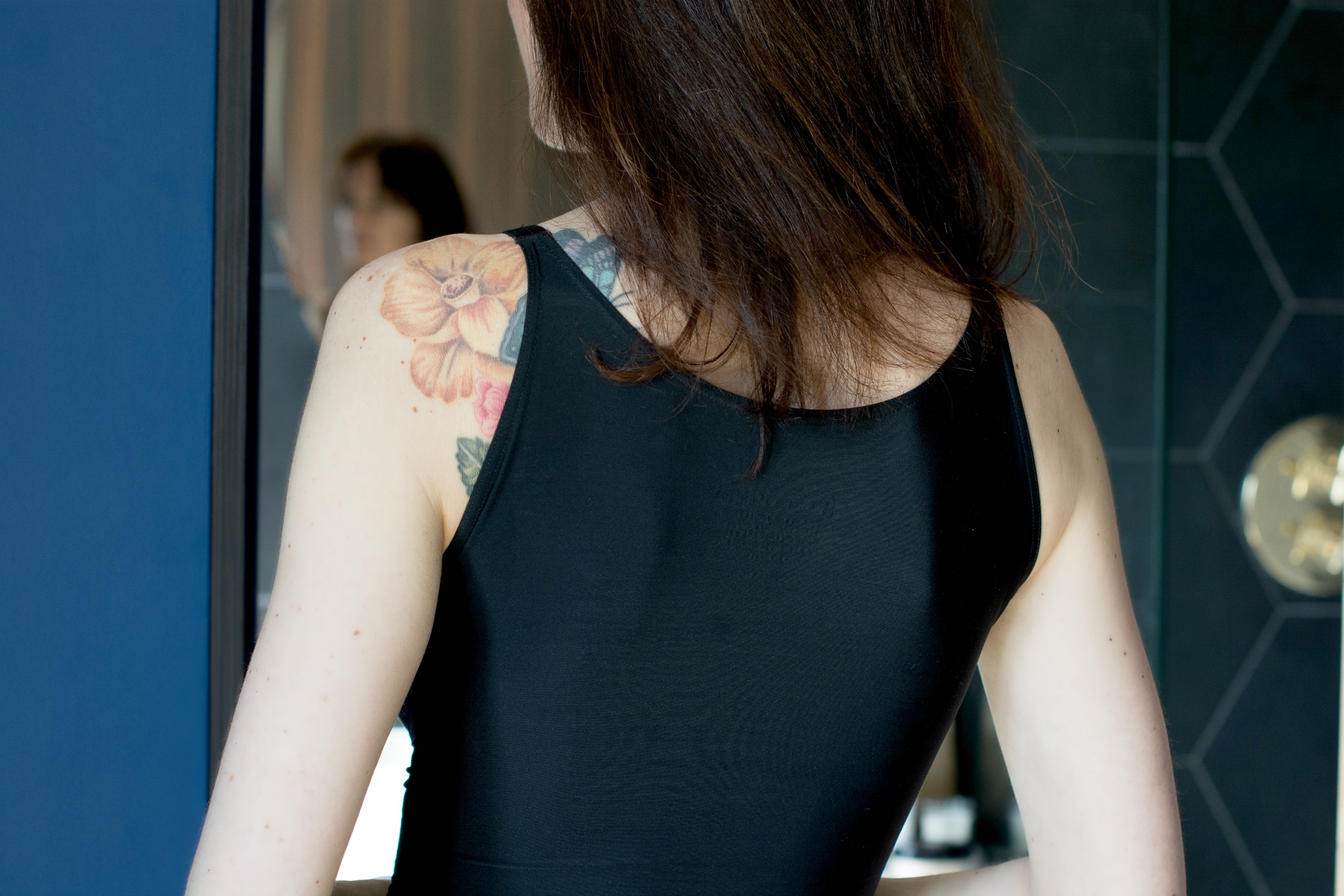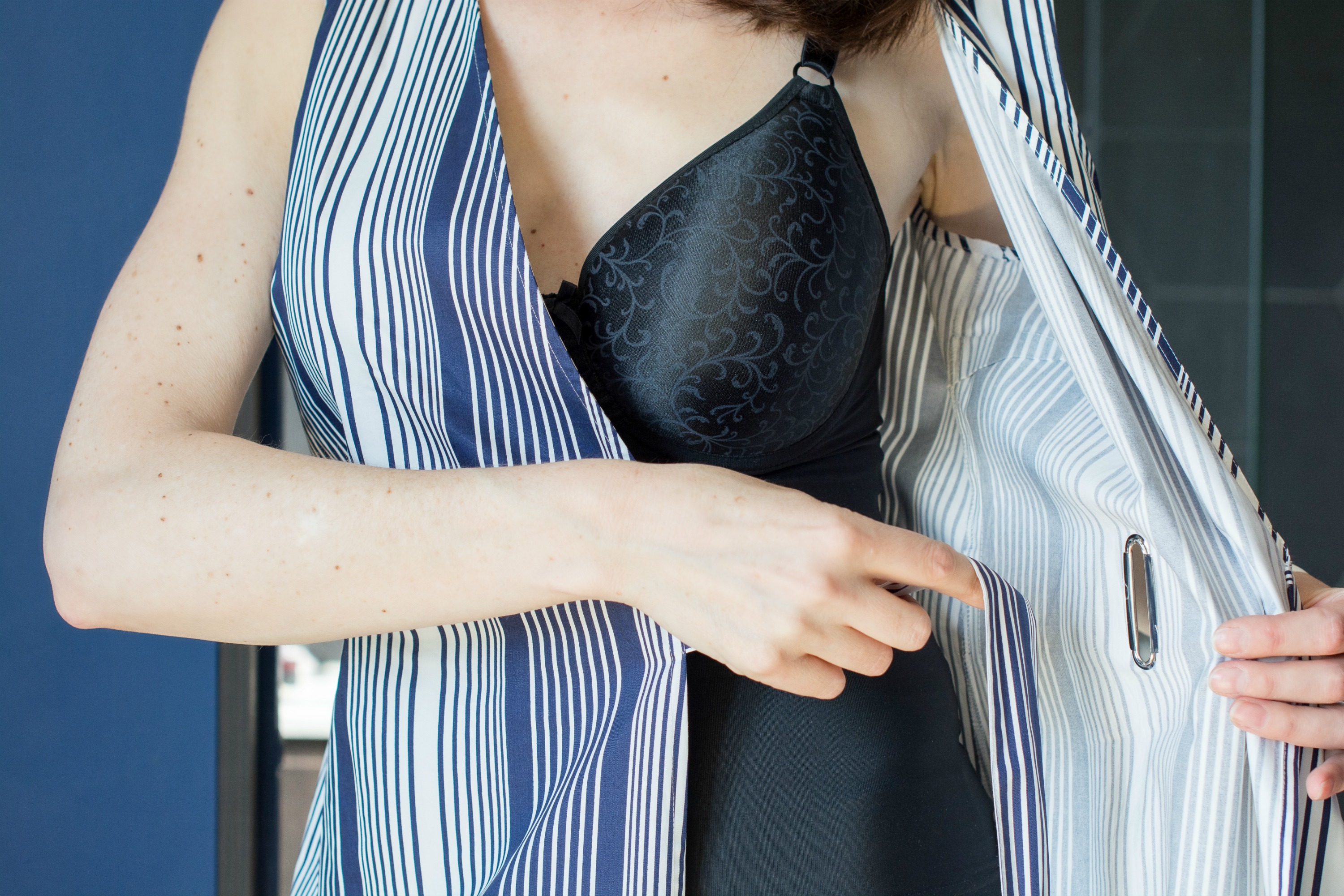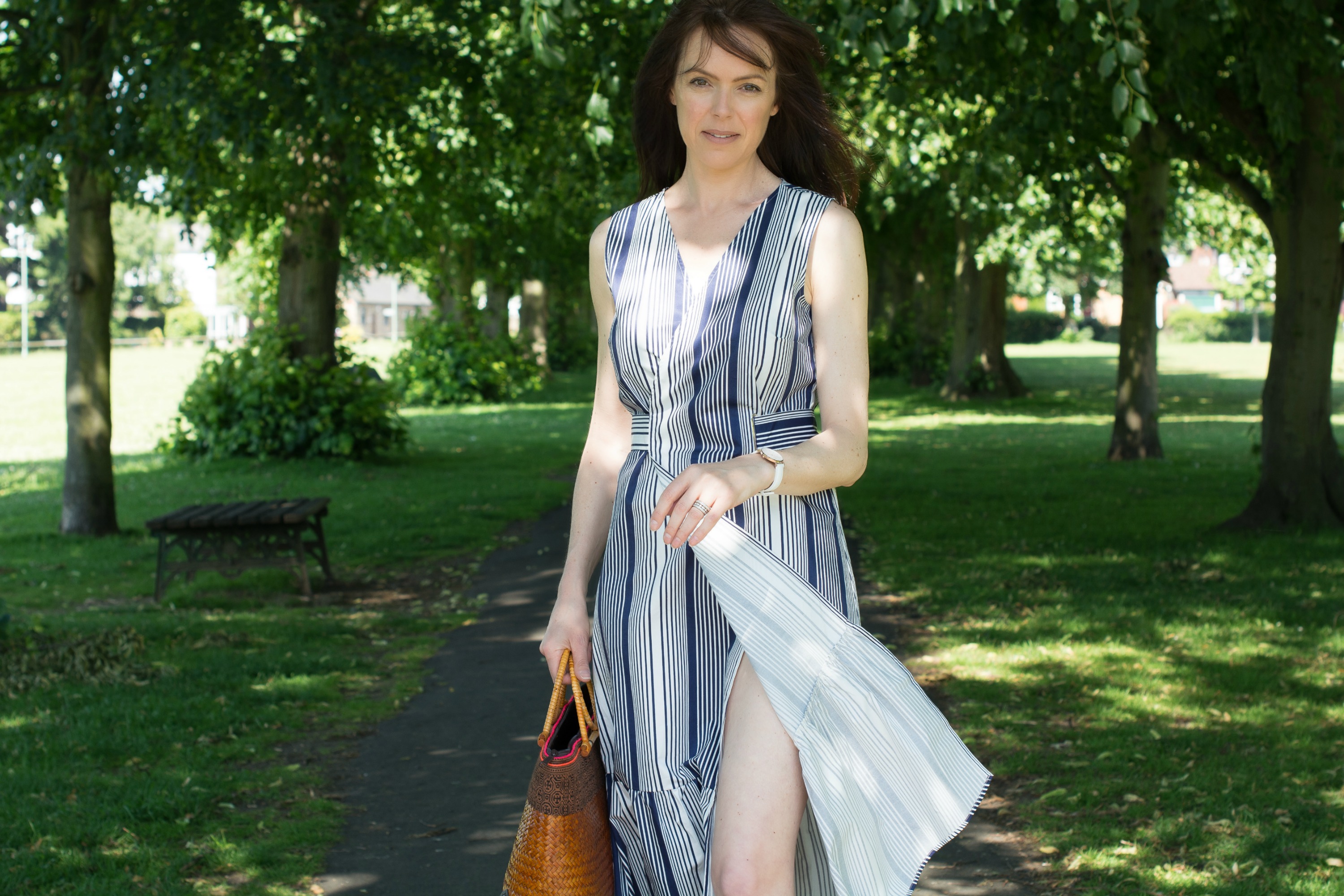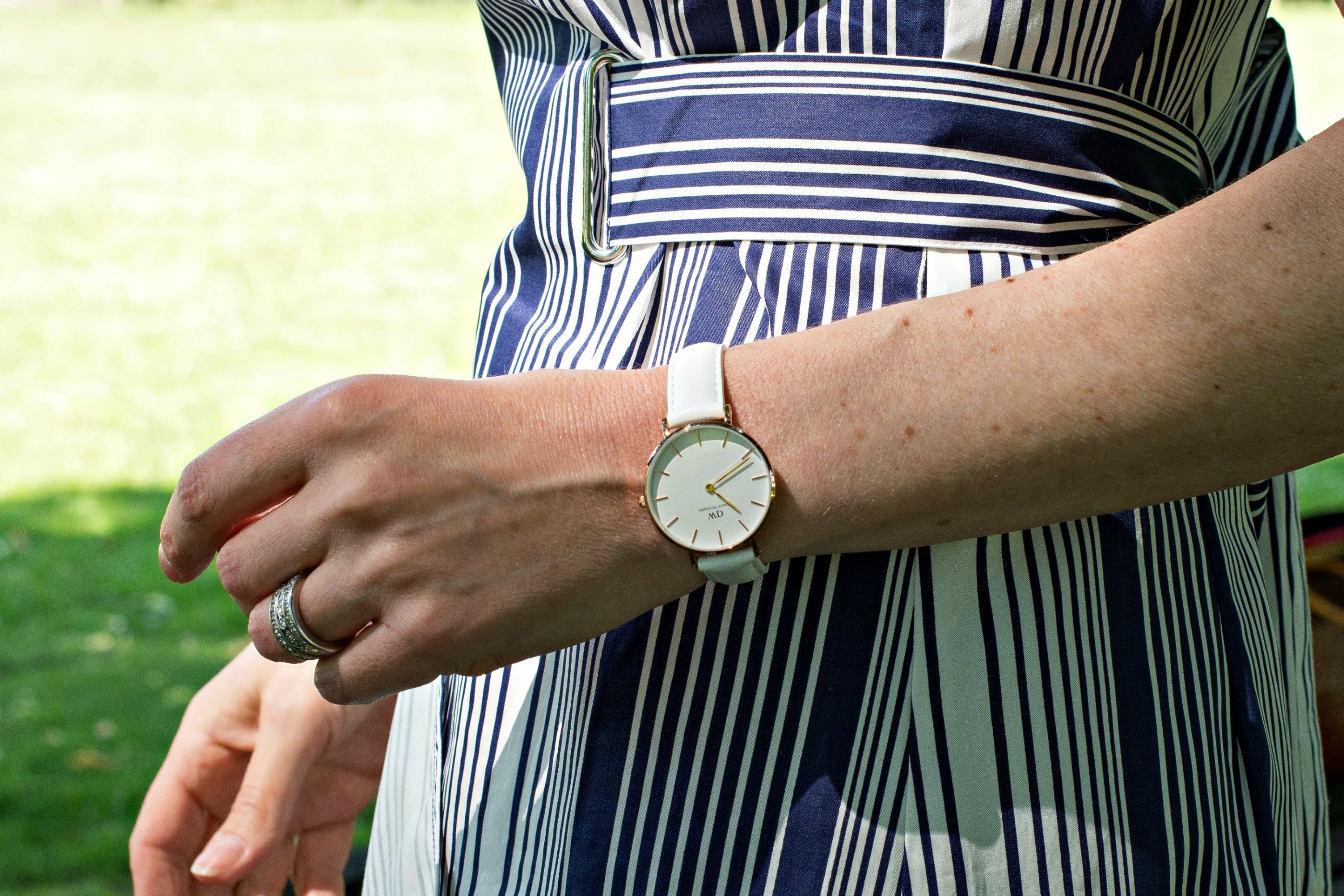 A little something extra
Finally I just wanted to share the special 15% off code RETROCHICMAMA15 for the gorgeous Daniel Wellington watches. If you're in the market for a new watch or need gift ideas these watches are beautifully designed & top quality. This pretty rose gold watch I'm wearing today is from their new Classic Petite Range although the code is valid for everything on the website. In addition to that they have the sweetener of free worldwide shipping! I think a watch makes a terrific gift for both men & women. Check out this really cool Gucci-esqu funky striped band in the Mens range. Personally I quite like this mesh band actually, not a hint just sayin' teehee she says…
Next week I'm publishing my post about where I've settled with Hormone Replacement Therapy. Plus a couple of important things I've done that made my Menopause symptoms disappear.
See ya then gorgeous girls! xxx
*Disclosure – This post is sponsored by Shapeez however all my opinions are my own & unbiased.