This is how it starts in my head – I fancy a floor length skirt, straight-ish but tiered. Yes that would look fab in a tropical print. Oooh I'm lovin' that new Gucci T-shirt. It would look wicked with the skirt. Maybe do a modern take on a Spanish señorita? Wtf £300, are they kidding for a t-shirt? That's obscene I cannot abide. It's not embroidered with 24carat gold thread is it? Does 90% of the profit go to charity, are they buying mosquito nets or housing the homeless? Nope forget it, wait for the high street knock off…
Meanwhile the search for my skirt of dreams begins. Shockingly obviously I don't find anything under £200 & since it's not for a special occasion I refuse to spend that kind of coin. So I change tack & look for something I can customize. It isn't long before I find this dress for £40 at Warehouse & BAM I have a contender for the perfect specimen. I just need to try it on to check a couple of important details 1. It's nice quality & worthy of a custom fit 2. It's a simple hack. After all I don't want a complicated alteration that ends up costing more than the original designer version.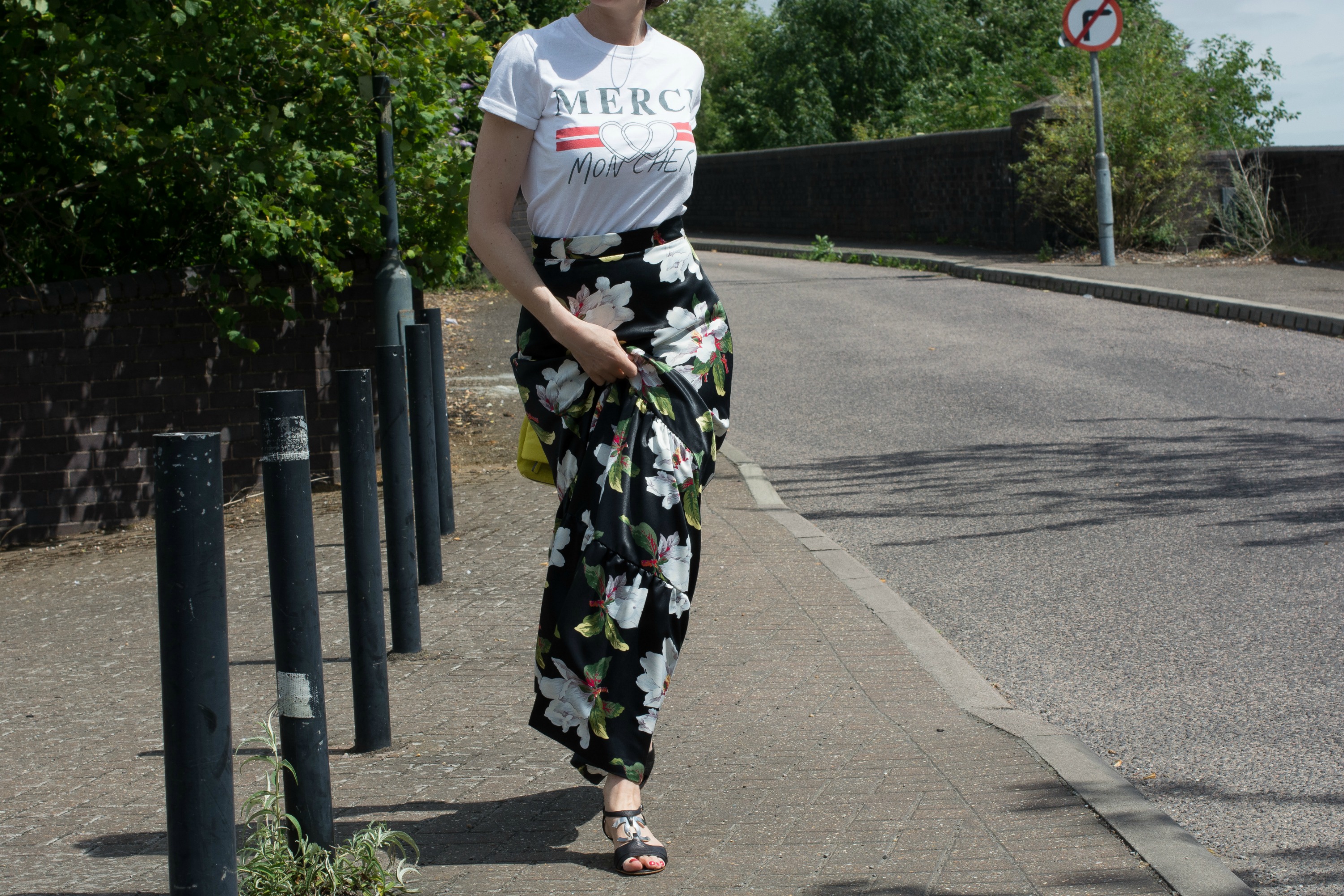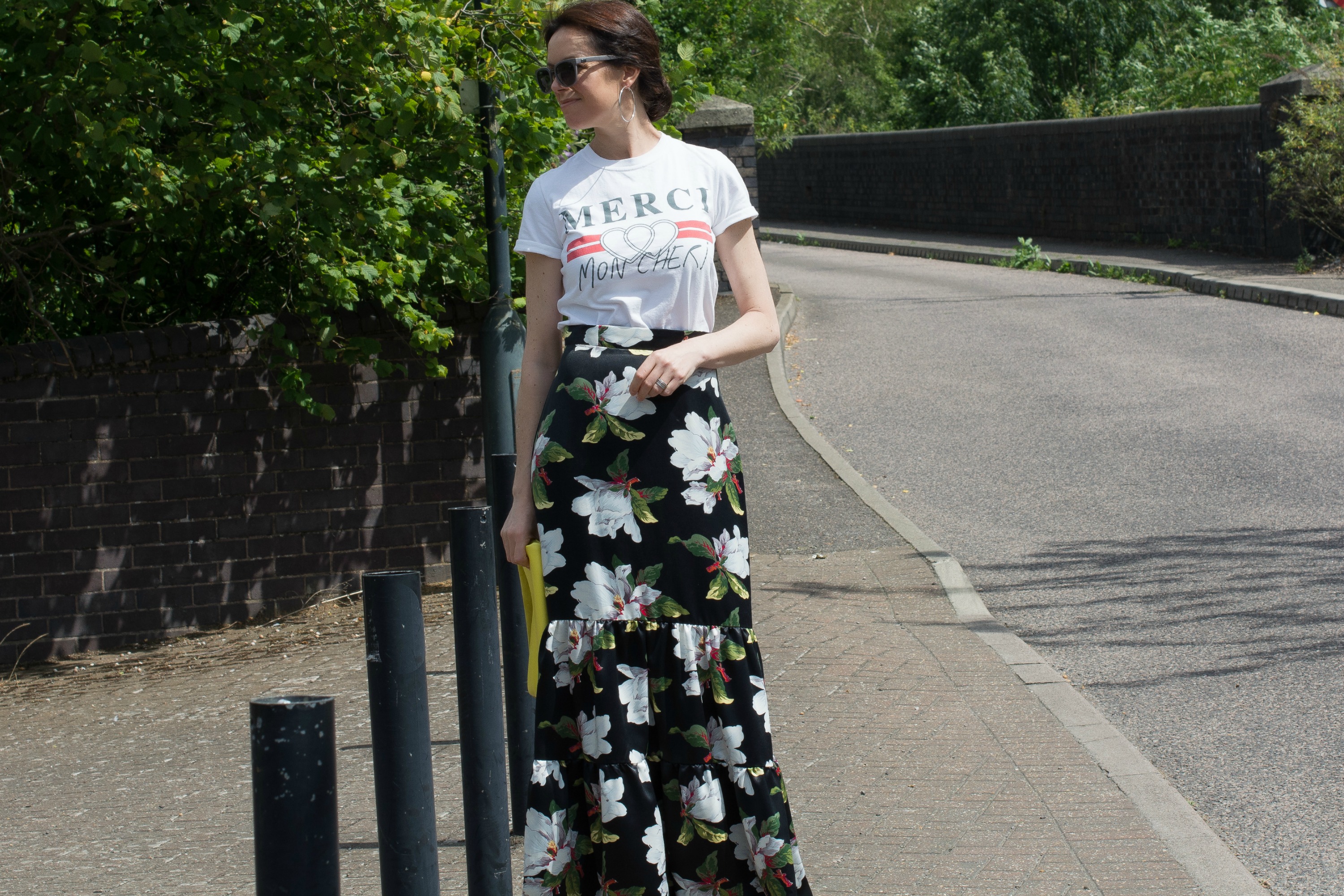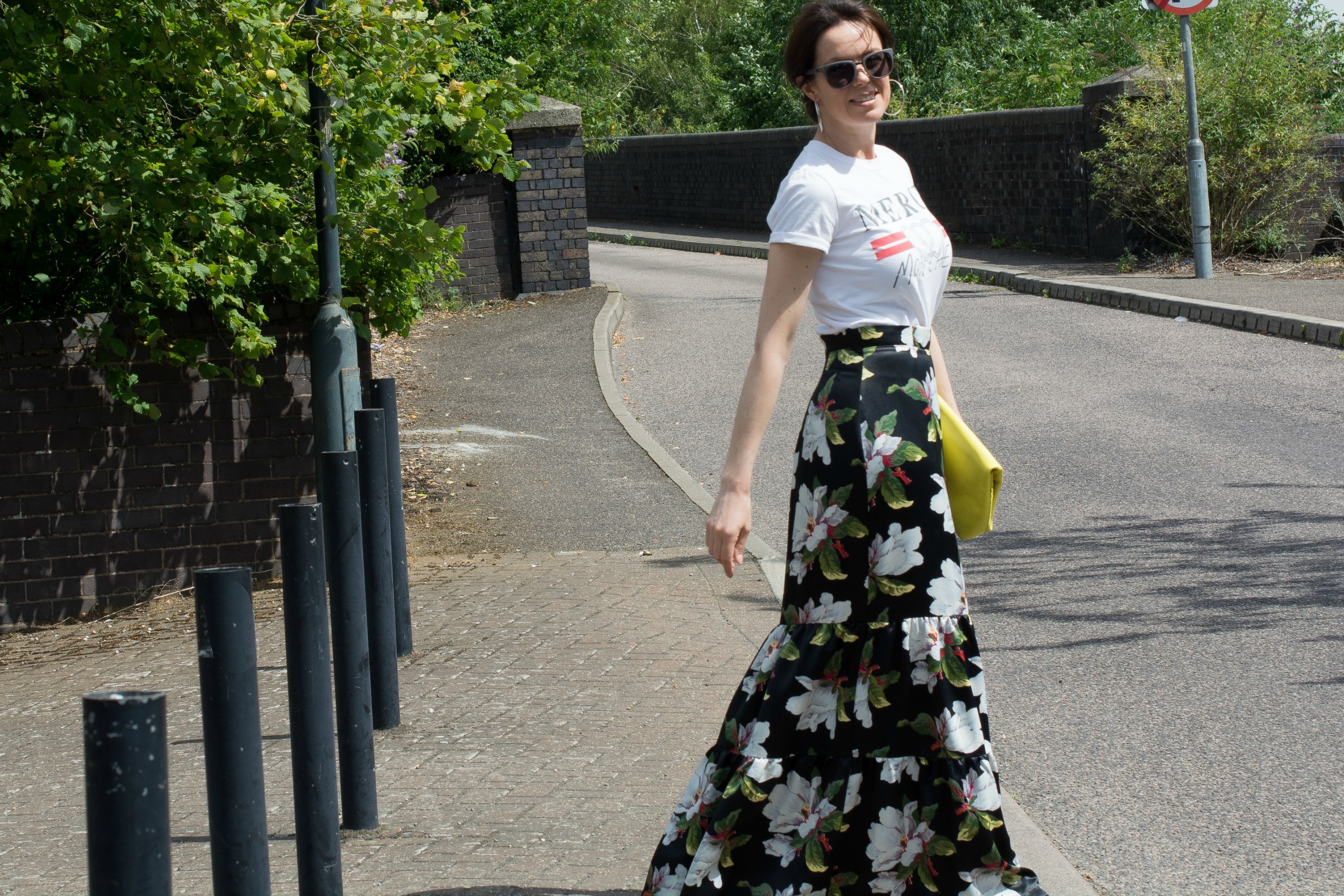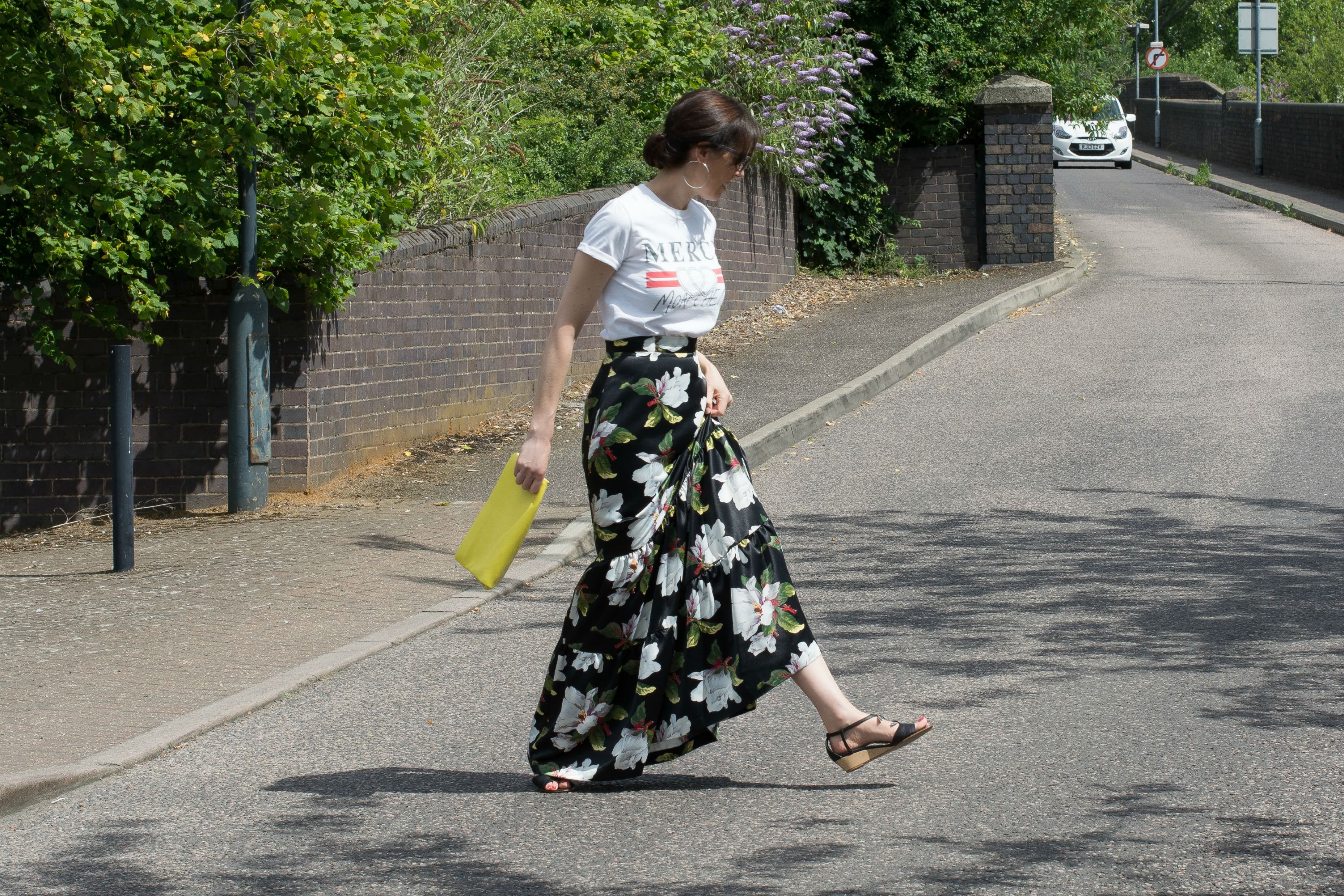 How to spot a good candidate for customization
When I get an outfit idea in my head I often struggle to find it in my price range. Instead of giving up I will sometimes source the fabric & have the outfit or part of it made from scratch. As I've said before, this is not as expensive as it sounds so if you have a good tailor on speed dial, as I do it's not a big deal. Actually when I picked up this finished skirt from my tailor the other day she handed me the discarded piece of material & said "You will want to keep this, with your clever ideas, something will come of it" I took that as a compliment. Anyway as with this strapless dress, often I'll find something that's perfect to customize into what I am actually after.
When I tried on this dress I could see the seam joining the bodice was at exactly the right position to become the waist band. Additionally it was a smooth flat fit all the way around. All that it needed was a nifty cut & tuck to create the waist band. As for the zip a very simple trim to the new required length then merely slide the pull back into position. No need for any major changes at all. My tailor agreed & 20 quid later I had my awesome maxi skirt!
Thanks to Topshop I also had a pretty funky knock off of the outrageously expensive Gucci Tee. Popped on a pair of ginormous silver hoops to complete the look & chose my old Chanel sandals because the silver CC's tie-in so nicely with them. I instinctively grabbed my bright yellow clutch – Also seen here. Incidentally if you don't already have a brightly coloured statement bag, it's truly an excellent addition to your wardrobe.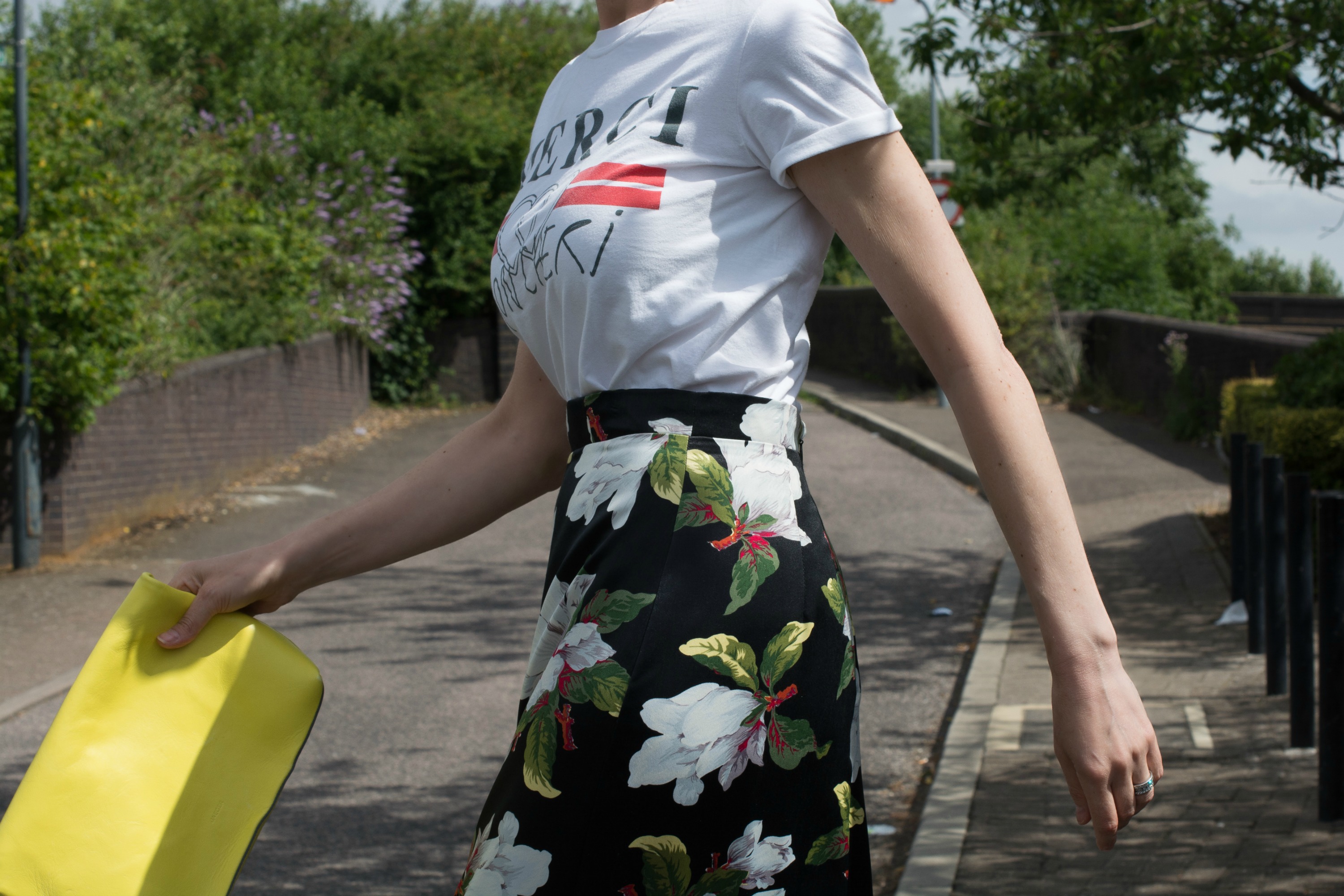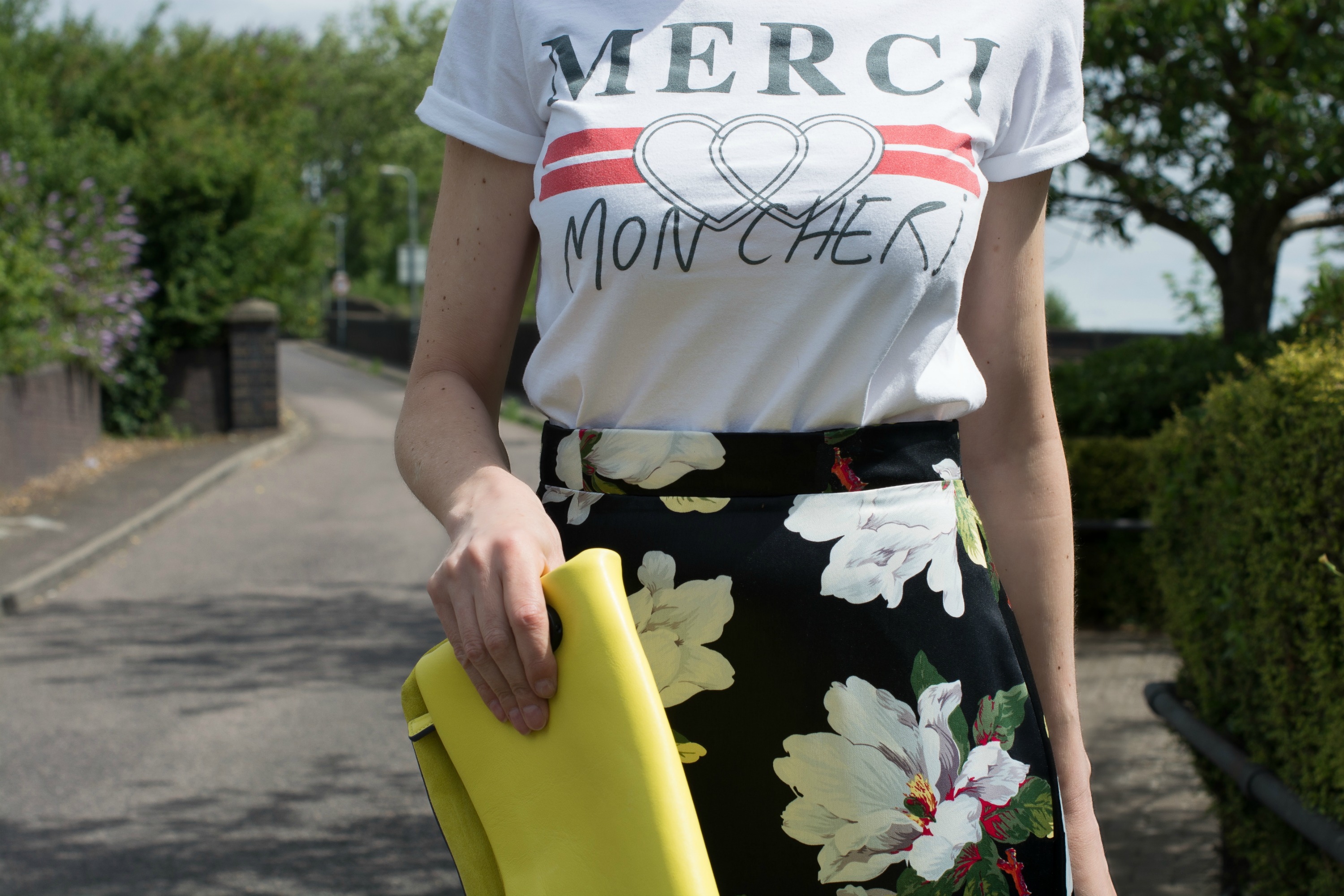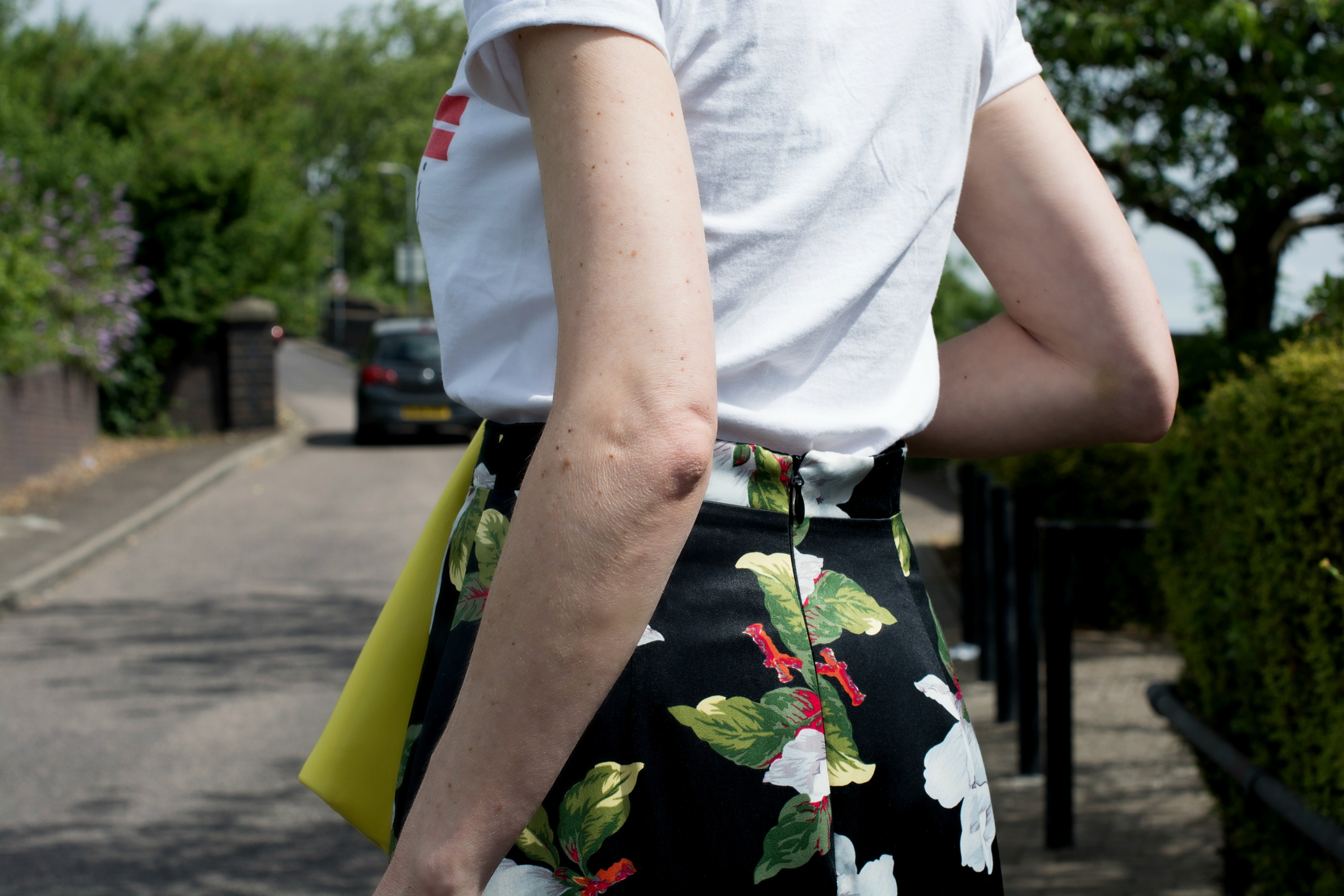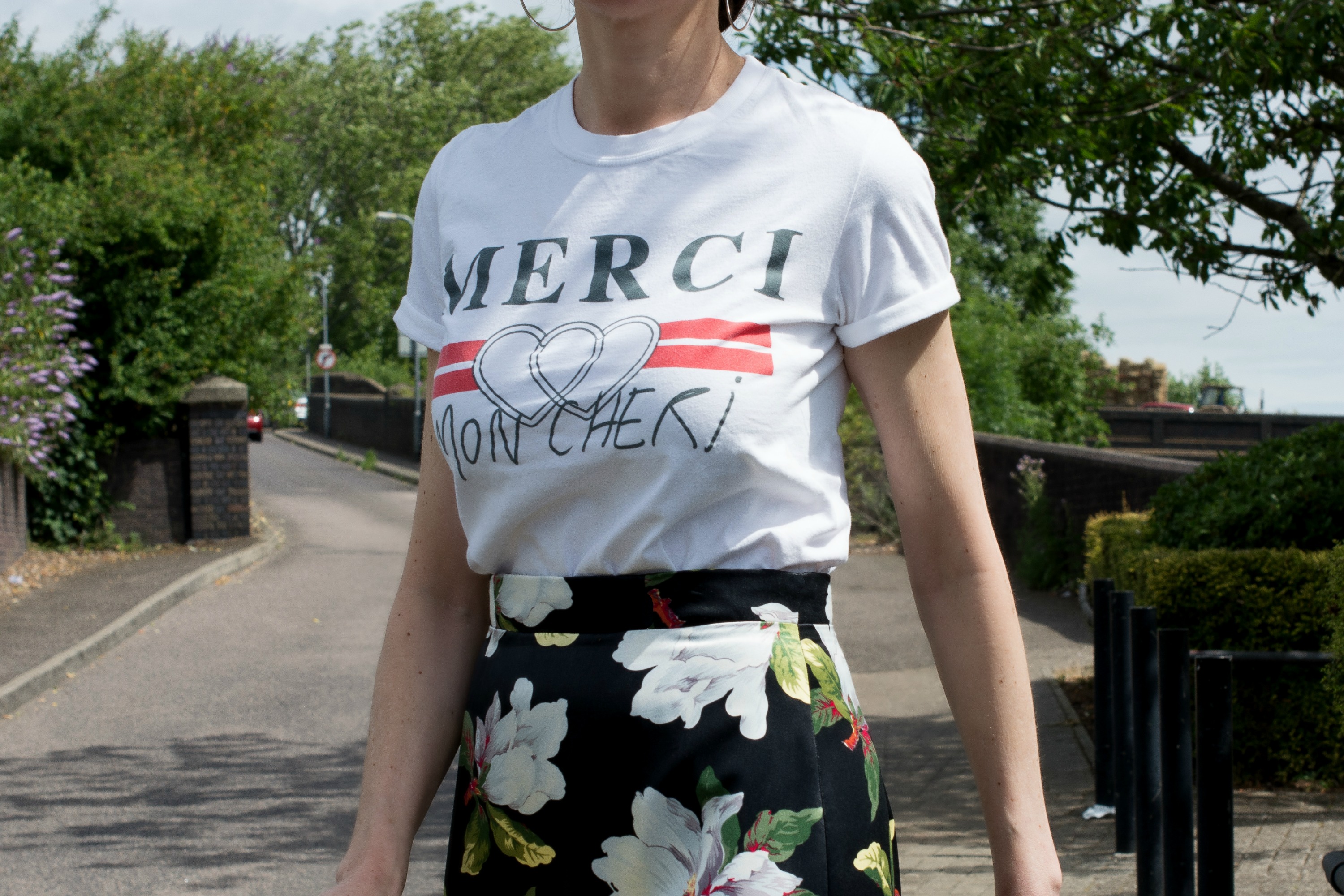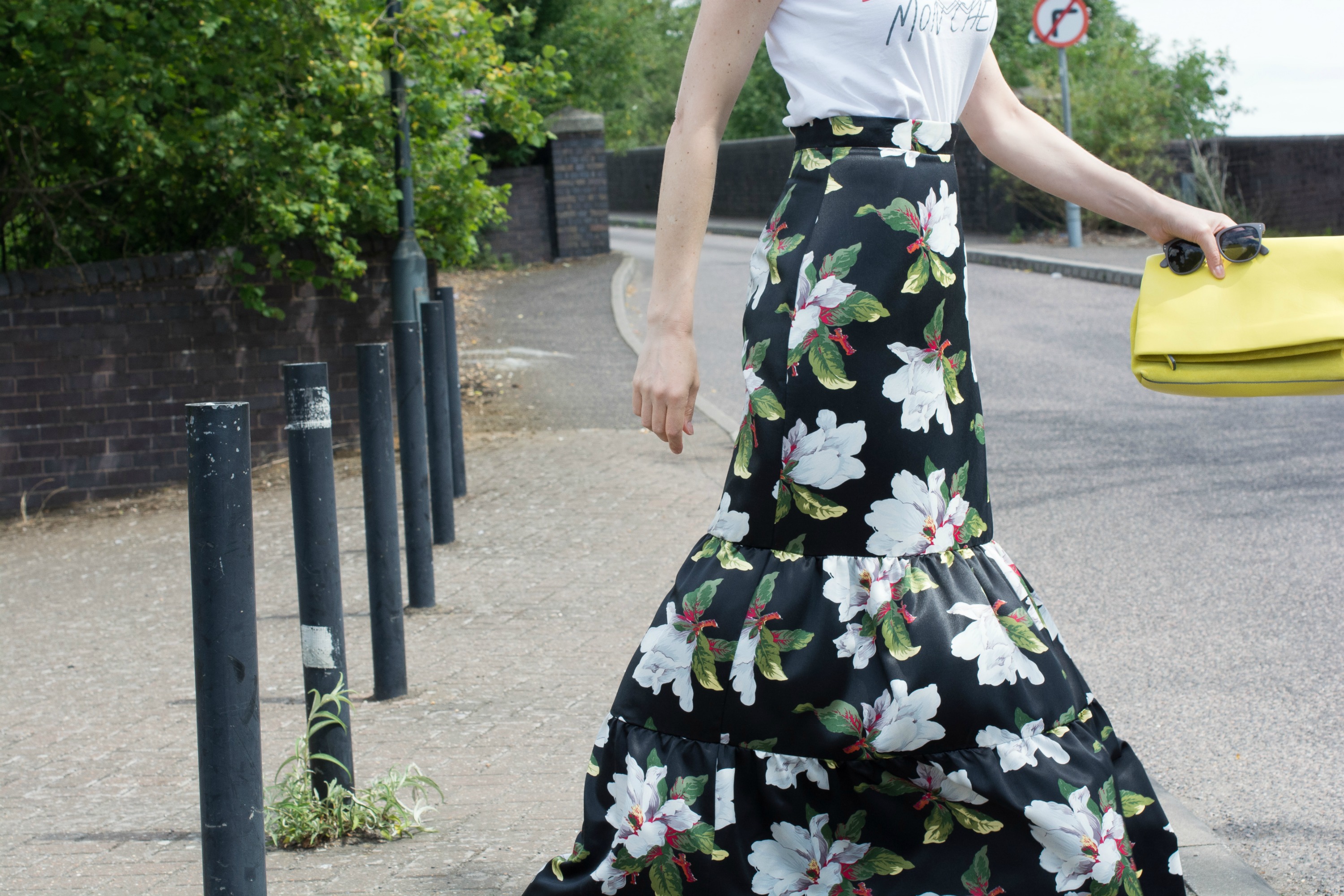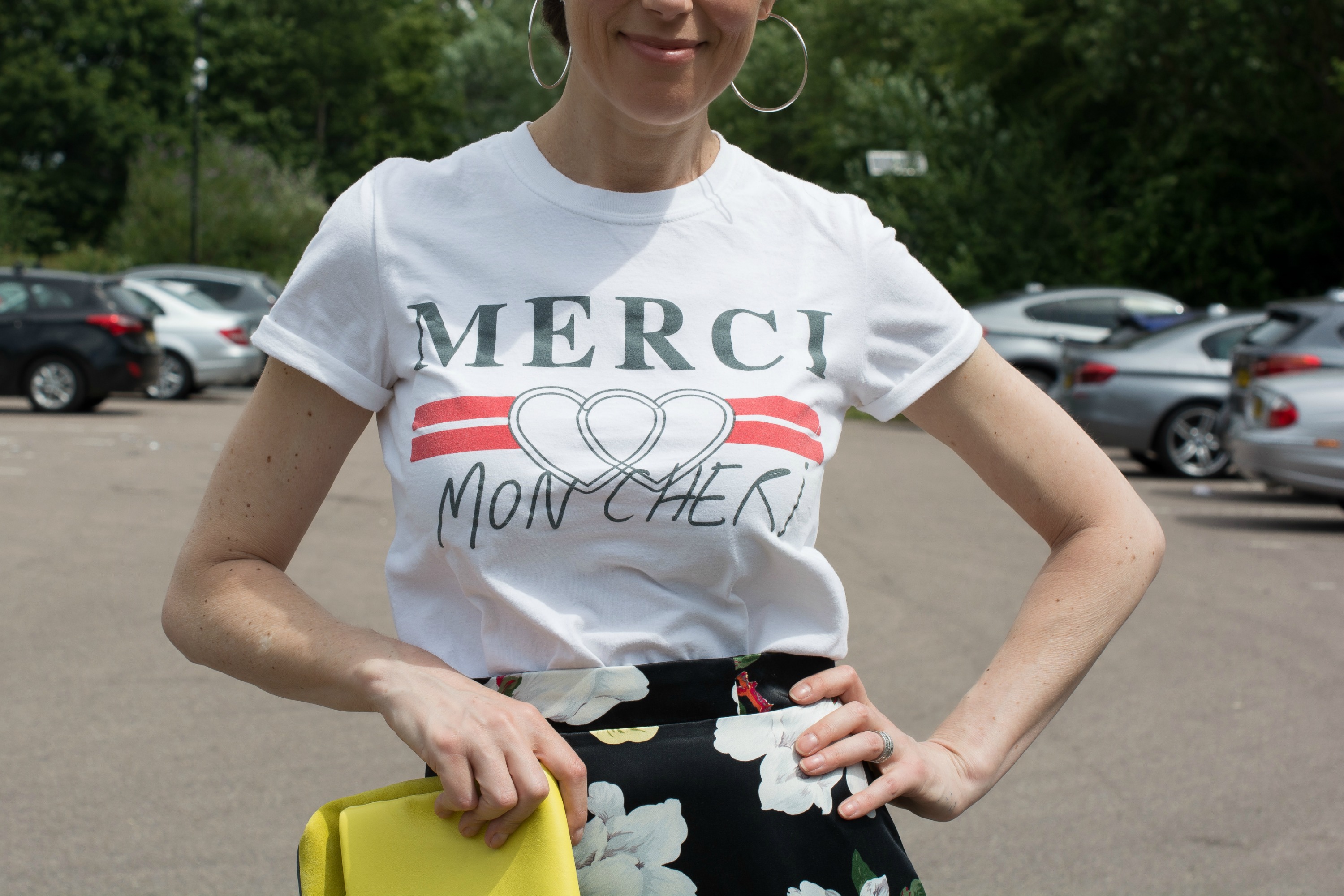 Shop the Edit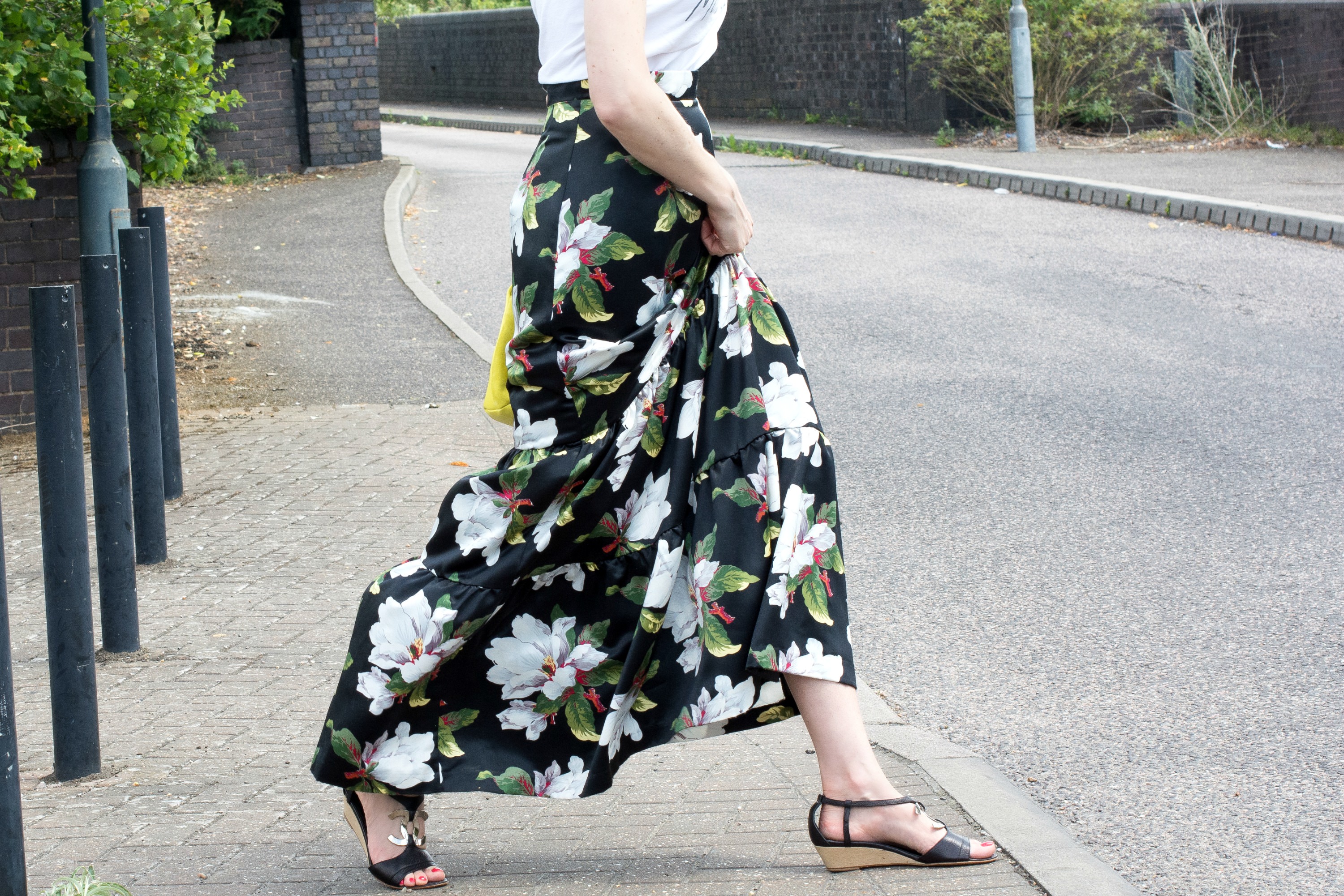 A Simple Low Chignon
I am now going to attempt to describe in words how I achieved this low chignon. What I should've done was record myself actually doing it but ahem…I forgot sowee. Anyway if this is a complete failure just let me know & I will do a proper vlog for you. Here we go, are you sitting comfortably? Now try to picture this…
Shoulder length hair is ideal for this or you can add a clip-in hair piece for a thicker bun as I did today. Separate the sides in front of your ears & leave out for the time being. Take the rest into a loose low ponytail then flip that ponytail over on itself & into a gap you make in the centre above the band. This results in a rolled effect on either side. Next take both side pieces together at the back slightly above where you rolled the first ponytail & make a smaller ponytail. Then flip that one onto itself too then down into the gap you made with the first one. This leaves you with lovely evenly rolled sides & a piece of hair which is the end of both ponies, showing out of the bottom. Spray this piece of hair then put an elastic band in the very end of it. Now take that end, roll it up & over, into the fold of the top & pin. That's it.
I'm quite liking my fringe longer these days. For this style I simply blow dried it smooth with a barrel brush then added some wax for separation & so it wasn't fluffy. The wind did the rest…Oy vey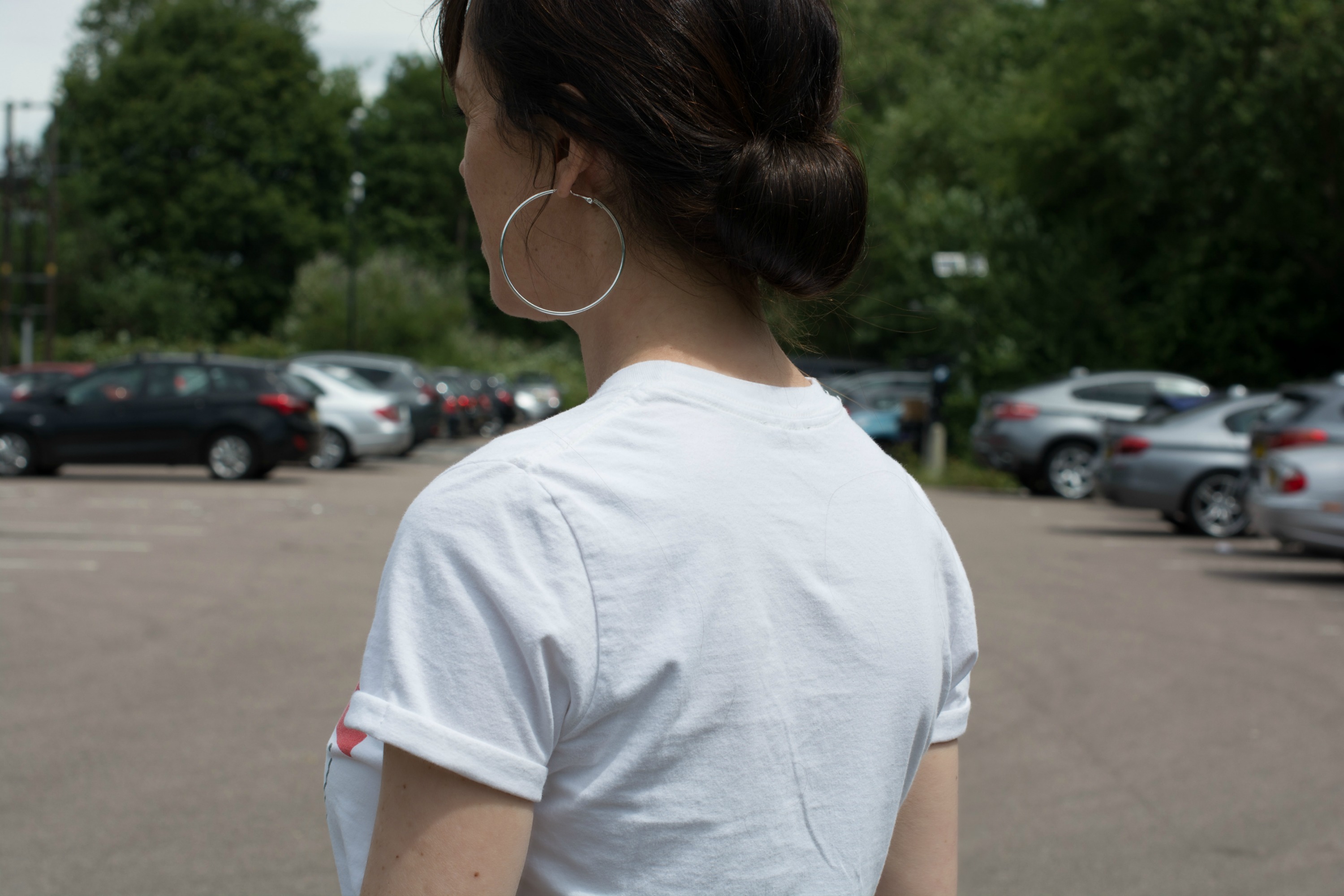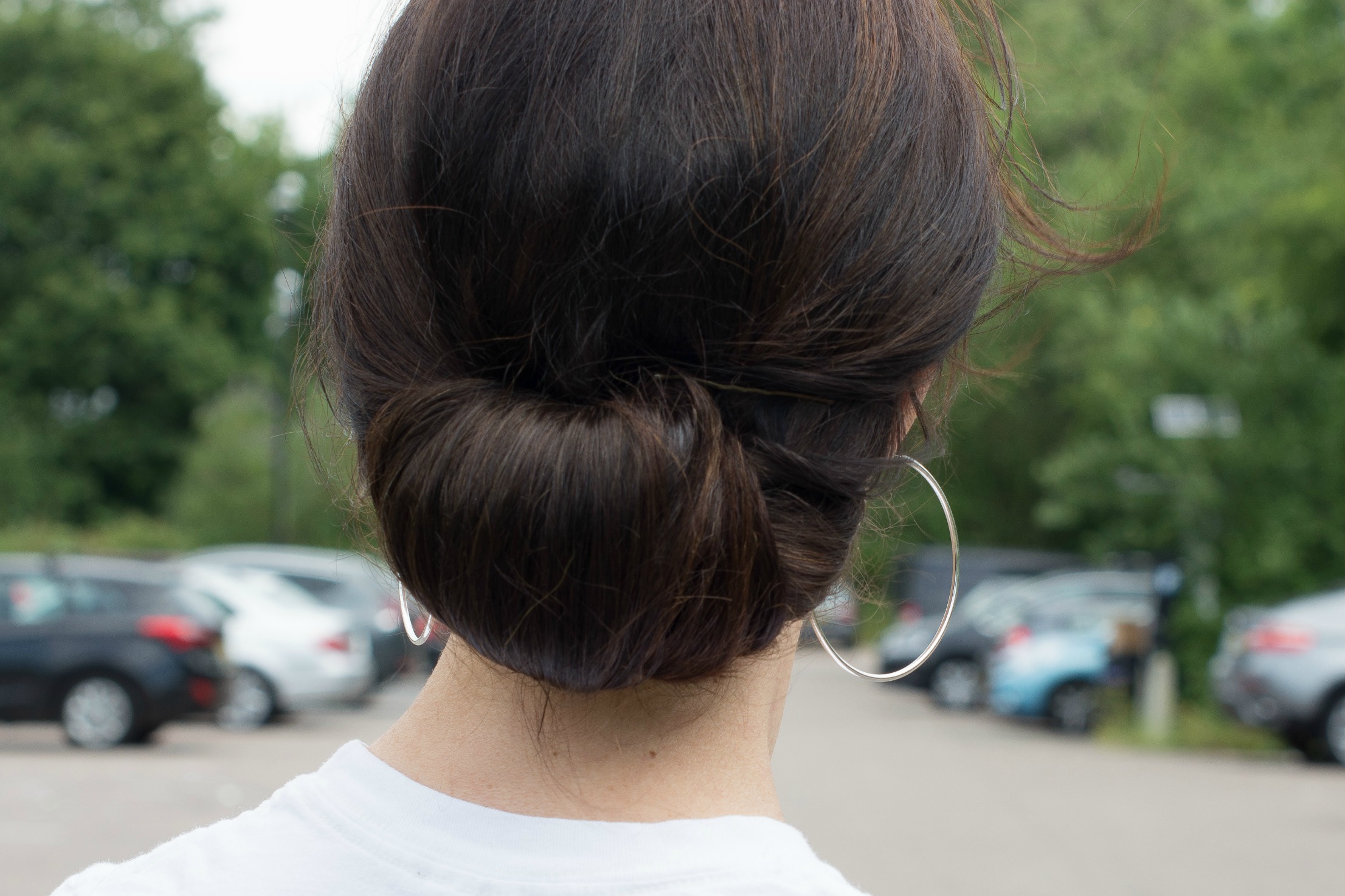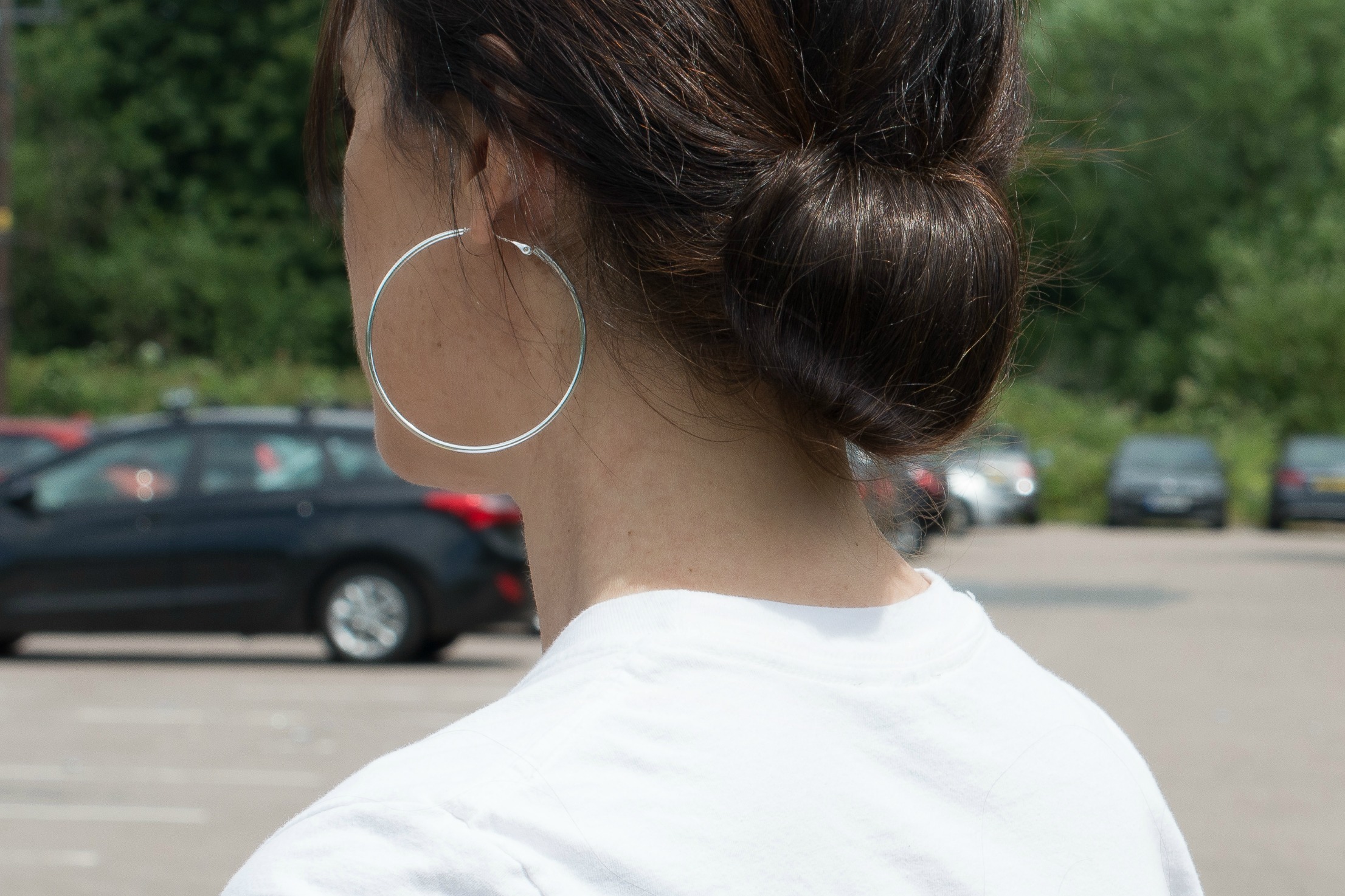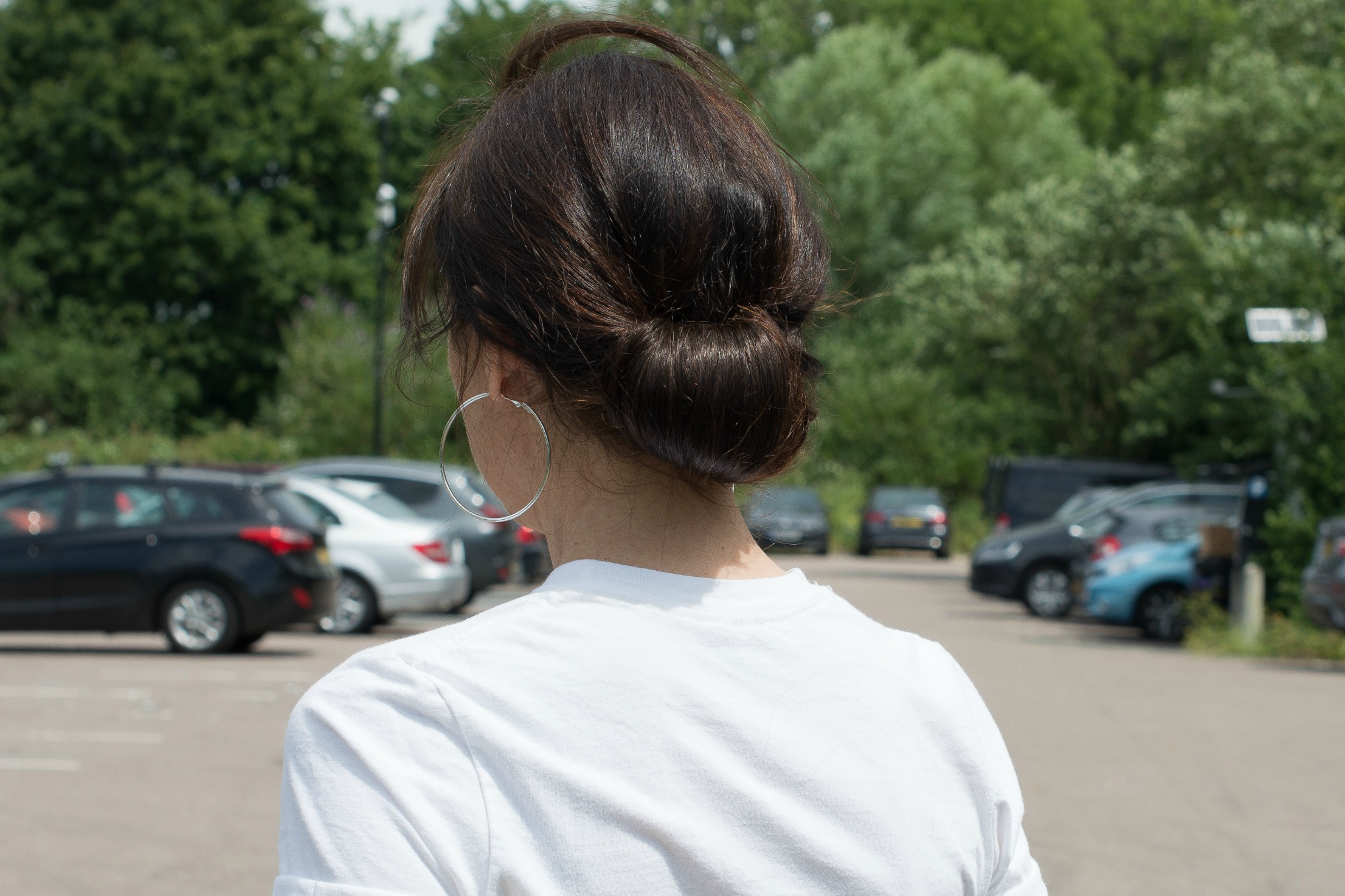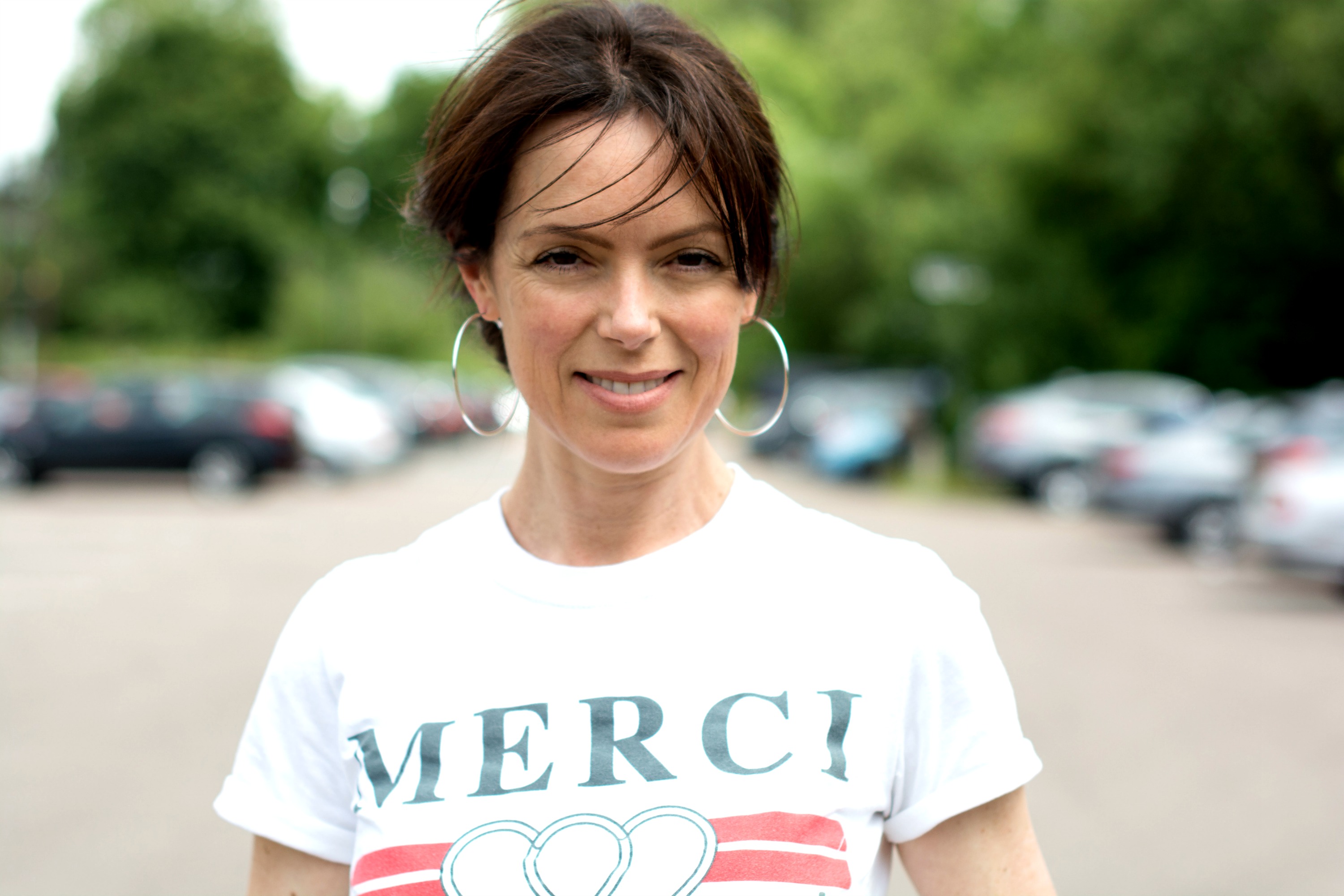 So what's the verdict lovelies? Do you like my outfit? Was I right to destroy the Warehouse dress or did you prefer the original? For me it's about being creative & although this look isn't exactly cutting edge, you won't see anything exactly like it anywhere. Also I'm looking forward to dressing-up the skirt with heels & a smart top in fact I've already earmarked it as my Ferragosto outfit.
You could say it's already paid for itself? Mx