This is one of those outfits that really represents my love of 1970's style. It's the skirt version of my flares in many ways. A look that shouts HEY! RETRO CHICK OVER HERE Yet when you break down the components, we have a pretty basic outfit that anyone can wear. It also happens to be an ultra flattering combination.
Furthermore, it needn't look particularly retro, if that's not your thang…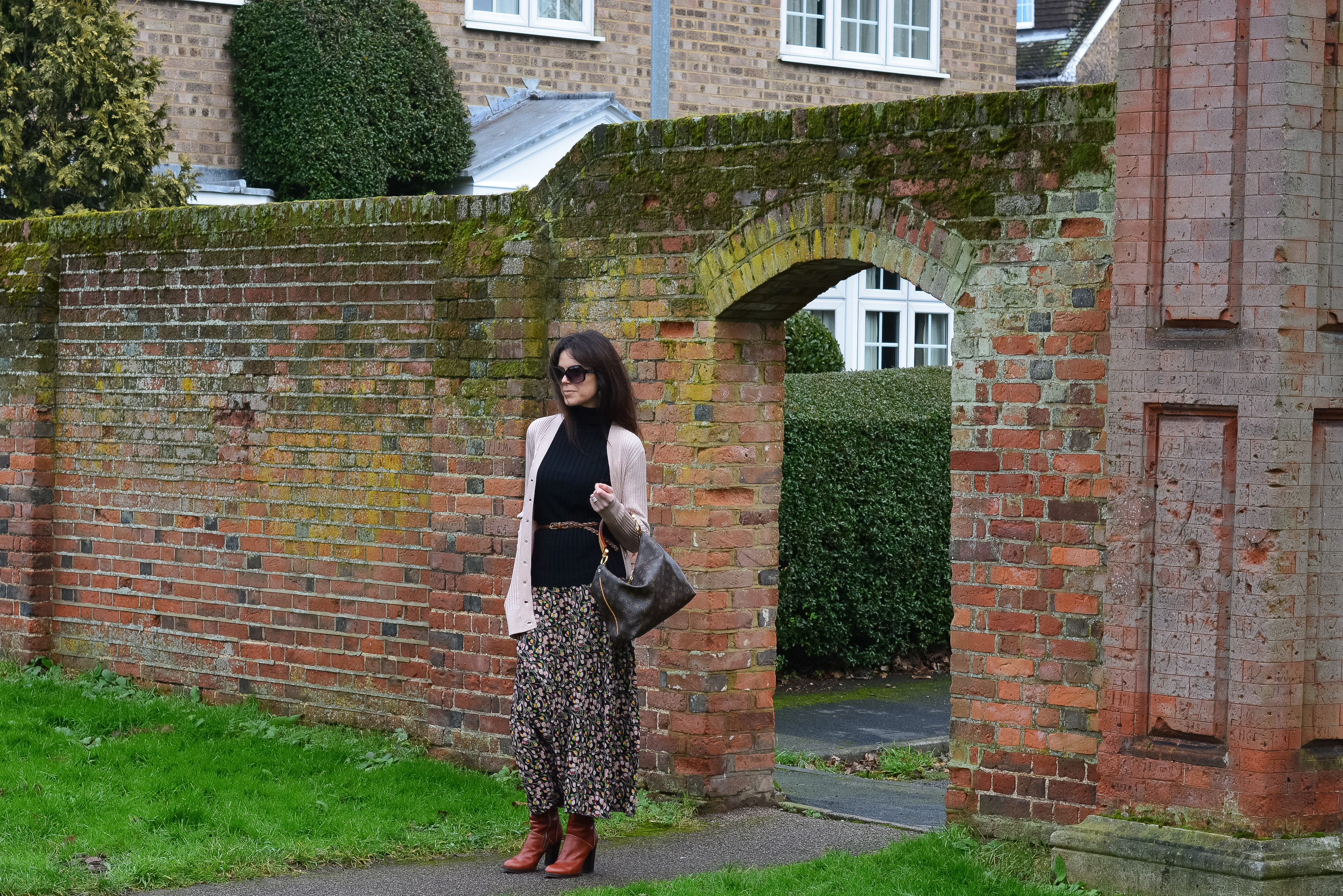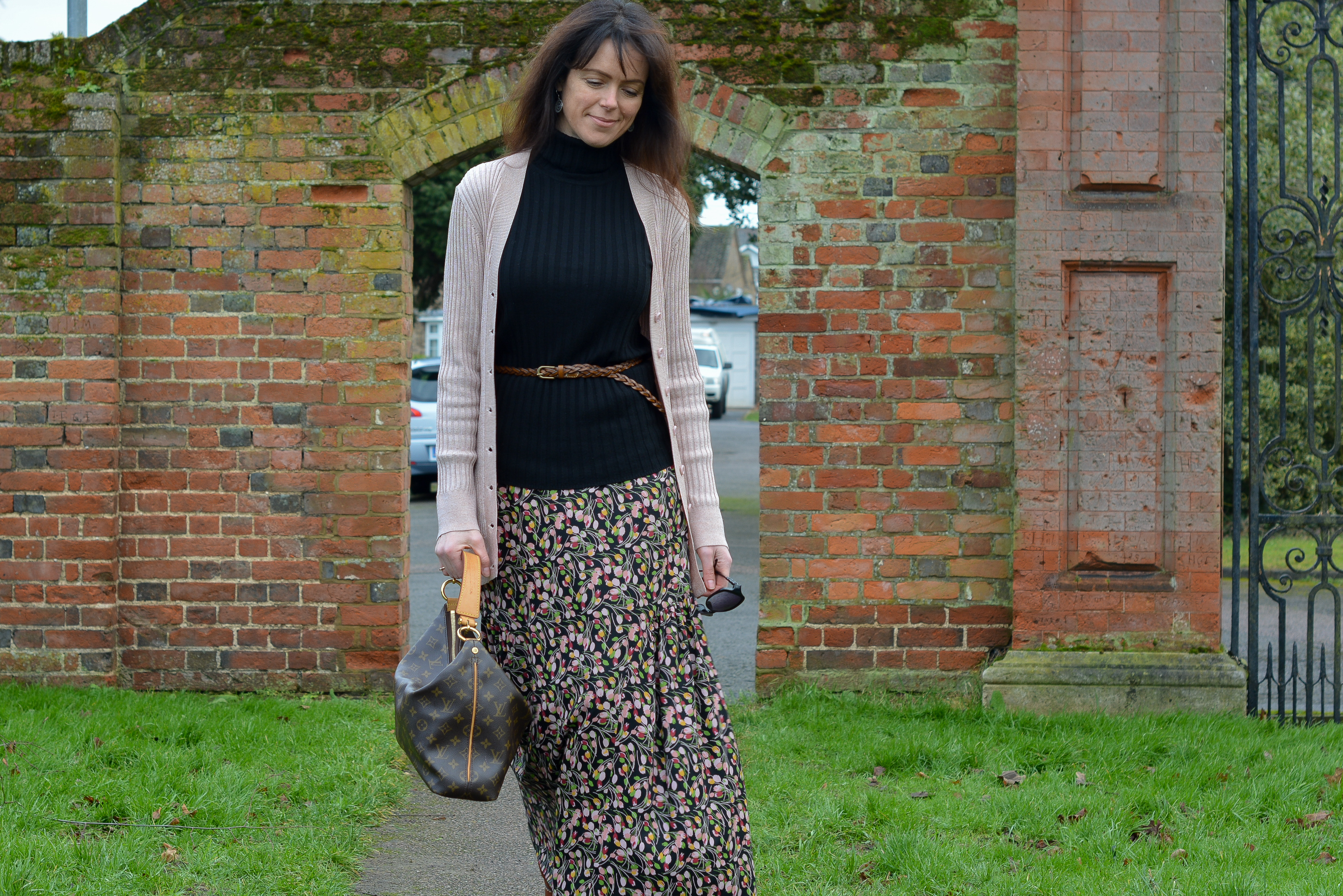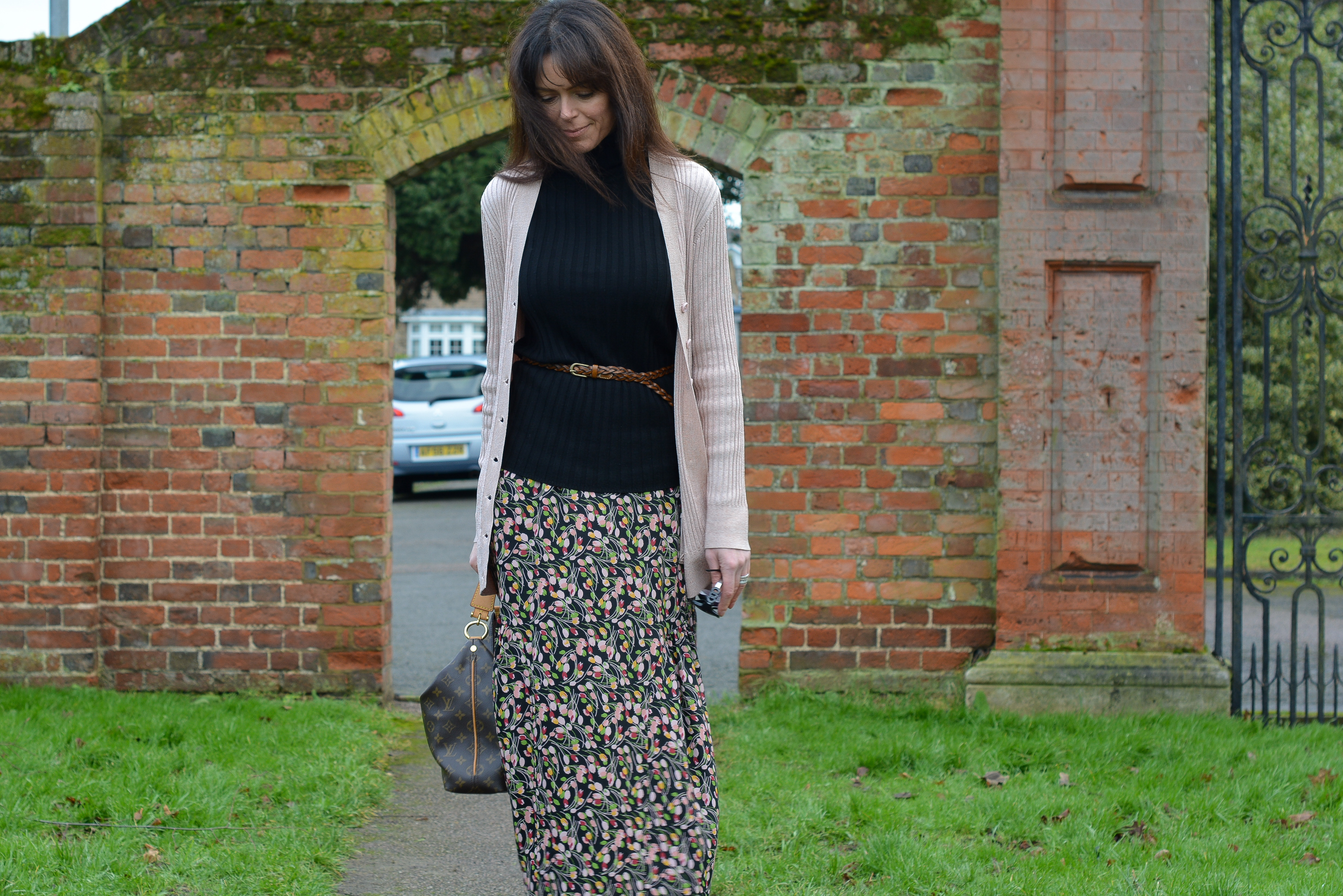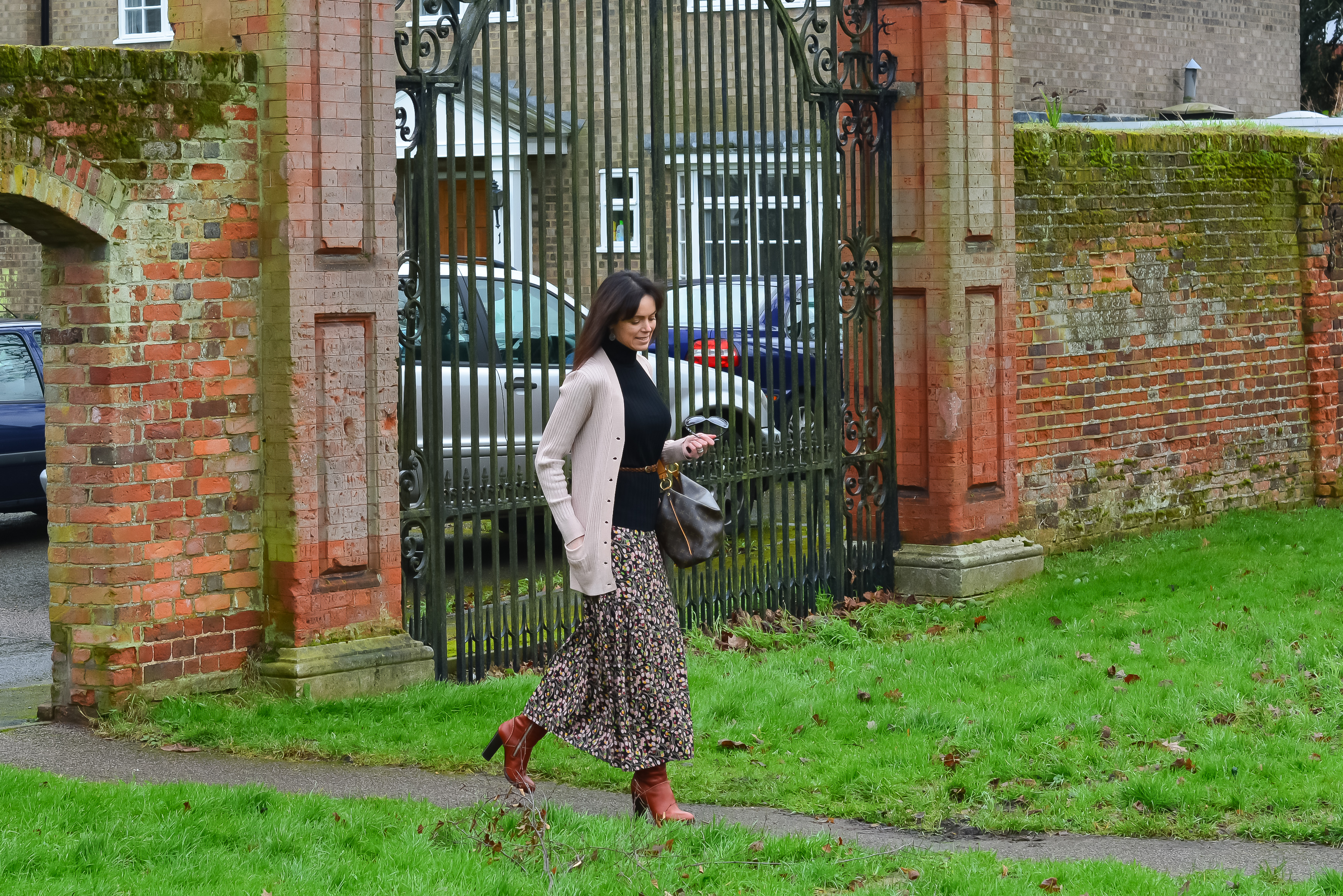 THE RECIPE FOR A FAIL-SAFE DAY LOOK
Take your favourite maxi skirt be it floral, print, striped or a block colour.
Add absolutely any knee high boots.
Throw on a polo neck jumper & cardigan. Choose a belt. Any style. Any width. I also like wide for this but it depends where your waist sits I think. You may prefer a loose chain belt that rests on your hips which is equally fabulous. Now, the secret ingredient is to belt the polo neck & not the cardi. 123 OK? You're done Doll!
My Louis Vuitton Sully bag is in keeping with the 1970's theme that runs through my entire life. I still adore this bag even though I've had it a few years, actually I can't imagine ever not loving it. It's a genuinely timeless classic, for many reasons, not least of which is the monogram print. It may surprise you to learn I'm not a fan of emblazoned branding. Obvious logos across my bags or indeed my clothes are the antithesis of style that I avoid for the most part. In fact I'd go as far to say that having a huge BALENCIAGA across my clutch is a big turn off. I find it pretentious & try-hard. However, conversely & rather hypocrytically of me, I just love love love love the LV monogram! I know, go figure? For me, this is less desperately screaming LOOK HOW FASHION I AM! & more of an historical sartorial statement. Much like the Chanel double C's. Call me a wanker, I care not.
In any case there's no denying if you're unsure of where to spend your cash in Louis Vuitton, your best bet investment is always monogram. Buying anything LV Monogram is a sure thing. These styles will never lose their chic factor & probably value too. These pieces are famous for the touches of honey gold leather stitched in red that grows a deeper molassas colour with age. Bearing this in mind, I've sourced some sensational second-hand Sullys for you to check out below. Personally I think the unique Sully hardwear is what makes this style special. reminiscent of the 70's hoop earrings & for some strange reason, Charlies Angels…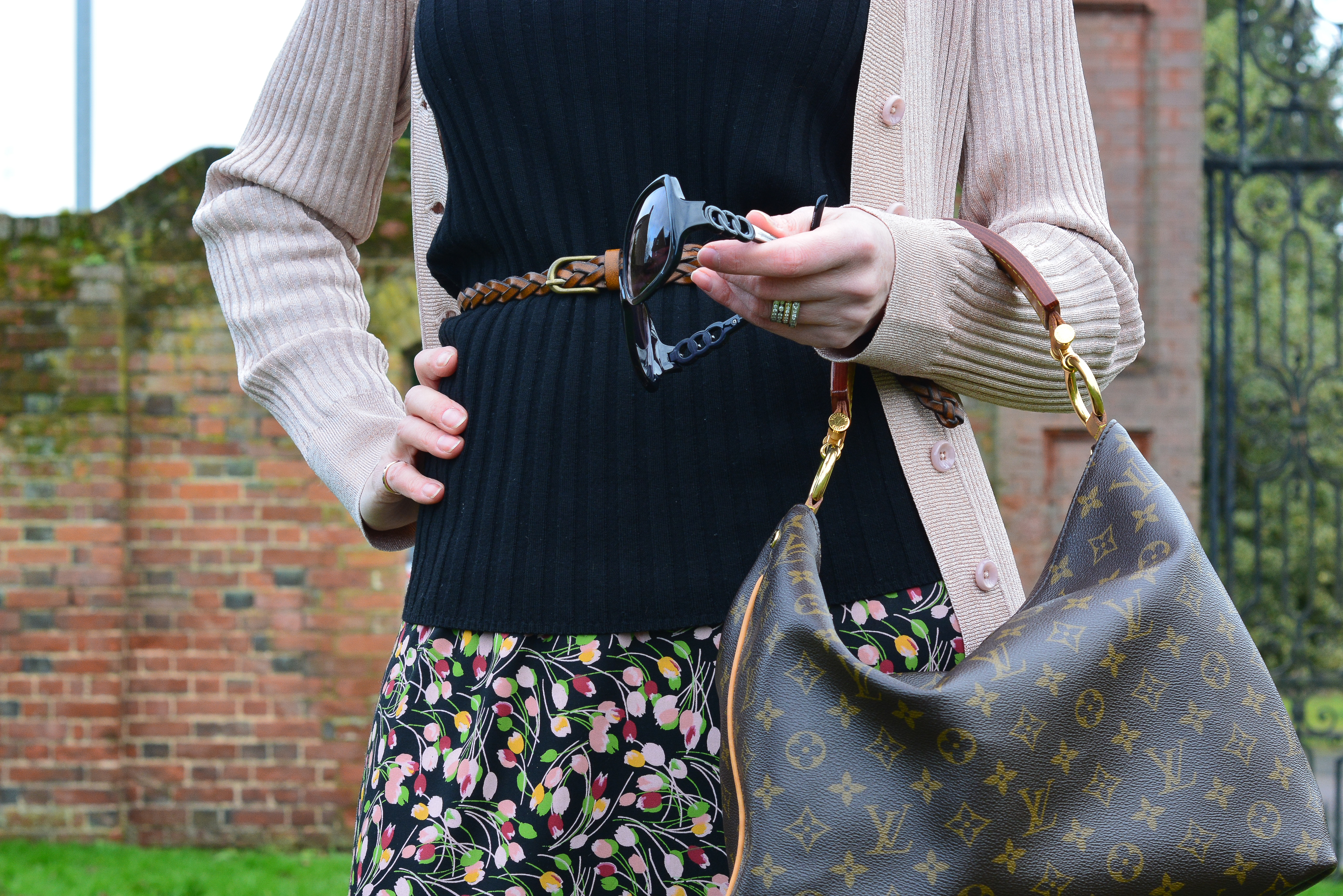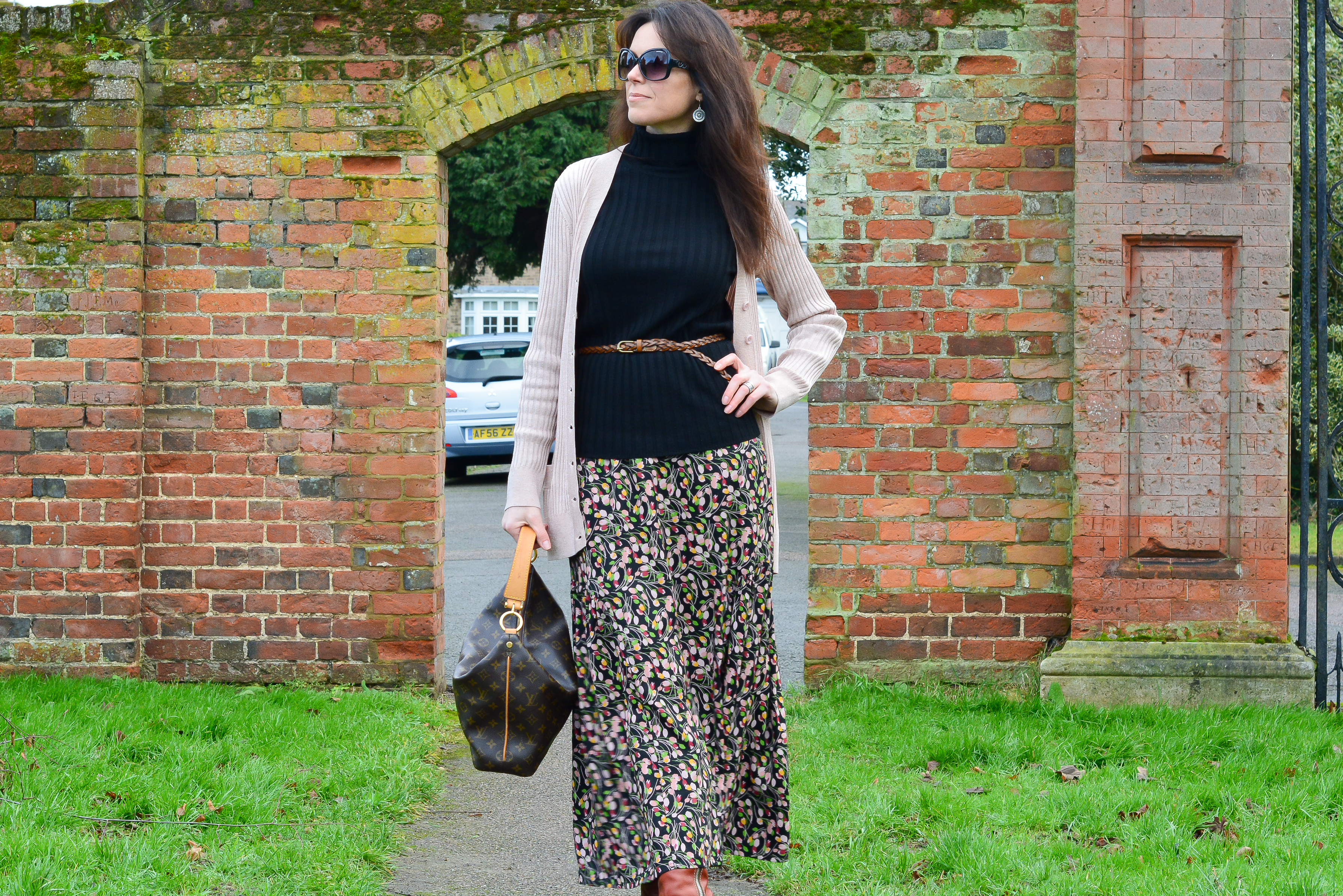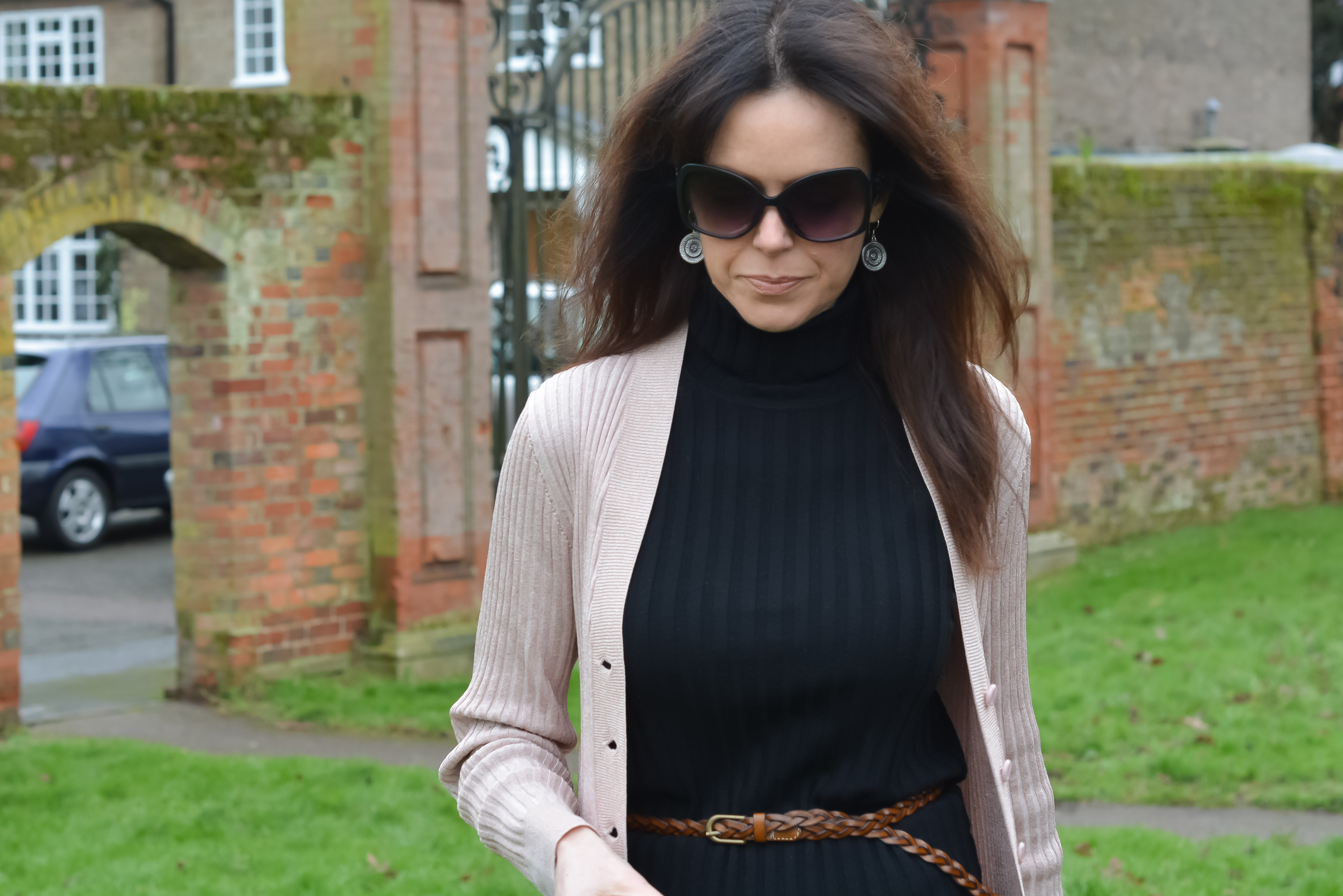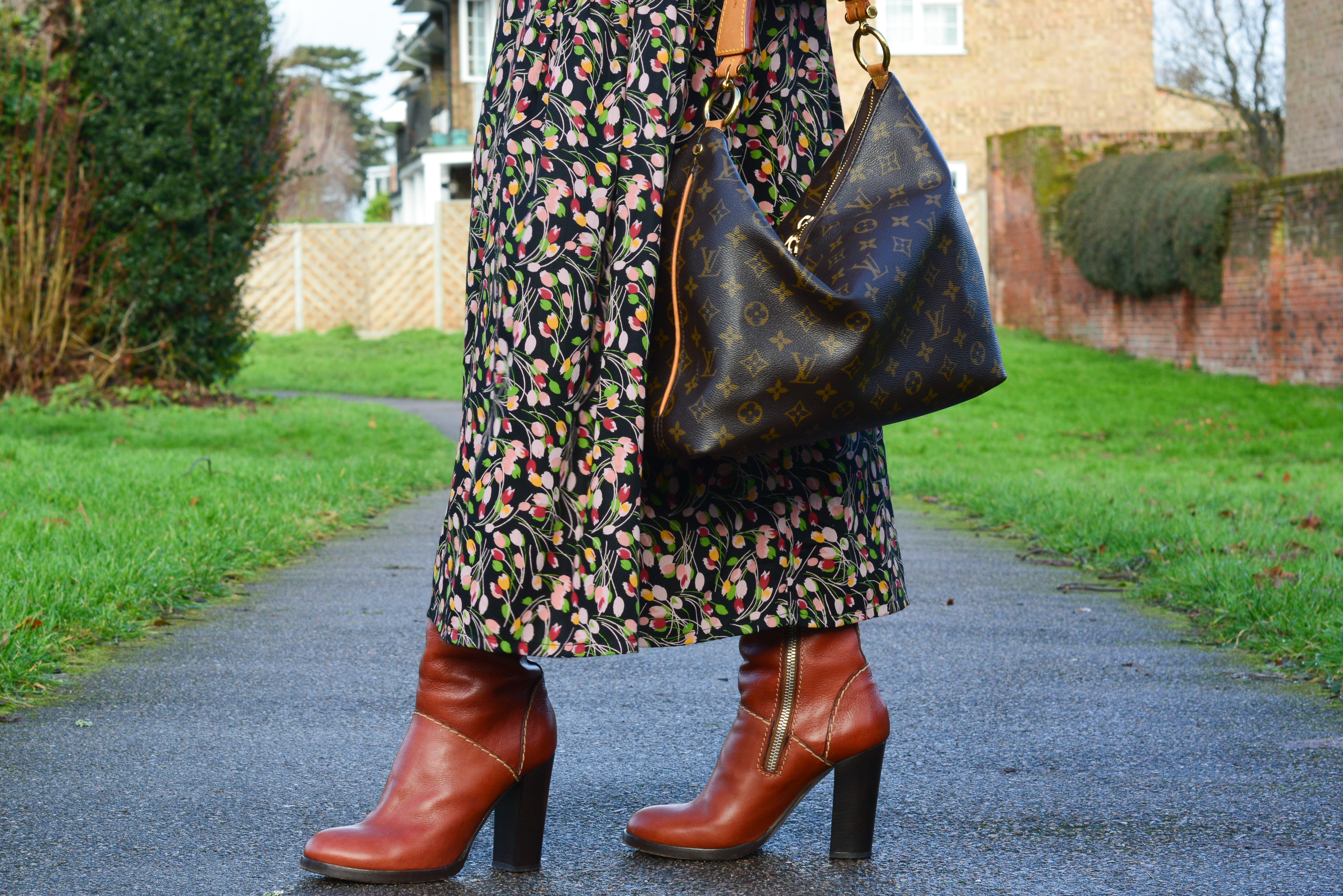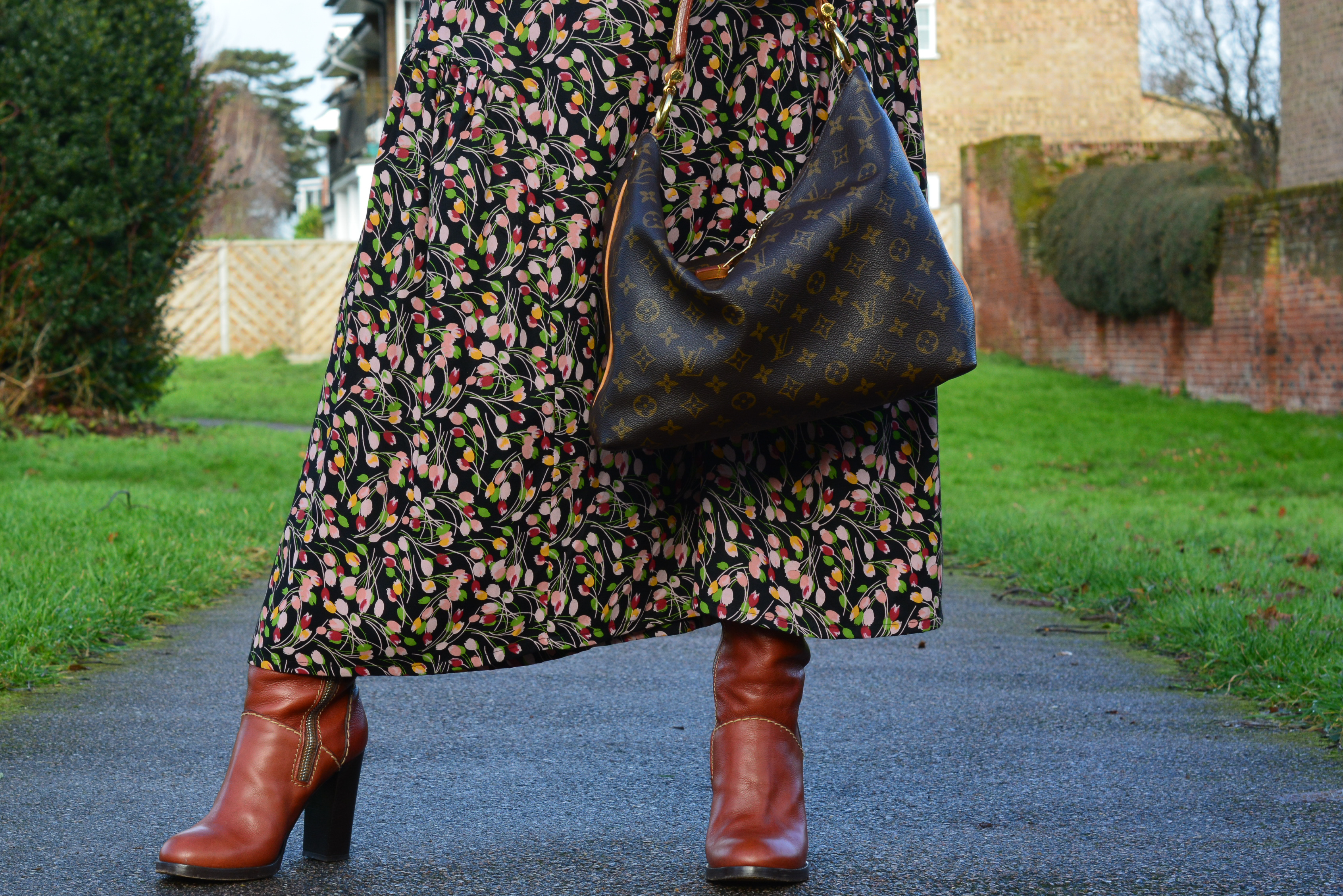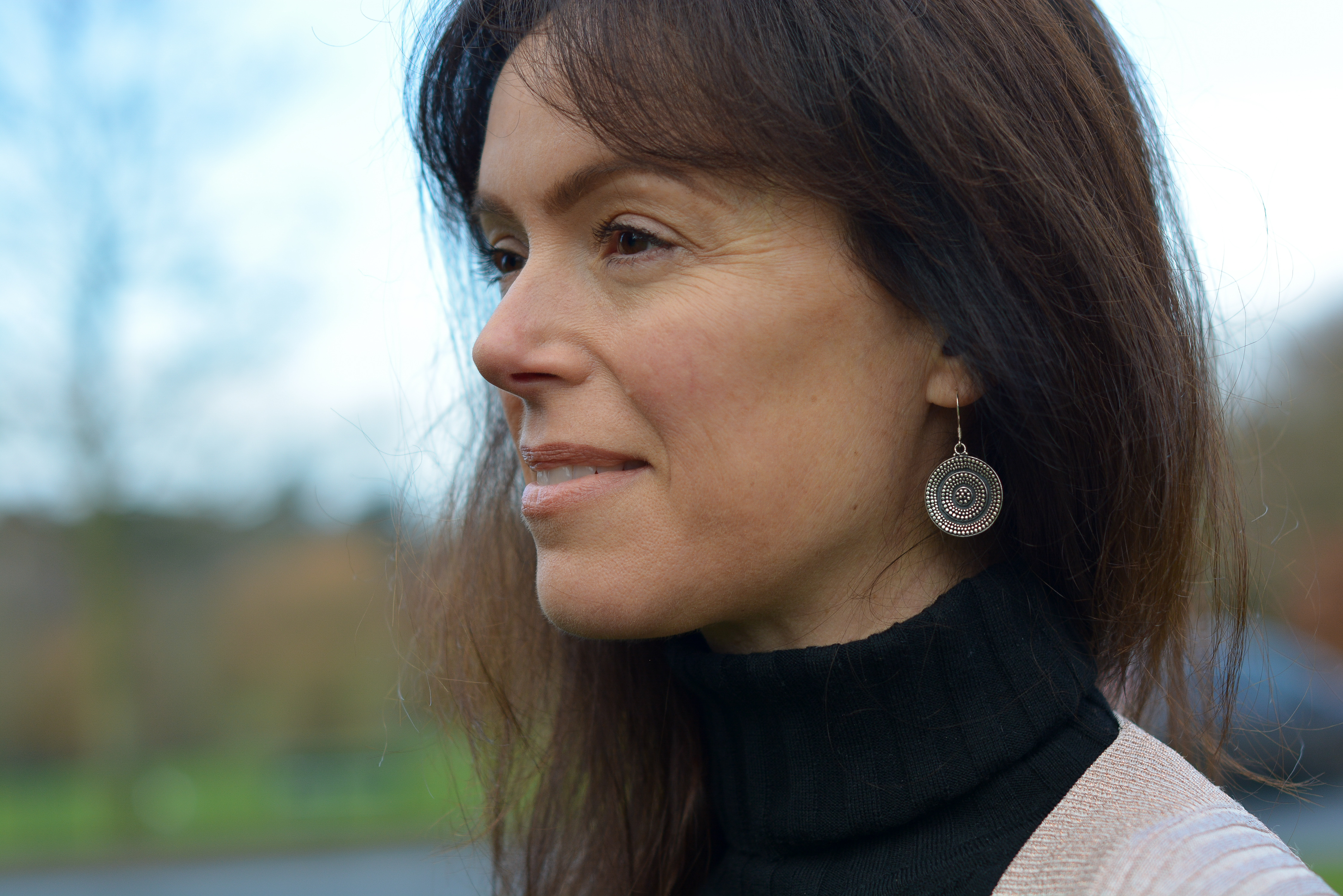 OTHER WAYS I'VE WORN IT
*Earrings c/o NUSA  use code michelle20 for 20% discount at checkout
AN UPDATE ON THE MOVE TO NJ
To keep abreast of all the packing shennanigans at MT Mansion you can follow my Insta Stories. However if that's way too much detail for you, I'll do a quick run down now.
So… after weeks of searching several recommended locations in New Jersey such as Chatham, Montclair & Summit to name a few, we settled on Ridgewood. A pretty, quintessentially American town that ticked the two obvious boxes of a) good schools b) commute distance. Google street view & Youtube gave us an awesome perspective of real life in Ridgewood albeit remotely. However, I struggled to find a house big enough in our budget. It turns out, rather surprisingly to me that rent is very high in NJ due to the excruciating Property Tax.
We also learned, to our horror, the tennant & not the landlord pays the Estate Agent. This essentially doubles our initial outlay since we also had to put down the first month & a halfs rent as deposit! Crikey, first rookie mistake tick.
Mark & I decided to change the house critera to three bedrooms with a livable basement that would work as the fourth bedroom. I really wanted the children to have a bedroom each so they could make it their own special space. My logic being, they'd enjoy the newness & change instead of it feeling like a wretch from the familiar. Anyway, we found a nice house in a good area near the schools & were about to sign the lease when my initial doubts began to sink in. The house is simply too small. It's smaller than the house we're leaving now. There's no wardrobe space! Arrrrgh! Nope this won't work.
Back to the drawing board. I picked up the search in a totally different area, Berkeley Heights & neighbouring Westfield. Lo & behold not one, not two, but three excellent homes to choose from! With all the same criteria, schools, commute, size of house etc & no obvious downside. Don't ask me why, perhaps it's simply not as popular around there? I did notice Berkeley Heights is slightly more isolated although to be honest, being the lazy homebodies we are this doesn't really affect us. As long as the groceries can be delivered to my door I'm a happy bunny.
The next big step is in two weeks when the international movers collect our belongings. Waaaaah! With all our stuff gone we'll be camping in our own house! Well as close to camping as I'll ever get.
Bye for now loves xxx