It's important to take time out from the family now & then don't you think? It was a few years into motherhood before I allowed, myself this freedom, not that taking care of my family is a chore but I'll be honest, sometimes I feel suffocated & frustrated. Always putting other people first can wear after a while, I love them to death but it takes a toll on my equilibrium. Everything I do is about them, the little breaks are an essential re-boot of my mojo. So with that in mind, two mamas went to Lucca for a day…
I'd visited Lucca before having children & have amazing memories of the little walled city.
As we were currently holidaying in Tuscany so close to Lucca I knew I couldn't pass up another chance to enjoy this medieval patchwork of Roman architecture, colours & textures. I felt like I'd stepped into a Renaissance painting the moment my girlfriend & I walked through the archway! Treading a mosaic of flagstones & cobblestones immediately inside the enormous wall it's difficult to know where to look first because the beauty is completely enveloping. Such a fantastic array of natural materials have been used everywhere here although predominantly limestone which is a local resource & conveniently cool in the summer heat. We decided to wander & take it all in with no particular plan walking down narrow streets that would eventually open onto a piazza. We stumbled upon the beautifully restored convent San Francesco where we shot my first outfit, then made our way back to what was the original roman amphitheatre & is now the main piazza Dell'Anfiteatro.
There's a terrific amount to learn about Lucca because it has traversed such a swathe of history. looking around it's all still there to see & I can truly imagine stopping in this magical place for a while someday.
However this is also a fashion post so hopefully my links will fulfill any extra interest you may have. And if you've already been please do share your experience by leaving a comment below, I'd absolutely love to hear about it!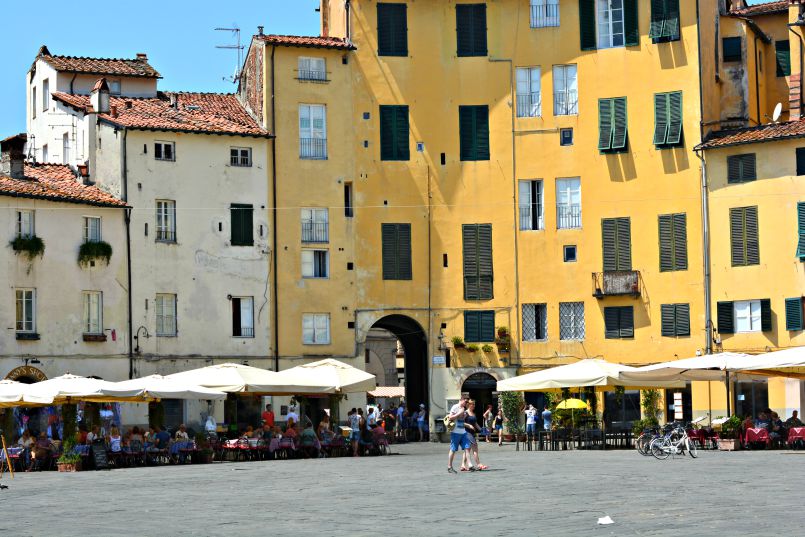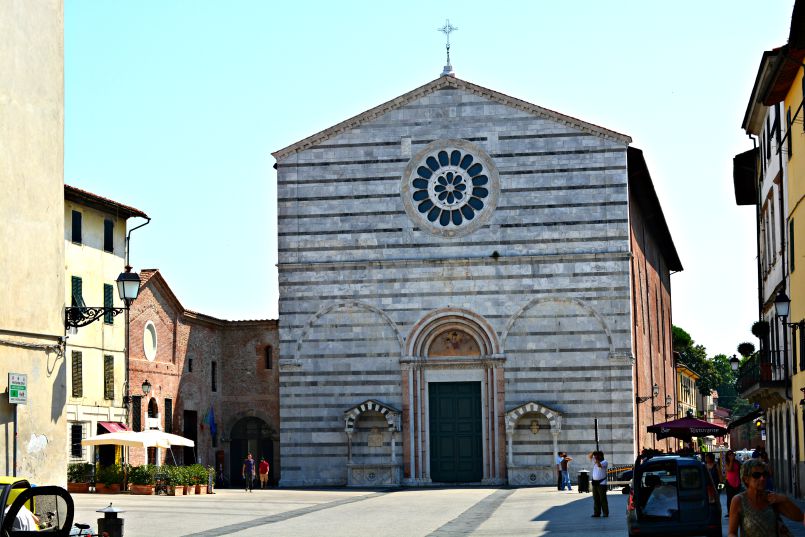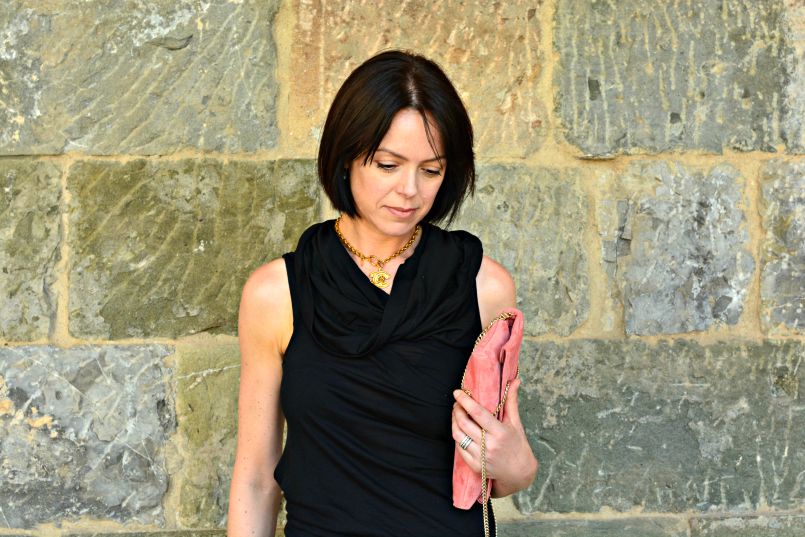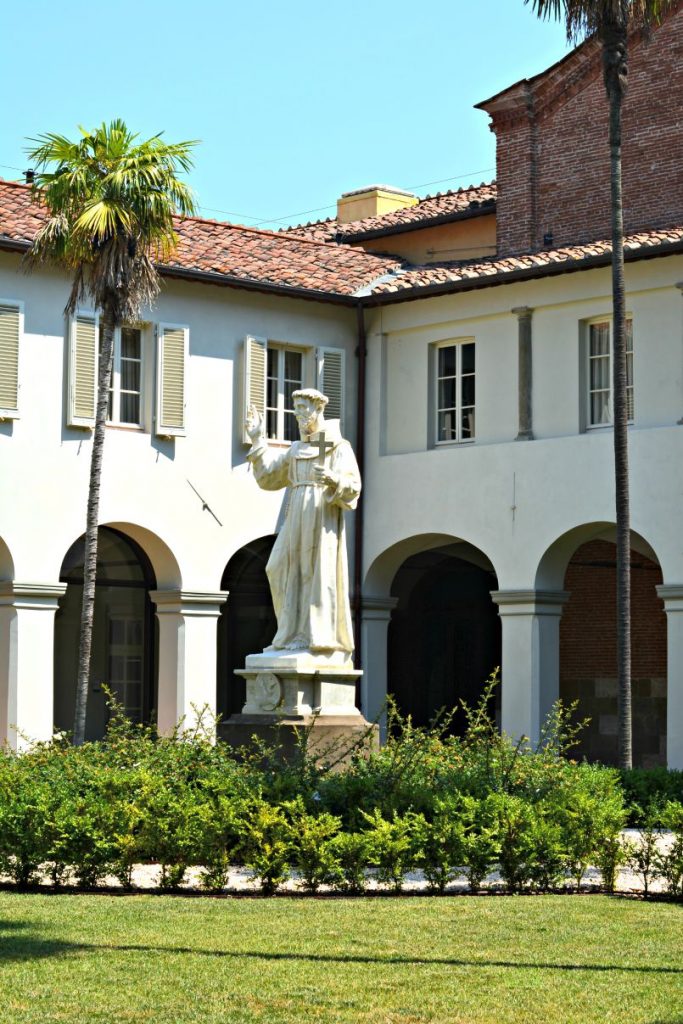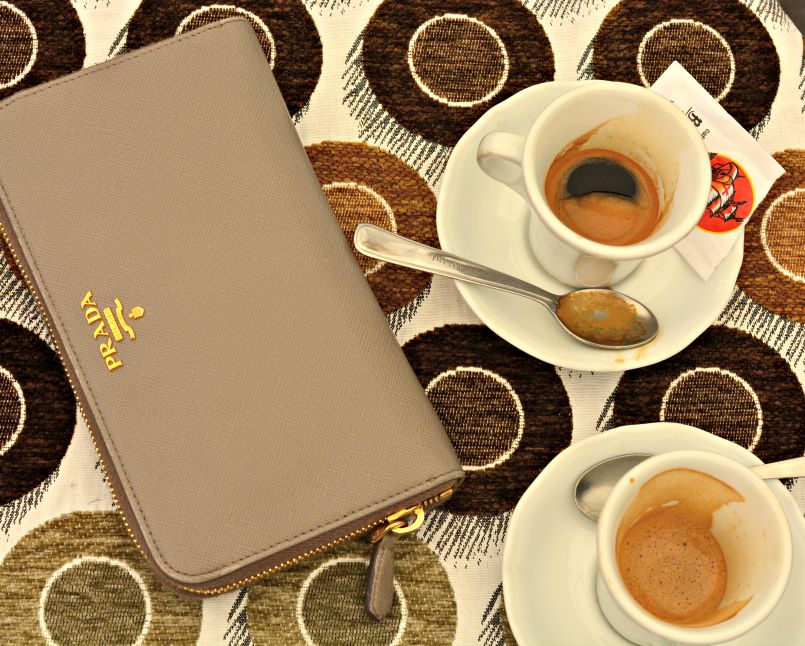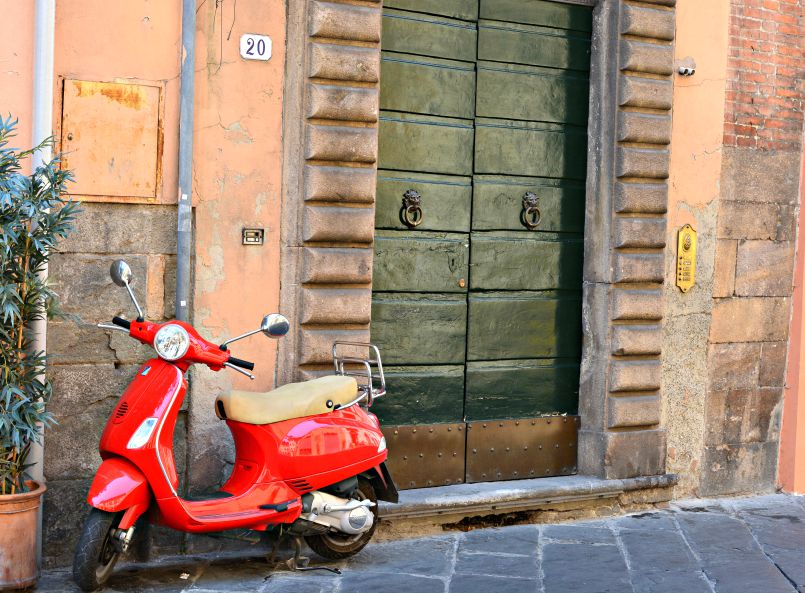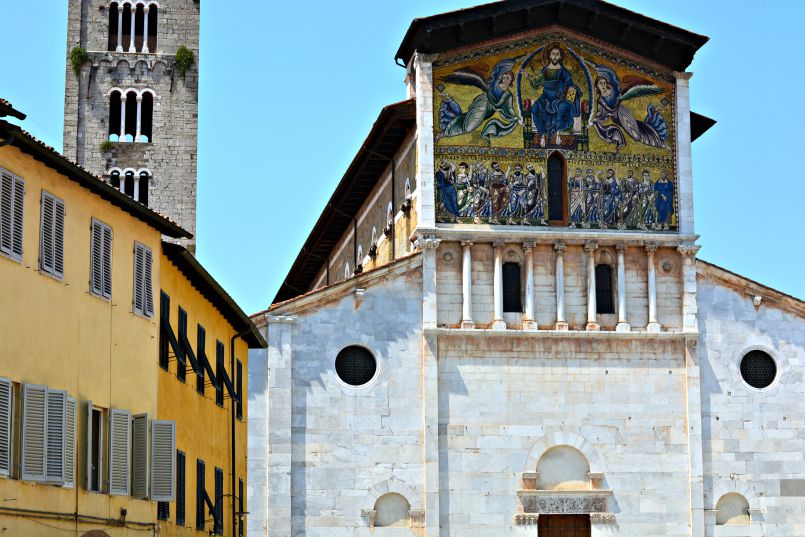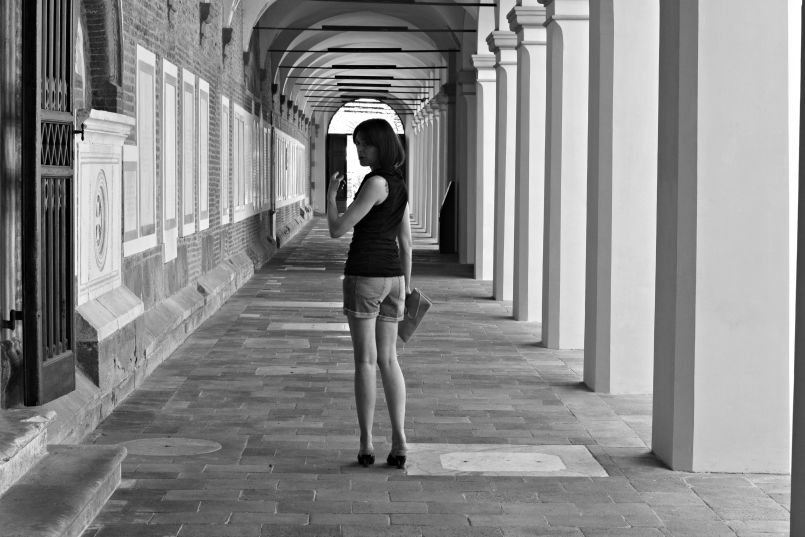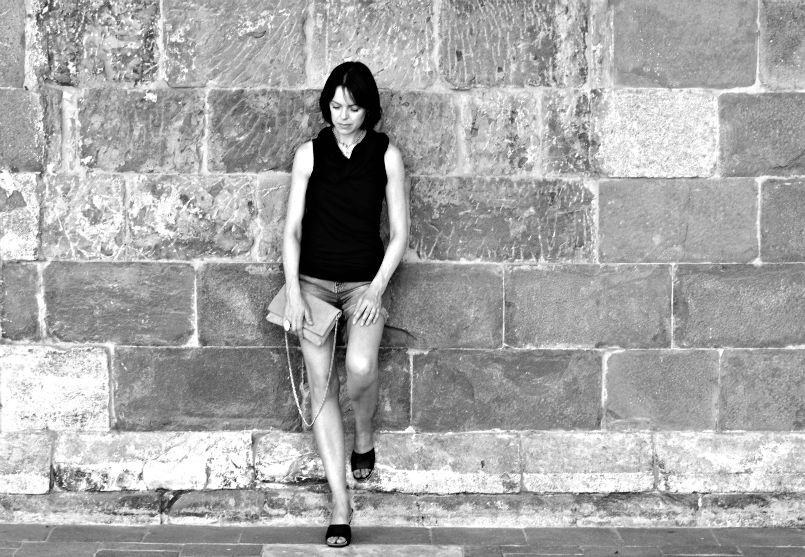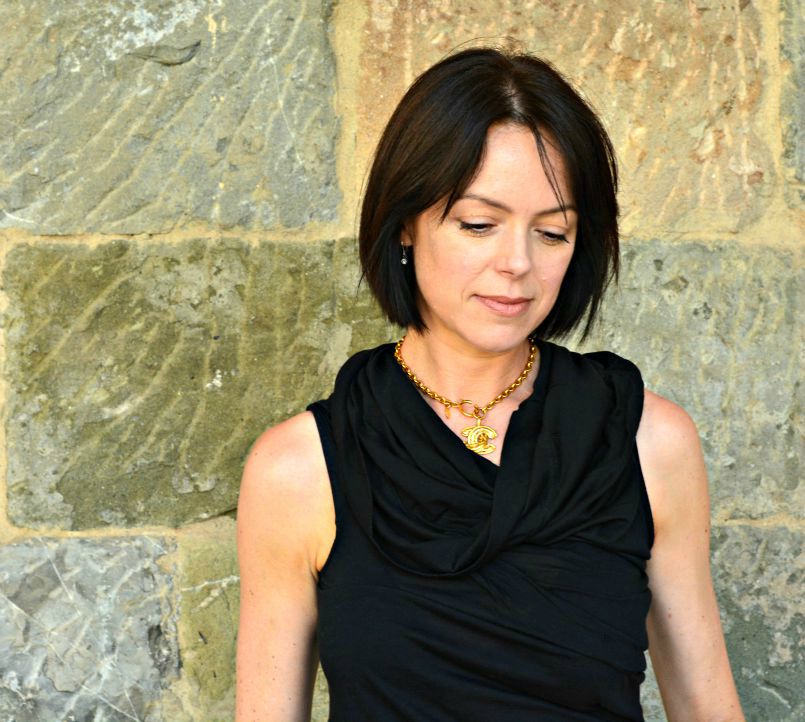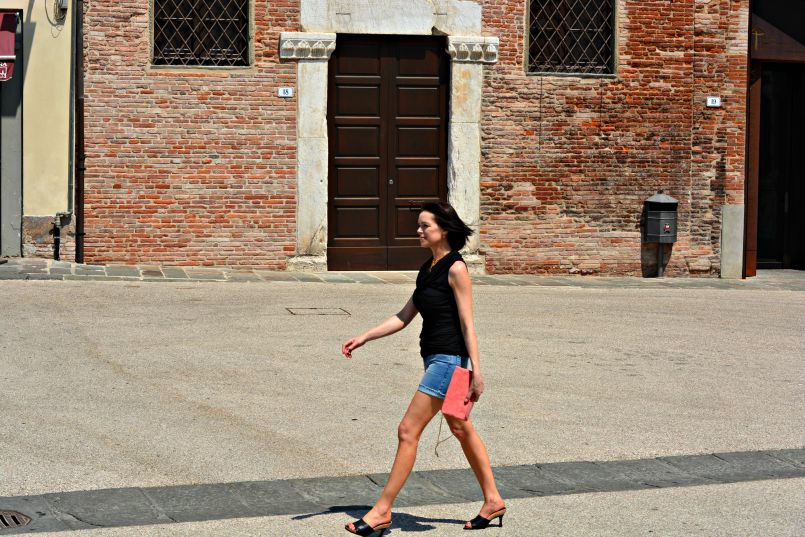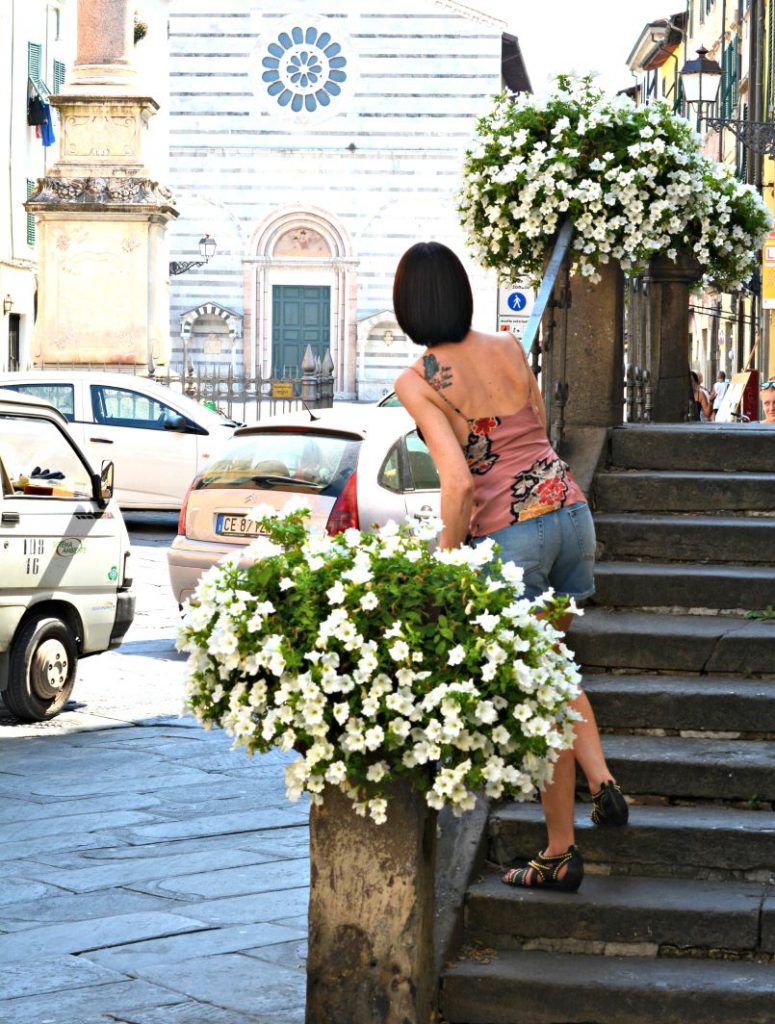 Now to what I wore the day I went to Lucca
My new Whistles denim shorts with a very old All Saints cowl neck tank top. Made long line from a beautifully soft jersey folded & tucked in that distinctly All Saints way this top has stood the test of time & served me well here on what was a scorching hot day. The black leather mules are from Diesel & have a cute mid heel separated from the footbed by moulded cork adding extra comfort as well as a unique style. The pink suede clutch is new from Karen Millen it's gold chain can be removed but I liked how it tied in with my vintage Chanel CC choker so I left it attached. Finishing off with my all time favourite Isabel Marant large statement cocktail ring.
For a quick change I wore the same shorts with my very old but classic Dries Van Noten silk top. A real showstopper with a stunning large print, wraps around my back & is held in place with a decorative belt. Because the self tie belt has so much gold stitching I felt no need for the gold necklace. Although I did change shoes to my Carvela sandals with gold studs for some more subtle gilding, which is everywhere here! I also swapped the Marant ring for a black cocktail ring from Marks & Spencer.
My girlfriend wore her new Acne Studios crisp white cotton shirt dress. Paired with white Birkenstocks, a Panama hat from TkMaxx & she carried her contrasting cognac coloured leather pouch across her body. She looked chic & stayed cool which was no mean feat walking around in 35 degree heat let me tell you! I must say I did consider "accidentally" slipping that shirtdress into my suitcase before we left the Villa Cavani it was sooo lovely. She's got good taste that girl!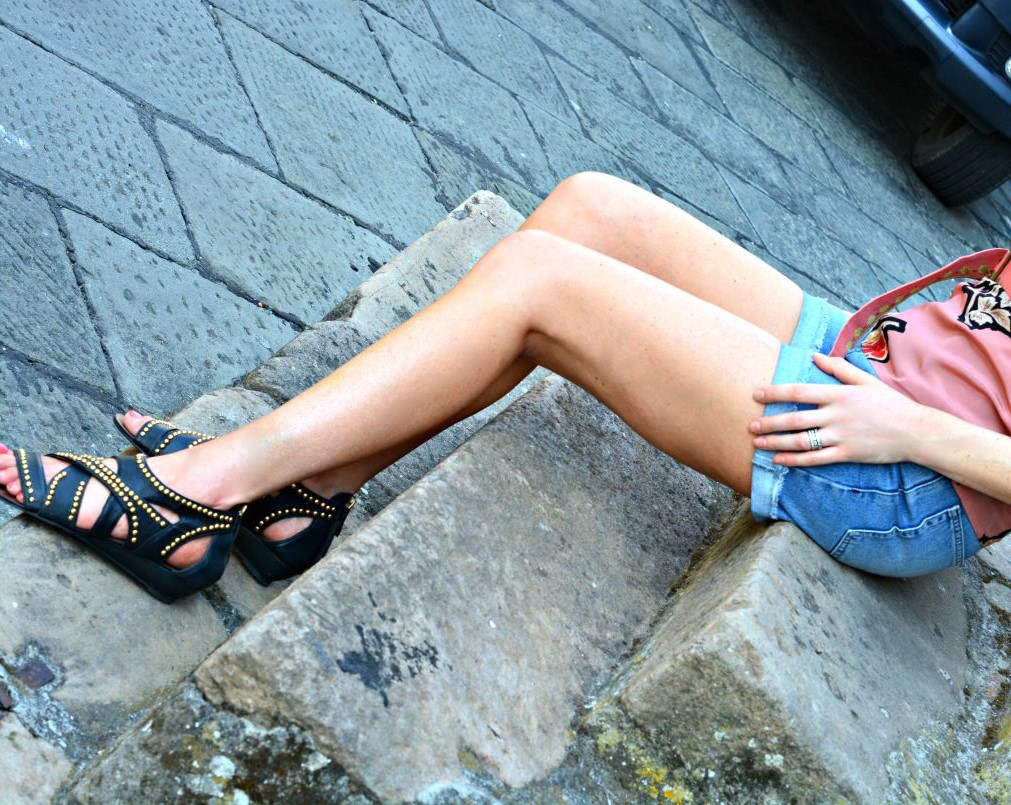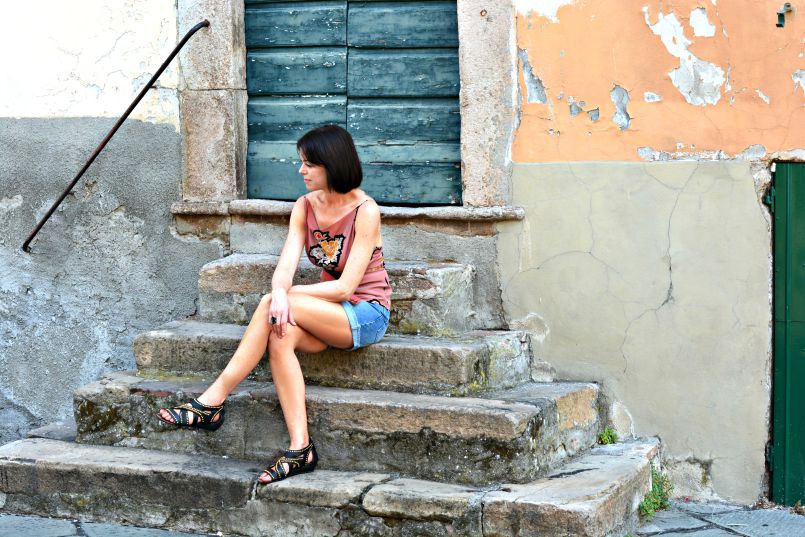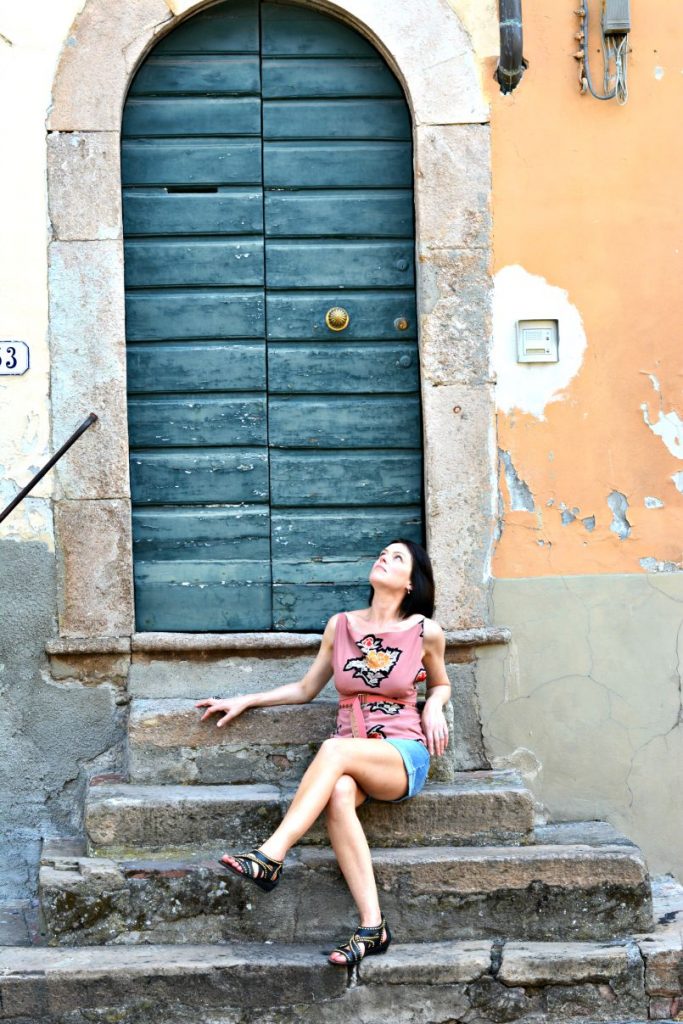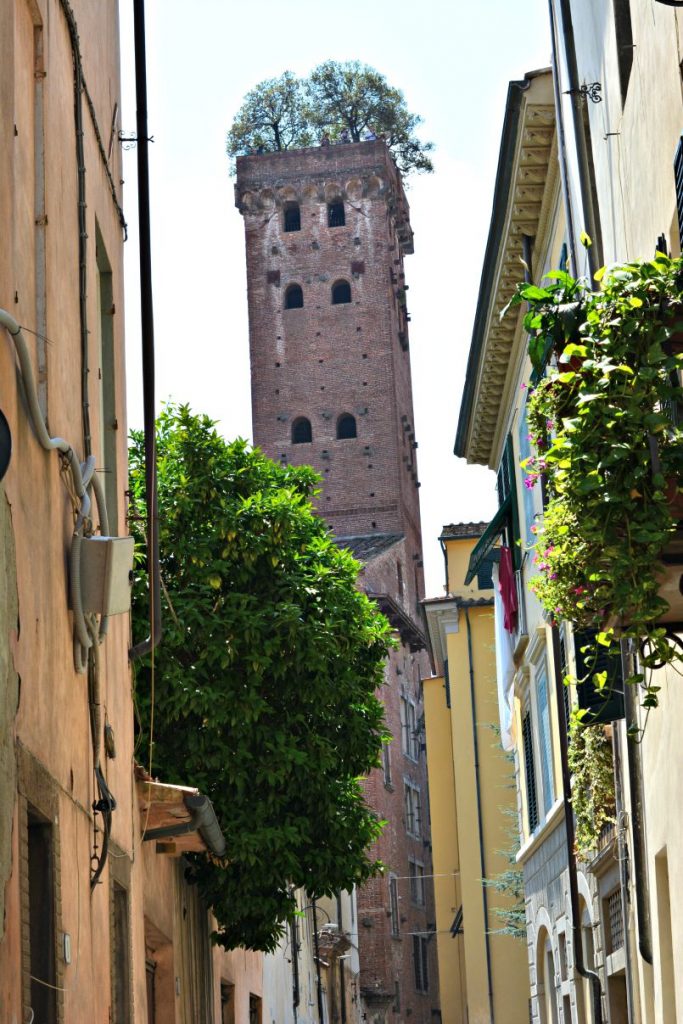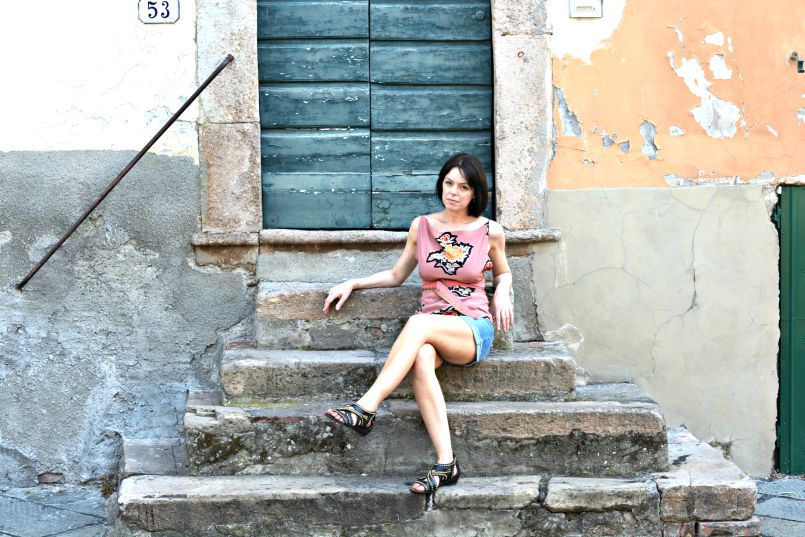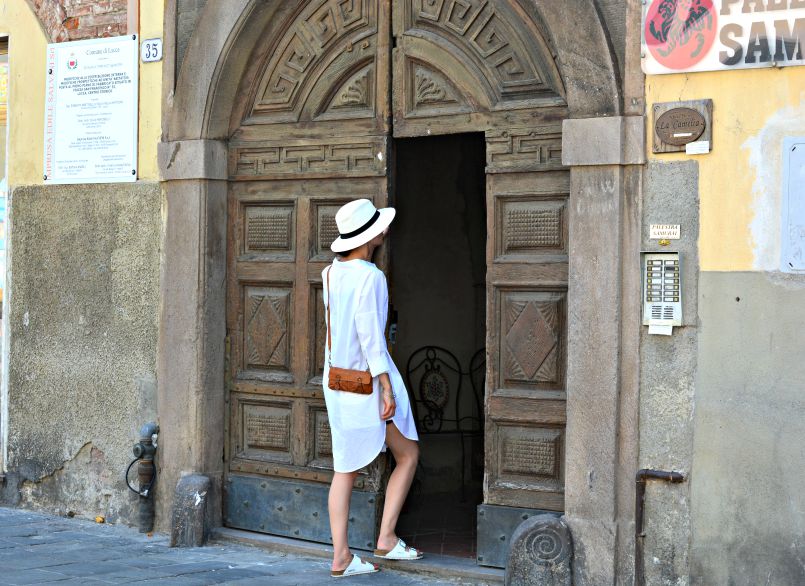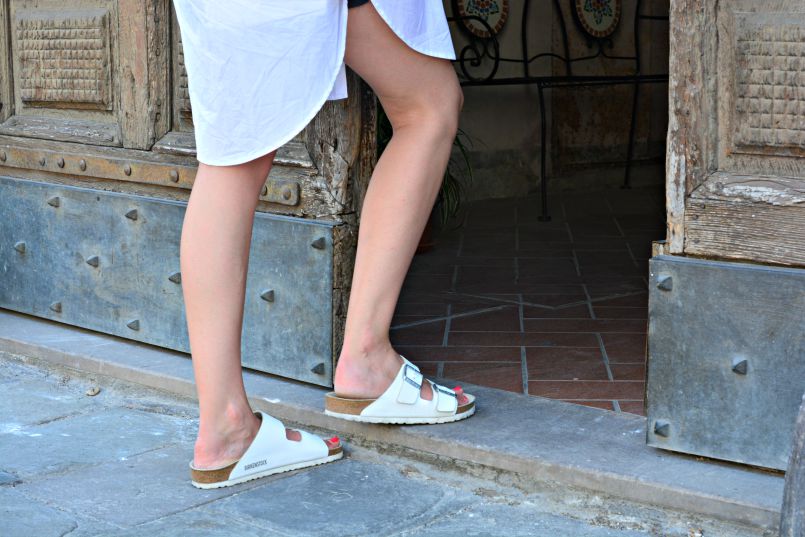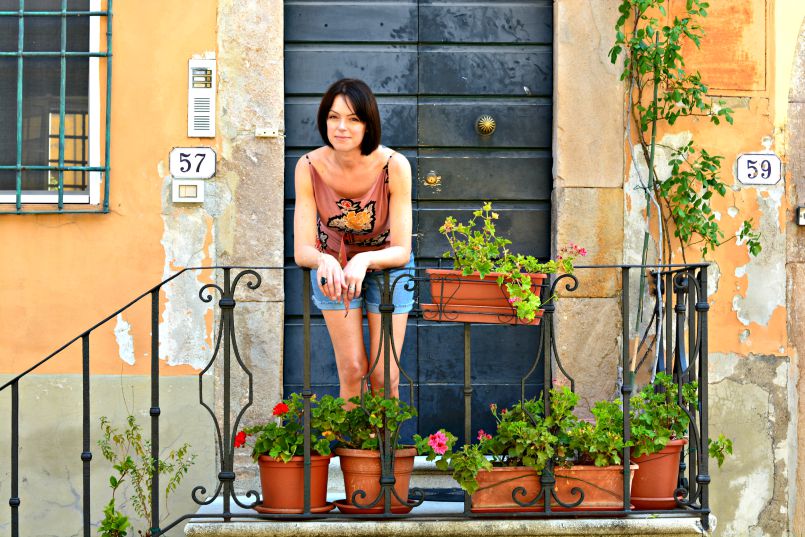 Do you take your old classics away with you or do you buy new pieces specifically tailored to your trip?
Next week my final in this holiday series- The stunning wardrobe of an Italian beauty over 40.
Time to catch up if you've missed any of the other 3!
Or pop your email into my subscriptions box in the sidebar & you'll never miss another post…
Mx