I learned the importance of packing lightly at a young age. Back then it was to keep the weight of my backpack down making it easier to haul across Europe. Now it's still about weight but to keep the cost of my luggage down because as you know, low cost airlines tend to charge per bag by weight. Another reason to pack lightly now is convenience, for many years we also had a buggy to cart around so the fewer bags the better. Aside from that I do believe it's not only possible to limit our luggage to 1 suitcase but also practical.
The children have 2 trunkies between the 3 of them as cabin luggage. One holds some of their clothes (excess & in case of emergencies) the other has their "bits n bobs" needed to keep them entertained. Mark carries a small backpack on board for the laptop which is padded out by yet more excess clothing that also serves to protect it. I take my large Herve Chapelier shopper containing all the other necessities including passports, paracetamol sachets, wipes, snacks a book & so on.
Rolling the clothes up saves space in the suitcase & of course you know that padding out your hats with clothes not only prevents them being damaged but makes use of a void? I only take mini toiletries & my straighteners, no hairdryer or full-sized shampoo or lotions etc. This is no magic trick really, summer clothes are light & if you alternate your evening outfits there's no need to over pack.
Part of the fun of going away is dressing up for dinner in the evening so to avoid over packing
I put a lot of thought into what my outfits for Italy will be.
I utilize my 2 small make up pouches as evening clutch bags as they're both very pretty & go with my clothes, besides I unpack all my toiletries when I arrive anyway so the pouches are superfluous.
The kids wear the 1 pair of sandals I take for them on the plane & I carry socks on board in case their feet get cold but they never do.
Full disclosure – I send out laundry while we're away, is that cheating? It makes a massive difference so if the hotel doesn't do it, ask them where the nearest laundromat is.
Now here are my outfits for Italy this summer apart from the 2 I'm wearing in this post & the 2 maxi dresses here in this post. I also took a pair of white denim shorts, 2 T-shirts & a loose-fitting cotton dress from Joules that I could throw on to go to breakfast or just generally lounge about in. For the flights in & out I wore the same outfit of Neuw jeans & this pale peach coloured Ba&Sh shirt with a light cotton cardigan in my handbag that I never actually needed.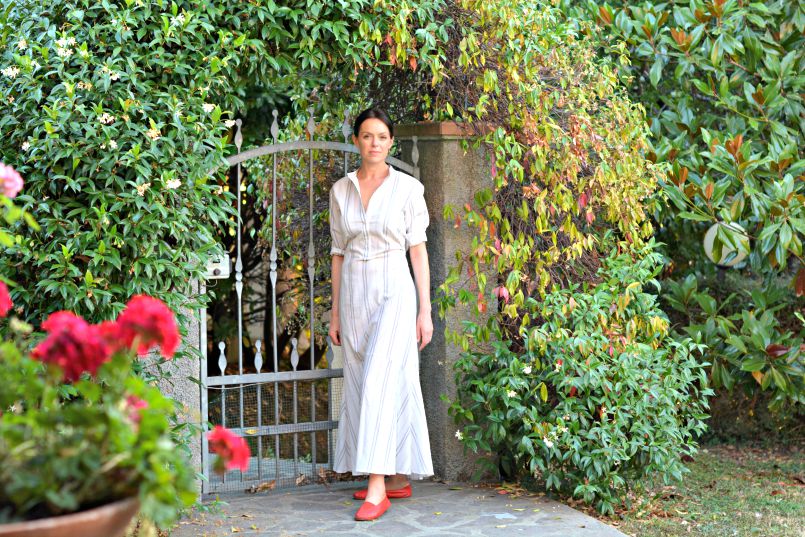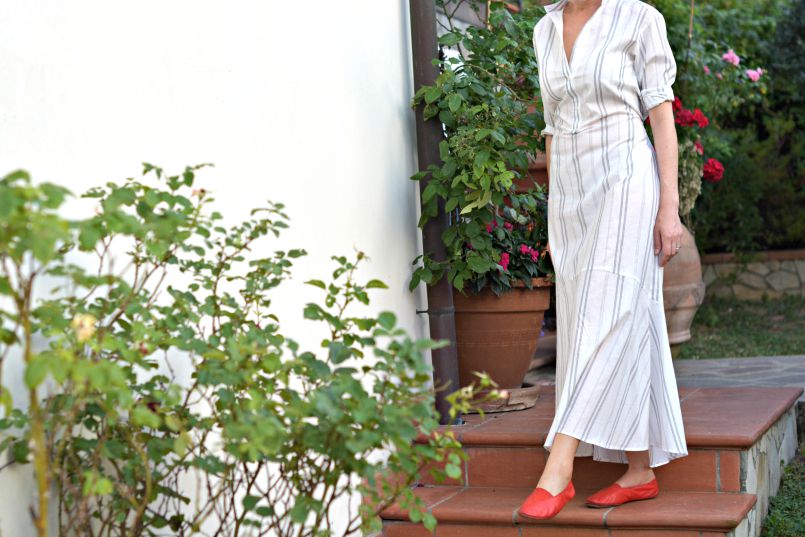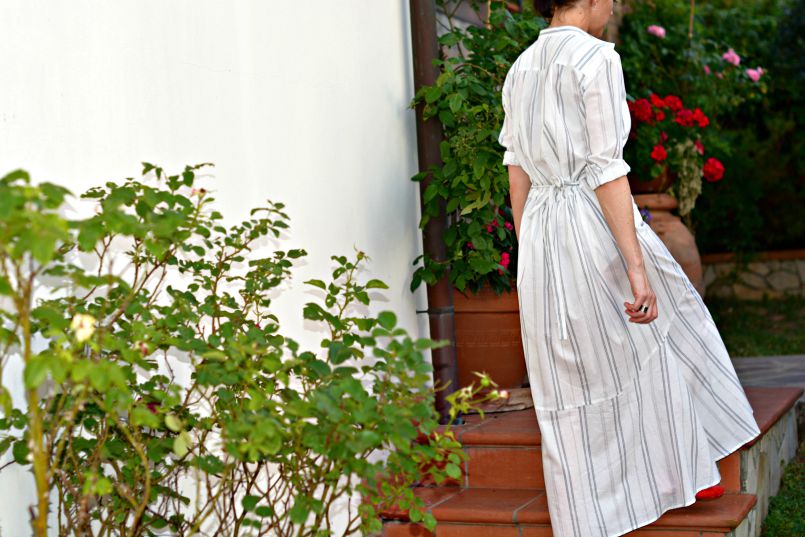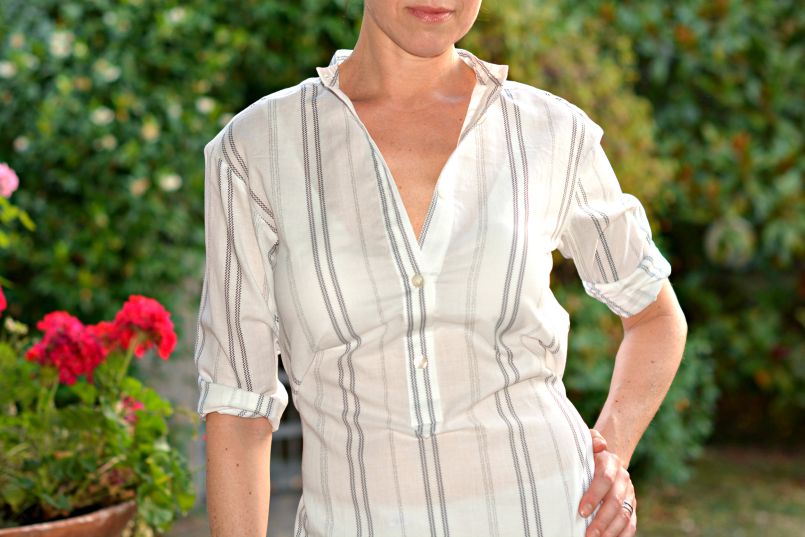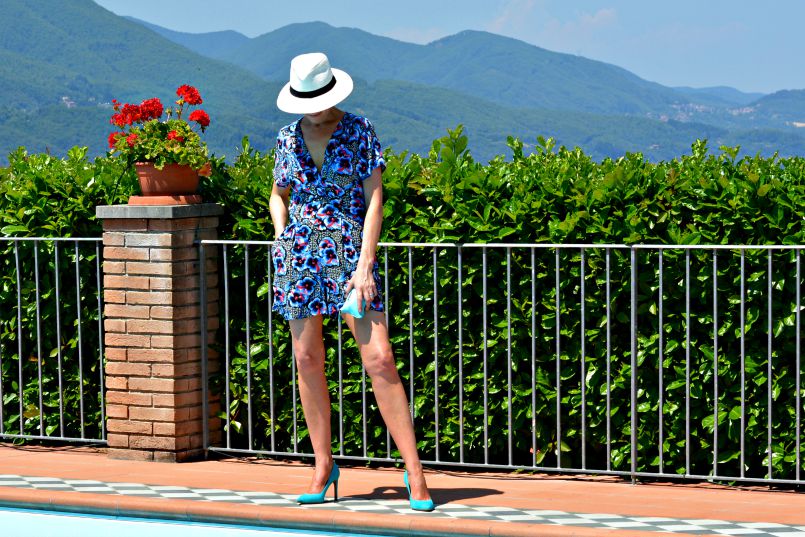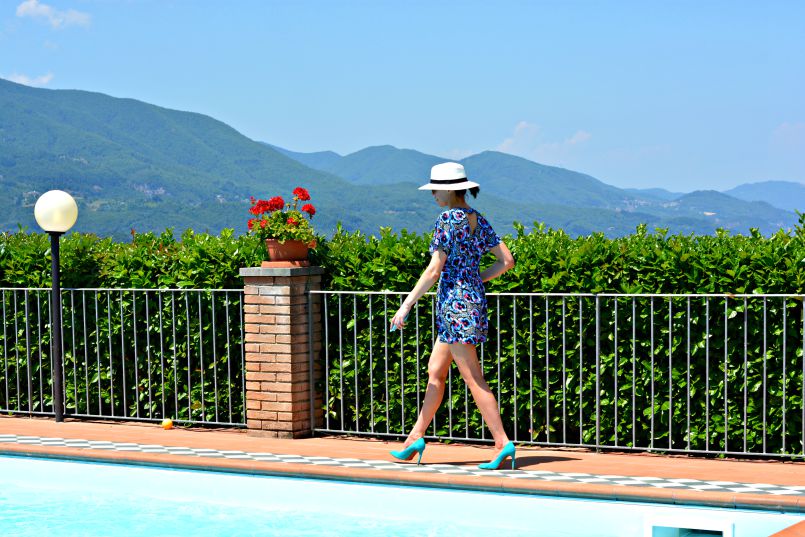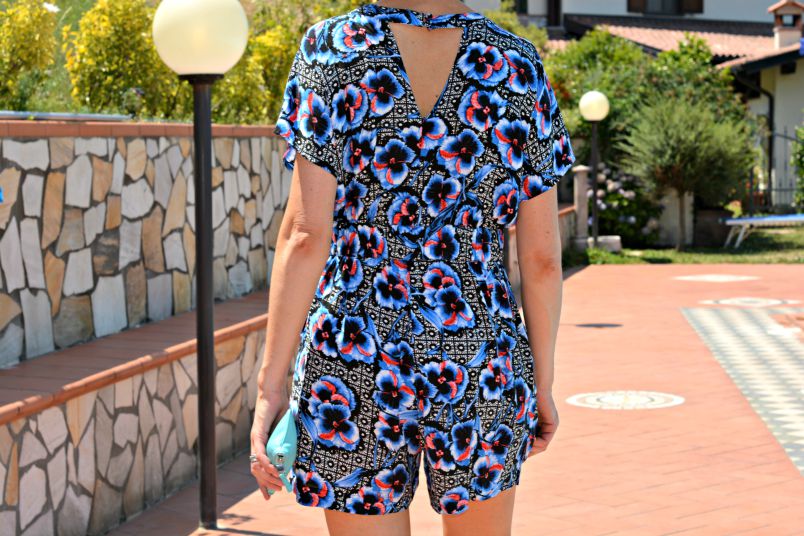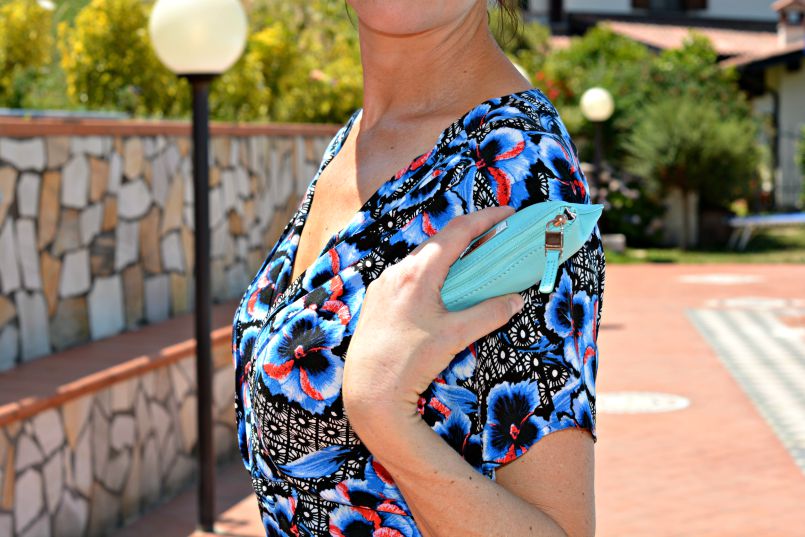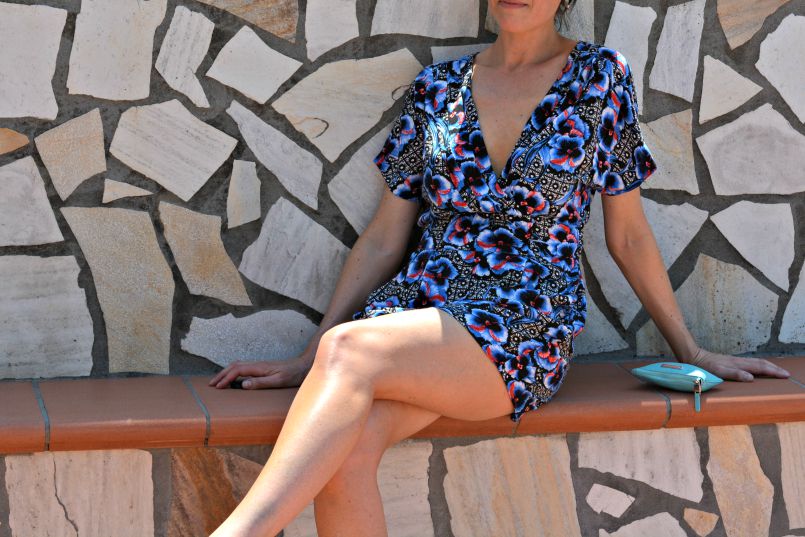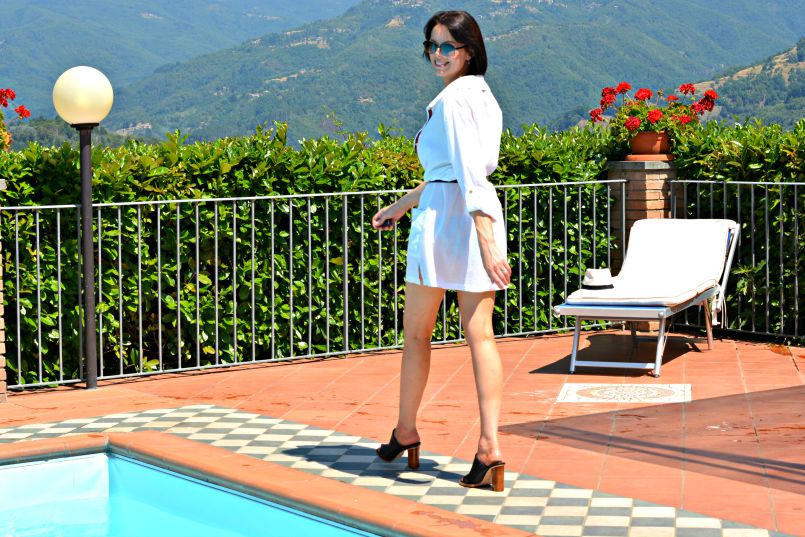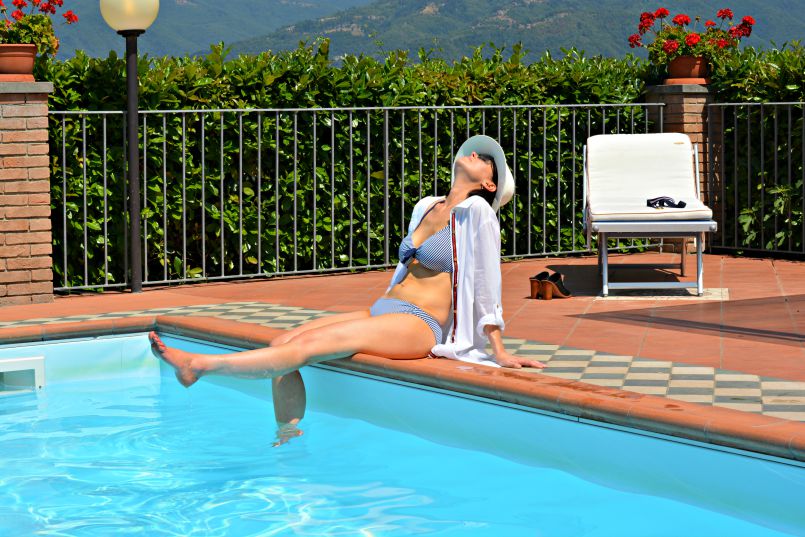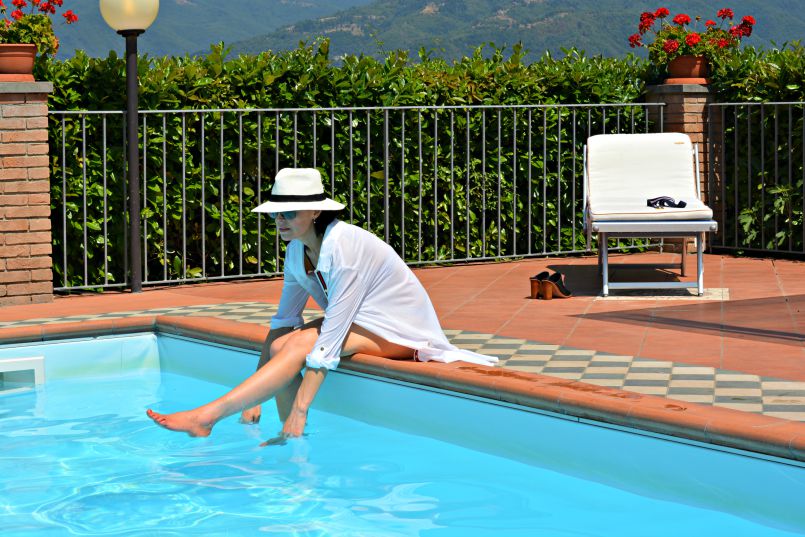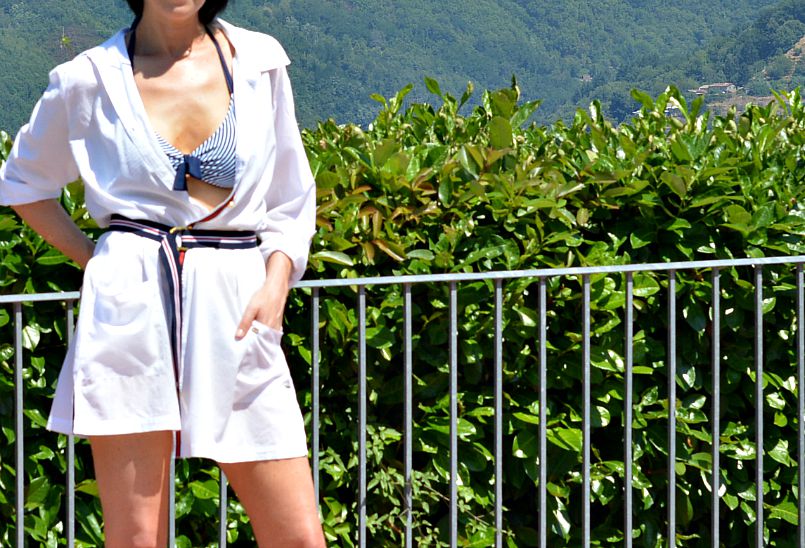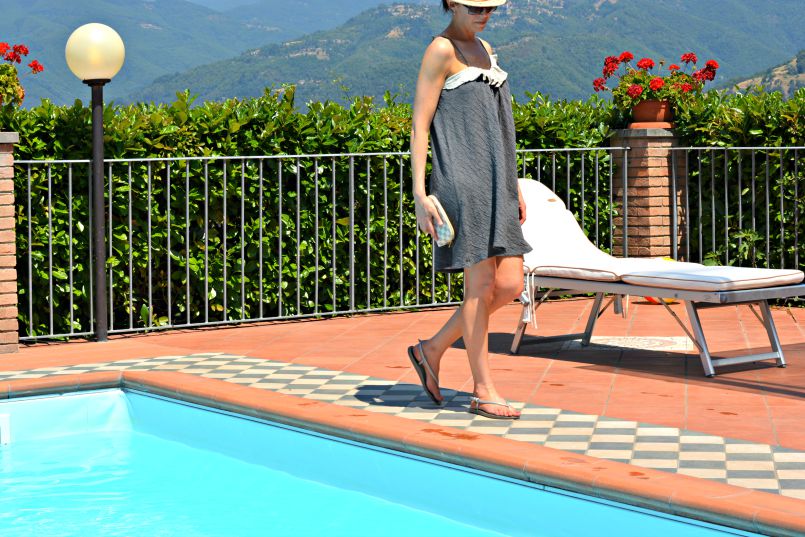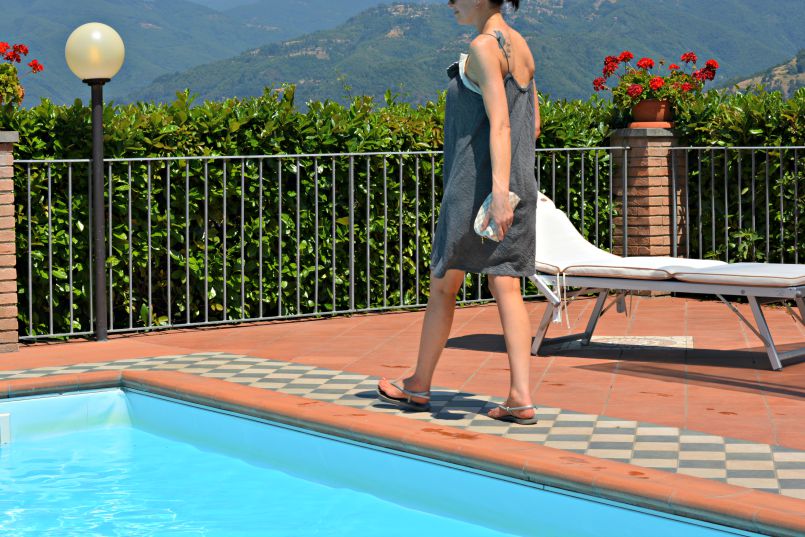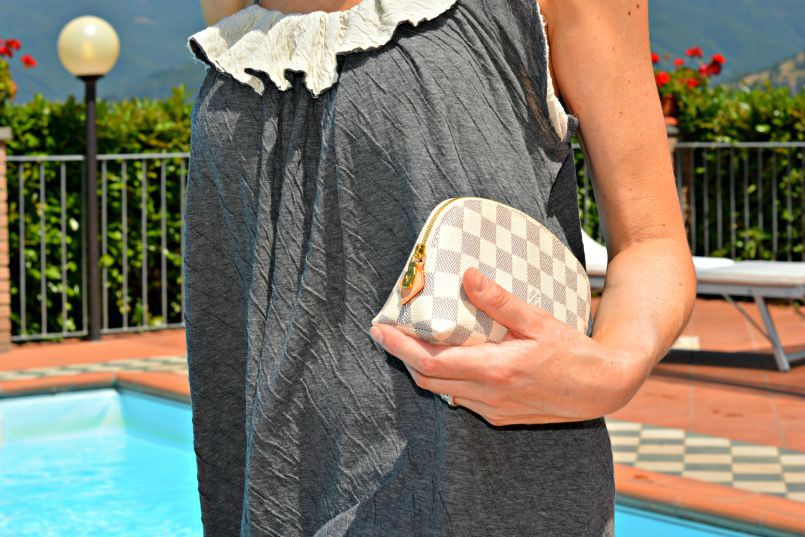 Now for the swimwear selection I usually buy just one piece per year to zsuzs up what I already have.
I literally mean a single piece as in a top or a bottom, mix & match is how I like it. Keeping to a navy theme I already had, this year I bought a pair of high waisted, low leg, bright red bikini bottoms from Toast. They're flattering & comfortable for those days when I feel bloated or generally more wobbly than usual. The navy blue Tankini top I bought from The White Company as my single piece last year contrasts perfectly for channeling the 1950's pin-up. The Toast bottoms also work with my old Boden striped bikini that has a red trim & my navy blue & white striped bikini also from The White Company. In fact my entire small collection is "pick & mix" to wear any which way I choose! I mean who has a perfectly matched size top & bottom anyway?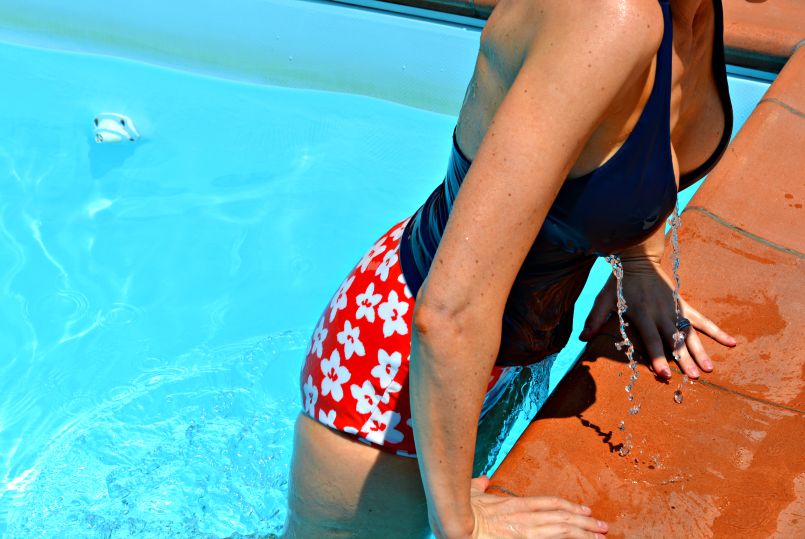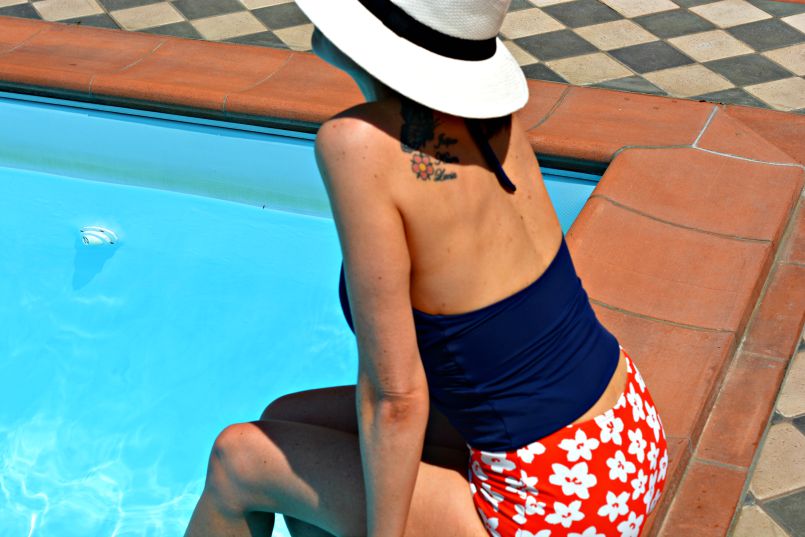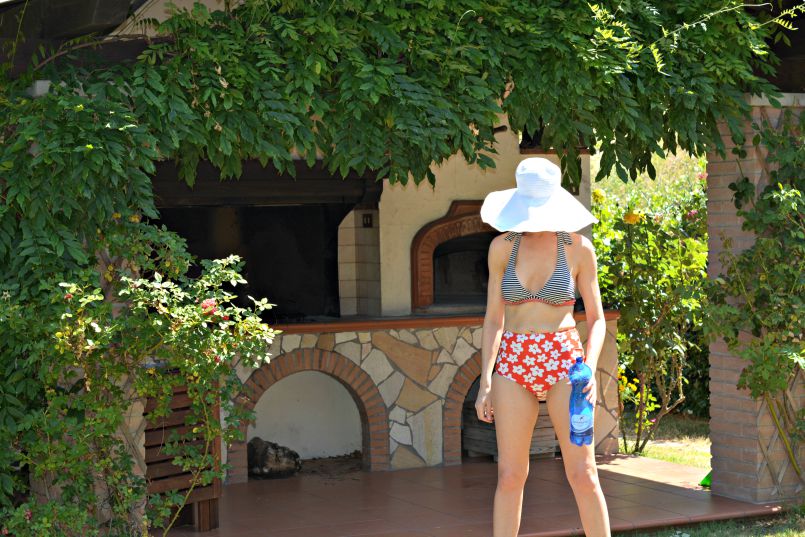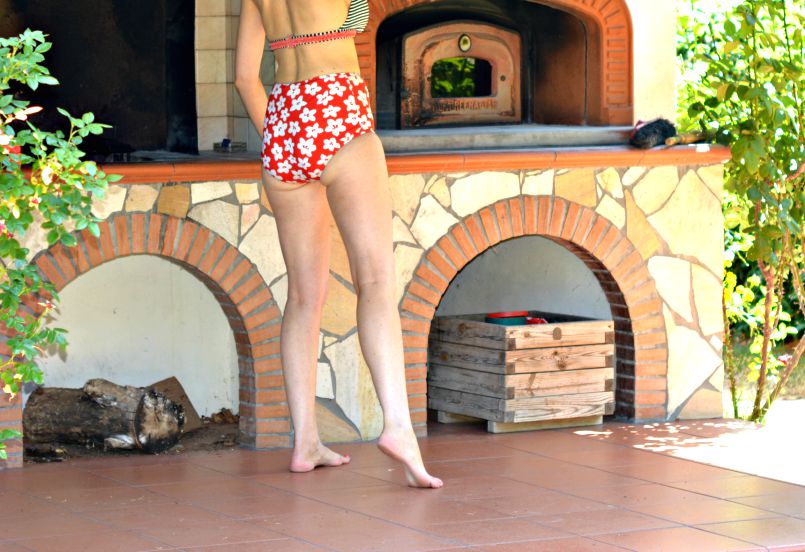 I have a beauty regime the week before I go on summer holiday.
The idea being to prepare my body for more public exposure than It's seen all year!
First I cut & colour my own hair, don't worry I'm not suggesting you do this yourself however you could be well-practiced in home colouring & if so there is something else you can do to make that colour last longer. If like me you have some greys too this is a terrific trick to do every time you colour your hair.
The product is called Tresemme Keratin Smooth It is a heat activated treatment designed to keep the frizzies at bay for a week but what it also does is create a barrier on the hair shaft effectively locking in your freshly applied colour. This isn't a sponsored post by the way, this is something I figured out myself & it really works. The first time I shampoo my hair after colouring it I apply the treatment as directed. You'll see a noticeable shine to my hair in the photos, I haven't photoshopped that it's due to this product & what's more it lasts much longer than 7 days!
Next I tint my eyelashes blue-black because quite frankly I don't feel like wearing mascara out to dinner every single night, this way a quick curl is all they need.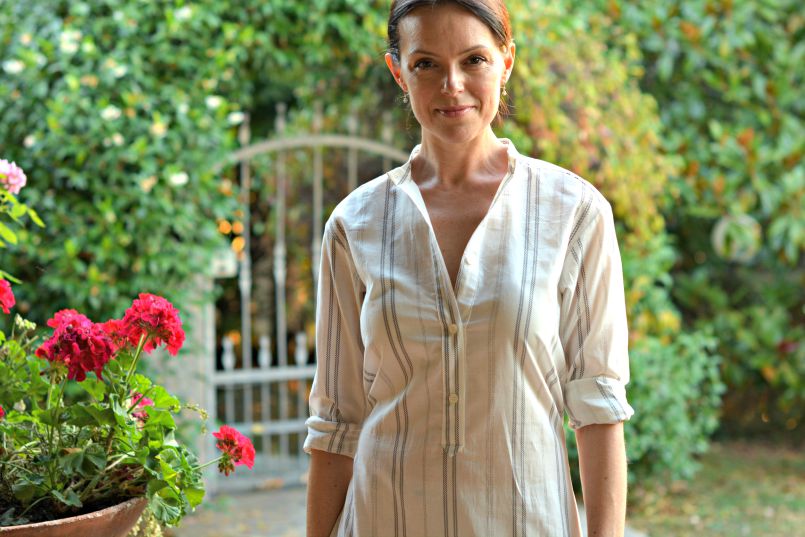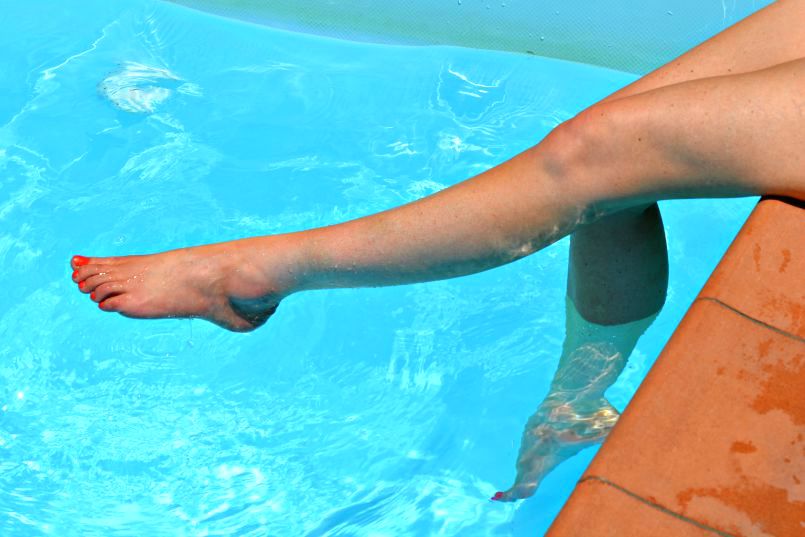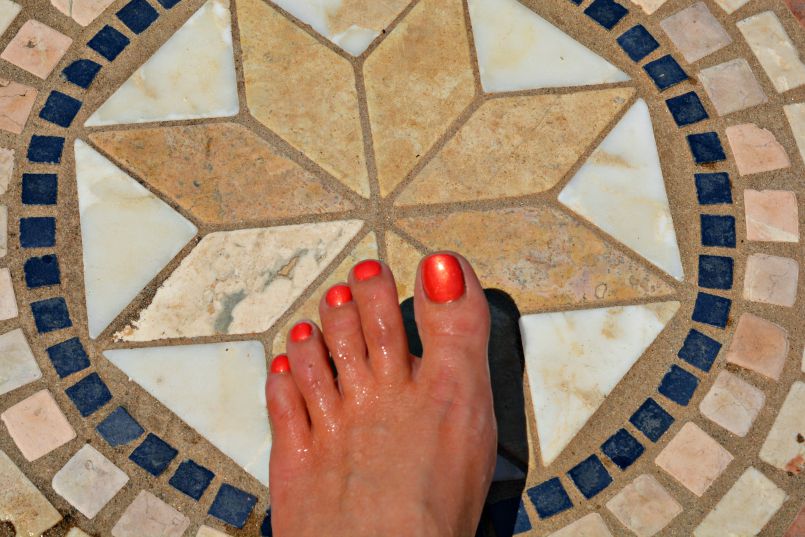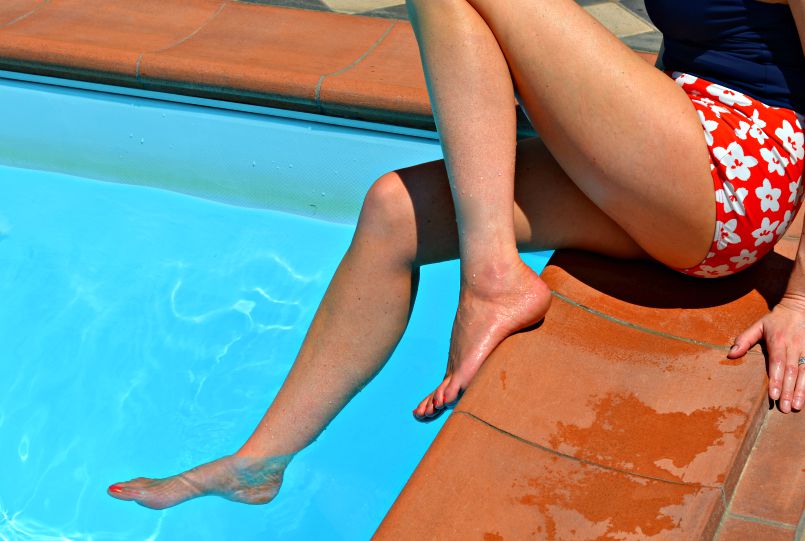 A pedicure to soften my cracked heels & prepare my neglected feet for a fortnight in sandals.
Using OPI nail varnish to ensure the colour withstands all that extra soaking & remains looking pretty for the whole holiday.
Finally, & this may freak you out, I scrub my entire body with simple soap & one of those cheap kitchen scourers. True story! I know it sounds awful but it works really well & I love that Turkish bath kinda clean I get with it, sloughing away winters layers of dead skin. Right after this I get a professional spray tan…obviously!!!
What is your holiday beauty prep?
Next week more fashion & travel with two mamas in Lucca senza bambini!
See ya then….