Not many of us crazy old bag ladies can afford to purchase a brand new designer handbag, even second-hand or Vintage is exorbitantly expensive! However its paramount to note an astute purchase will appreciate over time (she says to hubby) making it a justifiable investment.
With ever more legitimate Vintage retailers popping up online, you can now safely procure your pricey new best friend with guaranteed authenticity. Therefore going down this route makes it highly unlikely you'll be ripped off.
However we are talking well over £1,200 or 1.5k U.S for a Chanel Mini 2.55 which needless to say is a huge chunk of DeNiros & hard for me personally to justify, particularly now that I have children.
My only option was to find the best deal possible on Ebay
.  Quite nervous of inadvertently buying a fake, I meticulously researched every intricate detail of this specific bag for a very long time before beginning my search.
Finally after many weeks I discovered one I liked listed by Yuko
a PRO SELLER with a perfect feedback score. Although the bag was on auction I decided to go for it by directly emailing the shop suggesting £800 buy it now price. The following day I received the reply, which to my complete & utter amazement was accepted!
A week later my new (2nd hand) bag arrived from Japan. After many years of yearning I finally had a Vintage Chanel 2.55 Mini & she was perfect.
There are several important features unique to a Chanel bag
Knowing these will enable you to confidently authenticate a second-hand purchase. As always it is of the utmost importance to ask a million questions if the seller hasn't covered absolutely every detail so that you have it on record in case of a misfire. Also having a receipt & an authentication card is great but everything can be faked these days so don't rely on just that.
There are quite a lot of Japanese pro sellers on Ebay now who have covered everything I list here & offer a no quibble money back guarantee never the less you should always keep your wits about you.
That said, here is what I know….
Beginning with the butter soft lamb leather these bags are made from. Incredibly delicate to the touch it is tricky to determine the quality in pictures if you're buying online although if you are buying in a vintage shop or from someone in person you'll know by the unmistakable velvety feel.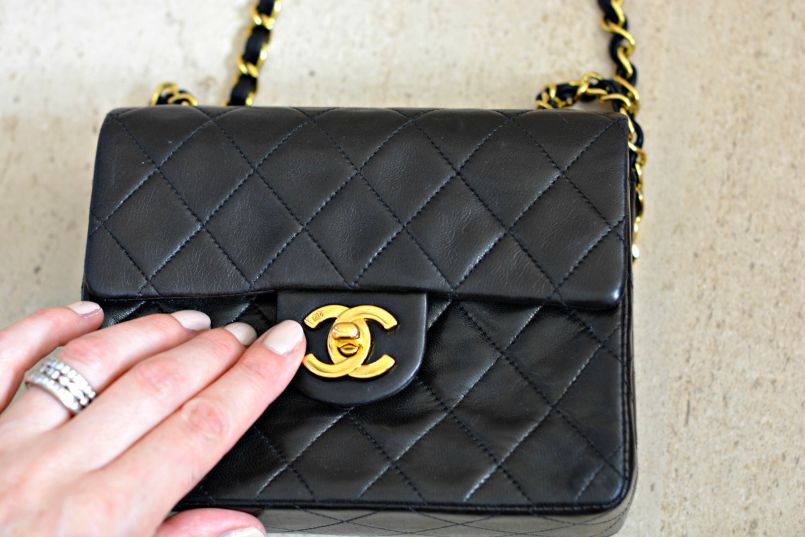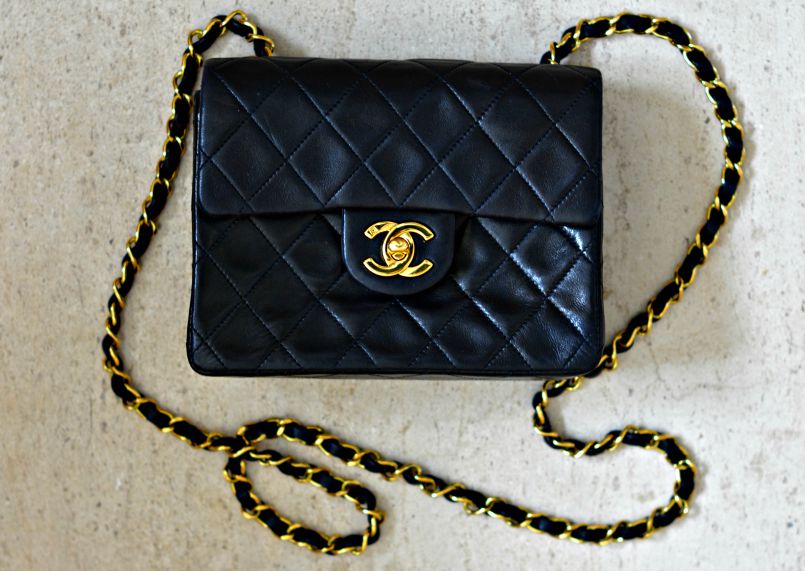 The instantly recognisable turnlock
Recreated by Karl Lagerfeld using the double C's also known as the Mademoiselle lock. It has a stamp indicating the culture of origin of the bag is France, the double C's are square & flat edged in shape & the right C should always be over the left. When you open the bag to see the back side of the lock the screws are flat head & Chanel is engraved on the left with Paris engraved on the right.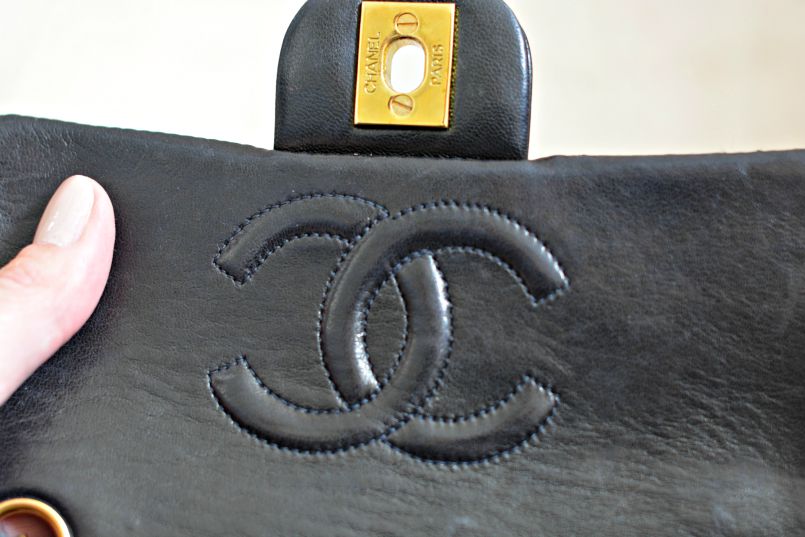 Take a close look at the stitching
All top end designer bags will have a high stitch count. A Chanel bag should have 10 or more stitches per square inch & the diamond quilting will remain consistent & in-line particularly at the back across the pocket. You should see the quilting remain in-line even when the bag is closed.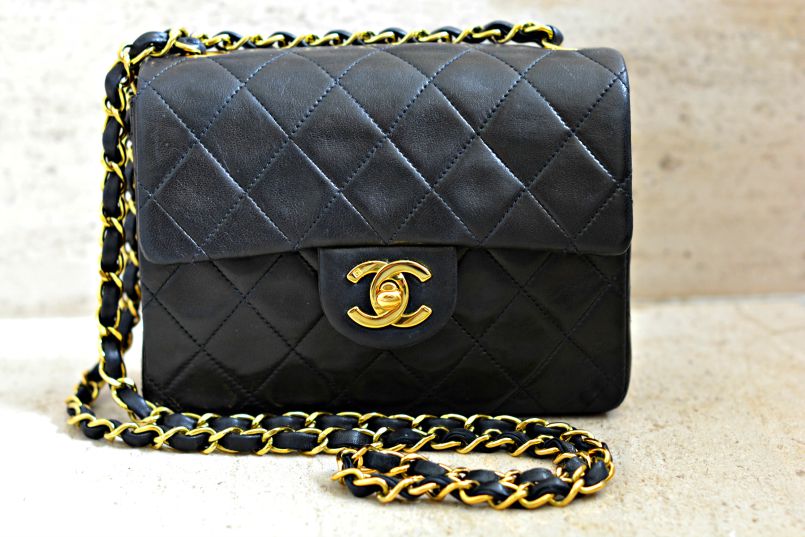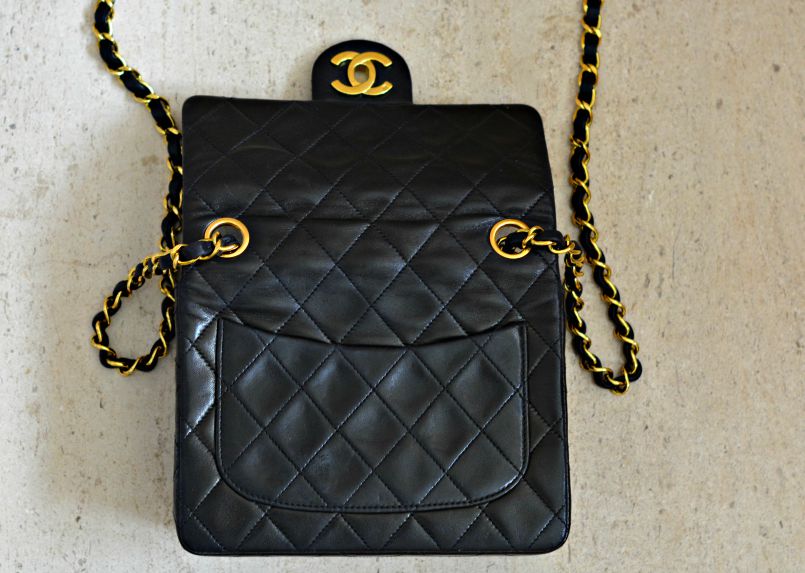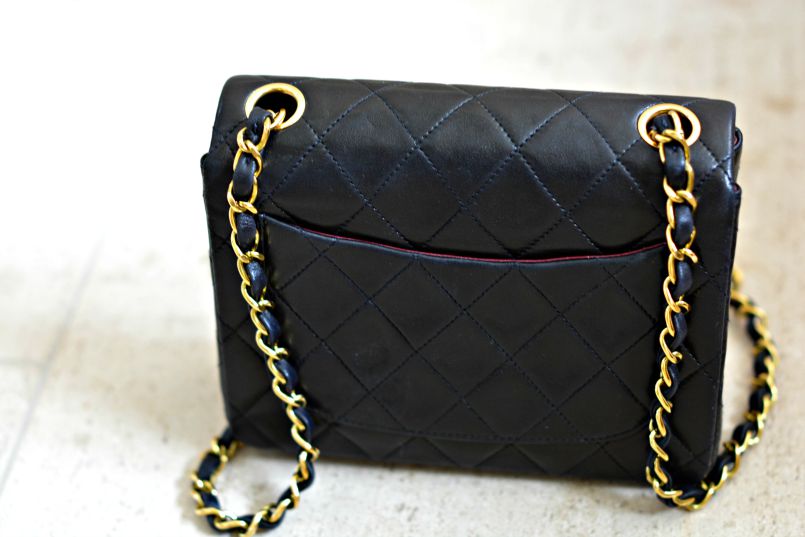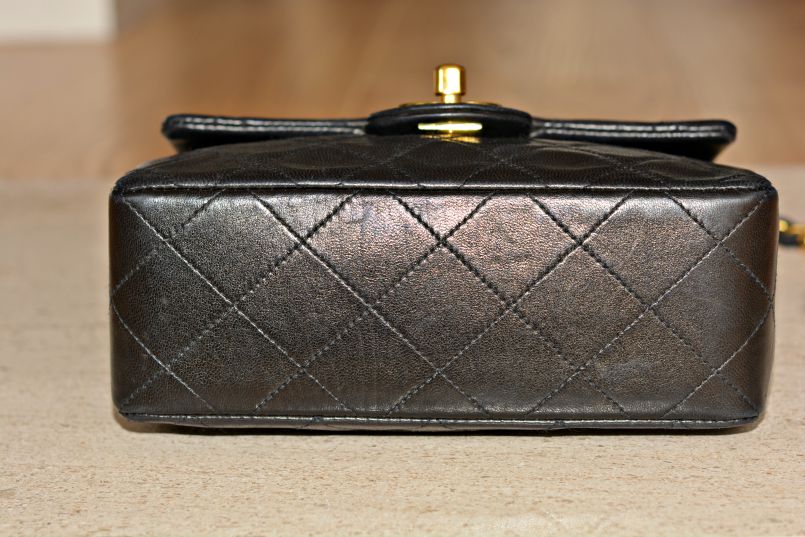 The gold printed CHANEL
Inside the bag will have a circled capital R on the right of it & directly opposite (on the front inside) will say made in France. Unfortunately I wasn't able to get a photo of this due to the awkwardness of its location but it is there mirroring the Chanel on the other side.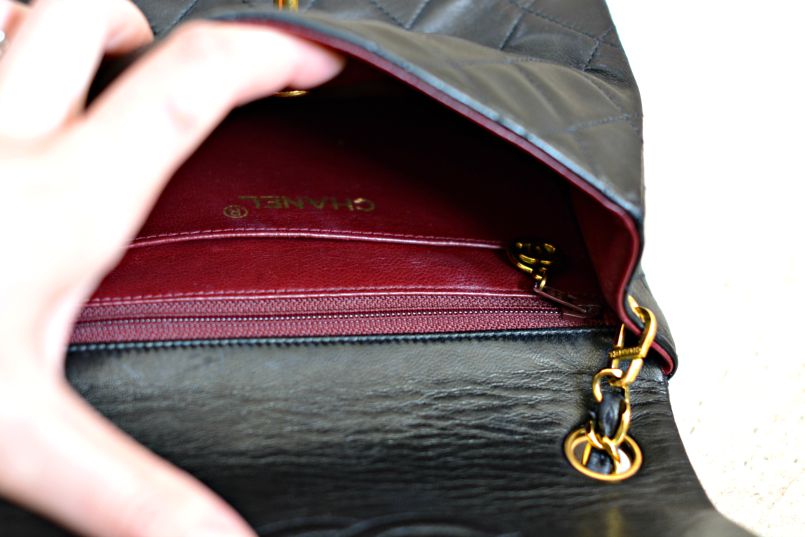 By measuring the stitched double C's inside the flap you'll find the width of the centre of each C is identical to the width of the space between them.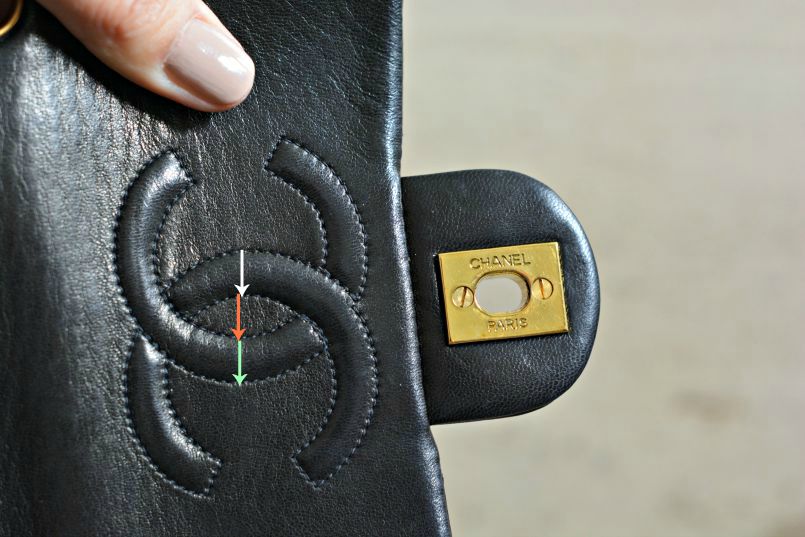 The chain strap is incredibly weighty in the palm of your hand but if you're looking at photos on Ebay there's no way of knowing this. Don't worry you can usually tell from pictures if it's the very yellow gold it should be. This is because it is 24 carat gilding so it shouldn't be a pale gold colour. The links are not big & have a flat edge & of course it's the same lamb leather as the bag threaded through them.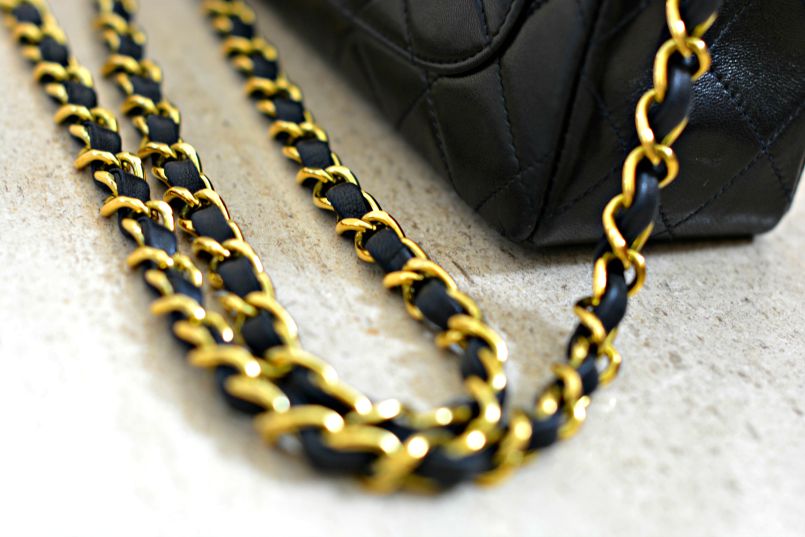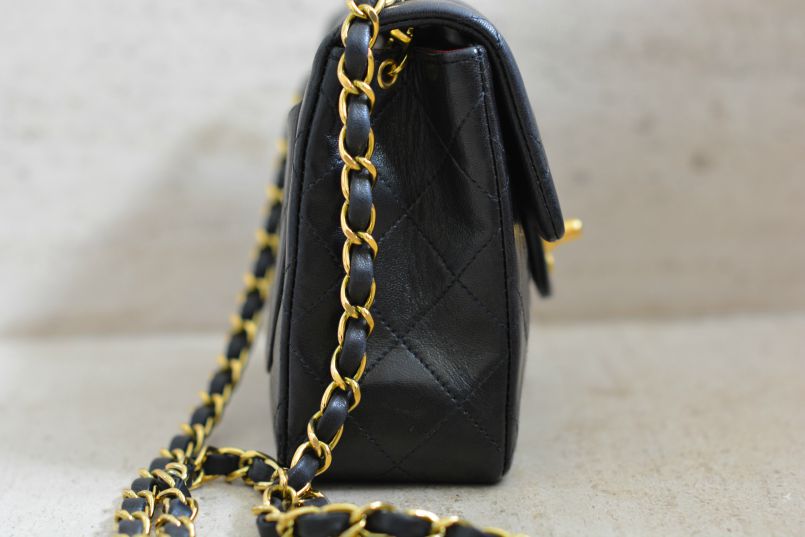 Serial stickers were introduced in 1984 so I personally won't even consider buying a bag pre-dating that. They signify when the bag was made, in my case it's a 7 digit code indicating it was made sometime between 1986 & 2004. It is an obvious fake if the sticker has more than 8 digits because Chanel does not have serial numbers above this. The sticker is located in the bottom left corner.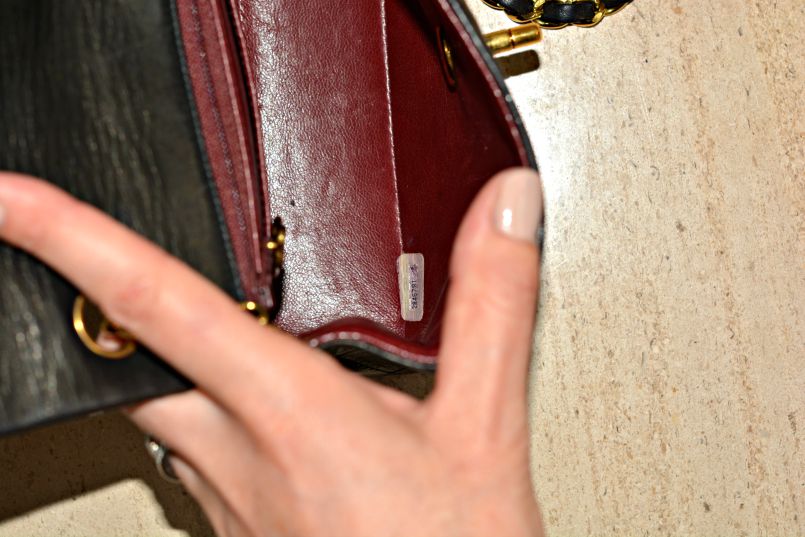 There is a CC charm attached to the zip of the inside pocket & the links connecting the chain strap to the bag are engraved with CHANEL.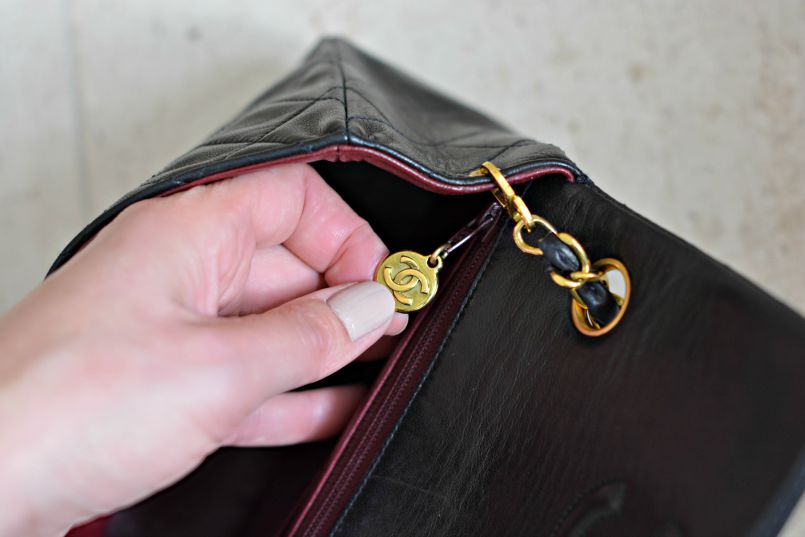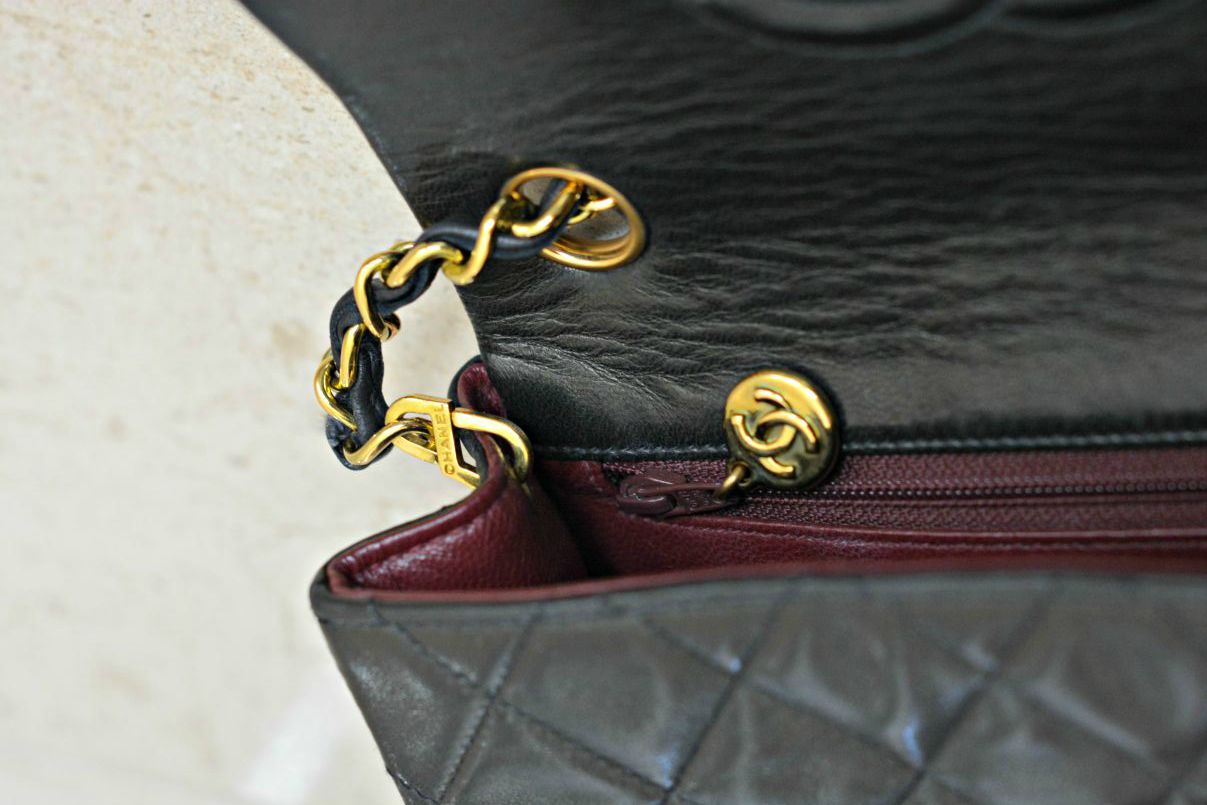 Finally make sure you've seen photos of every angle of this little beauty because it is very square in structure, take particular notice of the edges they should not be rounded or soft.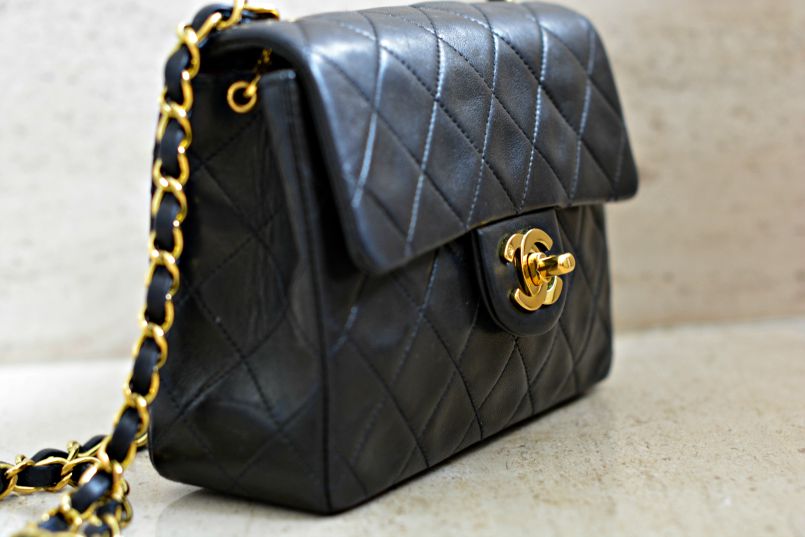 I've been the proud owner of this petite beauty for 4 years. I'm still madly in love with this most versatile of bags & will pair her with everything from a simple jeans & T-shirt outfit to glam evening dress. Absolutely anything works – From chic casual all the way through to formal attire it is an unadulterated thrill to carry her as often as possible!
I guess you can say that I'm well ahead of the "cost per wear" ratio by now. Does that mean buying a Vintage Chanel bag is good value for your money? I'd say without a doubt
YES IT DOES INDEED!
Check out the many ways I style her in some of my other posts
here
,
here
,
here
&
here
.
As for today's post, I'm wearing a pretty broderie anglaise midi dress from Zara that was a sensation over Summer for its nod to Isabel Marant. No doubt I'll get a lot more wear out of it this Autumn/Winter paired with chunky knits & boots of every style. Here I've teamed the dress with cute
Office
leopard ballet flats & orange lipstick.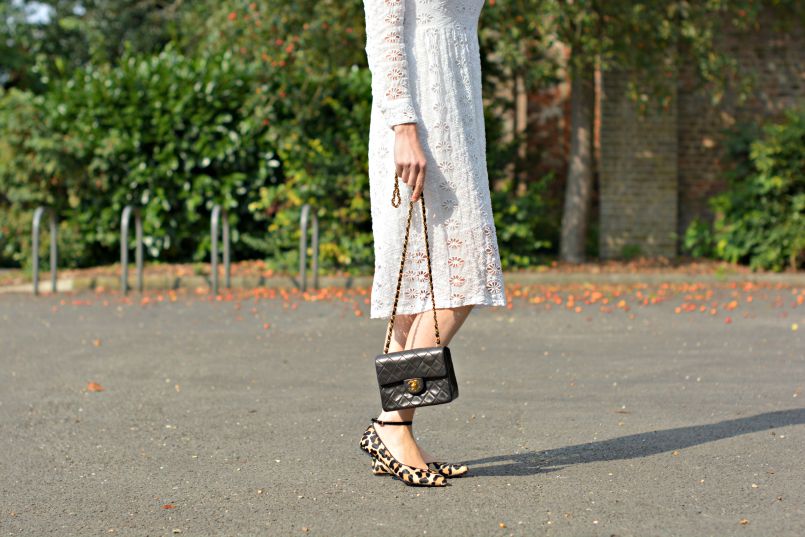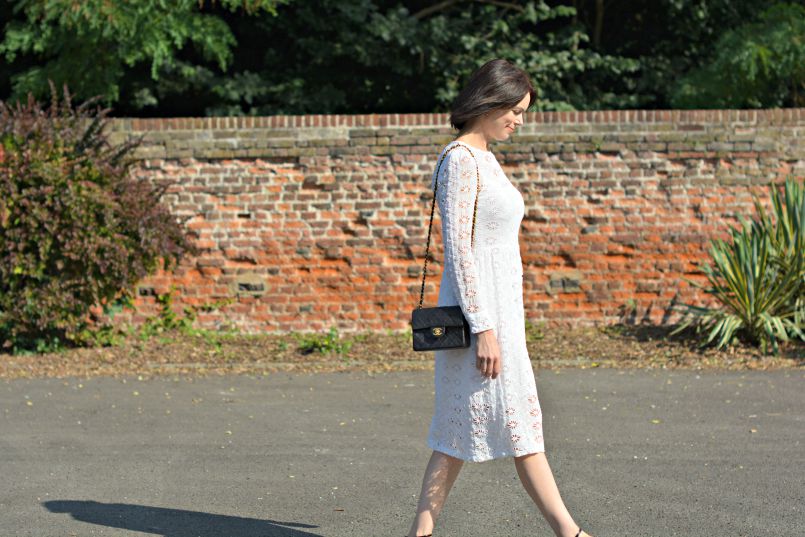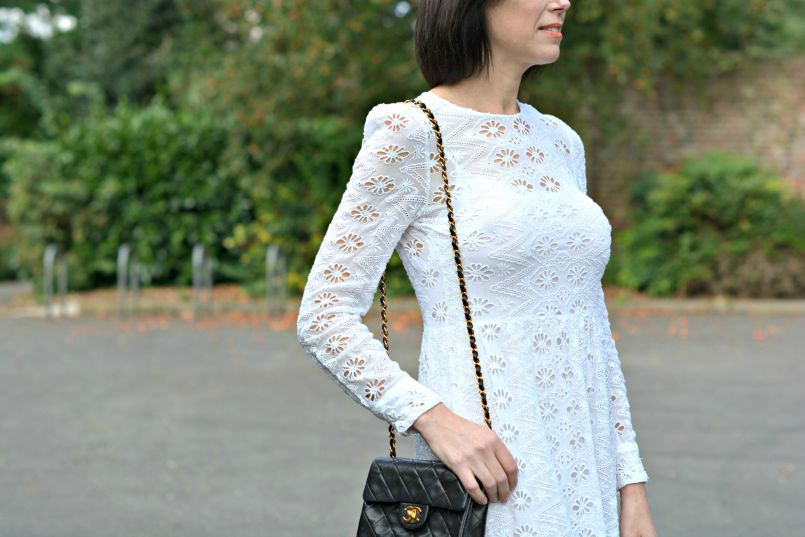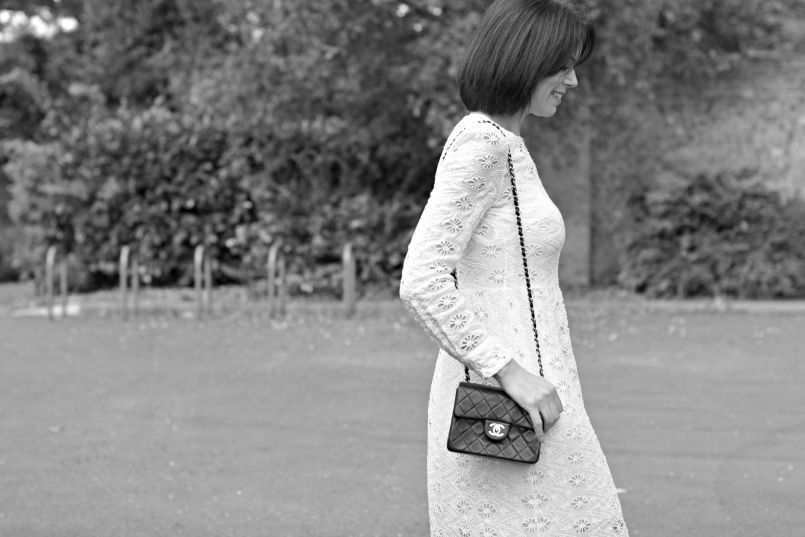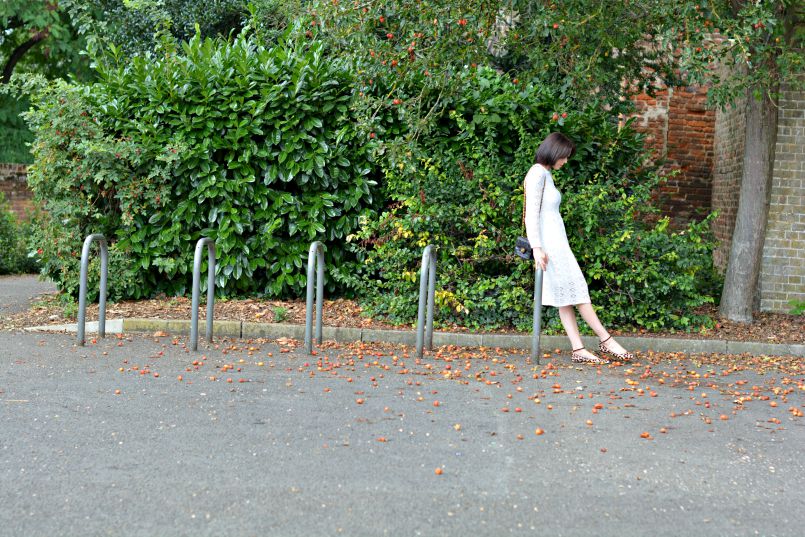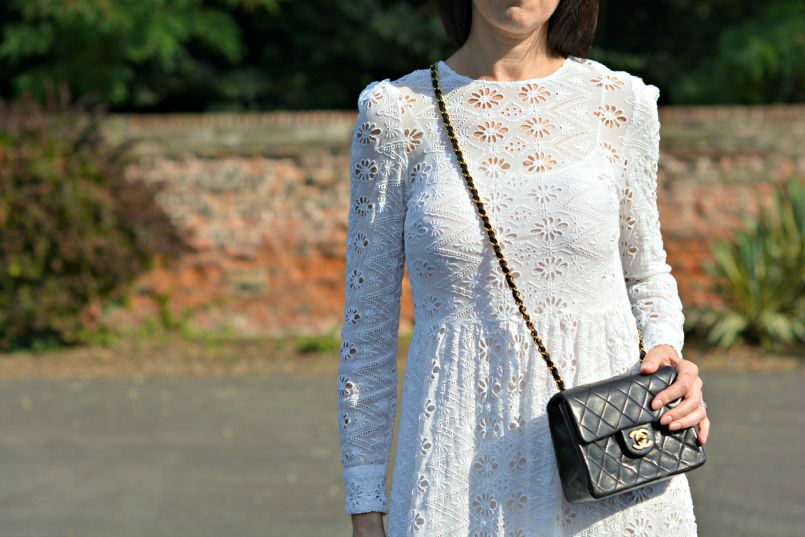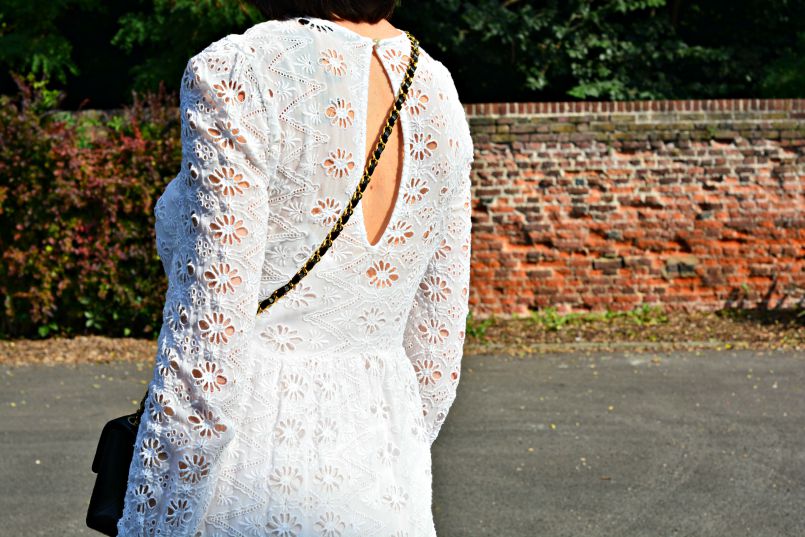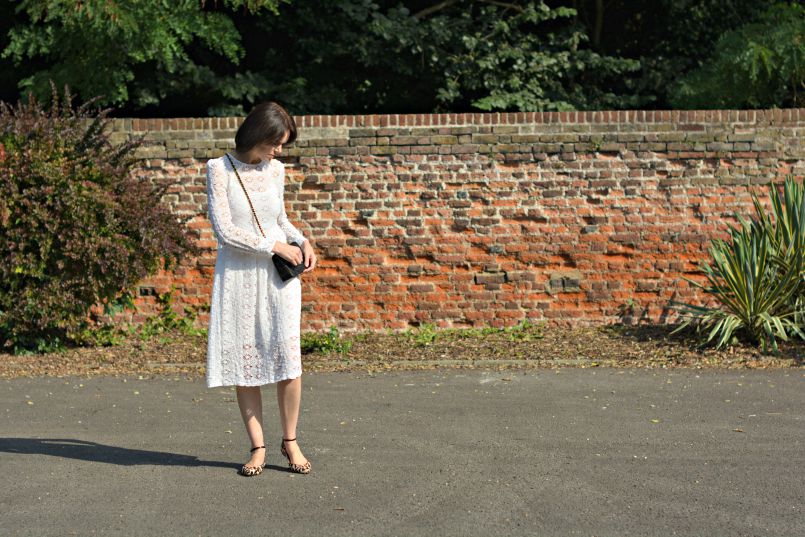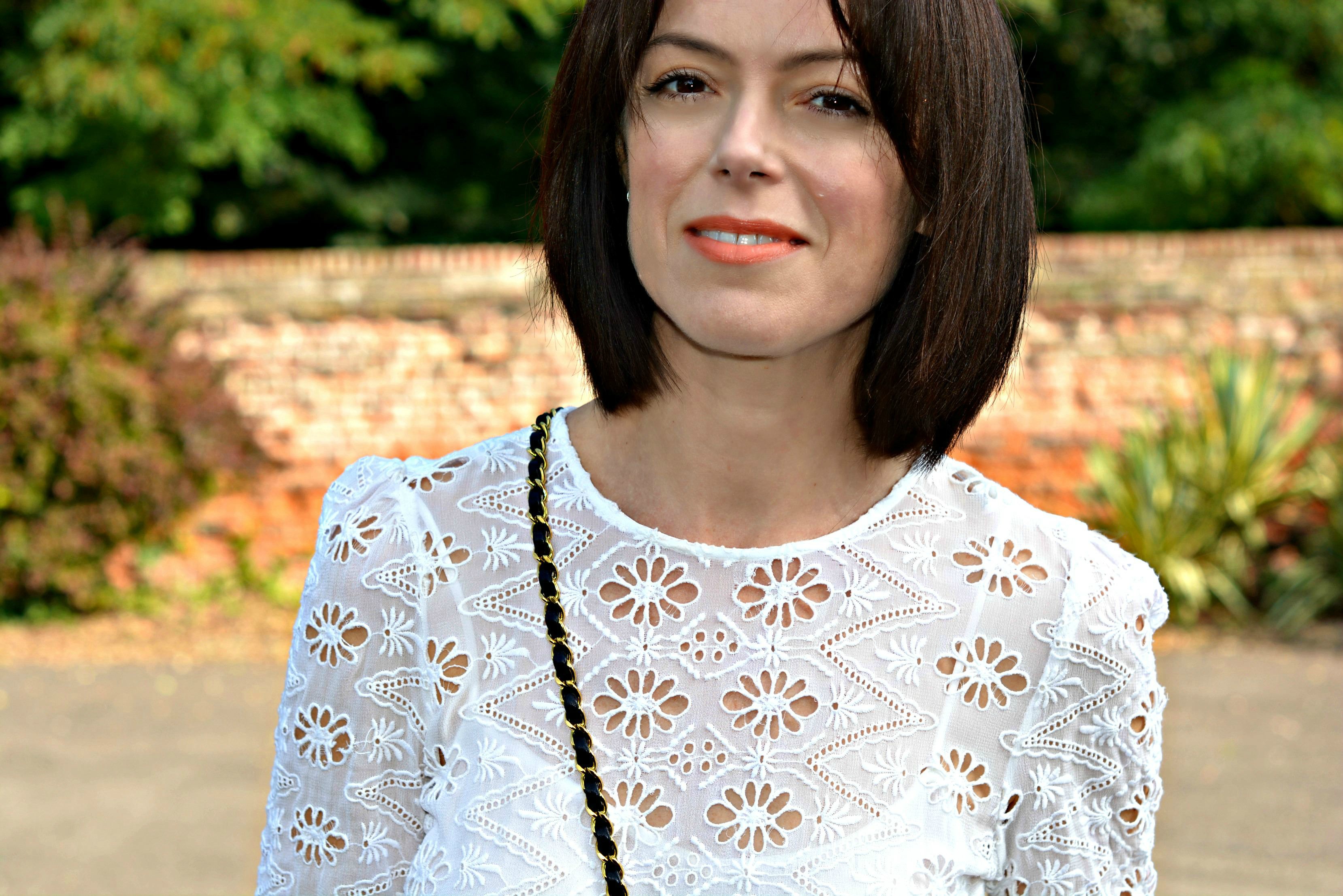 Make-Up tip today – When applying a brightly coloured lipstick it helps to fill in your lips with the matching pencil or a nude if you don't have that. This gives the lipstick a waxy texture to adhere to ensuring longevity, richer colour & a full pout.
Have you or would you buy a second-hand designer handbag? Do you have any tips to share?
Bye for no, Mx