On Monday I attended a fabulous Blogger Meet hosted by one of the UK's biggest bloggers Catherine of Not Dressed As Lamb who also happens to be a really good friend of mine & one of The Over40Collective.
More about The Over40Collective soon – We have a few very exciting collaborations coming up that I can't wait to tell you all about.
Back to todays outfit, which is actually a skirt & shirt in case you thought it was a dress. I'm a sucker for every variation of denim on denim especially when the colour of the denim matches as it does here.
I posted another outfit in this See by Chloe skirt here, although the length was originally below the knee when I bought it more than 8 years ago.
Having worn it at midi length to death I needed a change so had it hemmed to above the knee a couple of years ago. I often alter or customise my clothes to re-new my interest in something I'm growing bored with. Also because I regularly purchase on Ebay sometimes the fit isn't quite right so I'll have my fabulous seamstress give me a nip & tuck where needed.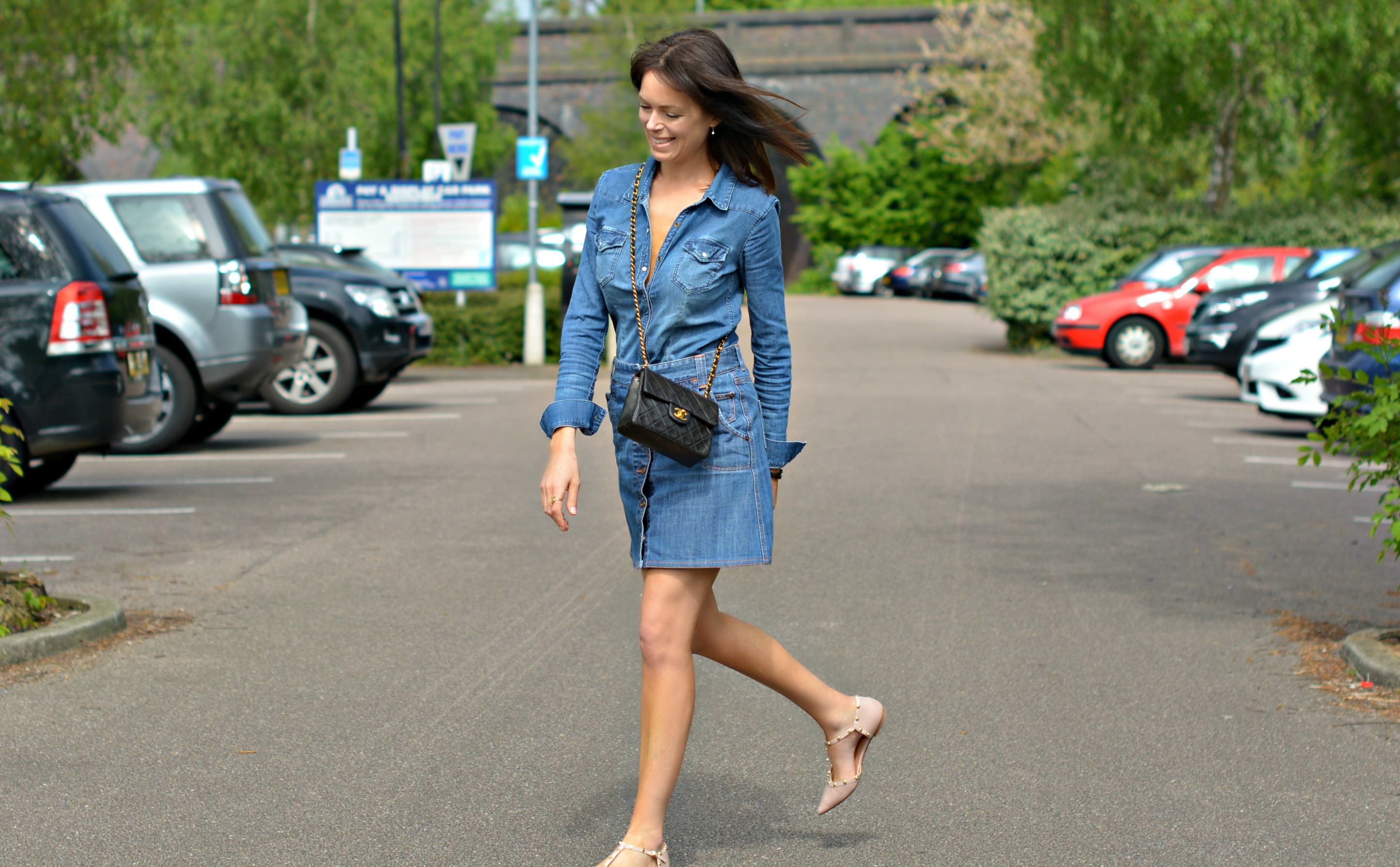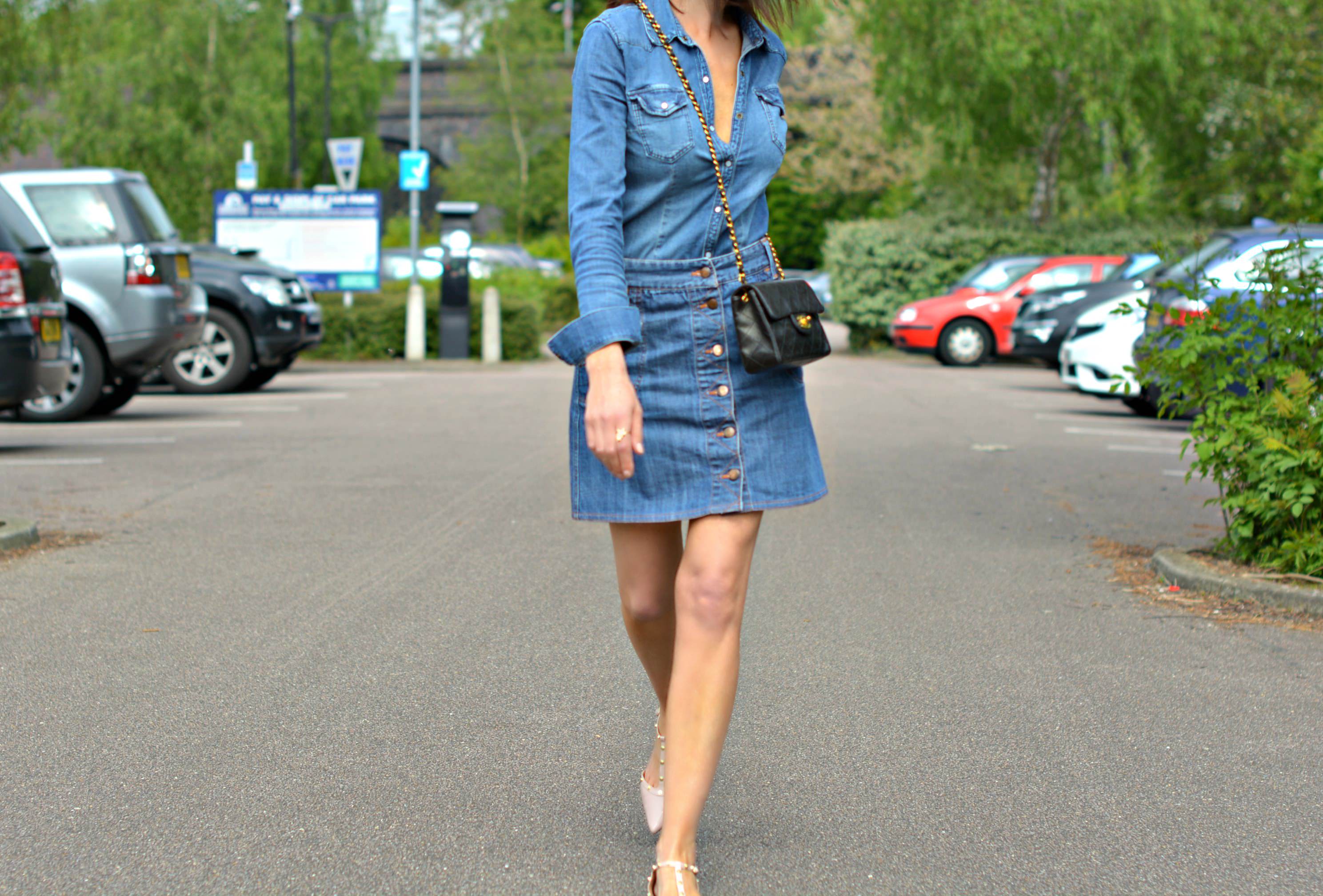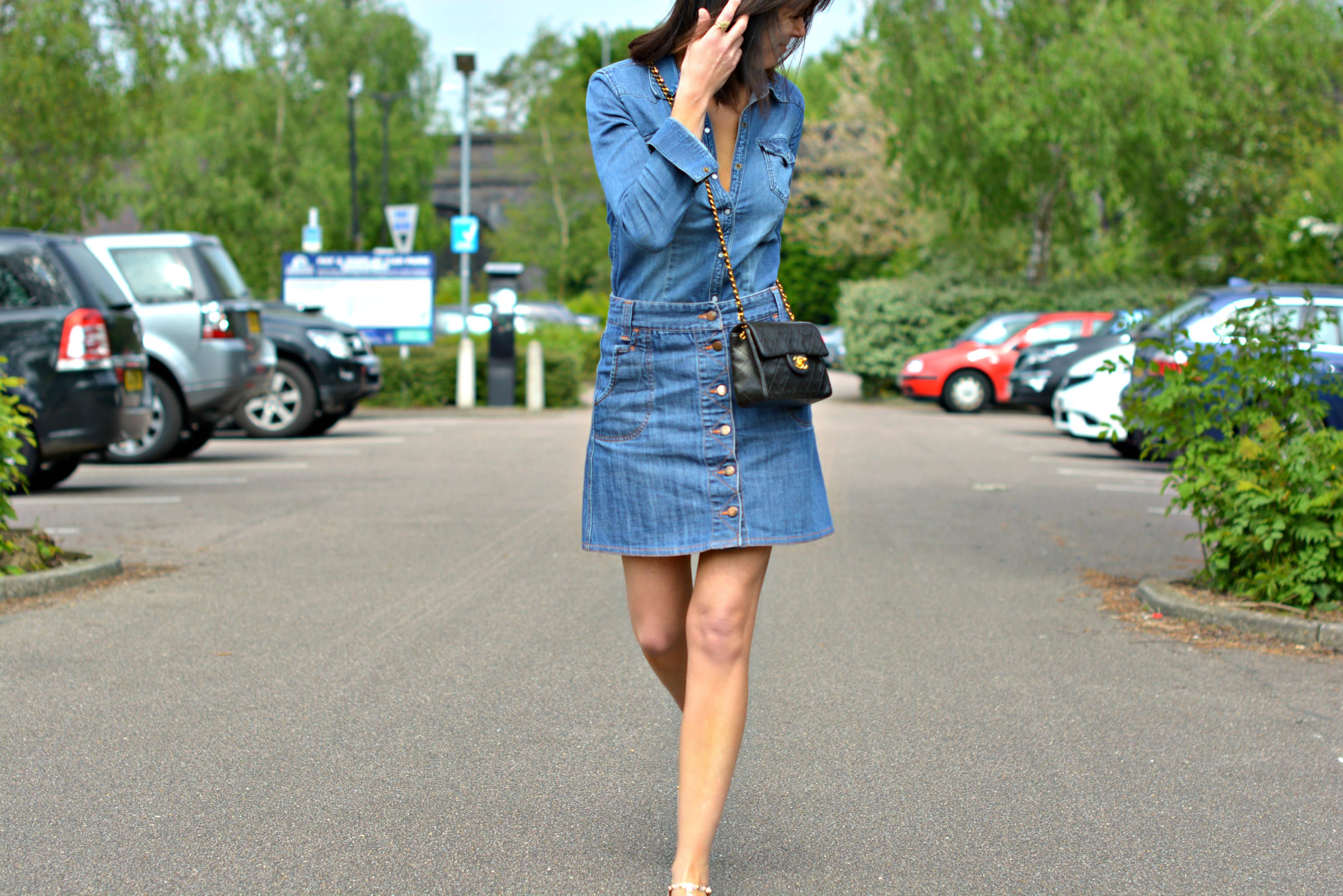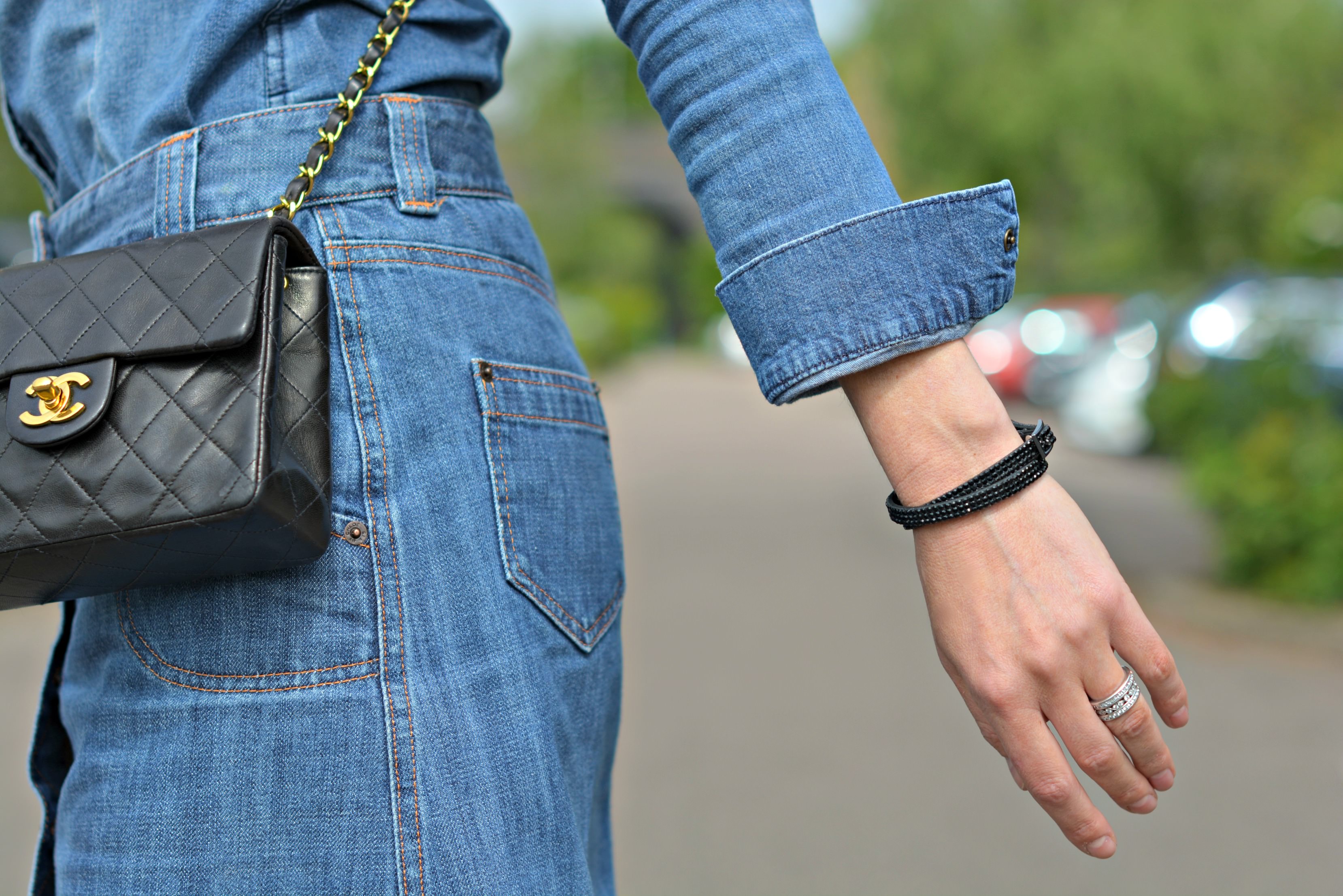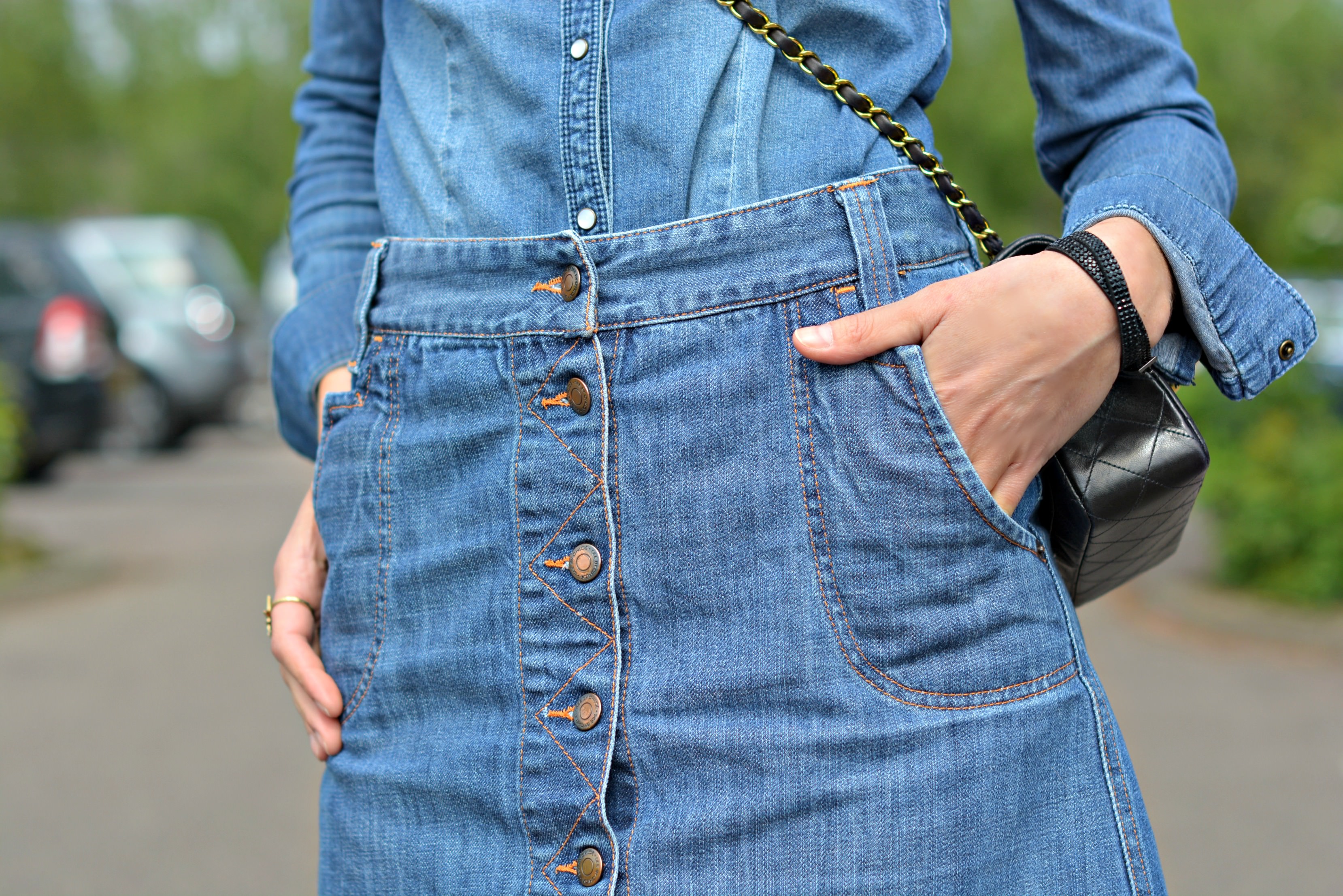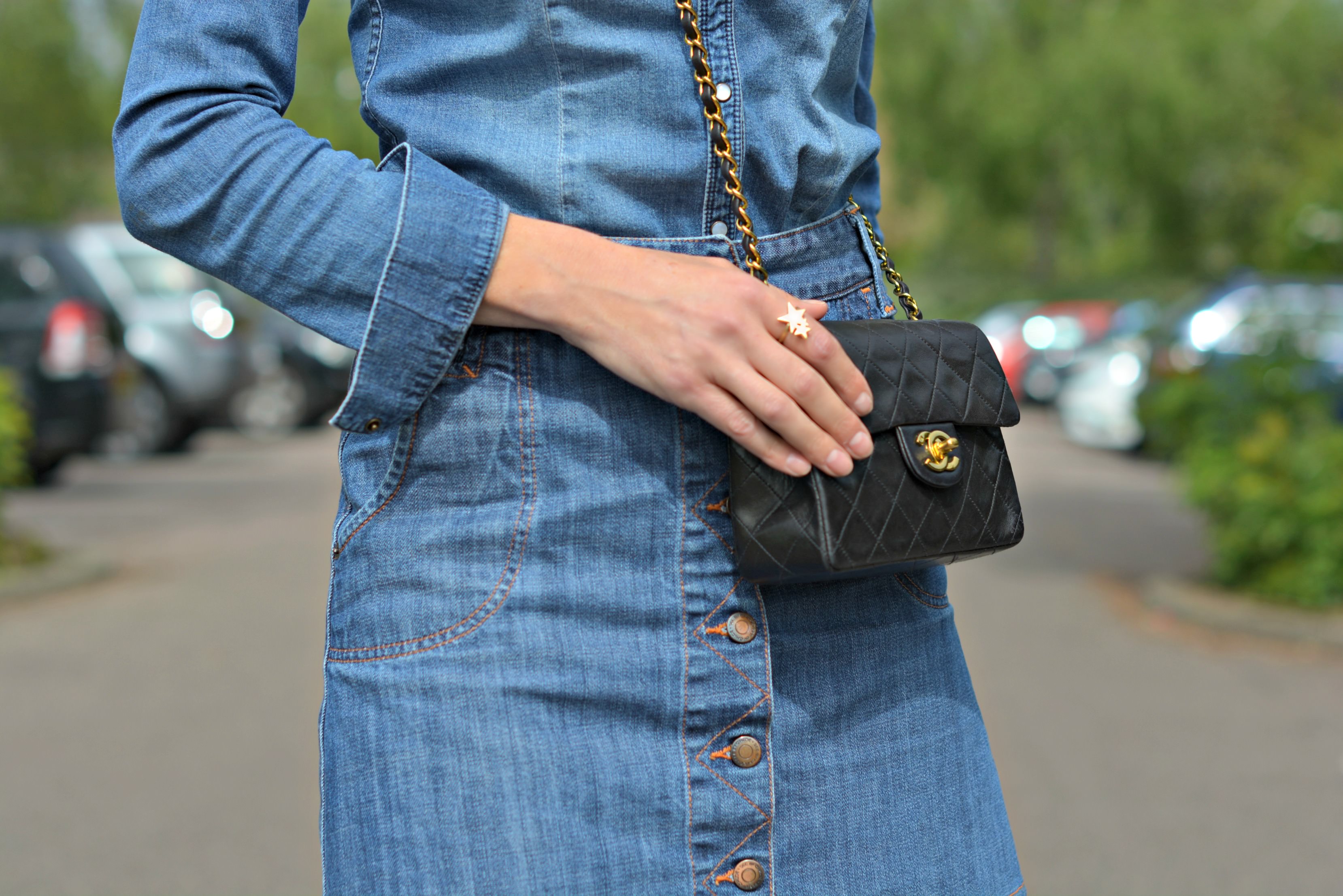 Fashion Influencer?
Anyway, no sooner had it been taken up when lo & behold
Alexa Chung
came out with the AG Denim collaboration in this exact style! It was instantly street stylin' everywhere, but I wore it first
wink
…
Seriously though this really is a fabulous cut – due to the slight A line & button through front lending itself to all manner of looks it's a style that never dates! For me this skirt is definitely a wardrobe staple so I searched out a few for you to browse above if you're considering making it yours too. I think the Boden one is the best value for money, I actually have a
Boden
denim skirt, although it is knee-length I can vouch for the terrific quality.
Which got me thinking, if you feel the mini is too short for your liking try a pencil skirt instead. Making your double denim look a little less leggy.
Here is double denim another way that I styled last Autumn…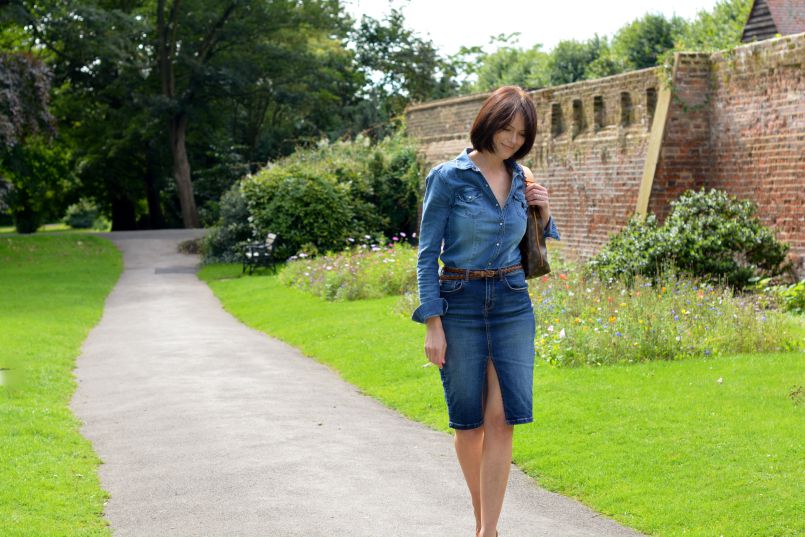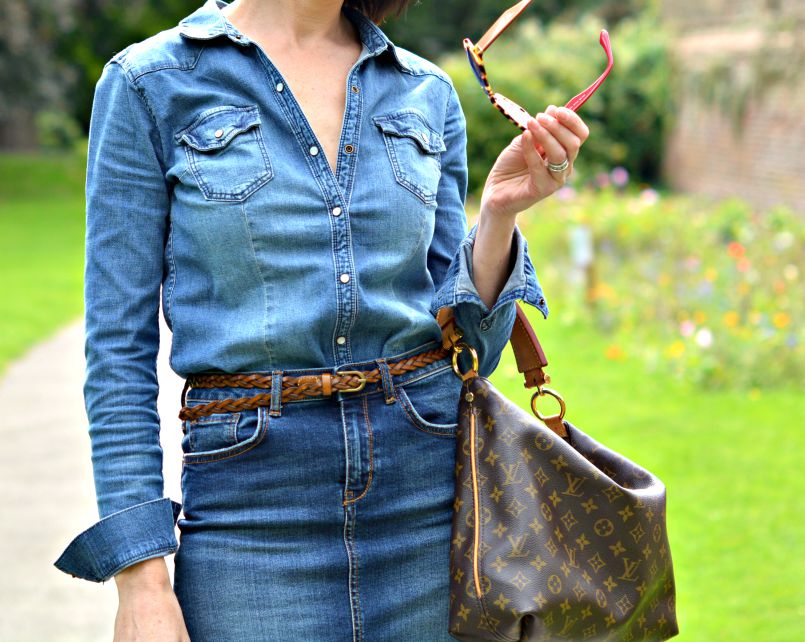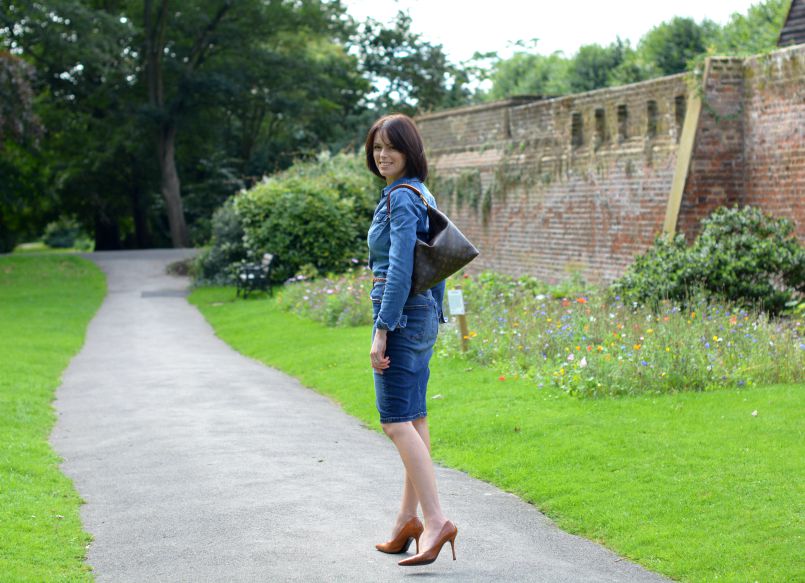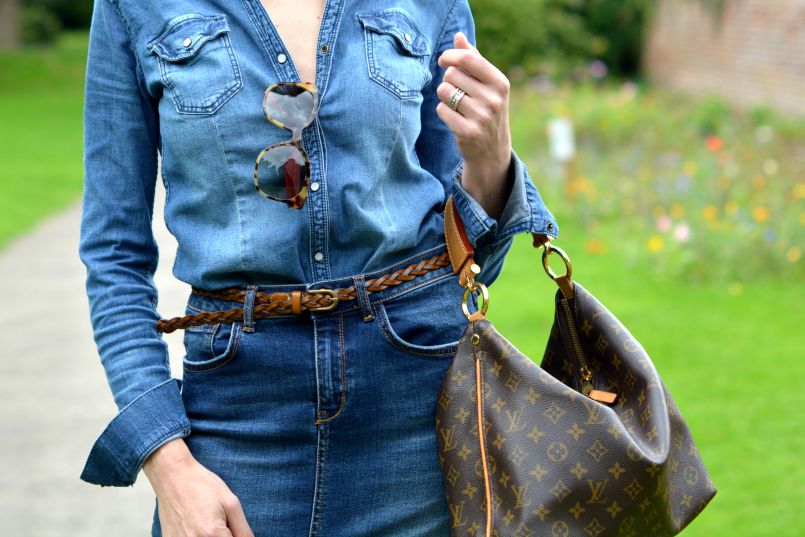 For more details about this particular double denim ensemble click here.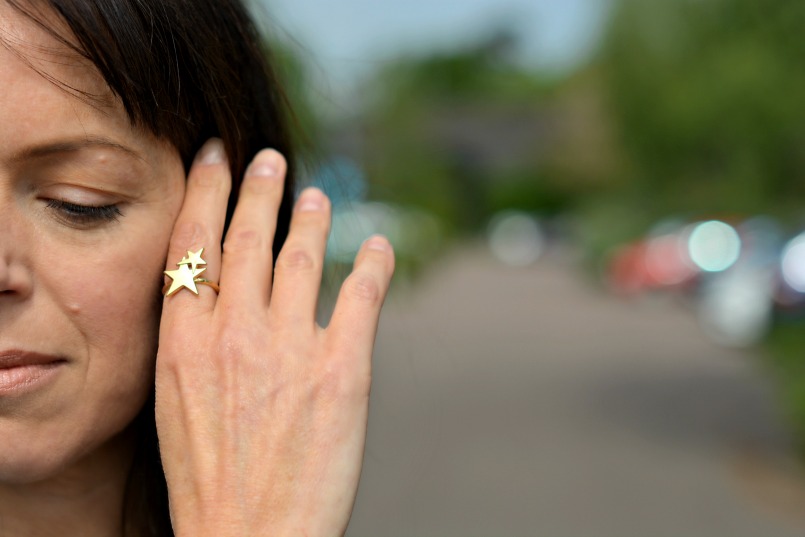 This stunning gold star ring,
was given to me by my friend Liz of What Lizzy Loves who is also one of The Over 40 Collective. Liz curates a beautiful boutique jewellery collection online called Lizzy O. The black wrist wrap is also from her range & was included in the incredible goody bags everyone received at the Blogger Meet.
It certainly was a day of surprise gifts. As I left early to race home for the children, I was handed an intriguing parcel wrapped in pretty bronze paper. Hope, the new British fashion label who sponsored the event astonishingly gave us all an exquisite cashmere poncho! Watch out for this brand ladies, they have us older gals in mind when they design. Making their range of collectible wardrobe staples in clever cuts for all sizes, using the most phenomenal fabrics available today. And what's more they have very high standards so it's all ethically sourced – BRILLIANT!
That's all from me this week I'm afraid. The loft is due for completion Friday – Just between you & me, I'm seeing Monday, she sighs
Very soon I'll put together a detailed reveal of our completed bedroom ensuite. However before I can do that we are off to Sardinia for a week WooHoo! It's our second visit to the Italian island but our first time using AirBnB so I'll publish a travel post about how that works. I'll also be writing my usual travel fashion post – How to look fabulous traveling with kids & a capsule wardrobe. Trust me, it'll work teeheehee
See you then, Mx