If 50 is the new 40 does that make me 38?
Well for those of you not there yet let me tell you for one thing I keep having to remind myself of my actual age! And listening to other women over 40 I hear the same sentiment.
It's weird to feel so much younger than my years especially because as a kid I always felt older than I was. Being the first born of 3 & having divorced parents I fell naturally into taking care of my younger siblings. Later at 16 I started work then was driving a car at 17 & by 19 had moved out into a flat! All this amounted to a lot of day to day grown up responsibilities that frankly made me feel like a proper adult.
I'm not really sure when I began to notice it reversing, how little I knew, how much I yearned to see & do, perhaps it was when I started having babies? I don't know however I do remember my 40th birthday being quite a shock, not shock horror more like "wait, what?"
It is particularly common these days for women over 40 to look, feel & most importantly, behave a lot younger than their years & thank goodness for that! Who wants to go back to the days of blue rinse hair sets eeh gad! When I was an apprentice hairdresser I used to do those awful old lady hairdo's on women who were the same age as I am now!
More & more of us older girls are taking up new careers & setting exciting uncharted goals. Some of us are even tackling new technology to expand our horizons whilst keeping our brains sharp & on point!
Many a modern woman is bearing children in her late 30's even 40's confident of keeping fit & healthy into our 50's & 60's as our babies grow into young adults. True being an "older Mum" is not so rare any more, we are many hear us ROAR!
There you have it we style ourselves younger, we definitely take better care of our health too so probably education & science have contributed to that. Don't smoke, don't get sunburned, eat lots of fruit & veg- tick tick & tick.
What about the cosmetic science? I'm not talking about moisturizers that supposedly reduce wrinkles & turn back the clock because we all know that's a load of nonsense. On that for a moment- does anyone else resent those cosmetic companies that advertise to US using models half OUR age? Bloody cheek of it! Not only do they blatantly lie about what their products can achieve but they misrepresent the very demographic they're selling to! Don't they get it we're not only older, we're smarter & more experienced too? Steps down from soap box & exhales…
Nope none of that old rubbish, I'm talkin' chemical peels, botox & fillers. Otherwise known as non-surgical treatments.
These can successfully be used cleverly & sparingly to maintain a youthful appearance. Last year I had a chemical peel to reduce a large patch of pigmentation on my face & although I wouldn't say I'm wrinkly it did soften the fine lines around my eyes too. RESULT!
Yes it hurt a bit at the time of application but that only lasted 15 minutes. The healing time of 2 weeks was a little inconvenient although we still had friends around for dinner during that time so it couldn't have been too bad. Admittedly the husbands were a tad confused & curious but the women just behaved as usual & the kids barely even noticed!
Don't get me wrong I definitely advocate "growing old gracefully" & most certainly don't ever want the scary wind tunnel look on my face however I feel a long way off "old" & I'm impressed with the new subtle techniques being applied these days. I'll absolutely be up for giving it a go sooner or later, stay tuned & I'll let you watch (wink)
Until then It's colouring my greys out & staying well away from frumpy clothes. Speaking of which….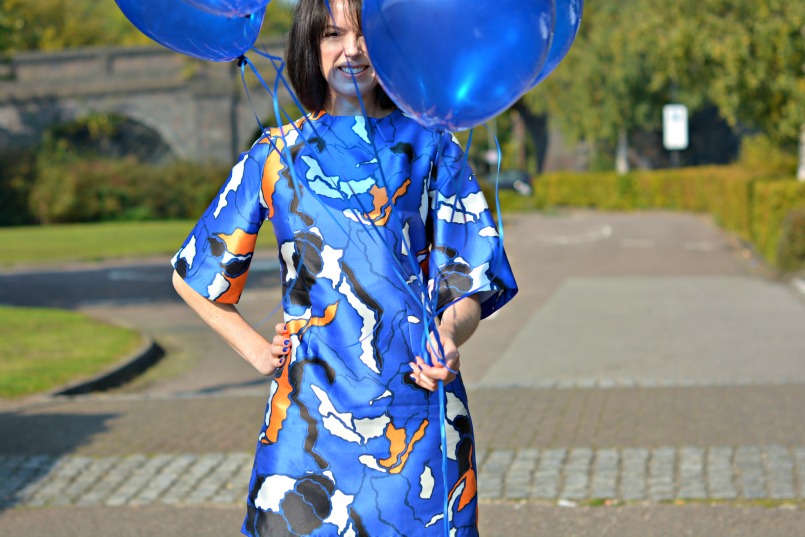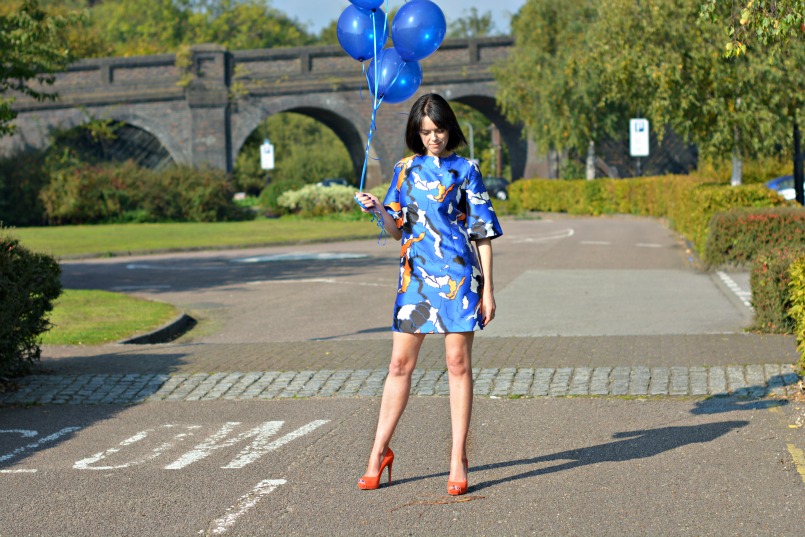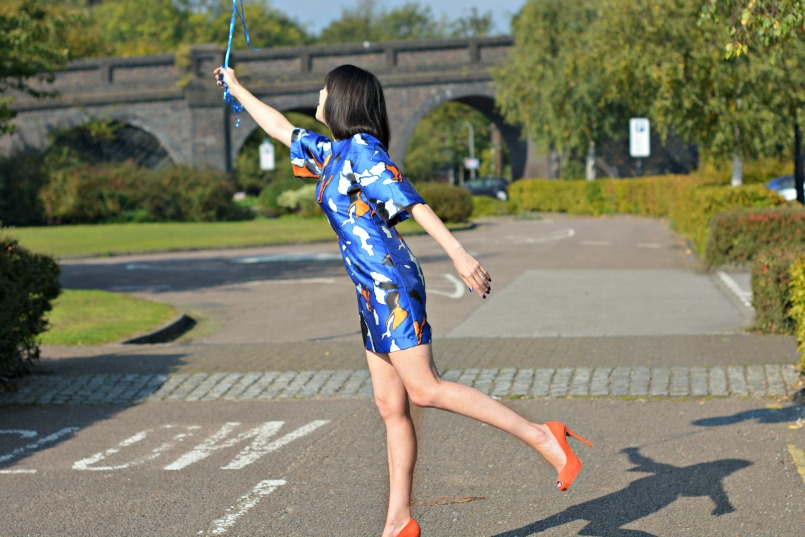 Frumpy? This outfit most certainly is not…
Obviously you've heard of Finery London, fabulous design for remarkably reasonable prices but not on the high street, this brand is online only.
I signed up to their newsletter & had put various items in my cart but hadn't actually made a purchase until lo & behold they sent me a £15 voucher to spend. An enticing promotion because it included sale items. Now that is different!
So naturally I did finally buy a thing… or two – clever people aren't they?
The Empson Camofleur dress caught my eye for the interesting darts at the neckline & the trumpet shaped sleeves but I also loved the royal blue versus tangerine contrast. I'd be remiss not to mention the really lovely attention to detail in packaging & super fast delivery time from Finery London.
When the dress arrived I immediately knew I wanted orange shoes to go with it but couldn't find any anywhere so I turned my search to second-hand options. I found these platform peep-toe suede pumps by Whistles from a second-hand website called Twicely. Unworn & in their original box they were a snip of the retail price & the tangerine was a perfect match – job done!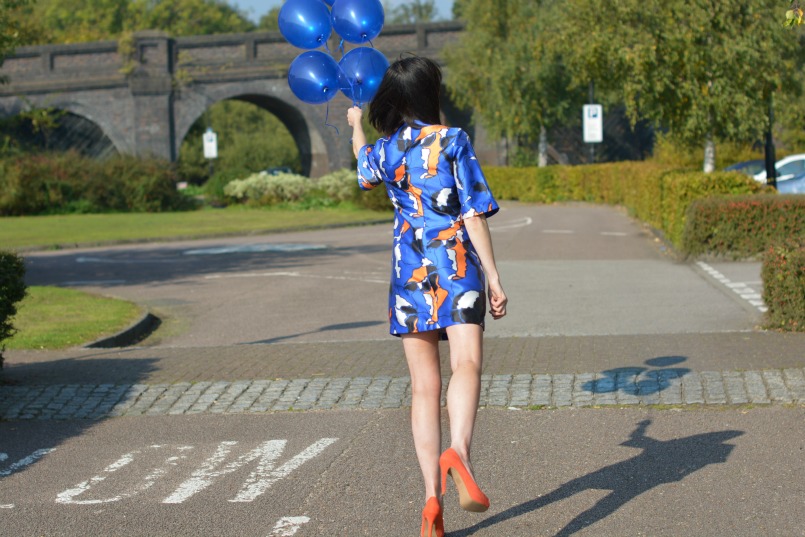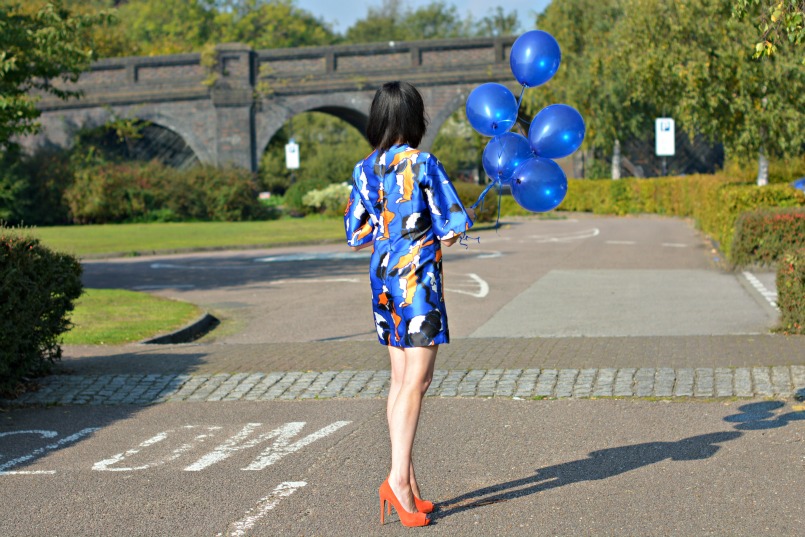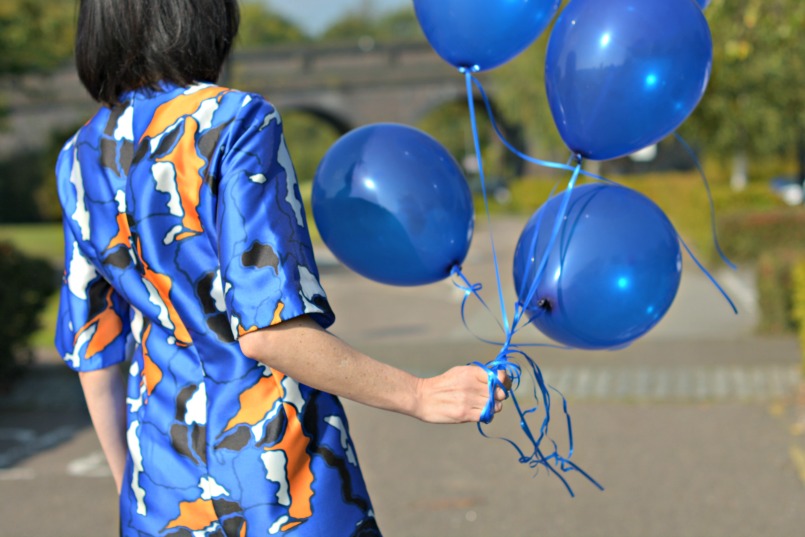 In conclusion 48 feels pretty good actually & 50 doesn't sound scary at all
In fact it sounds exactly like a stonking big party in a Villa in Tuscany!
I for one am not about to SLOW down there is way too much of life I've yet to experience. Also I have a lot of work to do to get RetroChicMama to the top of her game.
Have you started a new career? Or do you have big dreams to chase? Are you having your babies later in life & if so how are you finding that? Tell me everything, I want to hear it all!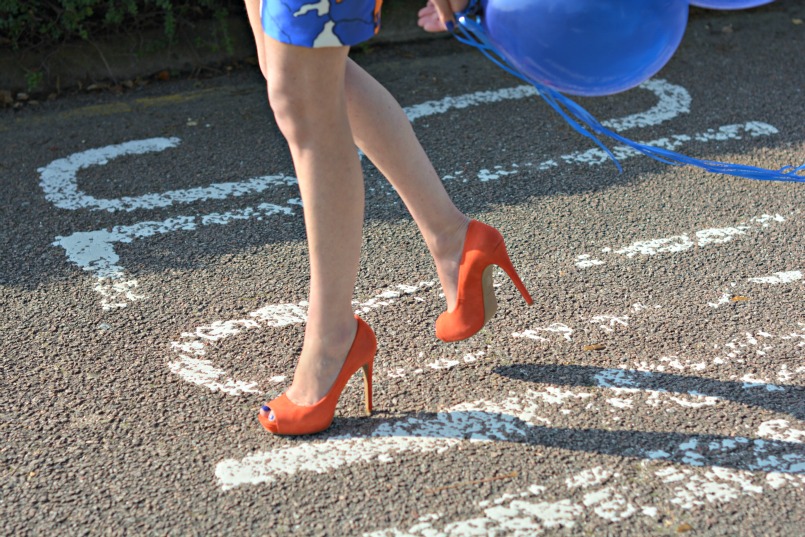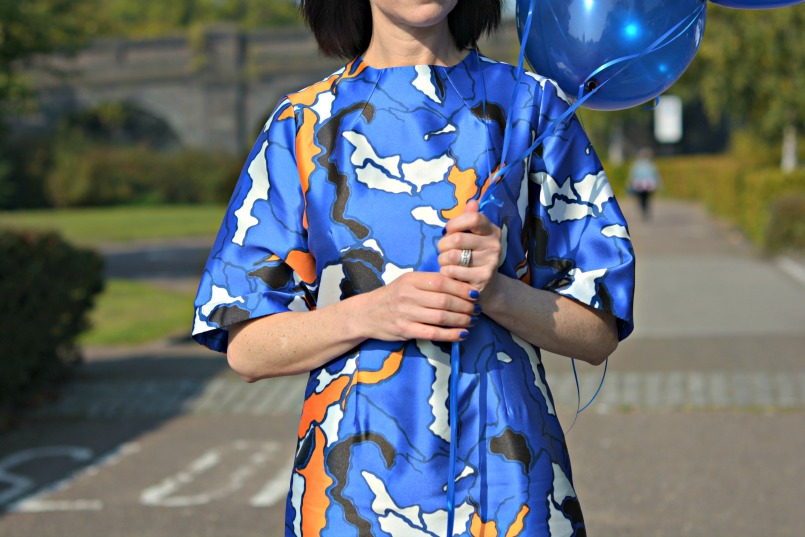 Shop my outfit
Thanks for sharing my 48th Birthday,
Love, Mx