Acne Studios began in 1997 as a luxury jeans label in Stockholm Sweden. By 2006 they had rapidly expanded the range to ready to wear. Their ethos for high quality, long lasting garments with low impact on the environment is very much on my radar when I buy clothes. In fact my mantra, coined by the indomitable Vivienne Westwood is "Buy less, choose well, make it last"
I'm not sure a woman in her late 40's is their target market however I adore the muted hues juxtaposed with quirky shapes. Have a look at the knitwear range this year it's simply stunning. Their staple pieces such as the velocite jacket & pistol boots have already reached icon status, copies are everywhere on the high street! Timeless & collectible but high-end pricey means I'm always on the lookout for a sale or 2nd hand piece. So I was thrilled when I recently found these amazing dove grey striped trousers on Ebay
Naturally they were a huge hit with the big time fashion bloggers in 2013 when they first came out. Fortunately, as with all beautiful design they stand the test of time & luckily for me it's now my turn to wear them – I can't wait!
This pair was a size too large but in fantastic condition & super cheap, I bought them anyway with the intention of taking them in. Sometimes I'll find a special item of clothing 2nd hand that may need slight alteration to make it work. I'm not bad at sewing cushions & curtains or re-upholstering a chair but clothes are out of my league so for that I have the amazing Sadie. In my opinion every woman should have a clever tailor & dry cleaner on speed-dial. Not only for planned alterations & specialist cleaning but for those times of emergencies like when my friend from Australia came over for a wedding & discovered the dress she had specially made for it did not bloody fit!!!
Riiing Riiinnng Sadie can you help us please? What a woman, she not only sorted the dress out but she did it in record time! She's priceless. If you don't have a Sadie, you need to get one STAT!
So Sadie took my fabulous Acne Studios trousers & made them fit me like a glove.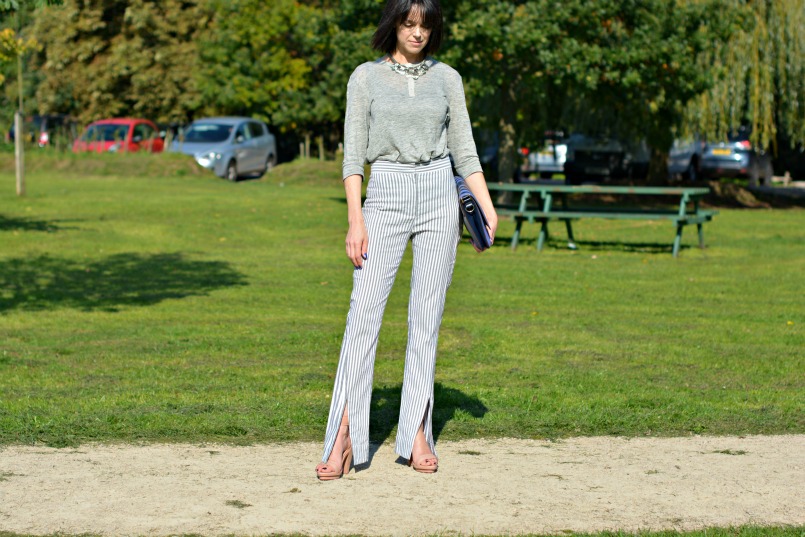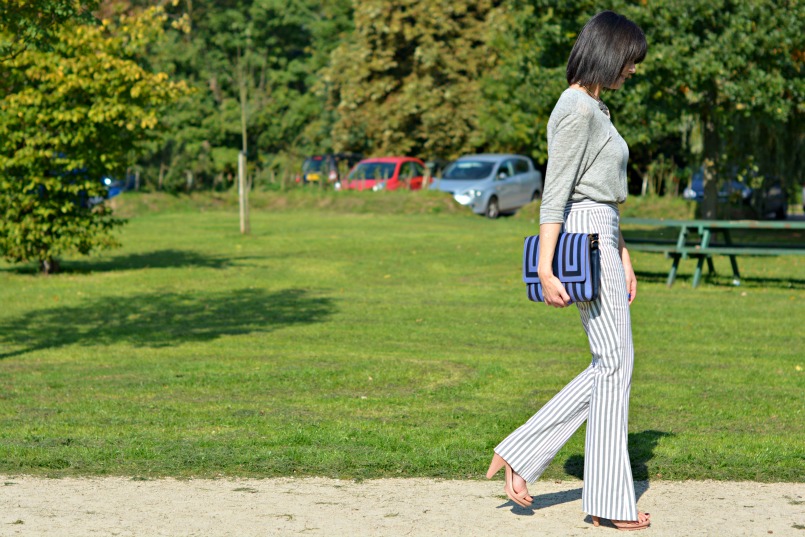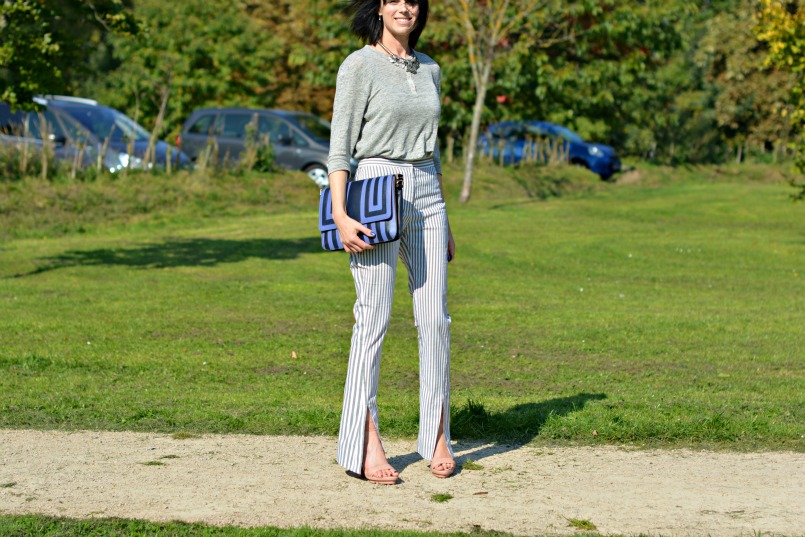 Grey vertical stripes cleverly combined with a high waist & kick flare make these trousers ultra leg lengthening.
With the sexy slits at the front showing a flash of shoes they're unusual but not over the top.
I'm wearing a matching dove grey linen grandpa top also from Acne Studios & added my retro 90's statement necklace (worn here with dinosaurs) to give an extra layer to the grey & some silver sparkle. I thought that with all the grey of the outfit I'd keep it subtle with my Melissa shoes (details here) that are a pinky nude colour.
Sticking with the striped theme & combining a pop of bright blue from my Anya Hindmarch clutch with a stunning brilliant blue nail varnish by OPI that I also wore for my birthday outfit post.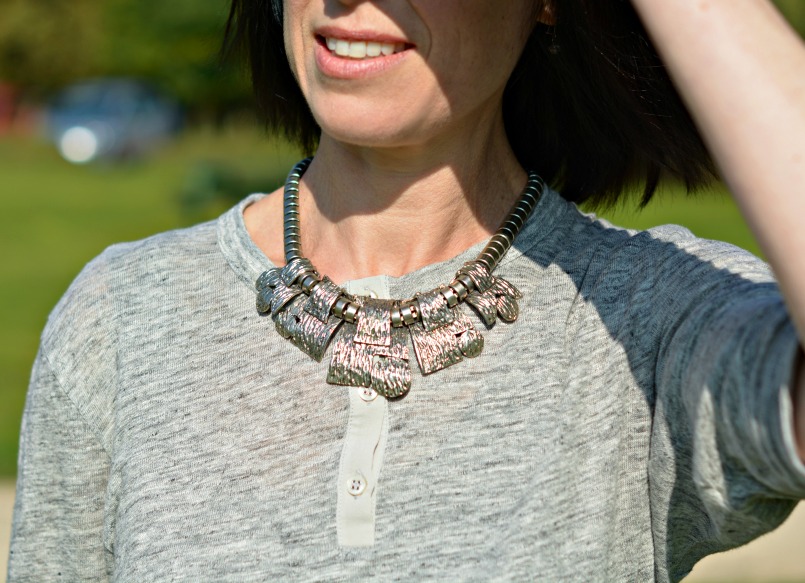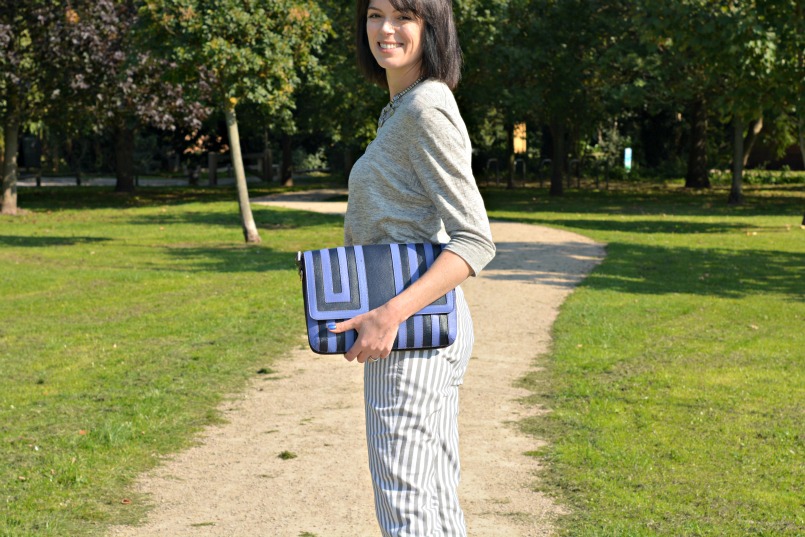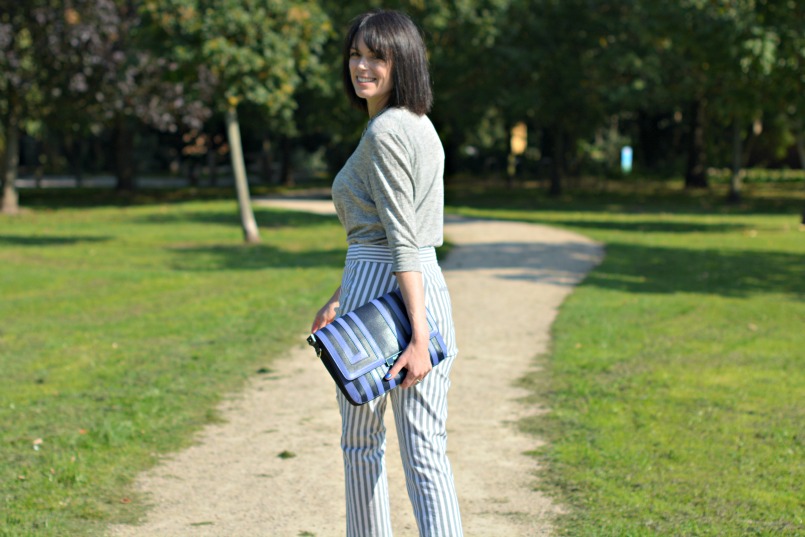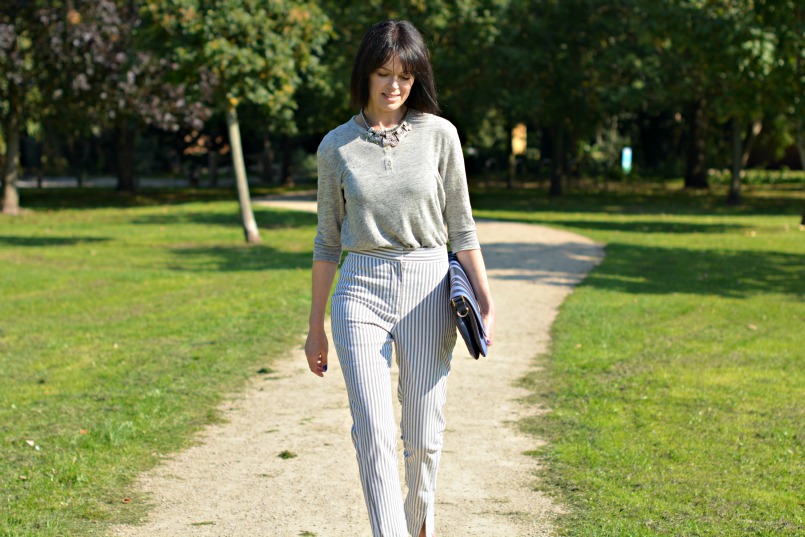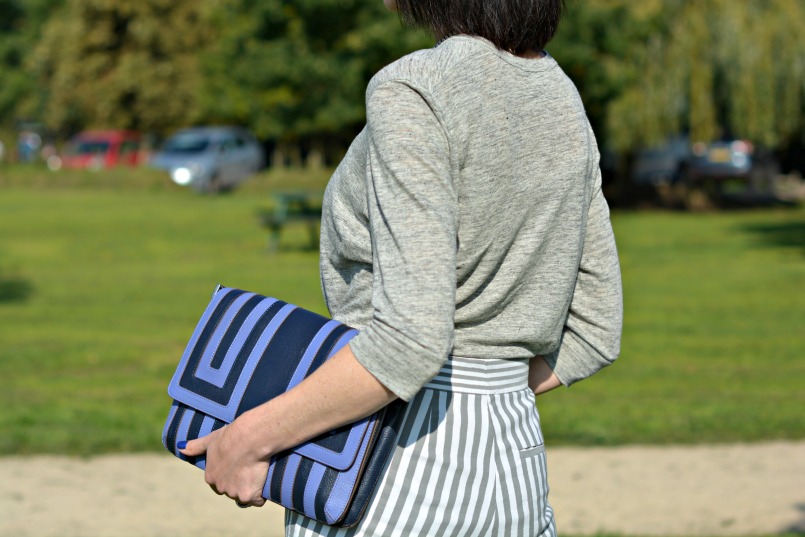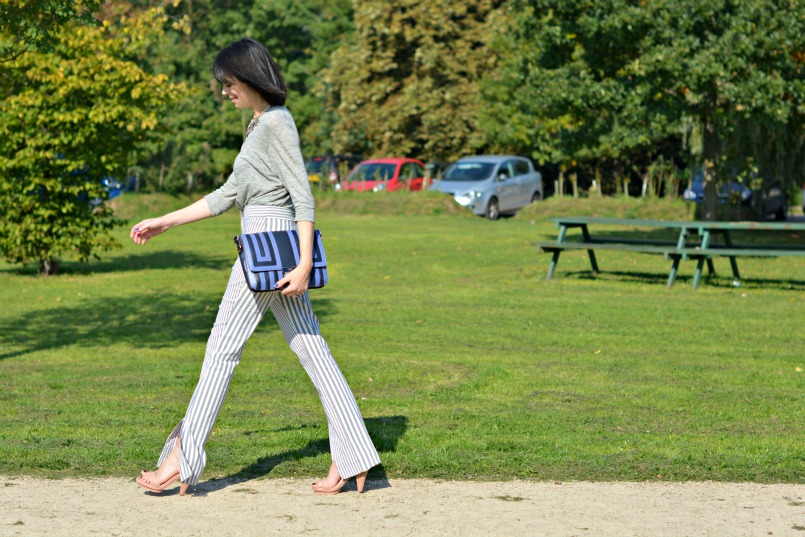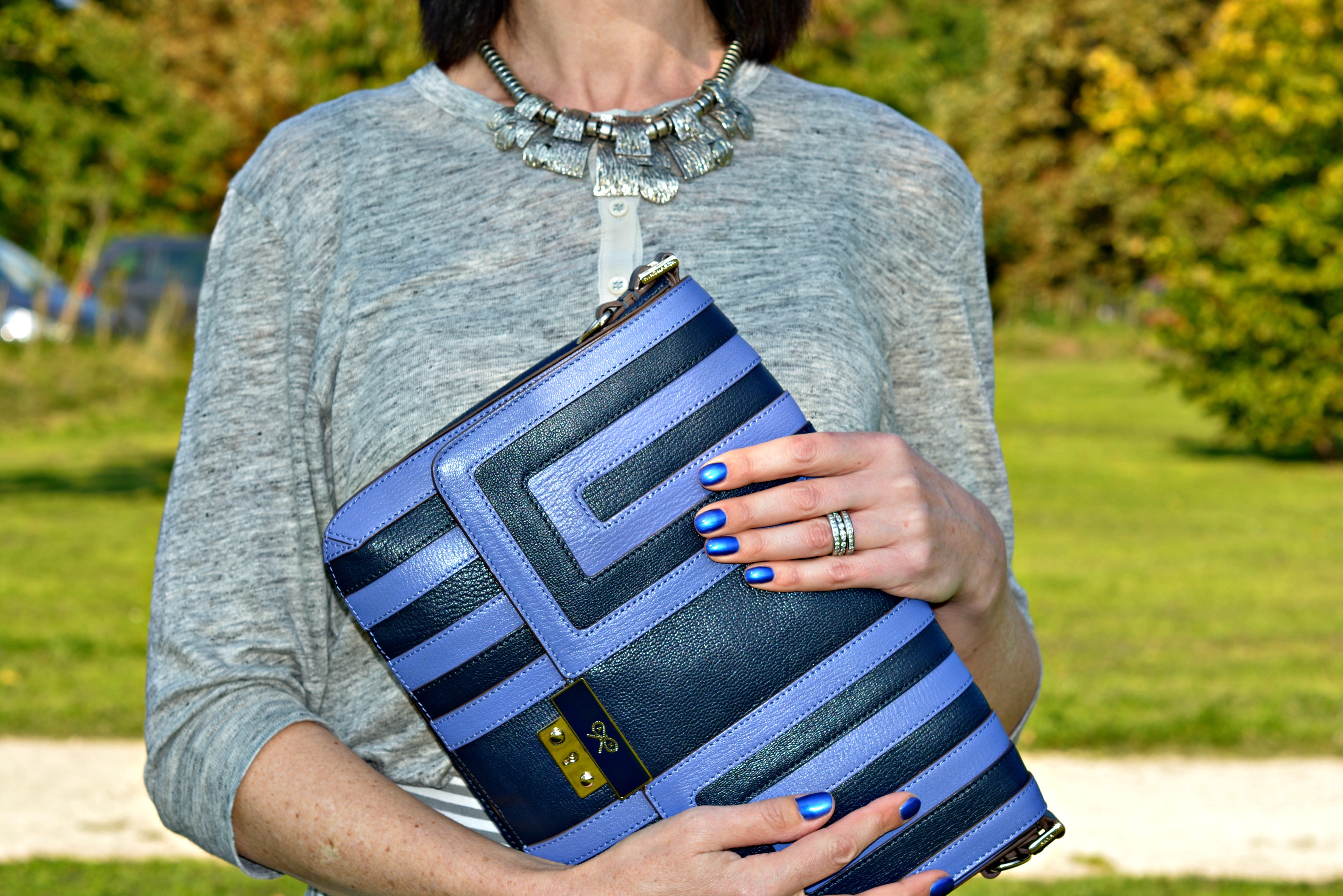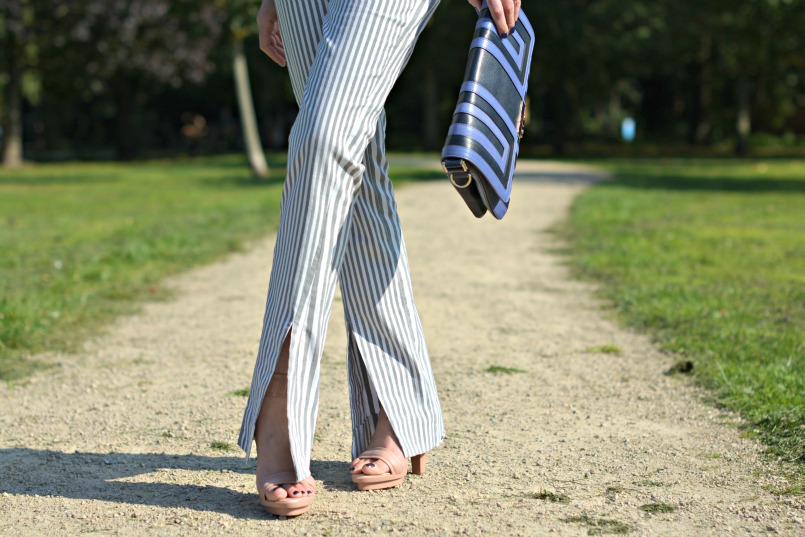 Have you tried wearing leg lengthening striped trousers? Or perhaps high-waisted to elongate your legs?
Ever trawled Ebay desperate to find a specific garment that's no longer in stock? Or is that just me? I do get a tad obsessed at times, dog with a bone if you know what I mean?
Thanks for popping by, Mx