Is it just me? I'm soooo tired at the moment. I'm soooo tired of being tired!
I actually went to bed before 9 o'clock one night this week UGH boring but I had to. When I'm tired my tinnitus is at its worst, like a short wave radio off it's frequency in my head, it's impossible to relax or concentrate. However I did feel a hell of a lot better the next day so it was worth it. Great, does this mean if I want to feel human, as opposed to the walking dead, I have to forgo any night time activity for an early night?
I'm not talking about rave partying, just evening tele or the occasional dinner out! Is this what getting older does to a woman or is it simply the change…in weather? Actually I'm pretty sure I'm menopausal, perhaps it's just that?
You know what? I think it's having 3 very active (read hyper) kids under 10 at the age of 48.
So this is it – the downside of waiting until 38 to start having children (& then having 3!) I knew it would come!
Although they do keep me young in many ways & I wonder if I'd have taken on the internet with such verve without them as motivation. I'm inspired to keep my brain active & stay fit to live a long & effective life for them. Indeed I'll need to if I want my grandchildren to be more than just a monthly visit in a care home for the bewildered teeheehee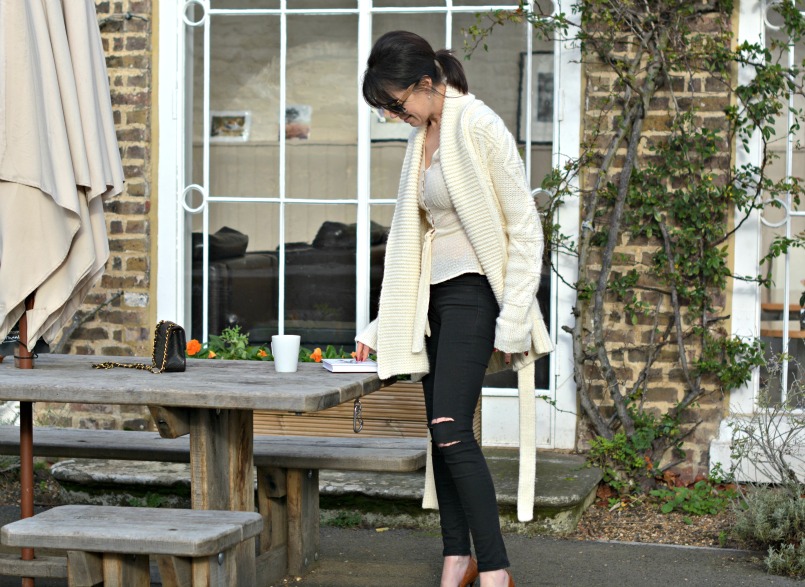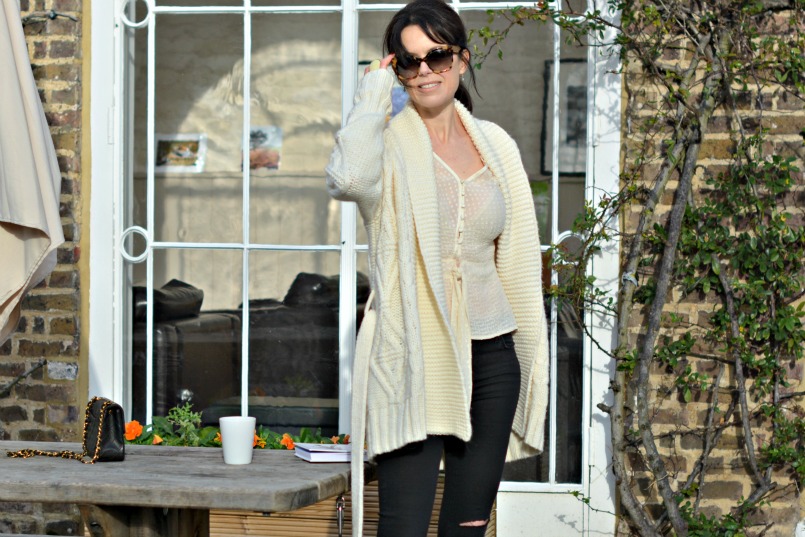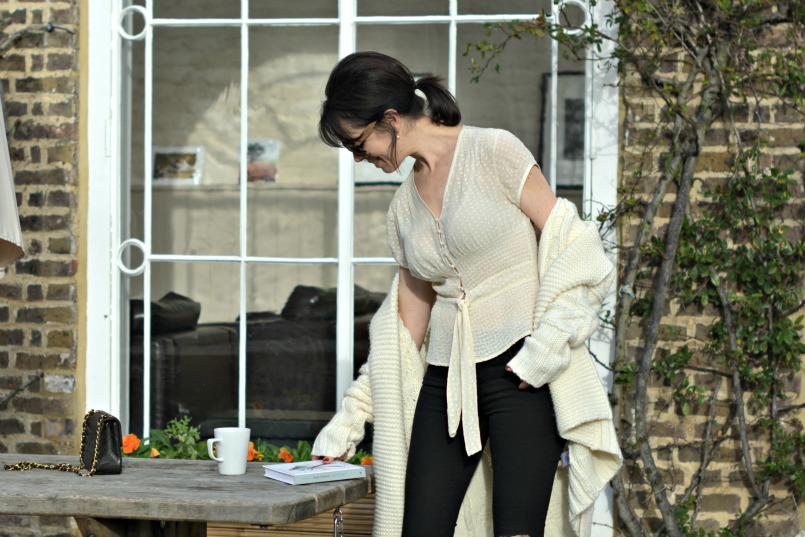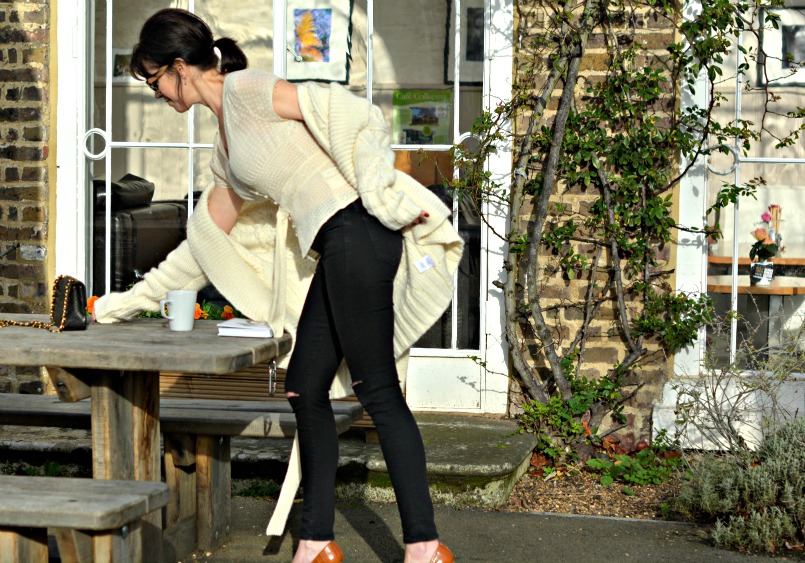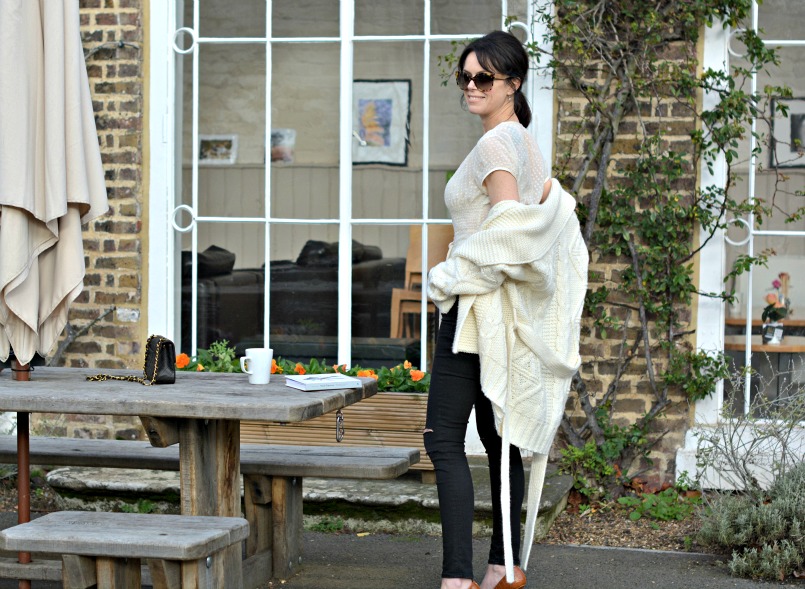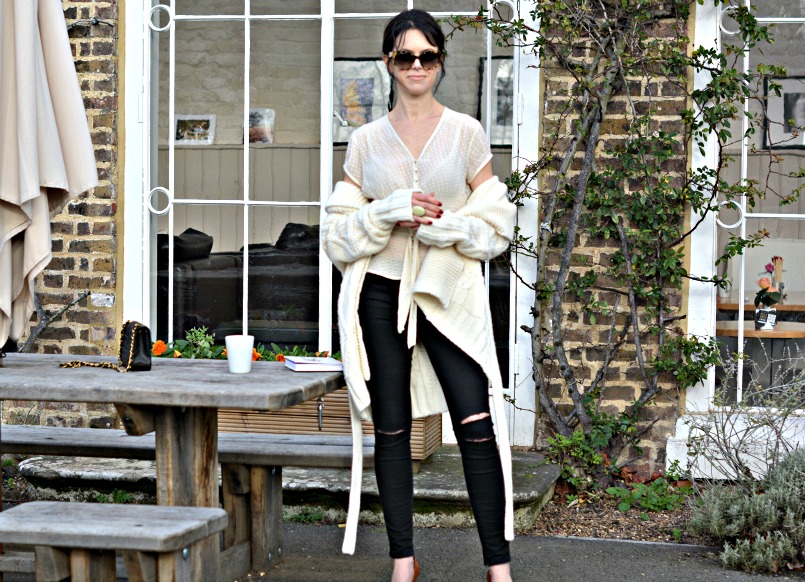 Todays outfit is a direct reflection of my mood
A combination of cream & black always looks chic & is a gentler version of the usual monochrome of black & white.
Cream & black will lift me out of this perpetually tired state, an outfit can do that you know.
My top is an oldie but a goodie from Coast bought in the John Lewis sale. The soft peplum disguises my flat butt & the gentle smocking on the waist gives a flattering torso but ultimately it's the warm cream colour forgiving my tired complexion. Ok I admit the oversized Prada sunnies help too wink.
Burgundy nail varnish from OPI ties in with the red underside of these, quite frankly, FABULOUS sunnies. Prada always do amazing sunglasses but this year I've loved absolutely every single pair!
I decided not to matchy matchy my lip colour for obvious reasons (again-tired ) however you can check out this post for a burgundy lip tutorial.
A Chunky cable knit cardi is a must in my wardrobe for the cosiness factor. This one is new, I also wore it in my post for Eternal Collection Jewellery styled a little differently.
These skinny black jeans are from J Brand but with my DIY busted knees. I get bored sometimes so I like to rip stuff Bwahahaha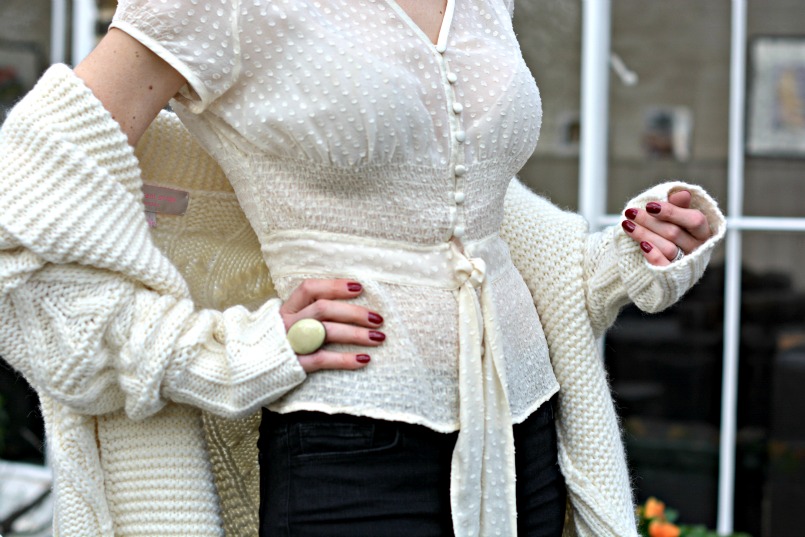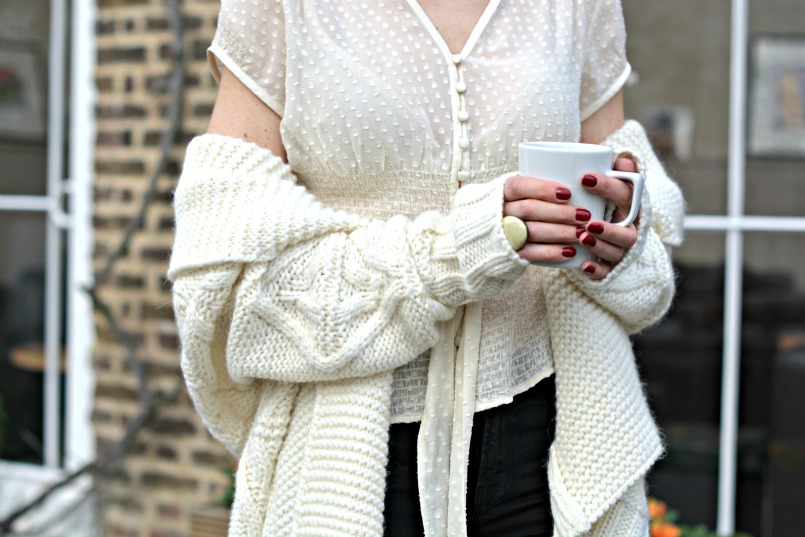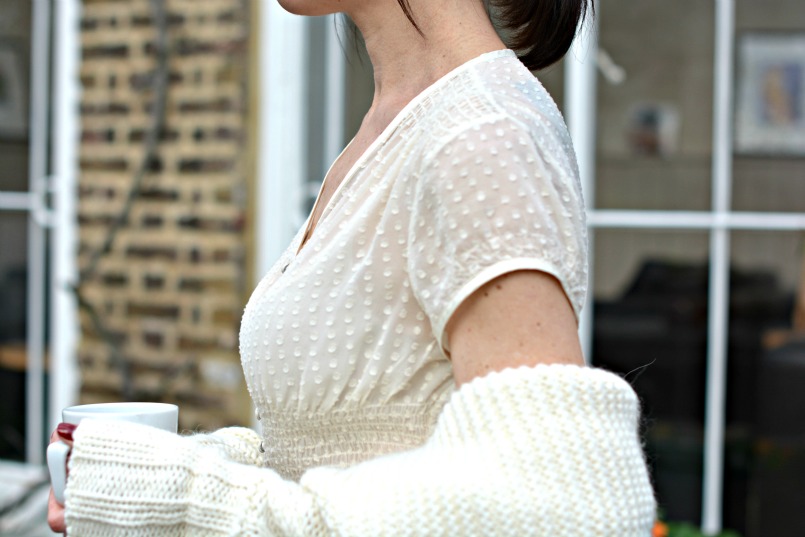 Sensational shoes always give me a lift, figuratively & literally!
What to say about Mr Blahnik's shoes except SWOON . If you haven't seen them before here's another outfit post for a completely different look.
As I always say if the shoe will go with 90% of your wardrobe it's a wise investment & worth every penny. These were getting quite grubby on the under side so after I had them re-soled in black rubber I carefully painted black gloss on the arch & heel of the sole to blend in & freshen them up. Do you see what I mean?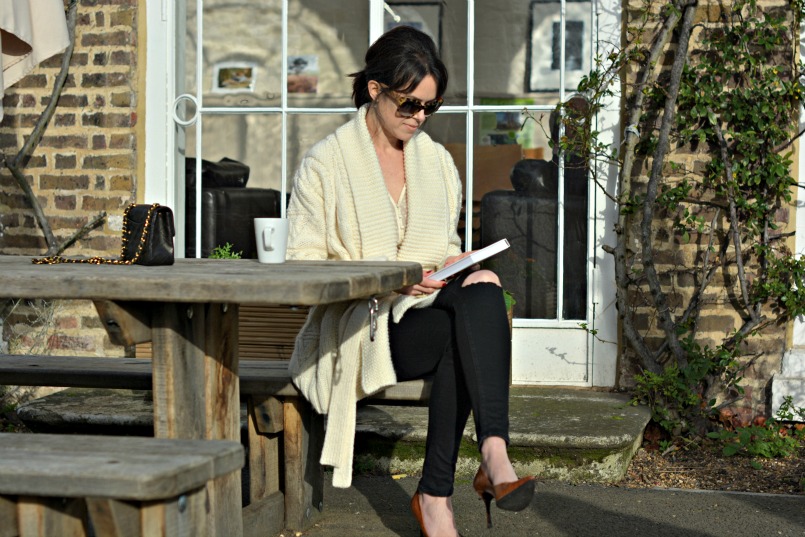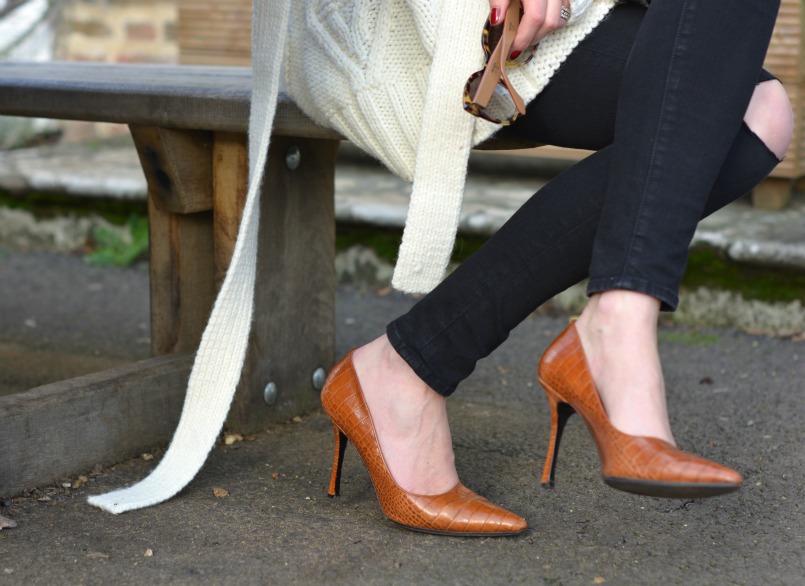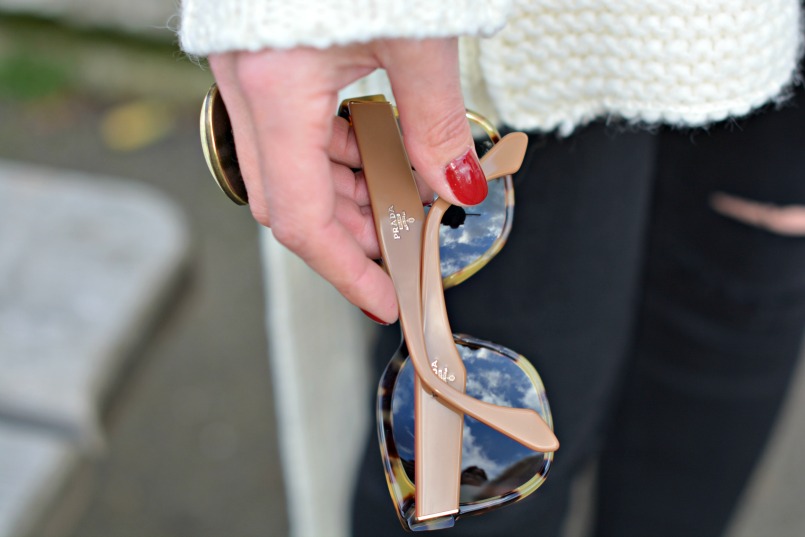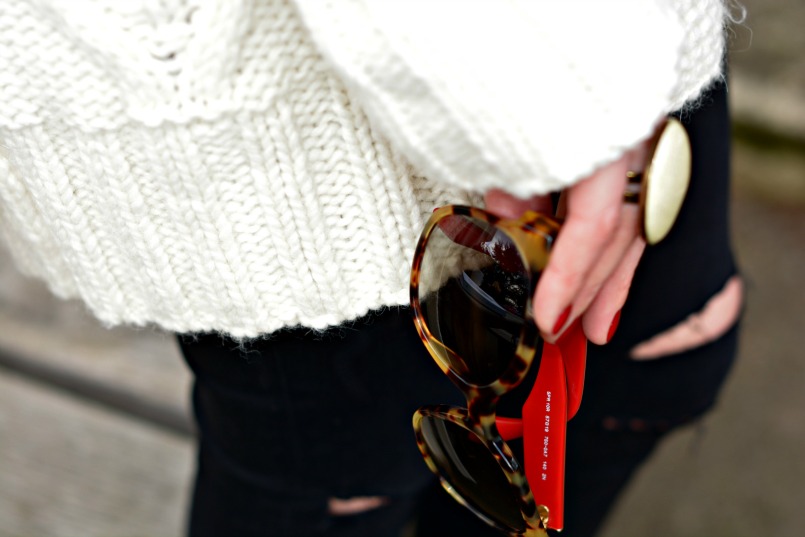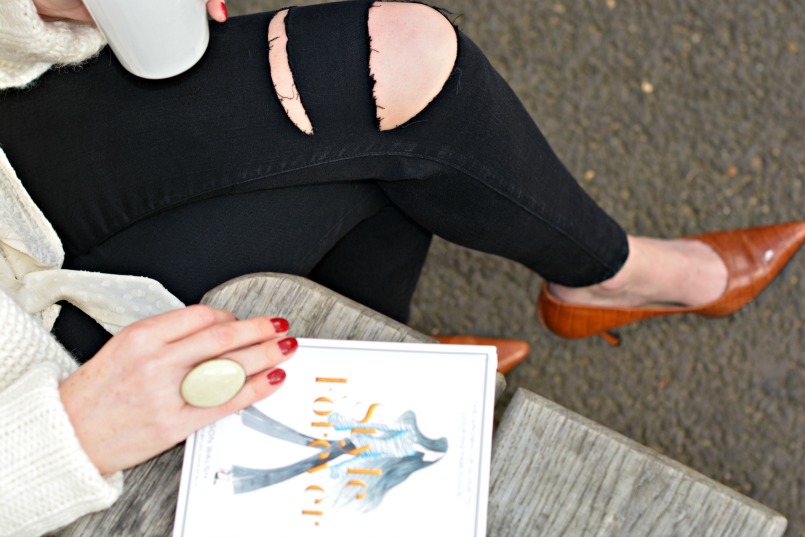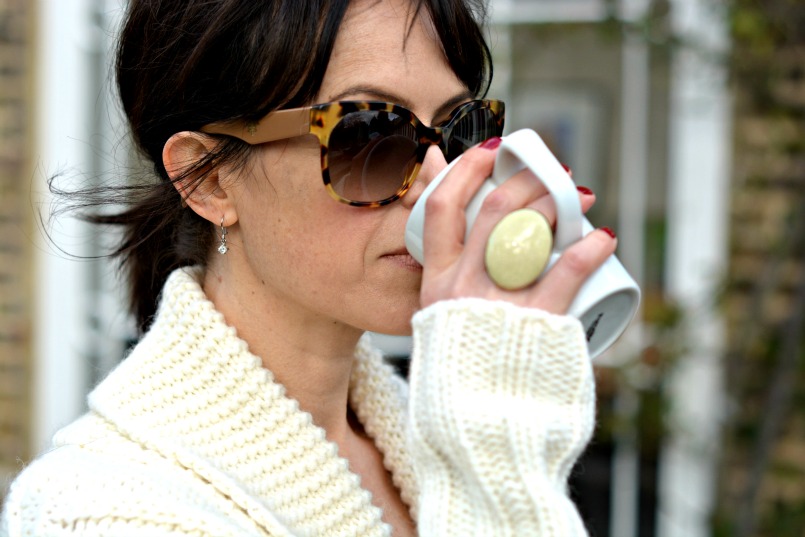 Top – Coast (also like this this)| Cardigan – Gharani Strok | Jeans – J Brand (similar) | Shoes – Manolo Blahnik | Sunnies – Prada | Ring – Isabel Marant
"Style Forever" is the type of book I'm loving these days – I can pick it up & put it down as & when I have time or need a coffee break, which is brilliant for a busy fashion blogging Mama! I bought my copy from Waterstones.
Lots of love & thanks for listening to me moan,
Mx