Most of my shopping is done online although every now & then I like to go into town to touch stuff.
It's bloody marvellous how easy online shopping has become particularly when we're all so busy. You can buy 3 different sizes of one thing to try on at home & send back what you don't like, most brands even have free returns & some actually collect them from your door! You can shop late at night & there are no crowds, that kinda thing.
However it can be a bit soulless, if you know what I mean? The "experience" is dull there's no thrill in scrolling through a website & clicking items into a basket.
Therefore occasionally I decide to enjoy the REAL (as opposed to virtual ) experience & to make the most of it I take the train into town where all the bells & whistles are. Everybody has a version of "town" shopping don't they? Mine is London town – one of the best!
Now what to wear for a day shopping?
If you get this wrong your experience will be frustrating & exhausting, get it right & you won't even notice. The day will be happy, fun & uplifting – a real tonic of joy, so much so that you'll wonder why you don't do it more often!
Considering the necessities whilst keeping it classy can be difficult so I pare everything right down. To begin, it has to be comfortable obviously, that goes without saying especially in winter. During the mad Christmas shopping time there are crowds to contend with sure, but I find the thing that is most uncomfortable is constantly going from hot to cold. You know what I mean don't you? The shops are stupidly hot with ramped up heating & the tube is stifling but then walking between shops or the tube is freezing! So what I do is wear a fine knit top because it'll breathe (no sweaty pits) as well as keep you warm, with super stretch skinny jeans. The jeans have to be skin-tight for me so I can try on most clothing over them without having to undress. This saves time & effort but on the odd occasion when I have to take them off I only have ballet flats to contend with & not the full on shoes & socks combo. Flat shoes are also great for tackling escalators & lots of inevitable walking.
To deal with the bitter cold I wear an over-sized heavy wool coat that buttons up at the neck negating the need for a scarf.
No scarf for me to drop every time I pull it off as I walk through the doors & my bag has to be a cross-body style. This one allows 3 alternate ways of wearing it due to the detachable strap, see here which is terrific value for money when considering an expensive bag purchase. I never use plastic bags so I carry those little fold away nylon ones in my handbag just in case, although I am partial to a paper or cardboard bag & will happily accept those from the store.
My make up is the natural every day look I describe in this post, for those of you who haven't seen it. It's a good idea to keep your make up clean & light so it stays put all day long & you won't get shiny or end up with panda eyes – low maintainance is key.
I have many versions of this outfit but todays post is probably my favourite because it is all dark navy blue apart from my shoes – Chanel tres chic .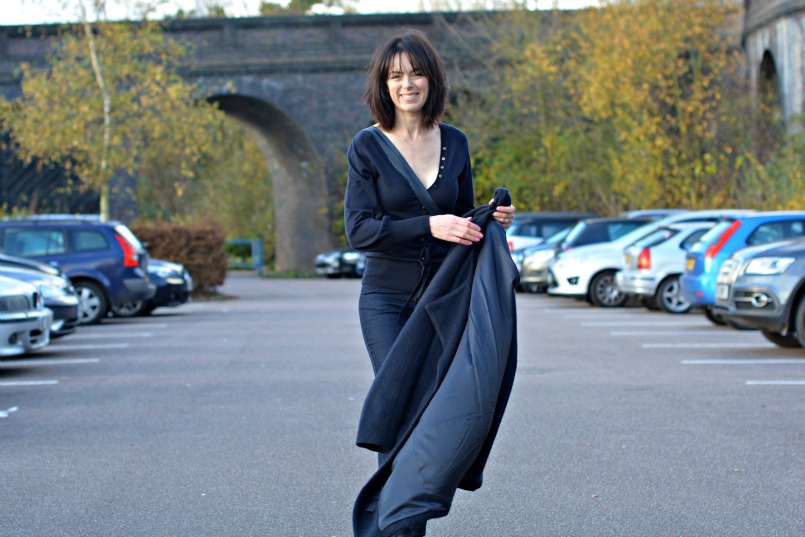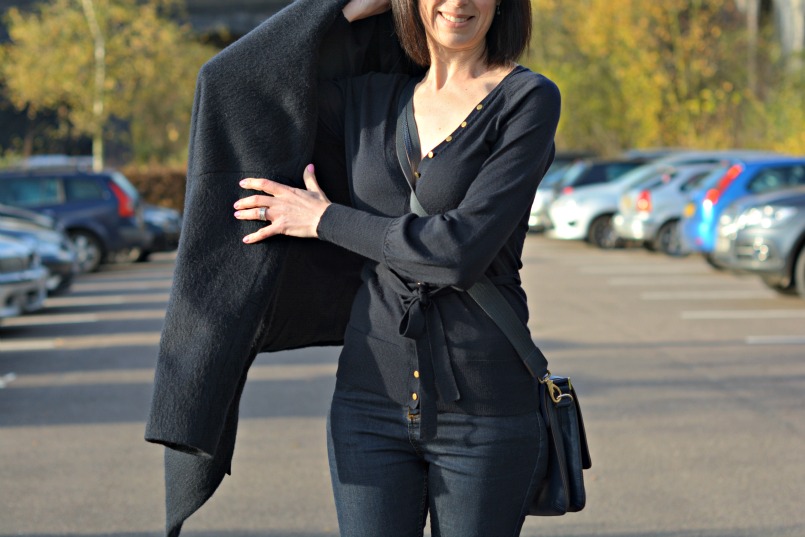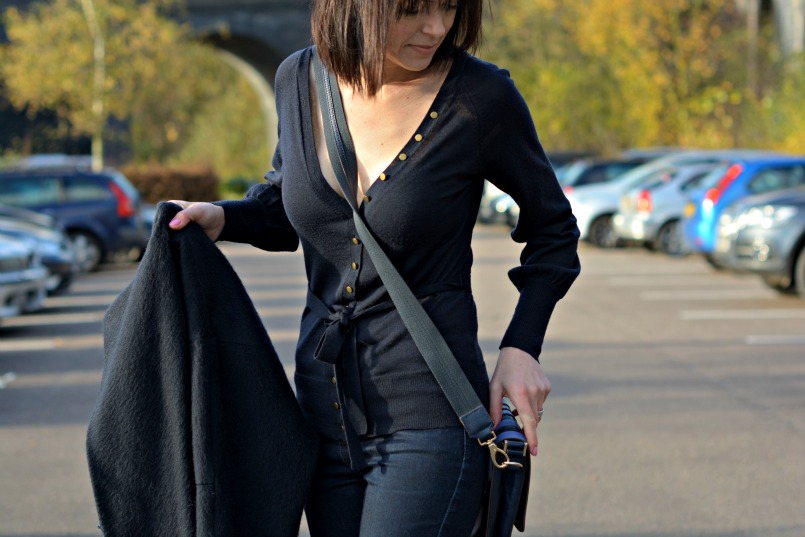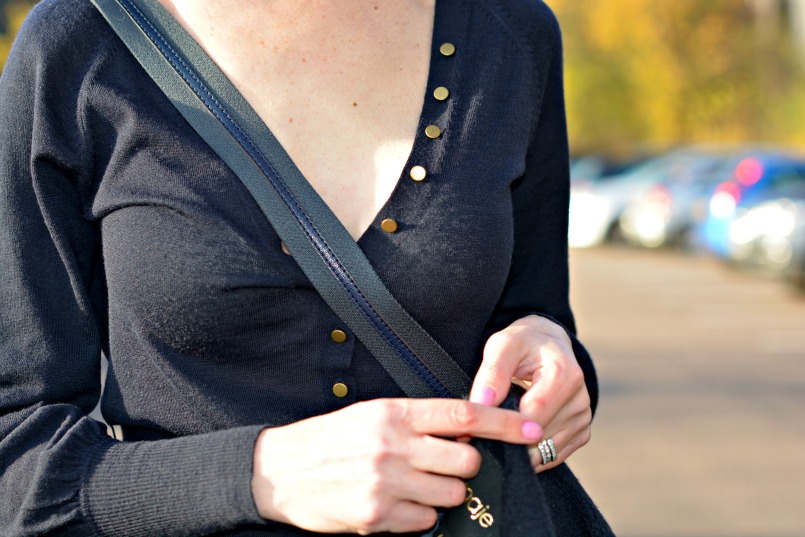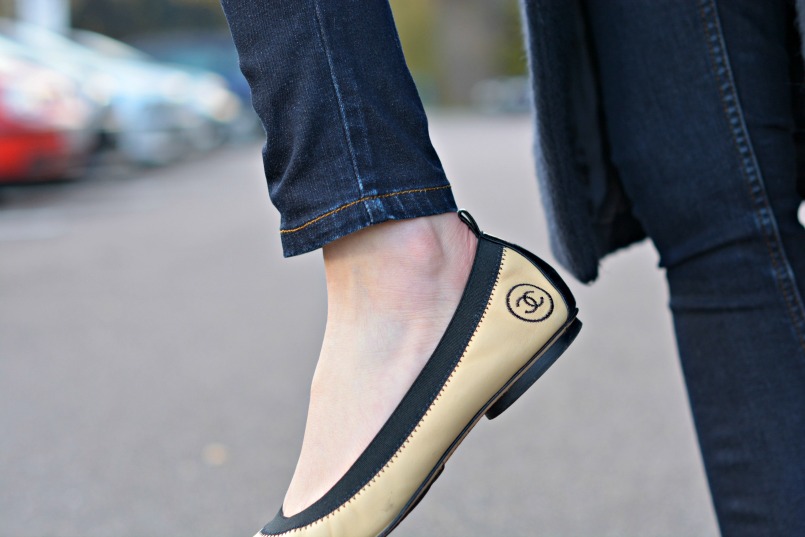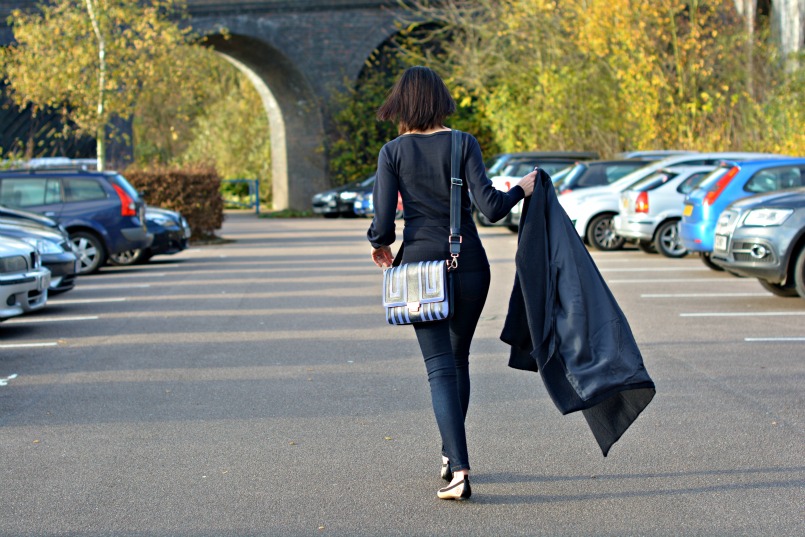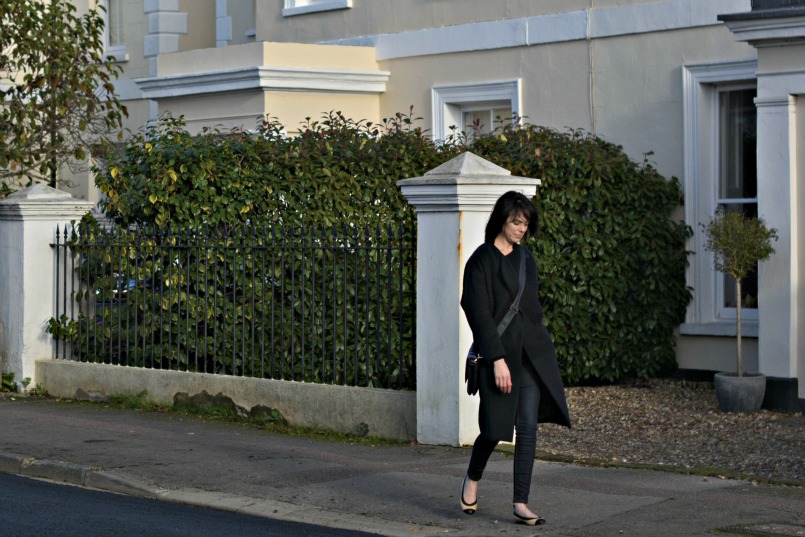 This outfit works equally as well with all grey so I'll probably post that version at some point, check back or subscribe & never miss a post. Do you have a particular outfit that works well for a day out shopping?
For Thursdays post I'm doing my signature 70's look, sponsored by Laura Ashley – check it out & be sure to let me know what you think.
Thanks for popping by, Mx