I'm a 1970's style chick
Naturally gravitating towards a retro theme in fashion & home decor. When Laura Ashley got in touch to collaborate on their Blog it was unsurprisingly for my interpretation of a 1970's style outfit.
I was thrilled such a renowned brand had made contact with this newbie blogger & were also allowing me free rein on the look! My only difficulty was deciding on what 3 key pieces to choose for my post as the Laura Ashley range is quite considerable. In the end I chose their cream Poncho because it'll work throughout Autumn, Winter & Spring – The check Wrap because it doubles as a scarf plus check is hot at the moment – And finally the navy blue felt Trilby because…well I just love hats! As I don't have a navy blue one this will be handy because that colour works with everything, specifically my navy Maje coat! Up here for thinkin', down there for dancin' WINK  See my last post….
Obviously I had to incorporate flares so opted for my darkest denim pair to match the hat. I selected my tan leather stacked heels & beige fine jersey long-sleeved t-shirt to lighten things up.
This cosy cream coloured Poncho is toasty warm with a chic mock turtle neck. It has a delightful single button detail on either side & is luxuriously soft. In fact I was blown away by the quality of it to be honest – it will absolutely suit any shape & cut of jeans style no matter what size you are.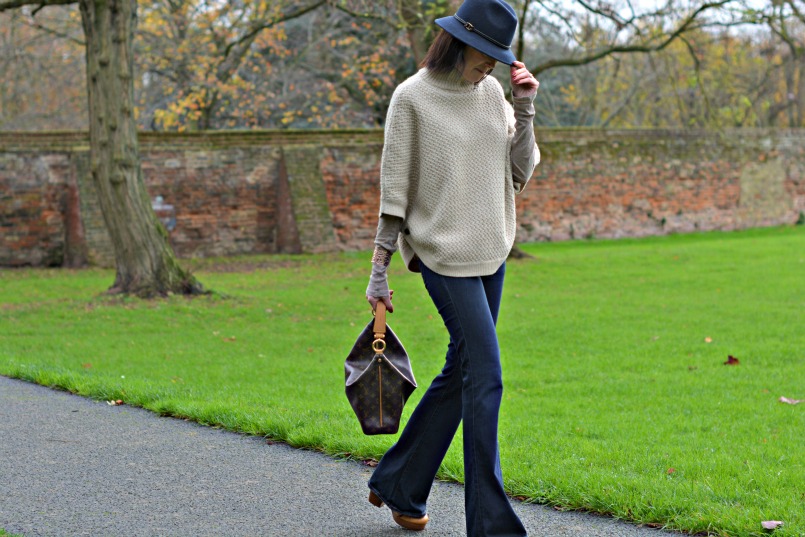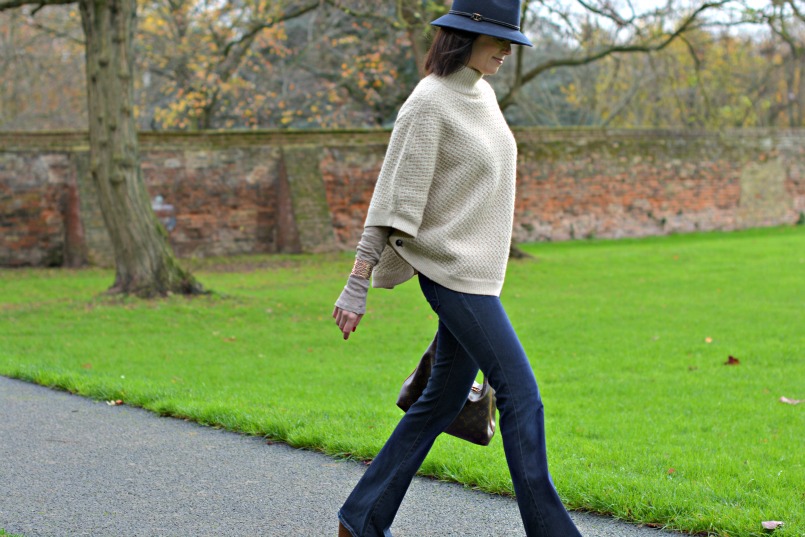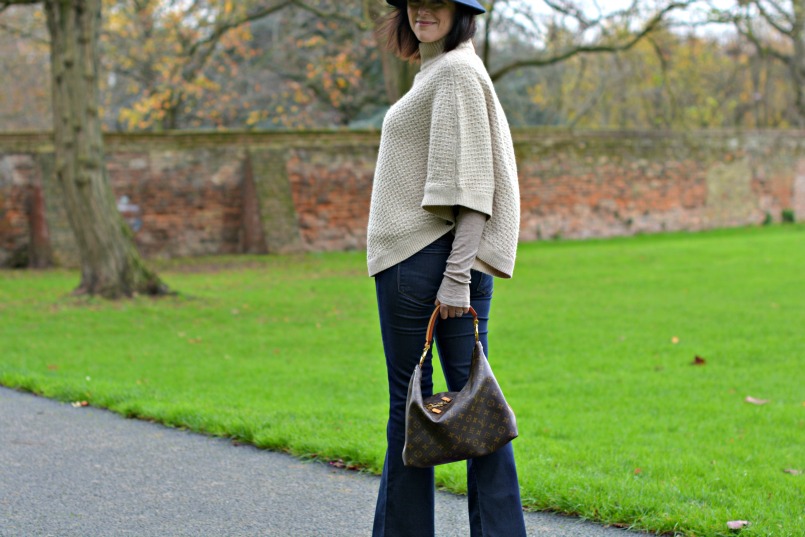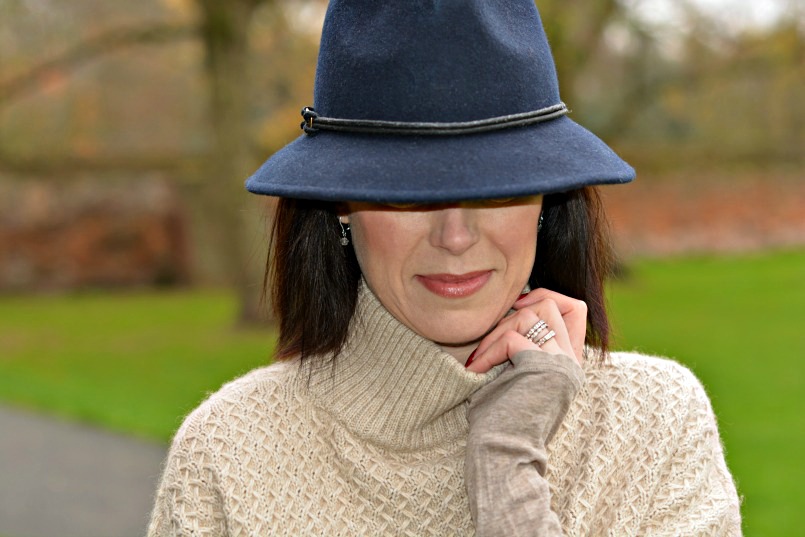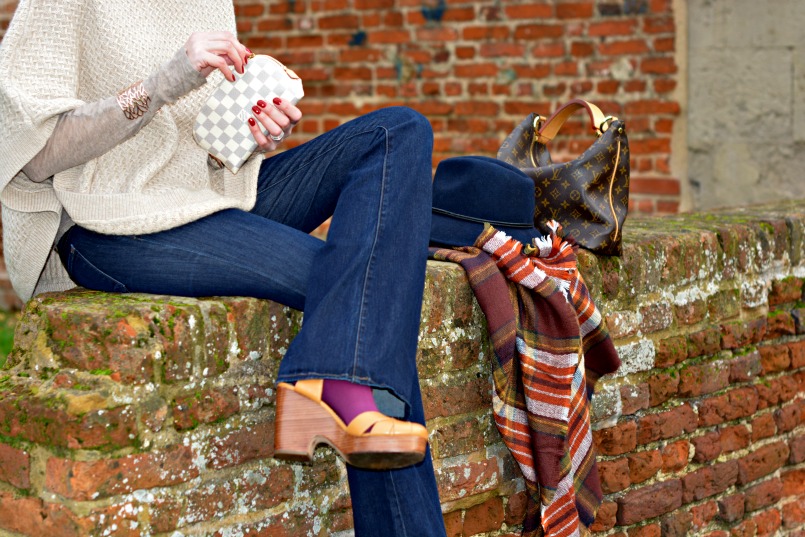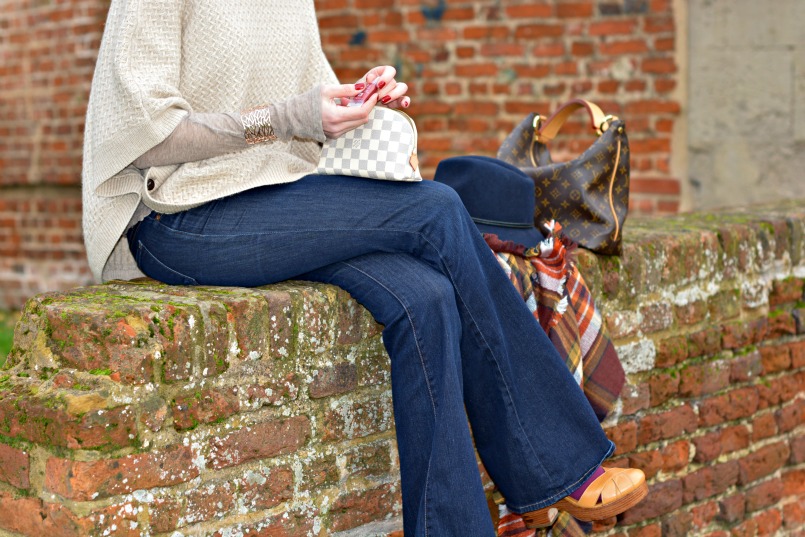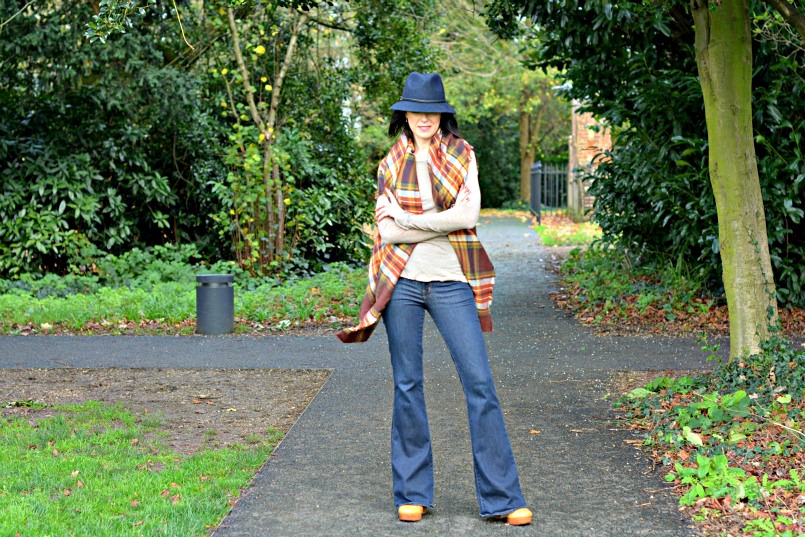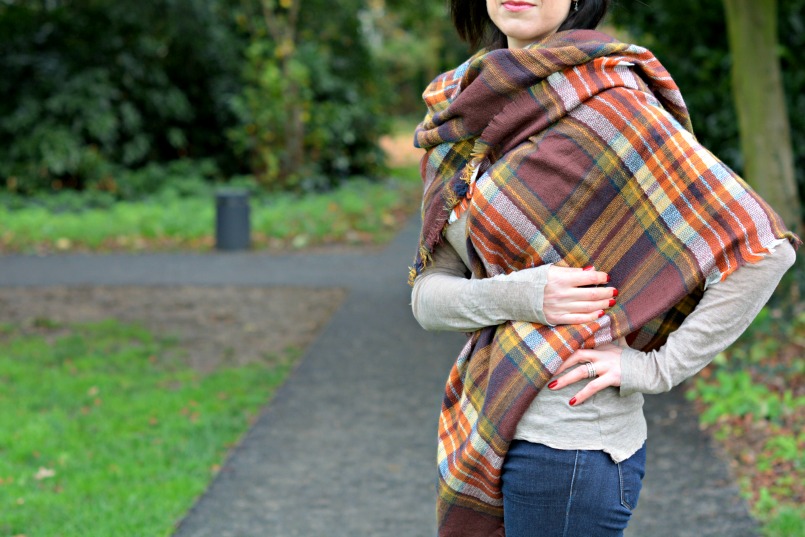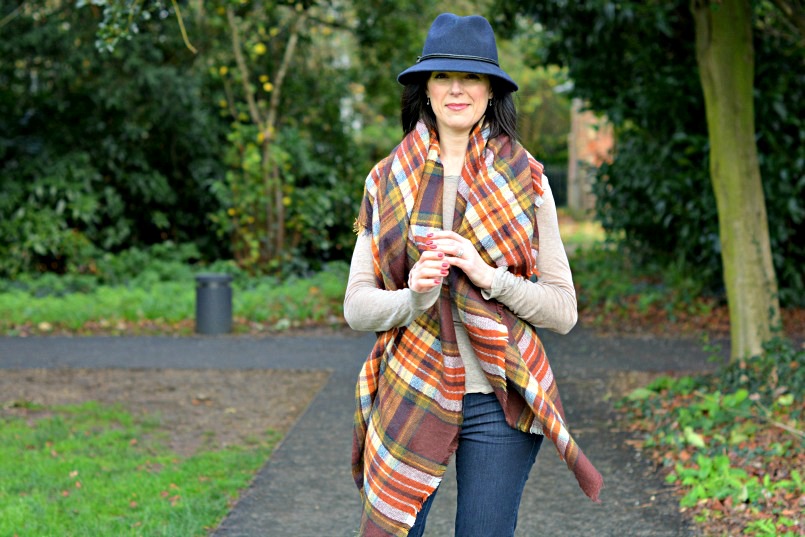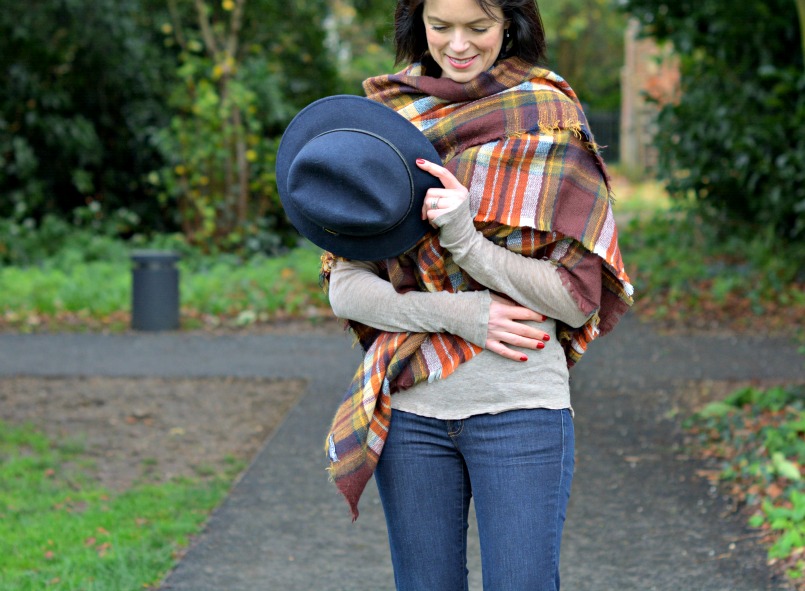 Hats of all description feature heavily in my Winter wardrobe not only for fashion but for practical reasons too.
The slightest damp in the air & my hair goes limp & frizzy! I'd prefer "hat hair" to that any day so adding another to my collection is very welcome especially of this quality.
The dimpled sides & slight point to the front of the hat make it a comfortable & sexy shape.  There's real substance to the felt so it'll withstand light showers, always a bonus in Blighty.  I'm impressed with this Trilby, Laura Ashley have got it exactly right – another colour please?
Marc by Marc Jacobs wedge heeled shoes
My shoes are pretty ancient yet I still wear them every year at some point. For me the stacked wooden heel & tan leather reminiscent of Charlies Angels, is never dated & won't ever go out of fashion as it were.
I'm wearing coloured tights predominantly to keep my tootsies warm but also because the purple is picked up in the Laura Ashley check wrap.
Have you noticed all the instructional Vlogs on how to wear a Pashmina or Wrap? My feeling is not to over think it, simply throw it on your shoulders like a cape or scrunch it up around your neck such as a scarf. When you have a large & colourful wrap like this check one it's best not to be too clever with it. The beautiful red & orange tones combined with the pretty soft frayed edging speak volumes.
To emphasize these Autumnal colours I'm wearing burgundy nail varnish & lip colour. Check out my tutorial on how to apply a burgundy lip that lasts all day.
Is there any particular decade that you favour in your fashion sense or do you dabble in them all?
Next week it's party time! What to wear for a Christmas night out with the girls, pop back or better still subscribe to RCM & never miss a post… See ya, Mx