My Cath Kidston dress is very much in the style of the 1950's with its fitted bodice & full skirt. The reason why I chose this particular dress for today's post is because of something my friend Clare said to me recently. She also happens to be an RCM reader so what she said really made me stop & think.
What did she say?
"Love your latest outfit post but I could never wear that!"
Therefore starting with this post, I'm going to make sure I point out when an outfit will also work for other body shapes. Trust me when I say so much of what I style can be worn by anyone. My clothes are simple wardrobe staples, peppered with a little of my personality of course however it's mostly just the basics. Although sometimes an adjustment is needed to suit the individual, perhaps this isn't obvious & I could explain in specific detail?
The 1950's Style Dress suits a full Figure
Wear a fine knit cardigan if you prefer your arms completely covered like this. Alternatively choose a dress with sleeves. Regardless, this is a minor detail & easily overcome. More importantly it's the hourglass shape of the dress that makes it incredibly flattering on most figures. The only niggly point may be the length which should be above or on the knee otherwise you lose the benefit you gain by having the fullness of skirt. Therefore take it up to the knee if it falls below, as many of this cut do. You shouldn't worry about this point when trying on dresses because it's such an easy fix. Rarely do I find every element of a dress perfect for me before I buy it.
In fact the shoulders of this dress had to be shortened by 3cm so they'd sit flat. A problem I often find due to an old shoulder injury that makes anything structured sit wonky on me.
I've selected a range of fabulous Cath Kidston dresses for the carousel below because nobody does the 50's shape better! As an additional bonus they're having an awesome sale right now!
Not a fan of florals? Don't write off my dress just yet – You'll also find this popular cut in spots, stripes & various prints. A quick search turned up this fabulous Boden option also on sale!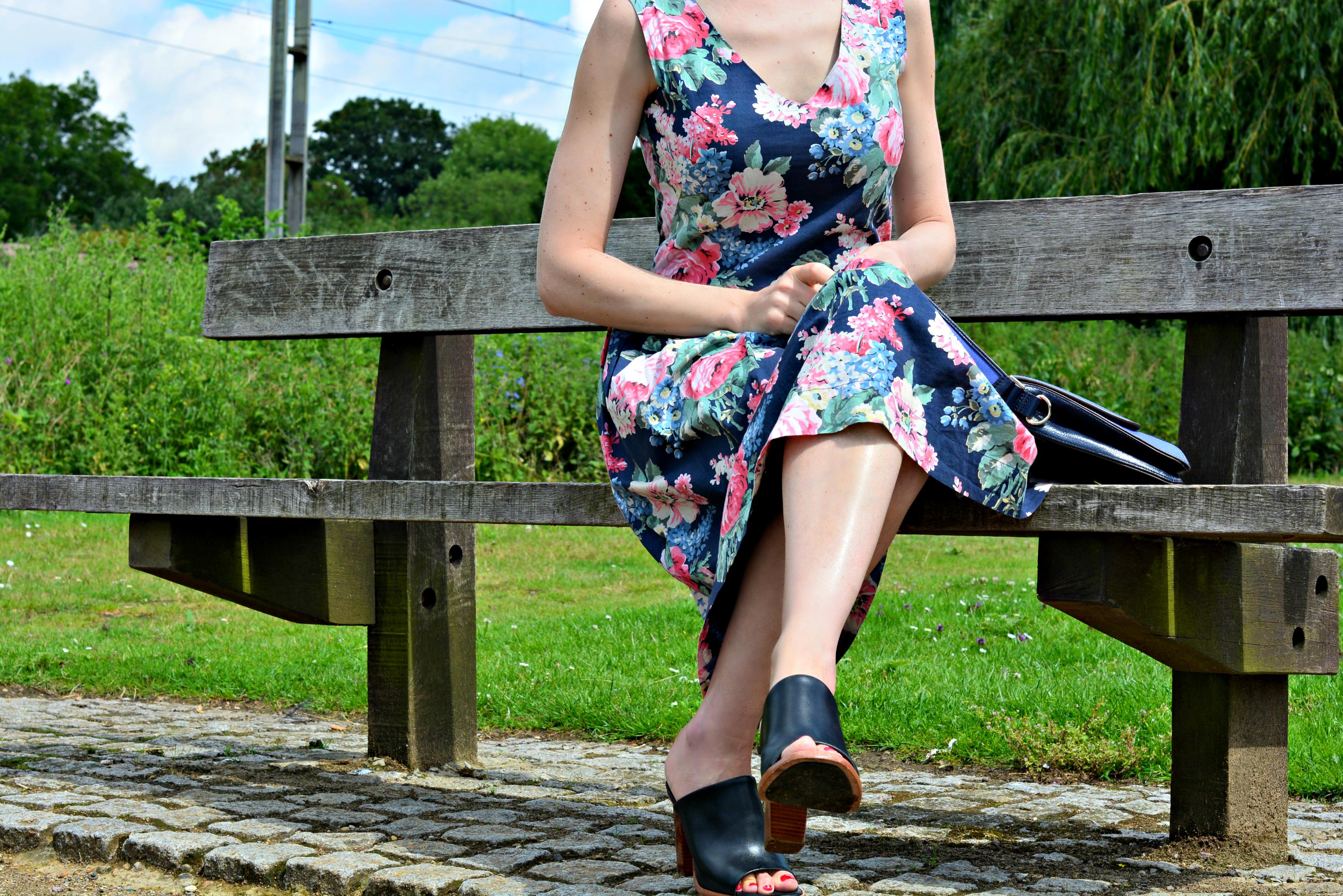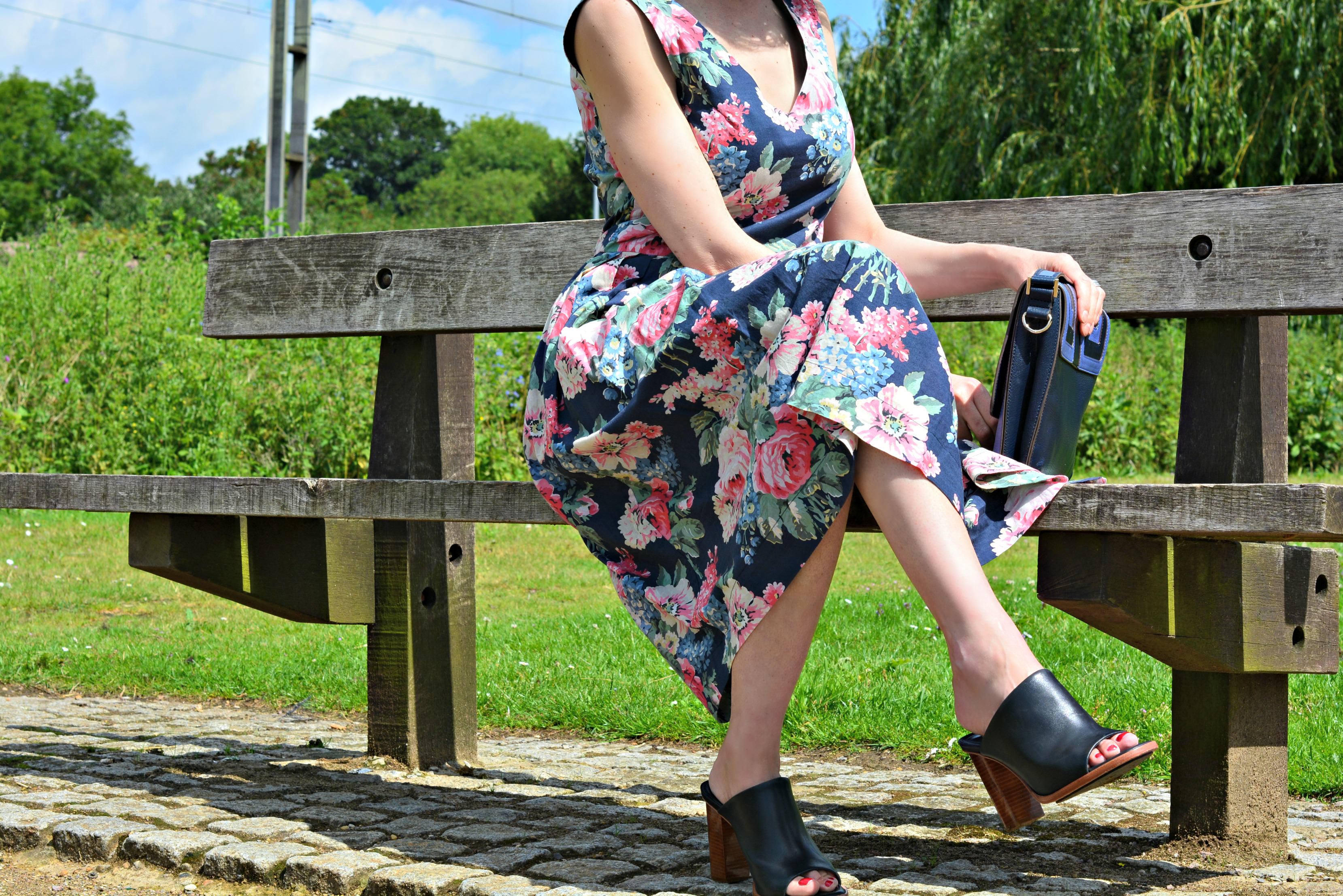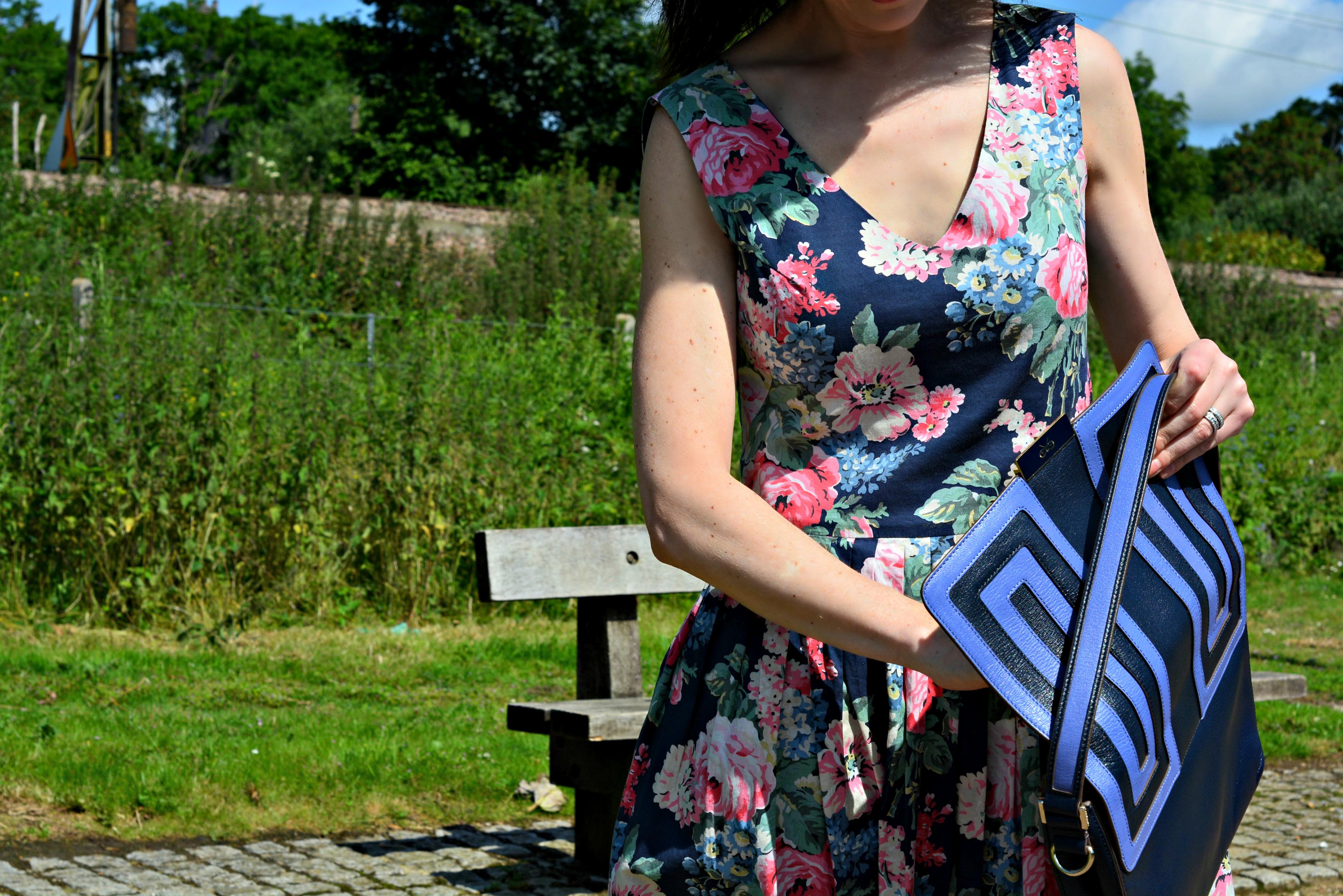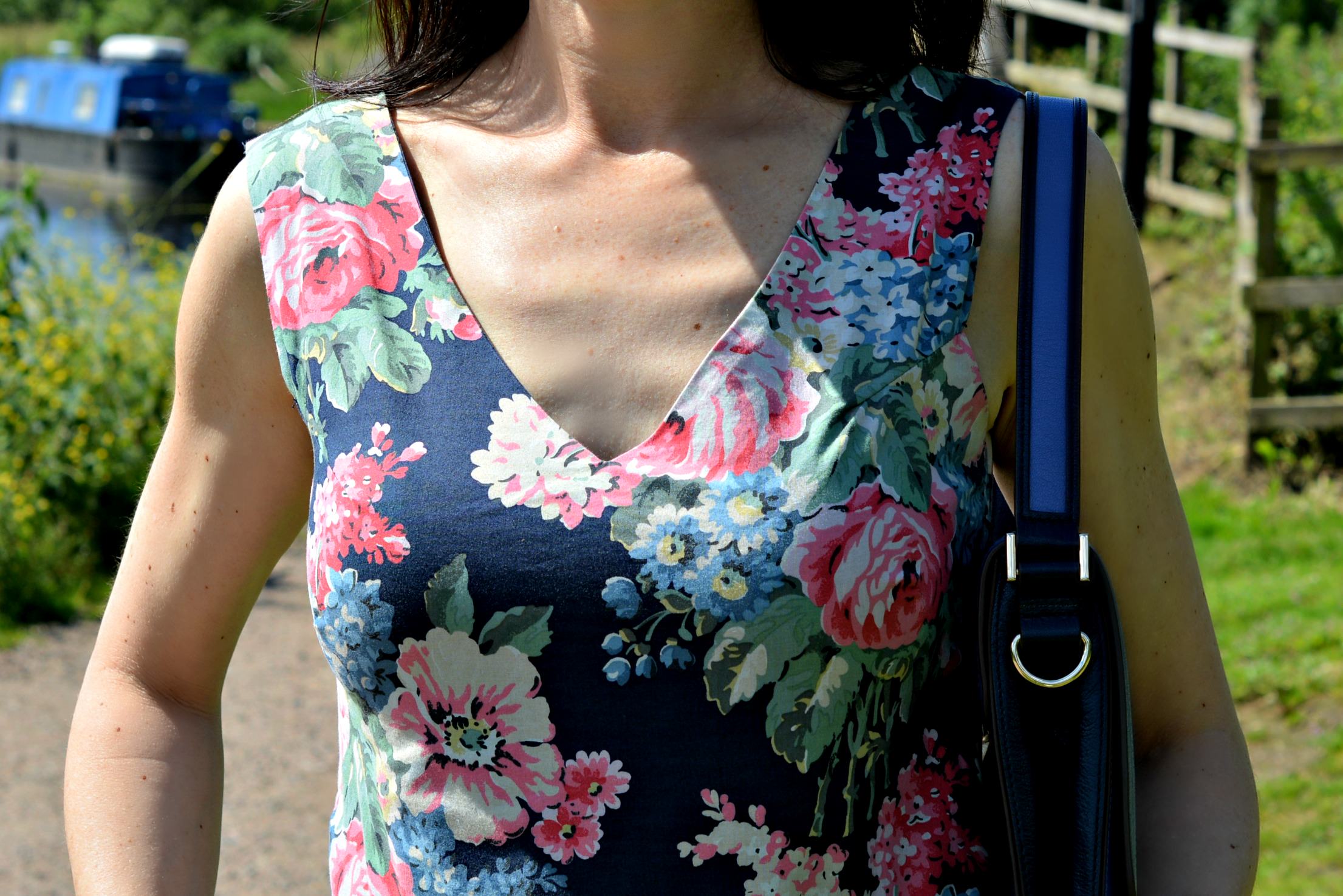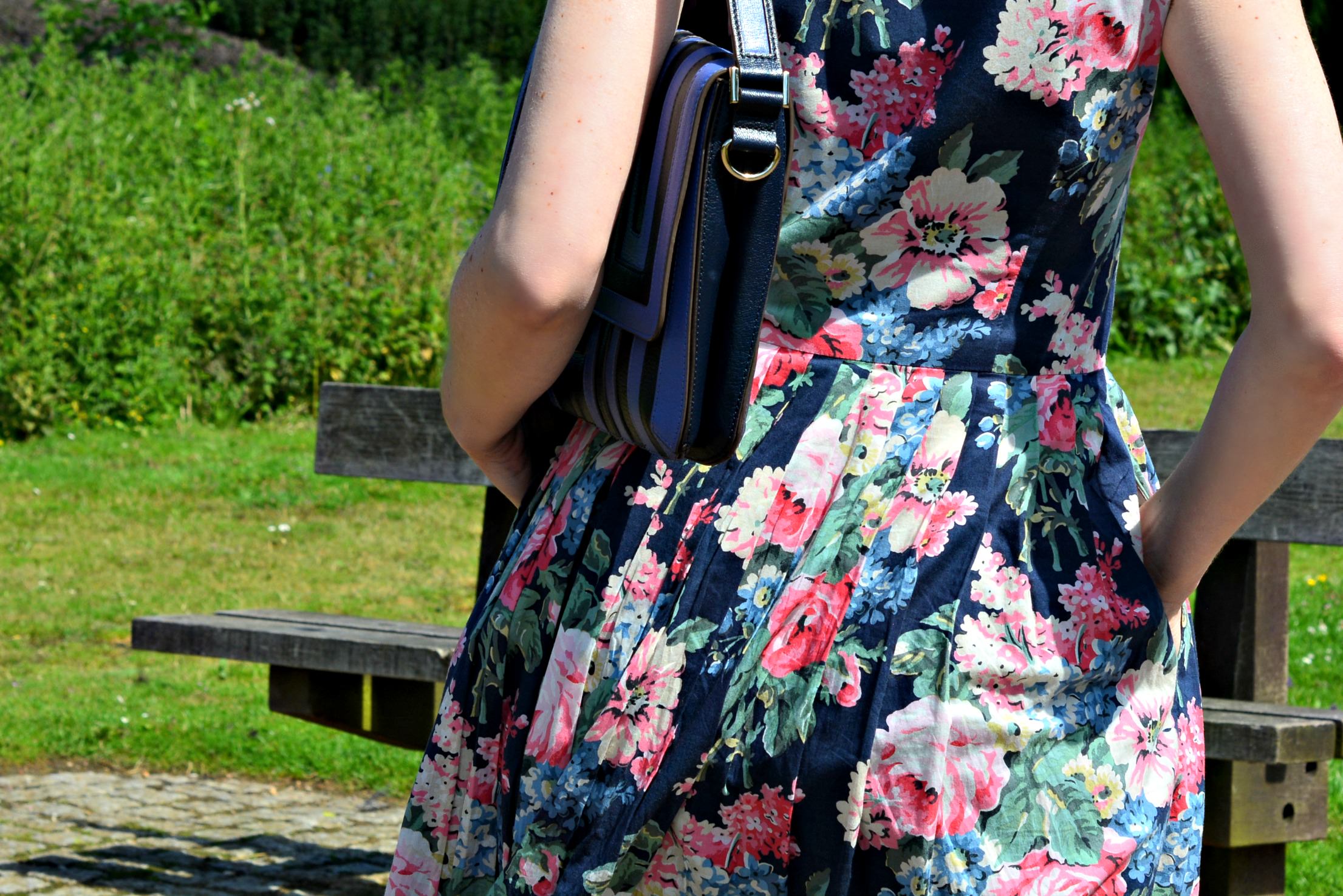 A Simple Black Mule
Mules are my choice of footwear here because I like their solid form & the added height of the block heel. Personally anything strappy would be far too feminine, I prefer chunky with all these flowers. Equally the block heel adds some weight to the frivolity – A stilleto heel is way too girlie for me on this occasion. These Mules are from Whistles a few years ago which unfortunately they don't appear to be doing now. Shame really as Mules are always around come Summer. Not a problem, I've cherry picked some choices for you below if you don't already own a pair.
I always take my high Mules on holiday, this single pair really work with my entire capsule wardrobe. I enjoy dressing up for dinner every night, it's part of my holiday ritual. However the days of packing an entire suitcase just for shoes are long gone. Blimey, can't believe I used to do that!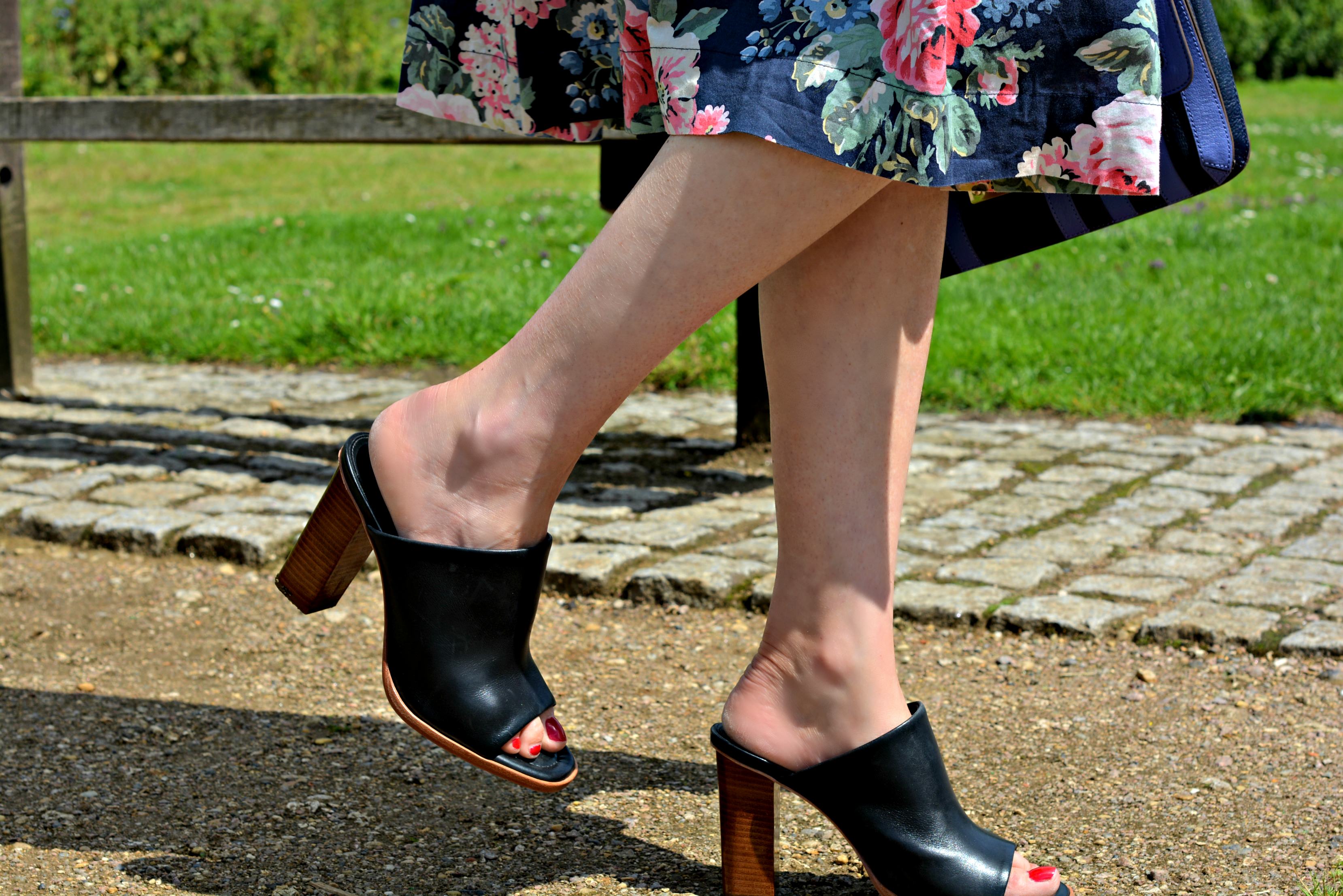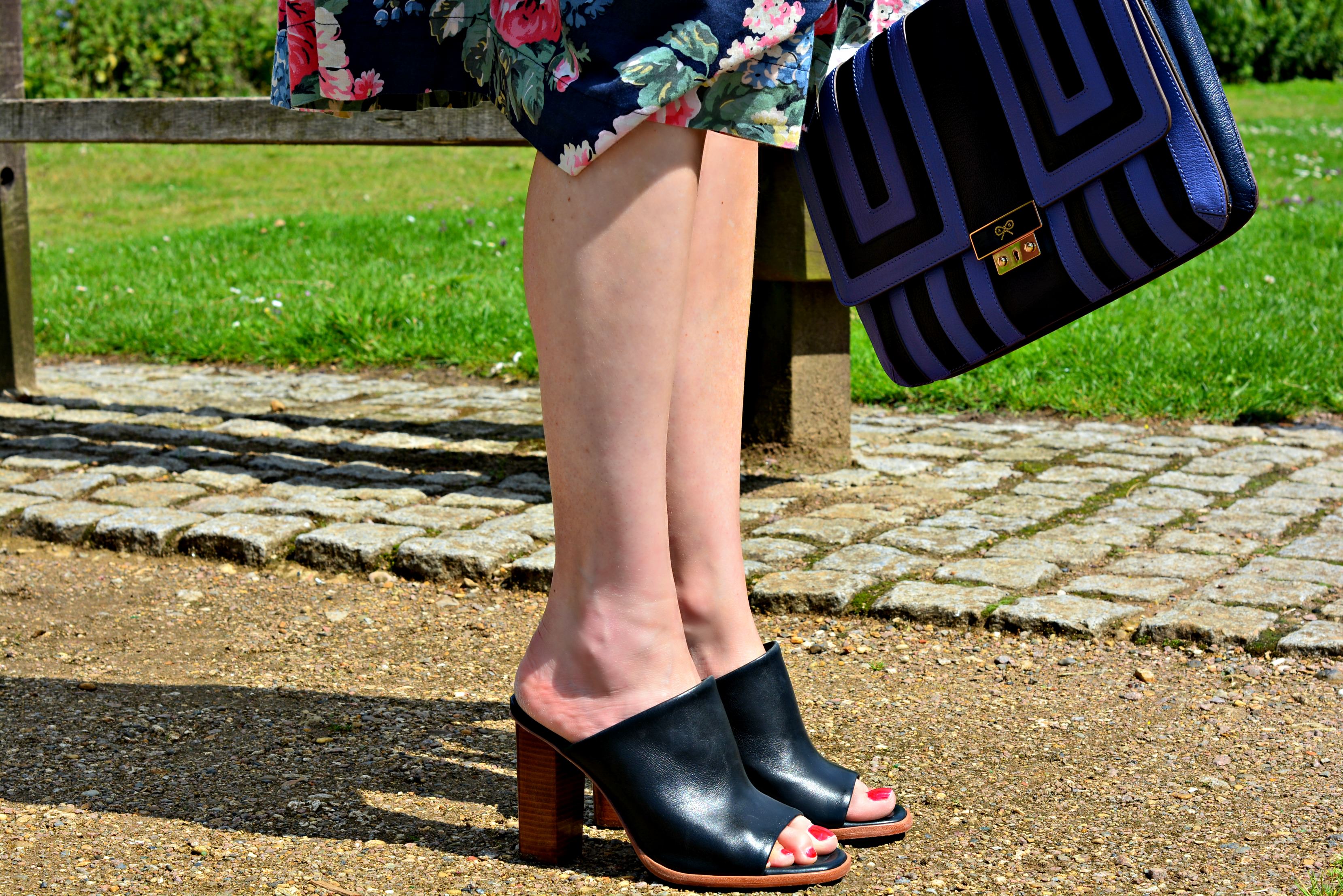 Getting the most out of my Wardrobe
Before signing off it's worth pointing out that this dress will easily transform to appear as skirt & top. For more inspiration have a look at this post I published back in Winter. Knowing how much re-styling a dress such as this affords I would call it a wardrobe staple, wouldn't you?
Mx