A funny thing happens to our body hair as we pass the age of 40 & I don't mean funny haha. It stops growing in the customary places like our legs & eyebrows then re-appears on the chin, or worse out of a nostril!
I'll never forget that fateful day when I caught sight of an enormous single hair coming from my chin. If it had a couple of mates I could've plaited them & called it a goatee!
Oh the horror! How long had it been there? In fact how bloody long is this thing??? I mean someone has seen this right? Do I have no friends at all in this cruel world?
That afternoon I had a stern word with my friend Suzy.
"Listen I found a really long hair coming out of my chin this morning. Didn't you notice it? I mean yeah it's grey (double horror) but surely when the sun glinted on it you saw it?"
Stifling a laugh she was adamant she had not seen the hideous thing & promised to take more care in future – She'd absolutely positively tell me next time. Mind you we're both so busy working these days I may not see her in the time it takes to grow a small moustache YIKES
I'm tempted to have my entire face threaded on a regular basis. My sight is so poor now I just don't see the hairs, even close up however it hasn't come to that yet Ouch thankfully. Not sure I can handle the pain.
The loss of hair in the usual places is no such biggy, actually it's quite lovely only shaving my legs twice a year Bahahaha
However, my eyebrows is where it is an issue & growing (or not growing) worse. Because I'm still hanging onto the image of myself as a brunette, albeit bottled, I really have to colour in my brows to match. They're just too sparse & many of the hairs are pure white now so I literally pencil them in with feather-like strokes for a natural effect.
Doing this is time consuming for which I lack the patience therefore I only bother for nights out or a shoot.
Until I discovered this little beauty…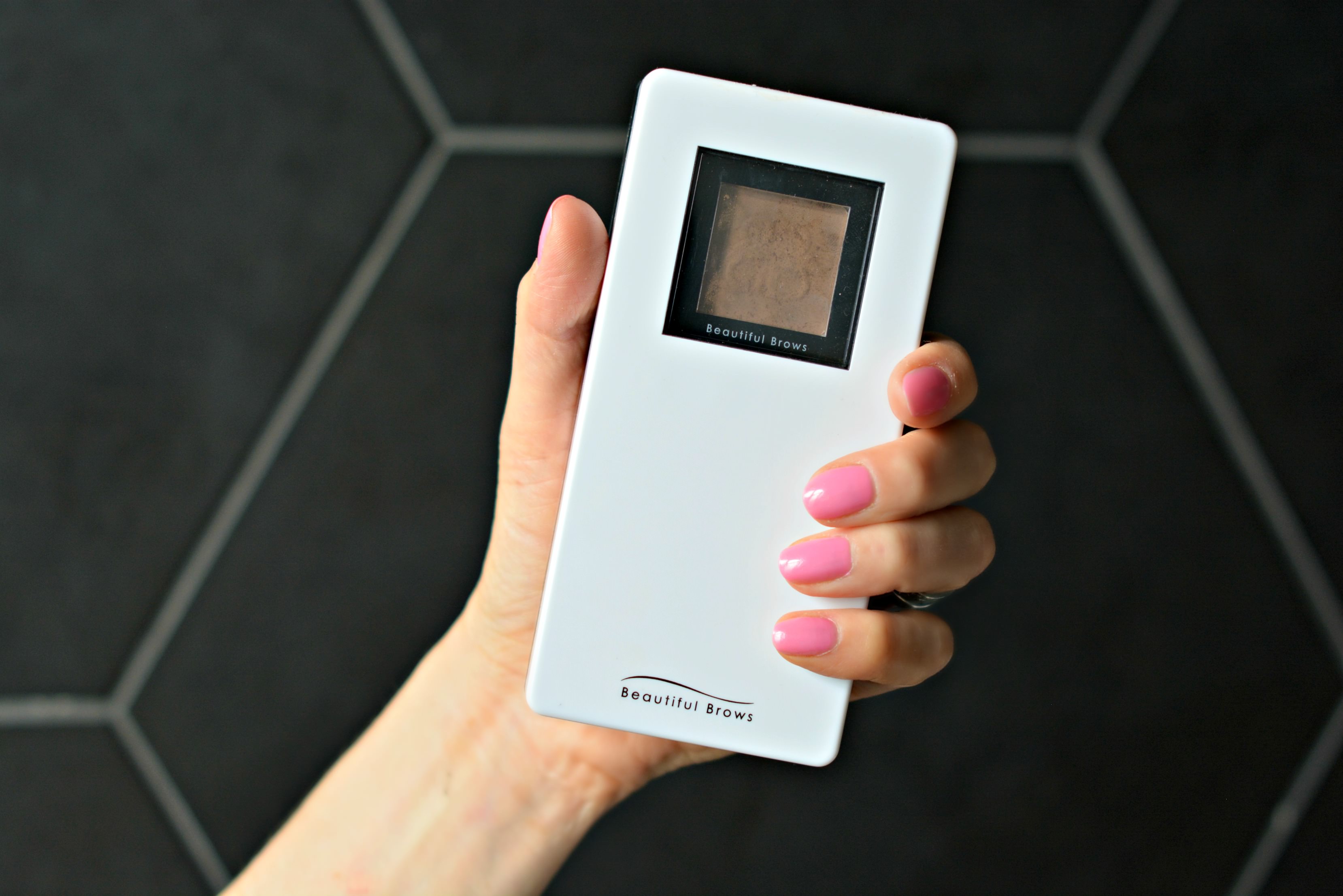 How to do Perfect Eyebrows in 1 step? Beautiful Brows kit is the Answer
This neat little compact contains 2 powders, the 1st is to form the brow the 2nd is to highlight the brow bone. There are 3 stencils for varying shapes, tweezers & a couple of applicator brushes. All this for just £30!
Plus it's so incredibly simple I wonder why it has taken me so long to discover it? Then I realised the kit isn't marketed to women over 40. Beautiful Brows appears to focus on the ever popular Kardashian sculpted make-up style, aiming at a much younger demographic.
I don't know about you but that look really is not for me. Furthermore wearing so much make-up is incredibly aging & should not be attempted by a novice.
I do however need the depth a stencil application can achieve yet to remain a natural make-up look I merely use less powder – simple!
Below I have applied my BB cream, concealor & light dusting of powder. For more detail you can read my tutorial on how to create a natural make-up for every day.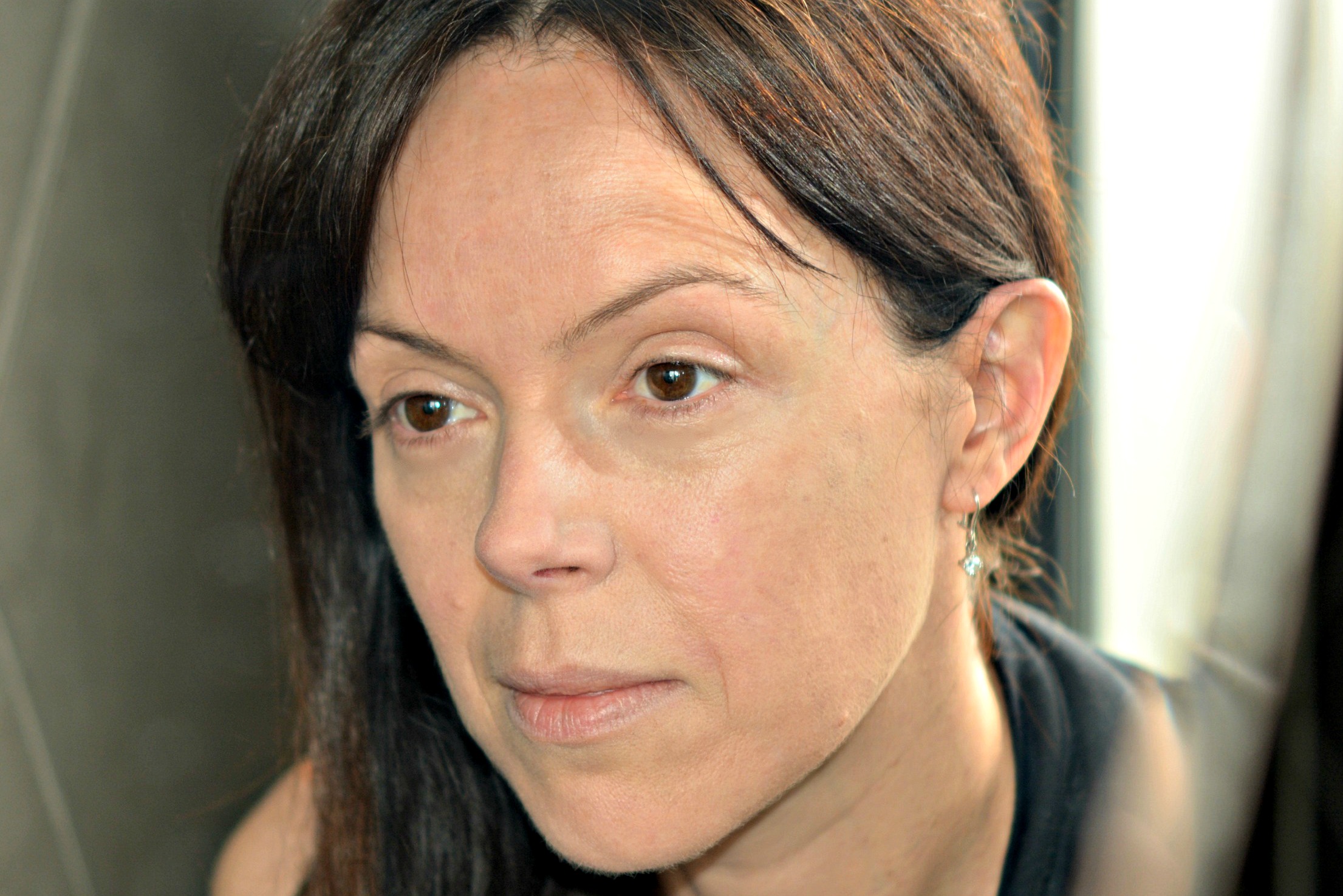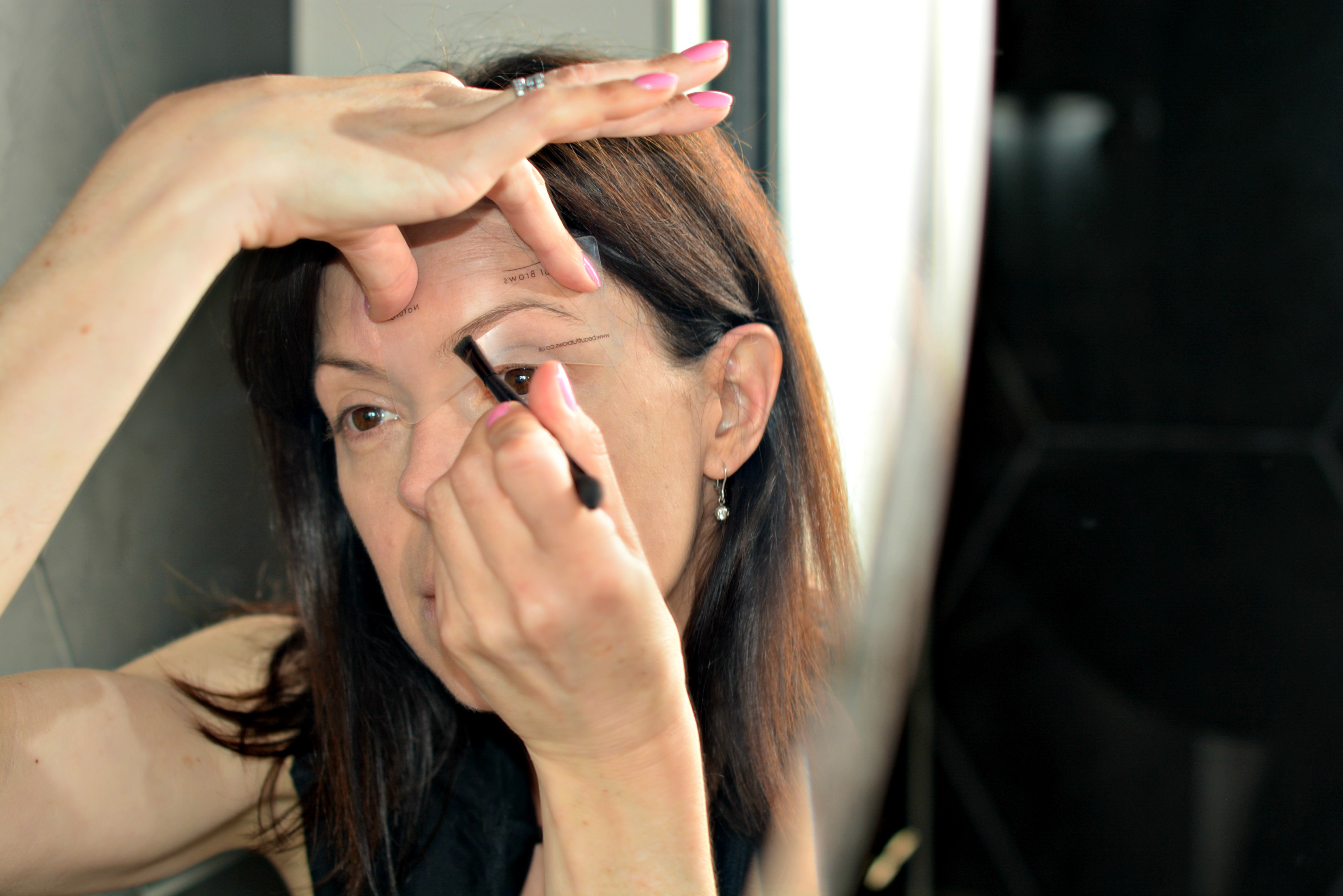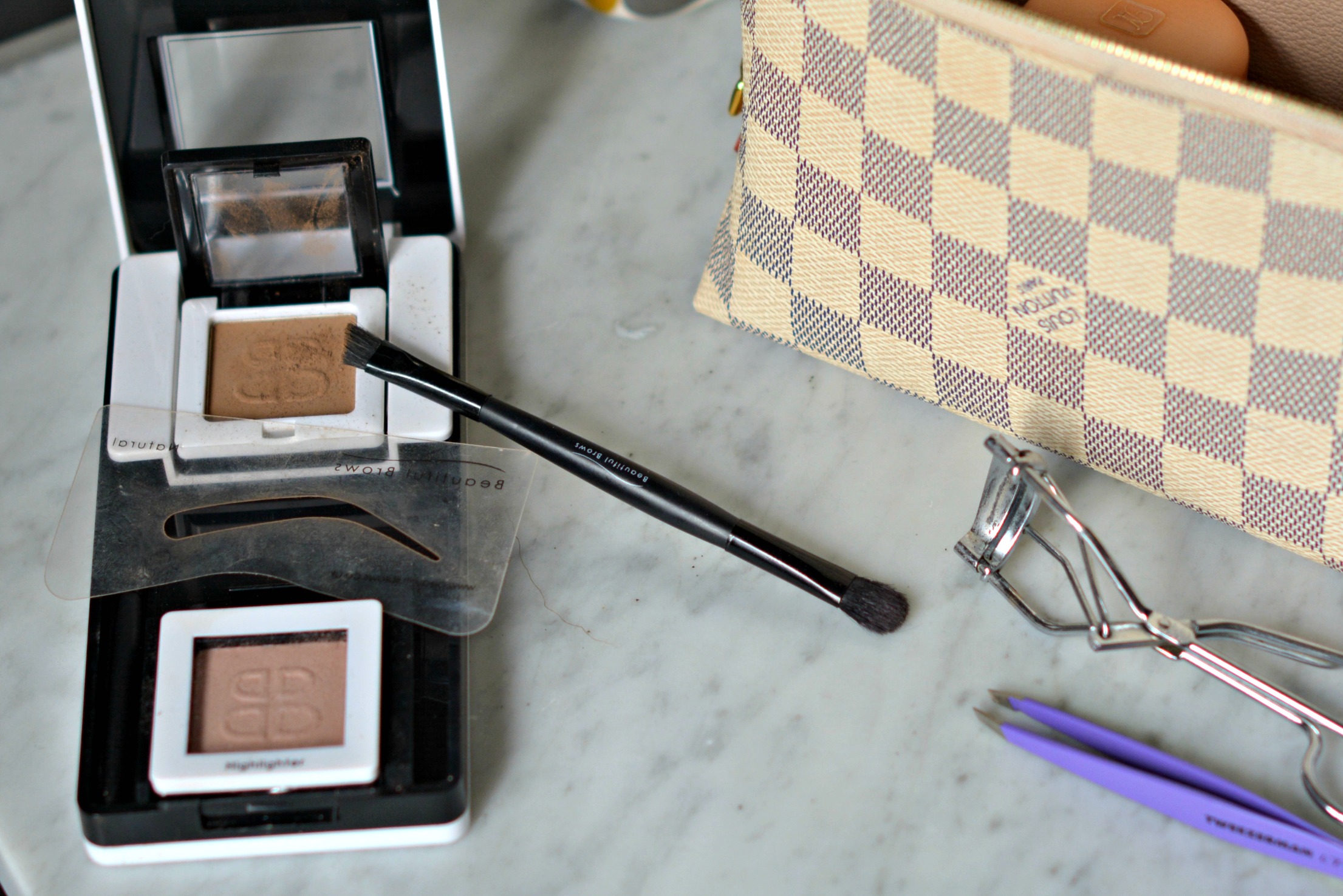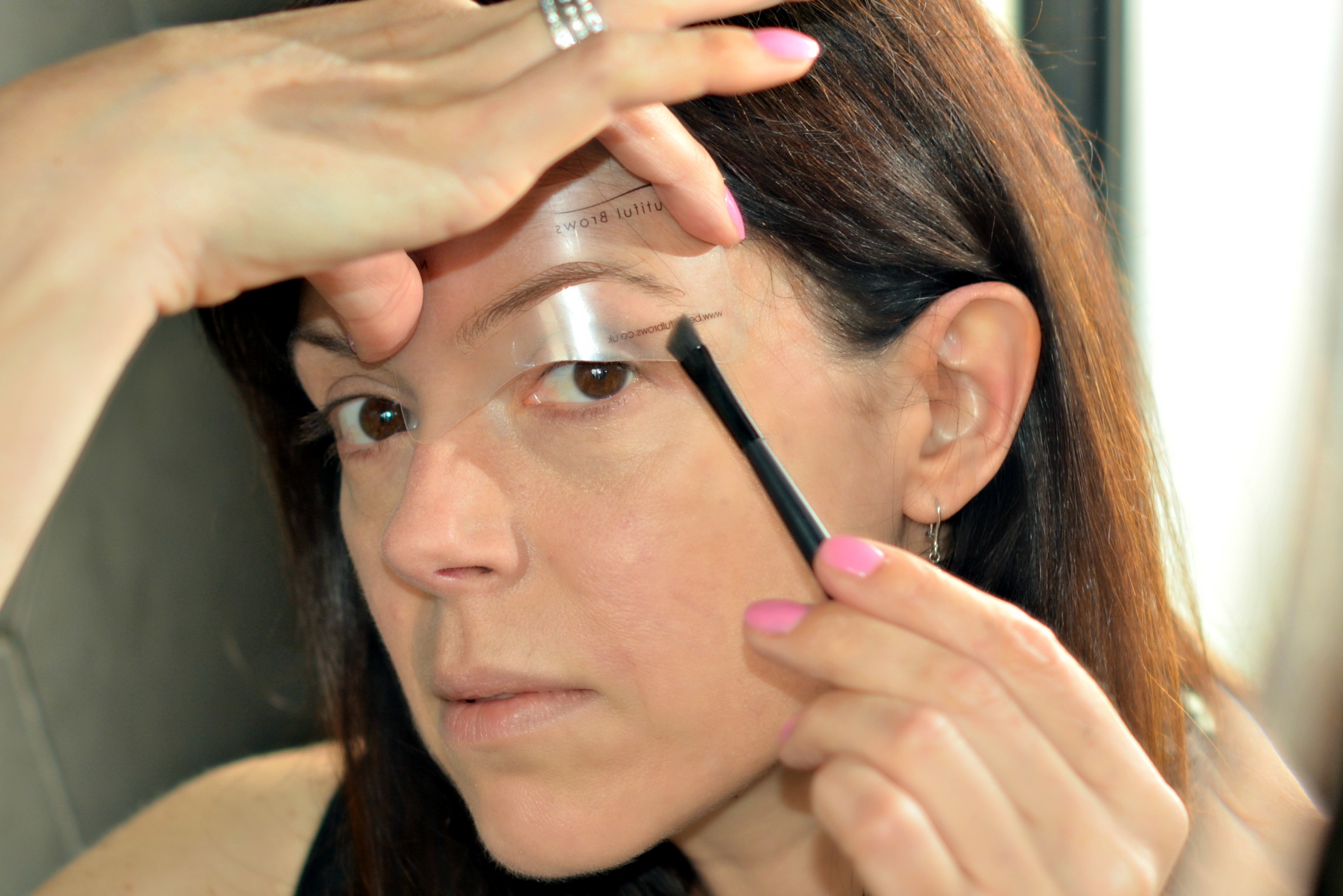 Next take your stencil of choice, ideally the one that sits naturally over your existing brow line. Using the stiffer end of the double ended brush & ever so lightly touch the dark powder. Remember you can build it up gradually until you get a feel for how much works for you.
Then simply brush first against the hair growth then with it. Remove the stencil, flip it over & repeat on the other eyebrow. That's pretty much it unless you fancy using the highlighter powder although it isn't essential to the result.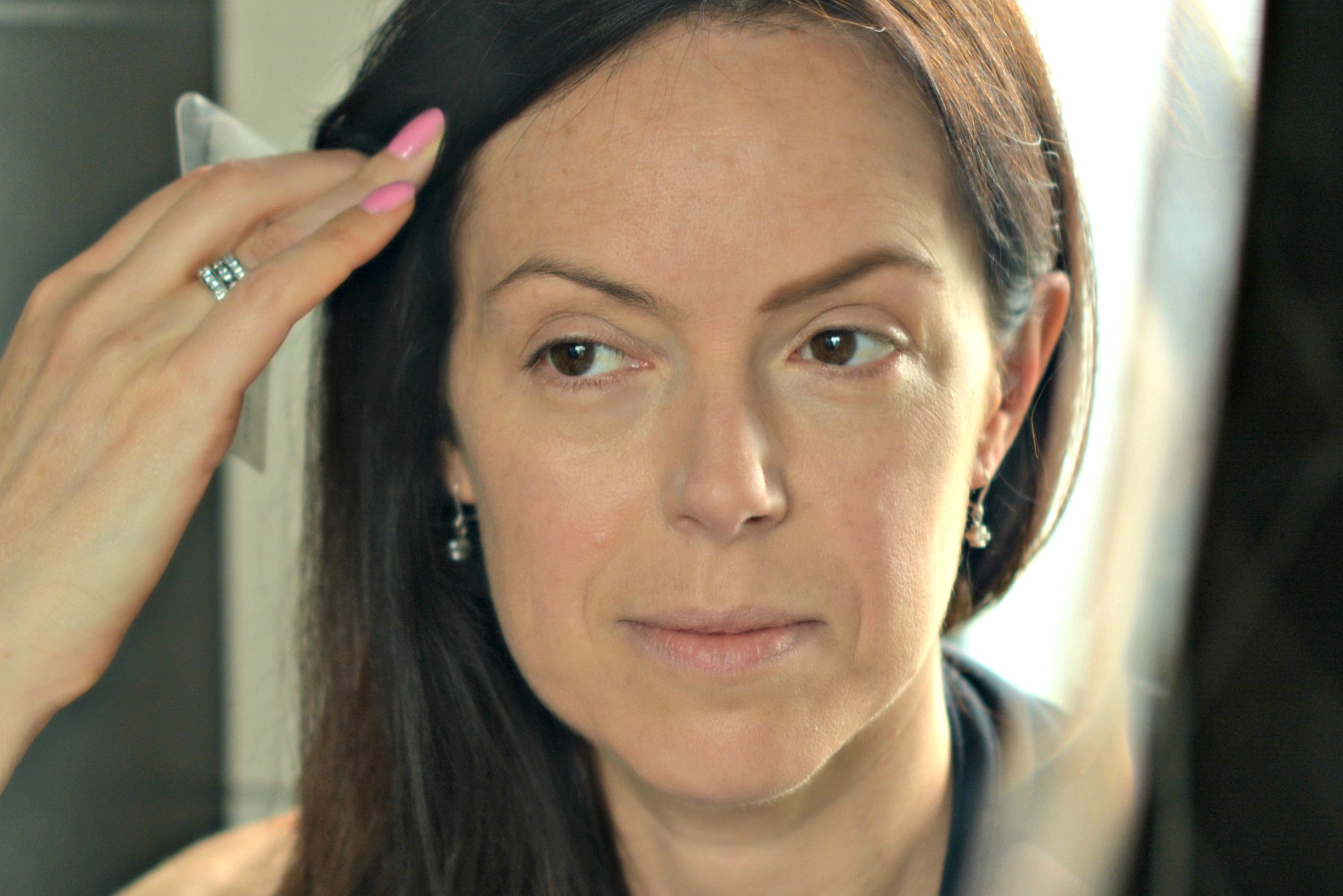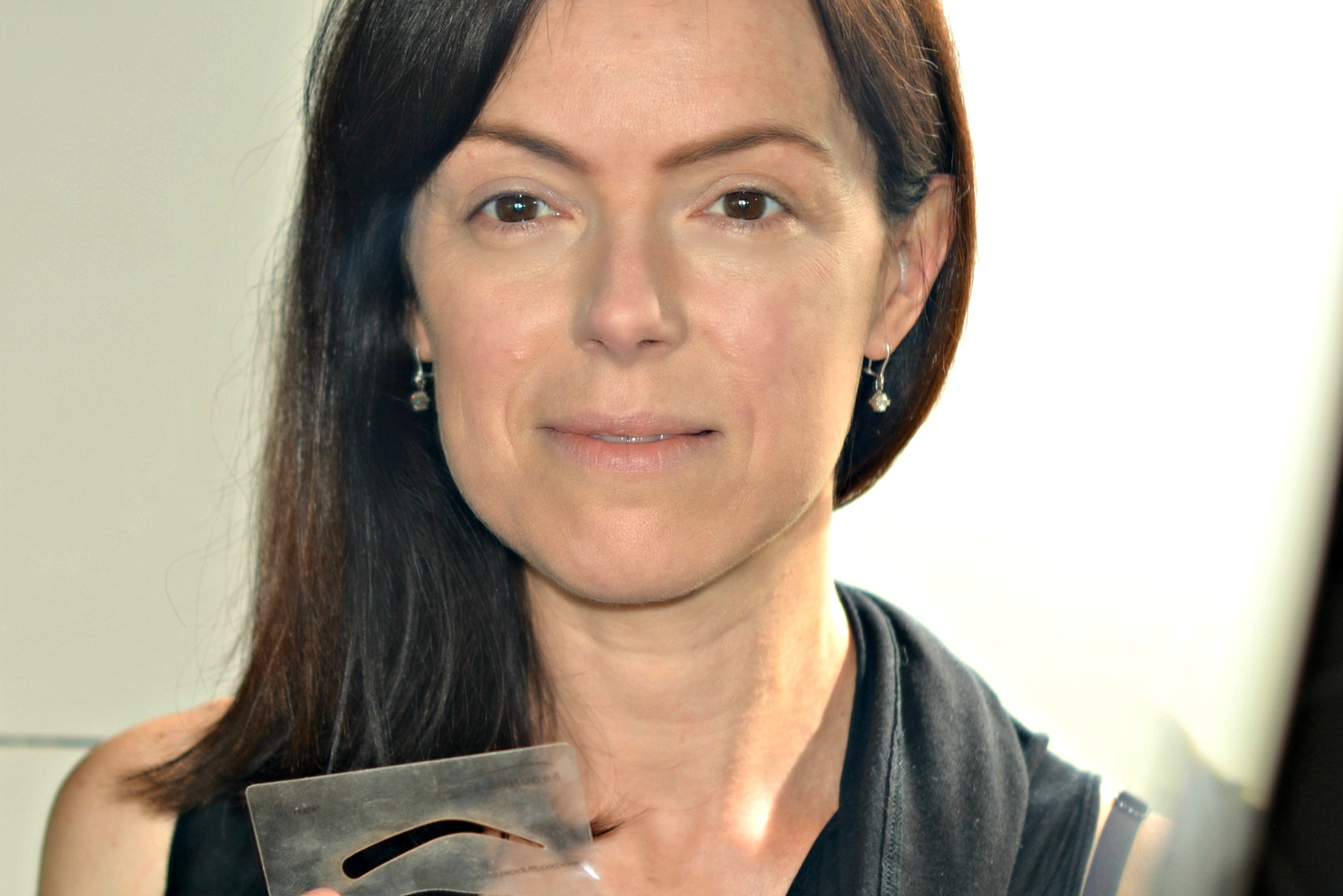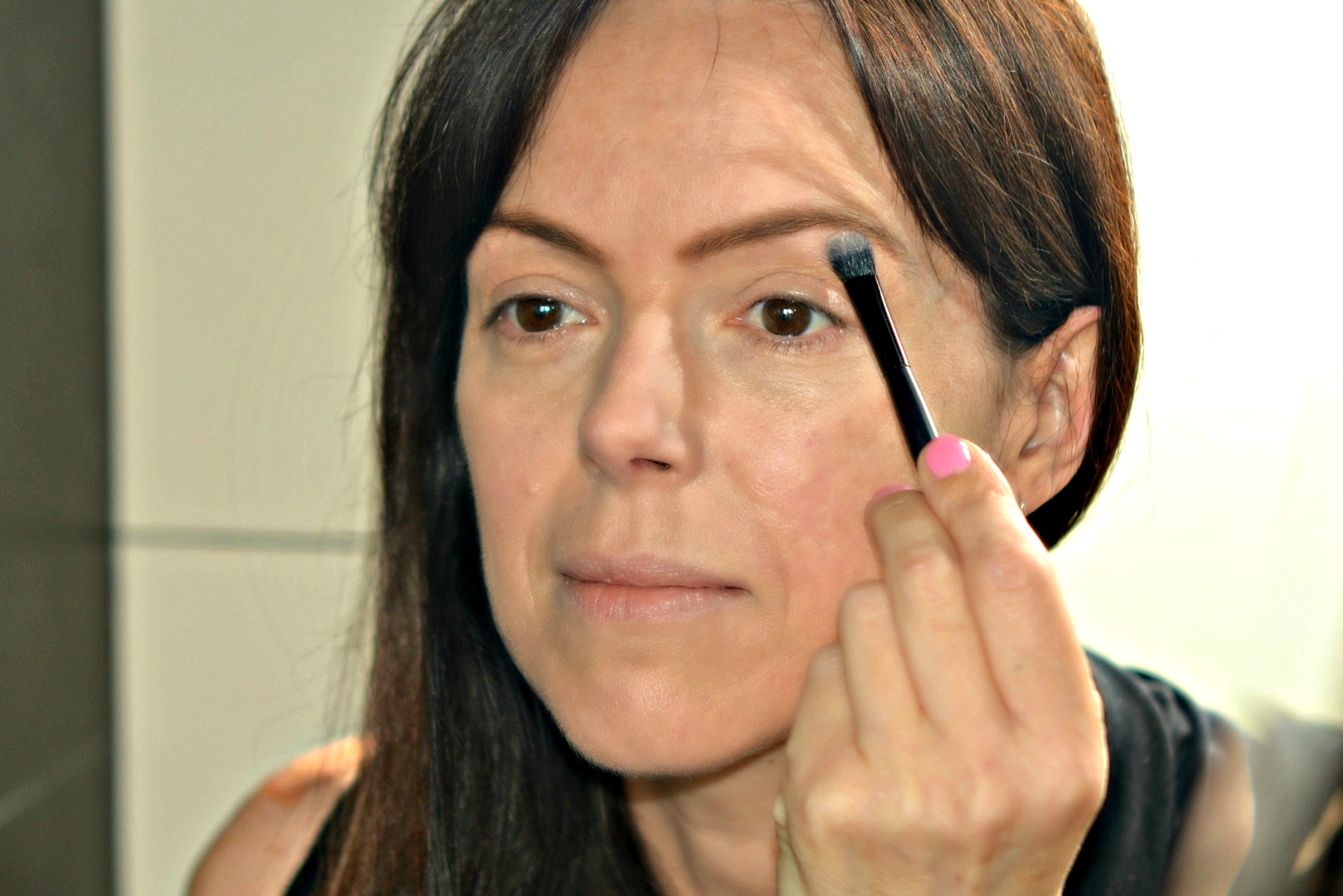 Use the soft brush to apply the pale highlighter powder to your brow bone. This will give the eyebrow more definition. Additionally it can be used to highlight your eyelid although for me it only serves to make my lid appear puffy. However if your lids are small or a little recessed brushing some highlighter across them is a useful trick to make them stand out.
Here are my Perfect Eyebrows!
But wait there's more! Beautiful Brows powder is smudge proof, sweat proof & water resistant! Yes it is indeed. I actually tested it by removing all of my make-up apart from my brows & showering. Naturally I didn't put my face directly in the water but there was plenty of steam & moisture that's for sure. I have also slept in the brows – That sounds funny Heehee
They claim to last 24 hours however I can attest to longer than that if I don't touch them. If you accidentally rub an area off it is simply a matter of filling in & you're good to go.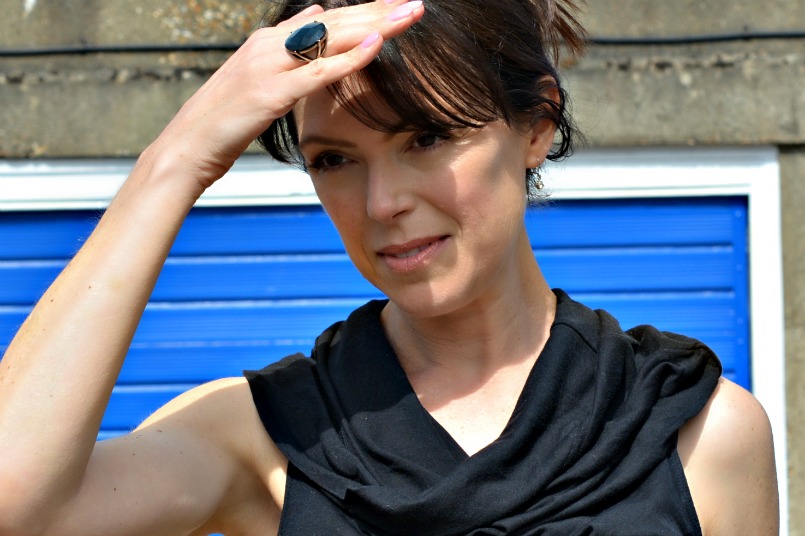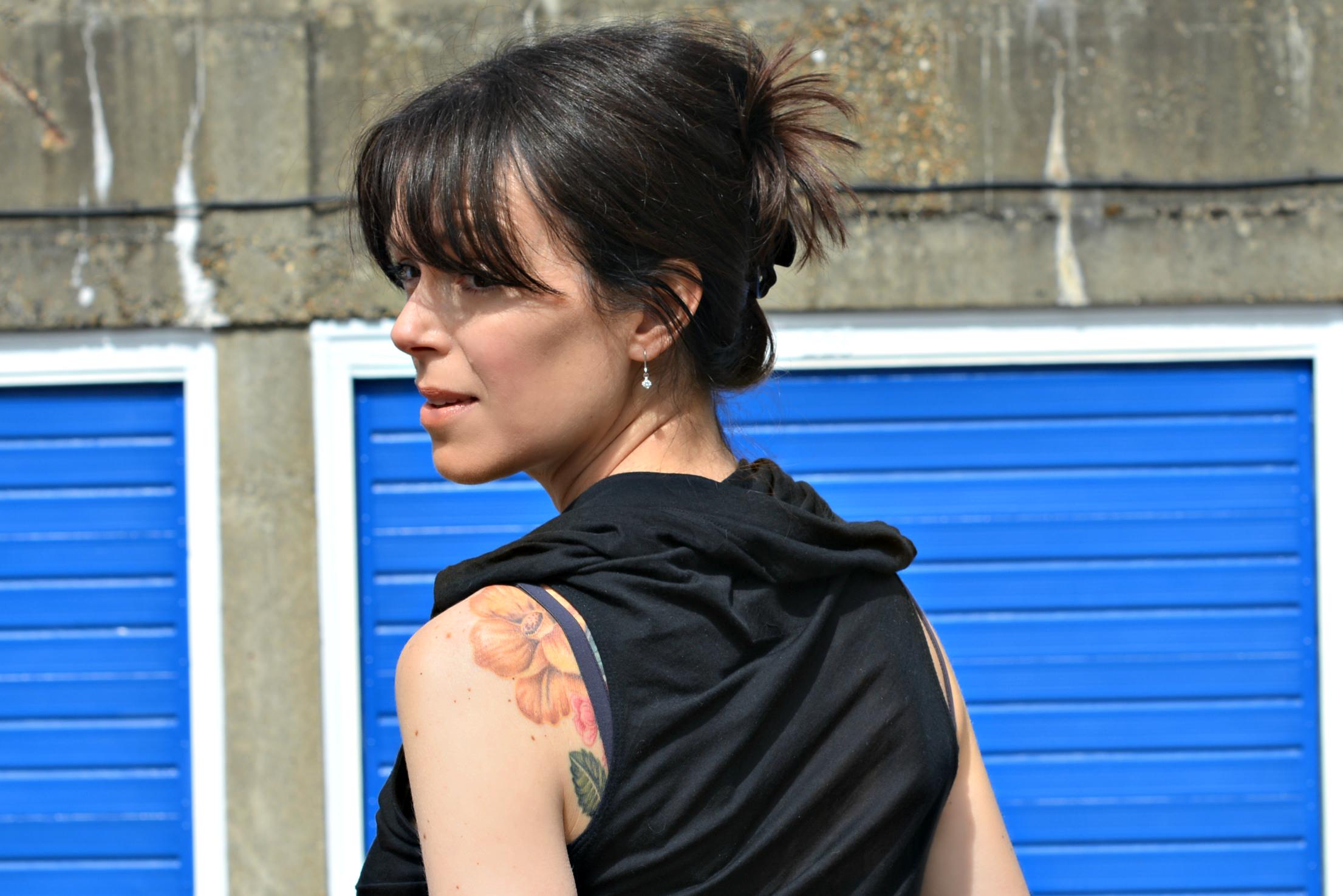 My Outfit of the Day
Dressing up a basic denim skirt is super easy with a simple black top & matching high heel pumps. My top is very old from AllSaints (worn another way here) & my skirt is from River Island (worn another way here) I've added my sequins clutch for extra pizazz because The Sequinist reminded me how fabulous sequins are in her post this week. Can you ever say SEQUINS too often? Hahahaha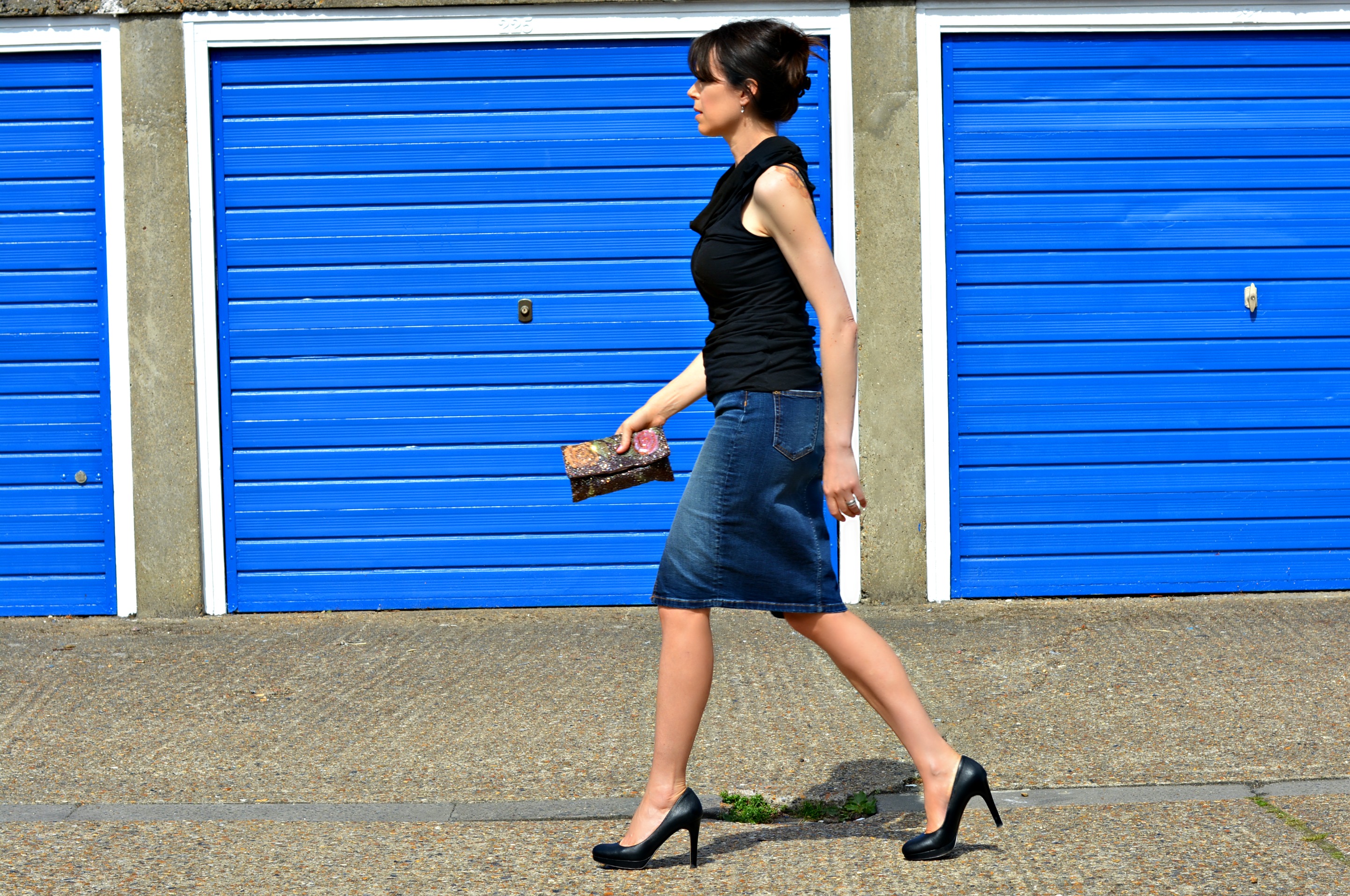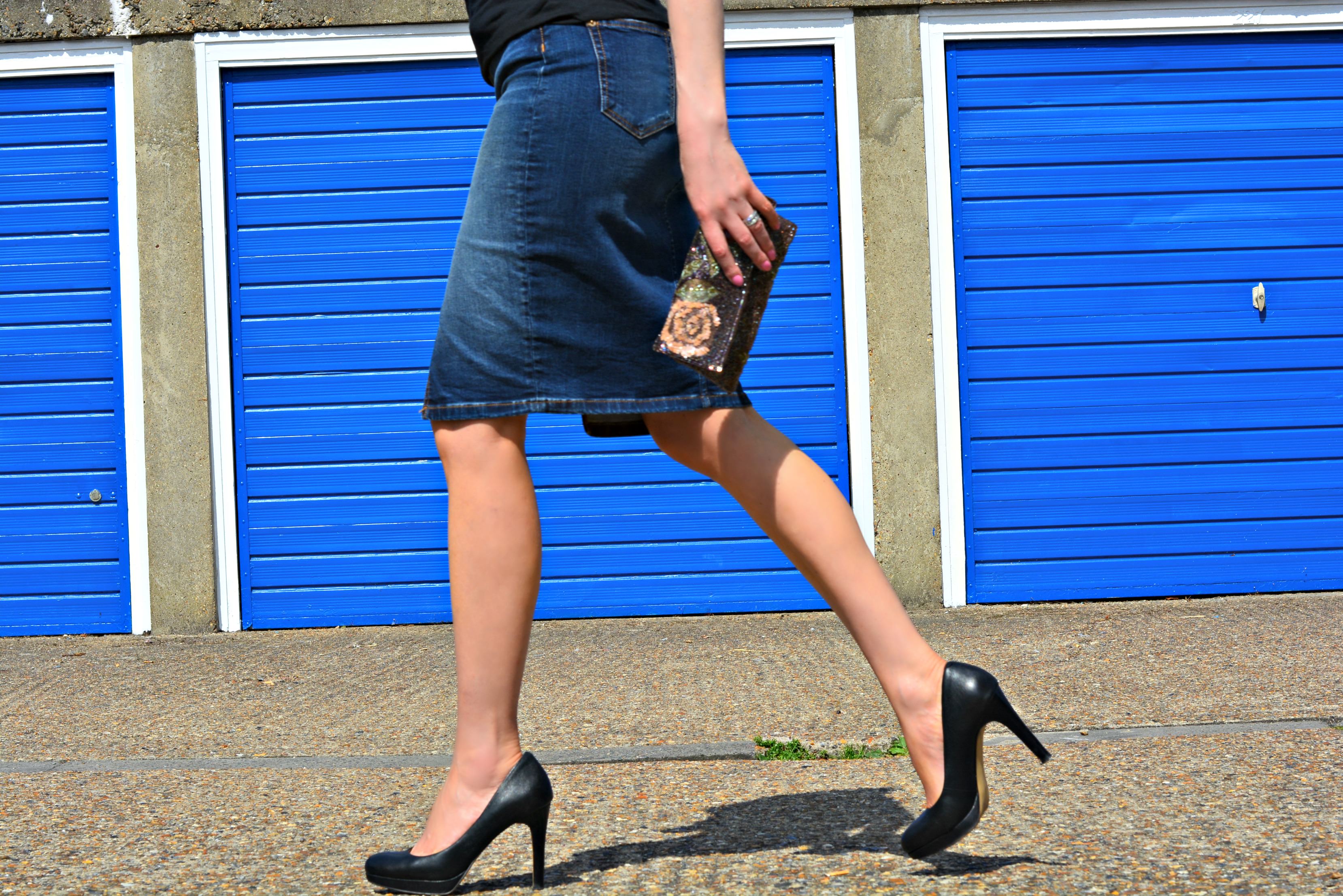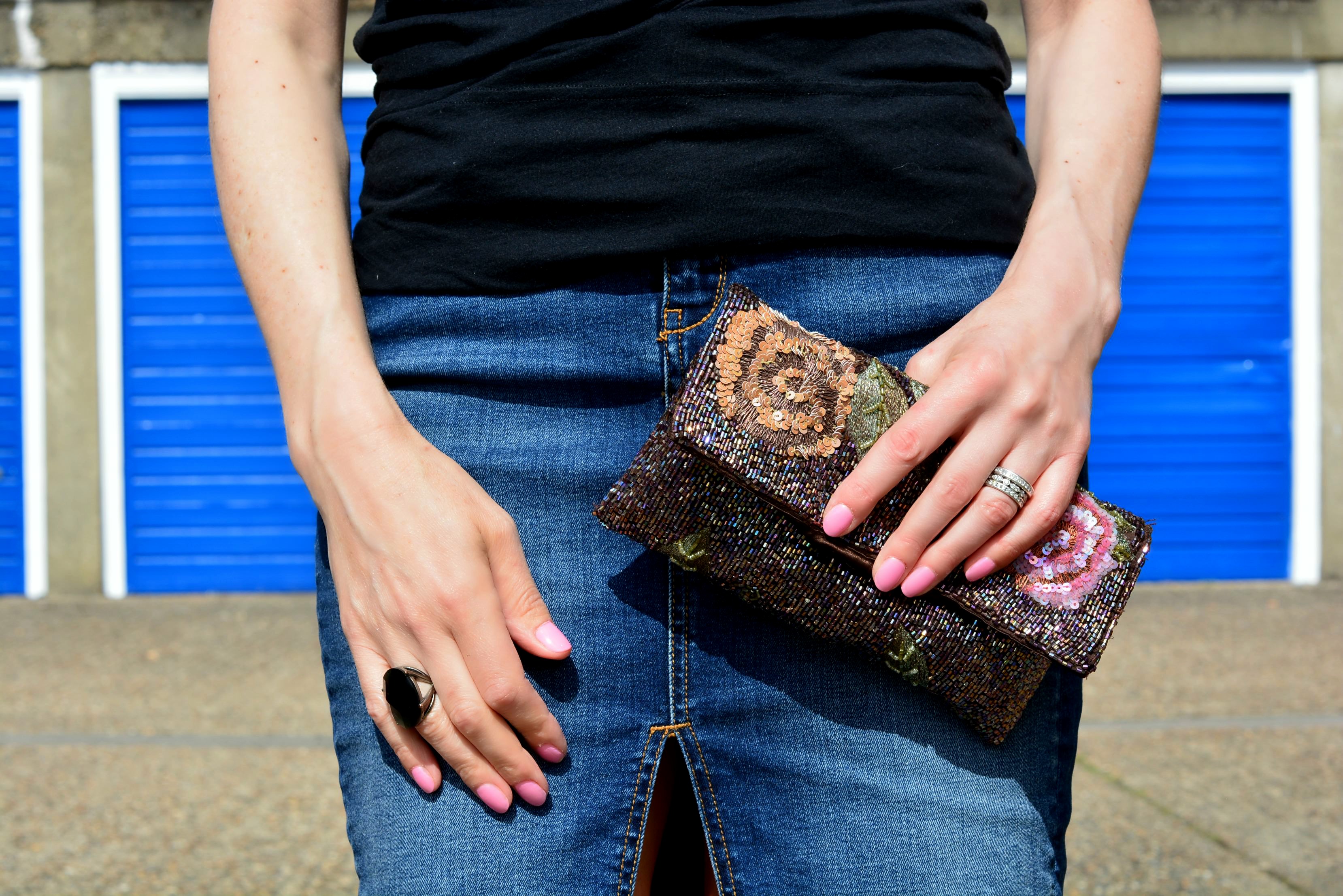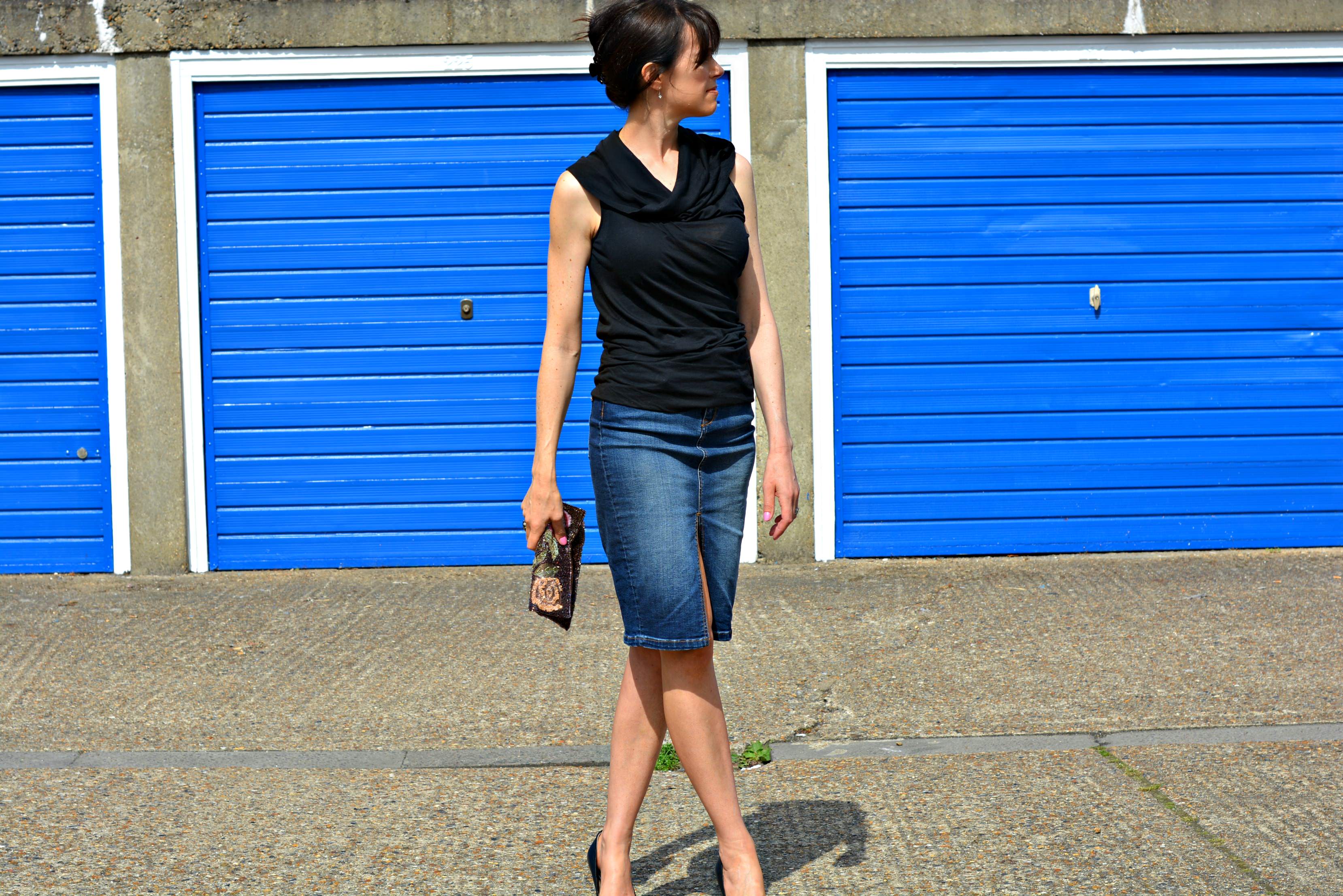 What do you think of the result of my quick & easy eyebrow kit? This isn't a sponsored post but if you'd like to buy a kit from Beautiful Brows you can go to their website
here
.
Mx