Sometimes a girl just wants to twirrrrrrl!
Do you remember the scene in "Postcards from the Edge" when Meryl Streeps chararcter accuses her Mother Shirley Maclaine, of always stealing the limelight? She recalled the example of her 5th birthday party where her Mother lifted her skirt in front of all the guests.
To which her Mother roared back "It twirrrrrled!"
The perfectly timed deadpan response from Meryl was "You weren't wearing any underwear"
Bahahahaha Priceless!
How fabulous was the delivery of dialogue in that movie? Carrie Fisher has such a sharp laconic wit. After I saw this film adaptation of her novel in the 90's I devoured everything she wrote!
Of course Ms Fisher is also an incredibly fine Actor & never more outstanding than when she plays comedy. Recently in her all too brief role in TV show "Catastrophe" she steals every scene as Rob's foul-mouthed, dispassionate Mother.
If you haven't caught this brilliant comedy yet, do catch up on Amazon (U.S) or Channel 4 (U.K) before the third series wraps shooting – You'll thank me, it's a classic.
Now back to my Boho skirt….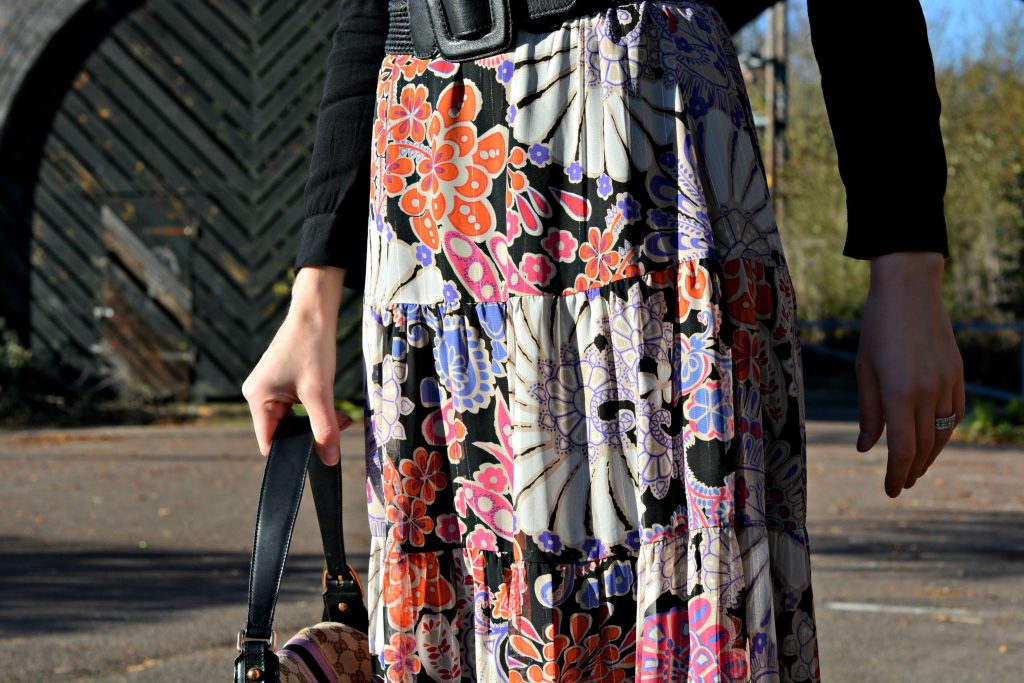 Today's outfit is how to update a Boho skirt
This old Boho maxi of mine is the perfect skirt to twirl with its tiered layers of diaphanous fabric. Now you may think the Bohemian look is a smidge outdated & to be fair, I'd agree with that. However there are ways to style an old trend genre that give it a fresh incarnation. How I've done that in this case is by adding some structure with a wide waist belt.
Now if you suit a fitted waist then a good quality waist belt is a classic wardrobe staple in my book. Something worth spending a little extra on because it adds a touch of chic to an outfit & trust me you will get a lifetime of wear out of it. I can't even remember how long ago I bought this AllSaints one!
The next thing I recommend is pairing a fairly plain black long-sleeved top. A little subtle detail is fine but do keep it simple such as the button shoulder & lightly gathered front seam of my top. No lace, no sheer anything & definitely no colour.
My Vintage Tom Ford Gucci Bag
The famous horesbit bag by Gucci has held its value rather well, not that I'd ever sell mine! I think my version is particularly special with the purple silk which just happens to be a perfect match to the print of my Boho skirt. Vintage Gucci bags in pristine condition have become quite rare. Although I did eventually find a rather gorgeous one on Vestiaire Collective that I added in the above shop options for anyone who's keen. Additionally Vintage Heirloom the premium online vintage boutique, has some stunning choices worth a look.
For more examples of outfits that compliment this versatile bag have a look at these posts.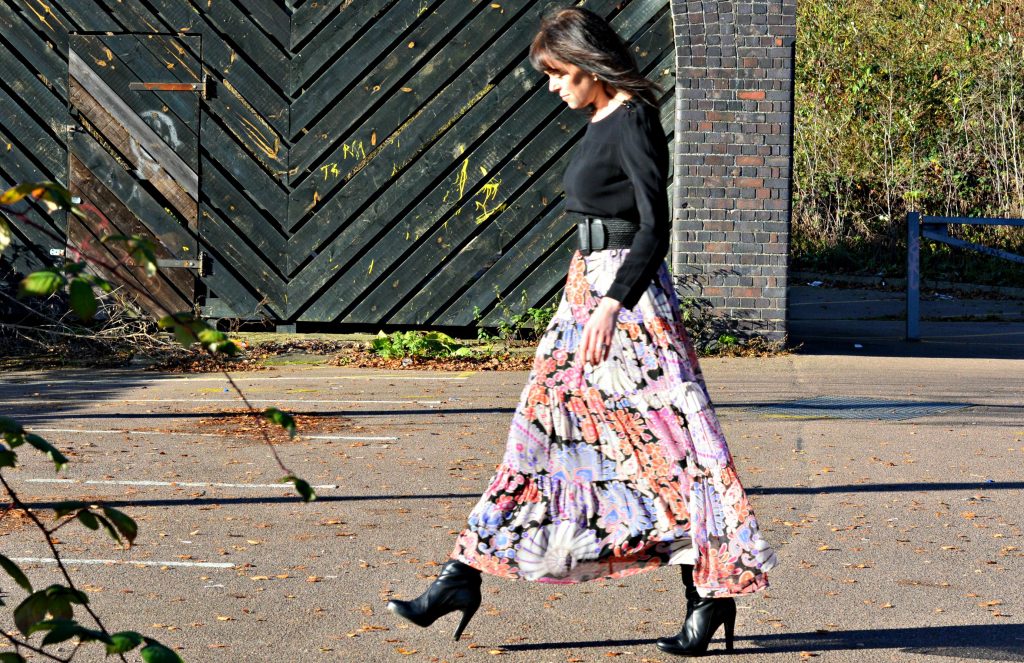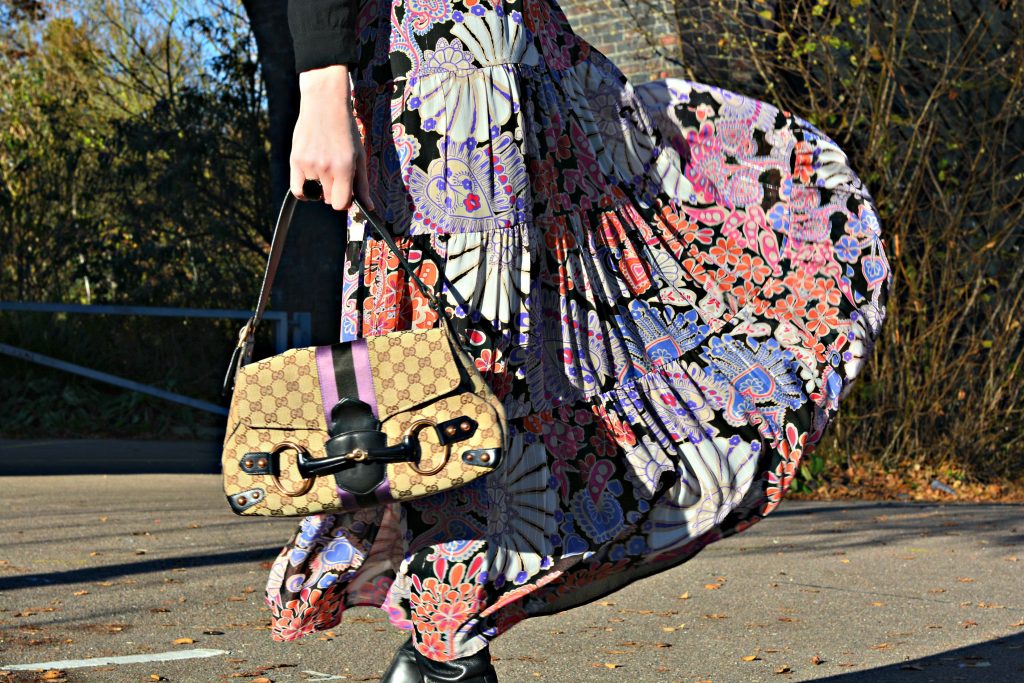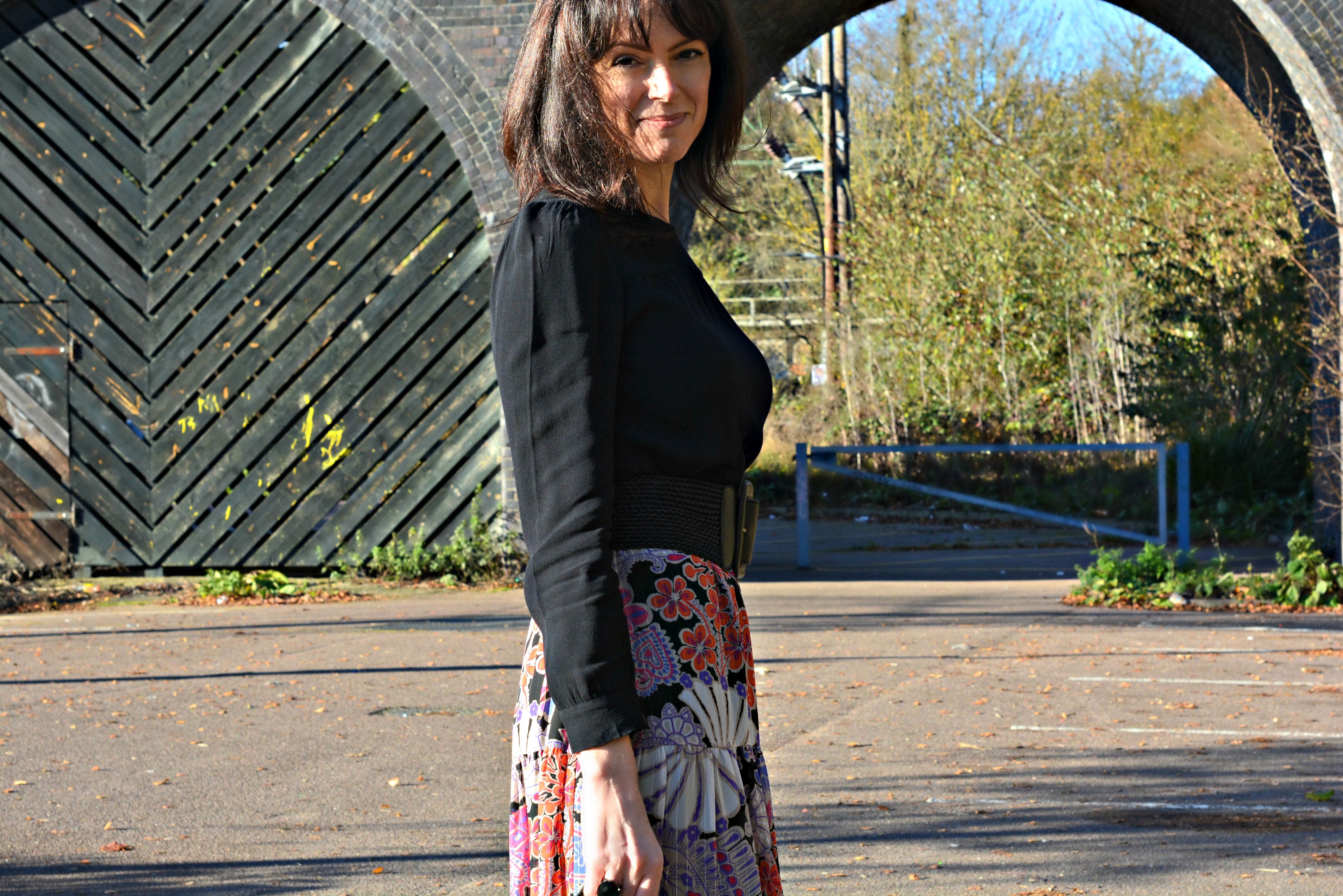 I have to apologies for the break between posts, as you can see I've changed over to a new theme which has kept this poor old Bloggers face in a computer almost 24/7! Learning the new layout, & all the terrific code styles this theme offers has been challenging as well as exhausting. Yet I'm completely, 100% thrilled to bits with the result however there is still a long way to go before I've massaged every single one of my existing posts into their new position – So please do bear with me if you spot something wonky, I'll get to it eventually wink
I just felt it was best to publish at this stage otherwise I may never get out from under my laptop! Hahahaha
Buy for now,
Mx