Yes it's true ladies, if you don't already own a statement handbag you really should go get one! Hahaha seriously though, all I'm saying is a standout or unusual handbag will lift even the simplest outfit from pedestrian to unforgettable. All too often we waste so much time focusing on what to wear that we neglect the single thing that can instantly make an outfit POP!
If you take time to consider carefully the style of bag that would work with most of your wardrobe, you'll get an extraordinary amount of use out of it.
"A thoughtful & cohesive bag collection is the secret to fabulous outfits every time."
Who said that? ME!
However remember one thing, with all this use comes wear & tear so as you choose wisely so should you spend as much as you can afford, that quality will see you through. Now for me "big budget" often means years between purchases or combining a couple of birthdays to justify the outlay. But boy is it worth it!
Bags are my thing & I often buy Vintage so bear in mind how many decades that equates to & you'll get where I'm going with this. Cost per wear is incredible, a better yield than any item of clothing will ever return.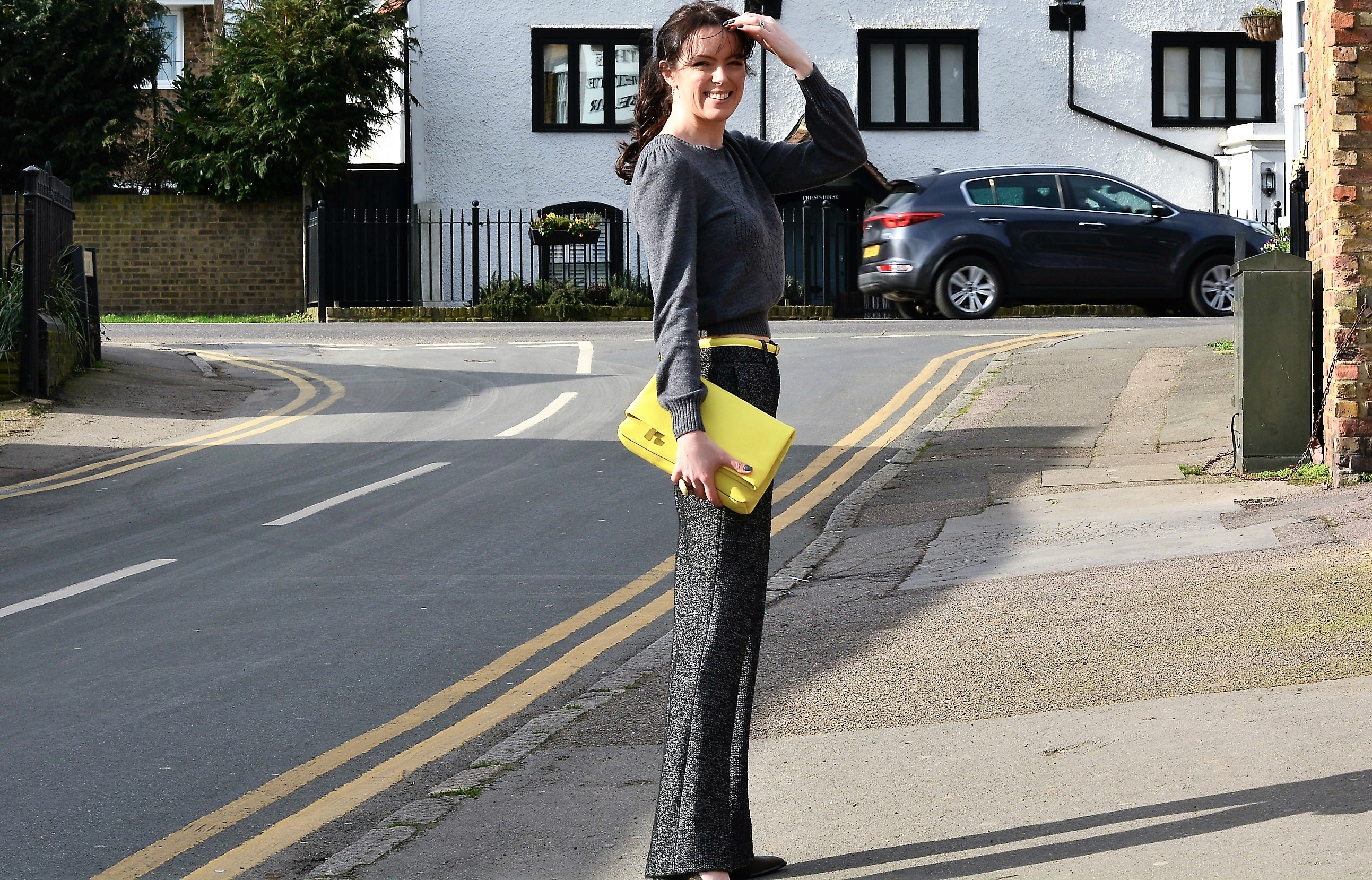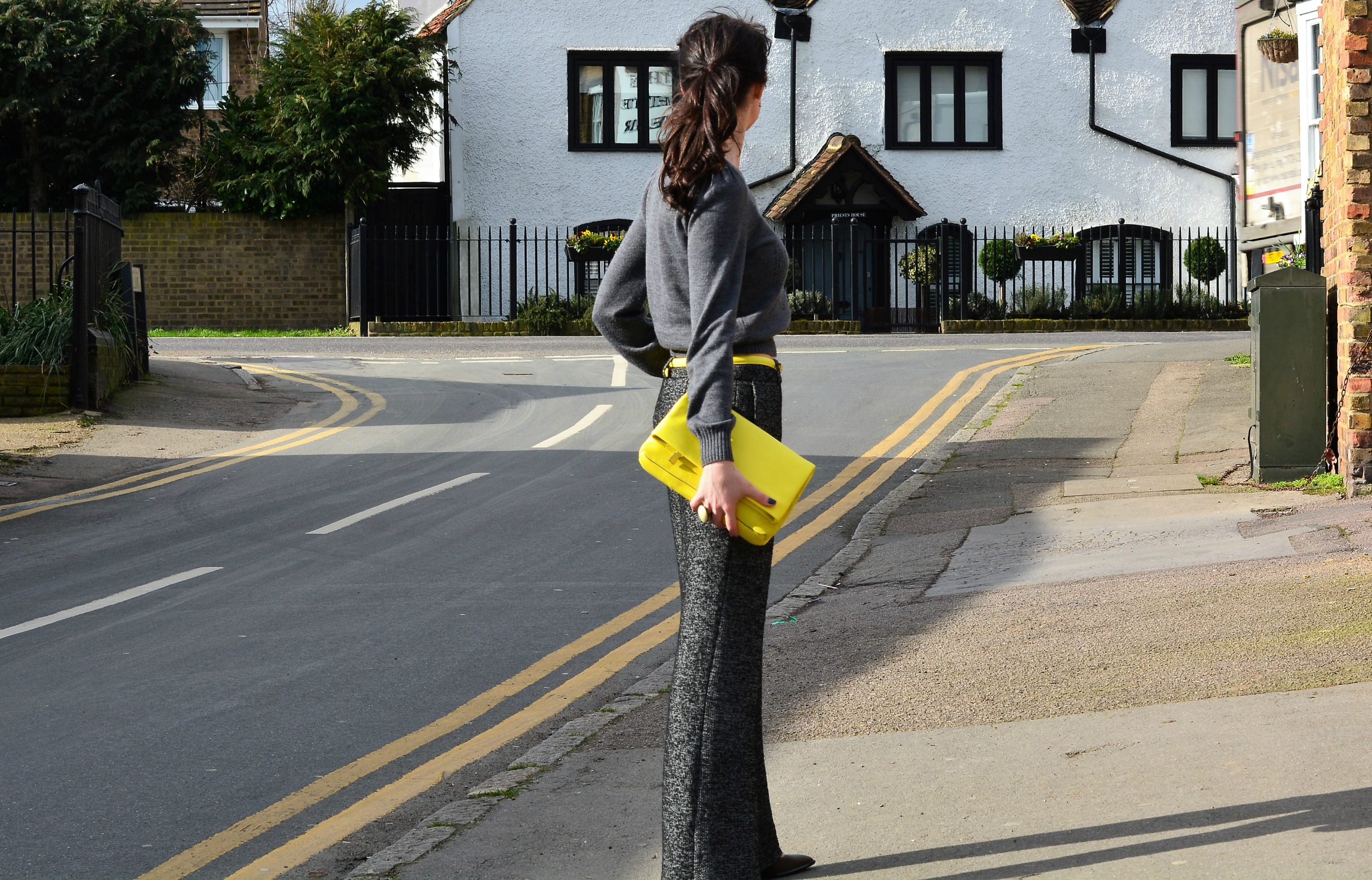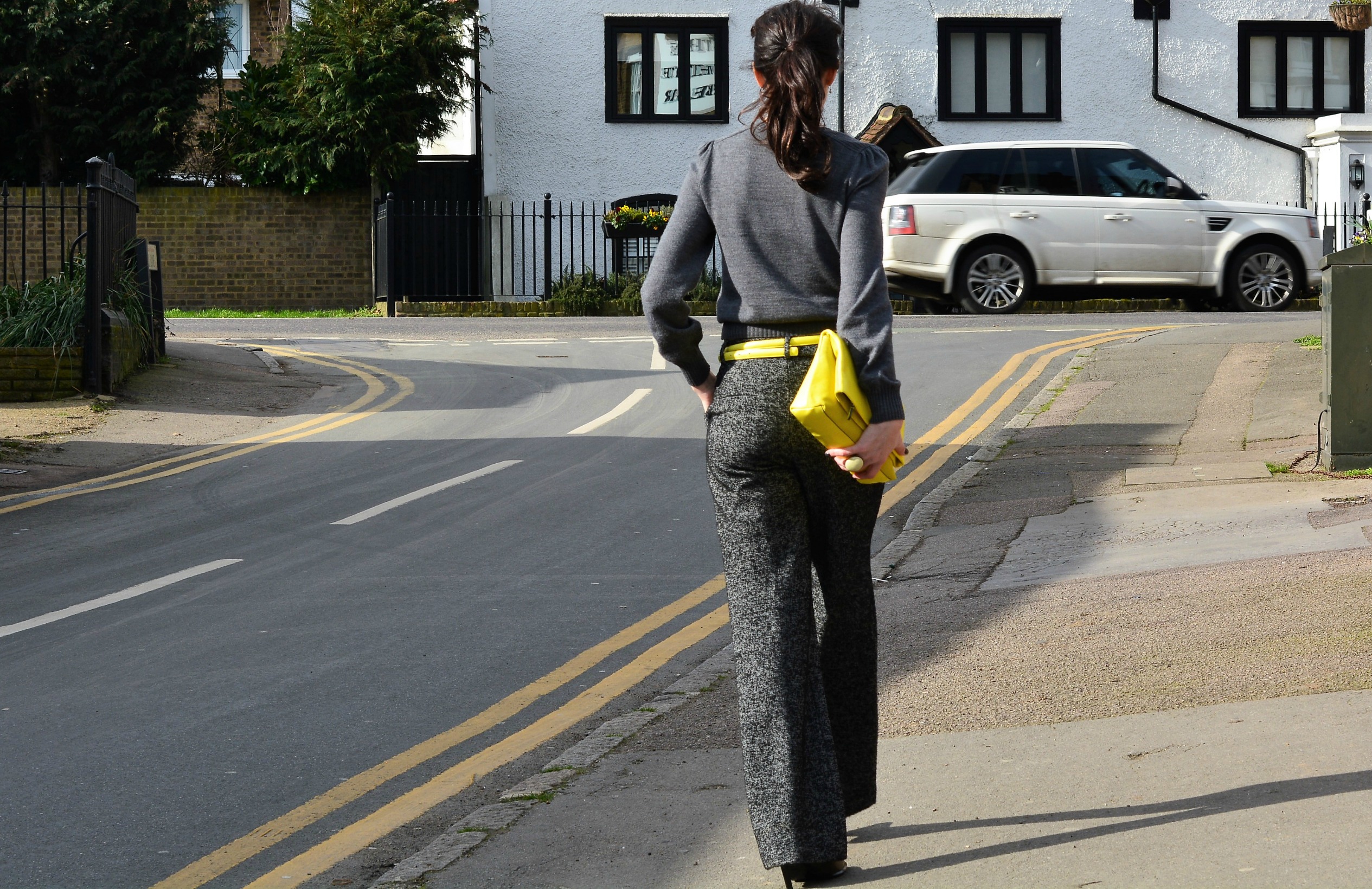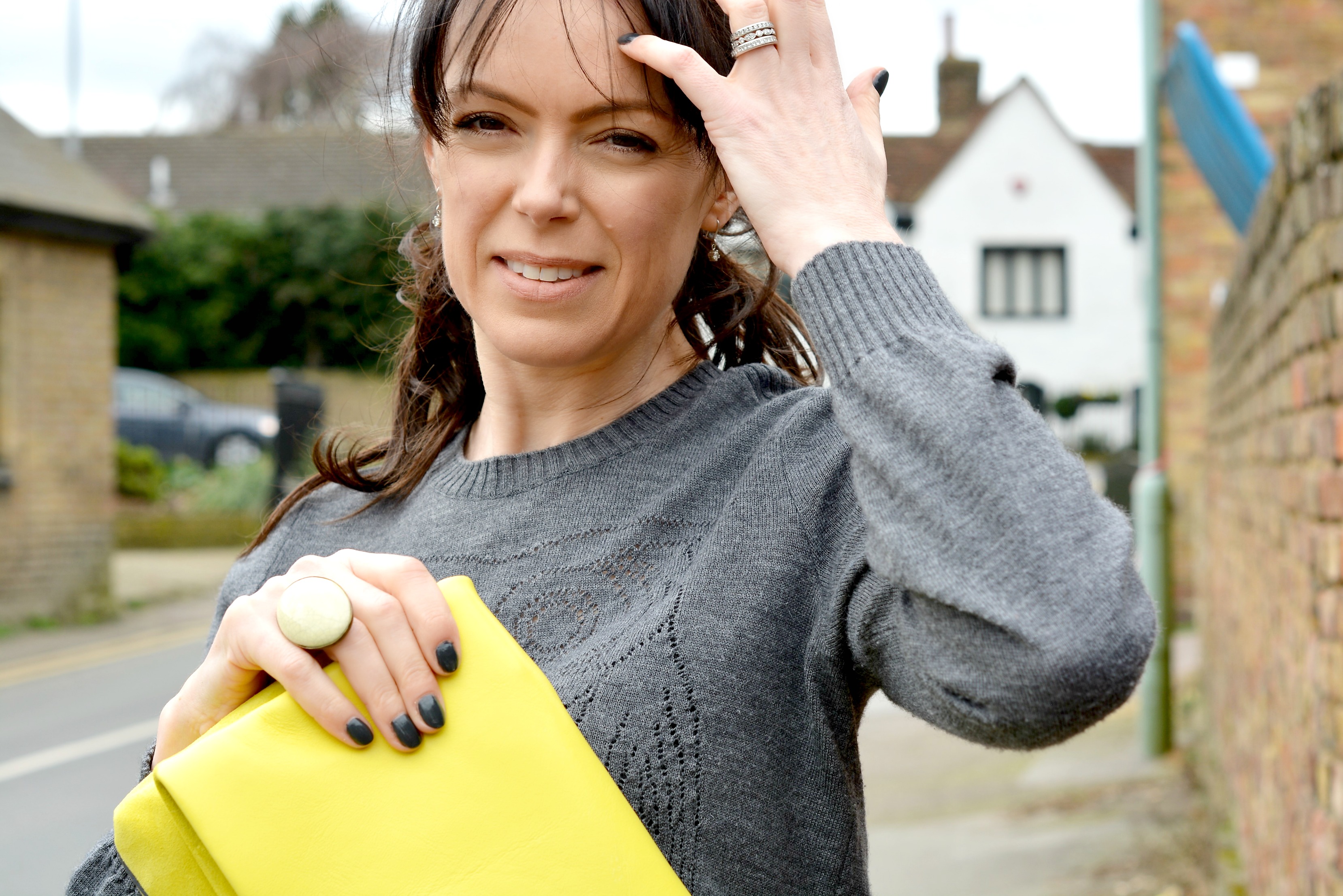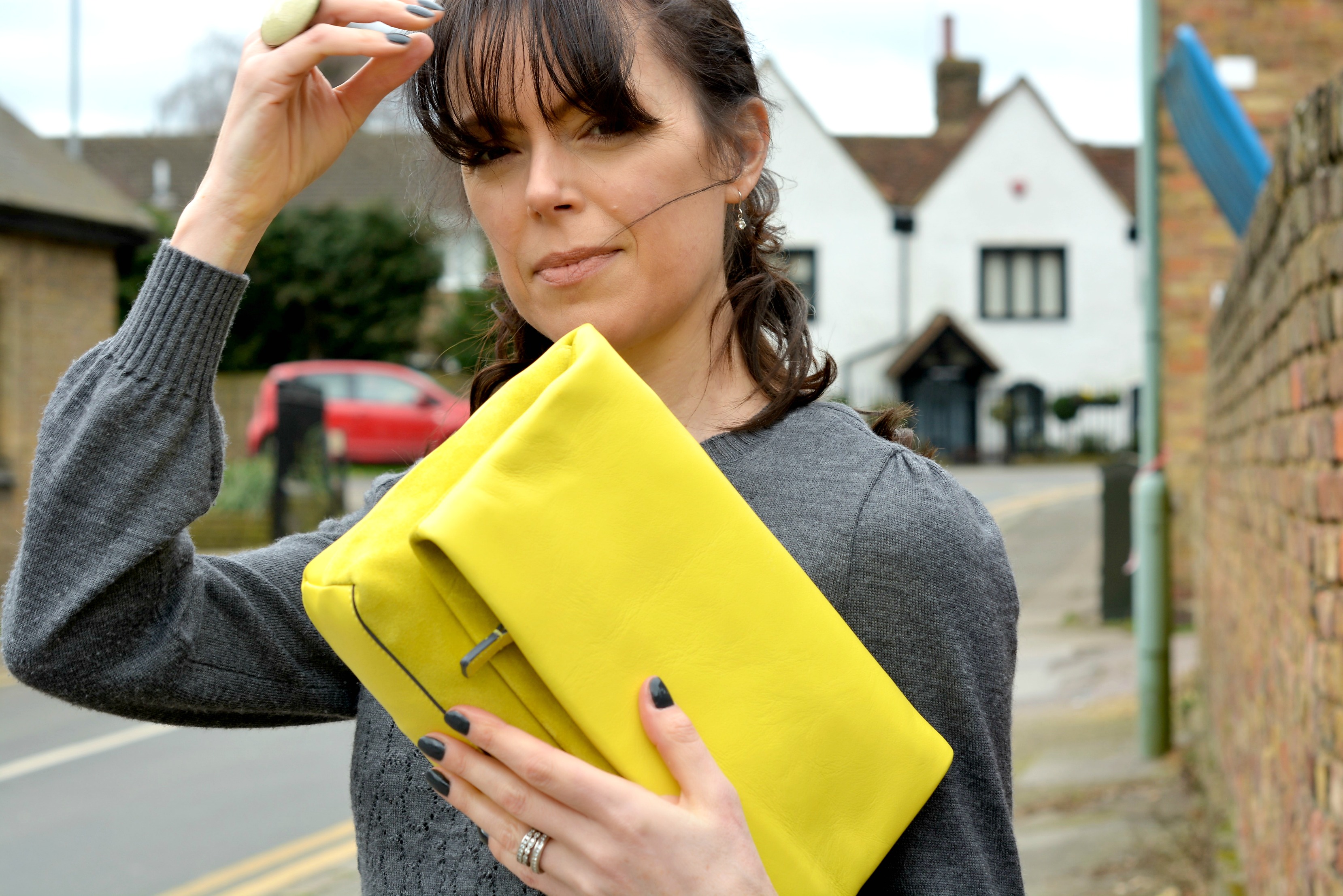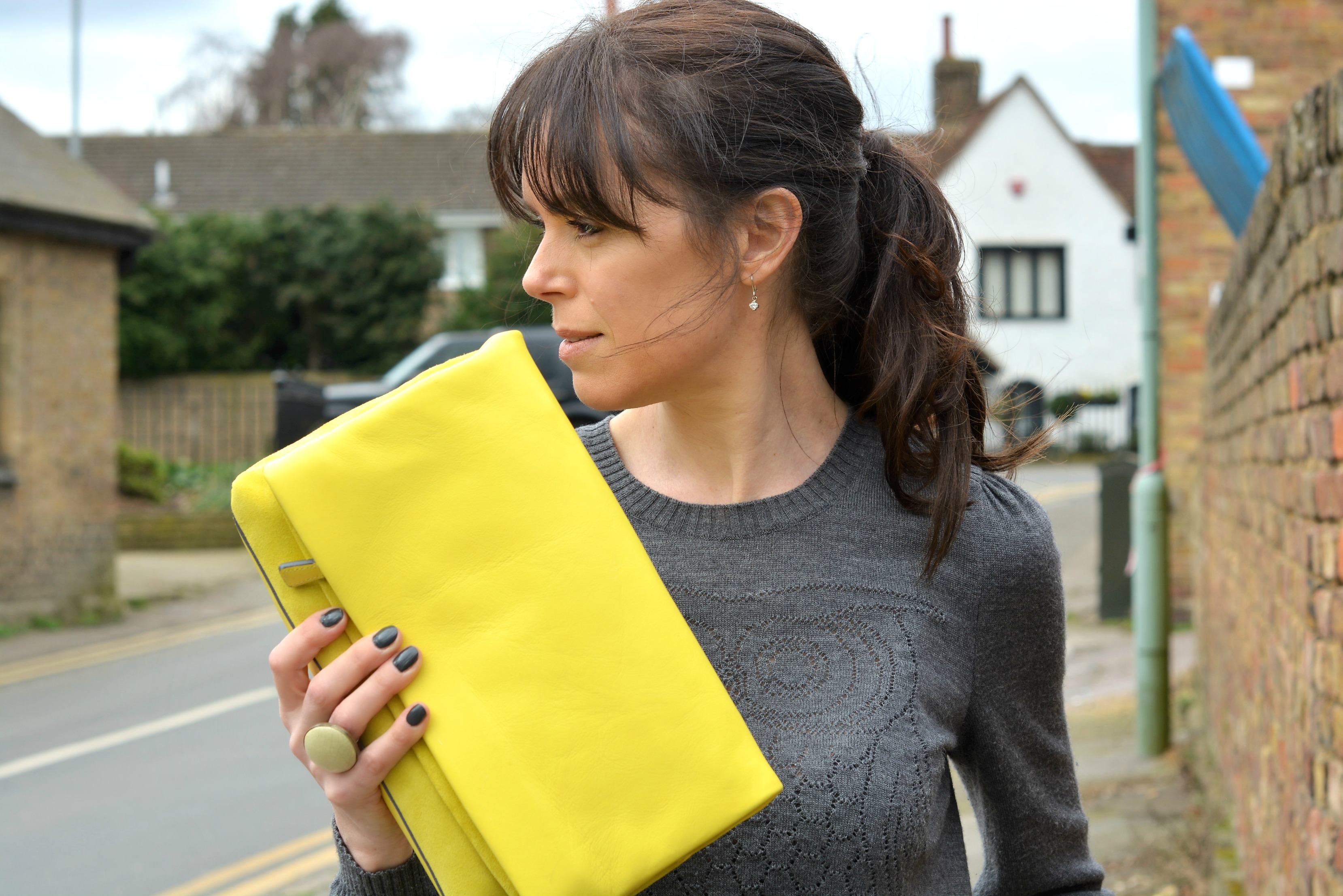 Pops of Primary Colours are big for Spring
However your statement handbag needn't be bright yellow, like my Jaeger clutch, to be memorable. I'm not into following trends for the sake of it so if the bright statement isn't your thing simply don't buy into it, there are other ways this works. For example, a two toned bag like the one by Ted Baker is subtle in its nude colour yet the snake print feature makes it distinctive. Another way to do a "statement" bag is with textures of mixed materials such as the ethnic style over-sized clutch by Hallhuber. It's made from suede but almost entirely covered in metal embellishments. Beautiful beading with a corded edge & long chain strap which could be worn across the body or removed altogether.
Although if your style is less fussy & more classic, there's no reason why your statement handbag can't be too. Choosing something in a tactile material such as velvet or suede to give it the edge we're looking for whilst remaining true to your style. For example this elegant Vince Camuto cross body bag is for all intents & purposes simply a small black bag with a touch of gold hardware. However what makes it drop dead gorgeous is the soft suede flap over the polished leather body. Contrasting both materials prominently this way is lush & impressive.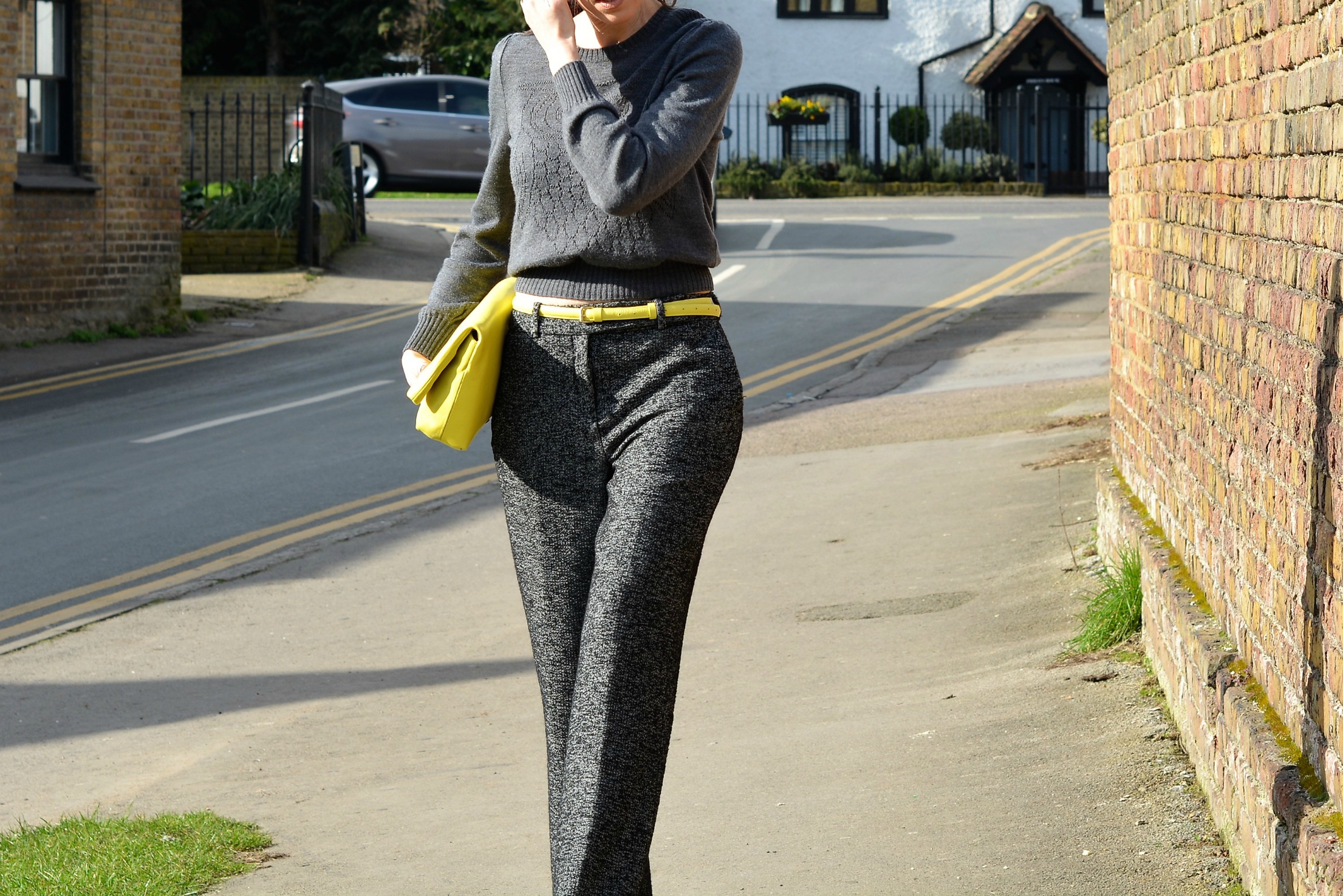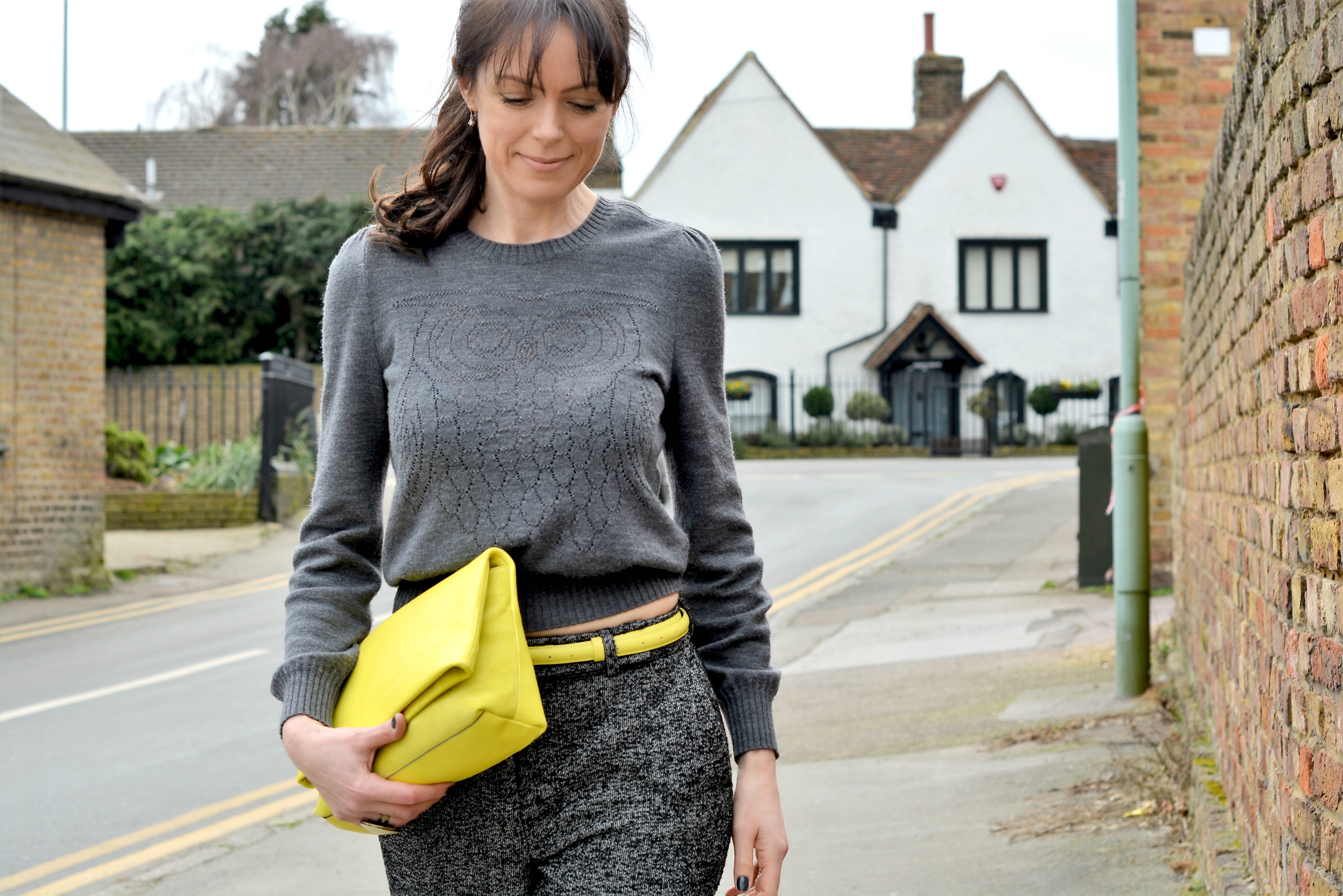 A Messy Pony for Windy Days
Ugh this day was super windy, drove me nuts in the end! Although I did suitably prepare for it before leaving the house. If I know the weather isn't going to play nice on a particular day my hair goes up into a pony tail. Today I used my straighteners to create a soft kink often called beach waves, then I did the same to my largest piece of clip-in hair & pulled it all up into a pony. Realising neatness was pointless due to the gale force winds I let the loose pieces fall naturally & allowed my fringe its natural kink. Perhaps you'd like to see a Vlog of how to get kinky hair using straighteners? It's pretty easy peasy & means there's no need to buy curling tongs. You can have a look here at one of my earlier tutorials to get started on a simple technique.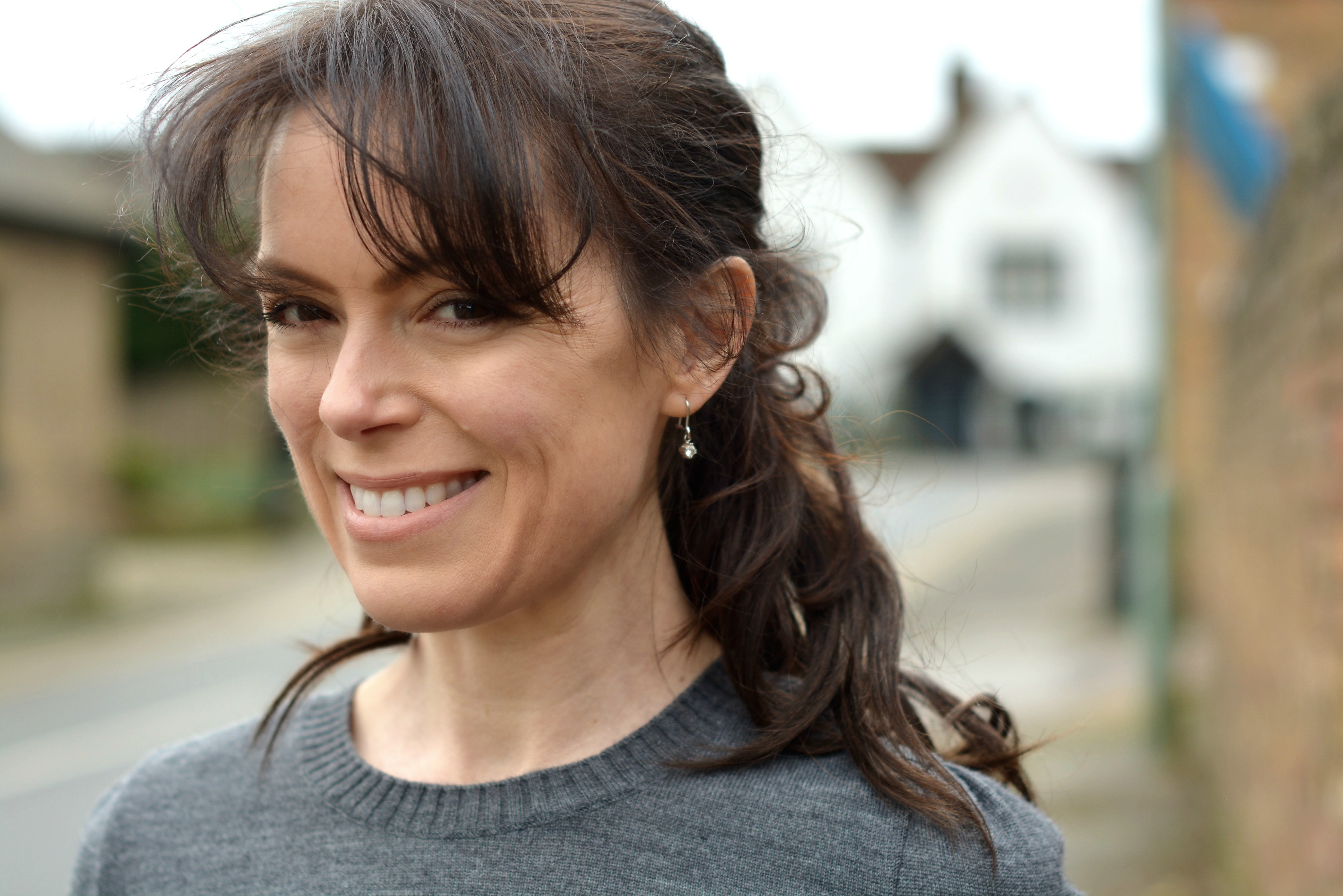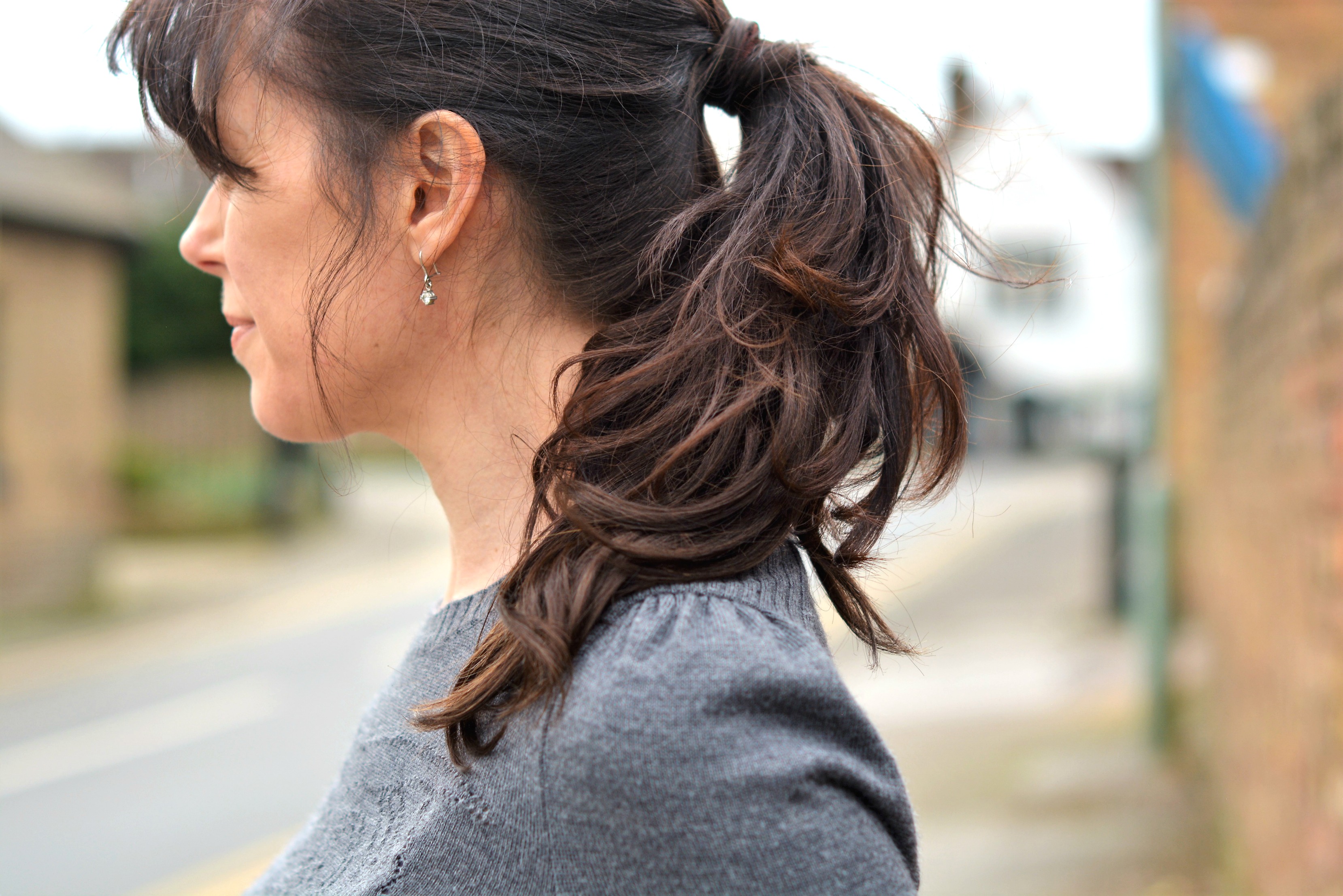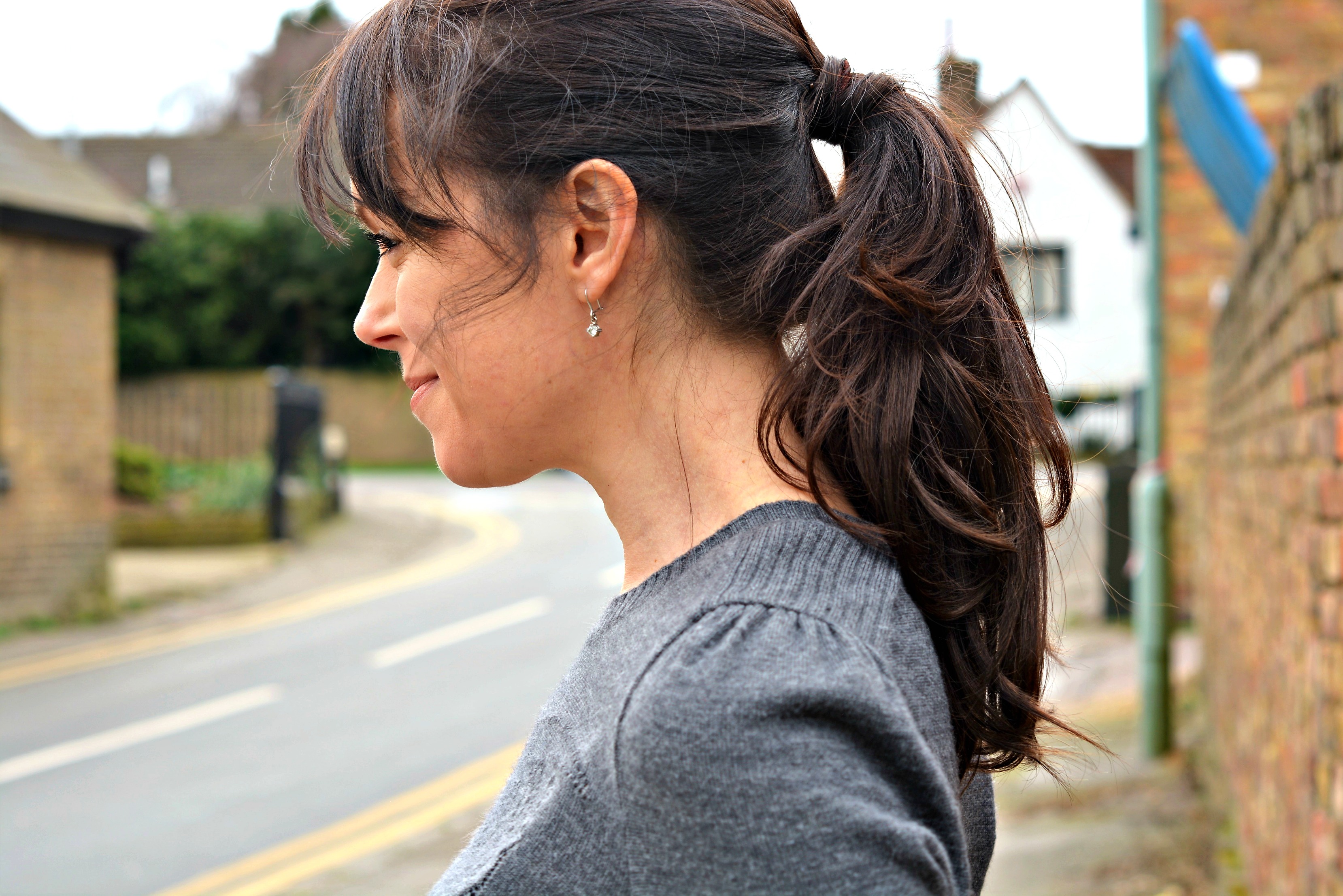 The Final Word on buying a Statement Handbag
All of that said, I do believe by far the easiest & most fun way to add zing to any outfit, regardless of its style, is to choose one sensational colour. It's a no brainer really, if you buy your favourite style of bag in say, red, you'll look absolutely amazing wearing anything! Picture this divine red two-way bag worn with the strap across the body in an outfit of white T-shirt, jeans & sneakers  – Super Sharp! Equally, it's stunning yet completely different paired with a pretty floral Summer dress & ballet flats! How about carried by its top handle wearing a white broderie anglaise dress & tan strappy sandals? I could go on listing innumerous looks, it's too easy & all because you have a clever statement handbag doing all the work for you. psst what about that lining? sigh
Any Season & every style – Now that's money well spent & we all know how I like to get a thousand wears out of everything!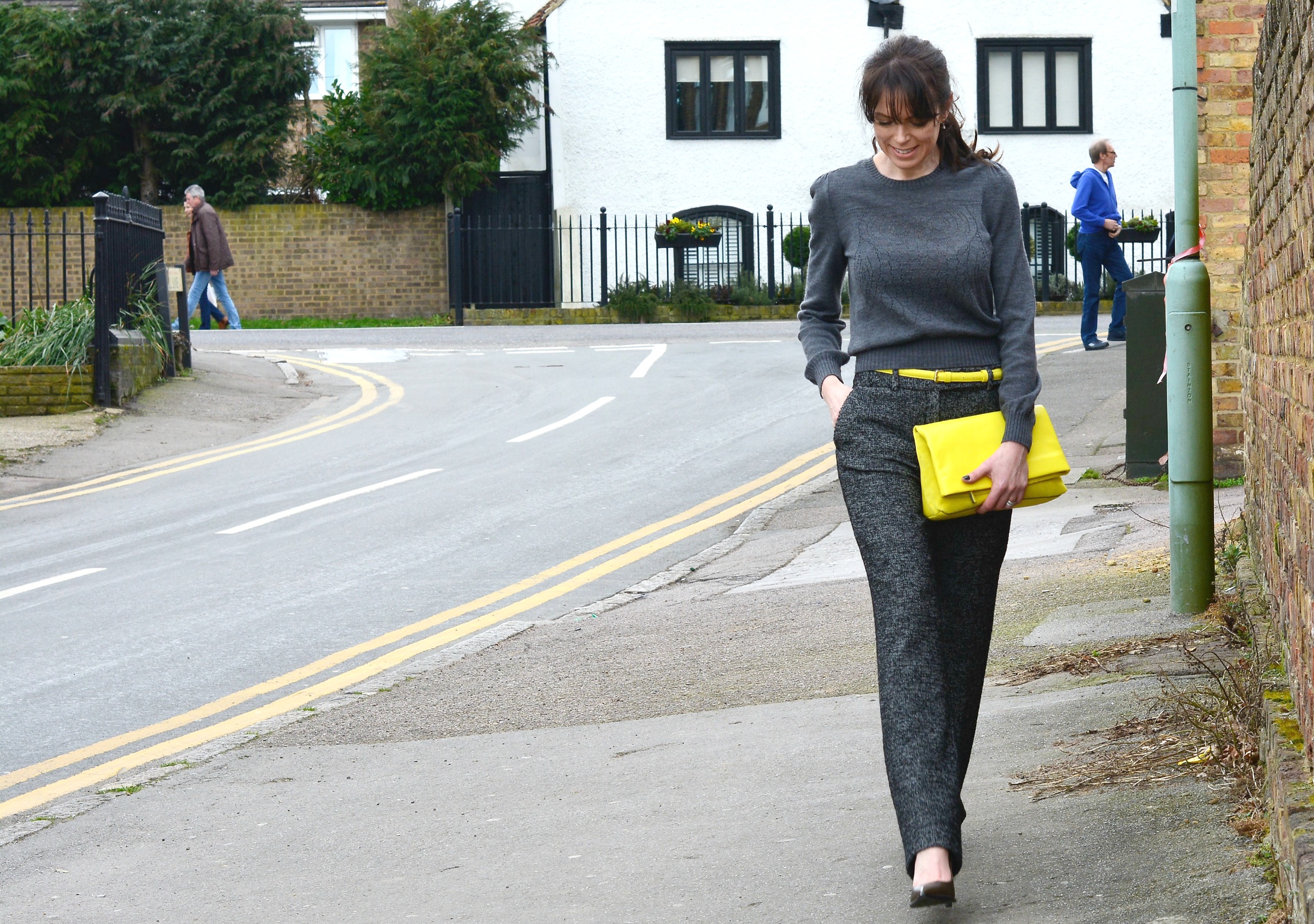 Get the Look
Jaeger Clutch c/- House of Fraser
Belt – Boden
Trousers – Zara (old) similar
Shoes – AllSaints past season but these are amazing
Jumper – See by Chloe (old) Love the sleeves on this
Coming soon – Finery collab, Menopost about natural hormones & The Over40Collective official launch. Leave your email below to make sure you never miss a post…
Bye for now Mx