A decade ago the thought of starting a whole new career would have given me a conniption. Establishing myself as a Freelance Hair & Make-Up Artist took years, a huge amount of tenacity & untold patience I couldn't imagine starting again from scratch. More over by the time I felt ready to step away from my career & have children I was already 38 years old & had worked for over 20 years. I didn't actually have a plan for after babies. You know that time when the children are settled into school & you begin to feel redundant between the hours of 9 & 3?
Fast forward 10 years & much has changed for women in their 40's, those having babies later & leaving hectic full-time employment are now keen to get back into the workforce. No longer satisfied being a stay at home Mum nor take any old part-time job that fits in with the school run, women everywhere are embarking on brand new careers! Whether that be working online from home or starting a small business from their kitchen table, they know their worth & want to be paid accordingly. Not only that, but also set the terms & conditions! After all we've negotiated with some powerful tyrants in our day – toddlers. Whilst we were potty training & singing along to Cbeebies the internet has grown exponentially, opening up a wealth of opportunities that never before existed. Along with exciting business opportunities there is now a world-wide platform for creatives like me…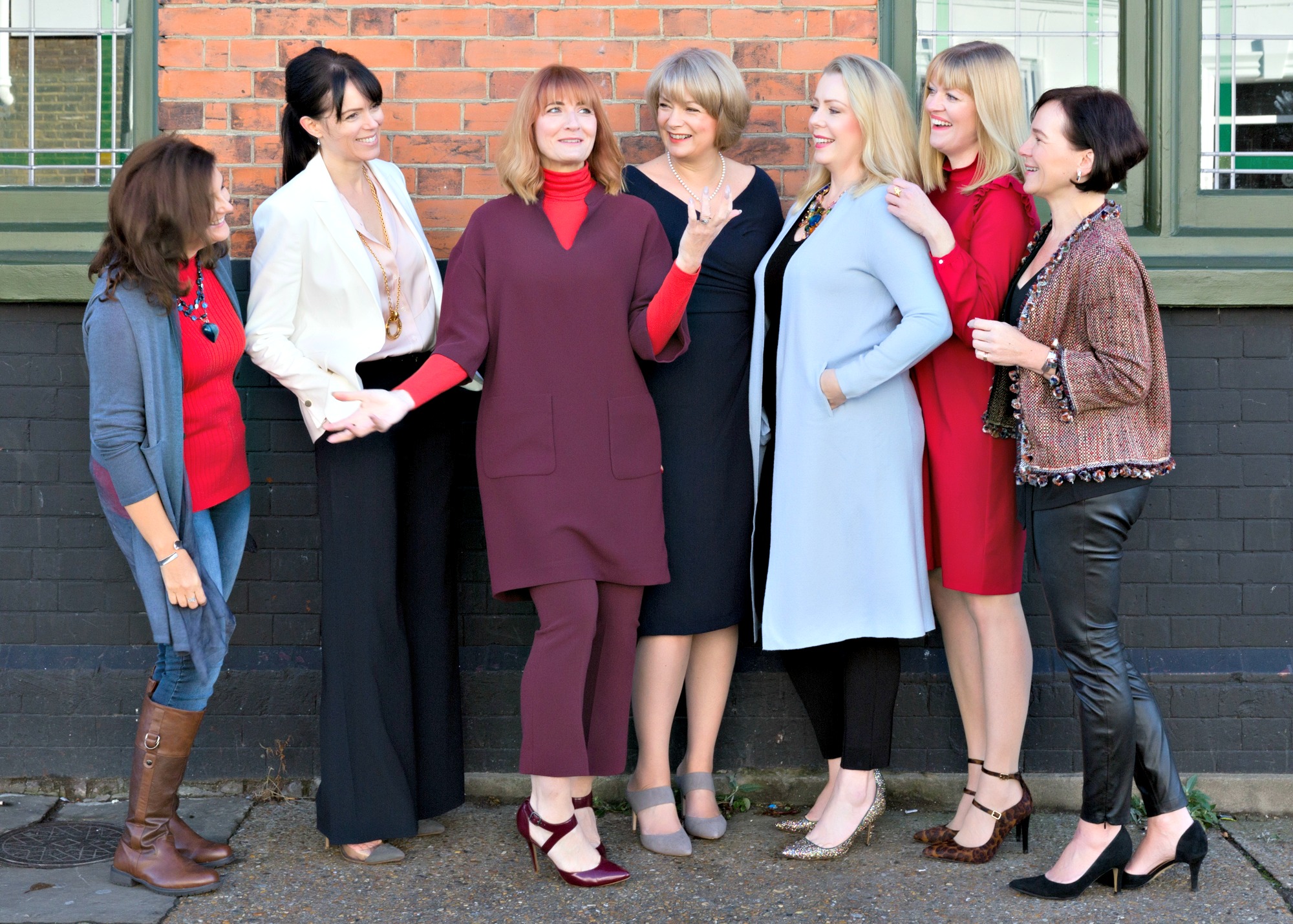 Thinking on a Global scale
Just because many of us have been away from technology for a decade or more doesn't mean our brains have shrivelled up & died, we can still be autodidactic – There's bloody Youtube for god's sake! We may be closer to fifty than thirty but we still look & feel (& act) as the previous generation did in their 30's!
Did you know that one in four women is over 50? And in 50 years time a staggering half of all women in the world will be over 50! Do you think all those gorgeous, vibrant, clever women are going to be happy doing housework & picking up after the other people in their families? There has to be more stimulation in our lives than bookclub & who's been elected Parent Governor at the kid's school.
For me it was a matter of finding something creative that I could do mostly from home & in my own time frame. I know a bit about Hair & Make-up yet Fashion is my true love so I figured blogging would encompass all my talents the only sticking point being the tech stuff. Ahem, to be honest – I was totally clueless. Sure I could've paid someone to create my blog & even look after the updates for me but how would I make any money if I was already paying other people to do stuff?
So I brushed off the cobwebs in my baby brain & got started. And you know what? That's what makes us chicks over 40 unique, we're past caring what other people think & past caring about making fools of ourselves but most of all & this is the kicker,
WE'RE NOT AFRAID TO FAIL.
Let's be honest we've made so many mistakes up to this point what's a couple more? We've learned that by making mistakes we move forward. And that my friends is the secret to all these awesome women creating successful new careers after 40, they are FEARLESS…
IF YOU WANT IT GO & GET IT!
When I think about how many more years of work I have in me it makes sense to build on something I enjoy (actually love) for my income. Yes any new business or career is tough on finances & nobody expects to become a millionaire overnight but a couple of years working hard long hours for a pittance is the price you pay for freedom. Having strong female friendships in my life, encouraging , listening & most importantly lending physical support has enabled me to make headway faster by keeping me going. Even those friends who'd never heard of Blogging before immediately signed up (literally) to back me up! As they say in the States "they had my back" & you know what, it bloody matters. After all nobody can maintain 10 hour days on no pay for very long, I needed all the help I could get in whatever form that was offered, to keep things moving forward. My women friends did not disappoint, far from it, they were & remain, as enthusiastic in my future success as I was & let me tell you THAT IS GOLD DUST…
It may sound dramatic but we are going to live a hell of a lot longer than earlier generations & I'm sorry to say we won't be getting the state pensions or social benefits they enjoy. Money to live off has to come from somewhere. Yet it isn't only about money, the mental stimulation will have a direct impact on our longevity. You do want to live longer don't you? I know I do!
Keeping the brain in gear & body in shape is a direct consequence of building your new career. Think about it, you're learning new skills & meeting people you want to impress for your business, you also want to look the part, after all you're committed to making this new venture a huge success. It's invigorating, simultaneously rejuvenating your body & mind. And the best part is you don't even realise you're doing it!
Take a look at the kick arse girls below if you need proof. Three are in their 40's, two of us turn 50 this year & the other two are already in their 50's. Sexy, successful & not about to slow down. As a matter of fact we're all about to become even busier as we launch our joint enterprise today…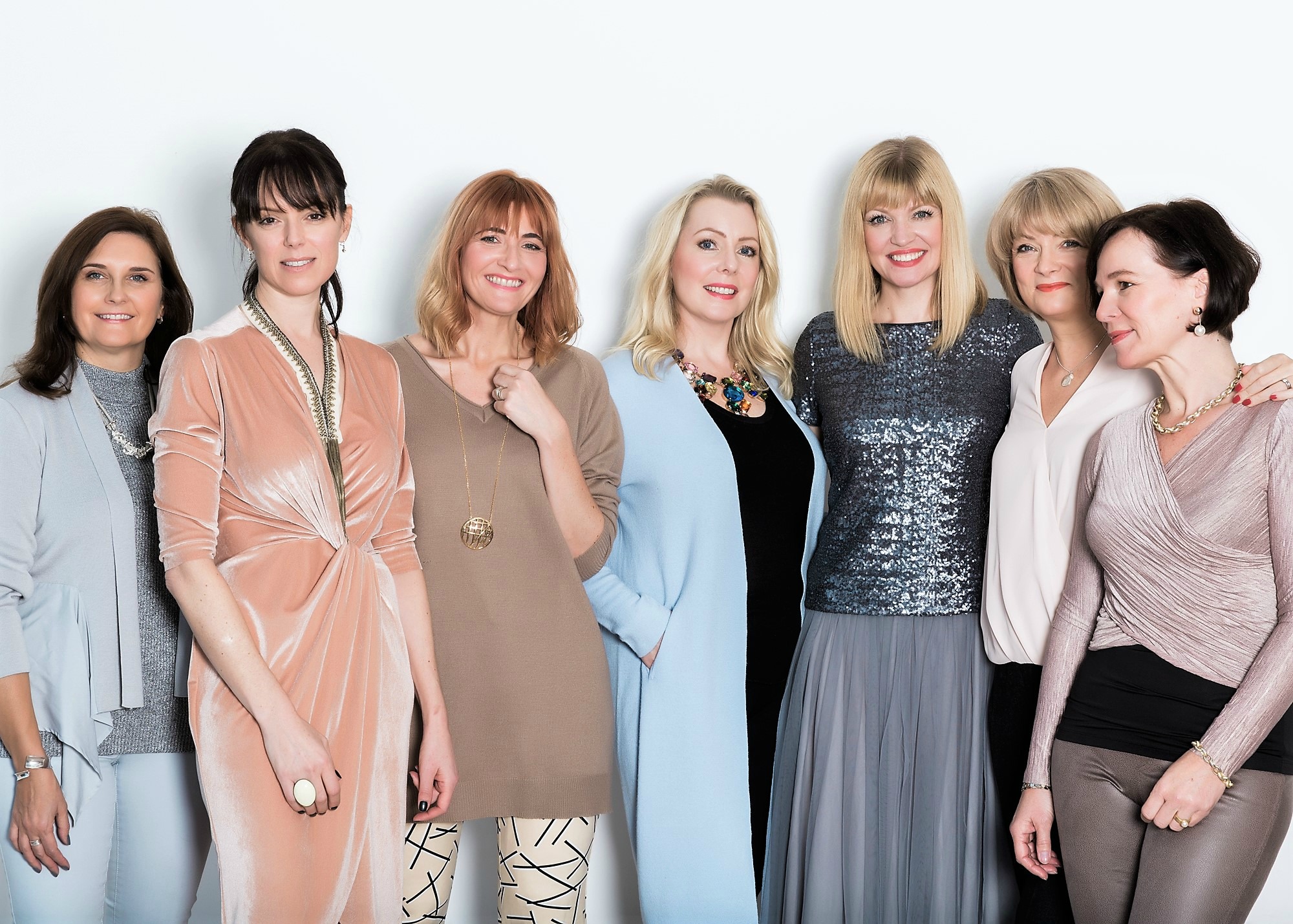 L to R – Michelle The Barefaced Chic, Me obvs, Catherine Not Dressed as Lamb, Lisa The Sequinist, Liz What Lizzie Loves, Nikki Midlife Chic & Annette Lady of Style
The Over40Collective launch
By now you've probably seen the collaborations I've done as part of the Over40Collective with Brands such as Winser London & Marks & Spencer. Together we're attracting the attention of our favourite retailers & designers which is how we intend to move the focus of those companies onto women over 40. Well that's the business end of things. Suffice to say this group of seven women I have the privilege of working with have been instrumental in the success of RCM. They're immeasurable support has helped me get to a place where just shy of 2 years as a blogger I am earning "actual money". O.K not a huge amount but yes it is cash I get for producing content – HOObloodyRAH!
I'm proud as punch to share with you the news that today we officially launch our site. It's mainly for Brands to access our work, what we produce & how we are valuable to them but you're more than welcome to have a sticky beak here. If you happen to be interested as a fellow blogger you can join our mailing list here.
However if you haven't read the back story of this midlife Girl Squad check out this post. Which led to my next article being published in Blogoshere magazine. So you can see in reality how important female support truly is. Sure Men are ok too, there's a place for Husbands & Partners but let's be honest here, mostly they just don't get us do they? 'Nuff said… heehee
Now it's your turn – Tell me what you're doing, your thoughts, your plans, I want to hear it all!
Later this week it's back to fashion with my Aspire Style Collab.
Lots of love, Mx
*photographs taken by Rachel Vogeleisen