About three years ago my period became erratic, one month it'd be heavy & last a whole week the next it could be light & only 3 days long. Sometimes it was light & long others, heavy & short then I'd skip an entire month altogether!
Because my cycle was as regular as clockwork it soon became obvious my body was changing, then one day it occurred to me I hadn't had a period for 8 months! Nice one right?
Yeah well maybe it would've been rather more enjoyable had the other mysterious symptoms not suddenly appeared. Instinctively I knew I was Perimenopausal however I was also experiencing some rather bizarre traits that I couldn't quite get a handle on. Without doubt the worst of these was a terrifying out-of-body experience that would suddenly & randomly overwhelm me. The feeling I can only describe as akin to being in a wakeful coma, my brain separated from my body unable to control it. These episodes were sporadic in their appearance as well as length, often leading me to repeat "just breathe" in my head over & over until it was…. OVER.
This could be anything from seconds to an agonising 15 minutes.
Nobody could tell by looking at me, it was all happening inside my head. If I was chatting to a friend on the school run it was merely disconcerting however if I was driving when it occurred, well that was another matter entirely. I kept telling myself I was being silly, I had errands to run & places to go I can't let a couple of weird anxiety attacks stop me getting behind the wheel, I'm a busy Mum for goodness sake! But it kept happening & sometimes the children were with me & we'd be on the motorway, trucks whizzing by & nowhere safe to pull over….
Well, as you can imagine, it was horrific. In the end I stopped driving any distance further than my local supermarket.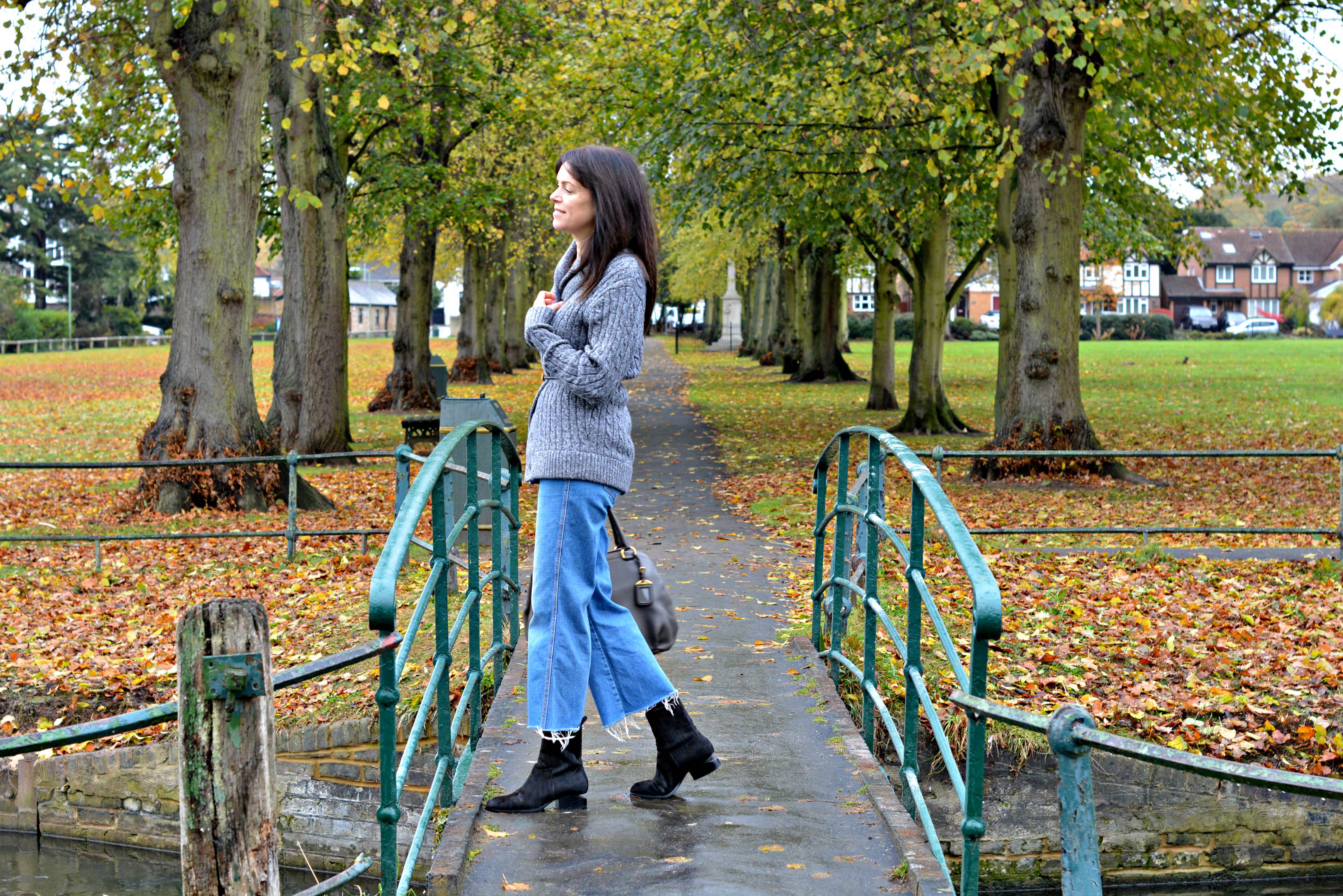 Other symptoms were not so much scary as frustrating
Such as getting days mixed up or forgetting why I'd walked into a room previously full of purpose. Now I'm not referring to the common momentary forgetfulness that accompanies aging, I'm talking blank void of nothing. The complete absence of specific knowledge you once held comfortably grrrr. Equally as perplexing is experiencing the inability to sleep yet being excruciatingly tired, then finally falling asleep only to wake a couple of hours later! UGH… Hadn't I just finished 10 years of that palaver with my babies? Additionally strange new idiosyncracies like repeatedly burning my hand on the same oven shelf every time I baked Arrrgh! What the hell? I've had that cooker for 9 years & never once burned myself! These particular side effects of Perimenopause & indeed Menopause are pretty common experiences to some degree. We've all heard of them before.
However the arbitrary hot flares of rage, unexpectedly triggered by the slightest thing. Catapulting me into a quagmire of guilt that I struggled to drag myself out of. This was something dark & altogether distasteful, something women tend not to share. I guess this is why we're not supposed to have young children at this stage of life? Evidently there shouldn't be these messy, lazy & demanding small people constantly pushing my buttons. MUUUUMMMMYYYYYY!
Hmmm didn't read the small print when I chose to start having children in my late 30's DOH? At times it's incredibly difficult not to fly off the handle at the drop of a hat & I often need to reign in my swearing. I don't want to be this way in front of the children & I have improved a lot since coming out of the Perimenopause stage but I'm still working on it.
For those of you interested in taking supplements – I took a specific pill designed for Menopause, Magnesium, Evening Primrose & Omega 3 for 2 years while I was Perimenopausal. I noticed absolutely no change what so ever. You might be different, I thought it was worth a shot but ultimately I flushed a few hundred pounds down the toilet, literally.
To me Perimenopause was by far much worse than actual Menopause because I didn't understand what was happening to me. I had nobody in my life who was going through it at the same time so I couldn't relate to anyone. Equally my loved ones couldn't relate to me as I struggled to articulate my confused feelings. Therefore I kept them to myself for the most part. I genuinely felt isolated & at times I was frightened for my sanity.
Thank goodness it's over now, I can look back & analyse this stage from a pragmatic perspective. The word RELIEF comes to mind. Relief that it's over & relief that I'm not in fact losing my marbles…
How do I know I'm in Menopause now?
There is an enormous list of menopausal symptoms on the internet to confuse the hell out of you if you're game enough to look. Take my advice – DON'T.
How it went for me may differ slightly to how it goes for you but there will be obvious similarities for you to compare. When my period ceased so did the "out-of-body" experiences & my mood swings subsided considerably although I have to wonder if they were exacerbated by my fears? Never the less I noticed a marked improvement in my bad temper.
Moving on from the Perimenapausal stage becomes increasingly clear as time goes by although it's easy to say that in hindsight. I wasn't one hundred percent sure when it was over or that I was definitely in Menopause however the change in side effects was a clue.
Unfortunately these symptoms were replaced with new ones like tinnitus, a constant high-pitched Sshhhh sound that becomes almost unbearably loud when I'm overly tired. Proving quite the conundrum as the louder it gets the harder it is to sleep (she sighs deeply) Oh elusive sleep, I fear we shall never be friends again…
You may have noticed my recent posts on Instagram & here on RCM wearing clip in hair extensions? I mentioned that I have been experimenting with them because of my hair loss due to Menopause. They have not only created more volume in my hair but also uplifted my deflated spirits when I was literally washing handfuls of hair down the drain.
I noticed the hair loss pretty quickly & to be honest it scared the shit out of me. This is probably a ridiculous reaction to a frivolous & superficial consequence of Menopause yet it's the truth so I'm not going pretend otherwise.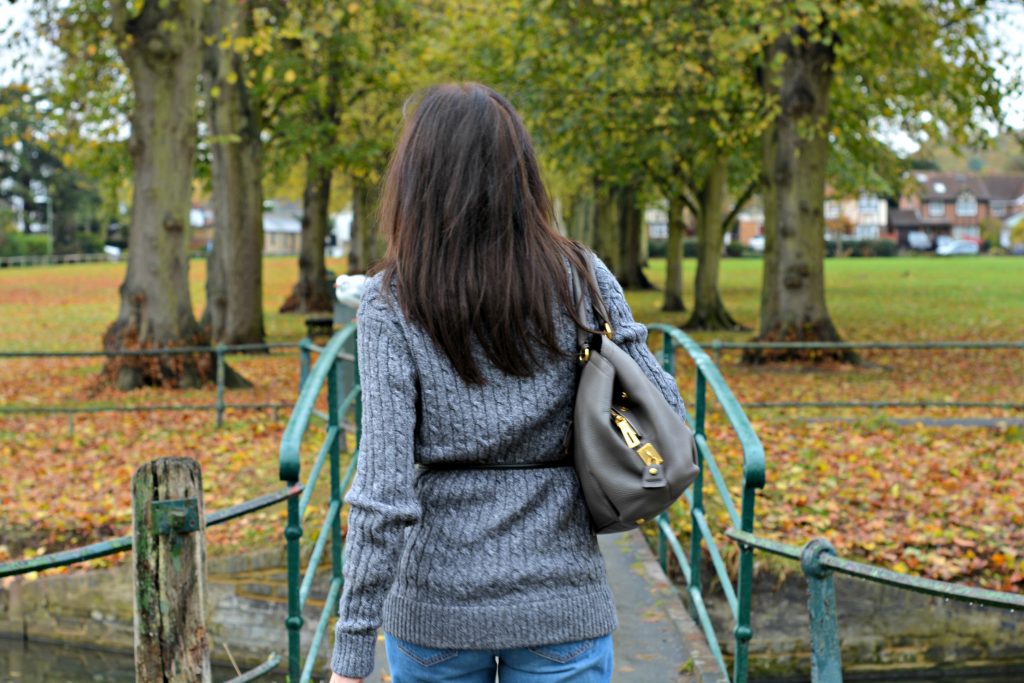 8 signs you're in Menopause
Irregular Periods
Thinning hair & hair loss
Fatigue & difficulty staying asleep
Mood swings & unexplained rage
Hot flashes or sweats
Absent mindedness & forgetfulness
Low No libido
Unquenchable thirst/dehydration
Losing my hair at such a rapid rate was what ultimately led me to HRT.
Prior to starting this controversial drug I had a myriad of blood tests checking all aspects of my health including the relevant FSH levels – There were no surprises. I am a perfectly healthy 49 year old woman in the Menopause. In hindsight the blood tests were doubtless unnecessary for both my Doctor & myself. Ultimately we knew where I was at. However my Doctor, a kind & thorough man, sensed I could use some certainty in all this craziness so did the tests anyway.
I'm pleased he did because there's nothing better than clarity in this busy Mums life.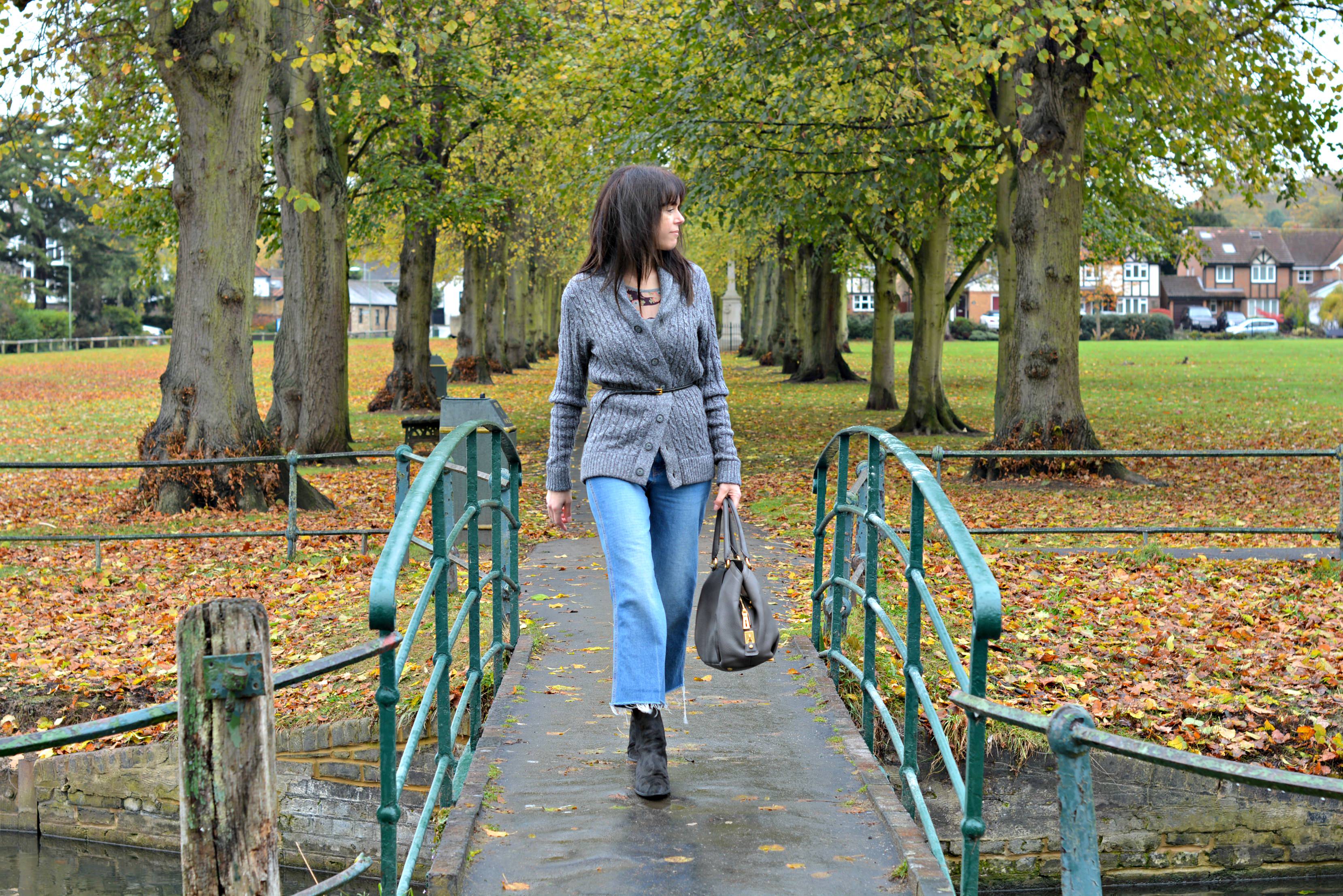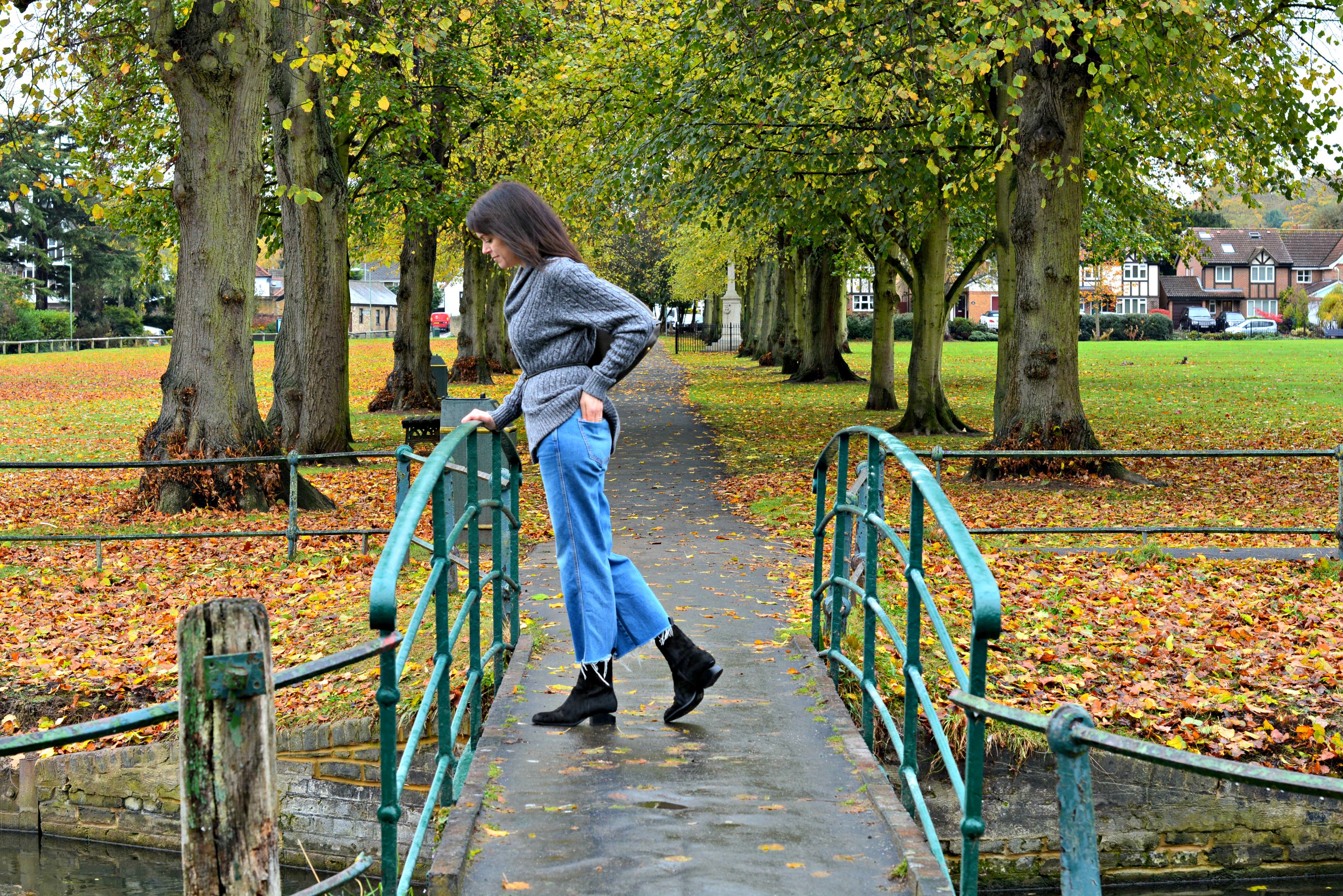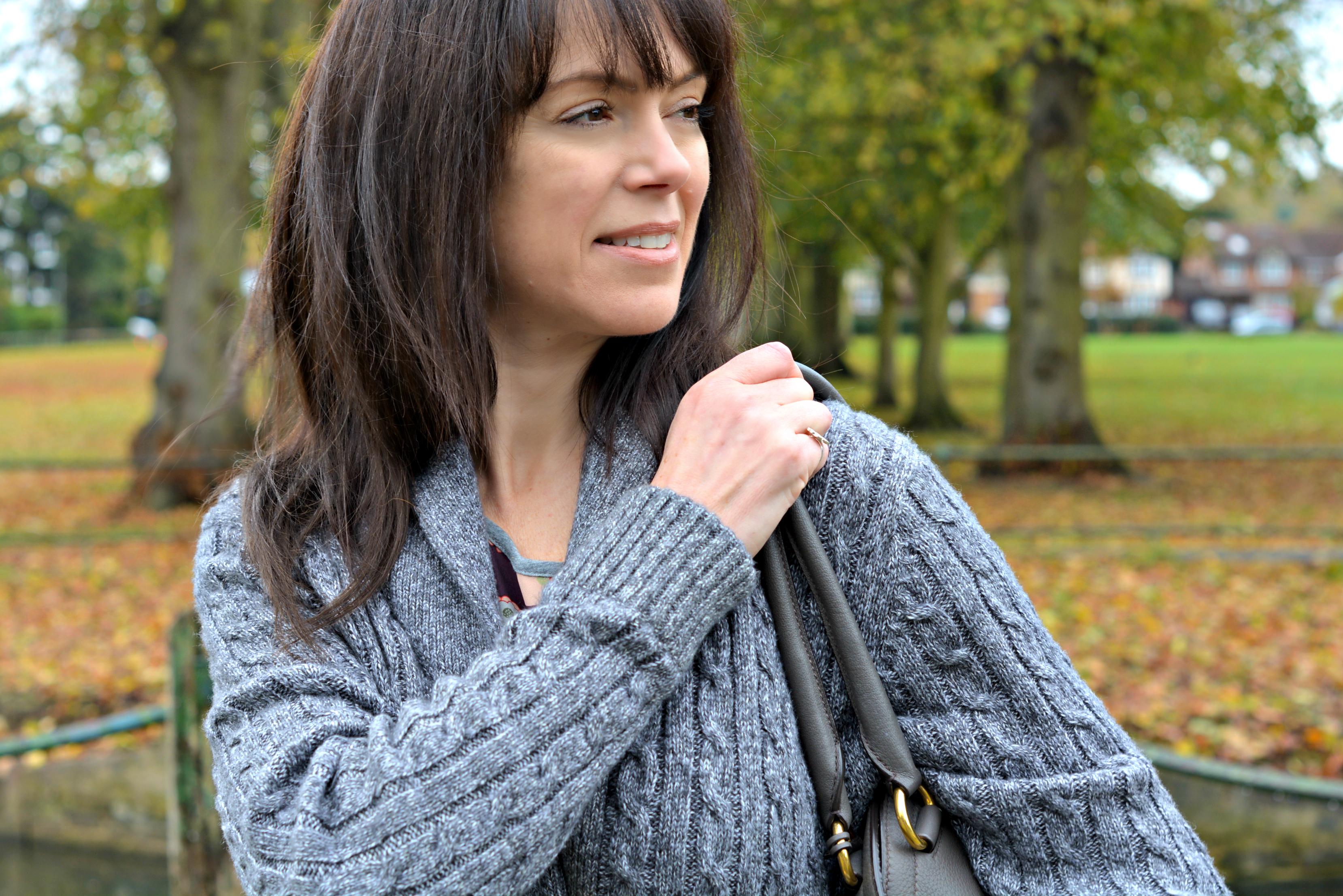 Todays cosy outfit
I have DIY cropped an old pair of Current Elliott wide leg jeans, fraying the hem by simply putting through a wash cycle. The cable knit cardi is from the Mens section in Tkmaxx. This is the easiest place to find the over-sized, chunky look I'm going for. My awesome boots are old Alexander Wang Anouck that are still available on their website. If you purchase nothing else this Winter or indeed this entire year, may I recommend you consider investing in these incredibly comfortable ankle boots? My T-shirt is by Maison Scotch, bought recently from The Dressing Room that offers an eclectic curation of high-end brands online.
Additionally my luxurious clip in hair is courtesy of Irresistable Me.
I hope this post helps those of you beginning your journey – knowledge is power, we must talk about an event of such magnitude as past generations didn't. There's no reason why we can't sail through Menopause, coming out the other side better women. Let's compare notes, commiserate & support one another. Most importantly don't be afraid…
Next month a post about what it's like being on HRT so far. It may surprise you, it bloody did me!
lots of love, Mx