Since I've been trialling the Caudalie Premier Cru Eye Cream & Resveratrol Lift Moisturizer my skin has also been going through the trauma of Menopausal hormone changes. Not only that but also just last week I changed the way I administer my Hormone Replacement Therapy so to say my skin is coping well is a super big deal.
I believe Caudalie has played a big part in that as I know many women suffer quite radical dryness which often rebounds in the form of boil-like acne. In fact I have experienced a couple of these pea sized lumps on my face too although thankfully they've disappeared without a trace. Whilst we're on that subject I have to add, most importantly when you notice one of these "spots" whatever you do LEAVE IT ALONE. Do not approach or engage with the beast, no matter how tempting it may be to squeeze, poke or prod it – DON'T. It will go away eventually so please be patient, our skin is now far too delicate to cope with squeezing these monsters & you will leave a scar.
Now bearing all the above in mind here's a breakdown of what I found each product delivered. By the way I'm seeing my OBGYN next month to sort out a few queries I have about my new treatment following that I'll write a detailed post on the medication I'm now taking. Just so you know it's a combination of estradiol delivered via patch which I change twice weekly & a body-identical (not synthetic) progesterone pill taken once nightly….
My Caudalie Beauty Regime
1. Make-Up Removing Cleansing Oil – This oil is light & silky to massage into dry skin. You can emulsify it with a little water but I prefer to use a hot cloth which feels absolutely incredible & removes every trace of make-up. This is a total winner of a product particularly for its deep cleansing ability without leaving any trace of oil behind.
I do really like their Micellar Water too but find Micellar Water (no matter what brand) isn't a deep enough cleanse for make-up. Therefore I recommend keeping both for the different purposes.
2. Gentle Buffing Cream – As a long time fan of grainy exfoliators I'm now finding my regular Apricot Scrub way too harsh. I was keen to find an alternative so tried this fine-grained scrub Caudalie offer.  The overall result has been a bit hit & miss for me as I don't feel it's quite course enough to do the job. I would need to use it more often to get the desired effect although to be honest I probably don't have the time.
3. Glycolic Peel Mask – This is the other alternative to my scrub which involves no actual scrubbing but uses the glycollic acid to slough off my dead skin cells. I applied it liberally twice weekly in the morning 10 minutes before my shower. Rinsing under the shower is the simplest way for me to remove the thick cream & also leaves my skin feeling fresh & awake. I love this product which has turned out to be better than I expected & probably makes the scrub redundant. Note briefly it isn't actually a mask despite the name.
4. Premier Cru Eye Cream – Having never used an eye cream before I was skeptical that there would be any advantage in a separate cream for just the eyes. This may take some time to notice fully but so far there has lessened that tugging effect around my eyes. You know the evidence of dehydration that shows mostly around the eye area? I've also noticed it around my nose so I rub the residual cream there & on the back of my hands too. The trickiest thing with this remarkable cream is getting the amount right. I'm not kidding, it took me weeks to reign myself in & I'm not a heavy-handed person generally so I don't tend to pump out a big amount. You literally only need a pin head sizes drip of this cream for both eyes to be well covered. Not an easy thing to do let me tell you! As it's not a cheap cream you don't want to waste it, just be really careful until you get the hang of the pump otherwise, like me you'll be rubbing it onto the backs of your hands.
5. Resveratrol Lift Cream – This moisturizer packs a punch ladies. I absolutely love it! It isn't greasy at all but it is heavier than what I'm used to although as I said earlier I do need that now. However I alternate this with the light VinoPerfect Serum when my skin is having an oily moment as it tends to do now & then. I think it's helpful to have two weights of face moisturizer on hand for the regular changes our skin is experiencing. That way you can use what you need as & when.
6. VinoPerfect Serum – I have used this gorgeous serum for a while now & reviewed it fully here if you'd like more information. It's called a serum but to me it's a light moisturizer that perfectly accompanies the heavier Resveratrol Cream. Equally as effective when used in conjunction with your regular moisturizer if you find it's too lightweight on its own. It has definitely helped plump my skin but not lightened the pigmentation.
Shop the Products

Below is a close up shot of my skin to show you the corners of my nose & around my mouth where tightness from dehydration has improved. Please ignore the hairy regrowth on my chin, I still haven't decided what to do with that yet. Since I don't see it in the mirror I hadn't realised it'd grown back until I put this close up shot on my desktop monitor – Hooley Dooley what a shocker!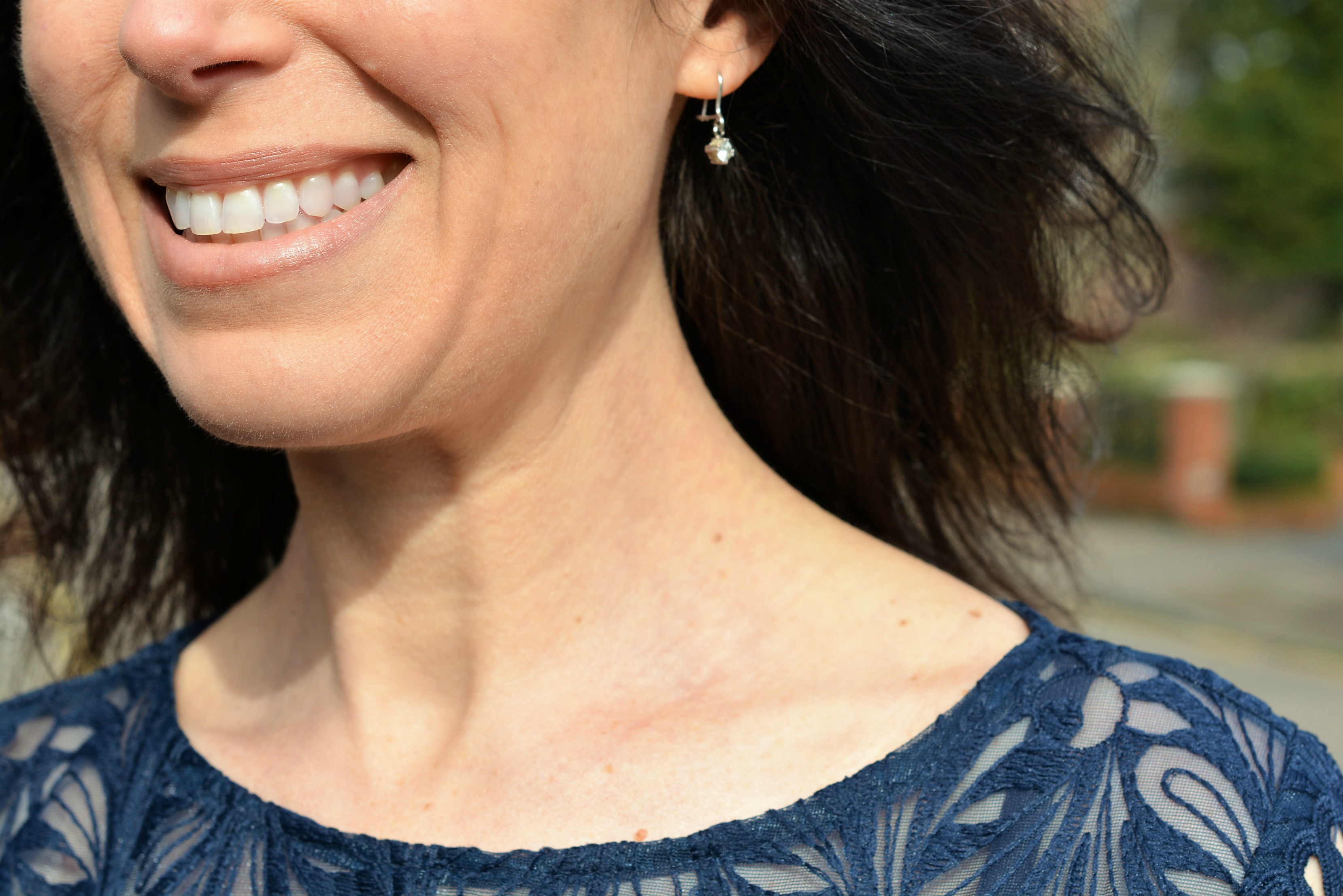 For those of you who asked what make-up I use I'll publish an edit of my key products next week. These are the best of the basics, literally all you need to do a simple natural look. I think it's really important to keep your make-up as light as possible after 40 because it has a tendency to be quite aging. When I look younger I feel youthful, simple.
Bye for now, Mx