When it comes to making my life easier I'm all for the throw-on-&-go outfit. You know the single item that is all you need, always looks great & suits pretty much every occasion?
I was thinking about this when Winser London asked to shoot me in four of my favourite outfits from their range. My first idea was to showcase pieces that come under the wardrobe staples category since this is where you'll notice the lowest cost per wear. As I explained in my earlier post on staples, concentrating your budget in this area is the best value all round. Then I narrowed staples down to throw-on-&-go outfits for those who have just started curating their collection. A throw-on-&-go outfit that covers all the above requirements, flatters any shape, is simple yet chic & most importantly is a from desk to dinner winner.
To me this can only be 2 things, A DRESS & A JUMPSUIT.
Let's take a look at the dress in detail first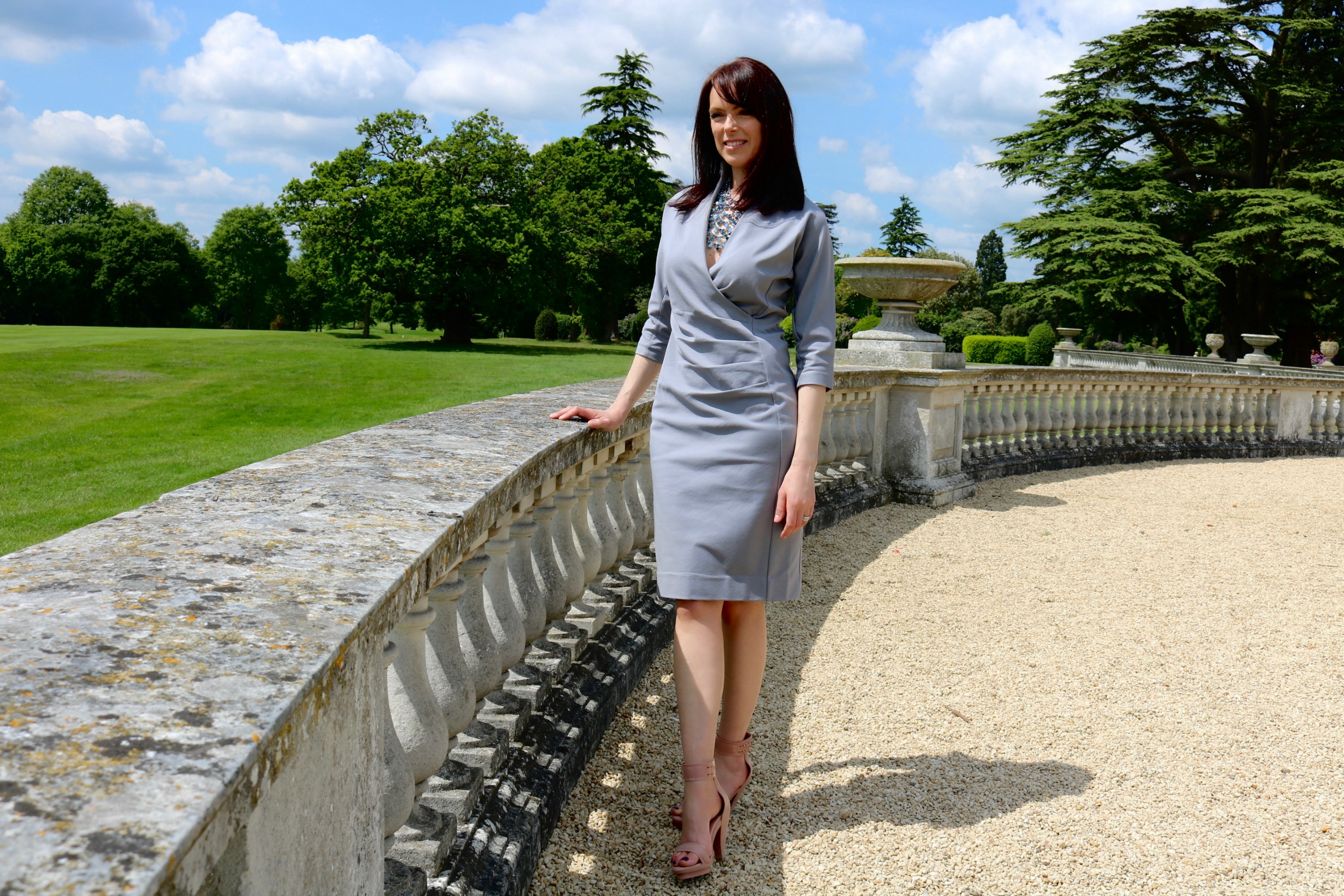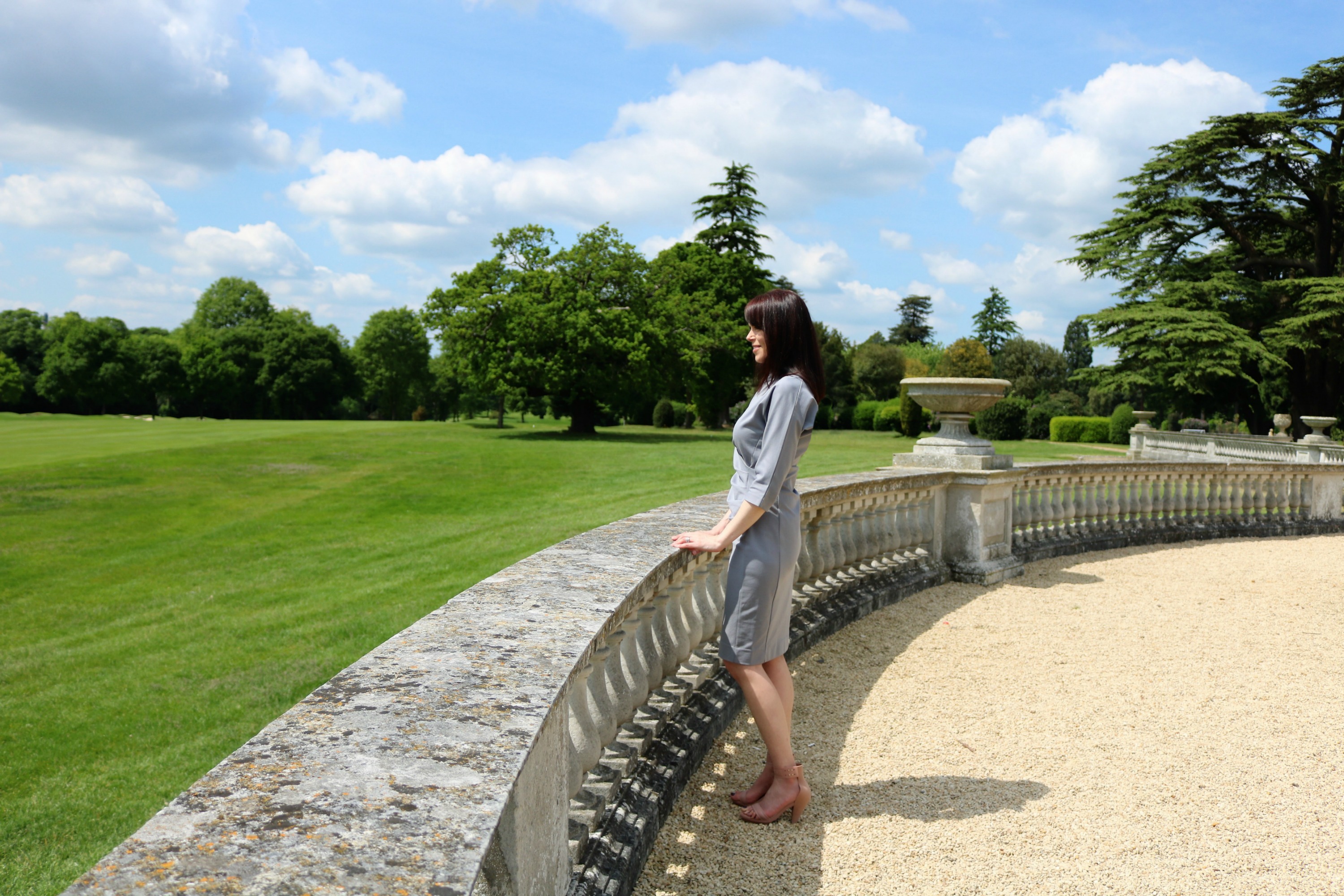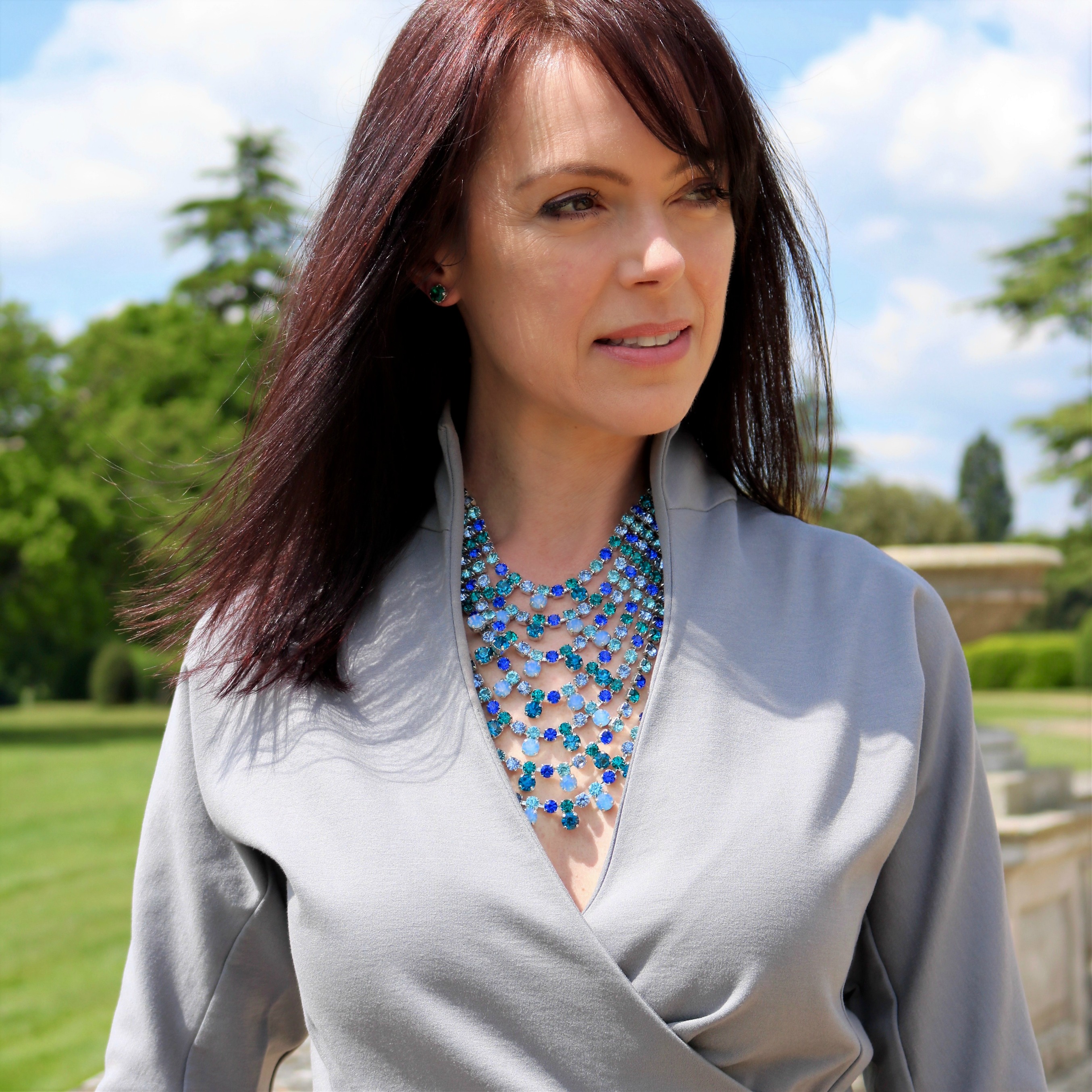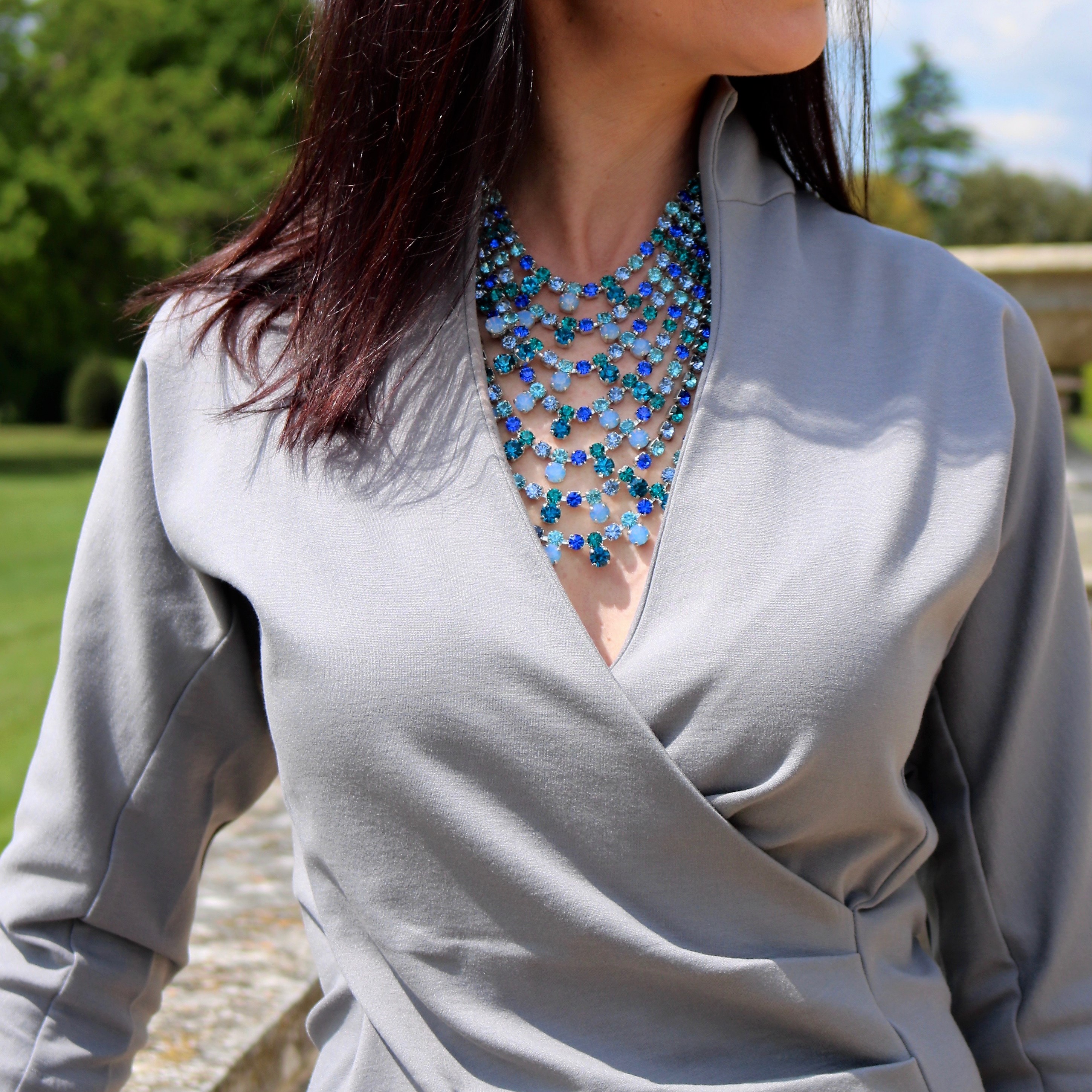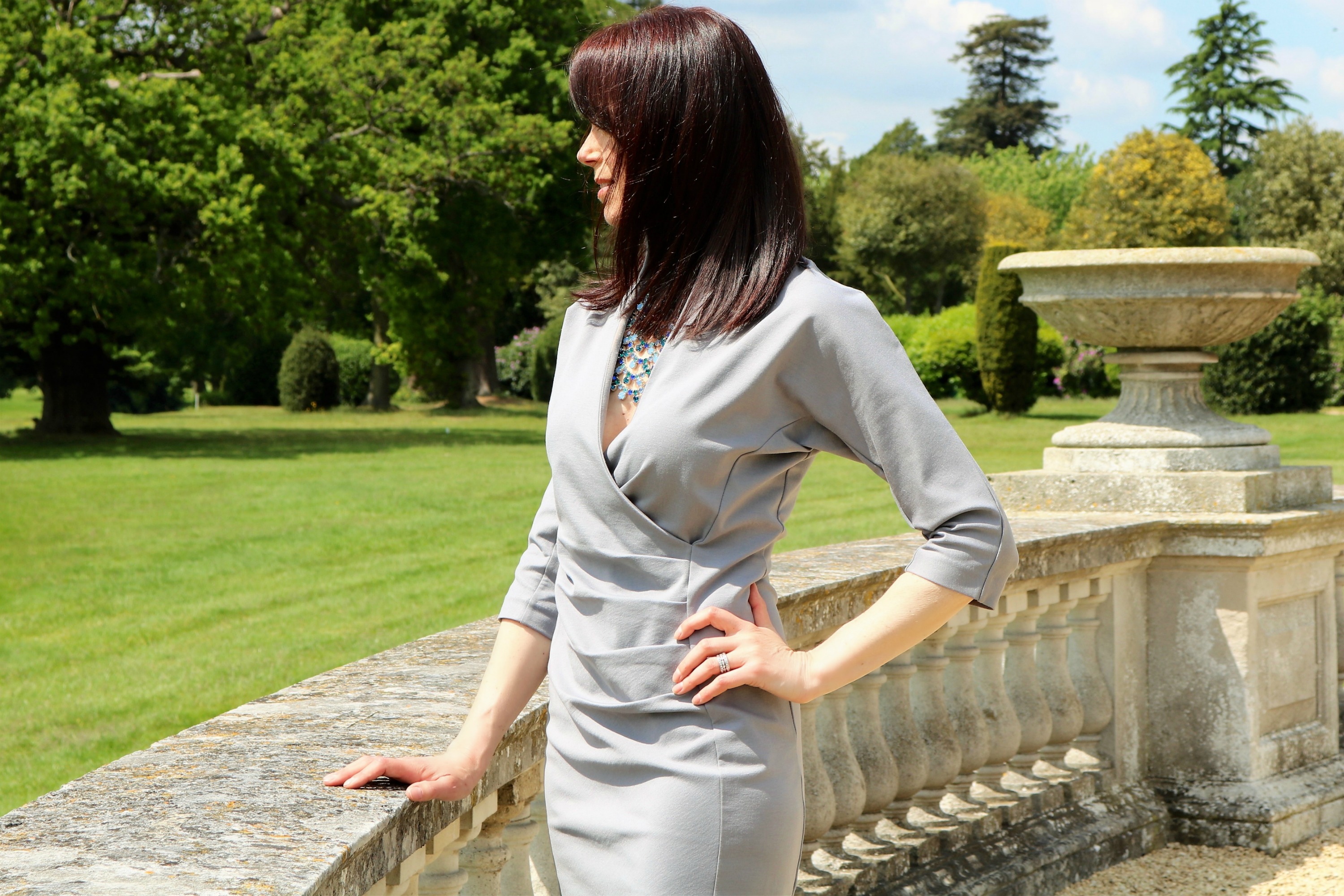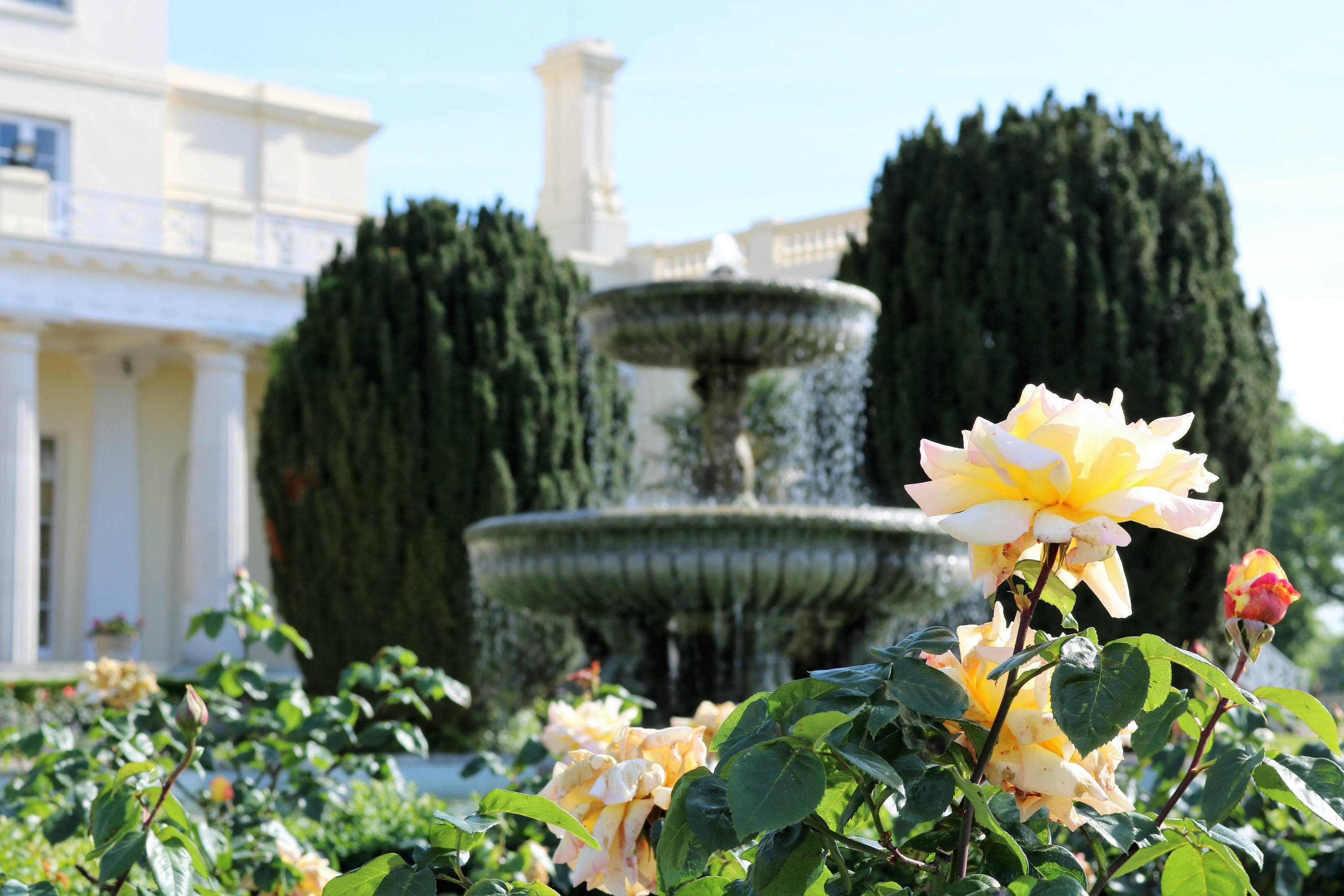 The BodyCon Dress
Winser London call their version of the bodycon dress Grace Miracle Dress. Now what you should know is the MIRACLE part is bang on. Why miracle? Well simply because of the incredible double knit jersey material it's made from which is designed to hold in all the lumps & bumps whilst allowing you freedom of movement. The clever folds added to this classic shape are clearly super flattering across the tummy & bust. With three-quarter length sleeves accentuating the waist & a smart stand up collar detail this is no ordinary throw-on-&-go outfit. Plus it now comes in seven fabulous colours so you'll definitely find one to suit you! Today I'm wearing mid grey in size 10 but I could have possibly gone a size smaller as it is slightly roomy however I'm not unhappy with the fit. Therefore I'd recommend that if you like a snug fit try a size down from your usual. You must take a look at the gorgeous new soft teal colour, although having this in black as your LBD ticks two boxes & navy is always infinitely wearable – Oh boy it is a tough choice…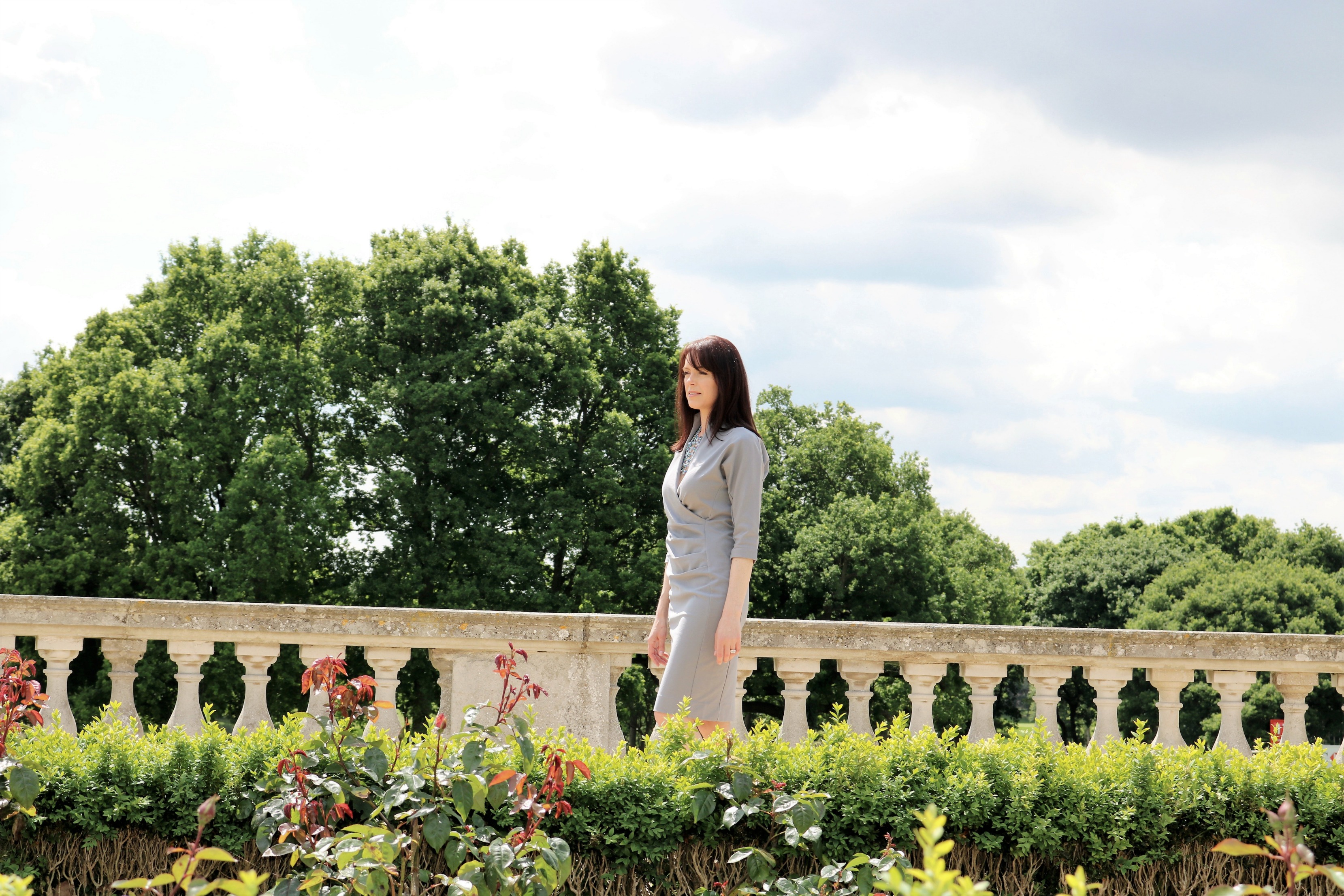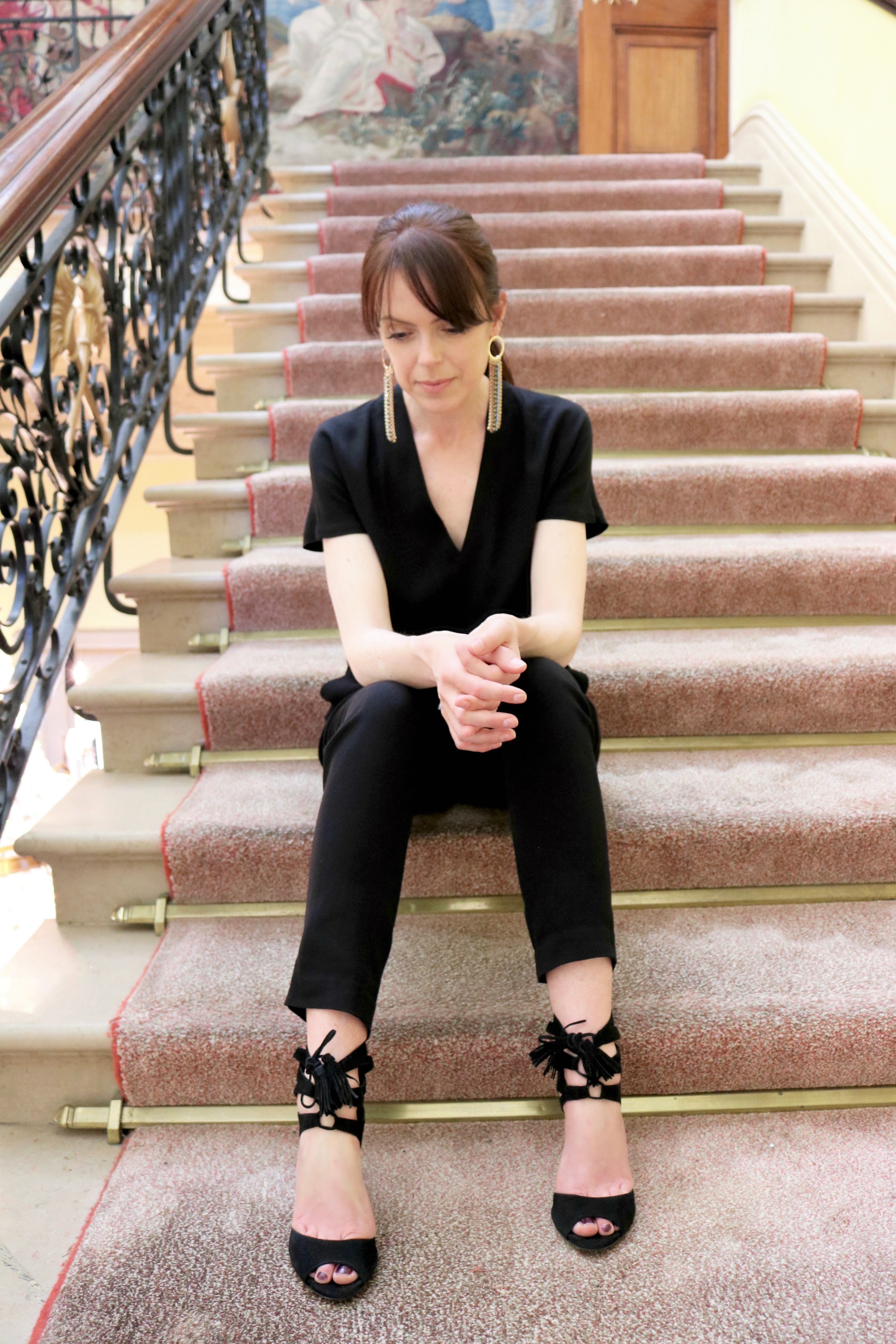 Throw-on-&-go outfit 2 The Jumpsuit
A black jumpsuit has the unique ability to be dressed up to high sophistication or right down to casual chic depending on one simple factor – SHOES.
Today I dressed up this satin back crepe jumpsuit with black suede, lace-up caged heels. Very simple indeed. The Studio 54 style earrings from The Sequinist Shop add my usual retro fix to the mix although that's just personal taste. The T-shirt style top & draw-string waist make it remarkably easy to style up or down & the tapered leg keeps it streamlined & sexy.
Personally I'd stick with black for the jumpsuit of dreams because you'll struggle to achieve the same level of elegance from one with pattern. Black is simply easier. Of course go with colourful shoes such as red or metallic if you're after vibrancy however I would stay with classy all black or at least a very dark colour for the jumpsuit itself.
As for giving it a casual vibe, the loose fit helps a lot so merely slipping on a flat sandal is pretty much all you need to do. I prefer this draw-string waist style & love the soft feel of the crêpe against my skin but I've also seen others you may prefer.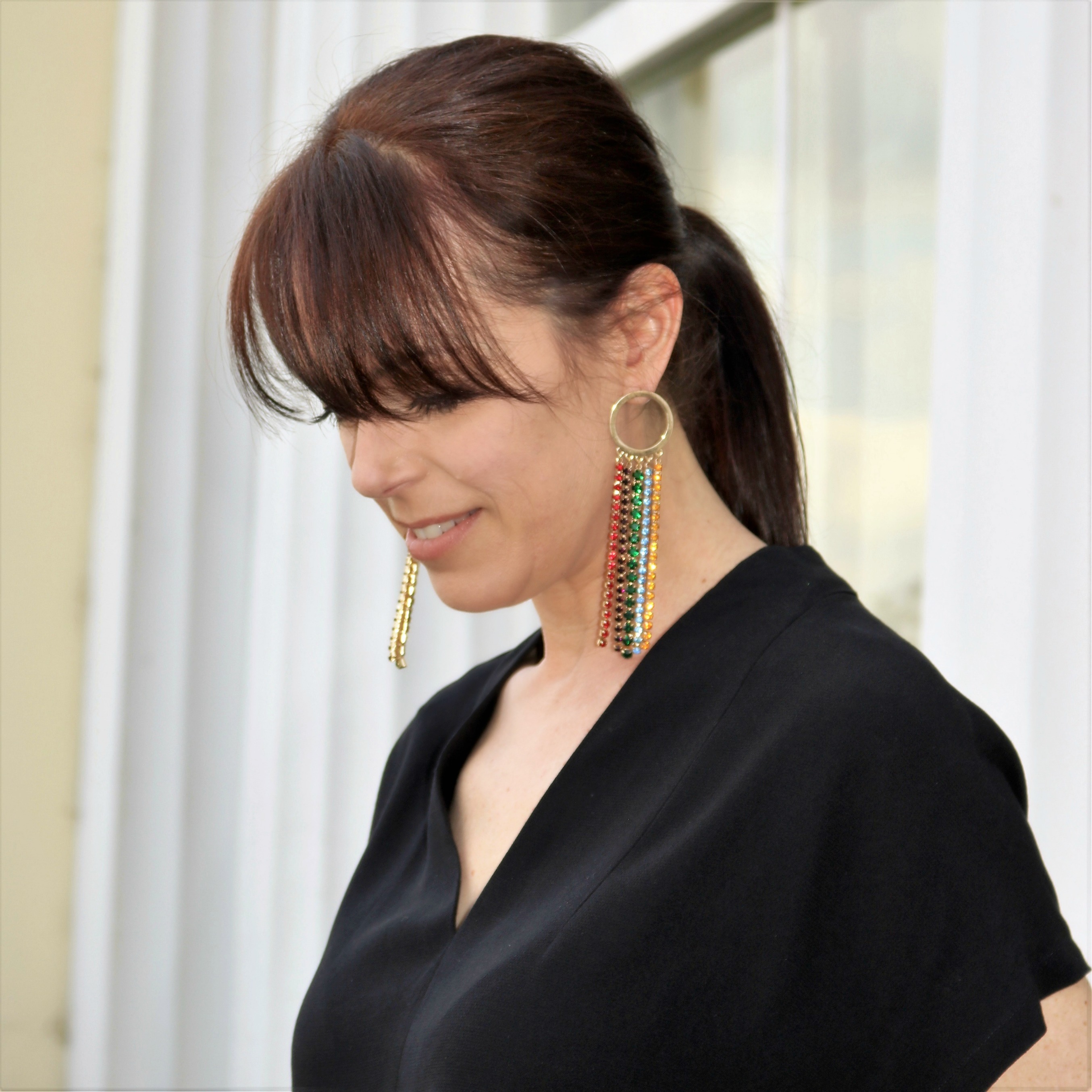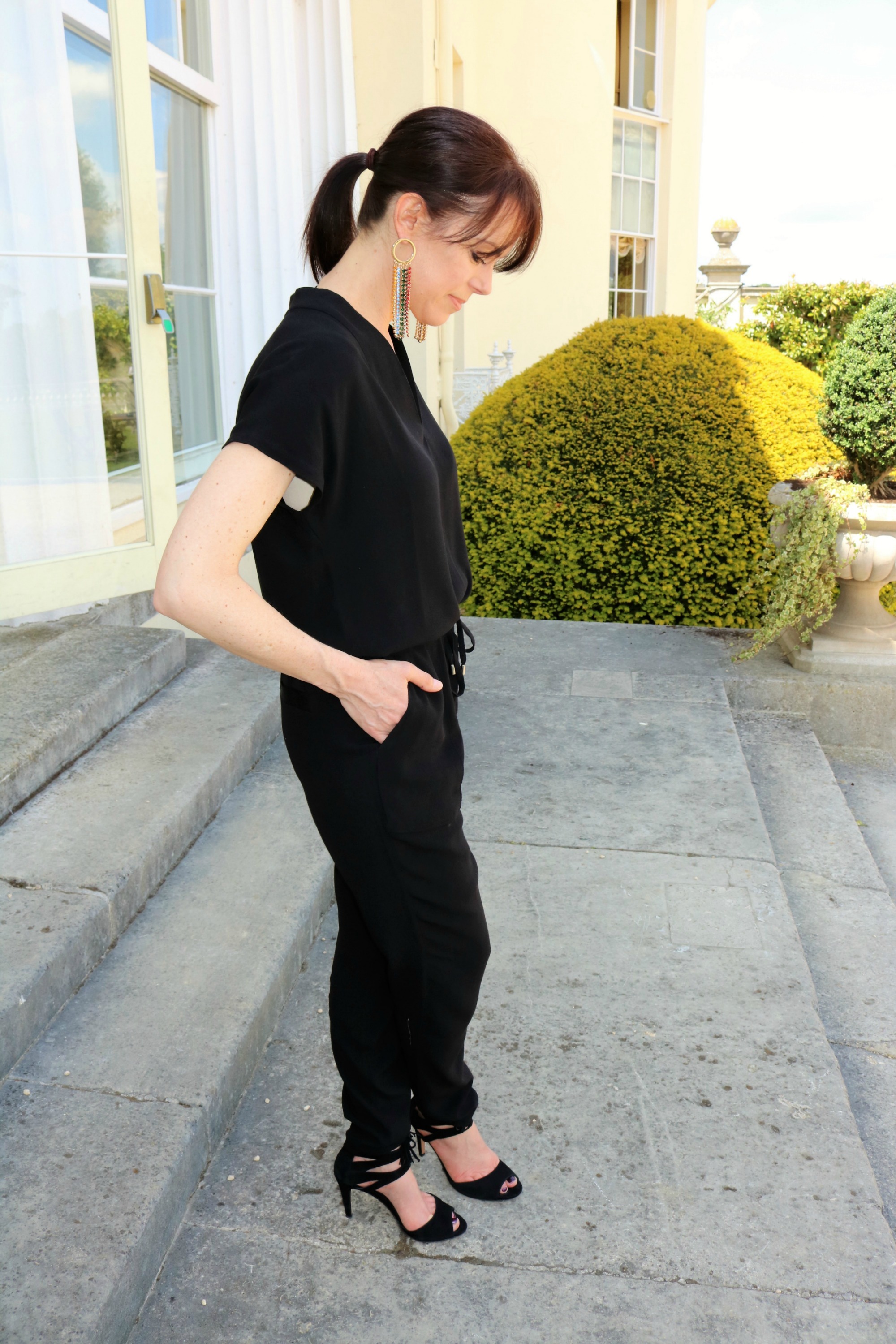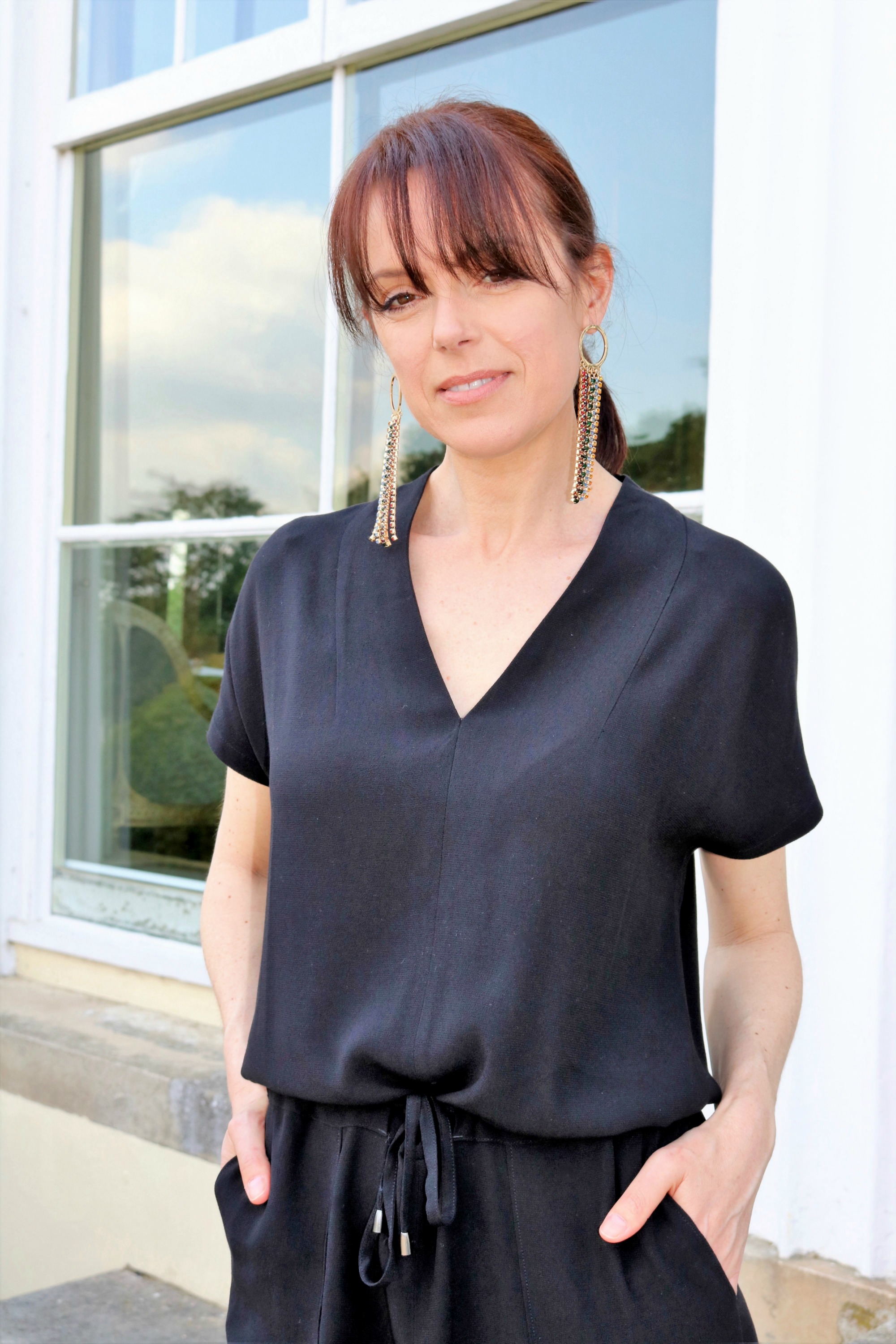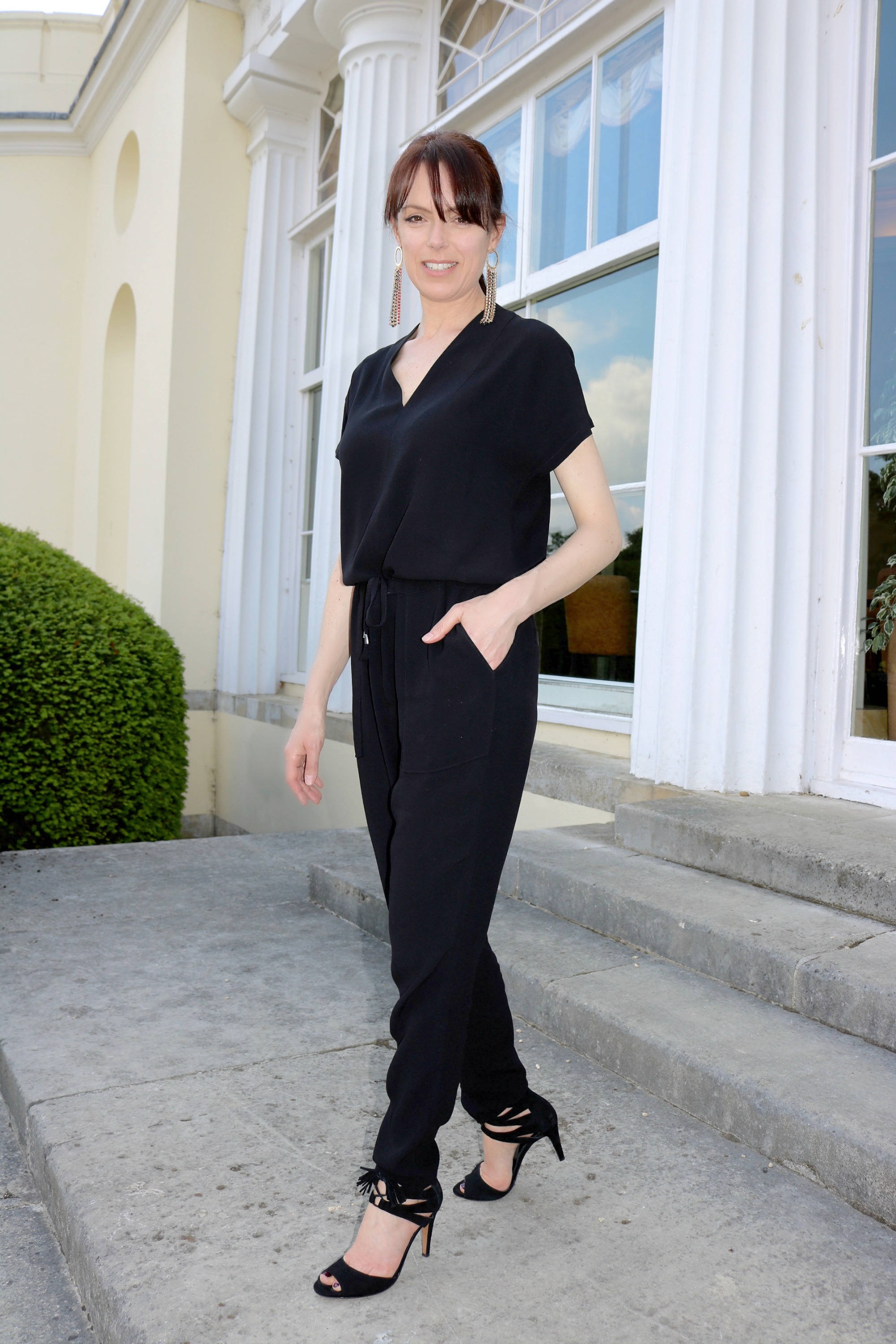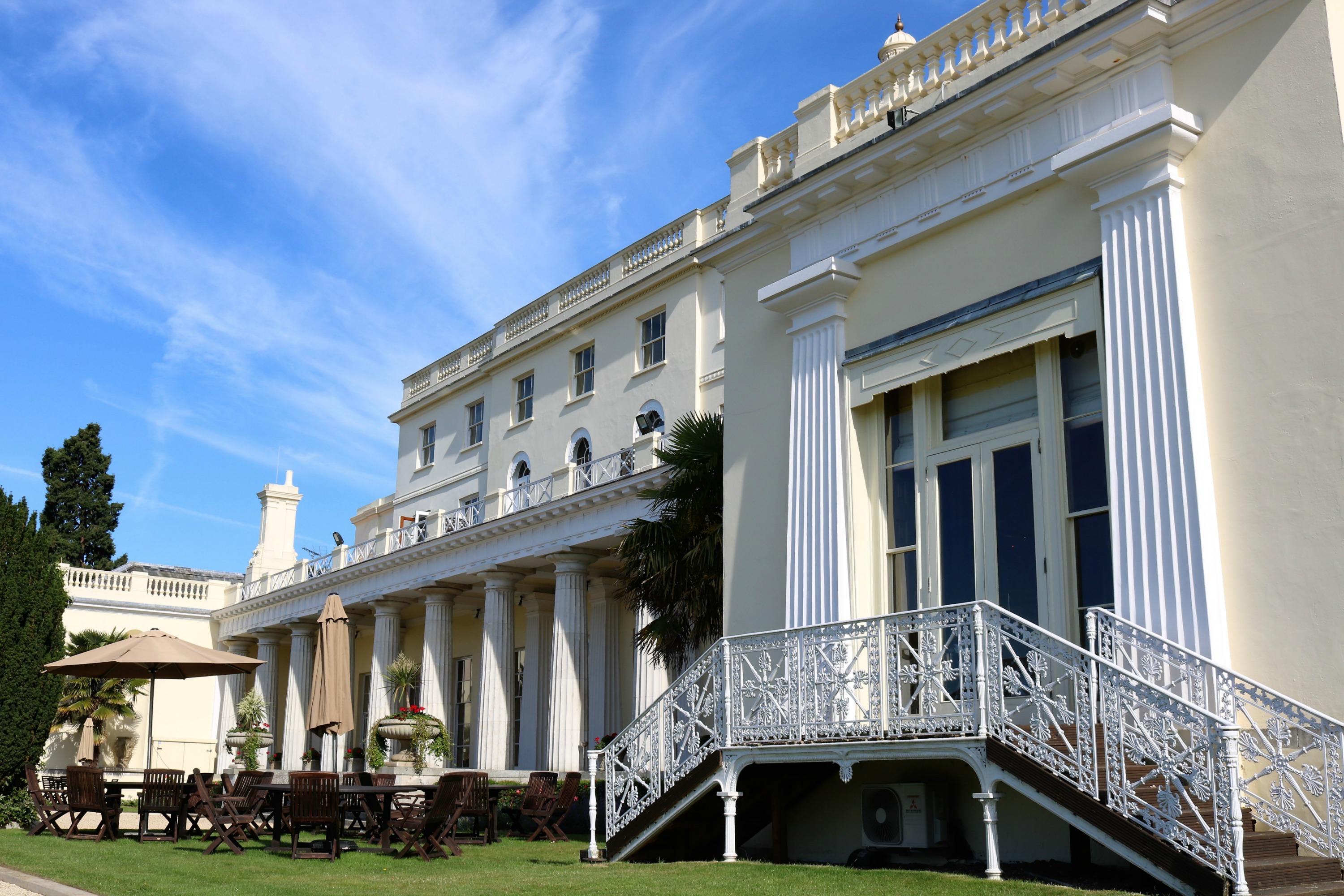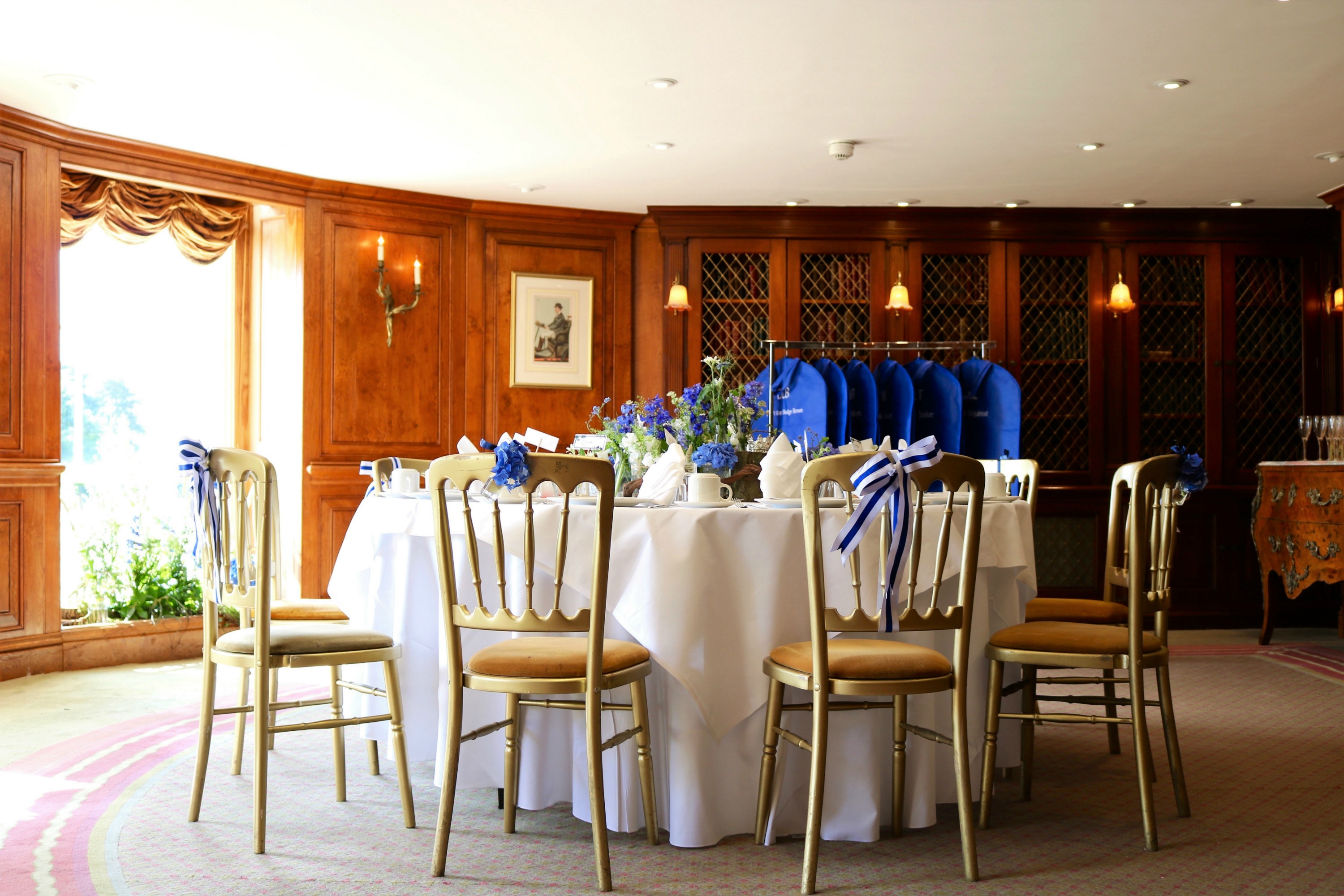 AFTERNOON TEA AT STOKE PARK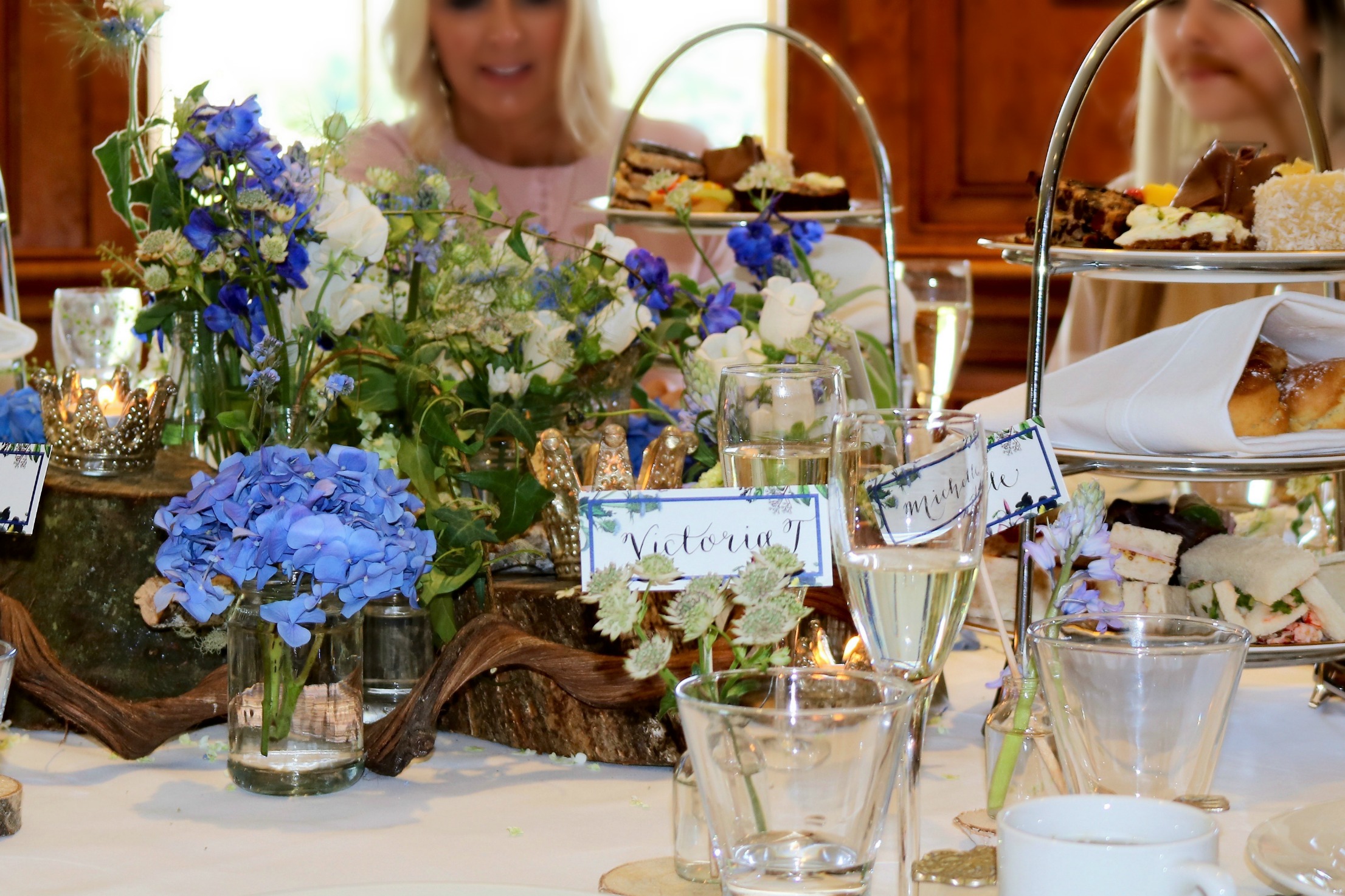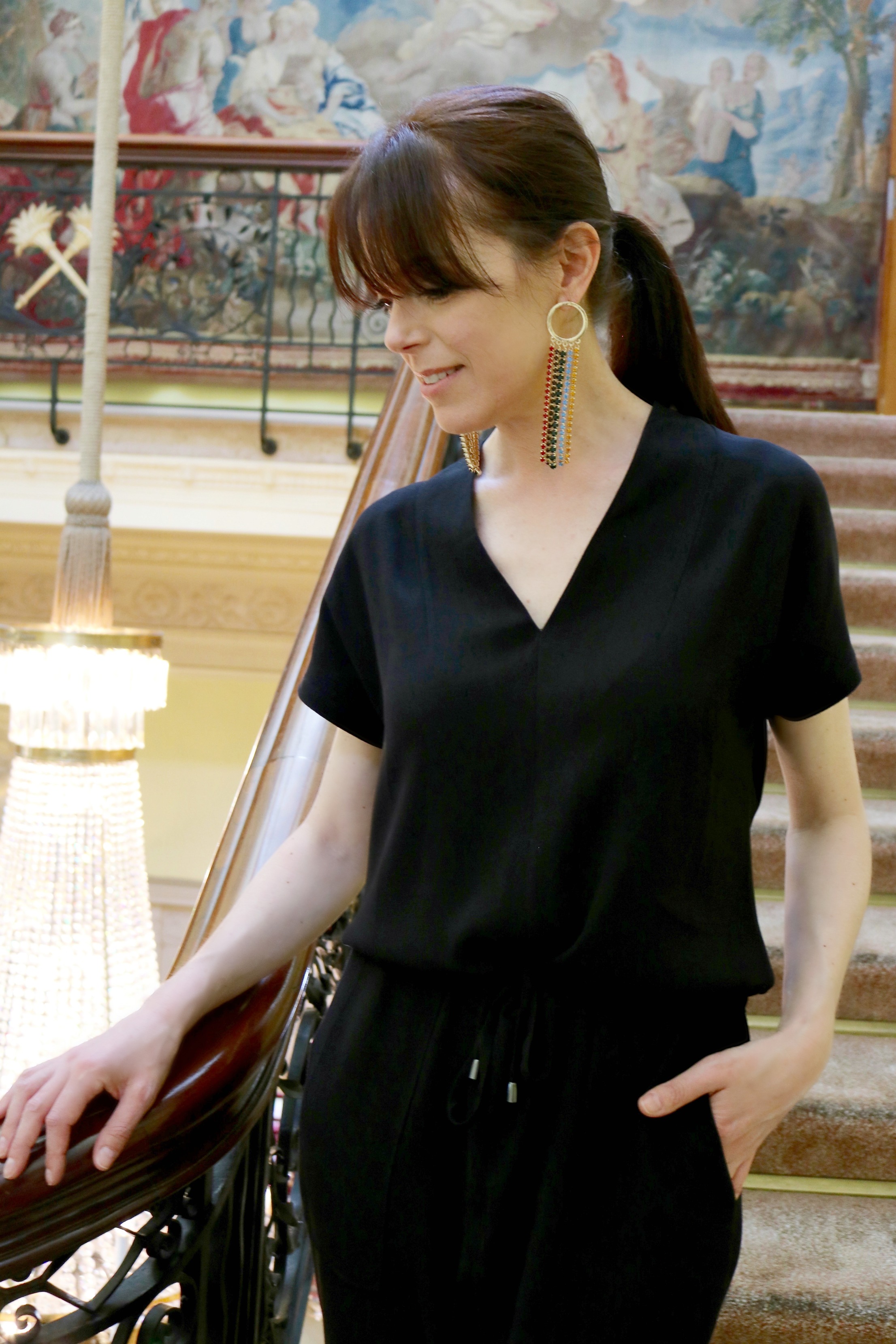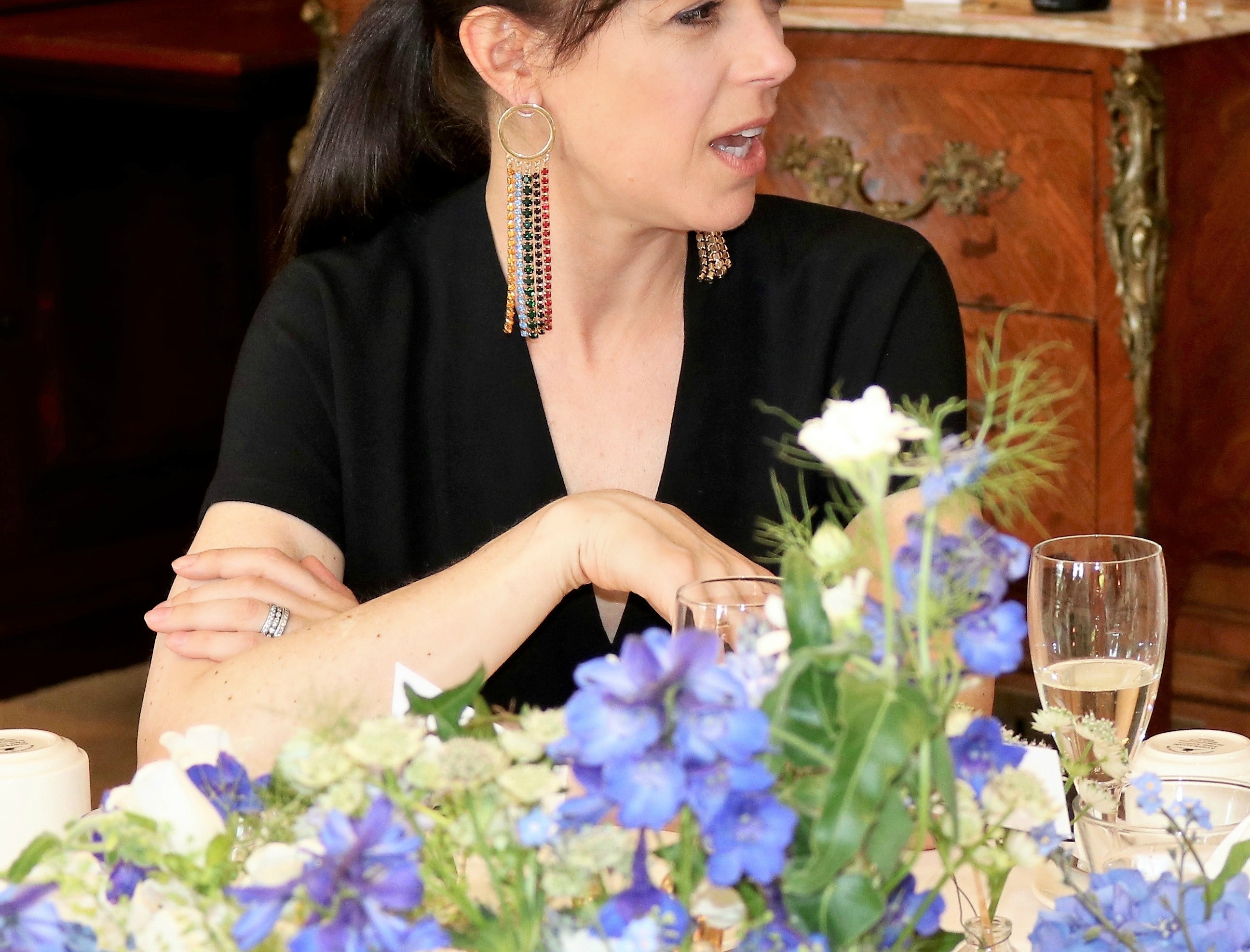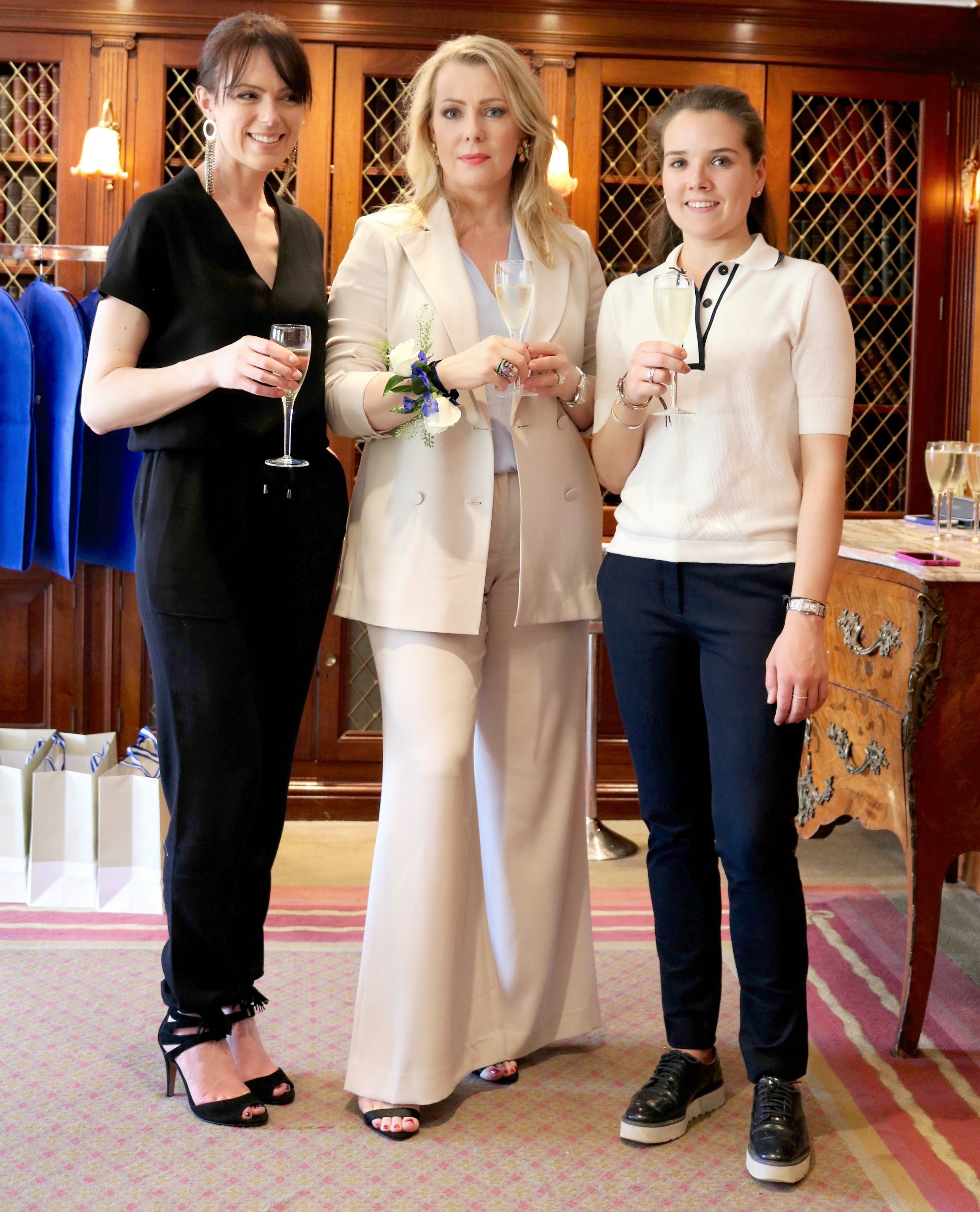 Thank You to everyone at Winser London
As always it's such an incredible pleasure & not at all like a proper job, working with the team. Here's a shot of Lisa (The Sequinist) & I with gorgeous Victoria from Winser, about to enjoy afternoon tea. The table decoration by the outstanding Lilys Flowers took our breath away, we were all Instagramming it like crazy women! Stoke Park put on a traditional English High Tea for us which was thoroughly delicious. Also an enormous thank you to those wonderful people at the A.MAZE.ING Stoke Park! OMG isn't it a stunning location? If you ever happen to be in Bedforshire you absolutely must visit Stoke Park. Along with the lush grounds & golf course they have a fabulous spa & swimming pool. Plus they also hold The Boodles, a pre-Wimbledon event in summer. This famous five day tennis exhibition on their grass courts includes a luxurious English garden party & you know how much we love those? See me at The Chelsea Flower Show here if you missed it.
I did ask Nick, the events manager if I could move in to Stoke Park but he just laughed. Perhaps he thought I was joking? Yet my face was serious, must be my Aussie accent confusing him. Hmmm I'd better get my butt back there tout de suite!
See you next week loves…
Mx
*Photographs by Libby McLaren