Over the years, even before I started RCM, many Women have asked me the formula for a wardrobe full of outfits. It's an easy question to answer on an individual case by case level because it's simply based on body shape & lifestyle. Unfortunately the question is far more complicated when speaking to a wider audience as every woman's needs are different. For example – those who work in an office will require more of the tailored look than a Mum who works in the home. Likewise a petite woman will wear a different cut to a pear shaped or hour-glass figure & so on.
Then yesterday I received yet another specific request from a reader in the U.S. urging me to write this post. As I contemplated how to approach this gigantic topic so that everyone is included, it occurred to me I should also cover seasons & accessories. Basically what we need for these elements to come together are categories & chapters. Then I realised that's so much more than a blog post that would be a bloody book!
Oh boy…
So I've decided to bite the bullet & start writing this in parts which I'll initially post here on RCM but ultimately will form a reference book.
It's obvious to me that what's needed is a comprehensive guide to building a hard-working yet stylish collection of clothes, shoes & handbags. In other words a wardrobe full of outfit options that you can rotate & re-style your entire life. Making thoughtful choices when you buy means not only buying something you love but also something you need. Every piece has a purpose, will re-work with several other pieces, transcend seasons & won't ever date.
So let's begin today with the Staples
Without staples you'll struggle to make your collection cohesive. Staples are the foundation of your wardrobe & probably the easiest category to accumulate in fact it's very easy to end up with all Staples & no PIZAZZ so try not to buy too much of this lot. Equally there is great benefit in spending the top end of your budget here when you consider these are the items getting the most use. Not only do they need to withstand the most wear & tear but also look "the business". High-end Staples elevate the entire outfit making it look polished & classy. We want effortless chic every time right?
1. White Shirt
The basic white shirt can be over-sized, slim fit or straight cut. It can also have a granddad collar, wide collar or anything in between. The buttons may be covered or exposed & the sleeves could be long, three-quarters or elbow length – cuffed, double cuffed or no cuffs at all. These are all down to your style preference & what suits your body shape so take your time trying a few until you find the right fit. Personally I prefer my white shirt to be a stiff cotton with collar, long sleeves & cuffs so I can play around with the styling of it. For an example see this post where I pushed up the sleeves & left the tail hanging out.


2. Tailored Trousers
I have a few pairs of tailored trousers because I'm a fan of every style & I do wear them a lot. Basically go for the cut that suits your body shape – Straight leg, cropped, flared, side pockets, flat front, tapered leg & wide leg. If all that looks too bewildering, here's what you do…Buy one of each online, try them all on at home & have your Hubs, mate or kid take a photo of you in each pair with your white shirt & favourite pumps. Then put the photos on your computer so you can look at them all together. It's a lot easier to be objective this way plus your eye has a more accurate perspective of proportion. Trust me it'll surprise you. Once you've decided on the best pair just send the rest back, simple!
Currently my favourite trouser is this wide leg pair from Winser London that incidentally do every shape to an incredibly high standard so even if my style isn't for you it's worth having a browse through their others. I've also worn mine styled differently here. The navy blue is such a wonderful colour for me but black & grey are just as versatile. Alternatively you can go for bespoke tailoring which sounds expensive but in actual fact comes out the same as high end off the peg. If you're in the UK check out new British label distinctively Me for personally tailored women's suits at an affordable price point. I've seen this range up close & will bring you a full outfit post from their impressive range soon.


3. Cashmere Jumper
This is your main sweater that you'll likely wear most of the year as it's lightweight yet warm so choose a neutral colour like grey or pastel. It doesn't have to be cashmere, you can go for a beautiful fine wool if you prefer, I just recommend a good quality natural fibre. Once again the shape is your call, I have this this light grey over-sized V neck from Marks and Spencer but wear as much this fitted crew neck shape from AllSaints. Remember to take your time trying a few before you decide or perhaps buy two opposing styles if , like me, you adore knitwear?


4. Shirt Dress
Now to describe the Shirt Dress is to limit the possibilities of this timeless classic because although it is in fact a button down dress there are a gazillion permutations & more than one will suit you! Fitted, boxy, button through or just the top half. Lengths of every variation & of course an endless array of fabric & print to choose from. My advice? Start with plain & simple such as pin striped & you can't go wrong. Here is my favourite at the moment & another floor length shirt dress I adore. Also it's worth pointing out that you can wear boots & a chunky knit cardi or biker jacket with a shirt dress for cooler months, see my Isabel Marant one here & one from Whistles two ways here & here. Remember to re-style, this is not just a Spring/Summer piece. Below is a variety I've cherry picked for you to browse. The fun of a superb shirt dress is it looks just as fabulous over jeans & trousers as it does on its own. Geddit? Two for the price of one!


5. Trench Coat
Although I've only recently added this classic to my wardrobe I have always known it to be the ultimate iconic staple & must have for every hard-working wardrobe. However this simple fact is what kept me from deciding on any particular Brand because I wanted it just right. I longed for everyone's favourite Mac by Burberry yet couldn't bear to sell one of the kids to pay for it. Endlessly searching second-hand on Vestiaire Collective proved fruitless, though there are many on the site just not quite right for me. Again with the Goldilocks…Well all that's changed, I now have the perfect Trench & I love it! Would you believe it's from Marks and Spencer & is absolutely luxurious in its detail & finish. In my opinion there are few labels producing a Trench of this standard at an affordable price. Naturally I've thrown in a couple of delectable Burberry options below if it's something you'd like to add to your mortgage Heehee that's cheeky…


6. Midi Length A-line Skirt
It's no secret I am a fan of the Whistles midi skirt, I've featured them here on RCM before. This shape is ideal for pretty much anyone, actually I can't imagine what body type it wouldn't suit. Naturally you may have to alter the hem for the ideal length but to me this is not a game changer. Everyone should know a terrific tailor for such minor alterations & there is absolutely nothing wrong with making adjustments to get the exact fit, even on brand new clothes. Often it's a necessity, after all there is rarely the perfect sizing to suit every customer! If you're not used to doing this, give it a try. I've even had new dresses taken in because I loved the style & print so much. I don't see why a little adjustment should get in the way of owning a forever piece especially as I end up with a bespoke garment for high street price.


7. White T-Shirt
The perfect white T-Shirt used to be an urban myth. You couldn't find a well cut one that held its shape after the first wash for love nor money, no matter how much you were willing to spend. Hanes did a good one for a while but then came Alexander Wang & his T by Alexander Wang range & everything changed forever. Sounds rather dramatic I guess but the simple white T-Shirt has got me out of more than one outfit crisis in my time. Let me tell you the right one will transform basic jeans with a blazer thrown over the top (here) or give a super dressy skirt the nightclub edge & make smart trousers hipster cool paired with sneakers. Choose basic white or with a funky slogan, crew neck, V neck, capped sleeves or longer length – The choice now is infinite, just take a look at how many awesome Tees I've found below! p.s. I just have to buy the retro "Cherry Bomb".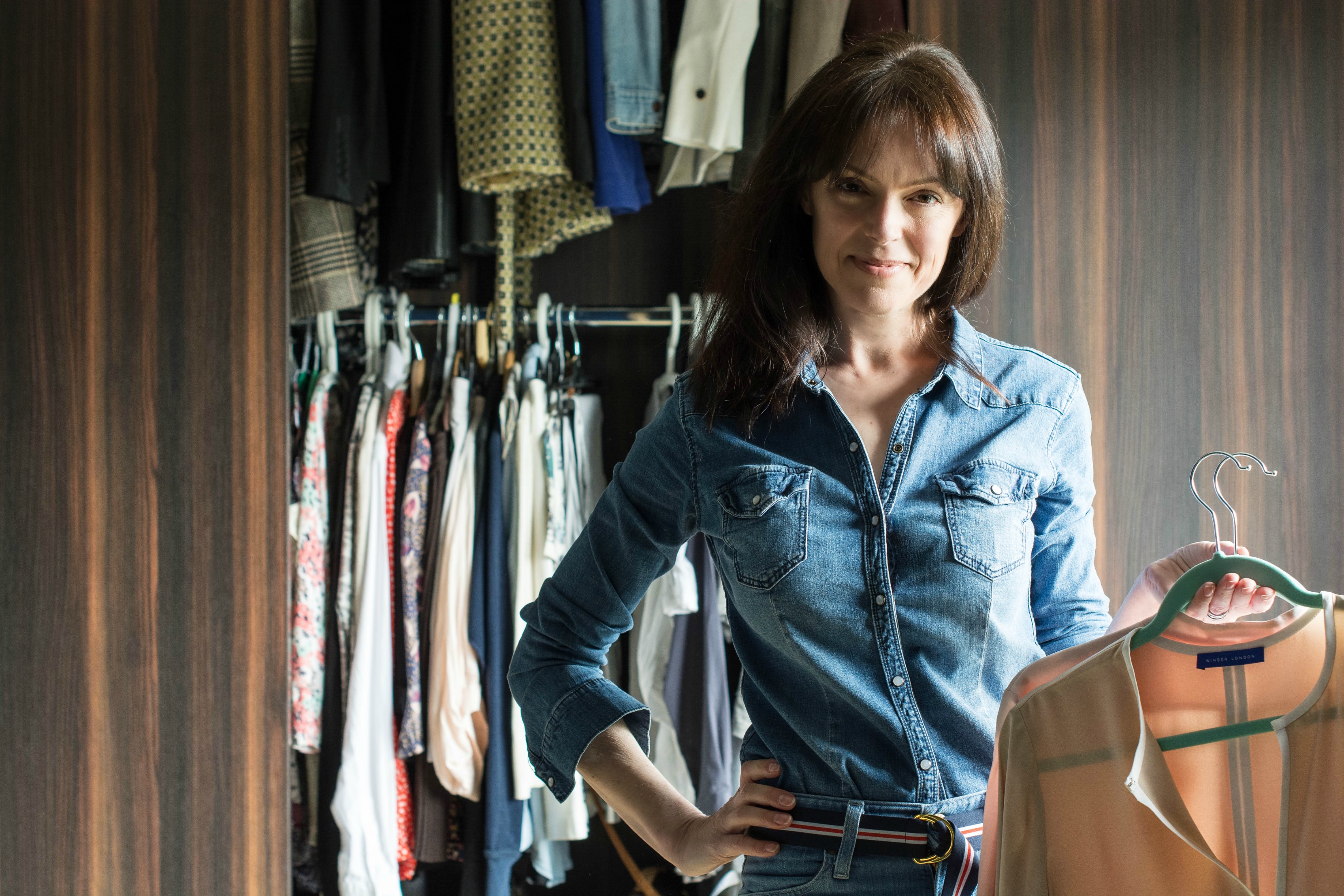 8. Silk Shirt
The thing about a silk shirt is how incredibly luxurious it makes you feel when wearing it. Even carelessly thrown in a suitcase for a city break this piece will lift your spirits. Imagine dragging yourself out of the cheap seats of lowcost-air.com, schlepping across peak hour traffic to your budget boutique hotel, there's no time to waste for a shower so it's just a quick pit wipe. But wait, change into that silk shirt & et voila you're instantly transformed into Ms Parisian Chic! Throw that bad boy on for a day of glam shopping & sightseeing with your BFF – Too bloody easy! Trust me I know, see my weekend in Paris outfit wearing Winser London's signature silk shirt. You only need one sensational silk shirt in your wardrobe to make a statement so make it count.


9. Ballet flats
Ballet flats are quintessential Parisian Chic aren't they? Slide your tootsies into a good quality pair of these shoes & you're instantly transformed into Ines de la Fressange or more recent style icon Olivia Palermo, see my Pinterest board for the styles I admire. Ballet flats work with pretty much any outfit from dresses & skirts to suits, trousers or jeans & shorts. Once again I urge you to spend the upper end of your budget on these because there is nothing worse than sloppy misshapen cheap ballets. Not to mention the comfort aspect! My first choice for ballets is always Lanvin because they hold their shape forever – Seriously! What's more they're designed with a small hidden wedge heel that supports the arch of your foot making them the ideal choice for anyone who is on their feet all day. I especially love them for day trips into London with the kids & they were great when I worked long days in the television studio. See me wearing them here & here. My other favourite is the stunningly beautiful two-tone ballet flat made famous by Chanel, worn here. I realise Lanvin & Chanel cost a lot & you may not wish to use your budget that way, don't worry I have tried & tested a couple of less expensive options that are absolutely gorgeous too.


10. Nude Pump
In my opinion this is the most wearable colour shoe, even more than ubiquitous black. It's not particularly important what type of heel you choose only that it's a covered shoe, plain but beautifully made & comfortable. Now here is where you choose the shoes as the saying goes…Personally I think either a mid height block heel or a stiletto are the most versatile but if you like a kitten heel go with that. I don't believe the heel shape or even height is something we should follow in fashion. I have a plethora of different heels in my shoe collection all of which are infinitely wearable regardless of what any fashion mag deems on trend. As a prime example see here my ancient Prada kitten heels I wore recently, supposedly off trend right now. The last word on nude pumps has to be my coveted 50th birthday present by Monsieur Louboutin or I'd happily accept this pair from Chanel. Like Hubs even reads RCM sigh…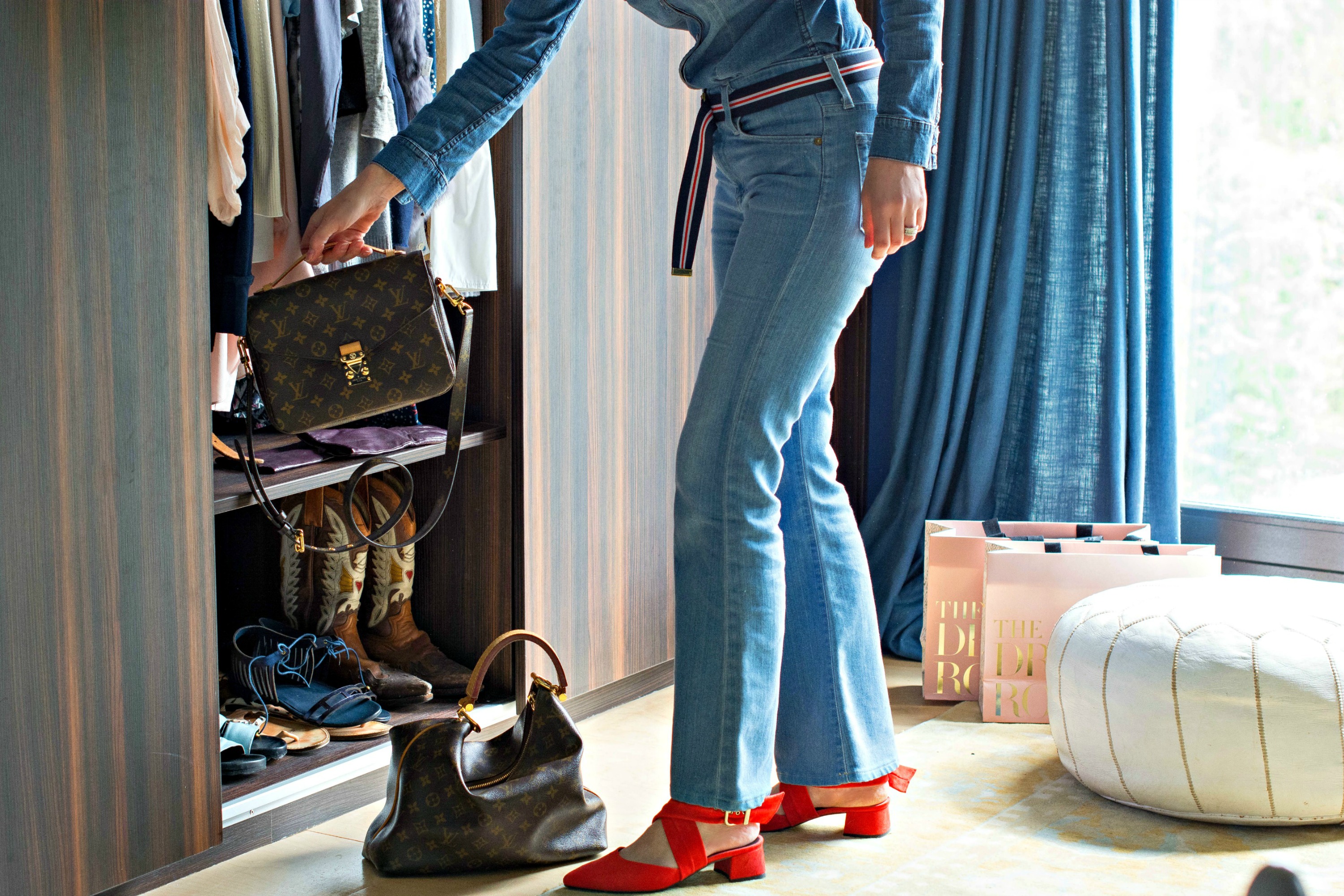 11. Cross Body Bag
Certainly if you're a handbag whore fiend lover like me they deserve an entire chapter, as do shoes she sighs. However to keep this blog post from becoming biblical & to stick with the point I chose the most essential style. Having a convertable cross body bag especially if the strap is removable will see you through any occasion. For this reason I would forego every other style to afford the best of this type. The reason being you can actually wear it, like jewellery! Imagine any sartorial situation & I guarantee your exquisite petite bag will work. Think about what colour best compliments your wardrobe, it may be that black is your safest bet although red can amaze & animal print delight. Here are some examples of how often I wear my vintage Chanel mini – one, two, three, four & five outfits. As you can see the bag builds on the outfit yet somehow looks different with each one. For more detail of what to look for when buying a vintage Chanel bag read this post. Alternatively go to Vintage Heirloom for authenticated Chanel & other high-end designer vintage.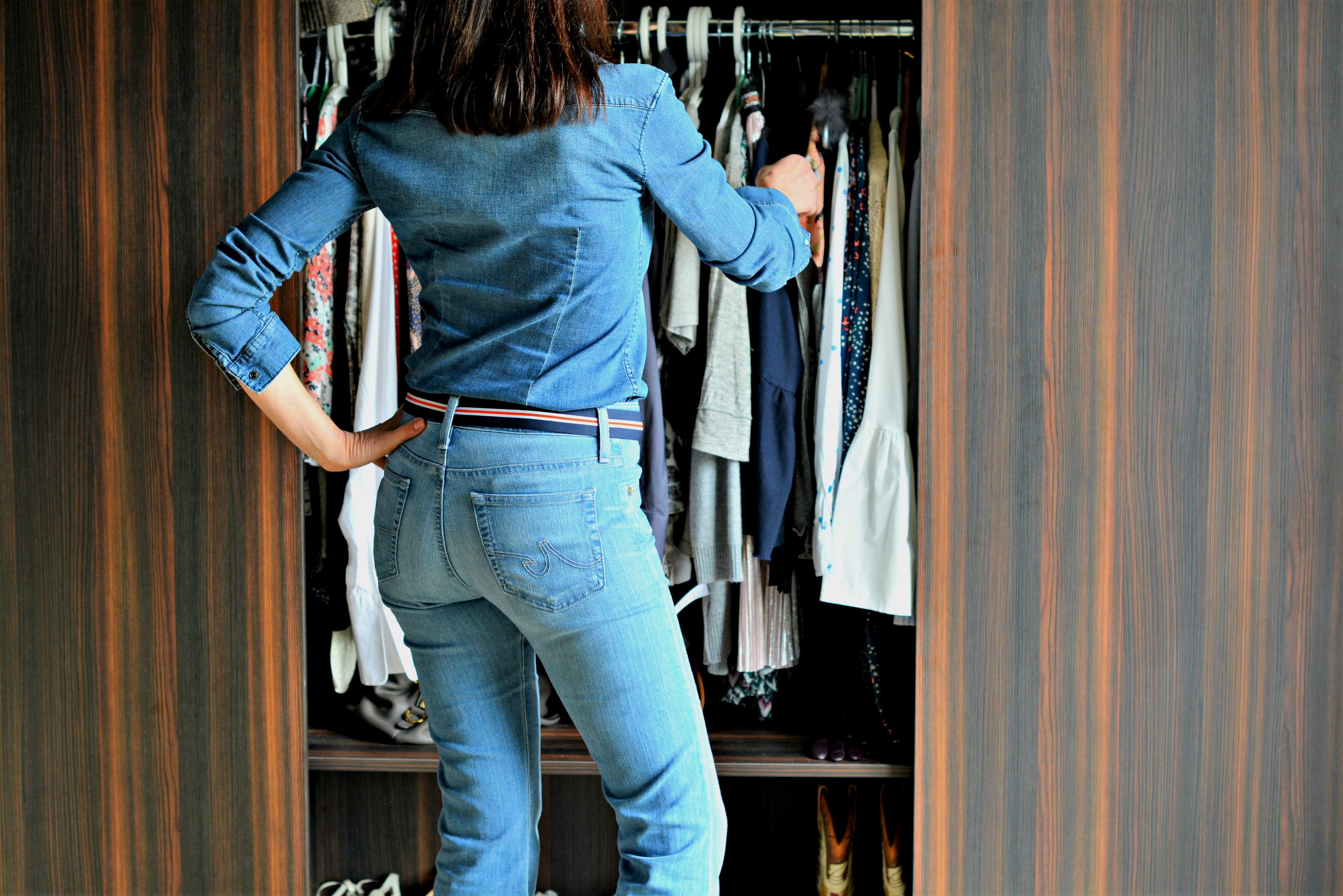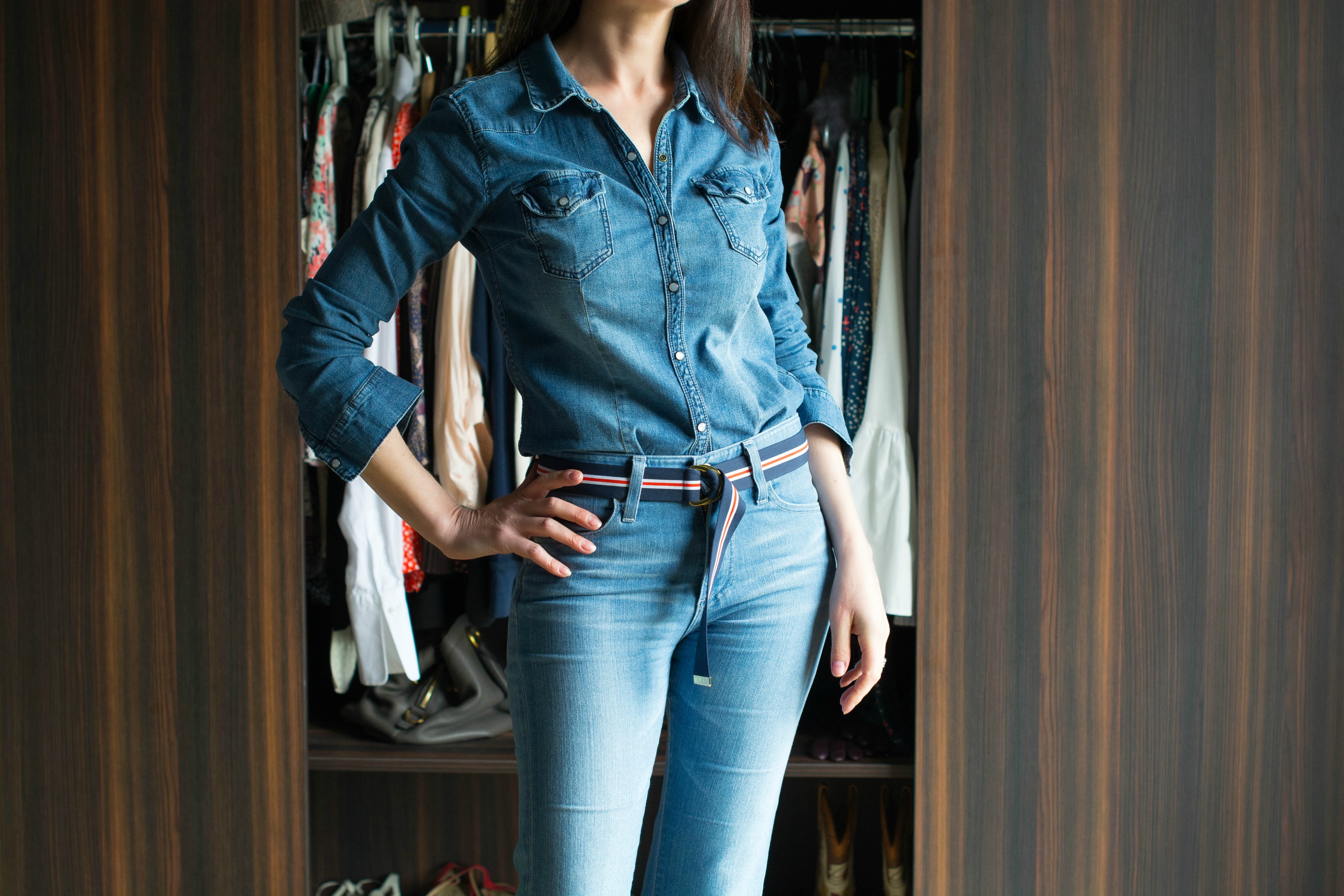 12. Awesome Jeans
O.K jeans are a given on every must have fashion list however the specific style changes depending on the author or the latest trend as worn by…
I'm not going to do that because no single style of jean is perfect for everybody. Finding that magical shape to suit you is what's needed here. An awesome pair of jeans that make you look & feel incredible is difficult to find but here, once again my advice is SPEND THE MONEY!
The top end of the denim market has a lot to offer, I've searched high & low over the decades to now settle on just a few labels. These are jeans I wear on rotation all year round so they have a proven track record for coping with wear & tear. I tend not to over launder my clothes anyway because a) water use & electricity consumption is incredibly bad for the environment although I do use Ecover tabs which aren't harmful to our oceans. And b) over washing not only wears out the fabric but sends micro fibres into the oceans & they've been discovered in fish – I eat fish. Never the less I do wash my jeans however I noticed that the expensive ones tend not to fade or lose their shape like the cheap High Street brands. Which basically means they last decades rather than a couple of years. Now the added bonus of that is you can confidently buy designer jeans second had knowing that they will still have many years worth of wear in them. If you sort out your exact size & style its remarkably simple to type into your Ebay search bar & hey presto there are your designer jeans at a third of the price! I've done this many many times although when I truly adore a specific style I go all out & buy them new because I really will be rockin' them FOR-EVA…
I talked about J Brand flares in this post, my other personal favourites are the Current Elliott cropped & boyfriend jean, this post. For skinny jeans I can't rate Neuw Denim more highly, their Marilyn Vintage mid or high-rise is a knockout akin to wearing Spanx! For white jeans I swear by The White Company mid rise skinny which are not skin-tight, a look I avoid in white. For sexy dove grey & black AllSaints are HOT HOT HOT! I like these with stilettos, a slinky top & basic black blazer on a girls night out or as appealing paired with black polo neck & knee-high boots in Winter. Both sultry & timeless although very different looks. Another brand I'm road testing at the moment is AG which is the pair I'm wearing in today's post. I bought them on Ebay for a whopping £22 to try sizing, cut & fit! To say I'm a fan is a massive understatement, I've literally worn them all week! They haven't lost their shape at all & are as comfy as tracky daks so I'm dead chuffed. Now speaking of sizing – The brilliant thing with jeans is they go up in small increments so you can be really precise in finding the perfect fit, simply by trial & error. I am a 28 in all but J Brand where a 27 suits me better, these translate roughly to a size 9 which actually doesn't exist in other clothing ranges.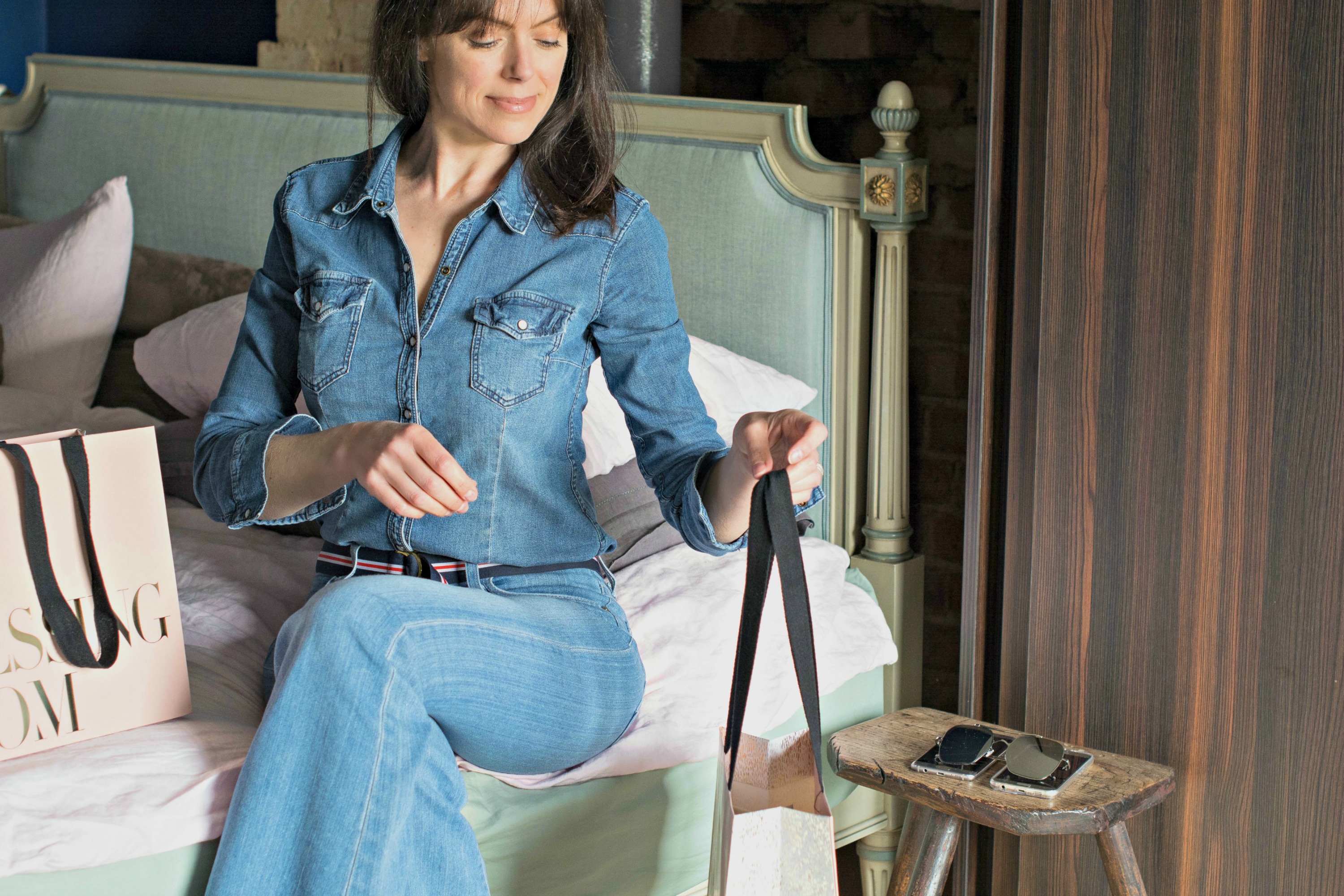 Buy Less, Choose Well & Make it Last
The Dame said it best & said it first so there's no point in my trying to be clever. By keeping my shopping volume low but my spend high I have collected heavenly designs that pay me back year after year. The Staples I've described for you are the core basics which are very easily added to but alone will get you very far indeed. Some other Staples well worth an honourable mention are the Black Blazer, Leather Jacket, Ankle Boots & Leather Tote. For my next in this series I want you to tell me where I should focus attention? Would you like to see more Wardrobe Staples or shall we move on to the nuts & bolts of styling with what it takes to make an outfit special?
I hope you've enjoyed this post as much as I enjoyed writing it? I've added a pin-able image for you below so you have permanent reference on your Pinterest page.
Bye for now lovelies, Mx