With Christmas just around the corner, the various Christmas party invitations are starting to ping my WhatsApp. When I say "party" it implies getting dressed up to the nines however this isn't necessarily the case. As well as supper at a posh restaurant & drinks at a cocktail bar, I have afternoon tea with the Mums from school & a dinner party with family friends at my home. None of which require a full on party gown although if I felt like wearing a gown to afternoon tea I would. Bear with me, I'm getting there…
Invariable there are rather different levels of fancy when it comes to the Christmas party outfit. So here's what I fancy doing for three consecutive posts. Three completely different styles of Christmas party outfit. After all "Christmas party" means different things to different people when what they all have in common is the best excuse to catch up with friends you wish you saw more throughout the year.
O.K here we go with number one – Let's say today's outfit works perfectly for the cocktail party. With just a smidge of sparkle & shine for Christmas cheer. Plus I adore this shade of mauve or is it lavender? I never know what to call it, periwinkle & lilac don't seem right. My jumper from Whistles is incredibly old yet holds it shape beautifully. Once again proving you get the quality you pay for. I just don't see the sense in buying five £20 acrylic jumpers every Winter only to throw them away after one season. I'd rather spend £100 on a single jumper, wear it for years & have a clear conscience that it wasn't produced from child labour. Equally the sheer volume of waste produced by fast-fashion is completely unnecessary because nobody needs new clothes every week. Surely re-working your wardrobe is much more fun for us fashionistas?
Anyway, back to this stunning colour that suits me so well I never tire of re-styling it. Look, I even found an amazing matching OPI varnish! Now as I always say, I'm only here to inspire outfit ideas & I certainly don't expect that everything I wear on the Blog will suit everyone. So if you're not mad for mauve simply switch to the colour that looks gorgeous on you. If you're looking for something in a similar shape I've picked a few beauties for you below.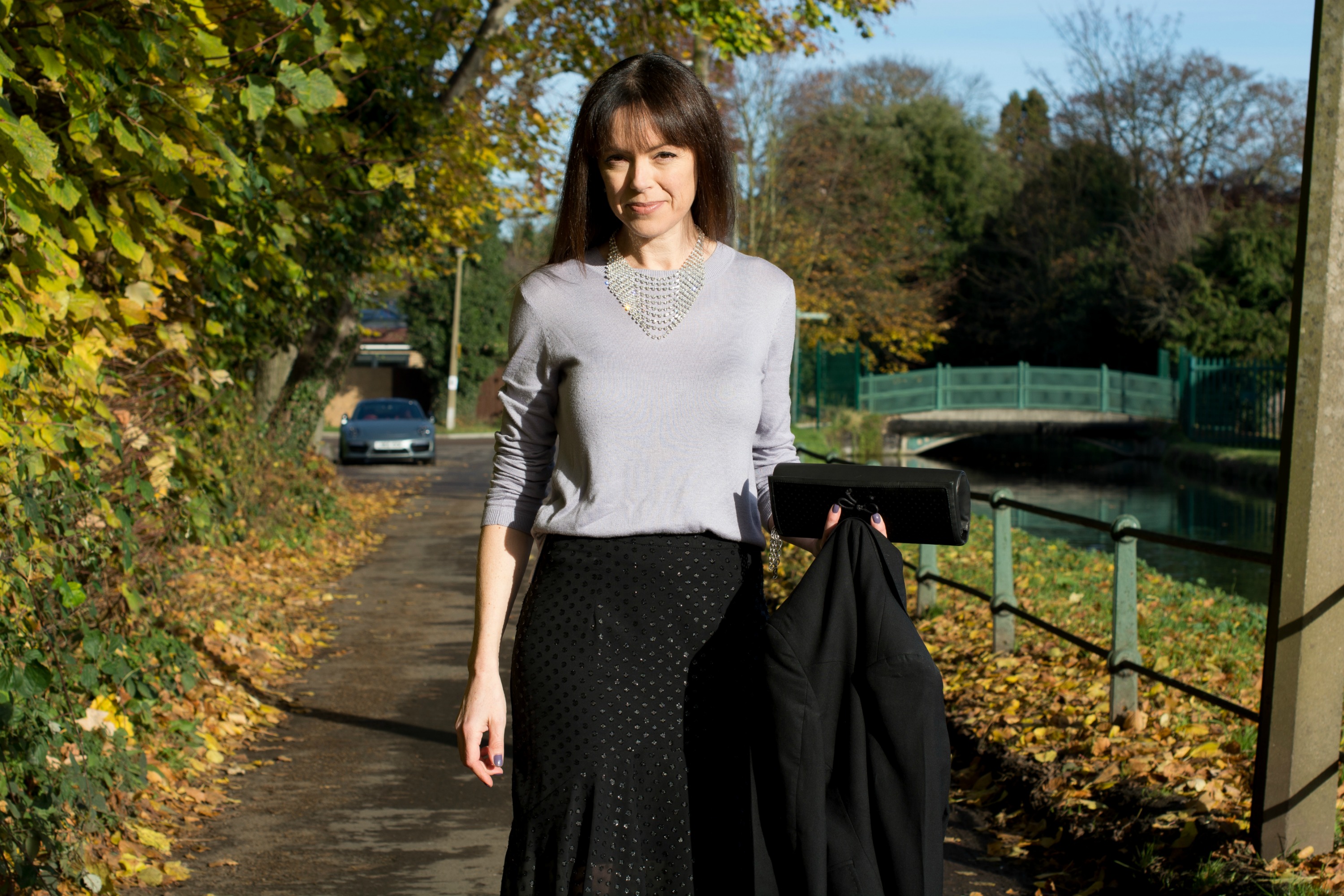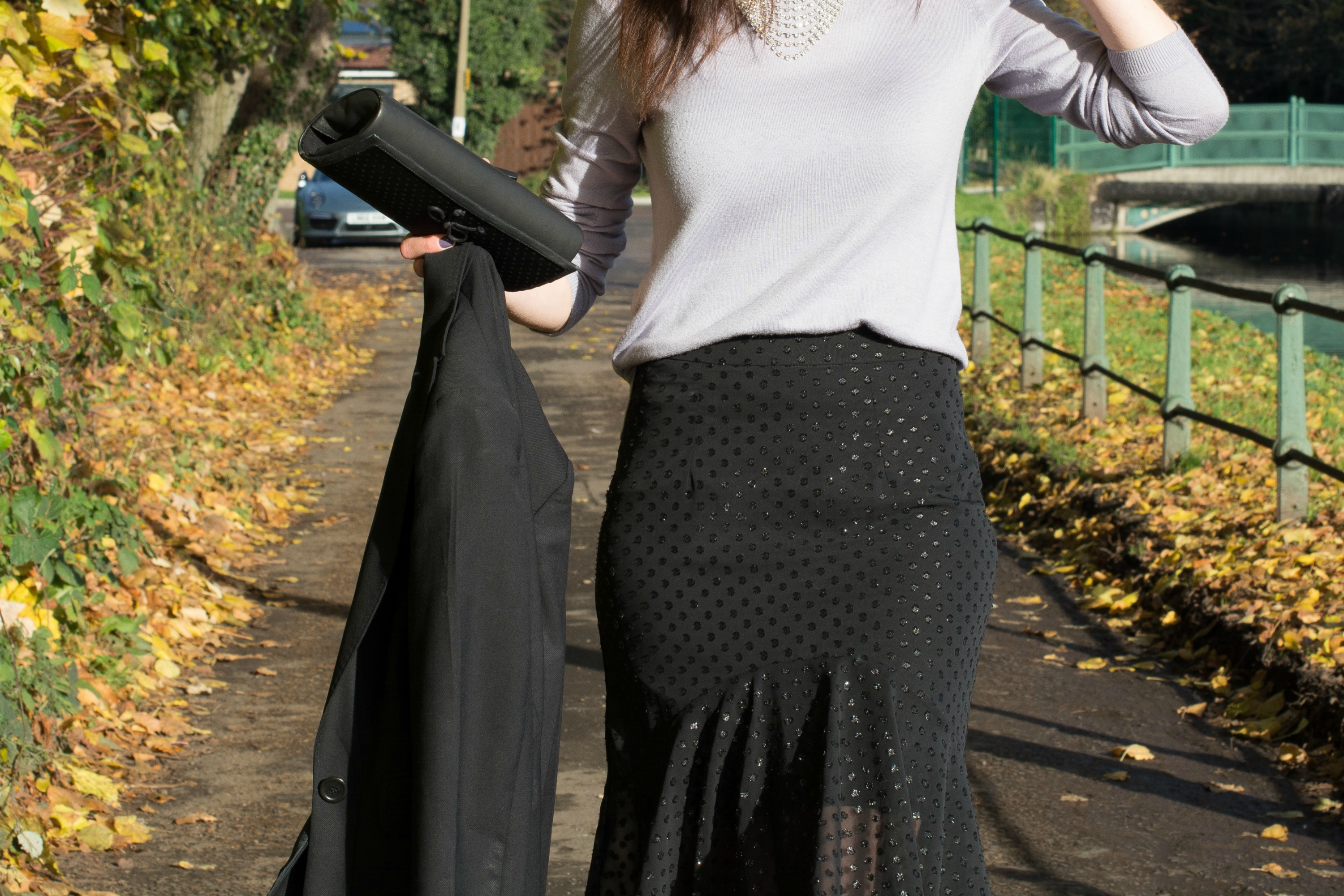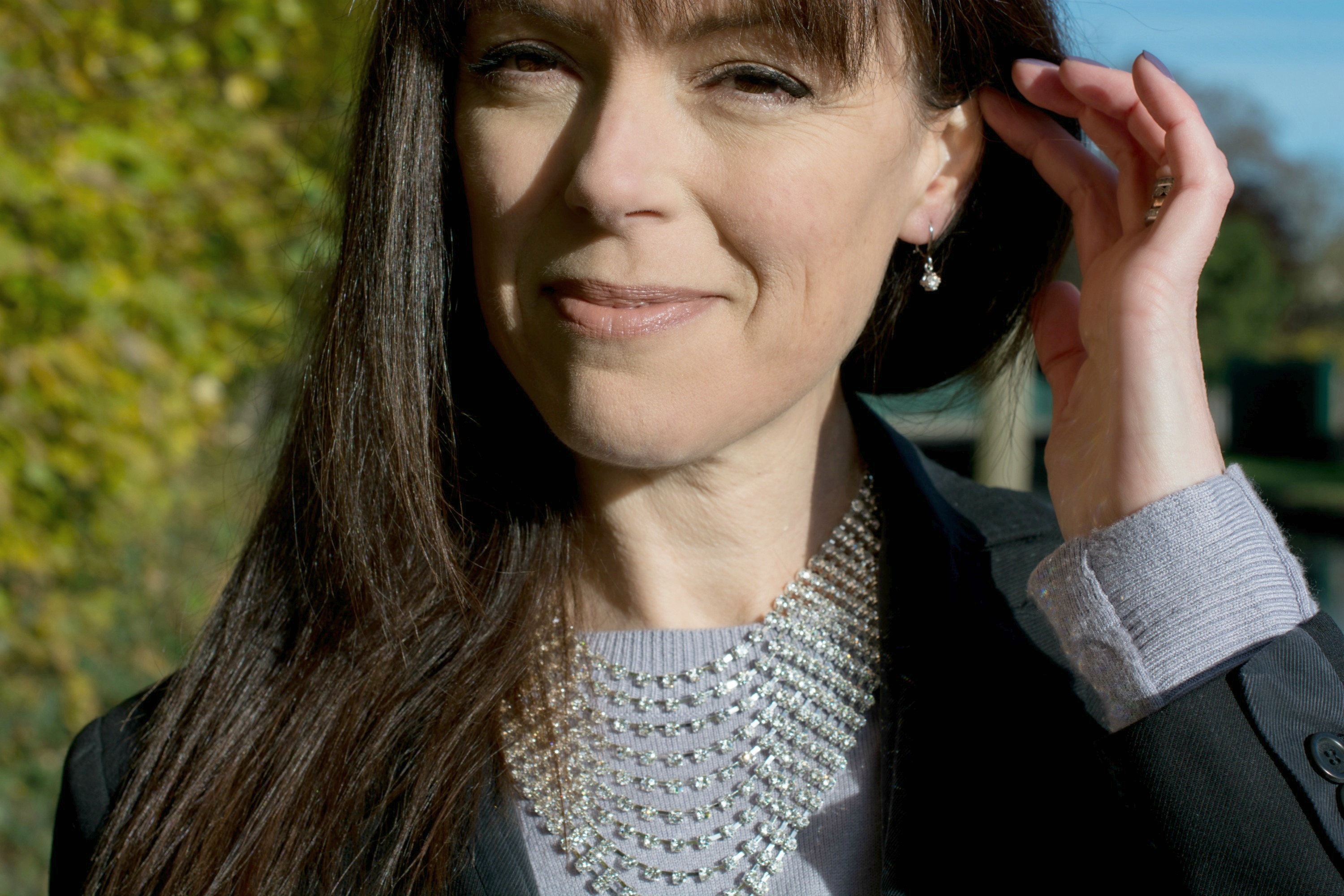 A LITTLE SPARKLE IN MY BOOTIES & SKIRT
Have you noticed all the sequins around at the moment? I don't think there's a single brand on the Planet that isn't offering something covered in sequins. Even though that's heaven on Earth for my girl Lisa I haven't dipped my toe that far into the sequins pool just yet. Never say never when it comes to fashion. Ahem correction, never say never period. In any case for the moment it's enough to have a little extra sparkle on my sexy ankle boots & sheer ruffled skirt. I particularly like how they shimmer when light catches them so I added my diamante collar & diamond earrings.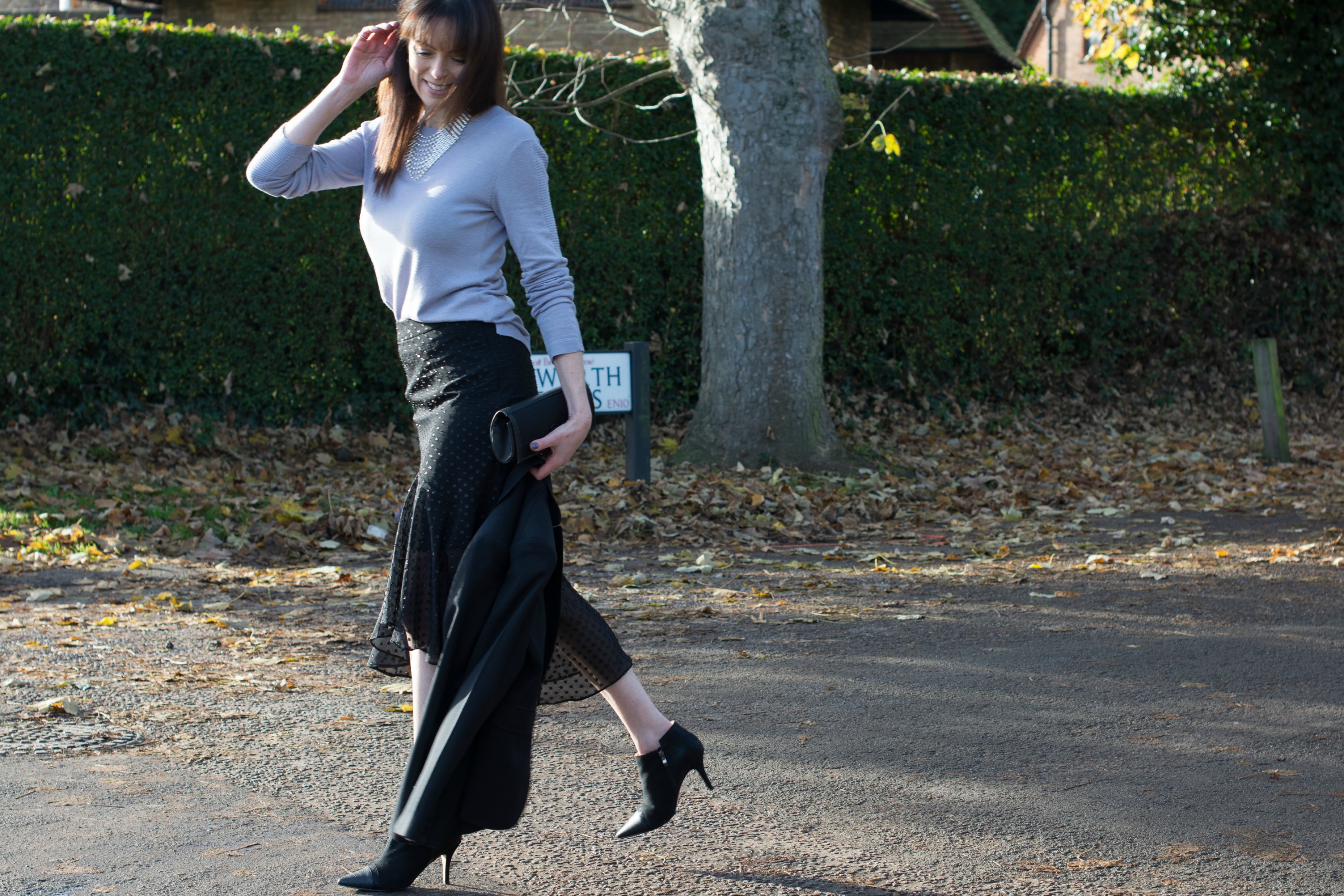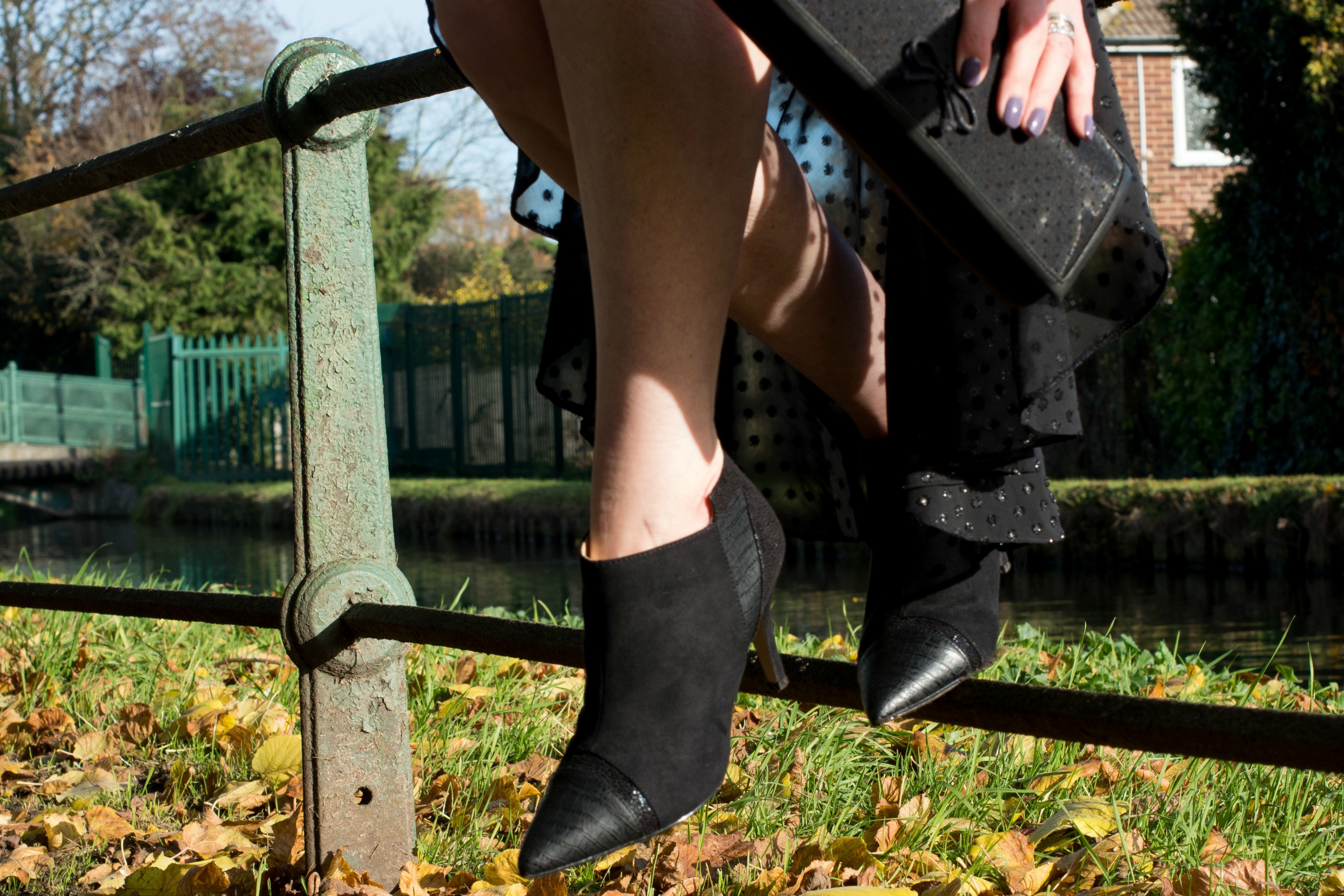 SHOP THE BOOTS & BAG
STYLE TIP – If you're looking for more examples of how to style ankle boots with a skirt pop over to my Pinterest Fashion board. This outfit appears effortless because it is, particularly when paired with a jumper. I absolutely adore combining this unlikely sartorial contrast. And p.s. don't be afraid to add fab coloured tights. Just go for it with what you already have, it's all about the re-mix.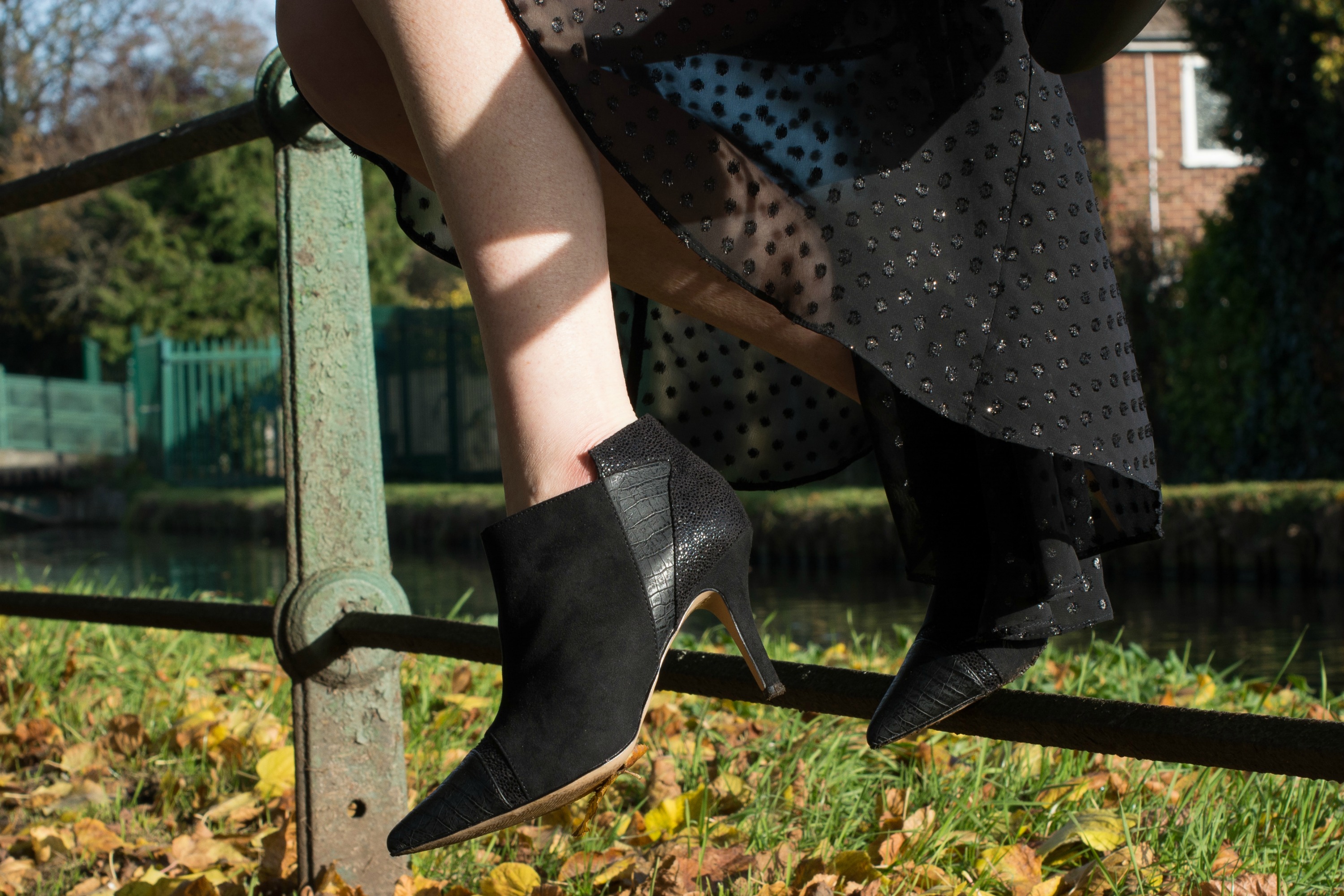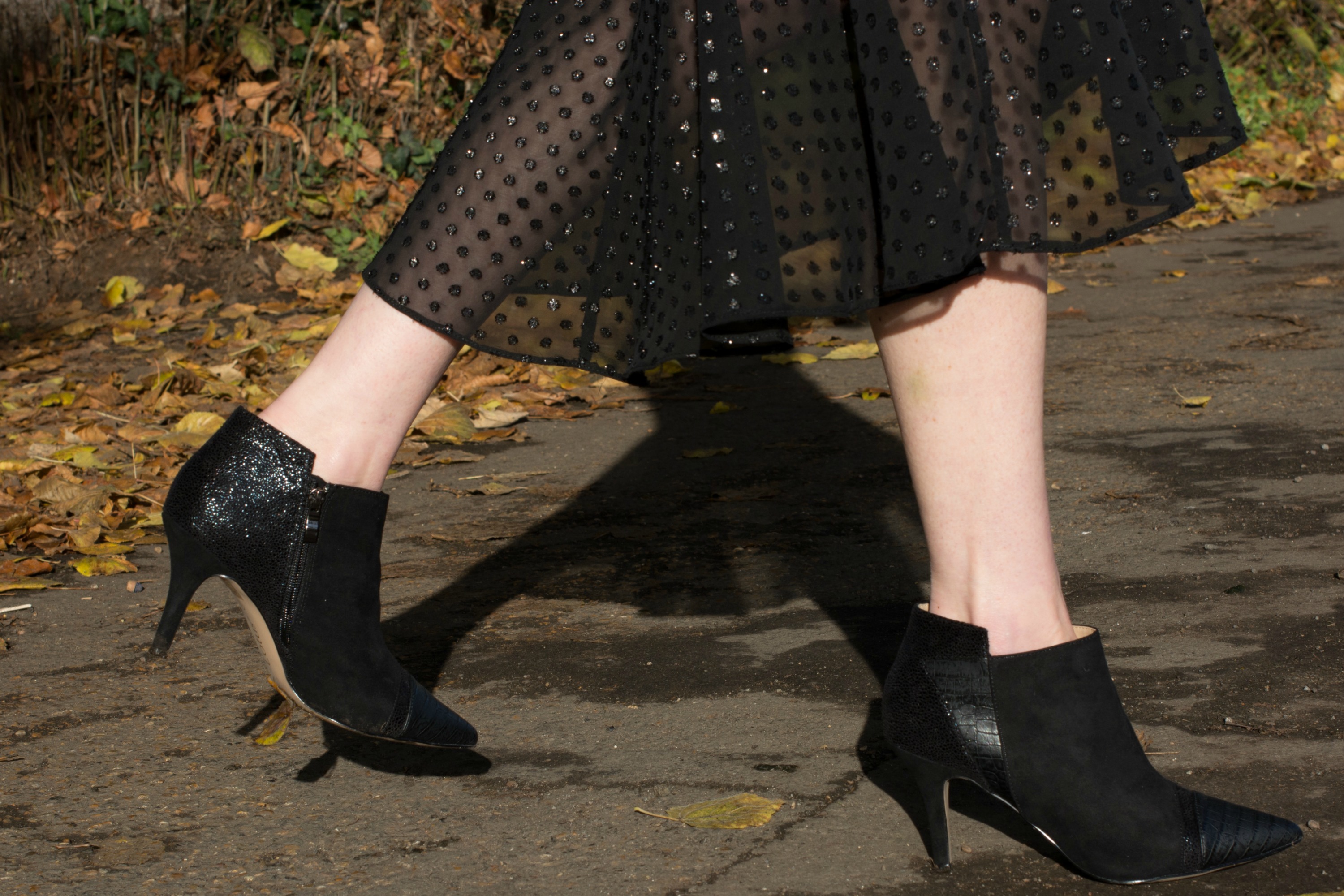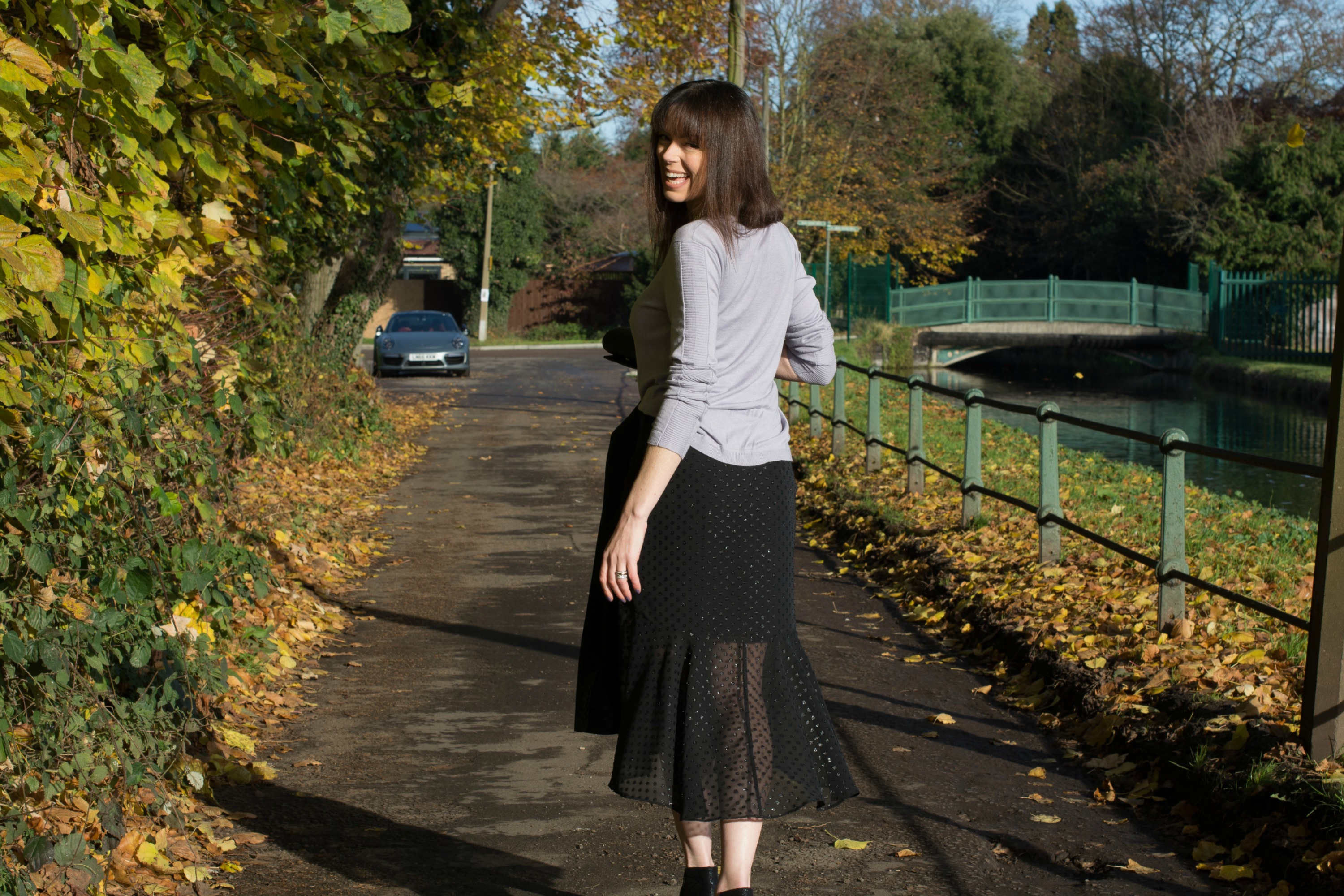 SOME THINGS HAVE CHANGED AROUND HERE
You will notice some genuinely major changes around here which I sincerely hope you like. The re-brand from RetroChicMama to MichelleTyler was fast in execution although actually a long held concept in my head. In actual fact since day one of the blog. You see I always pictured an eponymous brand that would evolve organically over time. When I started blogging I had no idea exactly where it would take me yet I was certain this would be my next career. Blogging felt so natural, like destiny. I was hooked from the get go. Unfortunately as a complete novice I couldn't imagine how to promote a blog with my name. In essence MichelleTyler has no meaning, gives no clue as to what the blog is even about. In hindsight I see the same can be said for RetroChicMama, indeed it has taken almost three years of self promotion to get to this stage. Sure I lean towards the RETRO style & yes I am definitely a MAMA although that became only a small part of the blog. As for the CHIC, I gotta say that truly did not sit well with me at all. Chic to me says classy French woman not loud Aussie Brit who likes to drink & swear. A chick who doesn't mind her P's & Q's in public, who wears her political heart on her sleeve & doesn't care what people think of her Atheist soul. Nah I'm not CHIC.
If you look back through old posts it's easy to see how RetroChicMama evolved so far beyond the name that it simply no longer fit. Not one for regrets, I see this more as an evolution or perhaps a hiccup? Definitely this re-brand feels right. I'm pleased I bit the bullet & went for it sooner rather than later when it would be even harder to change. Now I can take on any fresh opportunity that comes along without having to shoe-horn the RCM logo into it. I'm free to pursue other prospects yet keep everything under one banner.
Although changing the name was incredibly painful (my head literally hurt some days) at least I knew what it would be. Not so much for the artwork of the site. You may have noticed me doing the dither? Yep, properly indecisive like a typical Libra* changing the fonts & colours on a daily basis. Ack it was ridiculous! I chose two complimentary fonts I loved but just couldn't for the life of me work out how to design the logo i.e. MY NAME to their best effect. As for the green & pink colour combo, well what can I say? That colour combination is my crack right now, I can't get it out of my brain! I simply had to see how it would look. Well a week of researching big time blogs forced me to go cold turkey & face the black truth. Evidently black is best & in my (black) heart I knew it all along. I'm finally happy to admit I bloody love it too.
So that's it in a nutshell as they say. No more disruptions to our program folks & no need to re-subscribe although if you haven't yet please do… cheeky wink
Have a fabulous week my loves, xxx
*n.b. of course I don't believe in horoscopes either but they're harmless fun right?
*THIS POST IS SPONSORED*