Being super warm & über stylish are not mutually exclusive but you do have to spend more to get both. If you're like me & love those crystal clear yet freezing cold days of Winter for walks in the local green space then you already have a mega coat. Now if you're reading this blog then it's safe to assume you also like your fashion. So I'm wondering if that love of fashion extends to your heavy-duty Winter coat or do you forego aesthetics for the best insulation?
You see, I believe you can have both style & substance – Naturally for a price of course. That said, there's no way on Earth I'd have forked out a lot of money on a hard-core coat before my thirties. Good grief no, my priorities were shoes first then outfits, closely followed by handbags until finally at the bottom was A COAT. Just one coat would do for every occasion & it was the least expensive item in my wardrobe. To be fair it was usually treated pretty poorly. Thrown over the back of a chair, tails trodden by punters squeezing by splashing drinks & fag ash. Or shoved into a nightclub cloakroom where it'd end up stinking of cigarette smoke. And without doubt my coat was never ever warm enough when deep Winter hit. Mind you walking in the park wasn't a thing back then anyway. The worst case scenario was catching the night bus home after clubbing although inevitably I was too pissed to notice the cold anyway. Ack my coats of old had tough lives, spending money on them would've been an utter waste.
Needless to say my lifestyle has changed exponentially since then & the coat now plays a rather important role in my closet. I tend to think long & hard about style & colour so that everything works in harmony. For this reason I'm willing to spend a reasonable amount on top quality brands. Naturally I take good care of my coats these days, giving them the respect they deserve. Equally I've learned the value of saving to buy a single superior piece that will literally last my lifetime. In other words there's no new coat every year. No must have new look or "on trend" colour. Nope, I'm not up for that kind of malarkey when I already have MY perfect coat.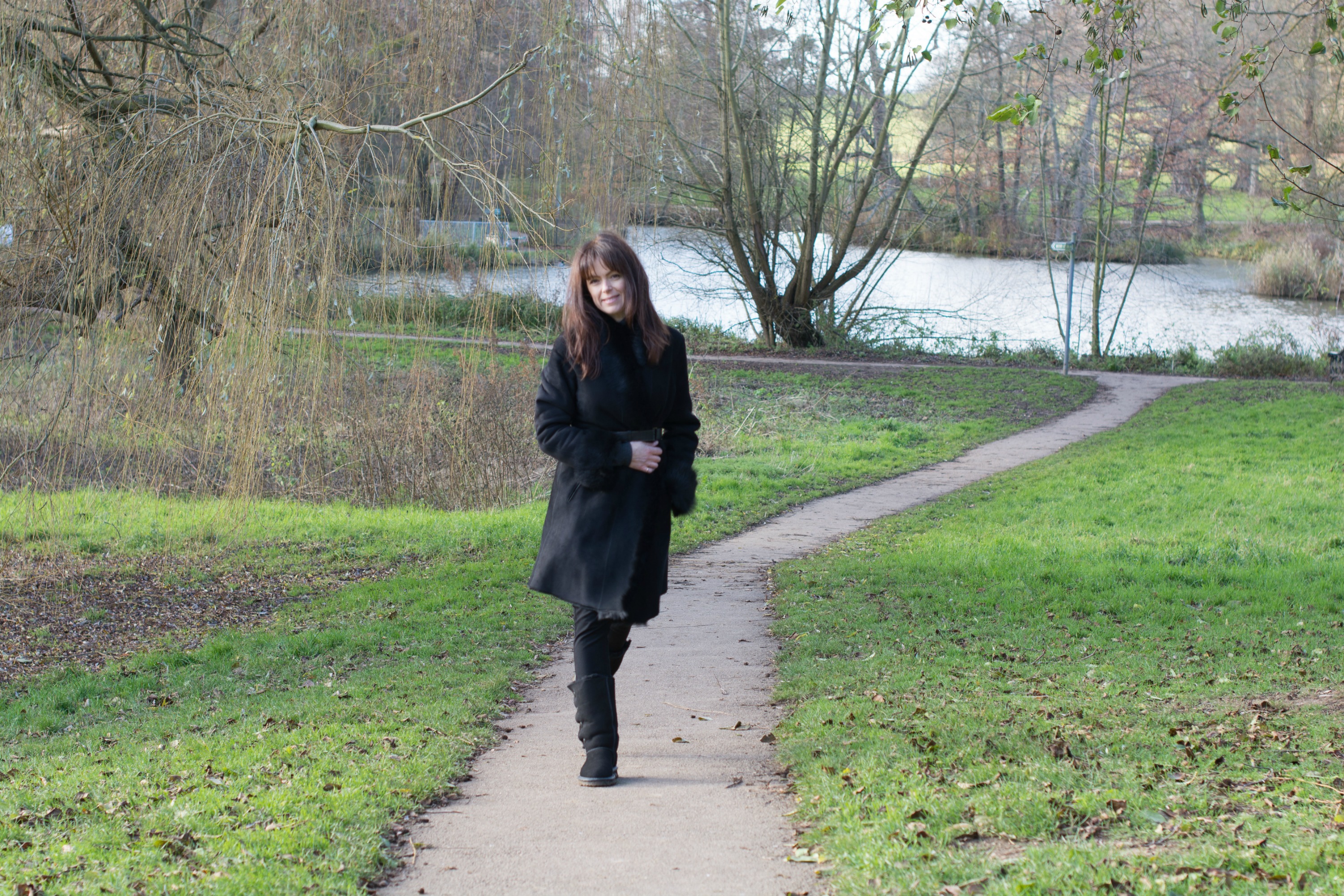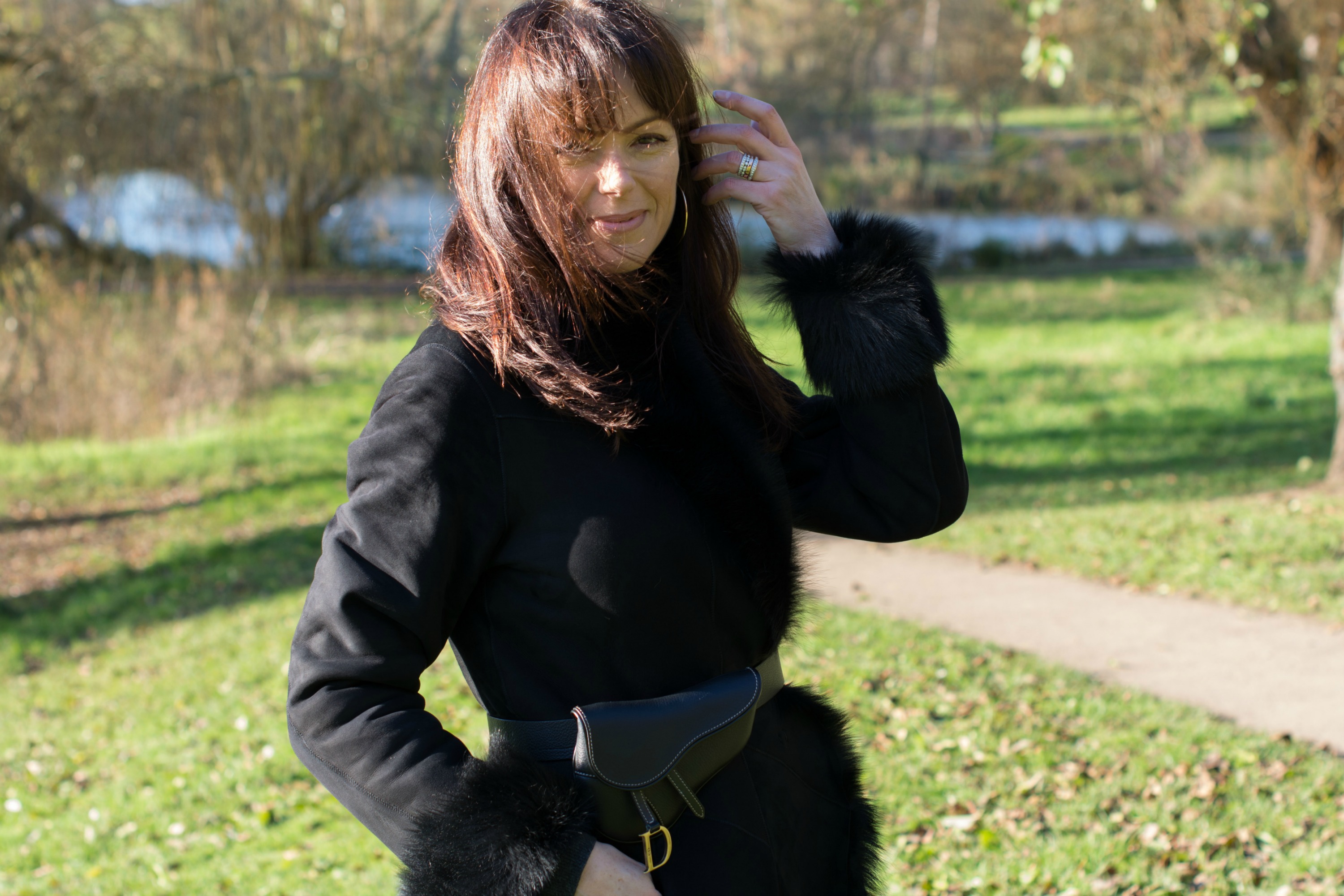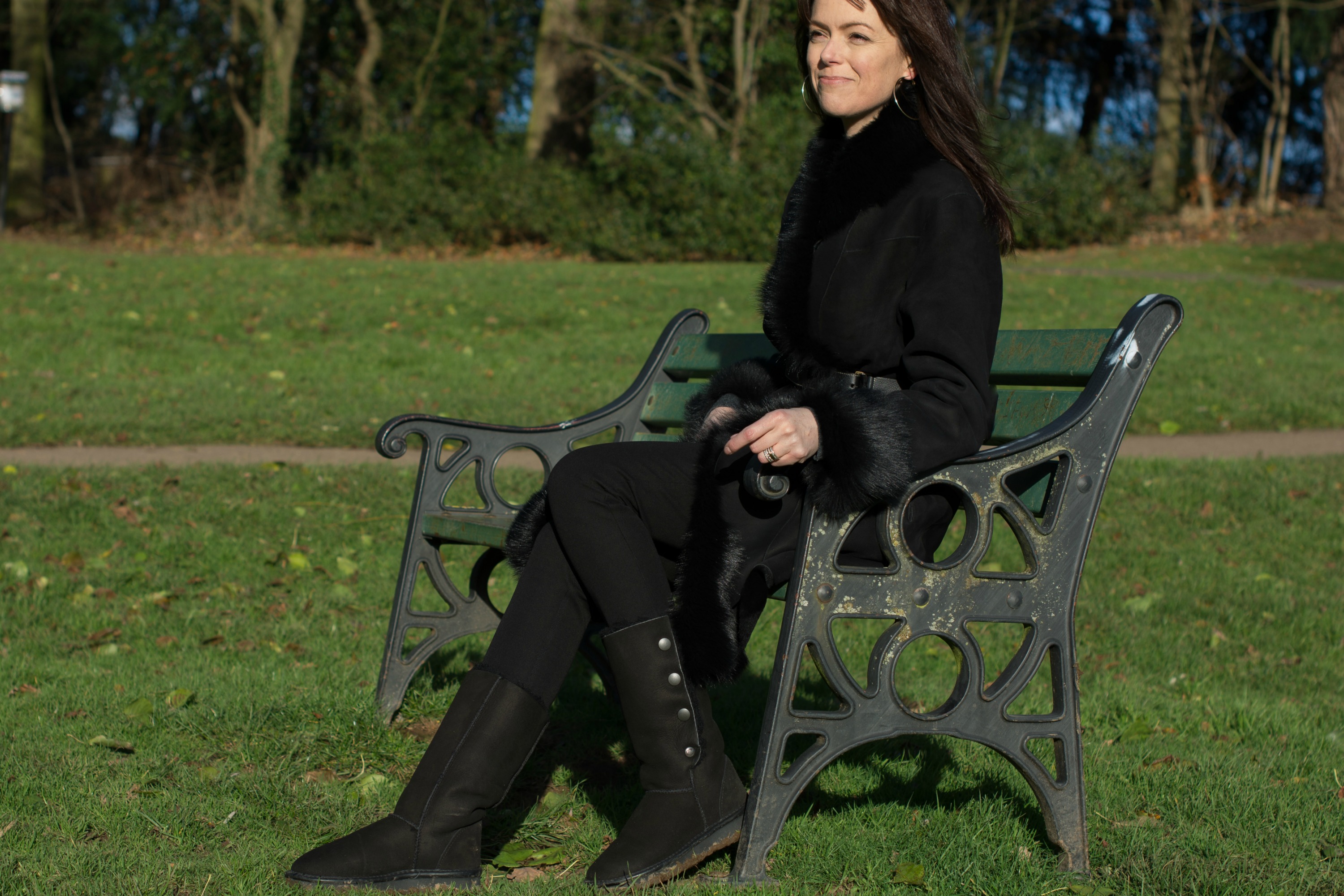 LUXURY SHEARLING COATS
In the coat category of MUST BE SERIOUSLY WARM my choice of style is either shearling or puffer. It should also cover my bony arse especially for those days when I sit on a park bench gazing lovingly at my three adorable children frolicking with our perfectly trained Boston Terrier – OK who am I kidding, I'm actually ignoring those pests & scrolling through Instagram.
The exquisite shearling coat I'm wearing in today's post is from great British brand Celtic & Co. If you haven't heard of Celtic & Co here's an excerpt from their website. I urge you to pop over & take a look through their collection. I'm a huge fan & I'm sure you will be too! This is what slow fashion is all about…
"Our sheepskin boots and slippers are hand-made in our own, purpose built factory in Cornwall by a team of skilled craftspeople to ensure our impeccable standards are always maintained. We make our footwear to last and even offer a repair & resole service for our boots to prolong their life.
The premium sheepskins that we select for our footwear and outerwear come as a by-product of the food industry. We take hides that would otherwise go unused and transform them into naturally warm, breathable footwear and clothing that is beautiful, long lasting and luxurious. Recycling at its best!"
Not to mention the warm & cosy factor of this beauty is stratospheric! You'll notice my new Dior belt bag again, wouldn't you agree how brilliantly it switches up my coat? Incidentally if your coat doesn't come with a belt, adding one occasionally is a really simple way of altering its shape & style. That's another reason I love the belt bag so much. Its ability to modify most outfits affording them an entirely new look.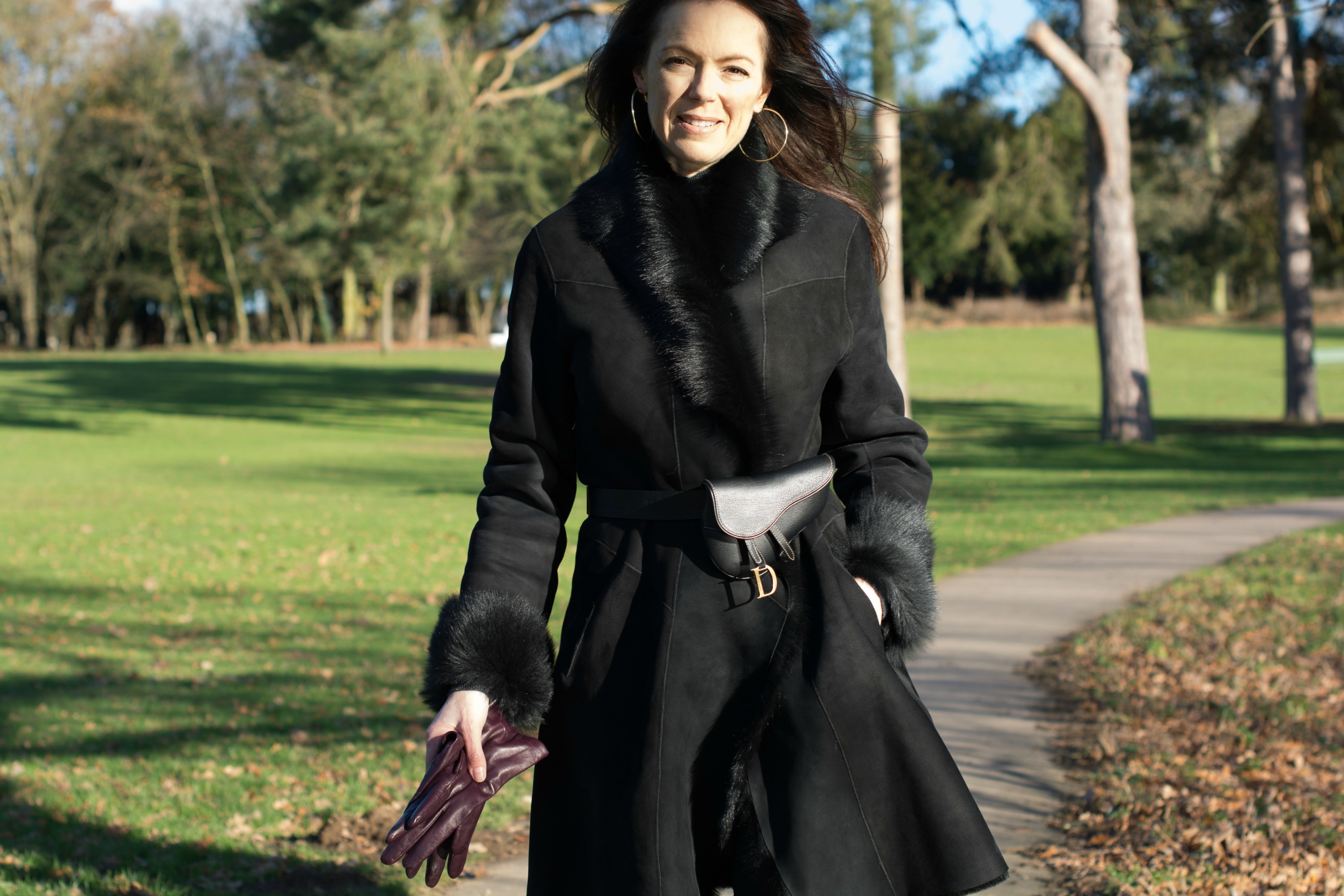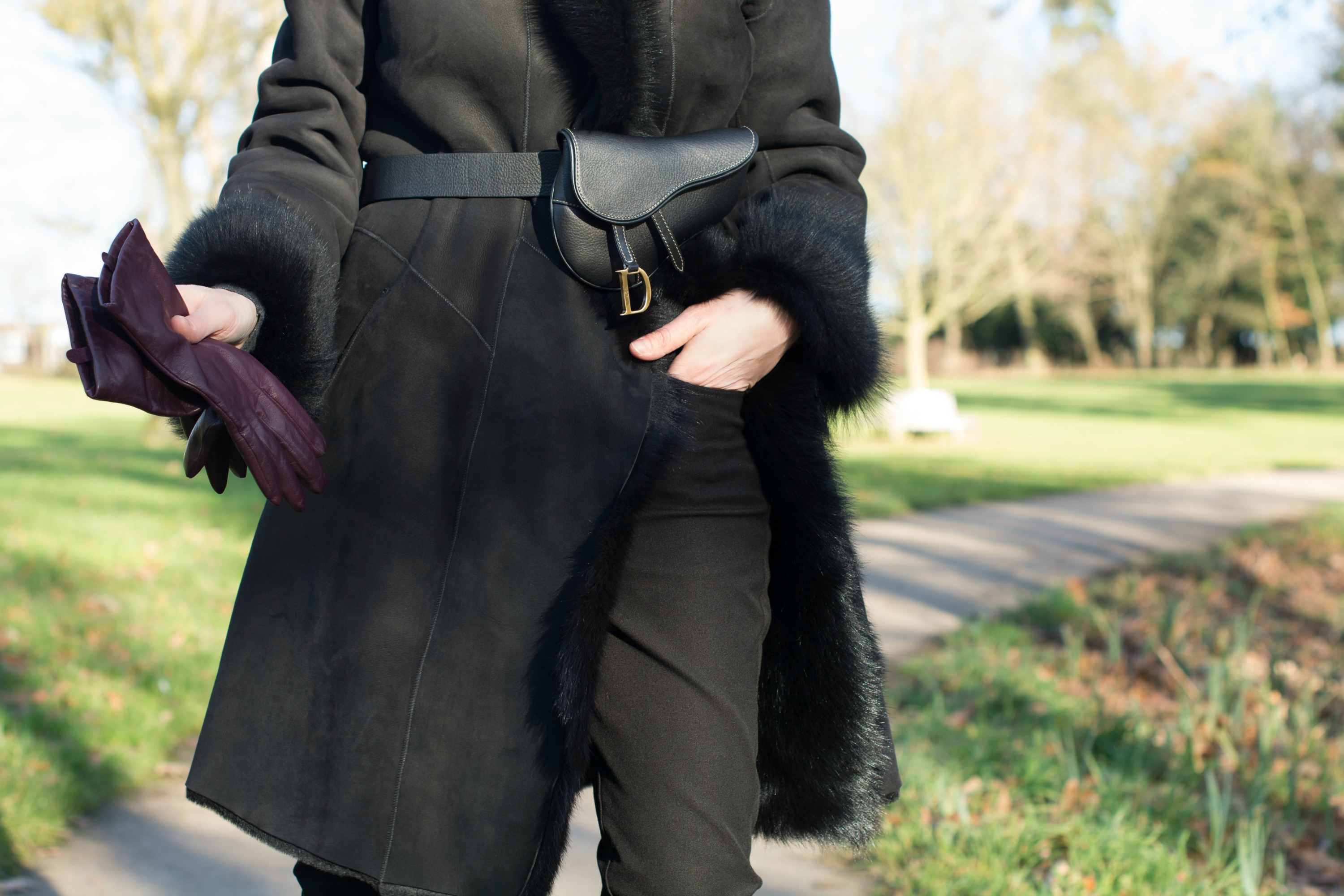 AN UPDATE ON MY FLUSHPROOF BECOME VEST
Underneath my coat I'm only wearing a grey polo neck so for extra insulation I layered my BECOME vest. This gives me confidence that I won't end up hot & sweaty should all the walking make me flush. Let me tell you I've put the BECOME vest through its paces over the past few weeks & it hasn't once let me down. From running errands in & out of over-heated shops to meetings in London jumping on & off the stuffy underground. Cut in the perfect shape it styles with anything & copes brilliantly with sudden changes in temperature that we inevitably have to cope with this time of year. The BECOME set really is an essential addition to your undergarment collection especially if you're suffering from hot flushes in Menopause. I honestly couldn't recommend it more highly. Read more about how this clever material works to wick sweat away from your body in this post.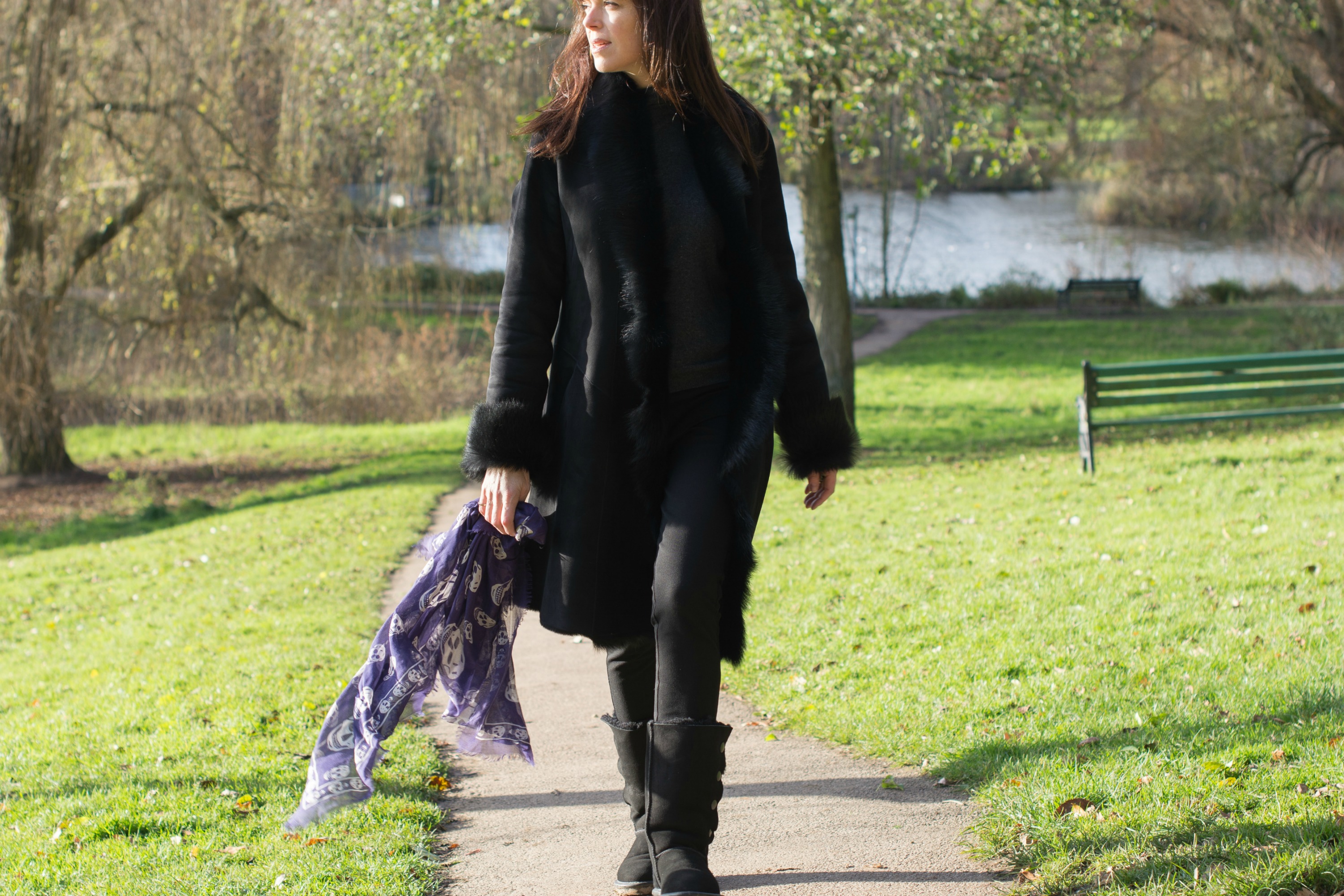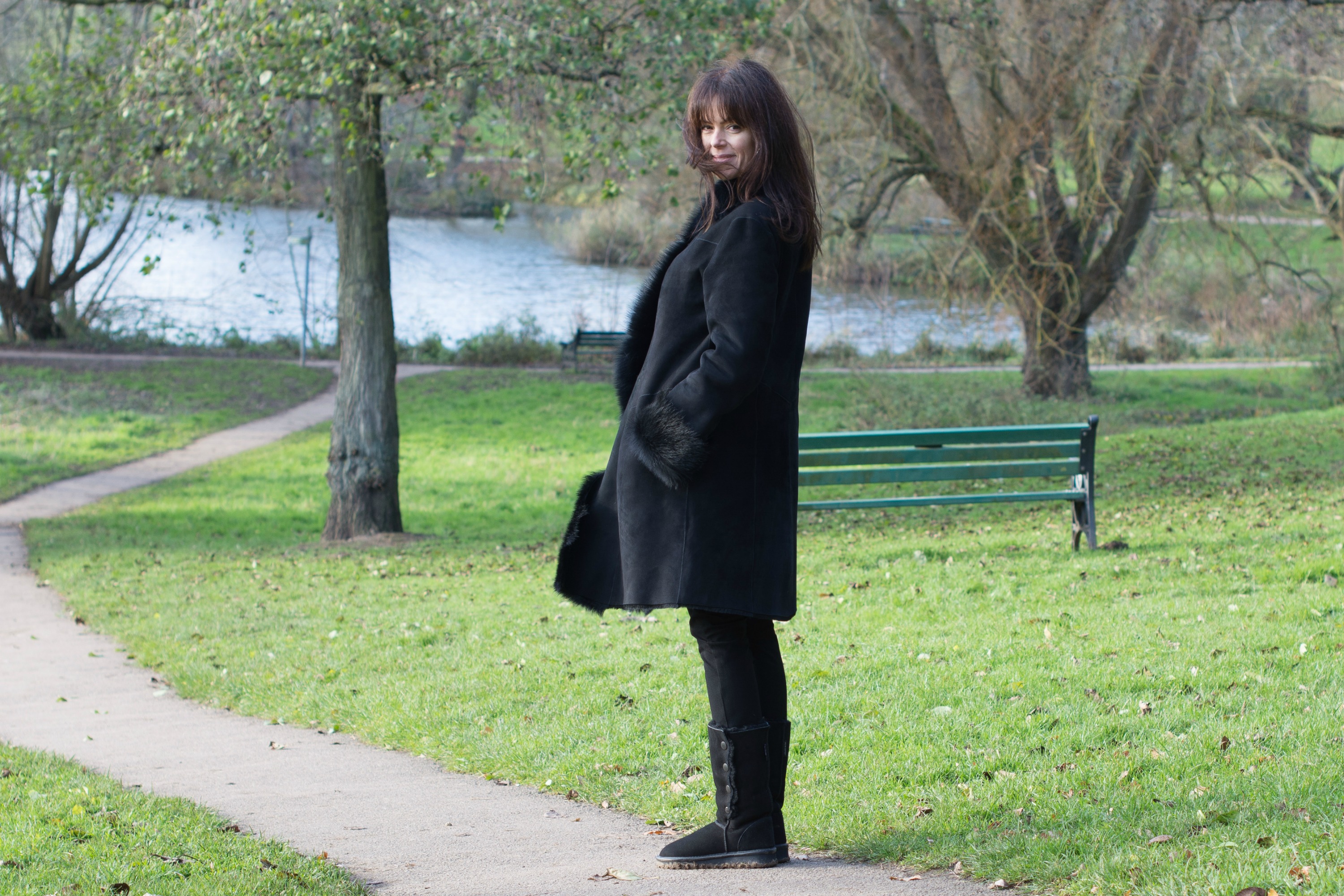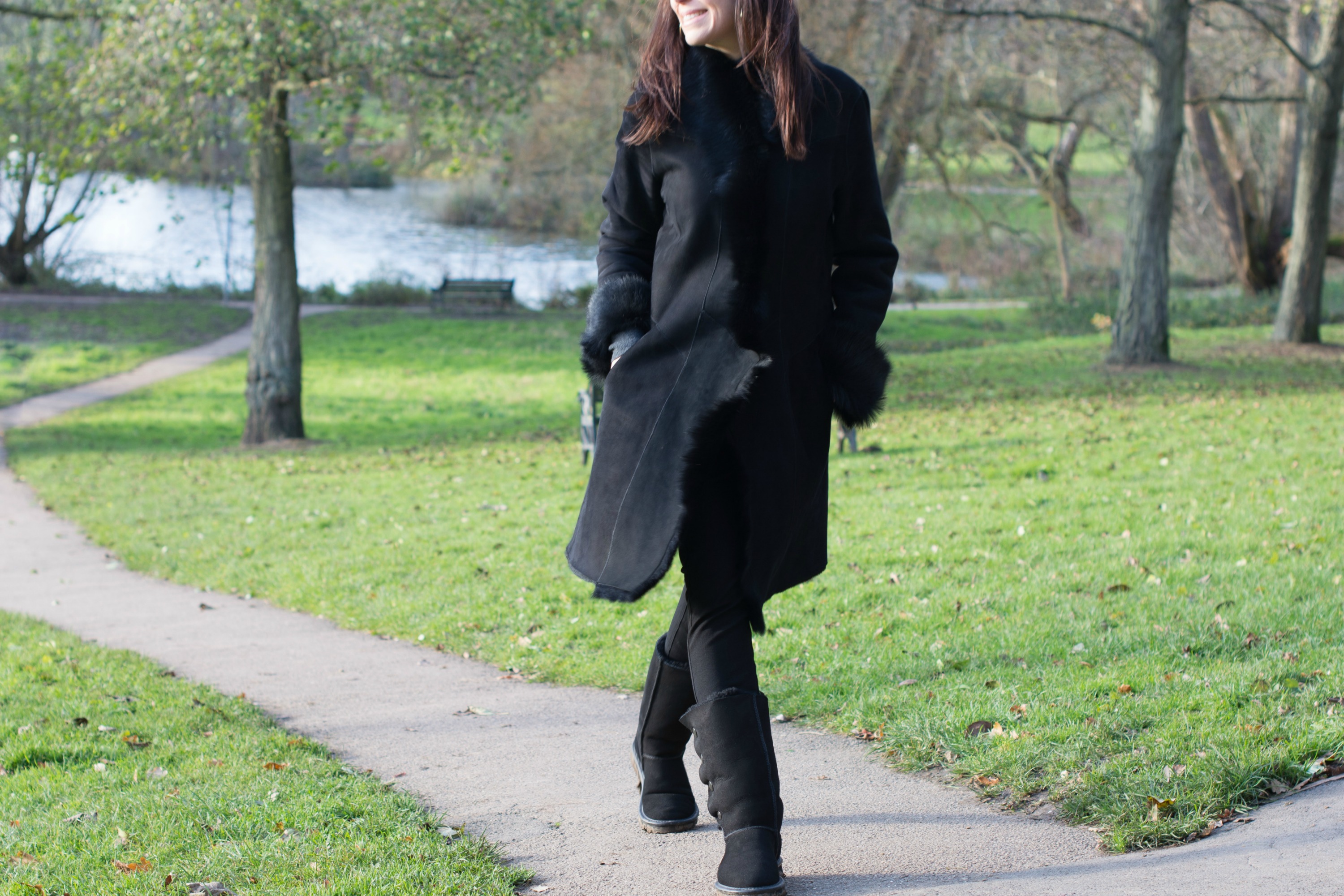 Moving on, let's cut to the chase & drool look over some more exquisite shearling coats. These are my favourite picks from designers at the moment.

LUXURY PUFFER COATS
The other super warm & über stylish coat style I love for mid Winter is the puffer. I had an amazing three-quarter length puffer from Chloe that I left in an airport a few years ago. This coat was a gem, literally like wearing an eider-down quilt! What I loved most about it was that in addition to the high neck, there was an extra wide band at the hem. Not even gale force winds were getting inside this baby, plus it looked like an awesome funky cocoon. Fortunately it was rather old & had already served me very well. Although I did mourn that loss, I recovered quickly deciding it was time for a change anyway. I know I can be fickle. However if the opportunity arose to replace it, one of these stunning specimens would definitely be a contender.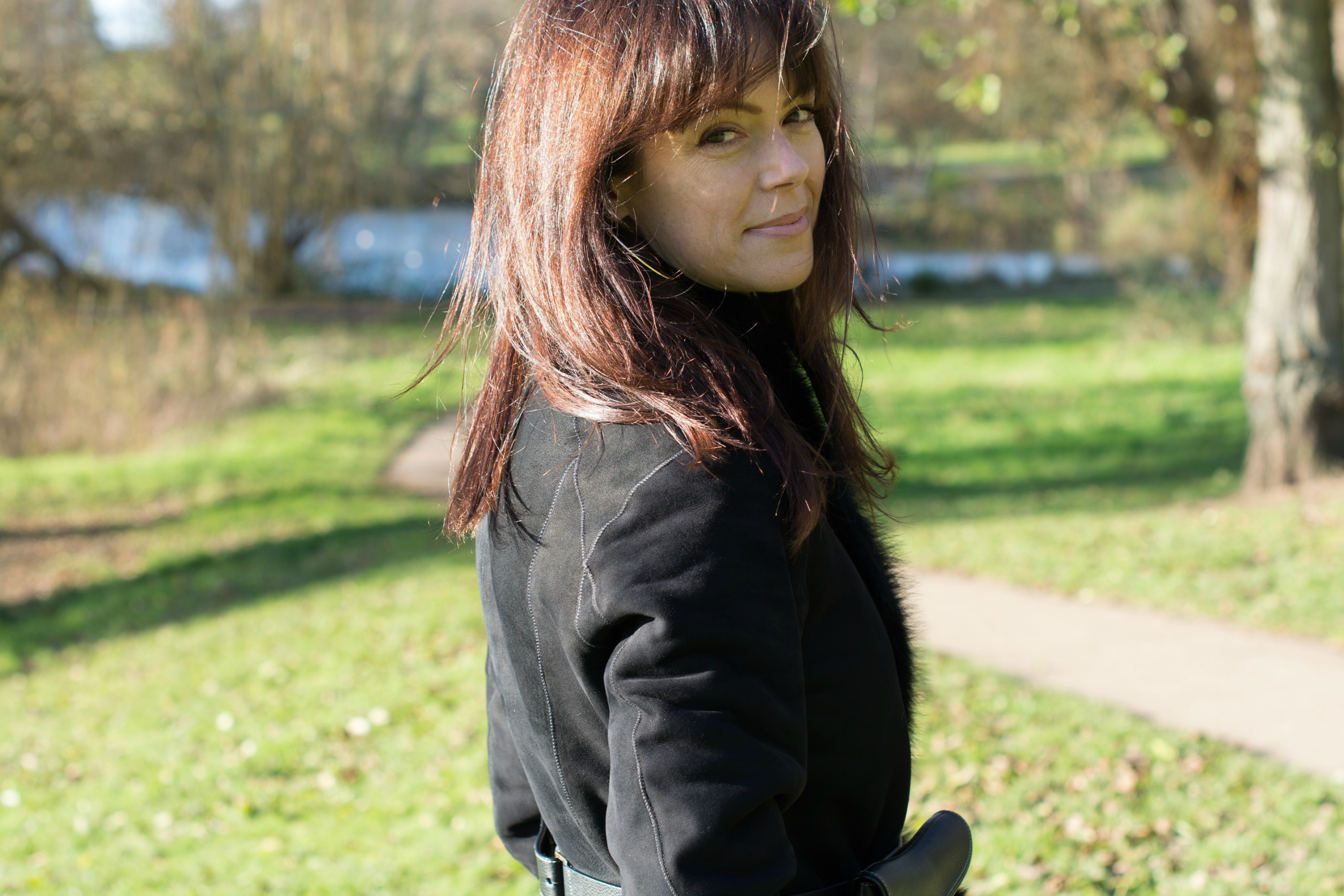 Until next week gorgeous peeps, lots of love xx
*A ginormous THANK YOU to Celtic & Co for gifting the coat & boots.