It's wonderful to have so many parties at this time of year. I thoroughly enjoy catching up with my friends at Christmas & having a good giggle. What I can't do too much of these days are the late nights. Now if you have a few different groups of friends, say your work mates, school Mum friends, old BFF's that kind of deal, these "parties" can add up! I know I sound like a kill joy but those late nights of drinking take way too long to recover from & I simply don't want to waste my days feeling rubbish. A great way to avoid party fatigue is by making some of these gatherings more of an afternoon tea.
High Tea is the traditional term isn't it? In London you will find amazing places to enjoy afternoon tea such as Sketch & The Savoy where the atmosphere & views are as delicious as the sandwiches. However posh & pricey does not a High Tea make when all you really need is a hot cuppa & fabulous friends. Oh & maybe the odd cupcake…
My ideal outfit for such an occasion has to be a pastel ensemble such as today's baby blue look. Mind you I couldn't resist adding my new yellow shoes I bought for a snip in the Whistles sale. Ahem, cough cough, even though cheeky Miss Kiki said I looked like a Granny. Kids today right? Oh well it's a personal preference & not everyone's cup of tea. Boom tish!
My skirt is also from Whistles but very old (see it again here) however I found one exactly the same for you below. The jumper is from AllSaints last year, such a versatile colour that I've almost worn it to death – see here another way. The vintage Dior scarf was from Vestiaire Collective & my coat is also last years Laura Ashley – see here & here for a restyle. Finally my blue tights are from Wolford as usual since they always last the longest I don't bother with other brands.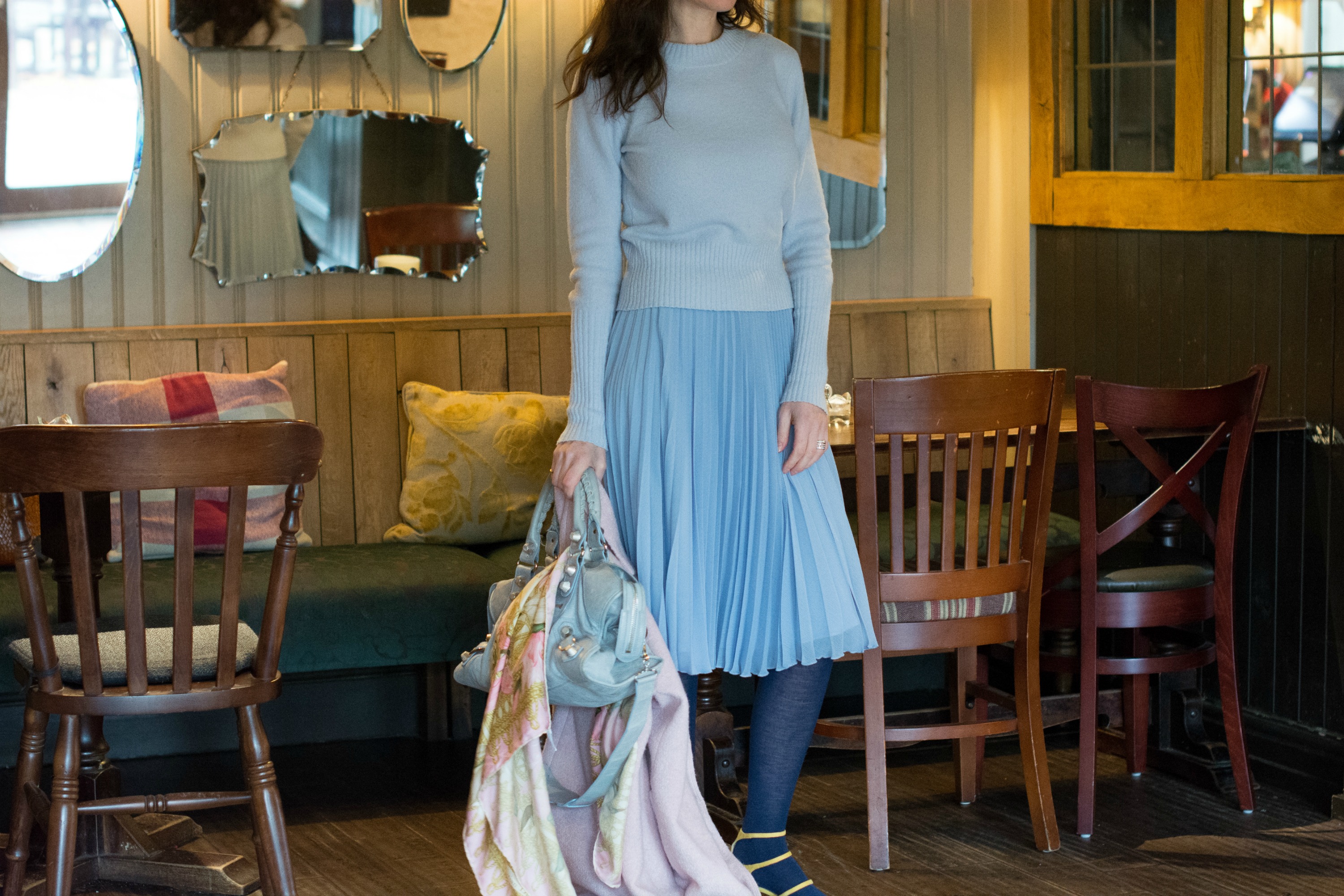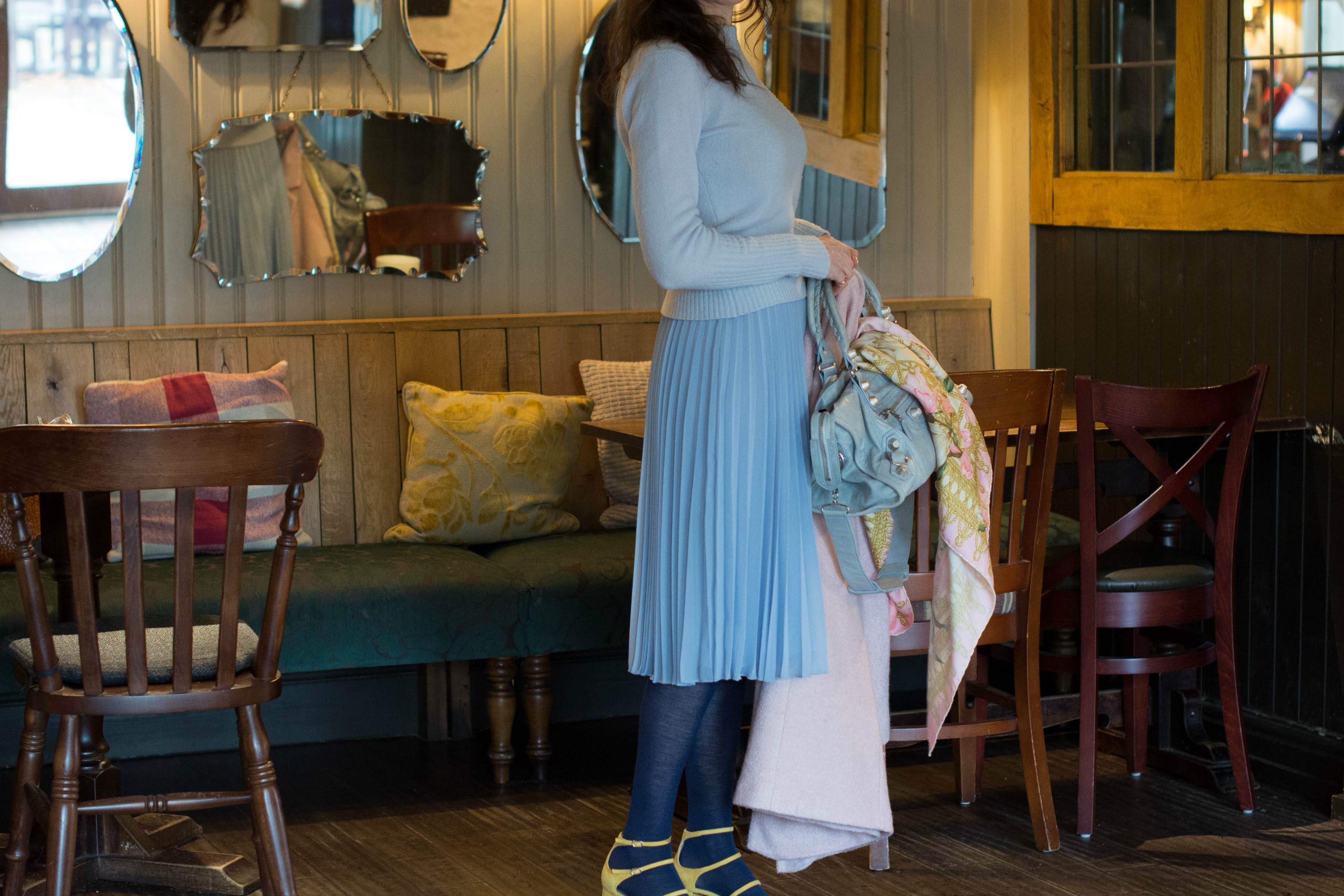 Add some old style glamour with a vintage DIOR scarf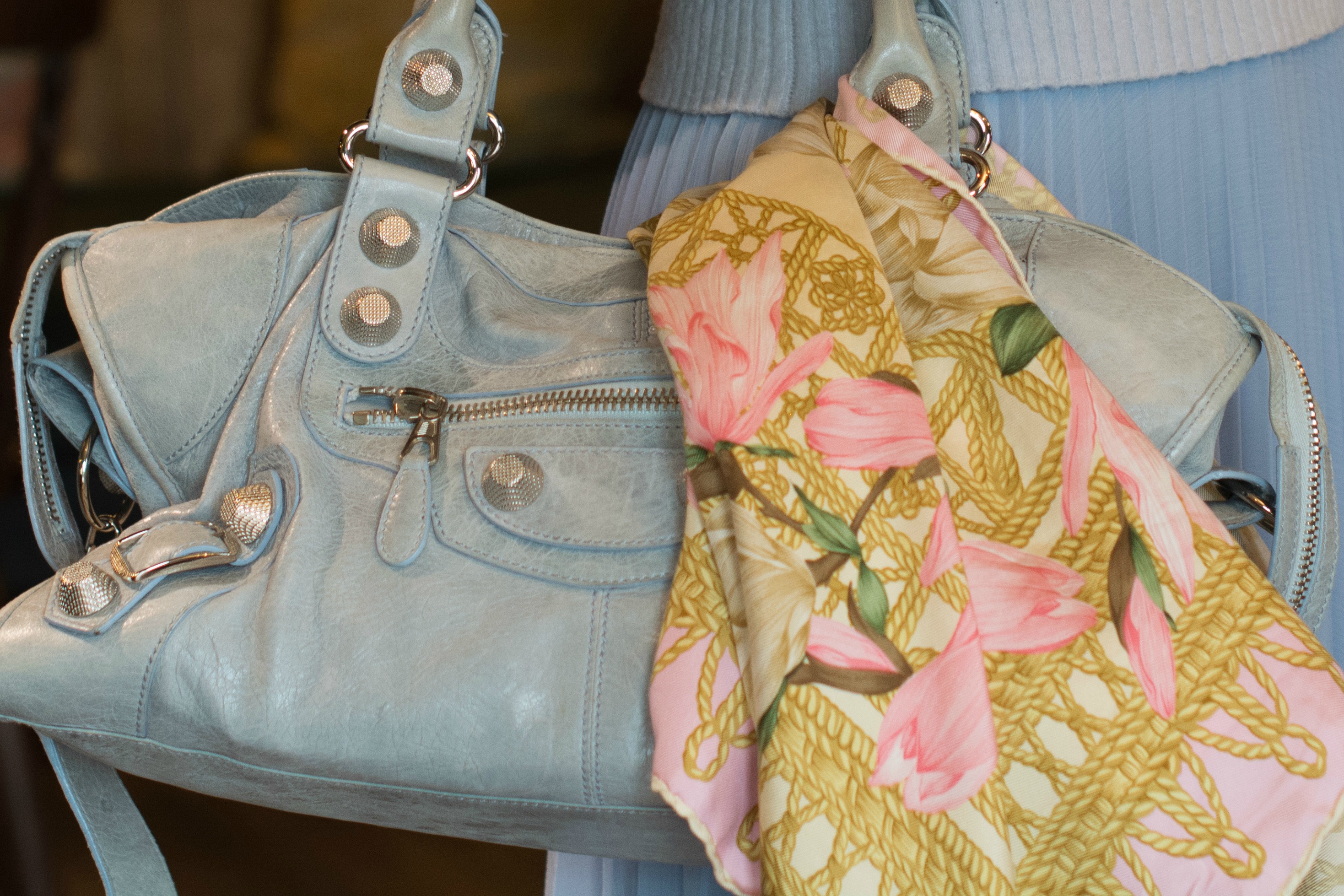 A CLASSIC BLUE BALENCIAGA BAG
My Balenciaga Part Time bag has served me well for many years. It's quite a rock and roll look with its giant silver hardware yet it always manages to fit well with other styles because of the pretty baby blue colour. This makes it an infinitely wearable bag indeed. You can see how many ways I've worn it here, here, here & here. Now I realise Balenciaga is an expensive label however there is no doubt you get what you pay for in quality & design. In any case if you'd rather a more affordable Bal Bag there are quite a few pre-loved beauties out there to make your own. I've picked the best second-hand ones I could find above.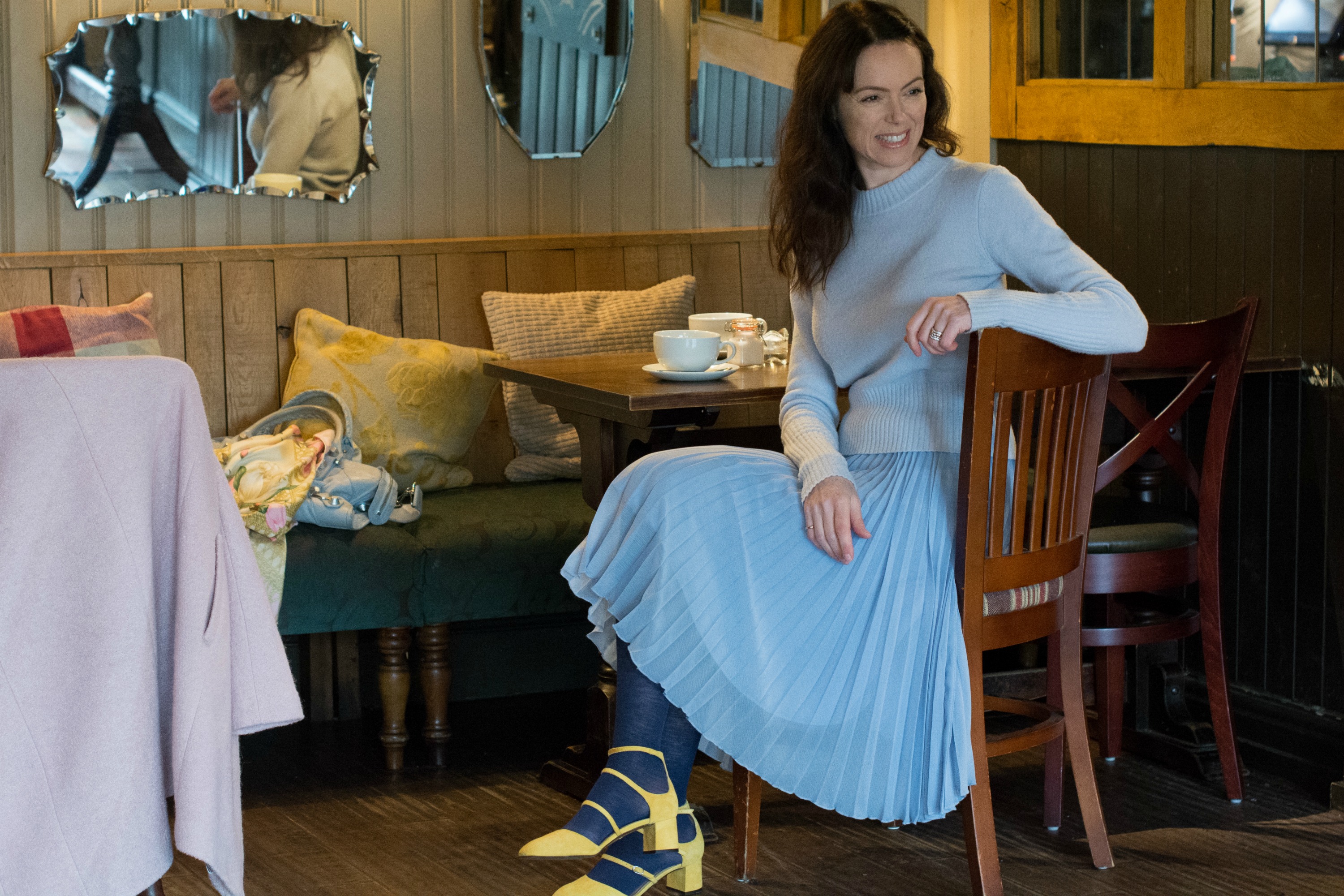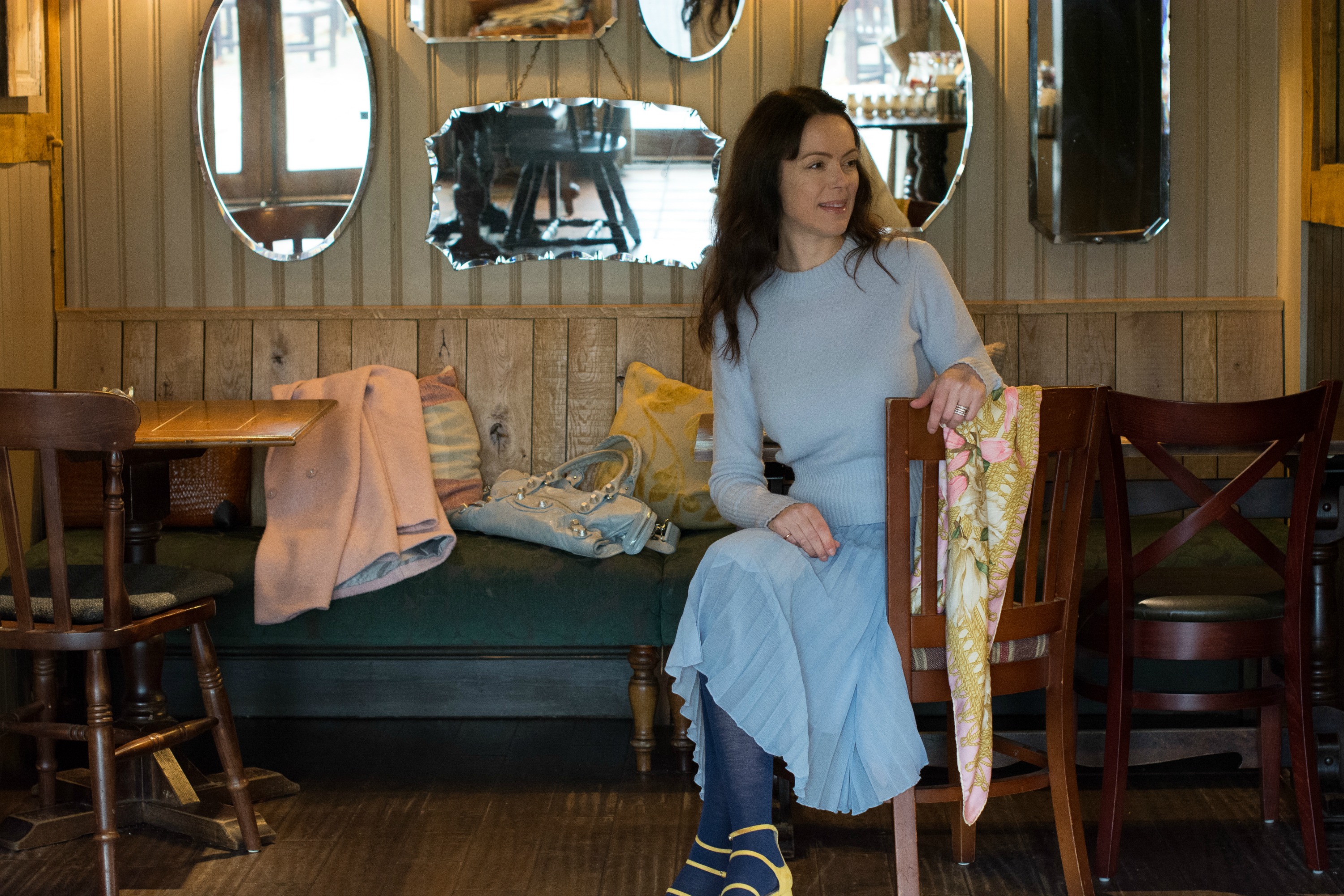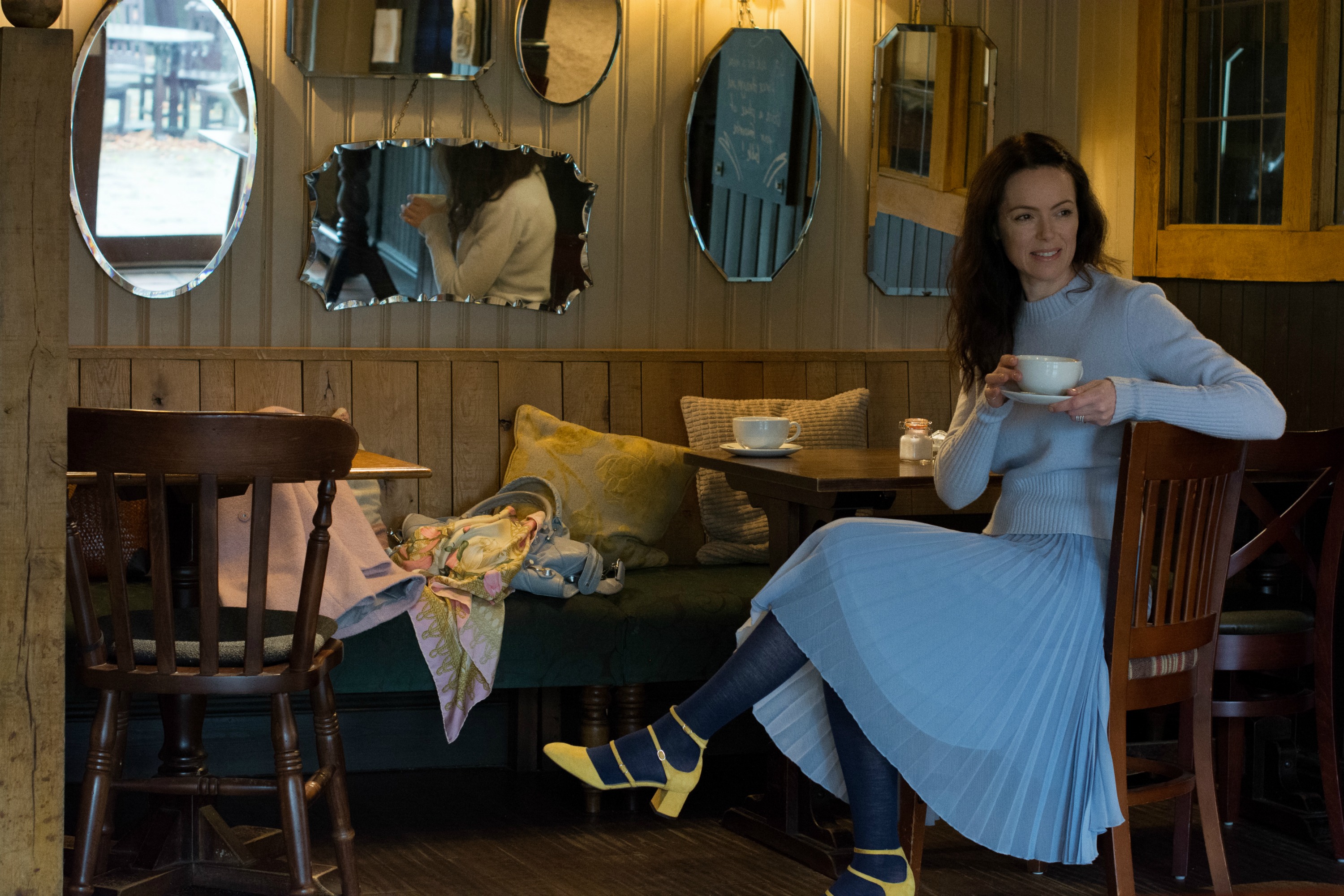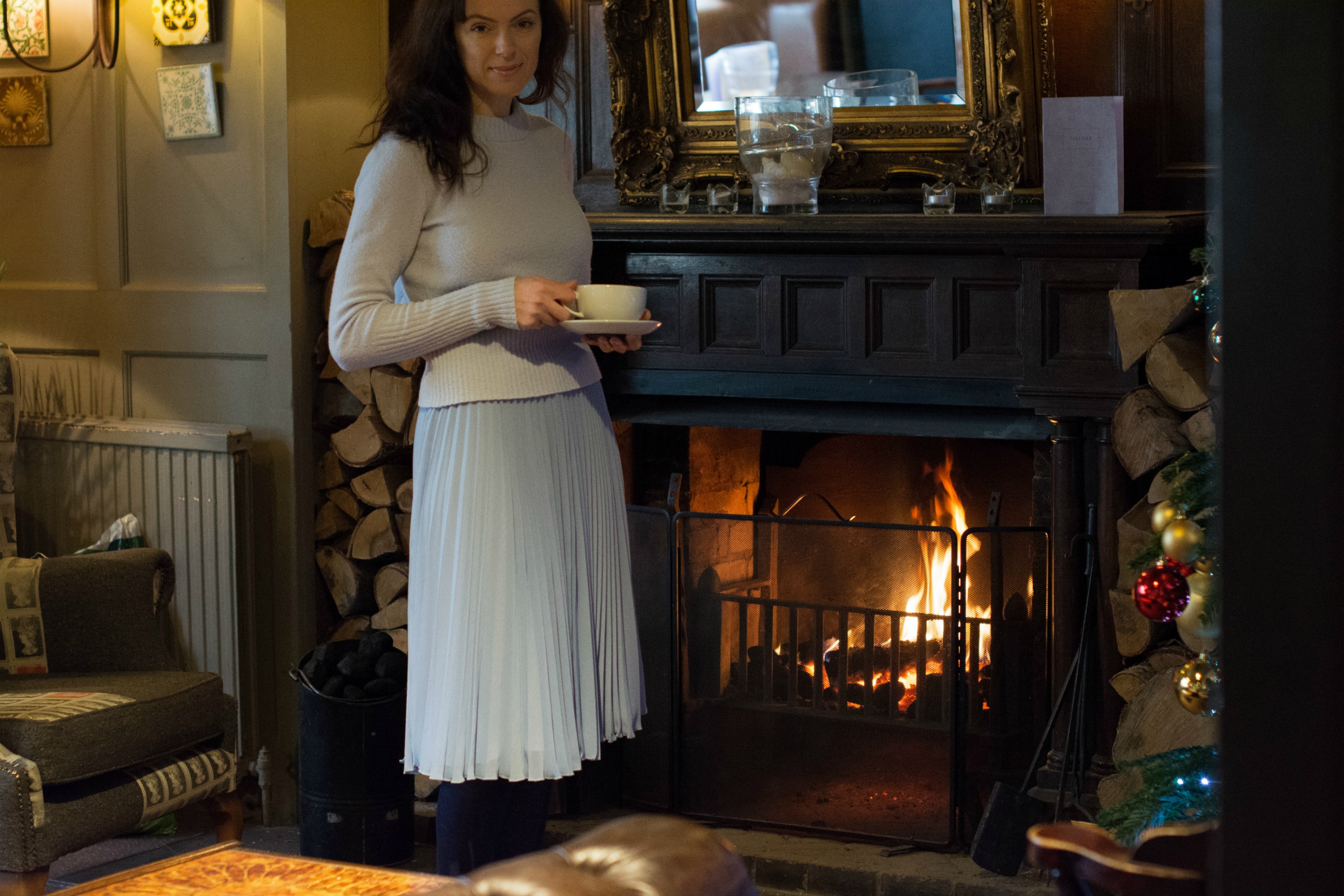 HOW LONG CAN YOU WEAR YOUR HAIR AFTER 50?
Oh I know the answer to this…As long as I bloody well want! No the real question is how long will I grow my hair before it starts looking like I'm in 3rd grade? The reason I ask is because recently I noticed a thirty year old woman with hair to her waist & immediately thought "Good grief woman cut that hair you're not 8!" I know that was rather unkind of me but seriously, SHE'S A GROWN WOMAN!
Although conversely I adore the long hairstyles of Julianne Moore & other women over 50. Have a look at my Pinterest to see some incredibly beautiful women over 50 rockin' long locks. So when does long hair stop looking sexy & just look juvenile? I think the answer is probably more about the individual than age per say. When it comes down to it hair is all about what suits the woman in question. On some women grey hair is stunning while on others it's aging. I believe the same applies to length & that's purely down to two factors – Their face shape & HOW they wear their hair. Now the HOW part includes, cut, colour & most importantly style. And that my friends is the intangible, unique essence of YOU.
Since I'm still enjoying the different ways of styling my long hair I'll probably keep it for a while. Perhaps it's time to go red again? It's been seven years since I was a fiery redhead, I kinda liked that version of me. Plus changing the colour is an easy way to give the old head a new look although there will come a day when I cut it all off again. I do love a pixie & a sharp bob too…
Ciao loves xx
*With thanks to The Crown in Broxbourne for allowing me to shoot in their lovely establishment