Do you remember the famous Boxing Day sales?
They're starting earlier & running later every year! I mean it's beyond me why in the world anyone would shop outside sale time, it's simply not necessary. Of course you run the risk of missing out on a particular item however, if like me, you're not so rigid about specifics you can still be a winner.
For example, I needed another jumper & I wanted it to be more fitted than the ones I have. Also my lavender coloured knit was looking a bit worse for wear so I relegated it to slothing at home pile. This left a pastel coloured hole in my collection although I wasn't too bothered which shade just as long as it was light. When I spotted the AllSaints baby blue jumper I thought "yes that's the replacement!".
Which brings me to todays post…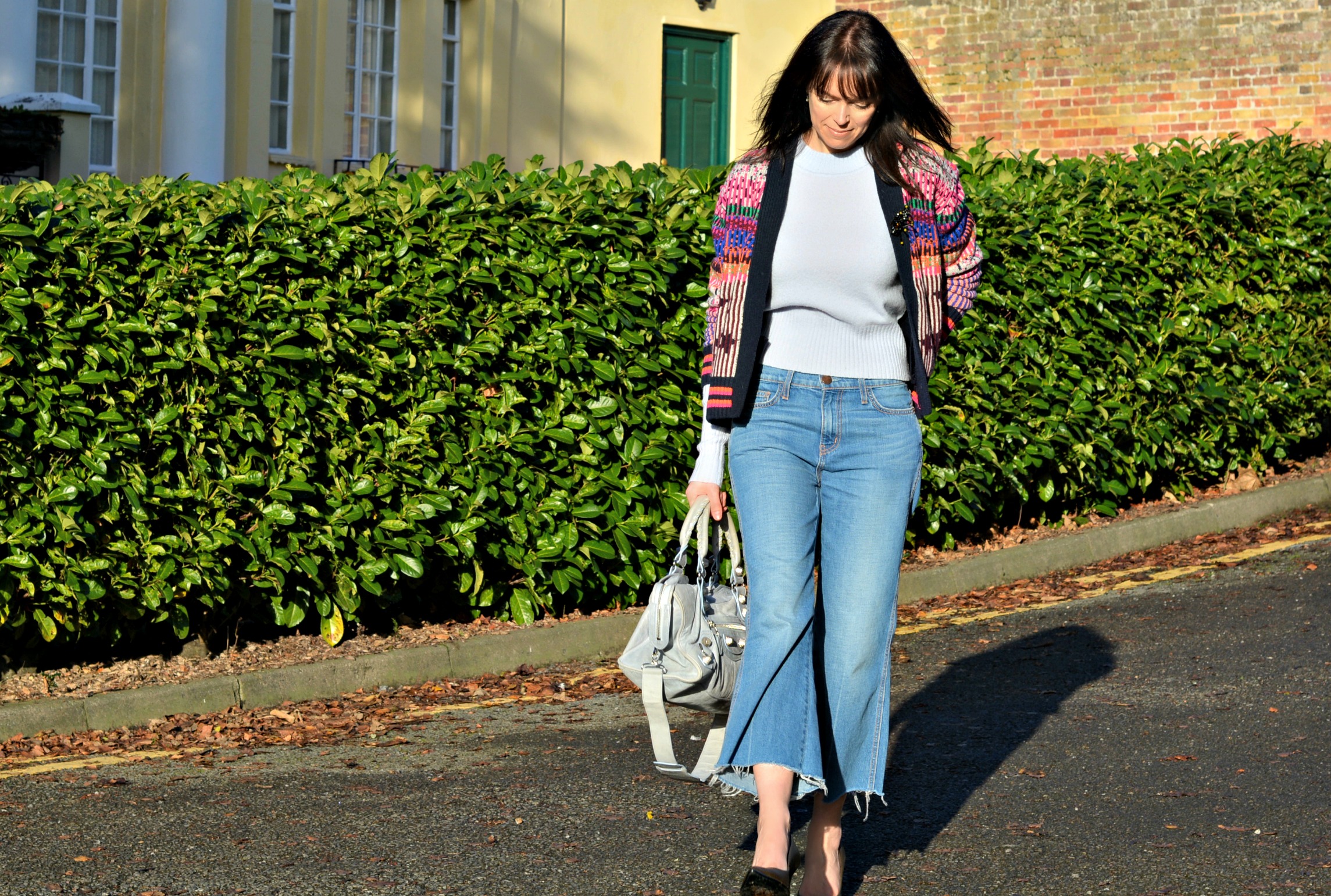 What to buy Now
I wanted to touch base with you again about the AllSaints sale because my order has arrived timed perfectly with the arrival of my new stunning Maison Scotch cardi from The Dressing Room! Incidentally The Dressing Room is kicking off their sensational sale online Christmas Day. Also for 50% off everything you can visit them in St Albans. This exquisite Boutique features a highly curated range of many of my favourite labels including..
Therefore it's well worth browsing their site whilst sipping your Baileys. You never know what fabulous forever piece you might find marked right down!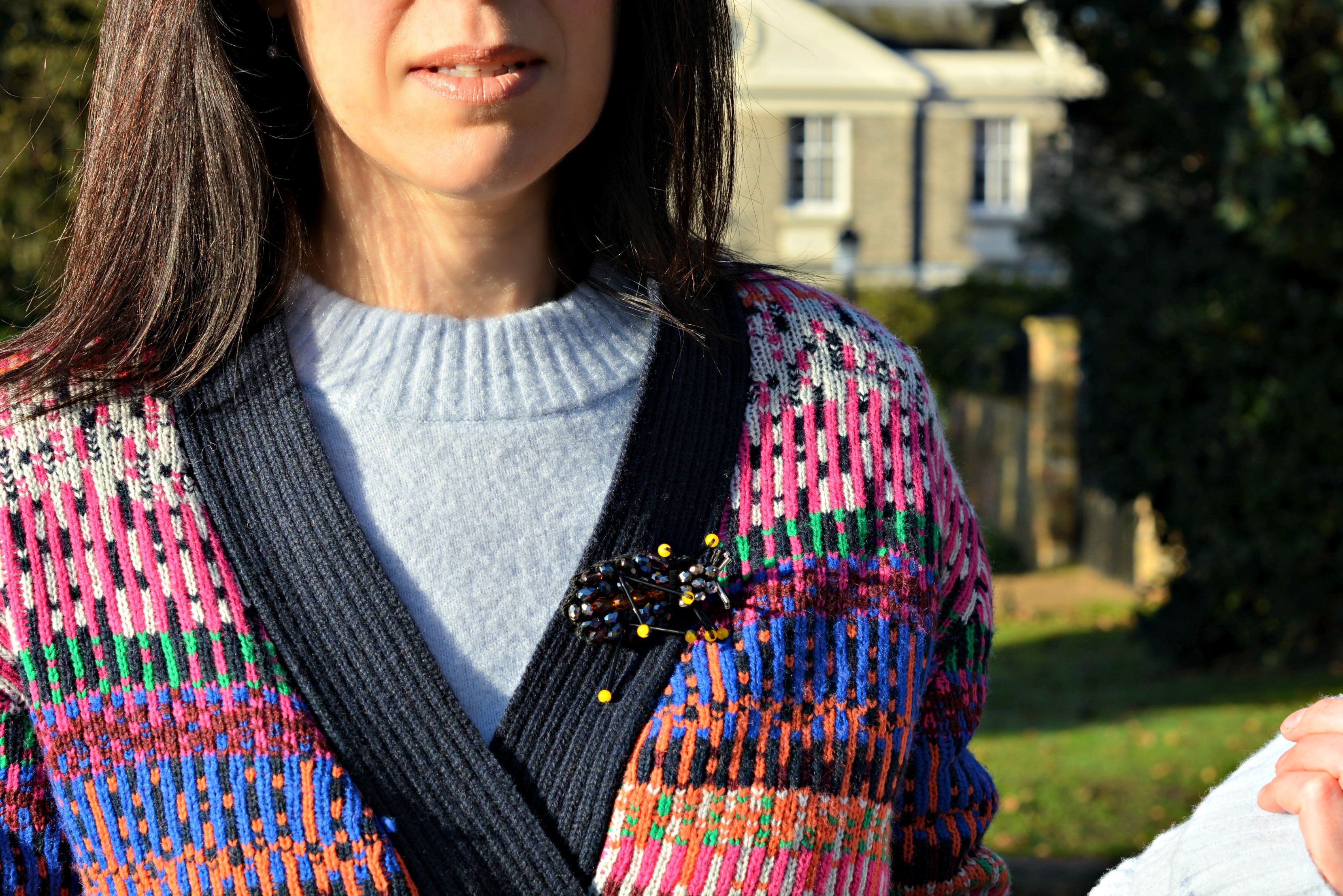 2 for the price of 1
The Maison Scotch cardigan is one sensational piece going in the sale for £75! Since I'm a sucker for a cardi I wear them with absolutely everything! This particular one will work equally well with a dress as with any shape jeans or trousers such as this Winser London pair. What's more it has a gorgeous detachable beetle brooch that I'll be able to style with many other outfits!
Maison Scotch often include an item of jewellery with their tops but I haven't seen anything as intricate as this beaded bug before. Makes it feel extra special…
I thought you'd like to see how I styled my sale purchases all together. Remember this post describing how I only shop during the sales? The beautiful knitwear & shoes from AllSaints are particularly fabulous value at 40+% off so I generally gravitate towards them. In the past I have bought two leather jackets although these don't appear to be discounted as much as they used to so I've skipped them the last few years.
Now onto what I bought this year – The baby blue jumper I showed you in my last post & a pair of khaki pumps which I hadn't mentioned but had noticed a while back. The shoes dropped from £148 to £74! They're an absolutely divine rich khaki pebble leather & super comfy too! In fact I'm thrilled to bits with the quality of both items.
The jumper will easily dress up paired with this skirt or one of my leather skirts however today I'm going for casual chic with my Current Elliot wide leg jeans, new shoes & the Maison Scotch showstopper!
So why the shoes? Not that I needed them in any way shape or form but because I could imagine more than a handful of ways to style them with my wardrobe. Additionally, I don't own a pair in this colour & the price was just so incredible especially considering the "per wear" ratio I simply couldn't think of a reason not to.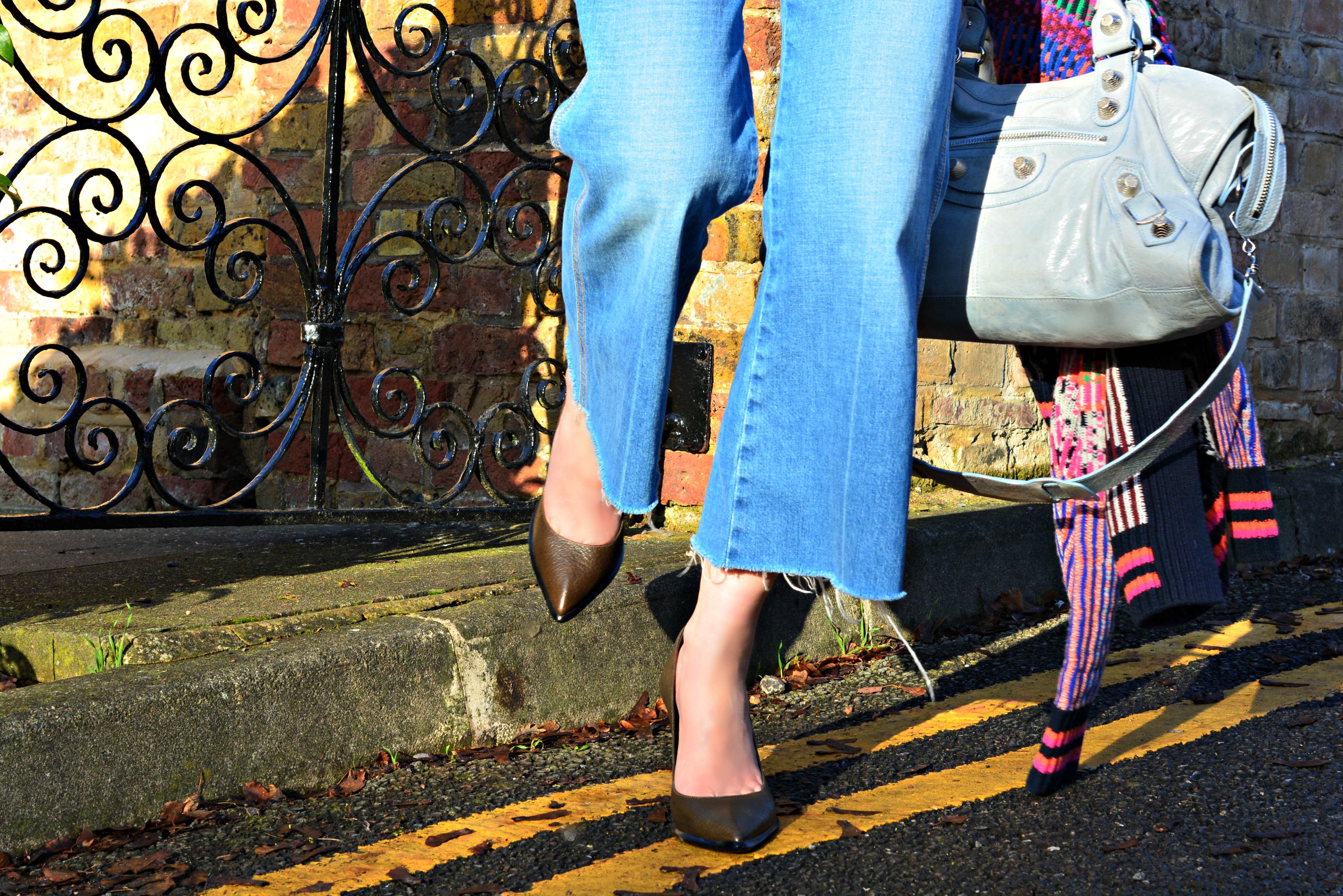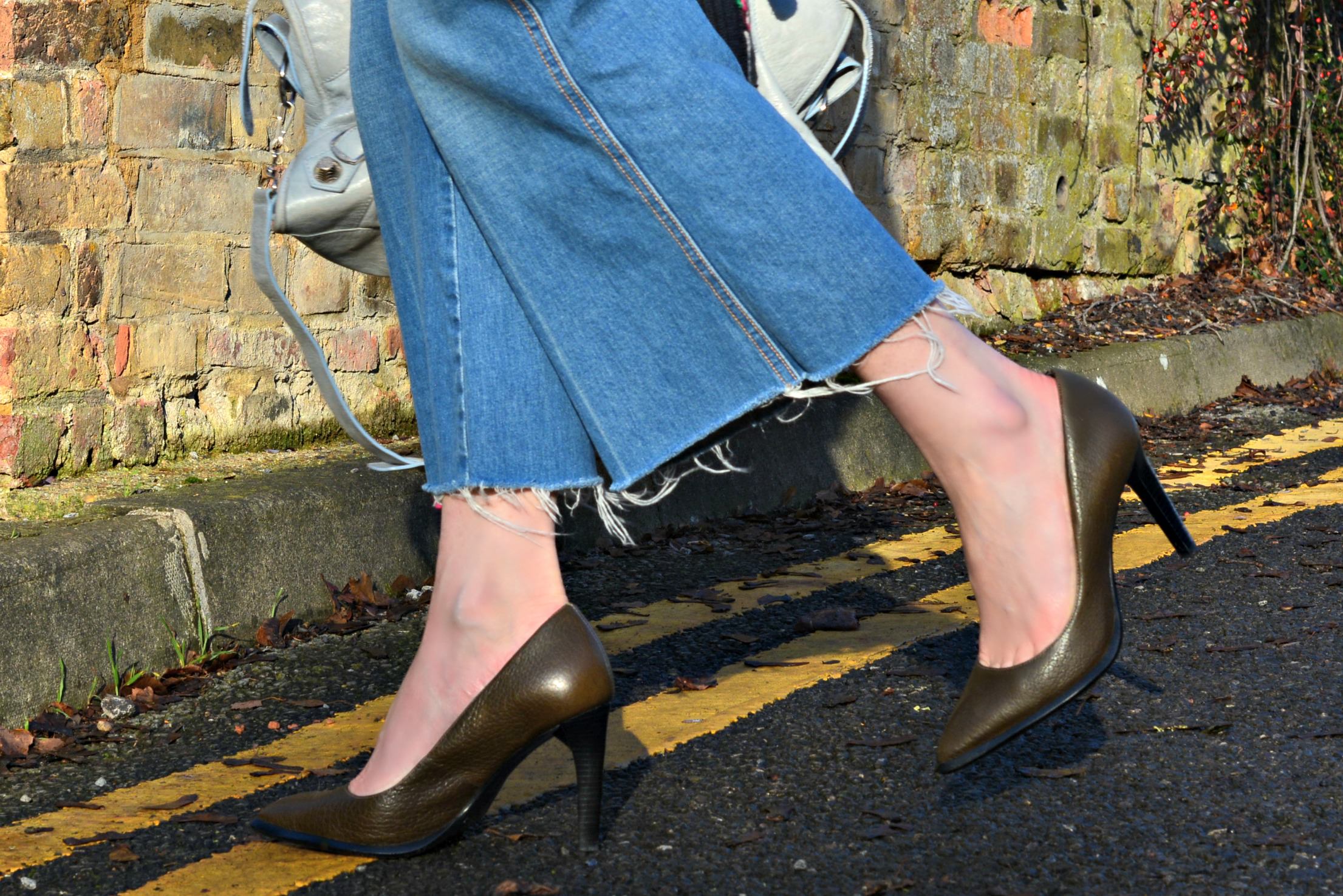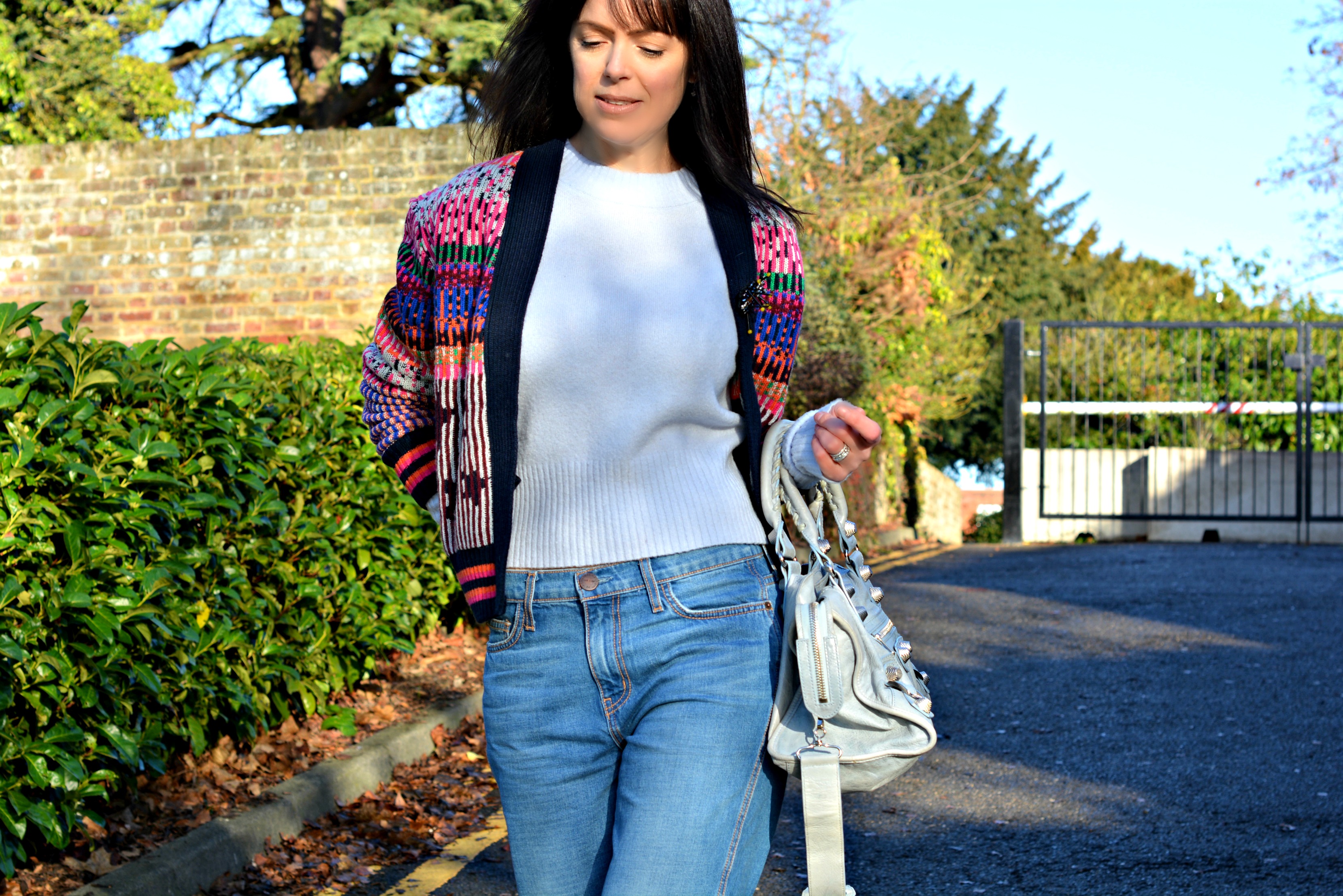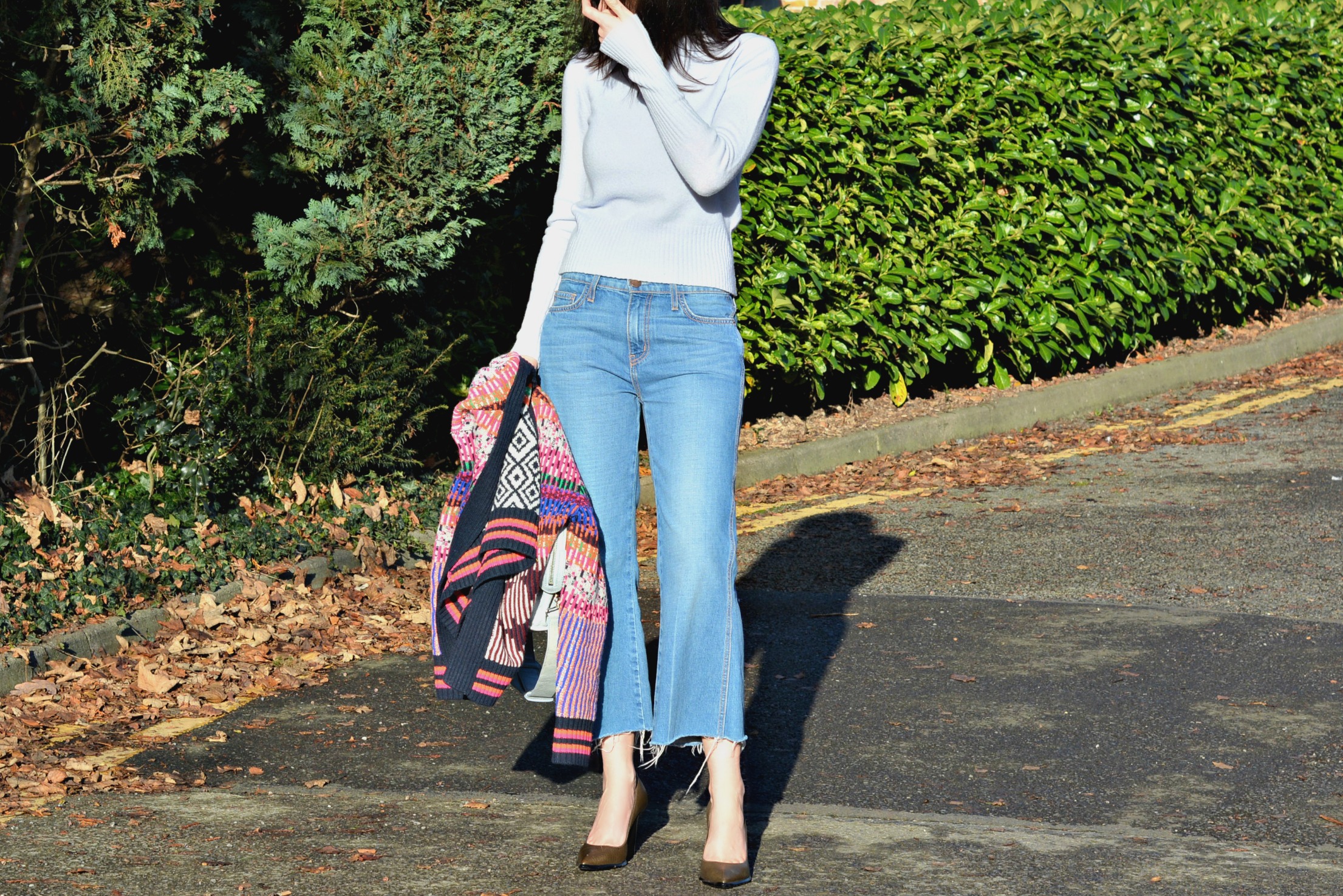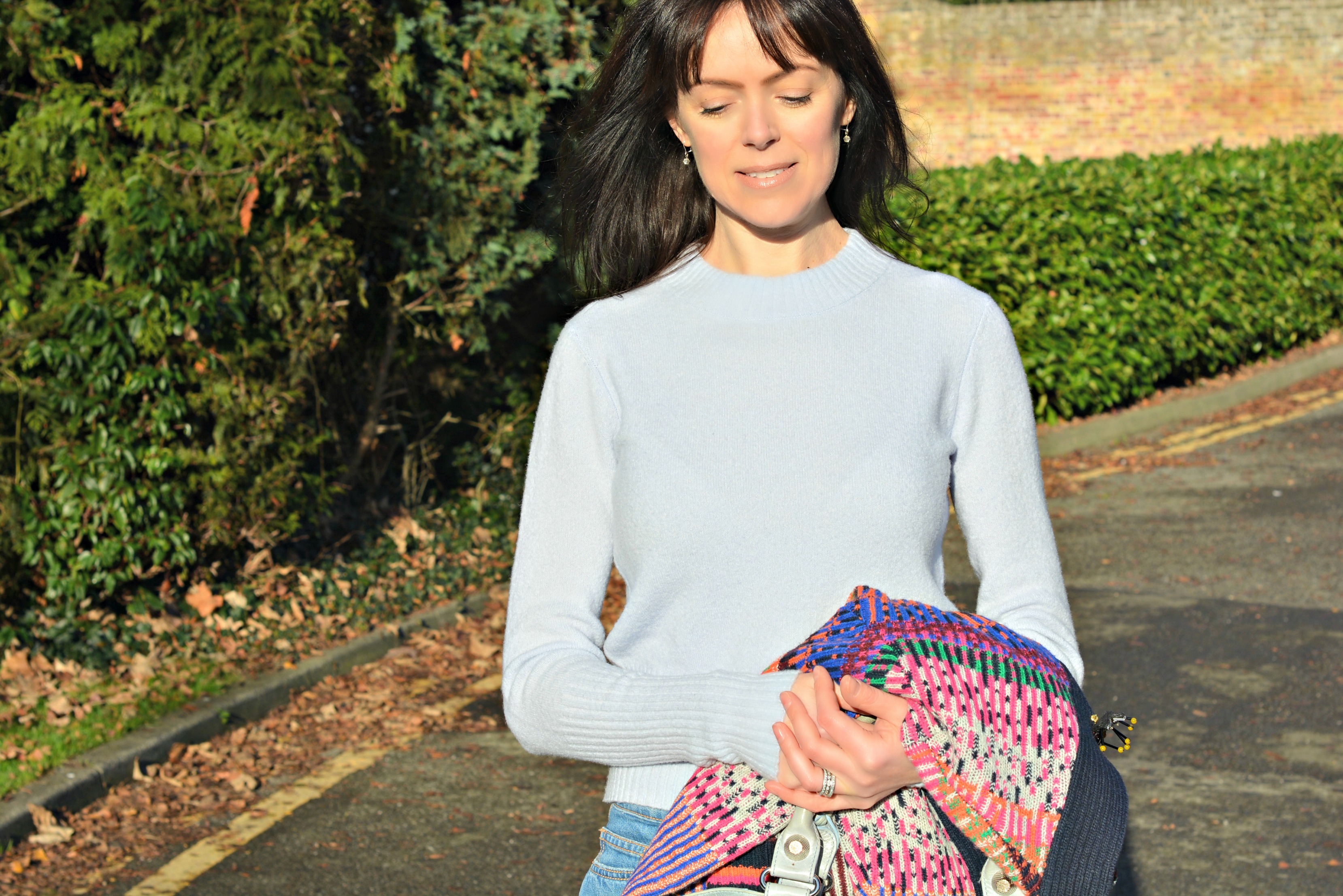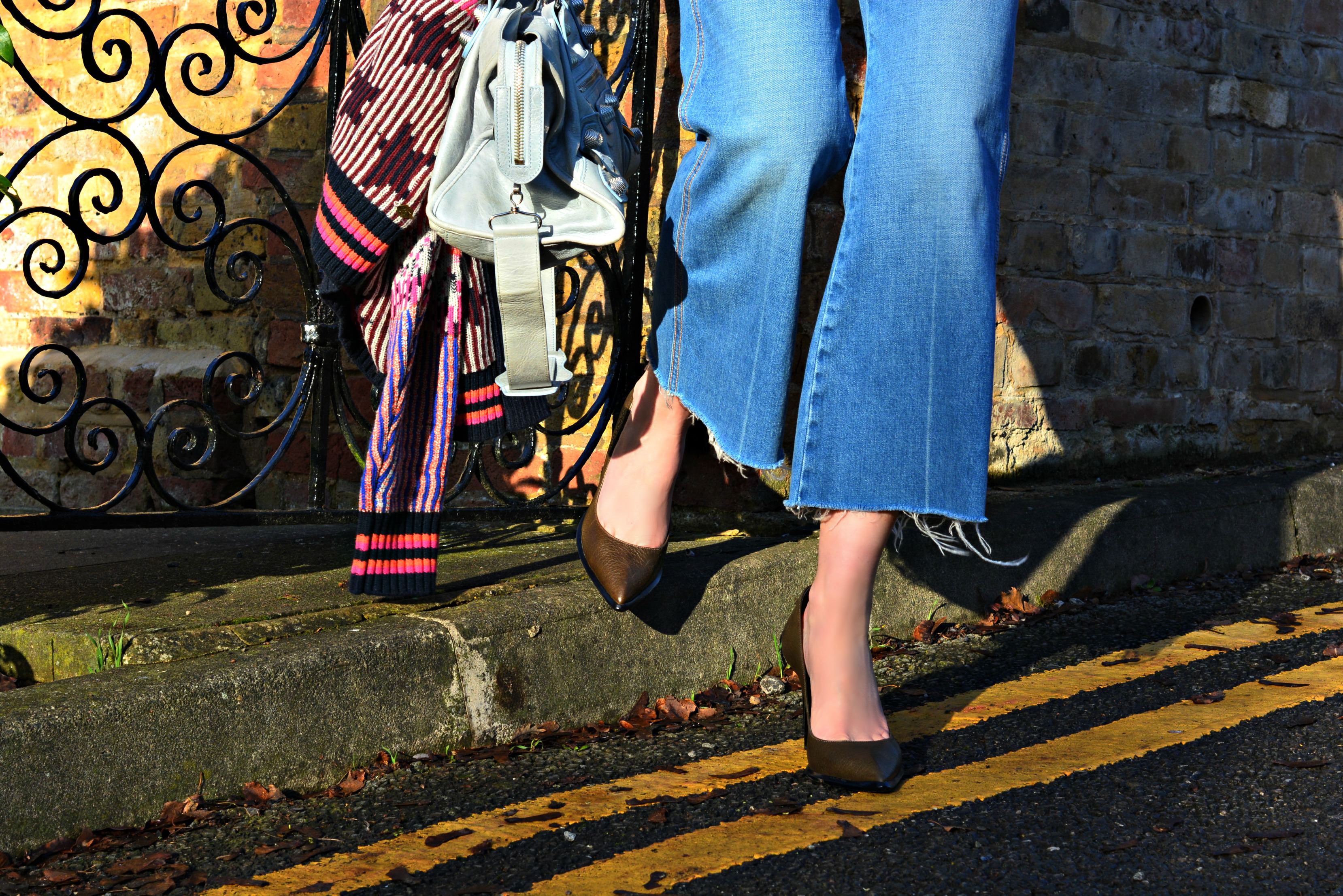 Shop my Outfit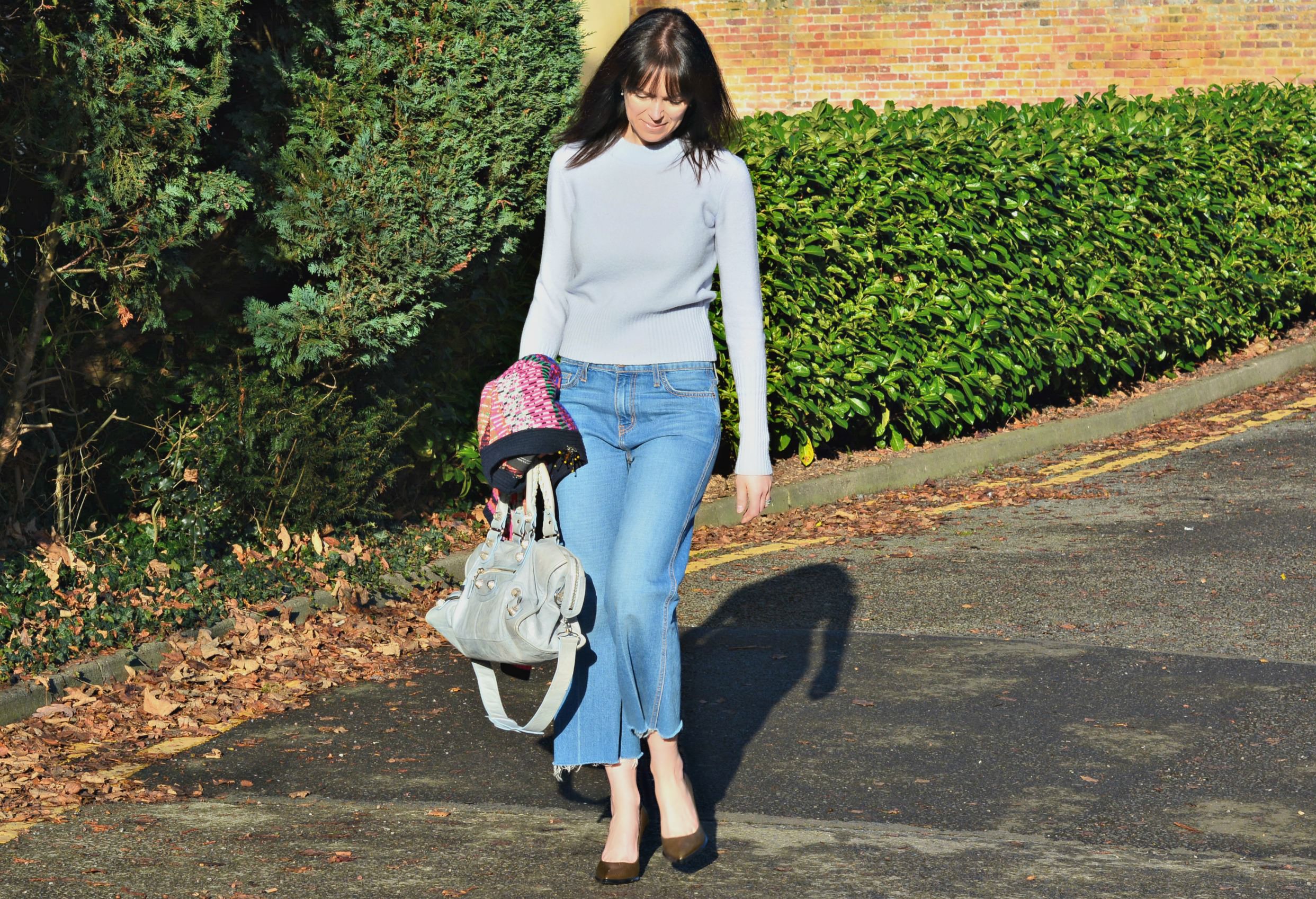 A khaki parka is forever
The Whistles khaki parka is on my wish list & although it is a fabulous sale price right now, unfortunately I've spent my budget this year. That's cool, there's always next years sales & this parka could very well be back in less than 6 months!
Wardrobe staples of such quality never date & are useful all year round therefore they do come & go from sales. Trust me, there really is no need to panic buy or blow your budget. My current raincoat which I bought from Jigsaw 15 years ago is chocolate brown & although it still looks perfect, I've grown tired of the colour. I fancy khaki next & wouldn't it look gorgeous with my new shoes?

The Best of the Rest
These are my picks of the best wardrobe essentials priced way down low right now. Every one of these pieces is an investment if you don't already have it, not an impulse buy among them. I only included the Caudalie Cracker because my girlfriends were so impressed with it when I gave them as gifts – I'm pretty sure you would be too so why not treat yourself!
By the way I actually have these Whistles skinny jeans so I can tell you they are lovely on. The chambray dress is an updated version of this one of mine & I have similar boots styled here. The tan cross body bag is not only a classic that'll never date but a particular style I can't do without, especially for travel – see here. Now as I've recently fallen in love with a velvet dress of my own, my eye was drawn to this sexy number so I couldn't resist adding it to the list.
The jumpers & boyfriend jeans are my Winter staples & the chunky scarf reminds me of this one of mine that I adore. you may have noticed I like to wear hats on occasion? Here's a reminder of what a difference a fedora can make to your outfit.


That's it from me this year, it's all about the children now but I'll be back in January. Have a lovely time with your family & THANK YOU SO VERY MUCH for coming back to RCM every week!
I consider this second year a huge success for my small business blog – We've grown so much faster than I'd hoped & that's down to you lovely people.
I'm ever so grateful xxx
Disclosure – Thank you to The Dressing Room for gifting me this cardigan