As the debate over whether skinnies are out rages on (ad nauseam) I want to turn your attention to mid-rise jeans. Personally I still love my skinnies actually along with flares & wide legs however what I haven't worn in a while are my low-rise jeans. How 'bout you?
Somewhere along the way I went off them, not sure why exactly. Perhaps I just feel more pulled together with a higher waist? My tummy is very soft now with little muscle tone if any. Therefore the excess loose skin created from three pregnancies turns into a pot belly the moment I eat a meal. Obviously I haven't been doing the crunches or sit ups needed to tone this pouch… whoops oh well. Maybe that has something to do with it? Whatever the reason, my eye is drawn to the mid-rise fit more often than not, it's more flattering on me now particularly with a tucked in top. I believe once you find the right leg style to suit your silhouette, the mid-rise will do wonders to balance almost any body shape. Some brands even incorporate tummy control thus avoiding the muffin top scenario we all detest. Don't get me wrong I equally adore the high-rise & high-waisted jeans around at the moment although I'm wondering just how forgiving they'd be with my low-rise boobies? Sure they would give me legs for days but then cut my torso in half which is not a good look, or is it? Have a look at these sexy vintage inspired flares by jean queen Donna Ida, on sale for £35! I will wrestle with this life altering conundrum further another time….
For today's post let's take a look at the best mid-rise jeans I've found on the market now. The pair I'm wearing here are by AG – see them styled differently here. I had heard great things about Adriano Goldschmied jeans so I decided to try a second-hand pair from Ebay. This is a great way to road test jeans before paying full whack. You know in case you don't like them? I do it a lot with jeans because it's particularly tricky finding the perfect fit, often taking a few wears before I know. Which basically means if I don't like them I'm not stuck with an expensive purchase. Anyway if you haven't guessed, I absolutely adore these jeans so will definitely buy a new pair for winter. Probably the grey ones below although I am liking velvet for cooler months & haven't owned a pair since my old Bettina Liano ones split across my butt.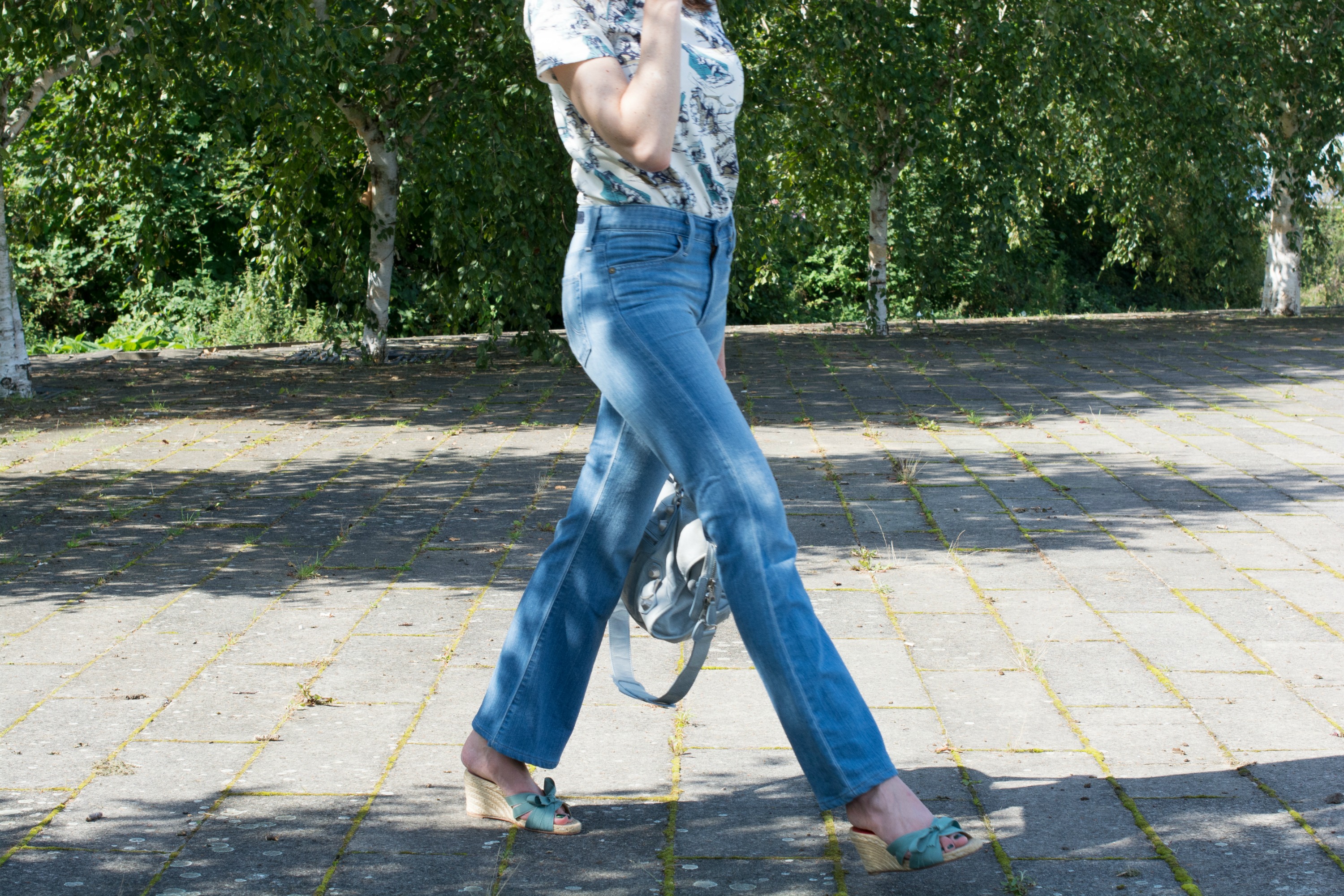 My Fave AG Jeans for A/W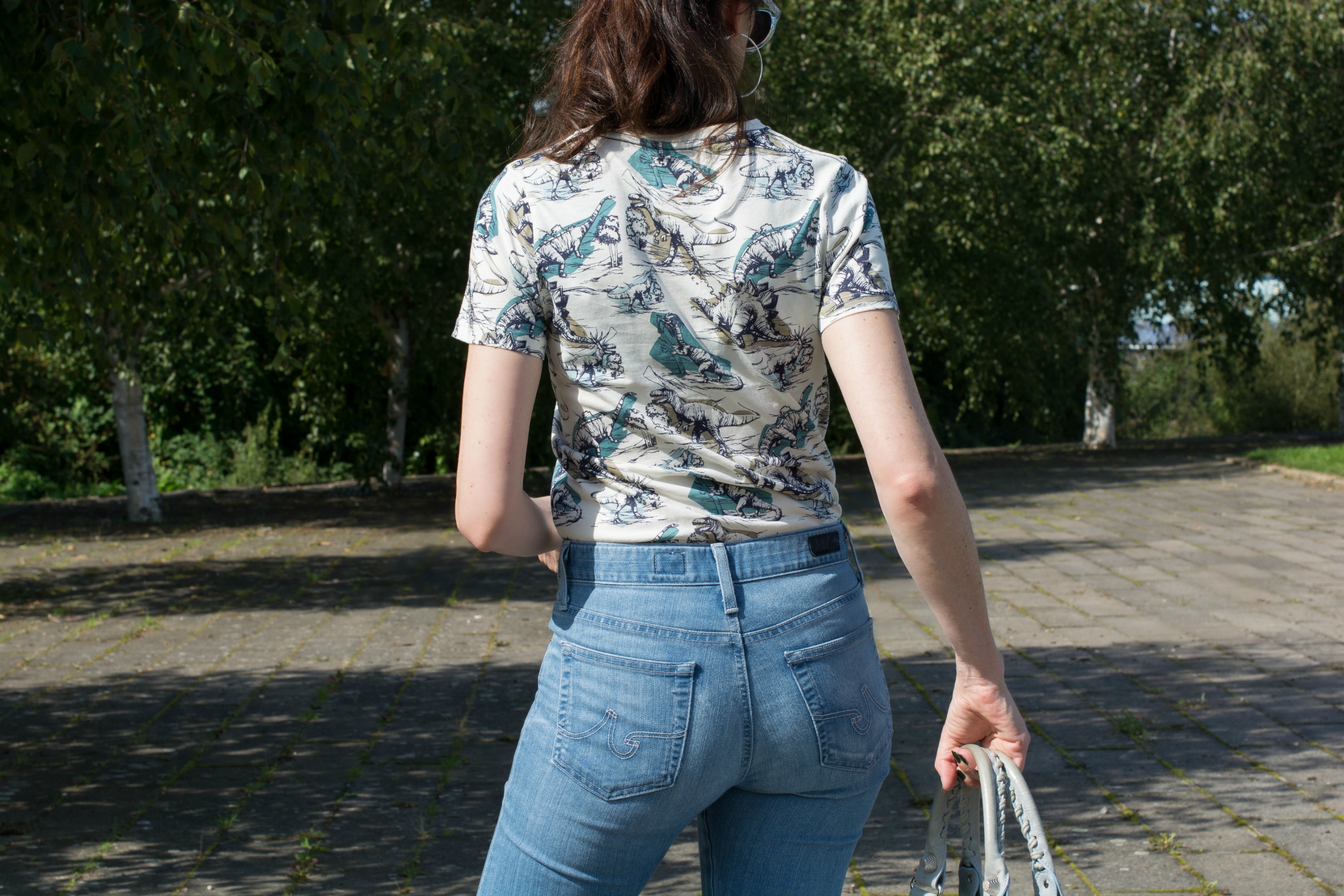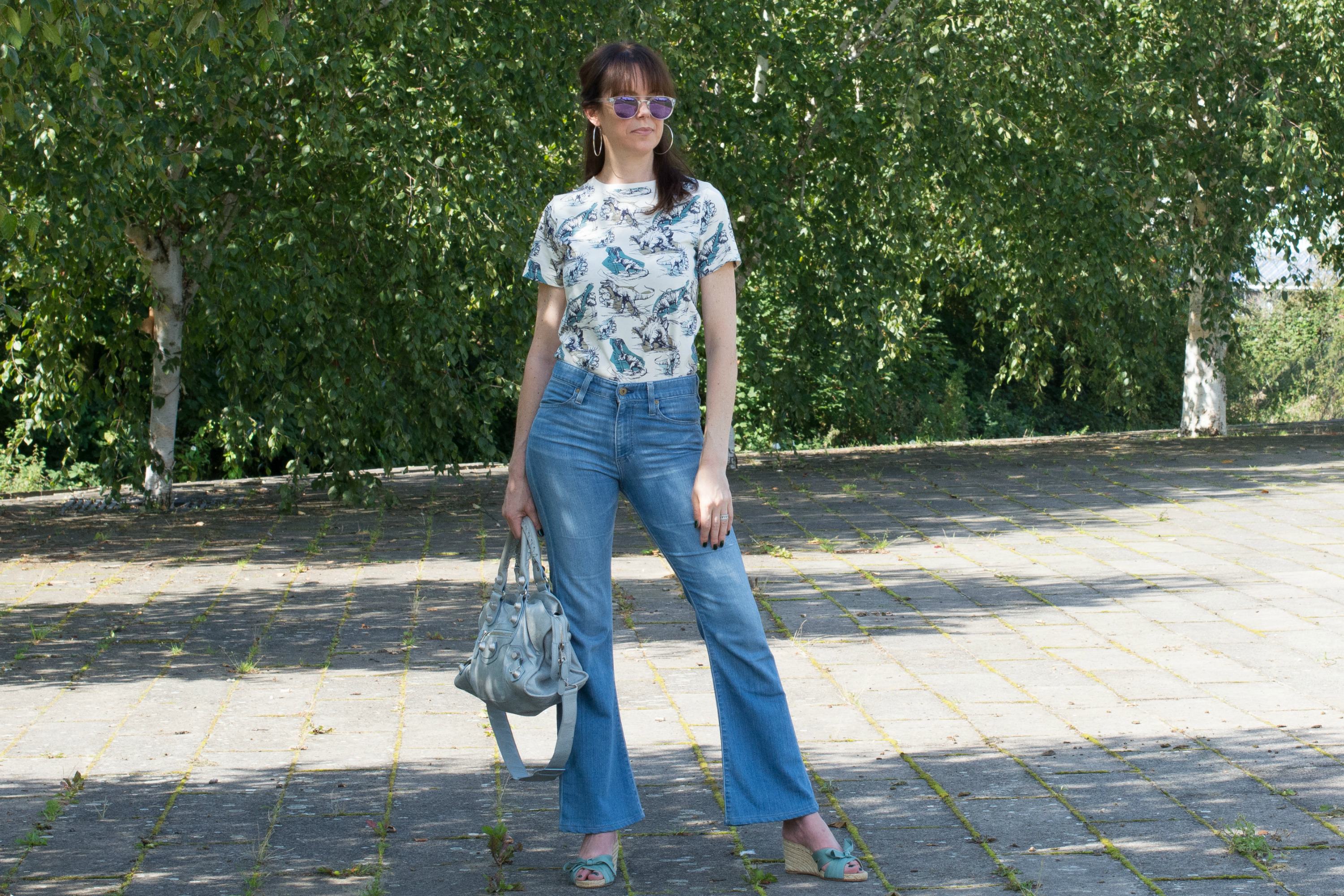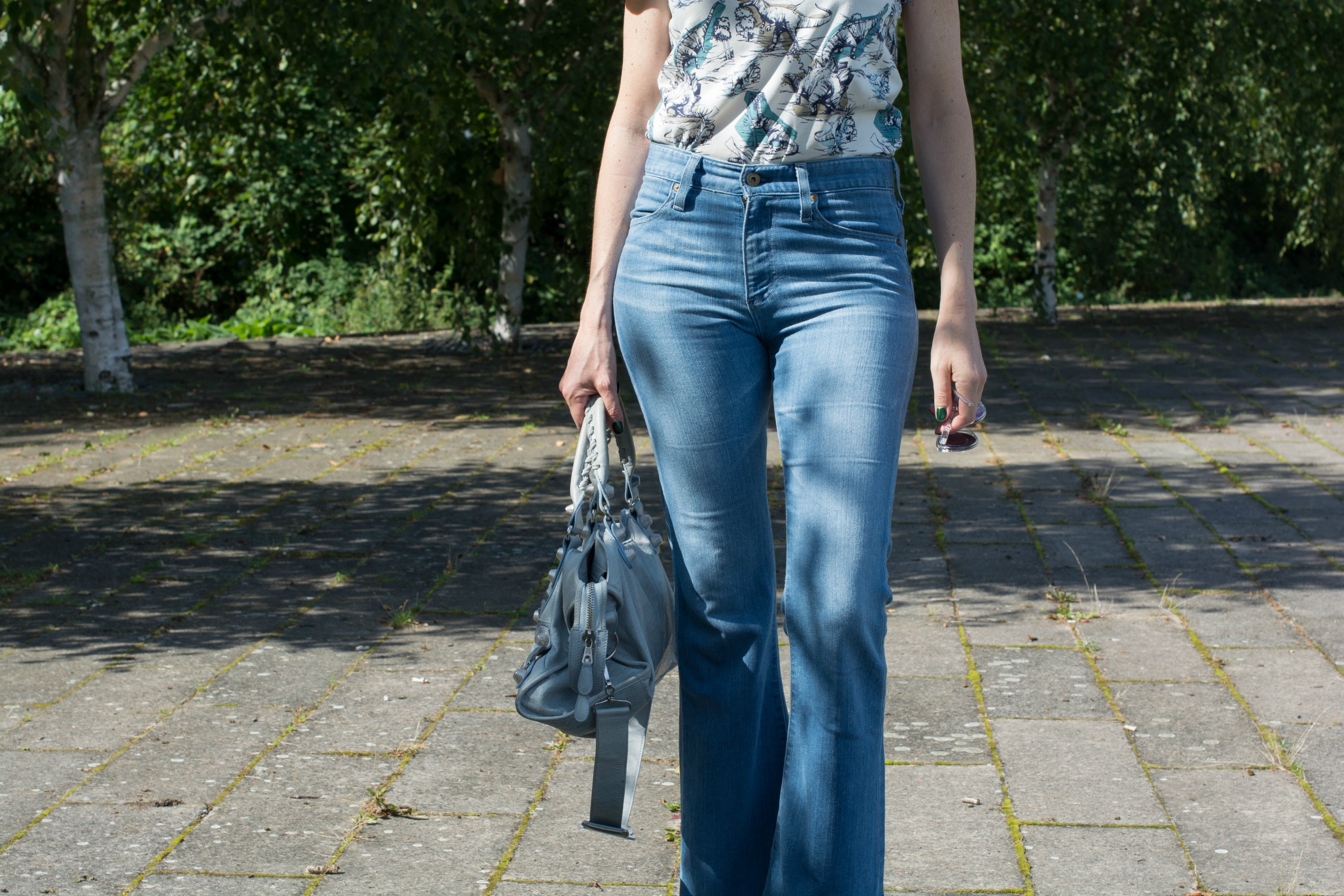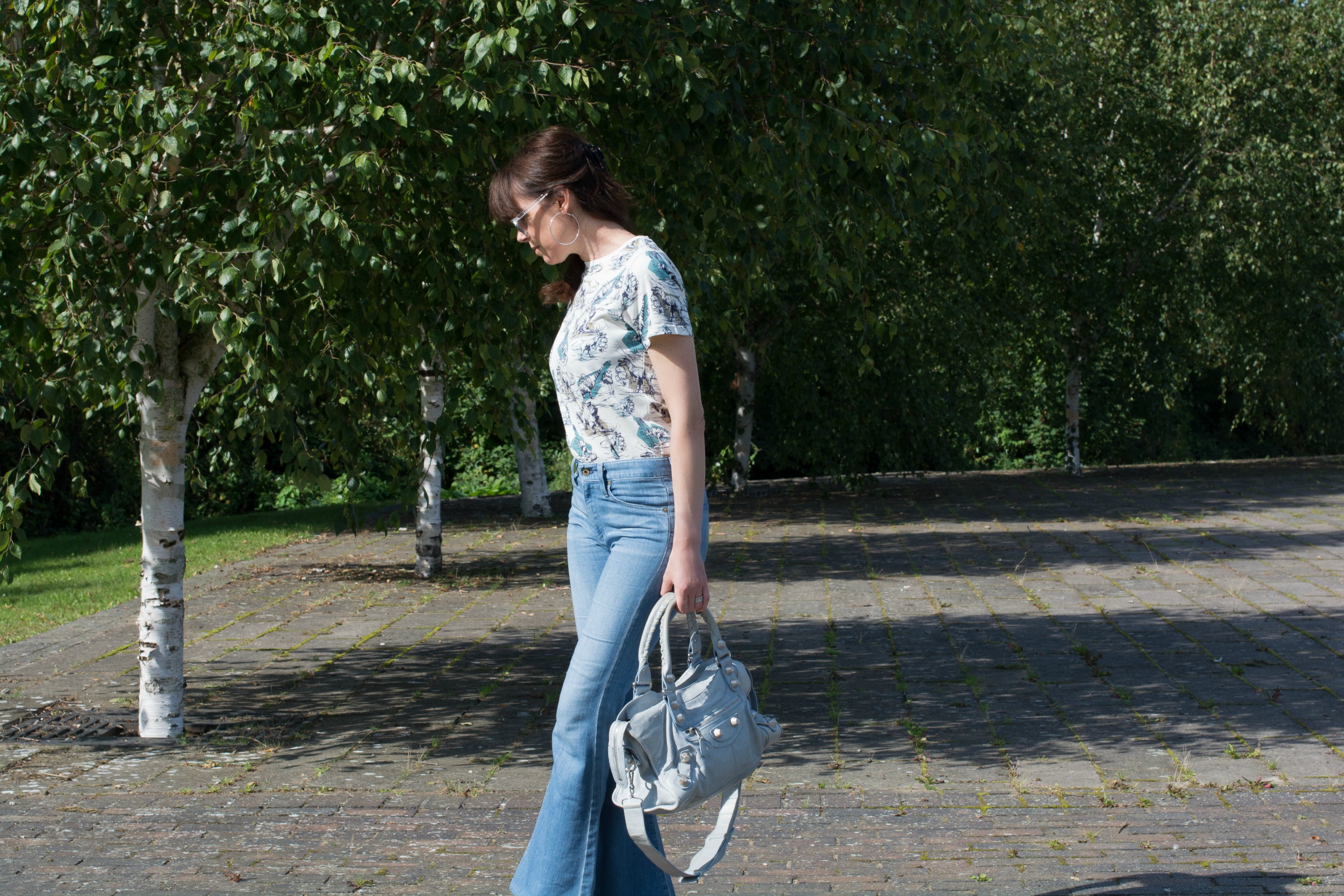 6 of the Best Mid-Rise Jeans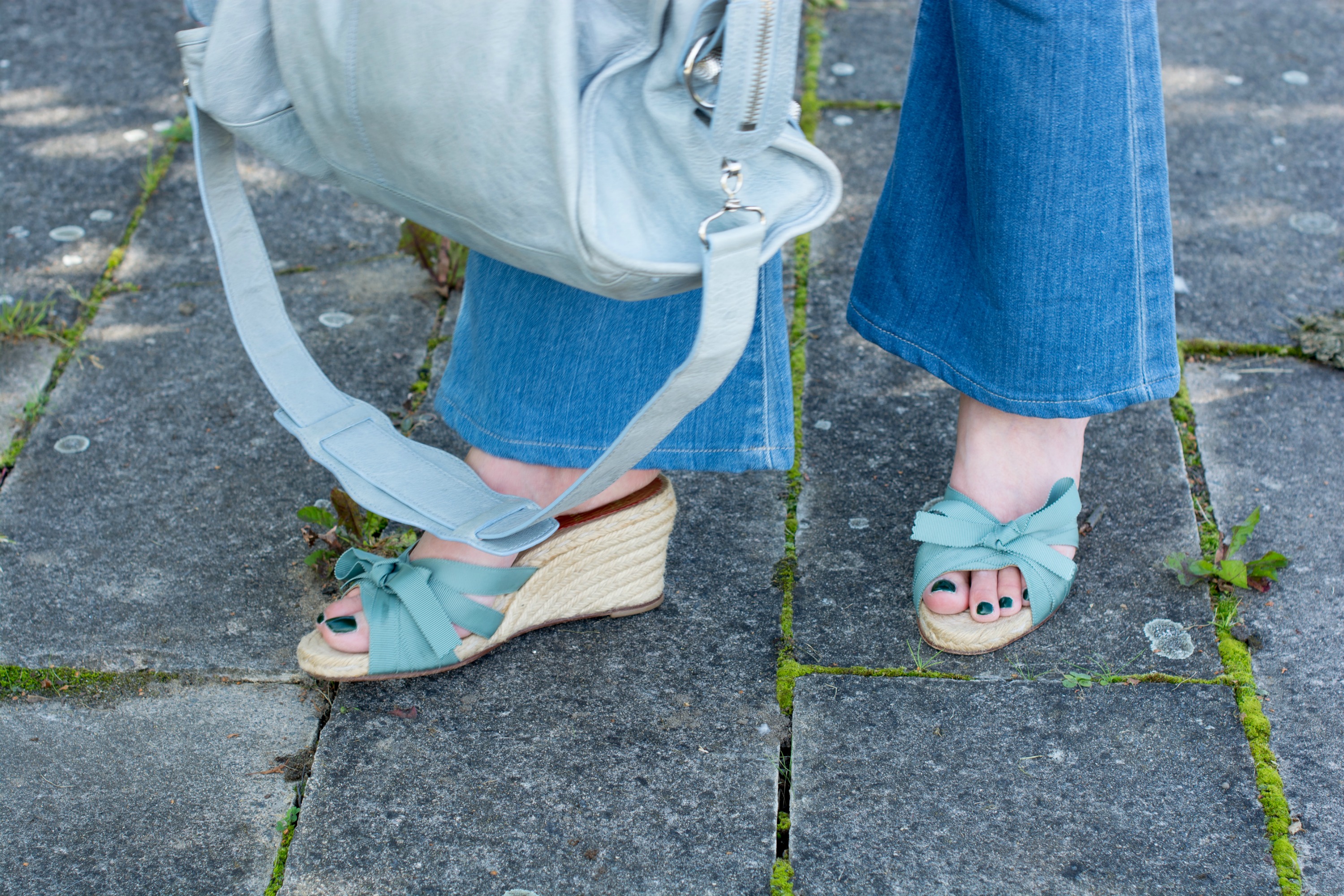 MULES I LOVE
Mules aren't going away any time soon which is absolutely fine by me, a big fan. Although I only own two pairs, this espadrille style & the more popular black leather with block heel. Here are a few of my choice picks if you're in the market for a pair.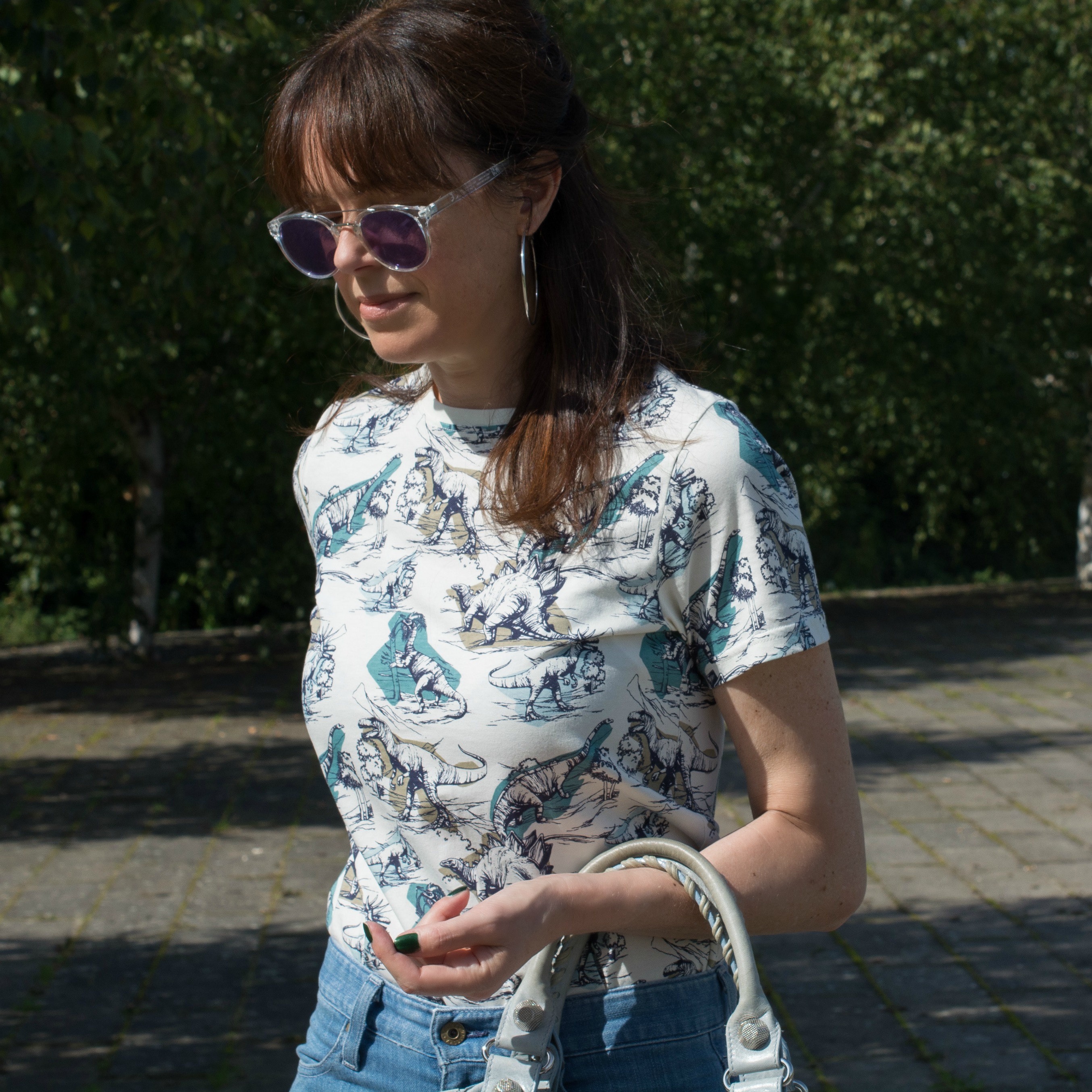 Dinosaur T-Shirt
My dino Tee is actually from the boy's department of our local Sainsburys grocery store. I was going through the sale rail one day & spotted this unique print when I thought Hmmm I can squeeze into that! The subtle colour palette has a vintage retro vibe perfect for my sartorial style. However it was the dino theme that ultimately tickled my fancy enough to buy it. I mean who doesn't love dinosaurs? Sadly the closest I found to a match is this Redbubble T-shirt. Although I think it's still pretty cool plus it comes in 18 different colours!
See ya next week lovelies, xxx