Now that we're properly into Autumn here in the UK it's time to properly wear Autumnal colours Yipee!. What colour represents Autumn more than burgundy & what better way to wear burgundy than lipstick?
There's one problem – It doesn't stay put it smears, smudges & as soon as you eat it migrates to your chin or worse… your teeth!
How to apply a burgundy lip
Step 1 Probably the most important because in any kind of painting the base is key. Said by the crazy furniture up-cycler! Therefore I highly recommend exfoliating your lips, in the shower is best because the steam helps soften them as well. The reason we do this is to remove dry & dead skin to promote cell re-newel & create a clean surface. In fact now that I'm over 40 I exfoliate my entire face every other day for the same reason. I've been using St Ives Apricot Scrub for many many years because it's quite gritty but doesn't contain micro plastics to achieve this like a lot of facial scrubs on the market. In case you don't know micro plastics DO NOT BREAK DOWN they wash down your plug hole & end up in the ocean & ultimately in the fish & molluscs on your dinner plate! Obviously I don't need to say that this is not good for us or the planet… There are tonnes of natural options on the market such as the Apricot scrub I use that has ground up apricot seeds in it to give you a lovely shiny, environmentally friendly, glow.
However, on my lips I actually use my electric toothbrush after I've cleaned my teeth every morning.
Step 2 After you've moisturized apply your base of choice, mine is simply Maybelline BB cream as I don't like a heavy foundation look (every day make up tutorial) plus it contains SPF.
Step 3 Is another important one – Dust your lips with nude powder to fix the base in place.
Step 4 Using a highly sharpened lip pencil that's the exact colour of your lipstick (or gloss) carefully draw the outline of your lip line then colour in. Yes that's right I said colour in your entire lips. You are effectively creating a waxy surface for your lippy to adhere to & this will also essentially stain your lips.
Step 5 After you've done this, using a lip brush apply your lipstick.
Step 6 Now take a piece of tissue, fold it in half & press your lips down over it. Keeping your mouth closed, open the pieces of tissue onto your top & bottom lips to blot. Doing it this way as opposed to just pressing the tissue onto your closed mouth will remove the excess lipstick from just inside your lips so you don't end up with it on your teeth.
Step 7 Finally re-apply the lippy, blot again & re-apply if you want a glossy finish. I tend to end this process on the second blot because I prefer a matt finish but that's entirely a personal choice.
For those of you reading this who believe their lips are too narrow for red colours I have a solution for you to try.
Buy a red lip stain such as Benetint or The Body Shop lip stain, complete steps 1 2 & 3 then carefully apply the lip stain. Using a brush is best to ensure the line around your lips is clean & defined. After you've coloured in you can leave it matt or put a clear gloss over the top, either way it's a sheer alternative to a solid red so appears less harsh.
Still need convincing? Check out The Stylopedia Blog for a fantastic post about every possible shade of red if you don't think burgundy is the right one for you.
I've created a simple board of the 7 steps for you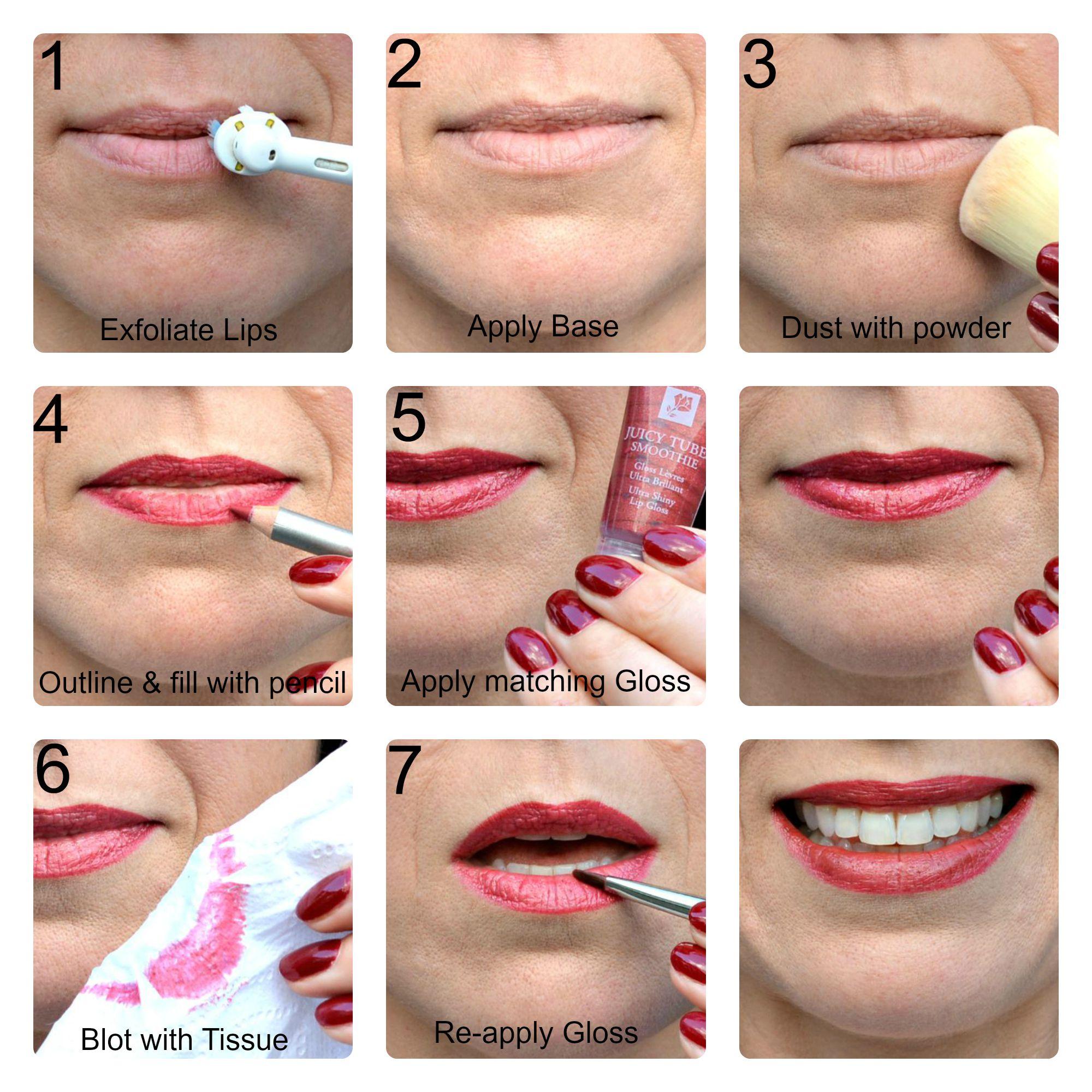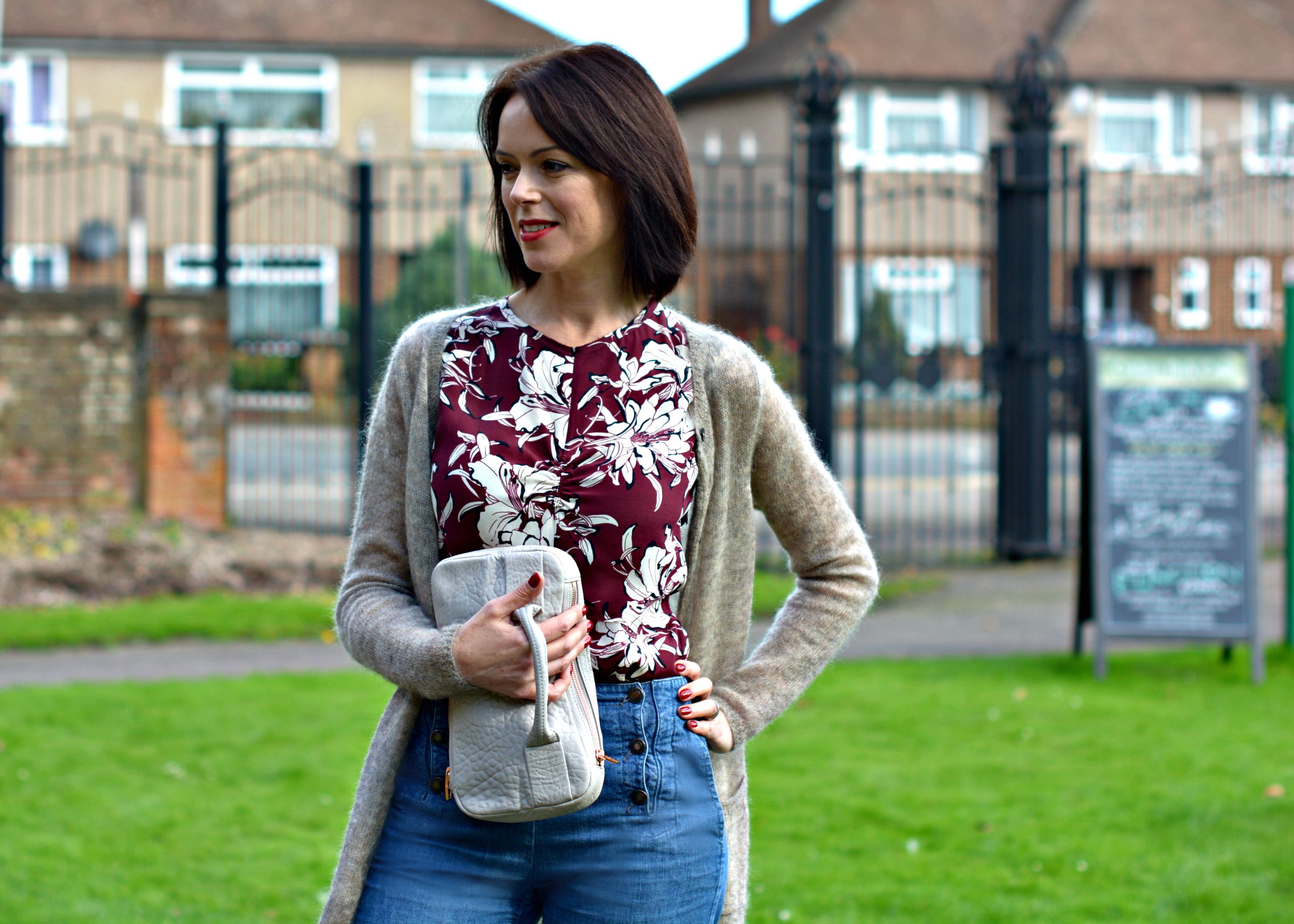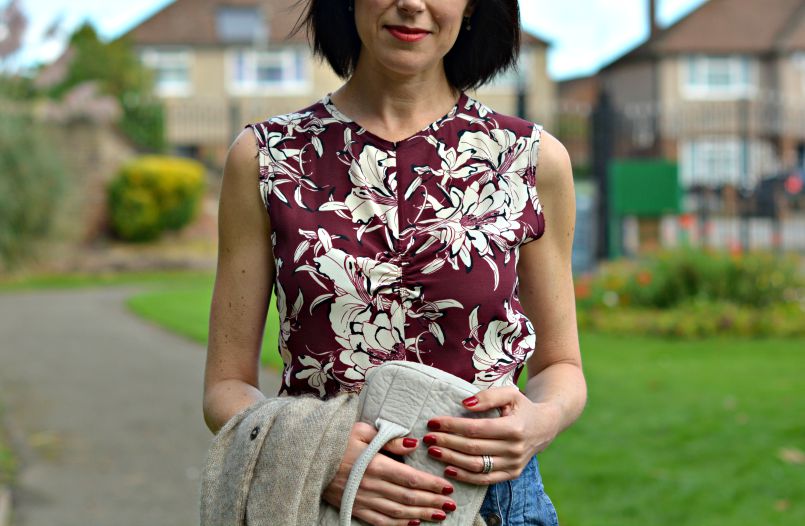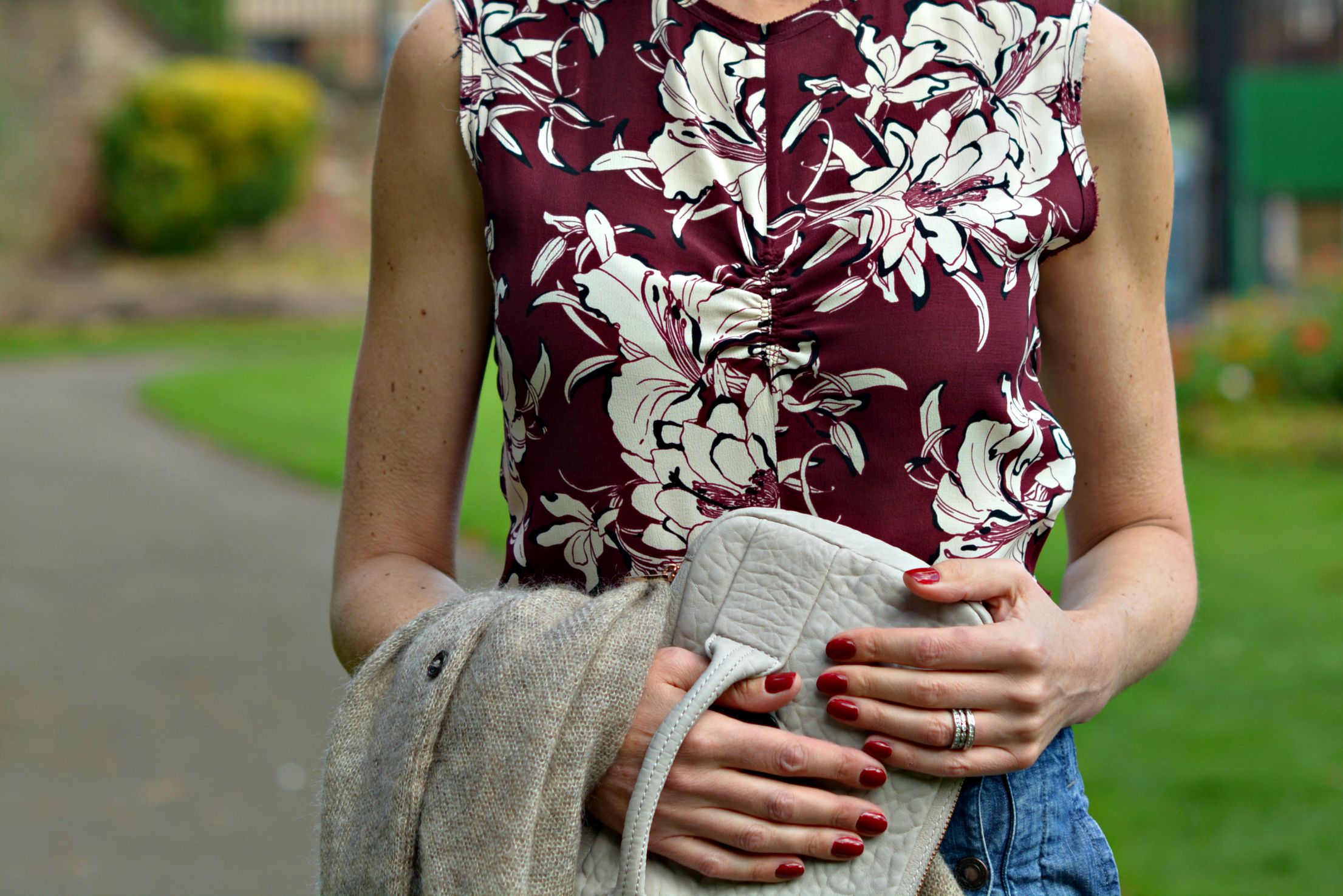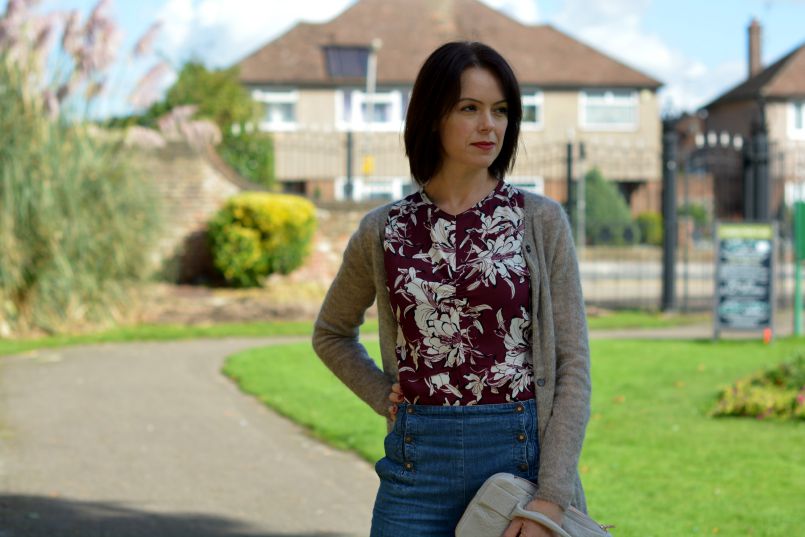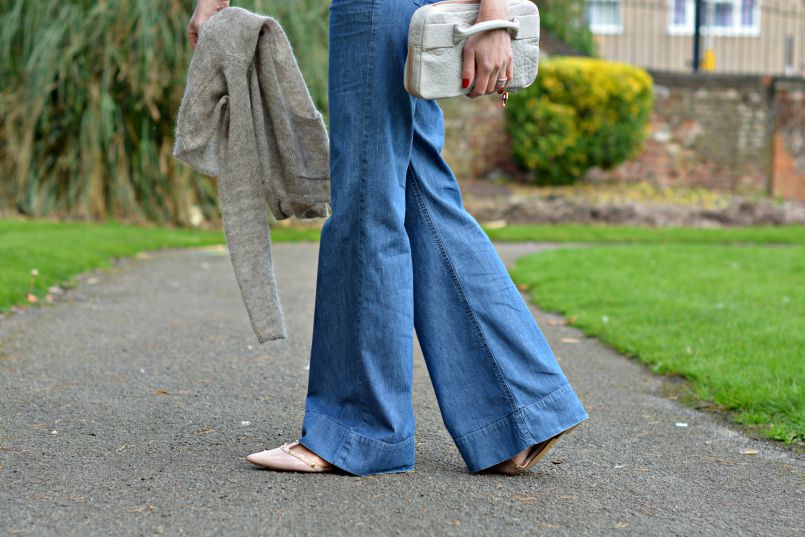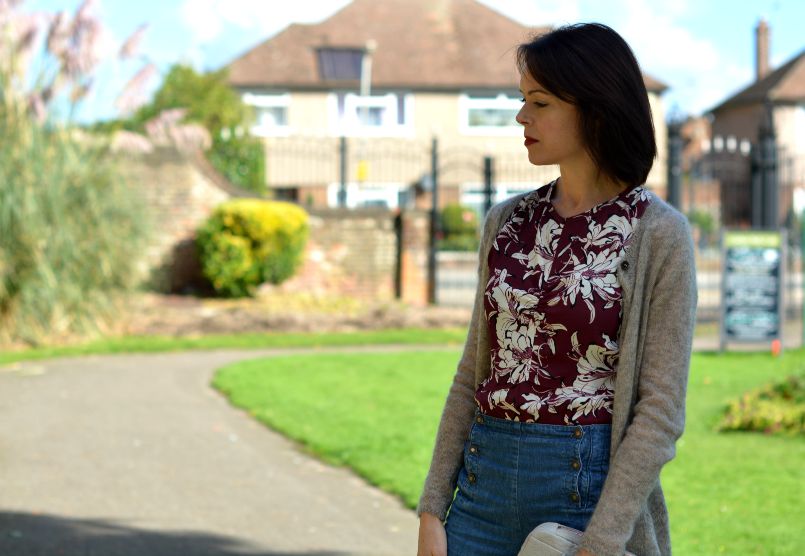 Todays outfit is a comfy casual look
I actually put it together to suit my lips! The top is old from Zara & has a peplum hem however because the jeans have mid waist button detail that I wanted to see I tucked the top in this time. It wasn't a cold day so all I needed was a light cardigan & this Isabel Marant beige knit contrasted perfectly. I added my Alexander Wang pebble leather clutch that has gorgeous rose gold hardware staying with the "pink toned" theme. Shown below up close with my brand new (stronger prescription sigh) Carolina Herrera specs.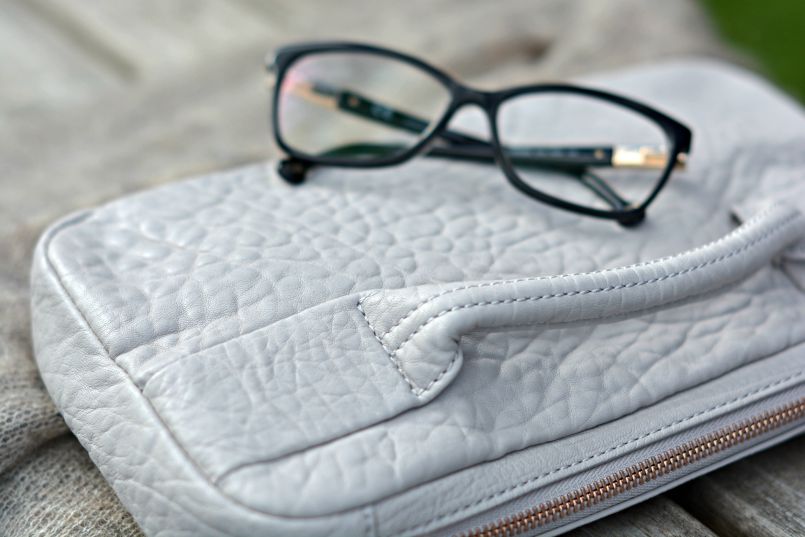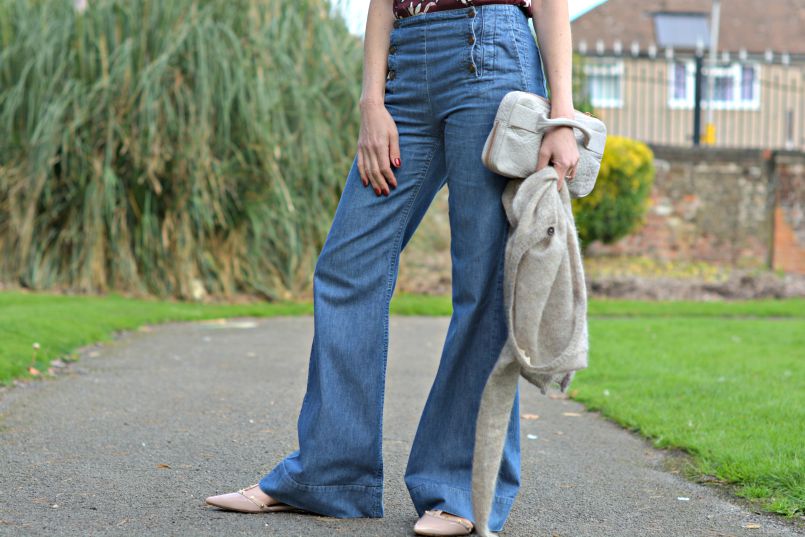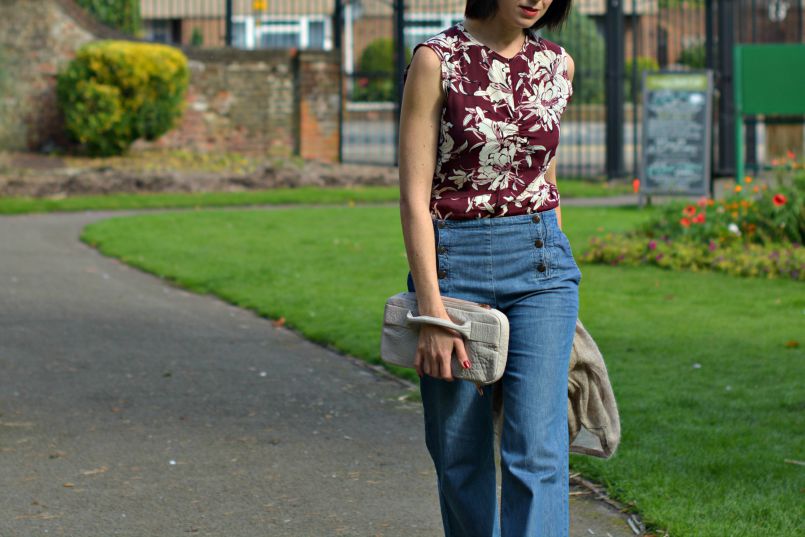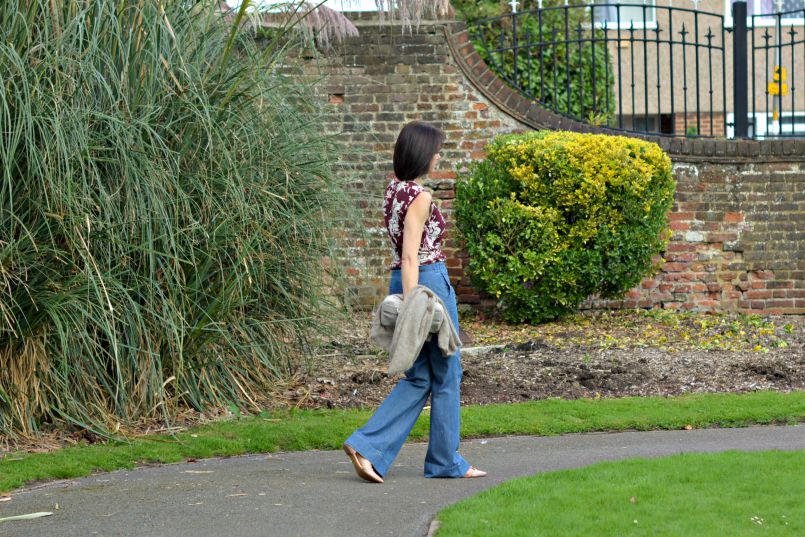 I really like nude pink with burgundy so my new shoes from Nordstrom get another showing. If you missed that story click here for the low down & more detailed photos of these pretty T-bar flats. The pointed toe works particularly well popping out of the hem of wide leg jeans.
If you try my tutorial please do let me know how you find it, was it helpful? You'll also find the bpard on my make-up Pinterest board here.
Thanks for popping by, Mx