I'm not really one for sparkly clothes, even at Christmas time when it's the law to wear a lot of sequins, however
I'm very happy in a SHINY party outfit. Sing it with me girls SHINY HAPPY PEOPLE EVERYWHERE..ERE..ERE.
Silver looks the business for partying even if it's just a top or perhaps silver shoes?
Here I've gone for this old Zara number, I think I wore it to a party last Christmas & the one before because it also looks very sexy with black jeans. Hmm come to think of it this silver top is my automatic go to party outfit – it's just too easy. Crikey I do sound lazy..

Anyway, this time I'm more demure in a midi length full leather skirt although killer heels do sex it up a tad don't they?
Buying a vintage leather skirt meant it needed taking in at the waist to fit nicely but even factoring in that cost it still worked out to be only £50! Try finding even a vinyl one for that on the high street…


Hopefully you can see the superb quality of the leather in my photos, it really is worth the extra effort plus, well you know what I'm going to say right? REDUCE – REUSE – RECYCLE is the way forward particularly when it comes to the over manufacturing of clothing.
My chunky statement necklace is from a vintage shop as opposed to Ebay
where I have also found some fantastic 2nd hand pieces. This heavy silver industrial style necklace is from the 1990's so it's probably more retro than vintage. Regardless it's a surprisingly practical piece of jewellery that will instantly transform most outfits. Have a look at other examples here & here.
My 1930's vintage velvet bag was originally bought by my Nan to wear to her 21st birthday party. I also have the ivory lace gloves she wore that night & a pair of elbow length cream kid gloves of hers. She had tiny hands so sadly they don't fit me however I had the kid gloves framed & they're on our living room wall, too beautiful to be in a drawer they're a daily reminder of her.
A gorgeous woman, I loved her very much.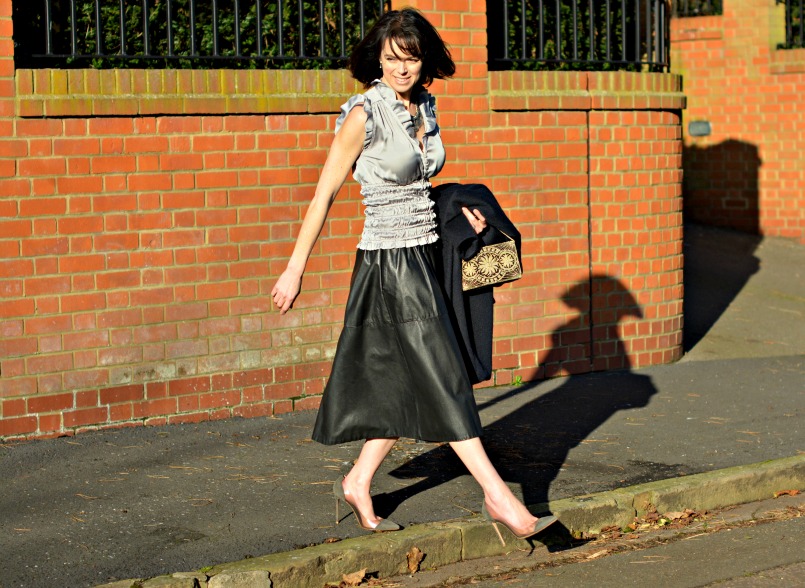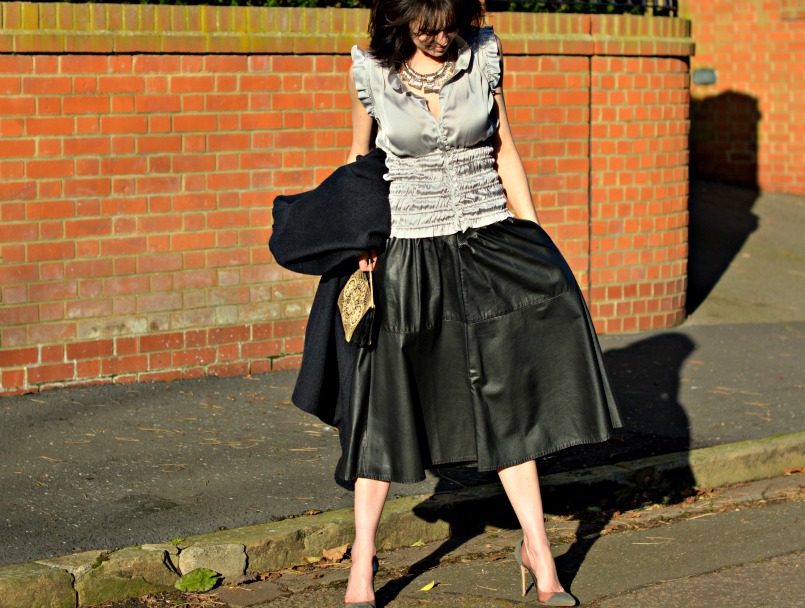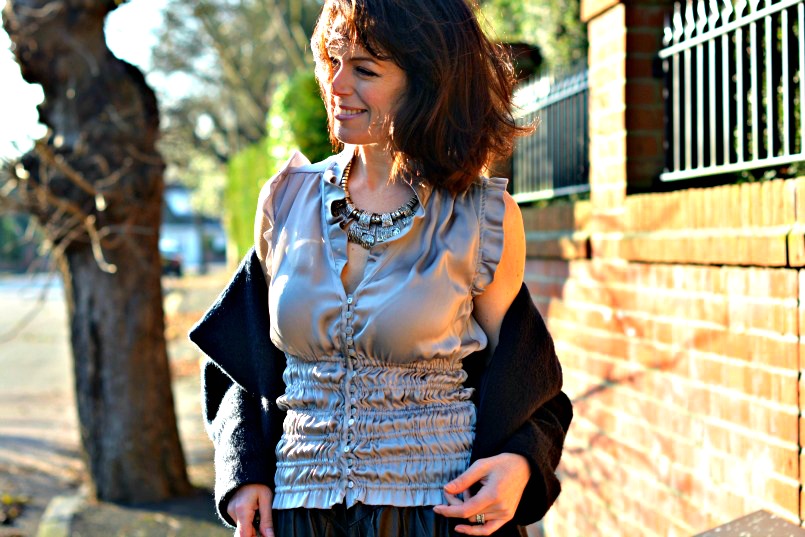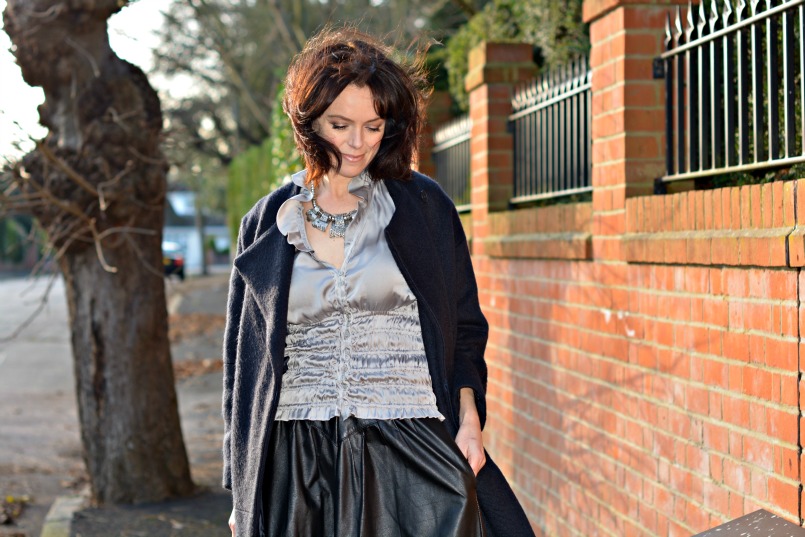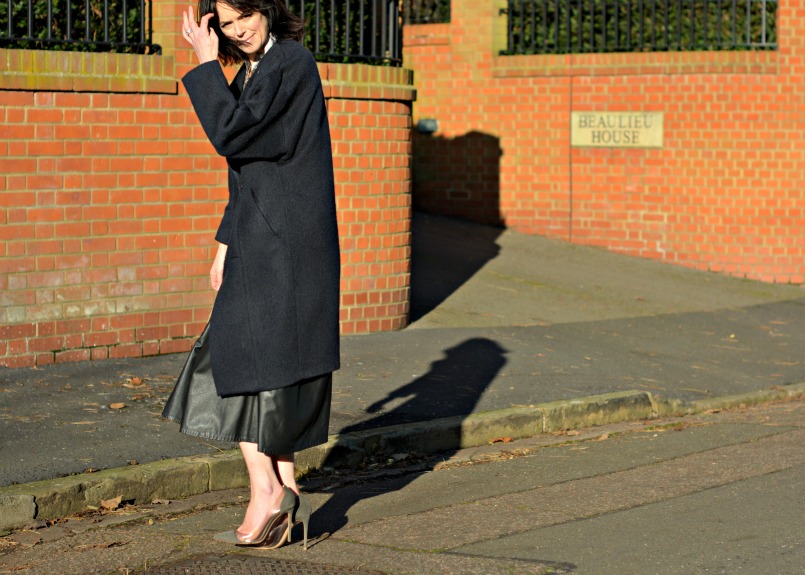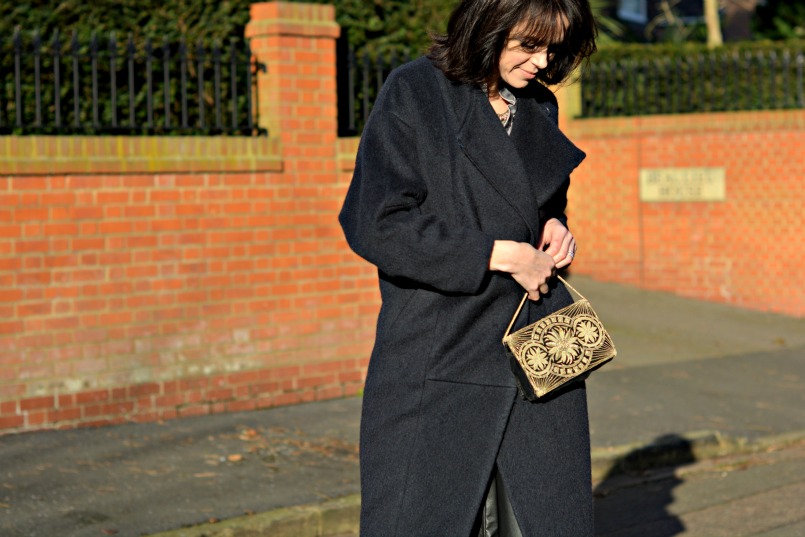 My midnight blue wool & angora mix coat is from French label Maje.
Another versatile piece that can be buttoned flat to cover my chest or worn more open with makeshift lapels. I'm currently deciding on the style of fur stole I'm going to buy for it, adding yet another option for occasionally altering the look. I'll pass you over to Tracey of The Naughty Forties Blog who has written a comprehensive post on the fur stole.
See the shoes? Yep…Gianvito Rossi LOVE LOVE LOVE
I cheated & got them half price from Vestiaire Collective. Searching for what seemed like a millennia because I wanted them to be unworn, I finally got lucky & jumped all over it!
Here's a tip when buying 2nd hand shoes always ask if they're true to size. If you want to be certain you'll get the perfect fit & avoid the tragedy of having to re-sell your hearts desire, go to the actual shop & try them on first. We all know shoe sizes vary for example this particular style are a whole size up so I can't stress enough how important it is to check beforehand. I was told the plexi come up a size small so I went to Selfridges to try them & guess what? Couldn't even get my foot in the 6!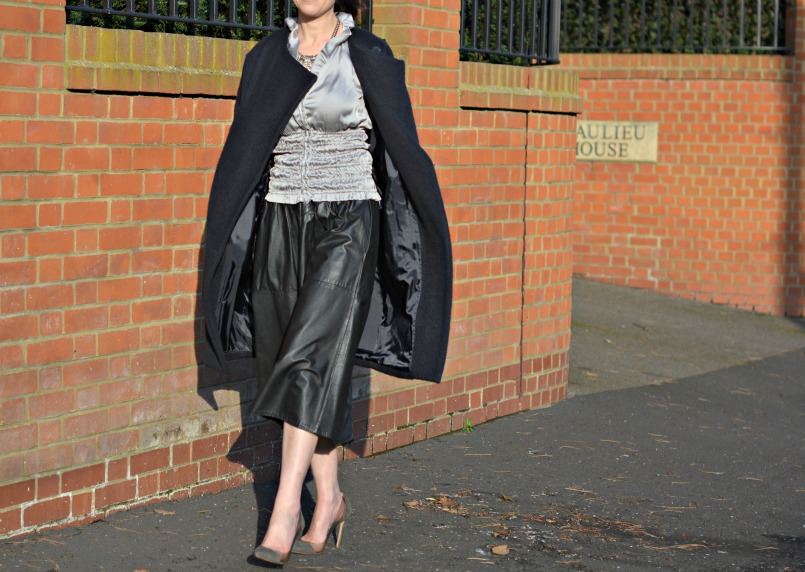 What make-up to wear with a shiny Christmas party outfit? Shiny shimmer of course!
It's easy to add a shimmery bronze eyeshadow & black eye liner to a natural every day make up. The trick is rather simple if you have this product & this product.
So the MAC white pigment now known as Silver Fog, brushes on the inner corner of your eyelid & directly under your eyebrow onto the brow bone. You can also apply it to your cheekbone as a highlighter although I haven't done that this time.
The Benefit High Beam should be painted over your completed nude lip onto the inner pout of both lips.
You should be able to see the result in my photos but go back to my tutorial if you need a reminder on how to do the basics first. I've also added printable buttons to my posts so it's easy for you to keep a reference to hand.
Check out how windy it was the day I shot this. I got a facelift from Mother Nature in one of the pics! Hahahaha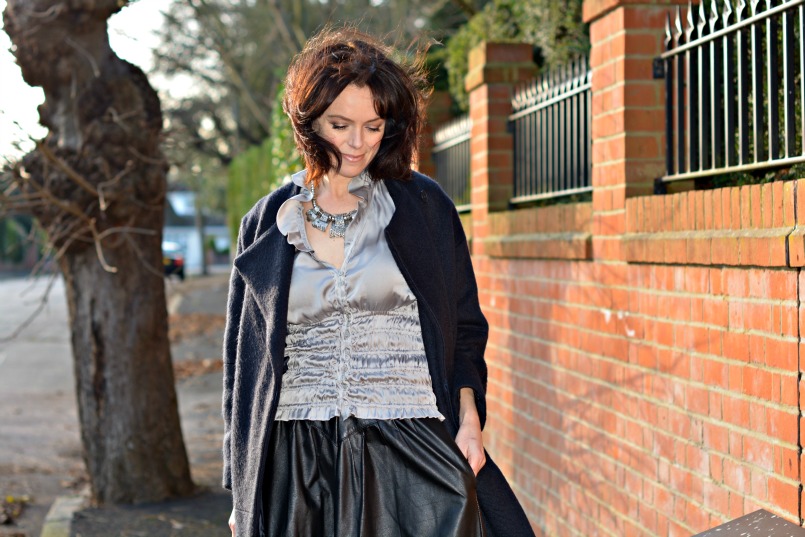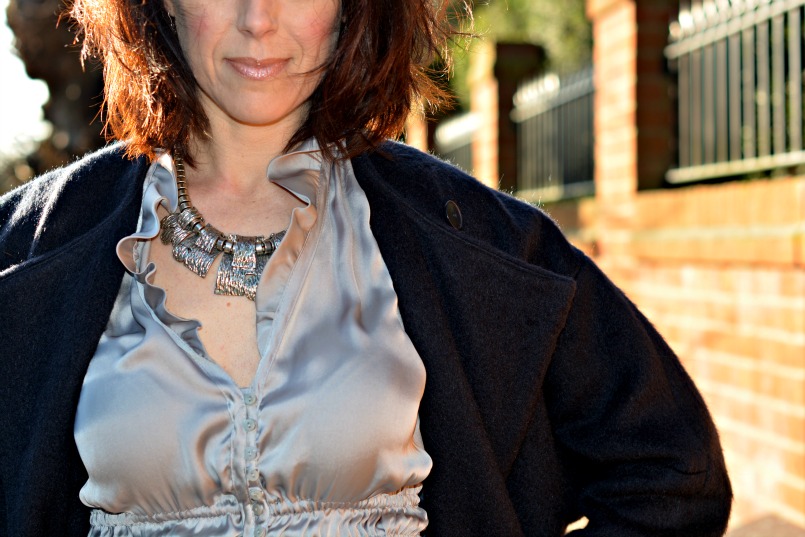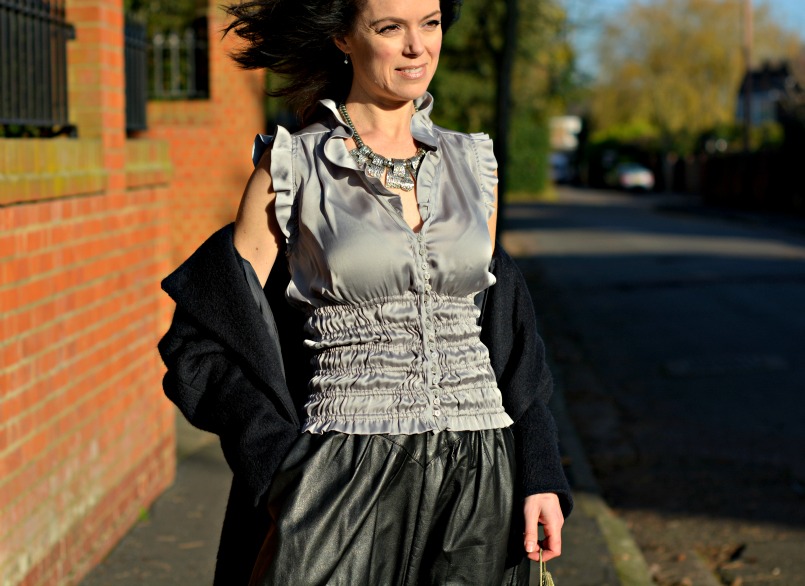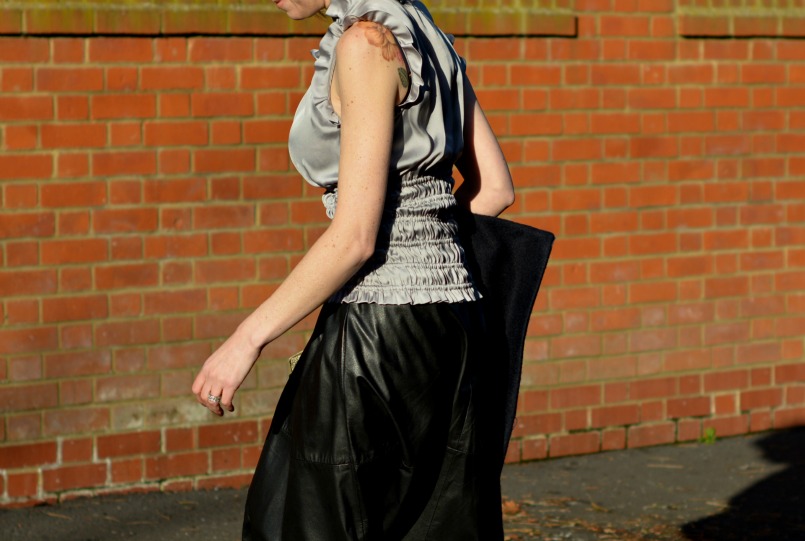 Bye for now, Mx