You may have seen my last political slogan t-shirt referring to the plight of immigrants, I AM AN IMMIGRANT.
Well I am an immigrant & for the record my stance on this is simple, we are all immigrants. I mean either we all are or we all aren't.
Allow me to explain – My Great Grandparents left London for Sydney with £50 from the UK government & the promise of a beautiful life Down Under. Along with their two daughters, sons-in-law plus my Mother who was 5 years old. They all lived in the same house for many years & worked hard to make pretty decent lives for themselves. A mere seventeen years later my Mum married my Dad & soon after that I was born. I grew up in Australia. As an adult I travelled the world but settled in the UK & hold a British passport. Does that mean I have come home?
My Grandmother died yesterday aged 96. In the end she lived in Australia far longer than she lived in England. Yet I wonder how long she was considered an immigrant before she became a true blue Aussie? She retained her British accent, a give away 'til the day she died. I remember when she was naturalised, ack what a word. I don't recall if that was the turning point although I doubt it. You see how silly this all sounds? Humans have explored the planet since they stood up on two legs so who's to say what being a local truly is? How many generations does it take to belong somewhere? It makes no sense to me, in the big scheme of things. Isn't everyone well-travelled these days? Perhaps not. Unless you're idea of travelling is going on holiday to theme parks & resorts entirely populated by your fellow countrymen. Never venturing outside the gates, even for a meal. I'm sure you know what I mean.
Maybe that's where this narrow-minded immigration policy stems from? People who don't travel just don't get it. Experiencing other countries, customs & lifestyles serves to open our minds (& hearts) to different ways of being…Being human. When that happens there is no place for racism to exist.
So back to our topic today which is actually the political slogan t-shirt in general. By political I mean a statement on something about which you feel very strongly. A view that could cause offence & may be anything from your sexual preference to party allegiance. I am not asking whether it's right to wear your beliefs emblazoned across your chest. My question for you is whether it is fashionable? Vivienne Westwood certainly believes so & you can't get more fashiony than fashion royalty! Obviously I'm going to agree with Ms Westwood, who I happen to adore as much for her unique style as her staunch ethics.
Had I not recently worn my customized maxi skirt in this post it would've been my first choice today. My T-shirt packs such a clever punch for it's ironic nod to Gucci that I could quite joyfully style it right up to the max! I'm picturing it blinged out like a ball gown for full effect. However for today's post I'm doing 80's retro, for a change heeheehee sorry it's an illness. My Chanel mini adds some glam & these Marks and Spencer wedges (on sale btw) add height. Gold hoop earrings, green aviator shades, Farrah do & I'm done. You like?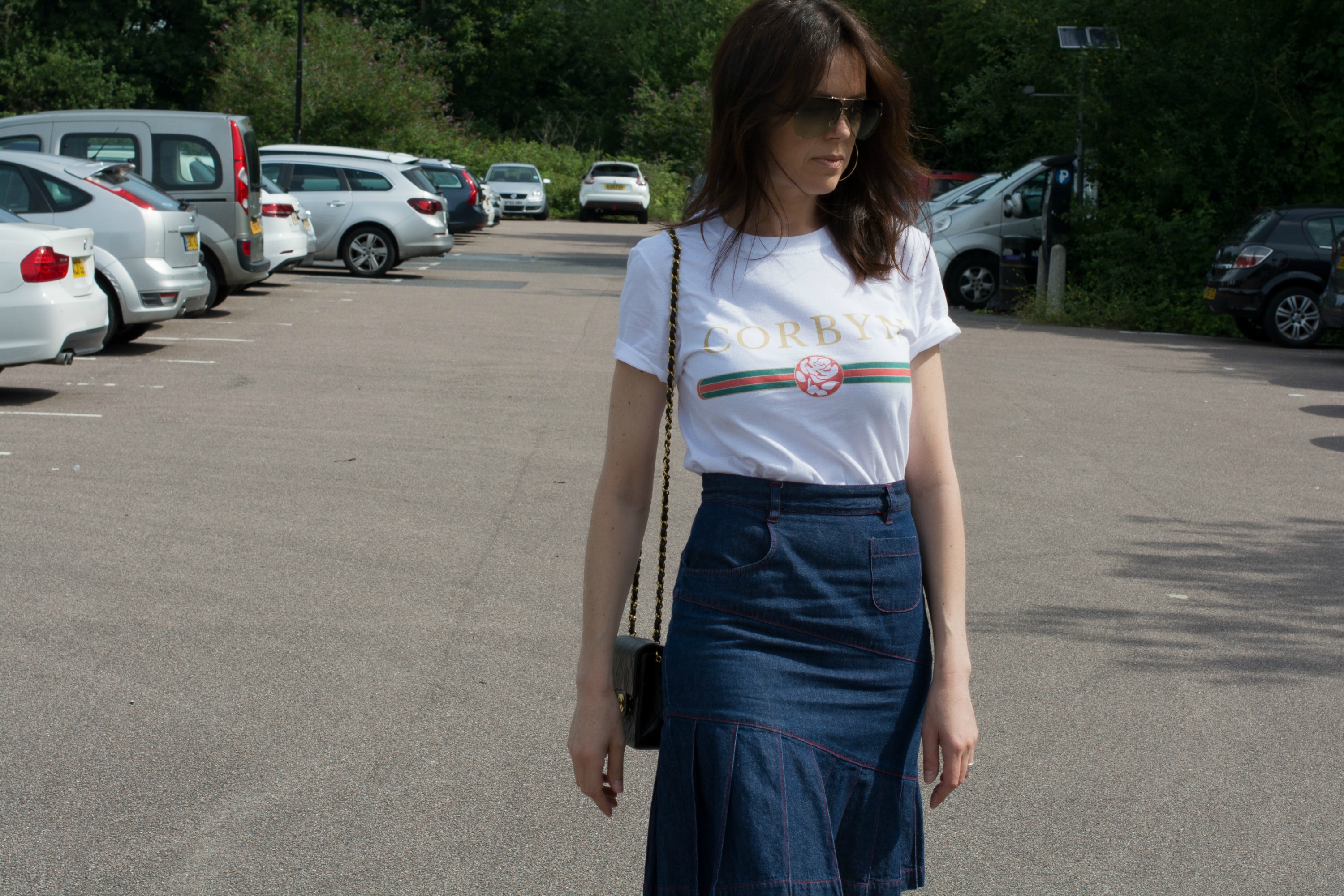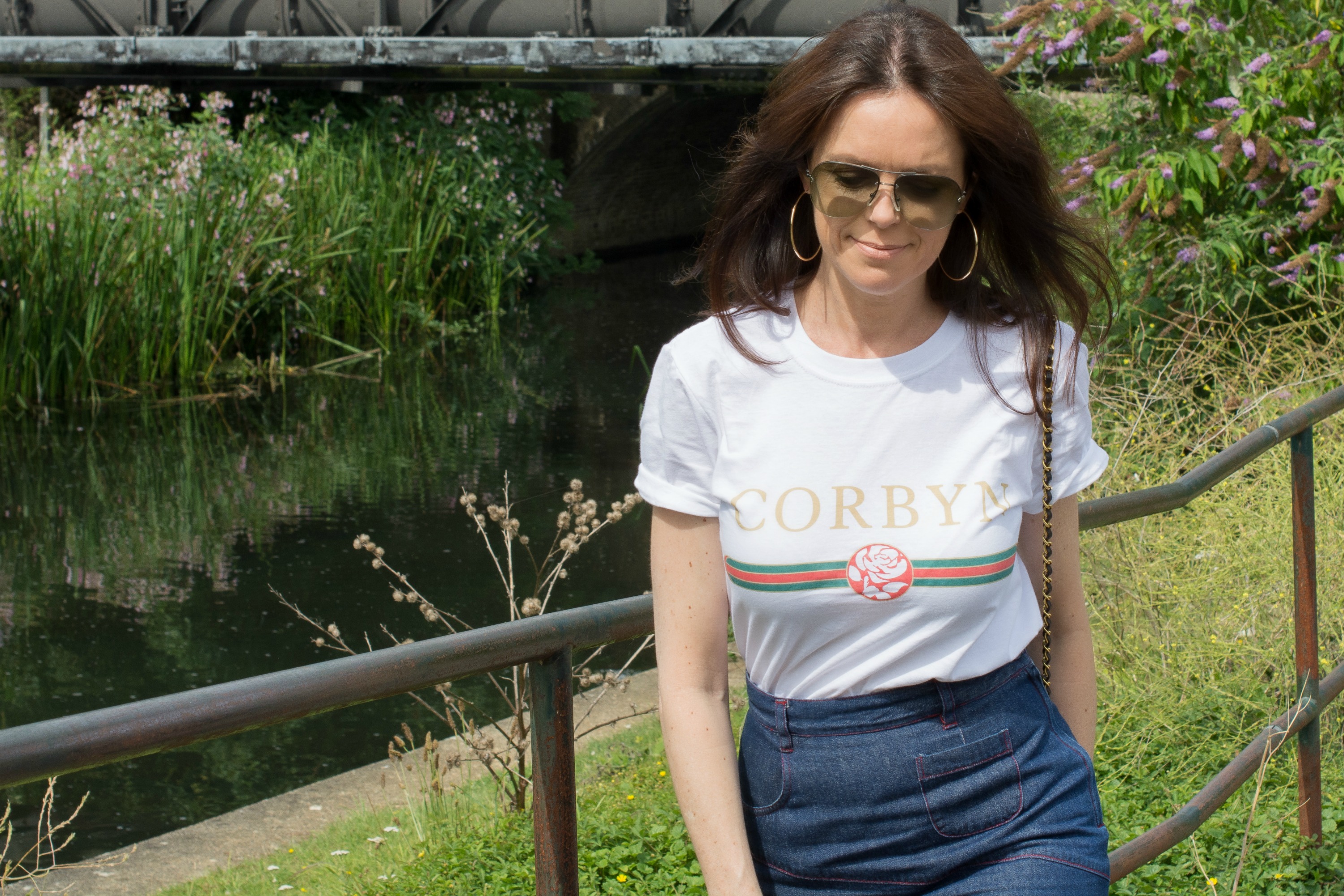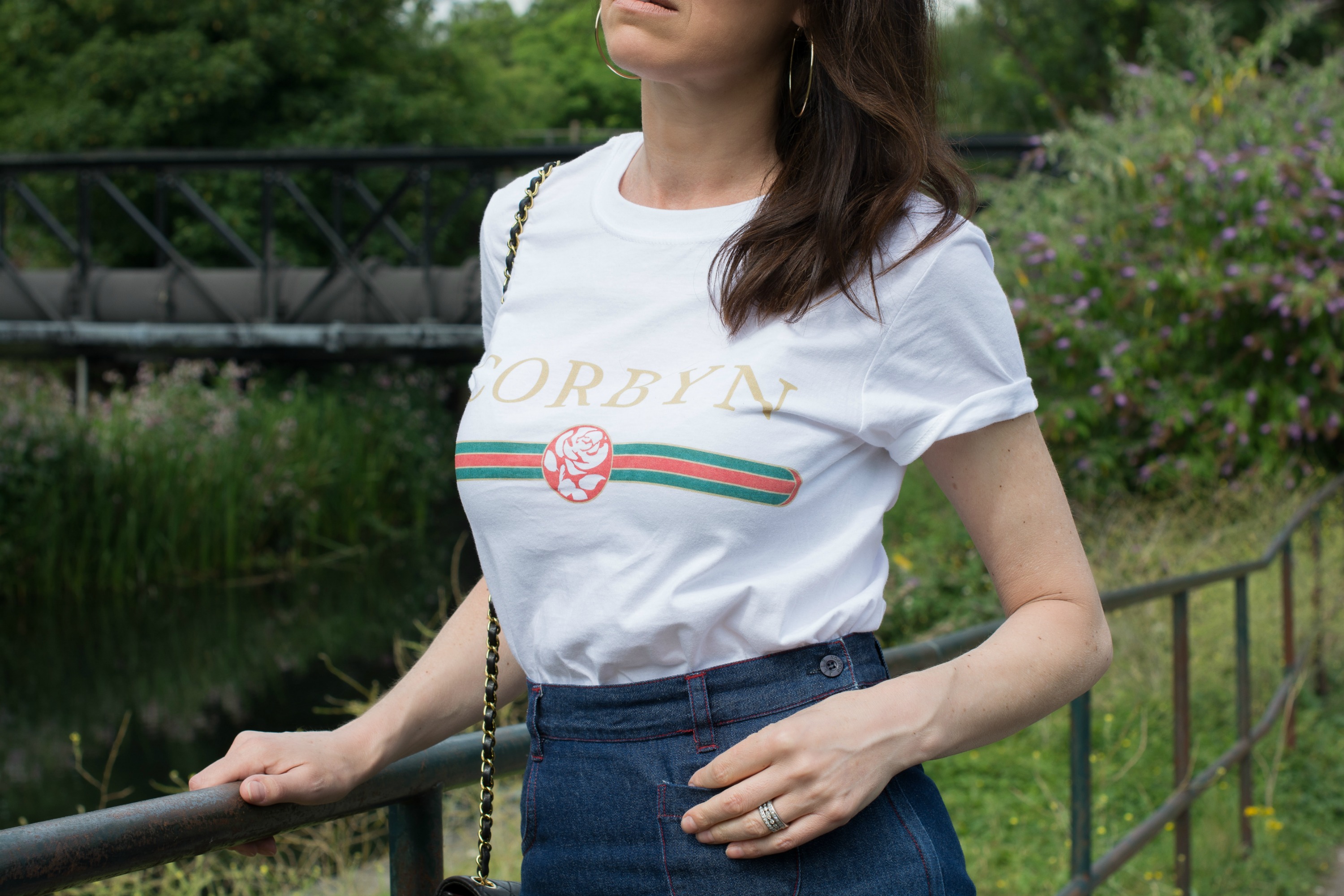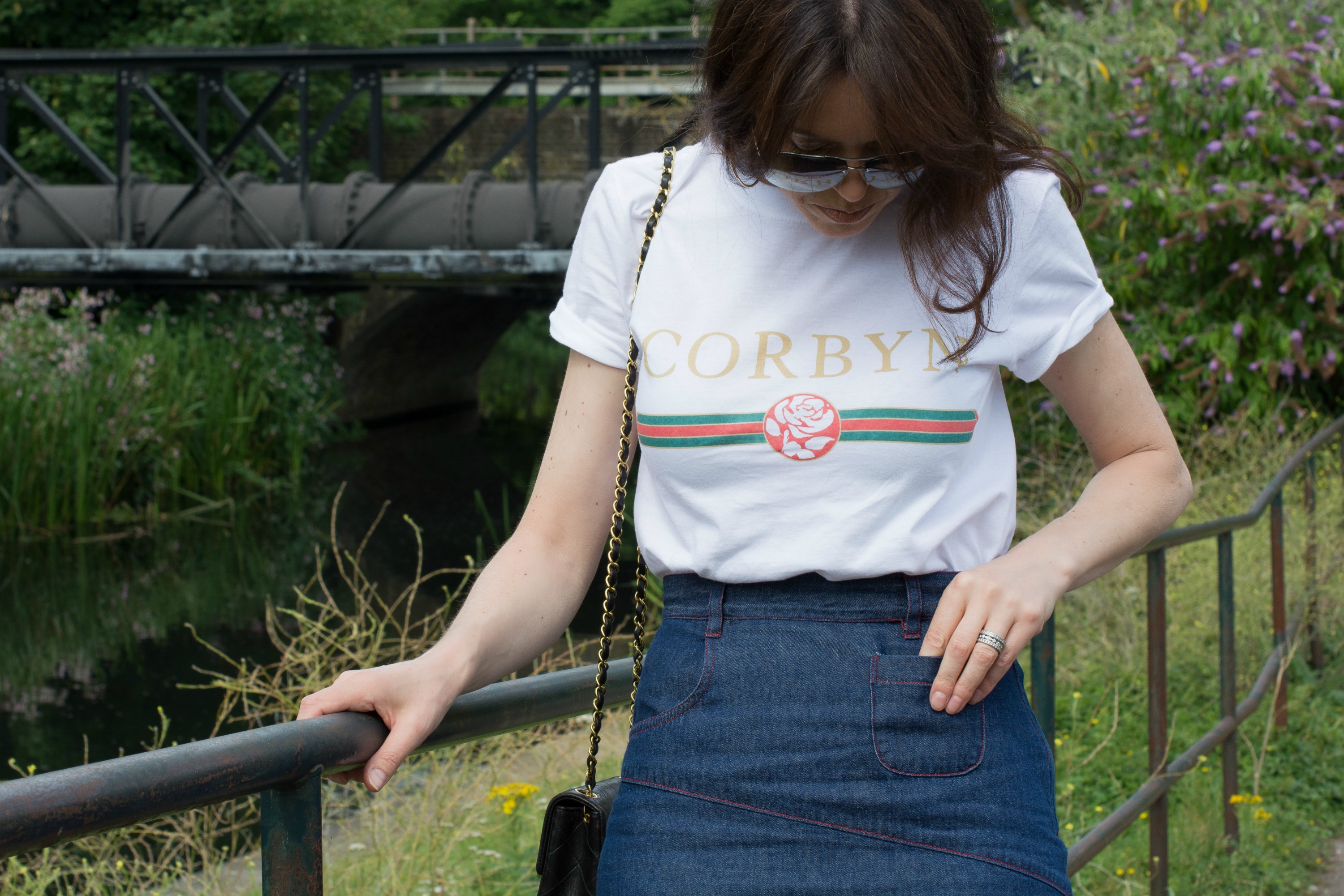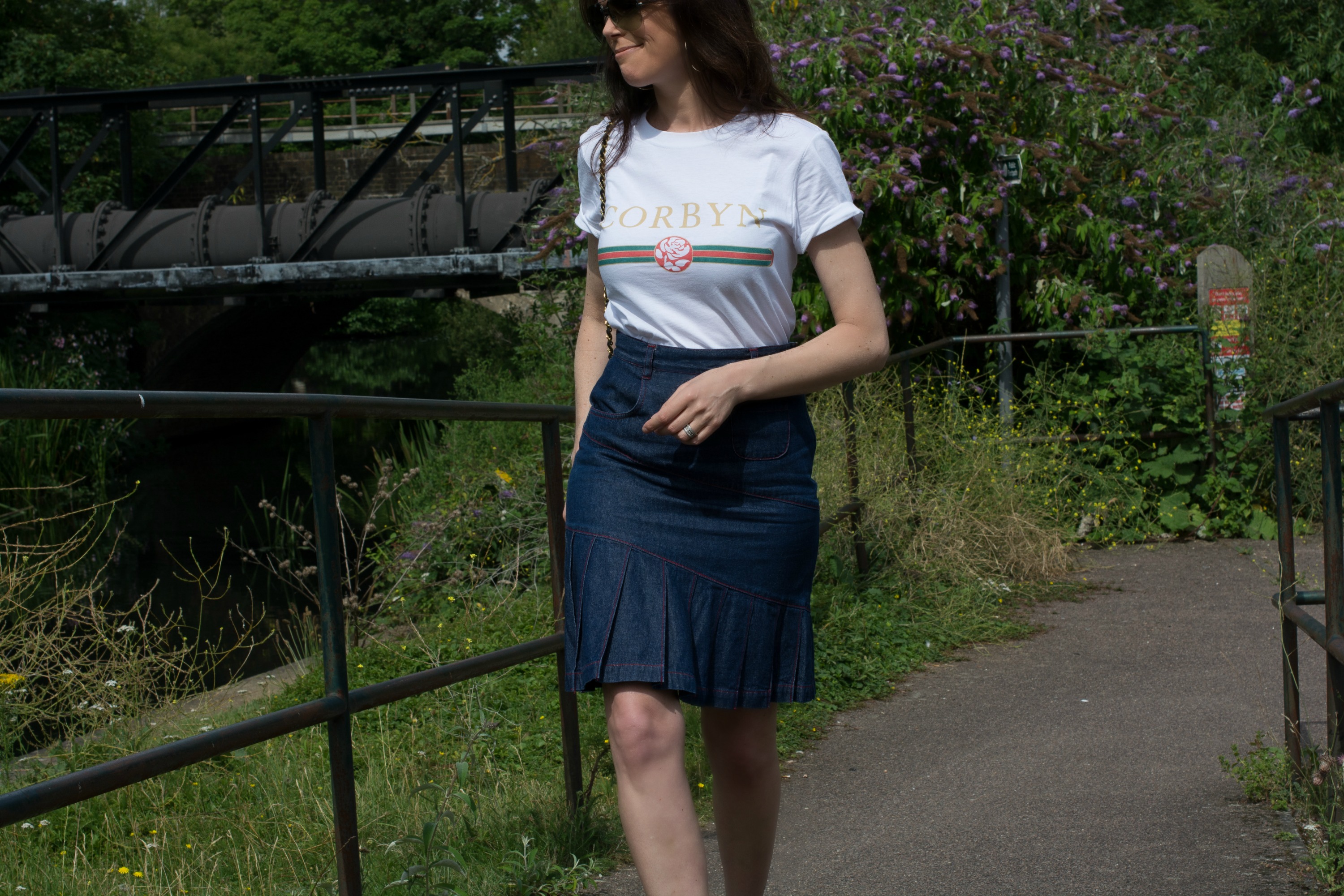 SHOP SLOGAN T-SHIRTS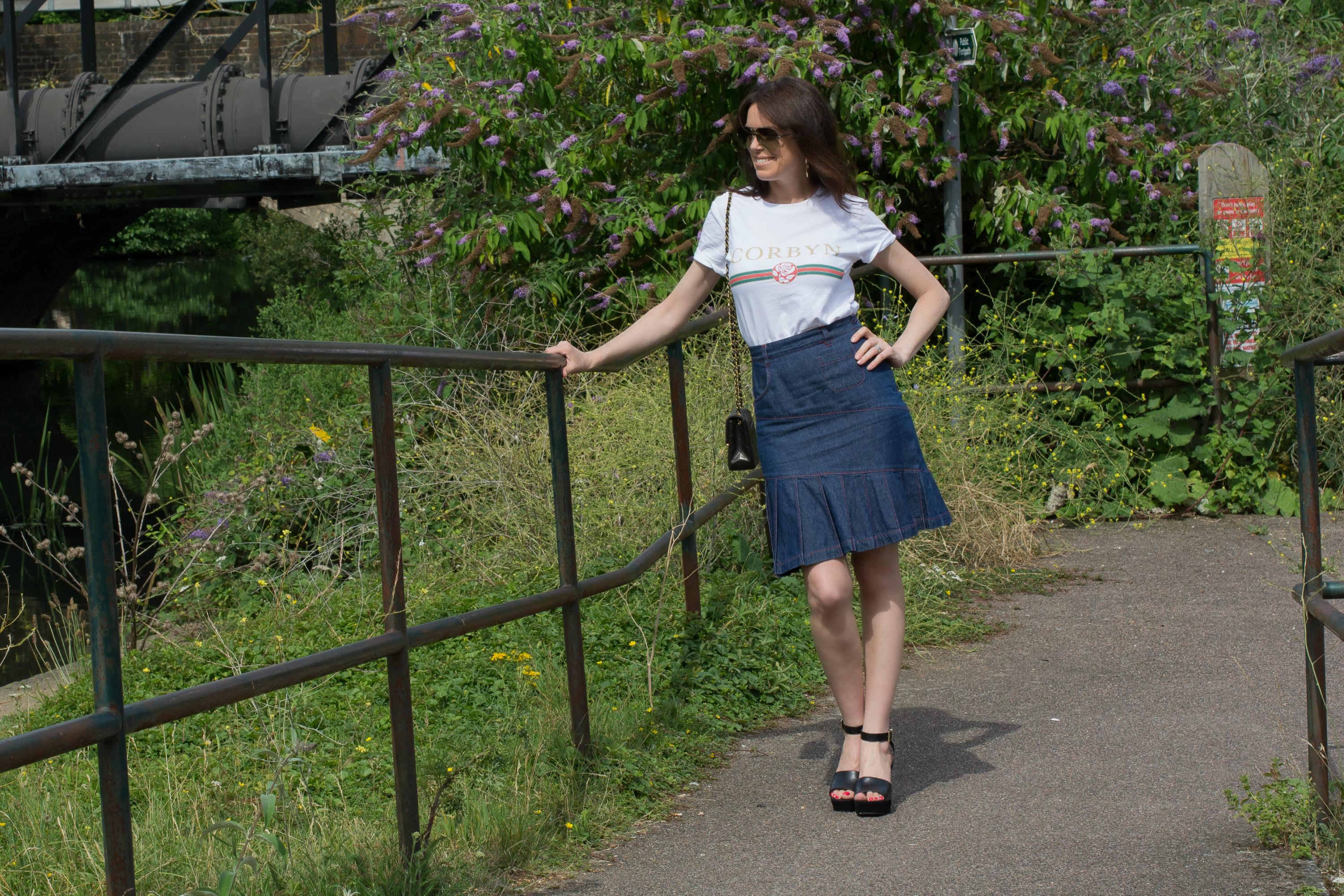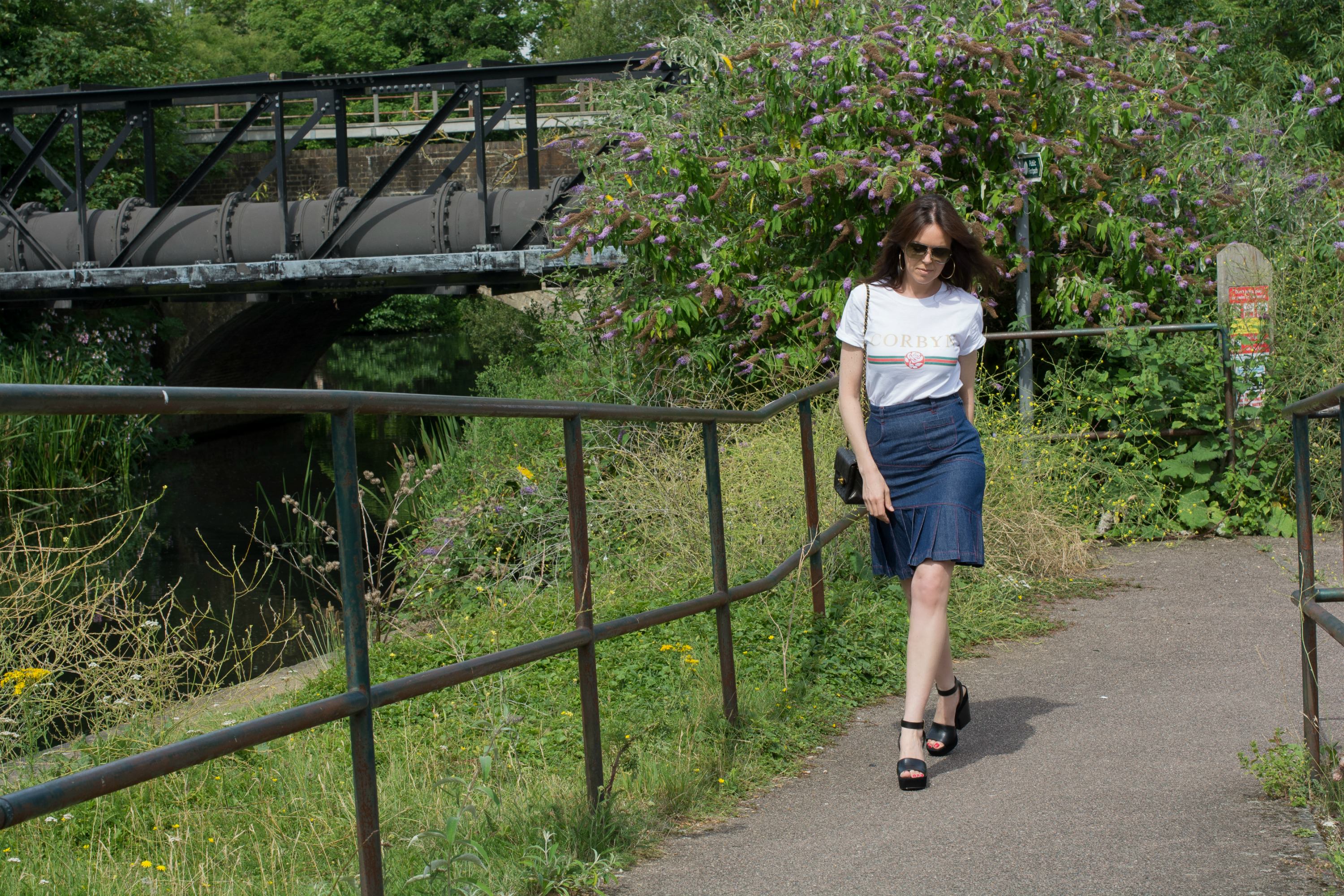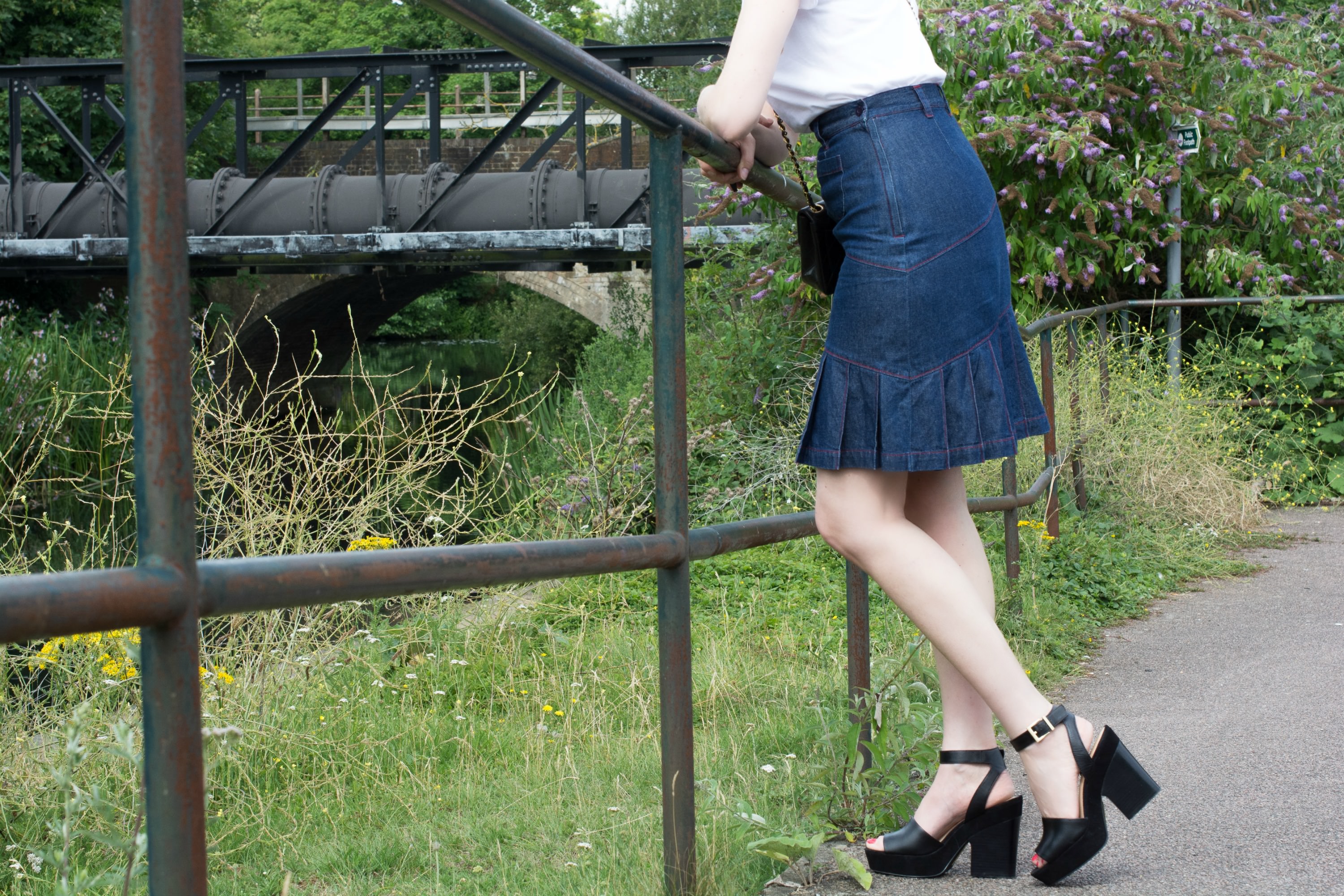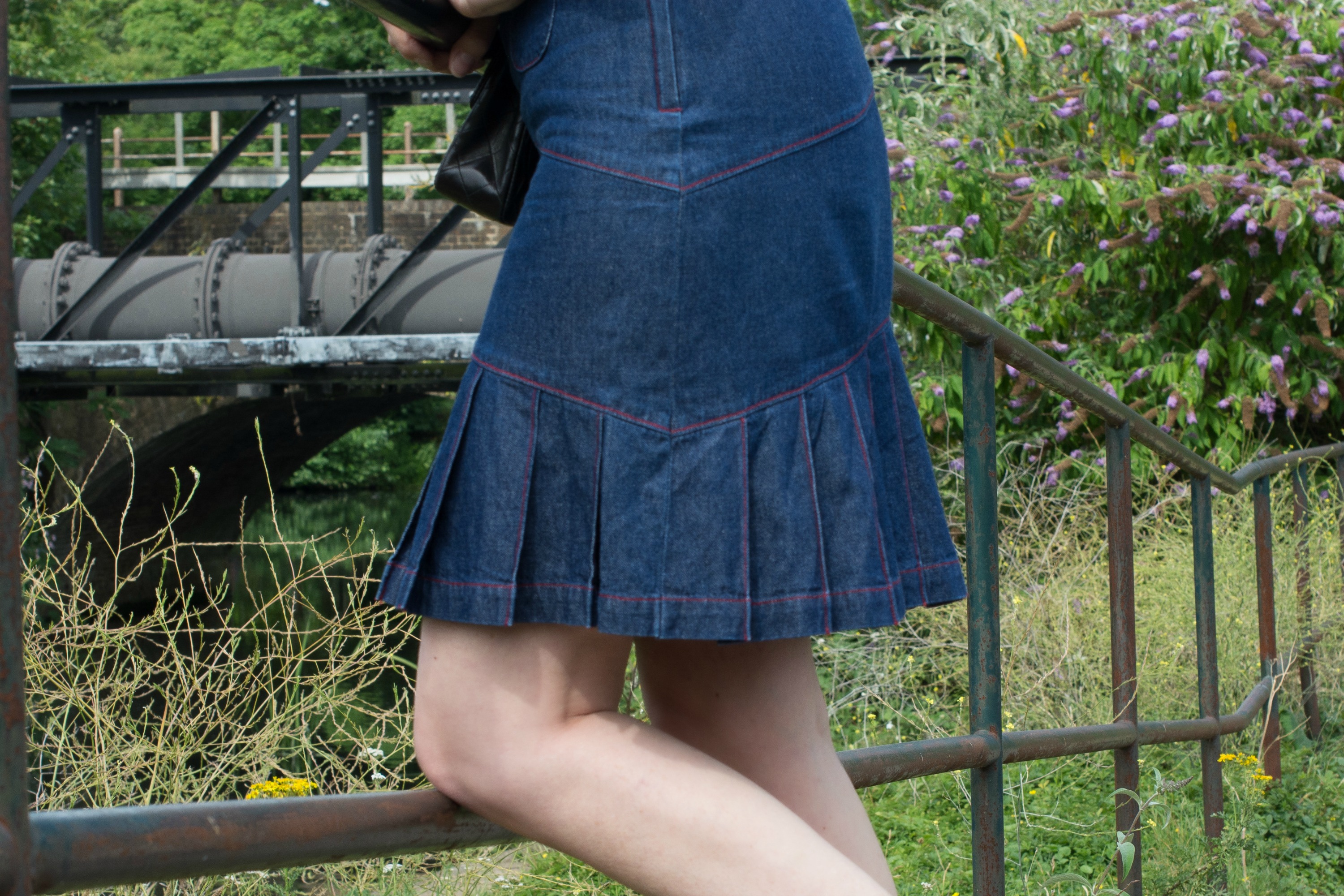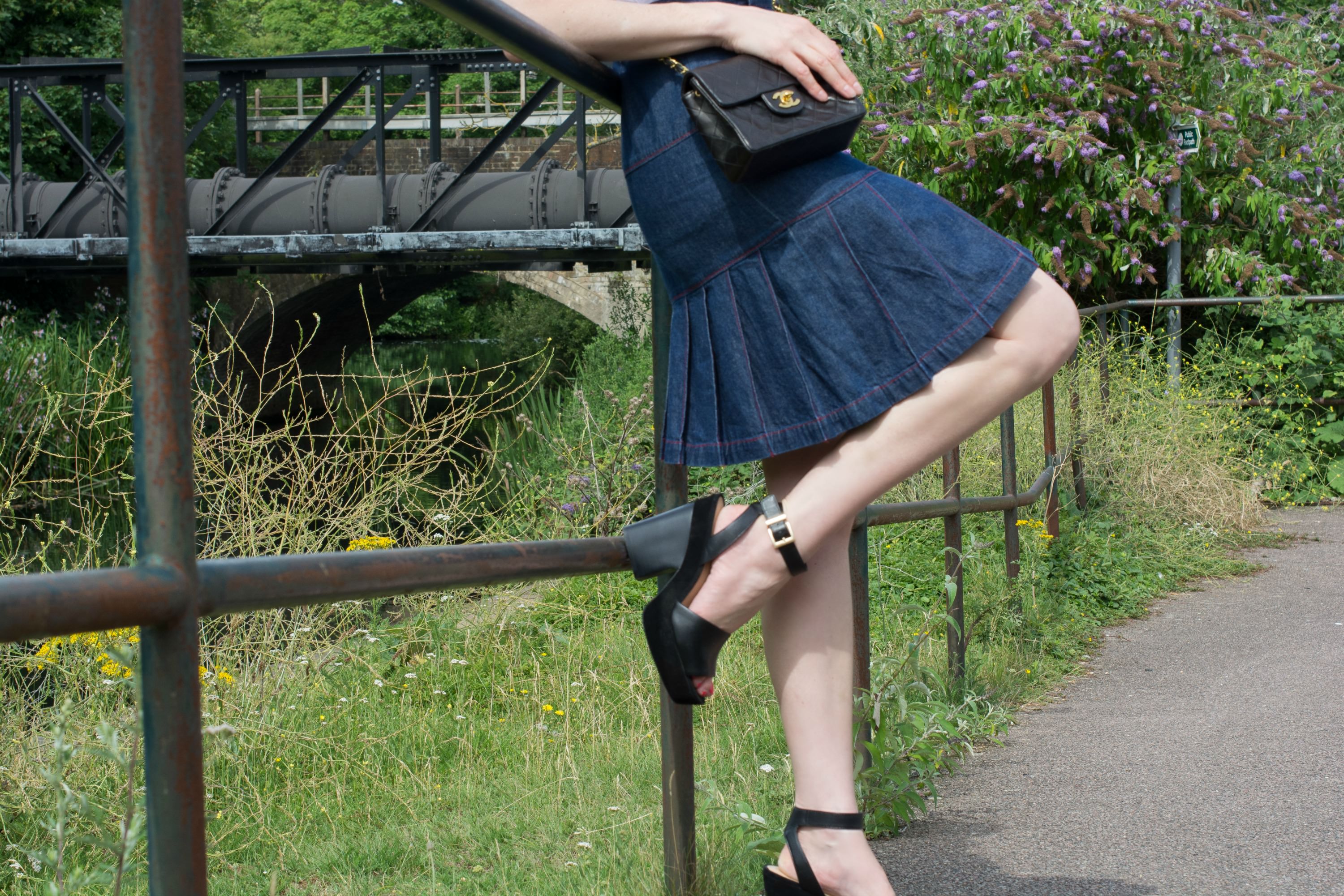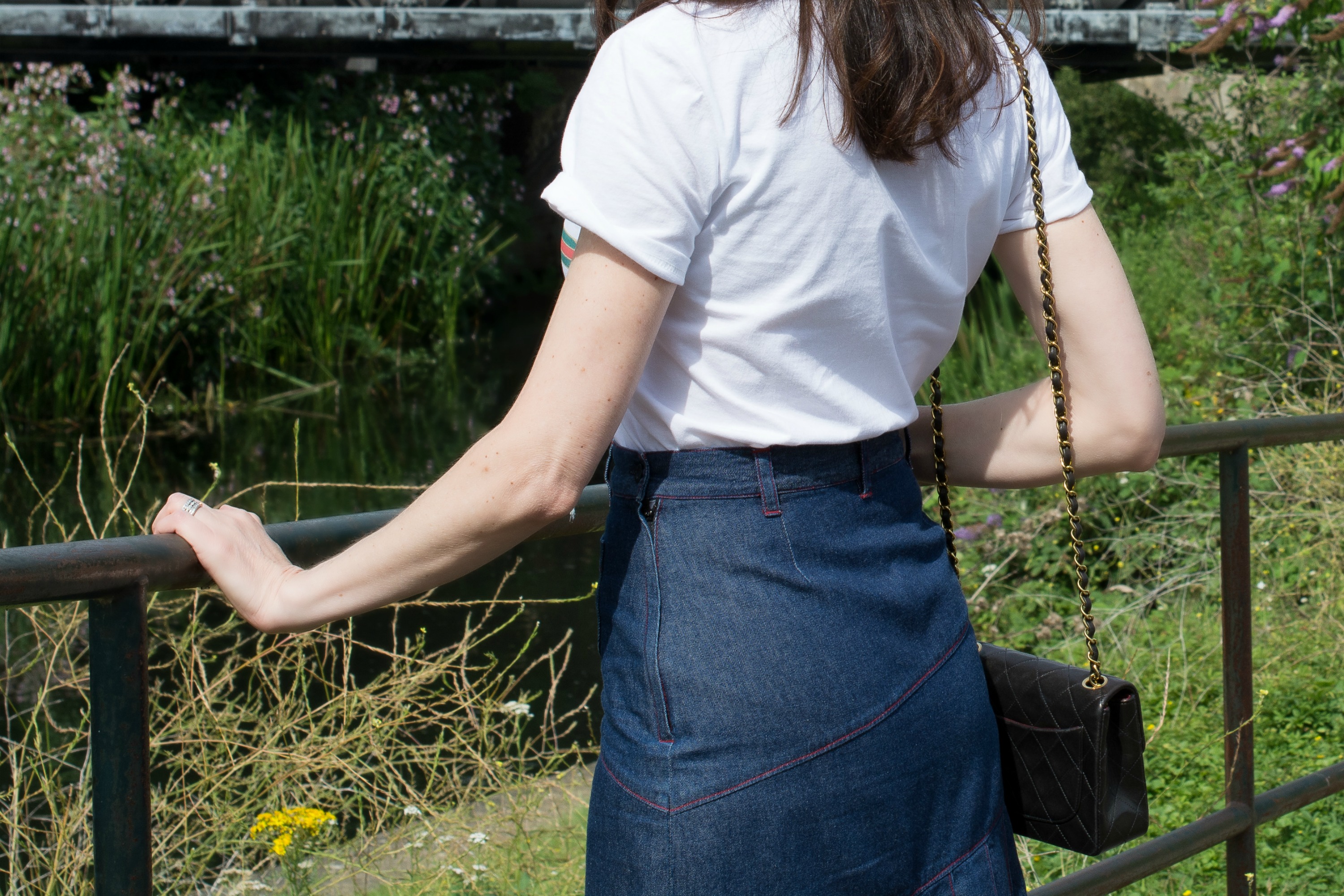 SHOP PLEATED DENIM SKIRTS
I bought this skirt from a little independent boutique in Melbourne 22 years ago yet as you can see it hasn't dated one bit. That's not to say it has always been on trend, in fact there have been years when I didn't wear it at all. However when I invest in an interesting piece such as this sooner or later the time will come to style it up again. Cost to wear ratio is a legitimate factor that helps me decide whether I can afford to buy an expensive item. Although it has become such a habit I tend to do it with every purchase these days anyway. I mean do you think this skirt would still look so good if I'd bought it at Primark? Mind you that's not the only reason I wouldn't step foot in that horrendous shop.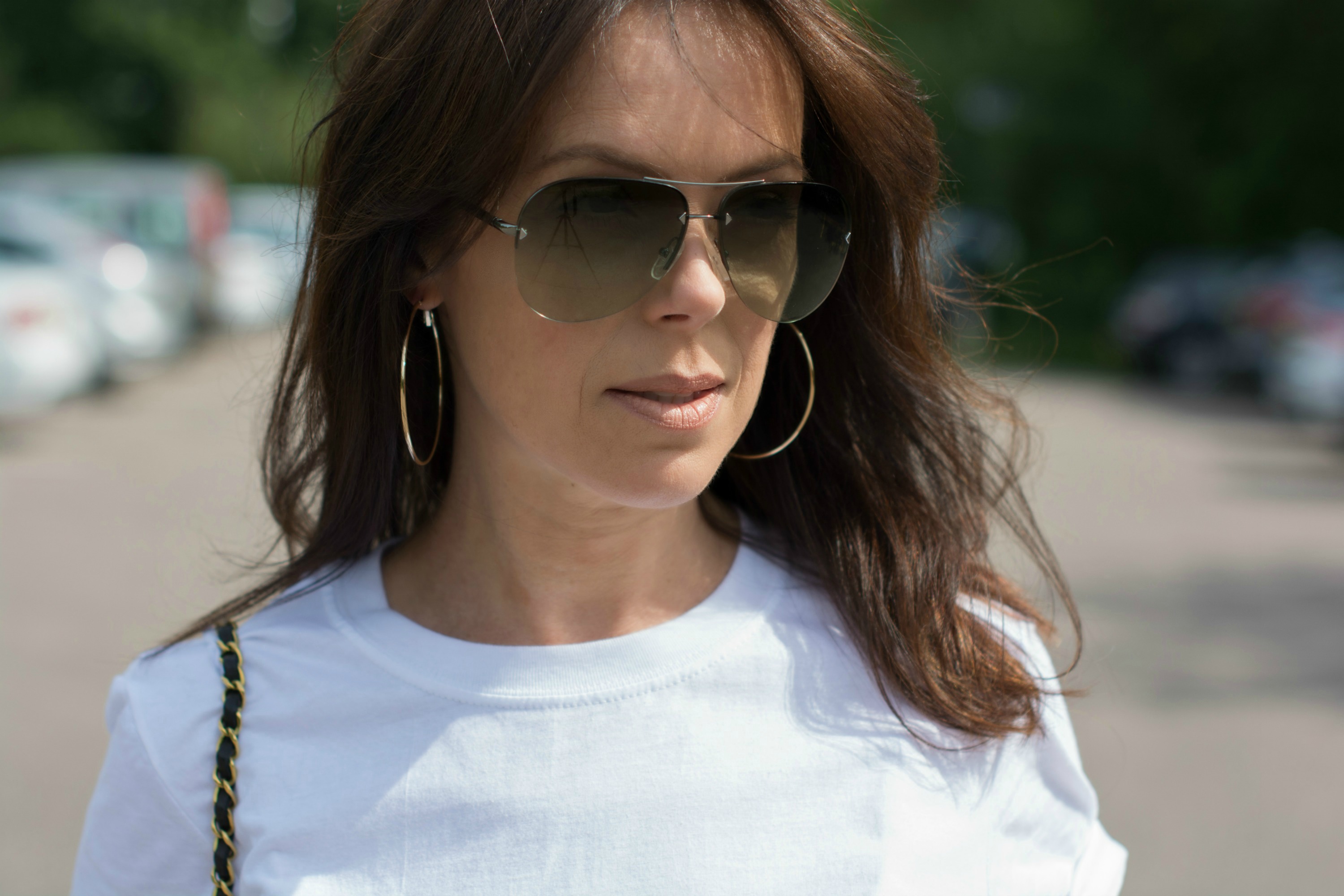 UNCONSCIOUS CONSUMERISM
Speaking of cheap clothing I've been meaning to ask if anyone's seen the advert on T.V for JUSTFAB Shoes? It opens with a guy complaining about the amount of shoes his girlfriend owns. Then cuts to her in an enormous room of floor to ceiling cheap crap shoes. She turns angrily to him & says something about the fact that she works hard so can buy anything she wants etc.
Now this ad offends me on many levels so I'll break it down to basic points. Firstly, it's a massive con specifically aimed at young working women. To enjoy the thrill of a new pair of shoes every month they must sign up to "VIP membership" which is code for subscription. £35 is automatically debited from their bank account each month whether they chose a pair of shoes or not! They literally have to go online & opt out for the month so it's highly likely many are caught on this fine point.
Secondly, NOBODY should be buying 12 pairs of shoes a year! It's disgusting consumerism at its most obscene, promoting this as a right is very wrong. As we all know many people toil for very little reward, working hard does not make you entitled nor guarantee you riches. A popular (read – lame) argument I hear from the haves to the have nots goes something like this – "I worked hard for what I have! If they work hard they can buy a house, go to university, own a pair of shoes for every day of the week…." blah blahdy blah.
Finally, just imagine how it is possible for a company to produce all their footwear at such an incredibly low price point. I'm guessing the shoes are utter shite & made in sweat shops or worse, whatcha reckon? JUSTFAB Shoes including Fabletics was conceived by two murky men with a history of dirty tricks business models. The Silicon Valley company is valued at an estimated $1billion. I don't know about you but that makes me physically sick.
Ladies I just wanted you to know so you can warn your daughters & granddaughters. I'm fed up with big company's pushing disposable fashion as a lifestyle choice. It's vile but what's more it's killing our Planet & it has to stop. There is a very simple fix if we all wake up & smell the future… If nobody buys it, it doesn't sell & if it doesn't sell it will not be manufactured.
Have a fabulous week lovelies, xxx