Ever since Over-the-knee boots made an appearance I've contemplated buying a pair but could never decide whether they were just a fad or would be a lasting element to my carefully thought out wardrobe. Then this winter they popped up on my radar again so I began to actually search for the right style I'd get the most wear out of as I'll only be buying one pair. One of my problems was that I couldn't decide between flat or heeled – but my main issue was simple… PUSS IN BOOTS
Seriously, check this out.
Although over the knee boots do look amazing with jeans & dresses & skirts & coats & well, bloody everything! Was I being sucked in by the images of gorgeous young fashion bloggers strutting street style in pictures all over Instagram & Pinterest? Oh but that cute little kitty cat kept popping into my head. Cringe… Could I be objective enough not to fall for a fad & keep my head focused on what actually suits me? Or should I say to hell with it & buy the cape & sword too?
Then it happened.
The All Saints sale had begun, I bought this gorgeous funnel neck jumper which FYI has paid for itself already with the amount of wear I've had from it this Christmas! Whilst scrolling through the rest of their winter season online I discovered…
These AMAZING Over-the-knee boots in rich chocolate suede.
All Saints lookbook had them styled in all the ways I'd imagined & I adored every single outfit. PURRR…No I couldn't do it, I still wasn't convinced, after all the model was probably 7 foot tall & 12 years old (slight exaggeration wink ) so naturally would look amazing wearing over the knee boots (or a sack with clogs for that matter) PURRR PURRR
"Dear Brands,
Please may we have a model or two who is over 40?
Regards,
Grown up Women who shop."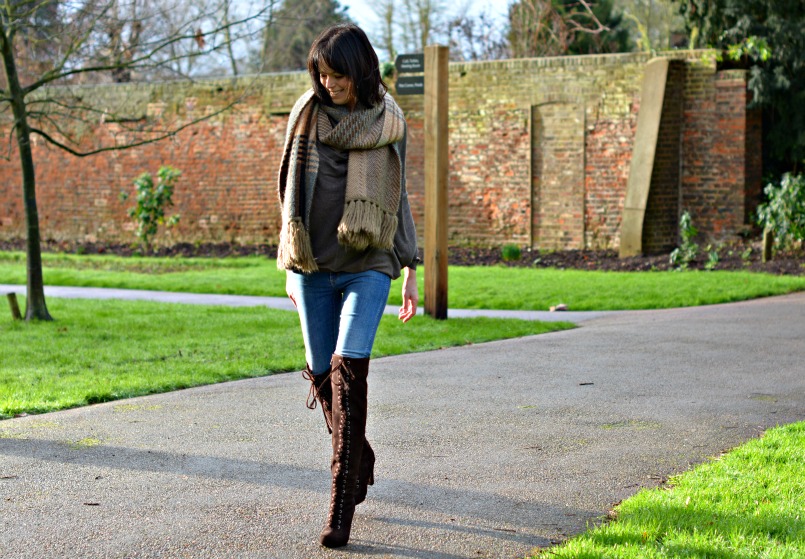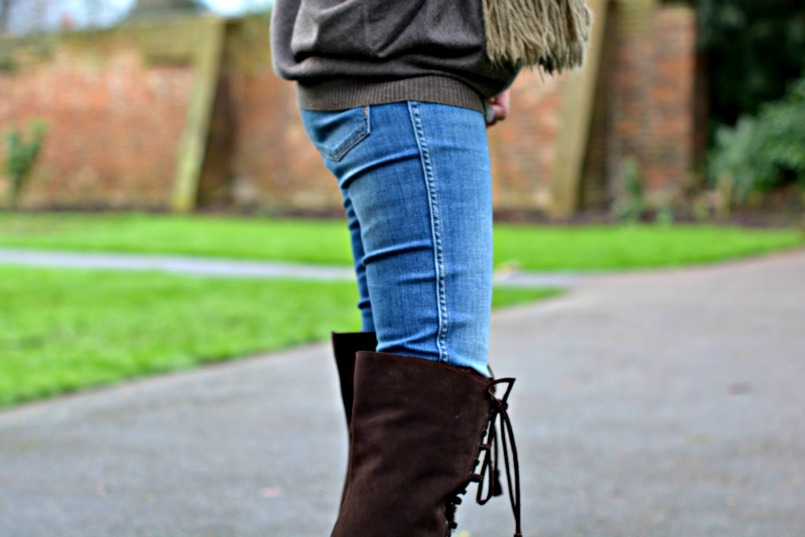 Lulu & I were in London the other day when I clocked an AllSaints shop.
As this 5 year old is quite the fashionista I knew we could run in for a quick try on of those boots I'd been obsessing about.
Lo & behold another 20% off! Bam that took them all the way down from £498 to £199 OH-EM-GEE I almost squealed. So embarrassed saying that. Anyway, they did actually have my size which is a minor miracle in itself as I'm a common as muck 6.
Tried them on & they were sooo comfy – tick
Does the soft suede hold up over the knee? – tick
Checked out the quality & detail, stunning – tick
How did they look? Well you can judge for yourself but I think they're smokin' hot! Not a "Puss in Boots" in sight MIAOWW MAMA
Obviously I bought them. That makes just 2 new items in my wardrobe from all the sales, I think that's pretty good don't you?
Todays outfit is simply jeans & a jumper to showcase the boots for you but don't worry I have a million outfit ideas for some variation in future posts.
My jumper is the All Saints Elgar (very old) that they do every year in various colours. It is meant to be a dress but I've never worn it that way although a fantastic staple of my wardrobe, I wear it every winter & it has remained in perfect condition.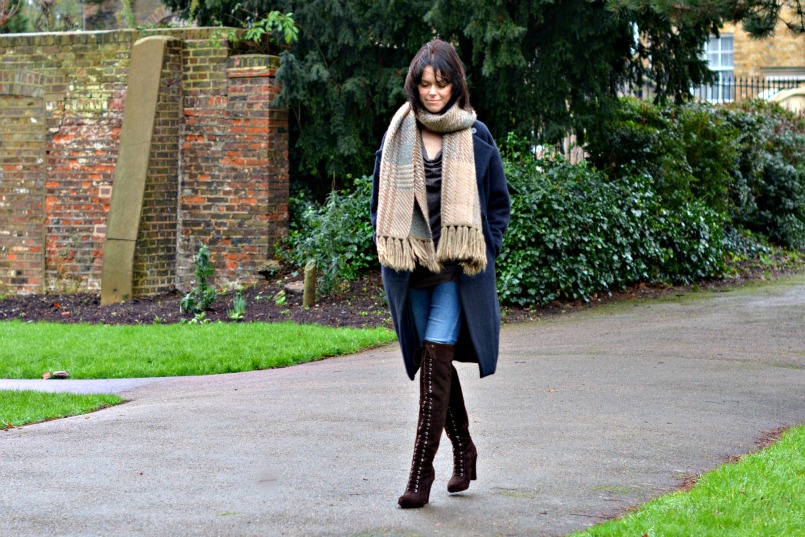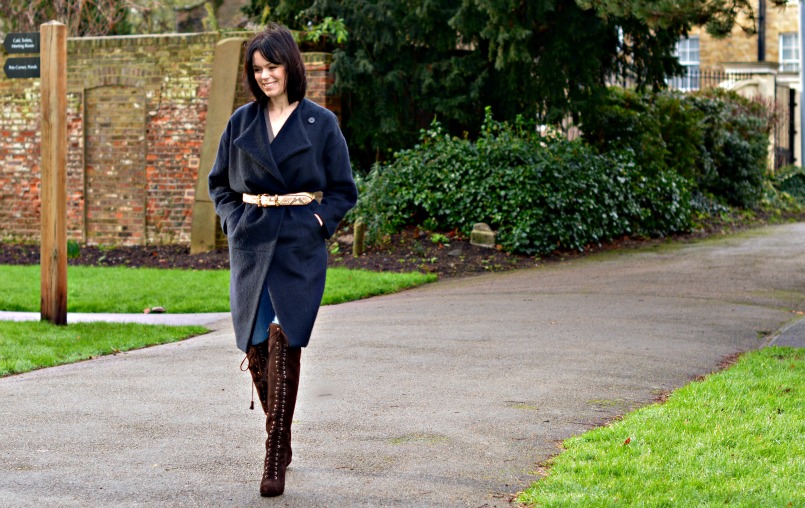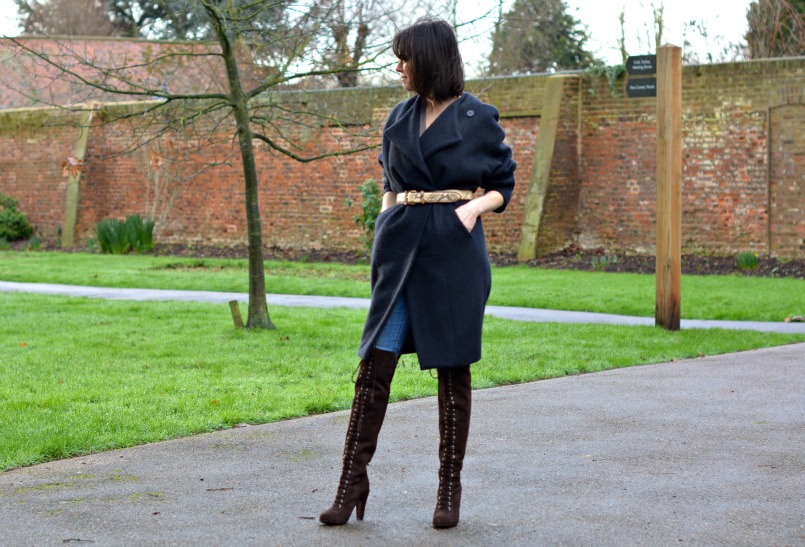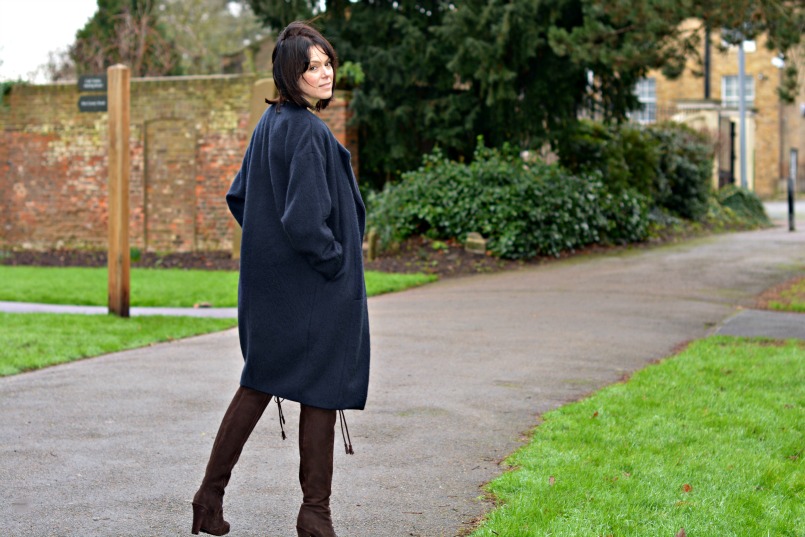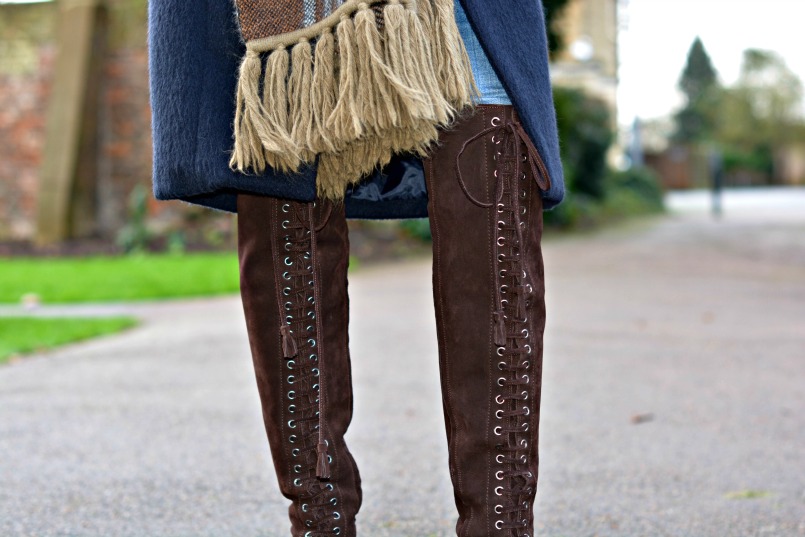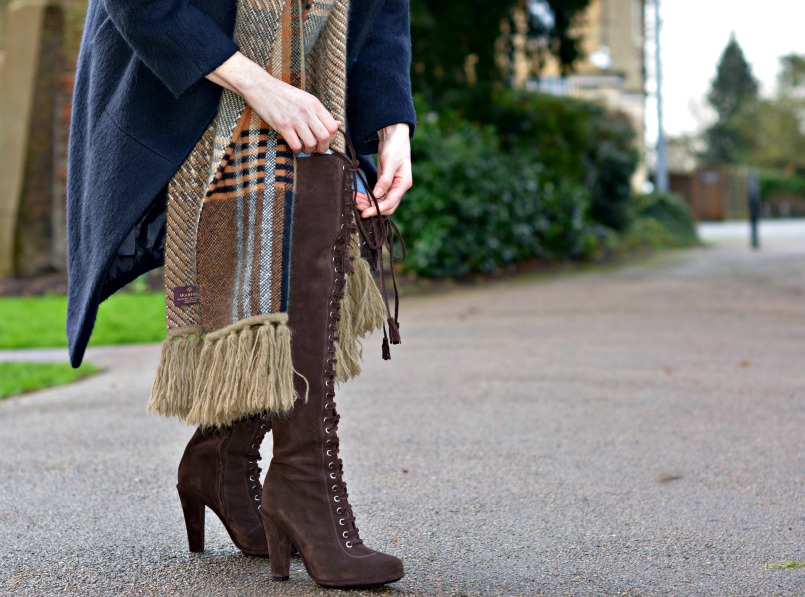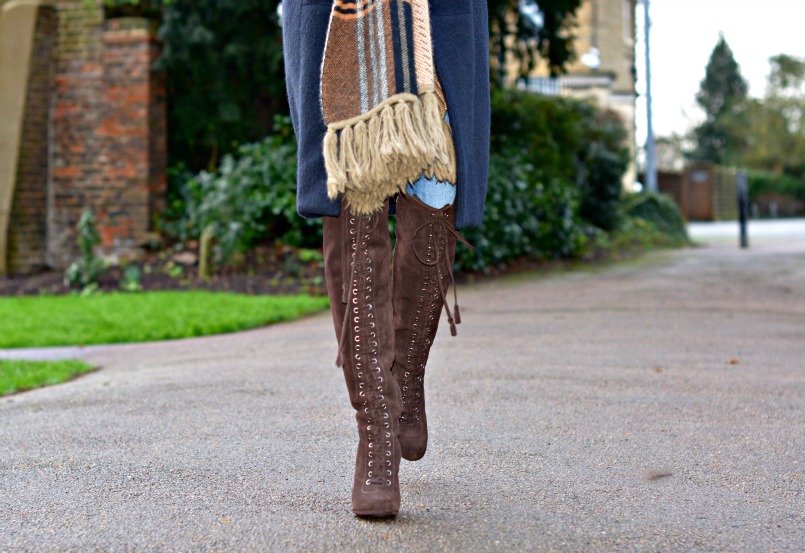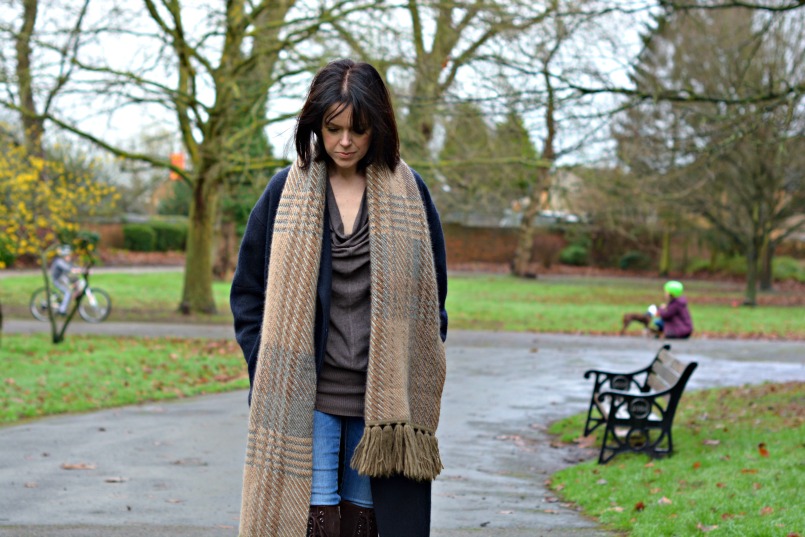 I'd just told the children to stay out of my shot for the thousandth time & look! Grrrr that's my fed up face. They had the entire park to play in but where were they? To keep them occupied I brought a Bike, skateboard, scooter & the dog too! Who says this Blogging business isn't work?
Do you have a pair of over the knee boots? I'd love to hear your thoughts on my choice of this style.
Thanks for popping by,
Mx