Do you see what I've done here teeheehee? Yes that's right I'm wearing a playsuit over trousers – CRAZY KID –
One of the main things I want to demonstrate on RetroChicMama is how I make my wardrobe work hard for me by choosing my clothes carefully.
This means a combination of things which I've broken down to 5 rules for a hard working wardrobe
1. Colour – Consider what colours you mainly wear & stick to a pallet that will mix & match. Remember you can also contrast colours so it doesn't mean you have to always blend. This includes your bag & shoe choices in particular. As an example have a look at my birthday outfit.
2. Quality – Keep the quality i.e. cut & material of your garments to as high a standard as you possibly can. This is because they'll last longer & will undoubtedly be better designed, meaning as fashion they'll inevitably come around again. I get such a thrill pulling a 20 year old skirt or pair of shoes out of my wardrobe that I've not worn for years! For example I bought this wool cape on a fashion shoot in Milan back in the days when I worked as a Hair & Make-Up Artist.  However until today I hadn't worn it in about 10 years but because it's such a well made piece although not "designer"  it remains in pristine condition & inevitably has become relevant again! I remember the moment we wrapped I ran post haste into Galleria Vittorio Emanuele for a quick squiz. I know I'll always find something genuinely timeless there plus it's such an incredibly beautiful space to wander through.  Besides I could never visit Italy & NOT purchase at least one item of fashion, it's just not physically possible – seriously – non é possibile!
3. Versatility – When I find something I like I imagine how many different ways I could wear it. For example a shirt dress is super versatile because not only can you layer it up for winter by wearing it over jeans or trousers, it's also a fabulous transitional piece. By this I mean wearing a cardigan & ankle boots with it – BAM!
4. Care – Take good care of your clothing, shoes & bags. Sounds obvious right? Allow me to be specific – Hand wash delicate items especially knitwear & remember to protect them from moths. A couple of years ago I lost a bundle of beloved jumpers I'd had for many years, it was shocking how they disintegrated in my hands when I discovered the damage. I then made it my mission to seek & destroy all moths in my house so it'll never happen again. However, had I anticipated it as a possibility it wouldn't have happened in the first place! This website will provide you with all the protection against moth damage you need.
Re-sole shoes before they actually need it so they don't ever get beyond the point of repair. The boots in this post still look fabulous because I did this – twice actually. I also keep the suede pile brushed & treat the leather of other shoes appropriately to extend their life as well as maintaining their appearance. Keep your bags in their dustbags or if you have the space, in their original boxes. Don't EVER hang clothes on wire hangers – it is just wrong, don't do it, don't. In addition use eco non bio laundry detergent on your clothes because the chemicals in other detergents are designed to coat the fibres of your garments for perfume & softness. This is unnecessary & will eventually damage & disintegrate the material. Furthermore it is highly damaging to the waterways, contrary to most beliefs these chemicals do not get broken down before they enter our ecosystem. I use Ecover which is absolutely perfect for the job, nothing more needed.
5. Price – Buy the most expensive brand or label that you can afford. This is probably the most contentious point, allow me to explain. If I know a dress is made in a sweat shop or worse, by a child, IT IS NOT AN OPTION for me to buy it unless it is 2nd hand. I have unknowingly bought unethical clothing before of course, it's easily done unfortunately & sometimes it's quite difficult to get to the truth isn't it? As you know cheap clothing is specifically made to be thrown away & to be able to make it so incredibly cheap is clearly unethical. That said, if I follow the above rules I don't need quantity to have an assortment of outfits. Therefore if I have my eye on a particular item but I can't afford it I'll save up for as long as takes to buy it. Until then, as I already have a wardrobe full of clothes from decades of collecting, with a little thought I can always put something together. The phrase "I have nothing to wear" is not in my vocabulary & it needn't be in yours either.
Don't get me wrong I'm up for a bargain as much as the next woman, have a look at these shoes I recently bought for £55, less than a third of the original price. We have amazing sales these days it only takes organisation & a little tenacity to get what you want. Be prepared. Since the age of 16 I've made a list of personal goals I want to achieve at the beginning of every year. This inevitably includes a designer item to work towards. Why not make a check list of the things you'd like to have in your wardrobe? This will give your outfits cohesion & prevent any unnecessary purchases because, let's face it, what appears to be a bargain can end up a wear it once waste of money.
The other day I heard a young woman say to her friend that she couldn't ever possibly wear a dress twice!
I was appalled but unsurprised as this is the throw away, celebrity obsessed society we've created. If the young lady only knew how to put an outfit together instead of buying a cheap copy of what a Kardashian is wearing, she'd be richer & smarter! And before you scoff – "we all did it when we were young" Let me say honestly, I did not. I would never consider buying clothing on credit, if I didn't have the cash I didn't buy it. Because of this I thought very long & hard about what to buy, after all I had rent to pay & countries to travel! I've always had a devout love affair with fashion so I know from personal experience that this does not mean you have to go shopping every weekend & come home with massive bags of STUFF. There's far greater satisfaction in buying one truly special piece I've waited for, that will continue to delight me for many years to come.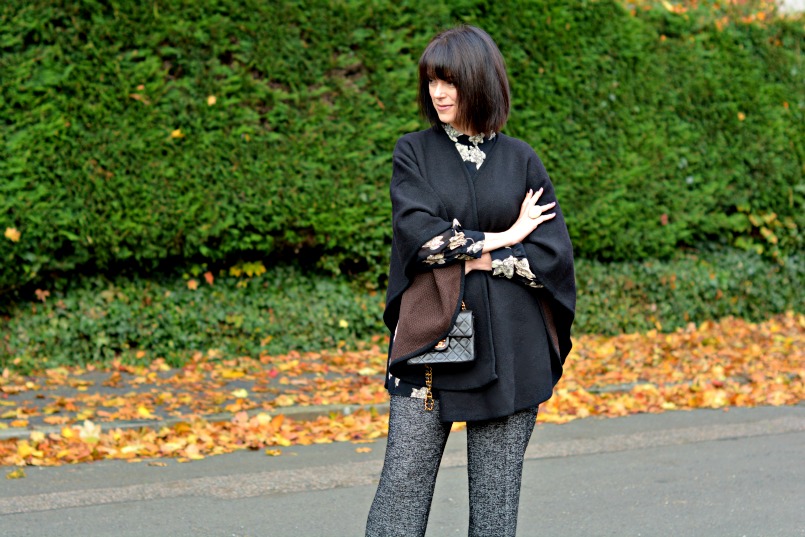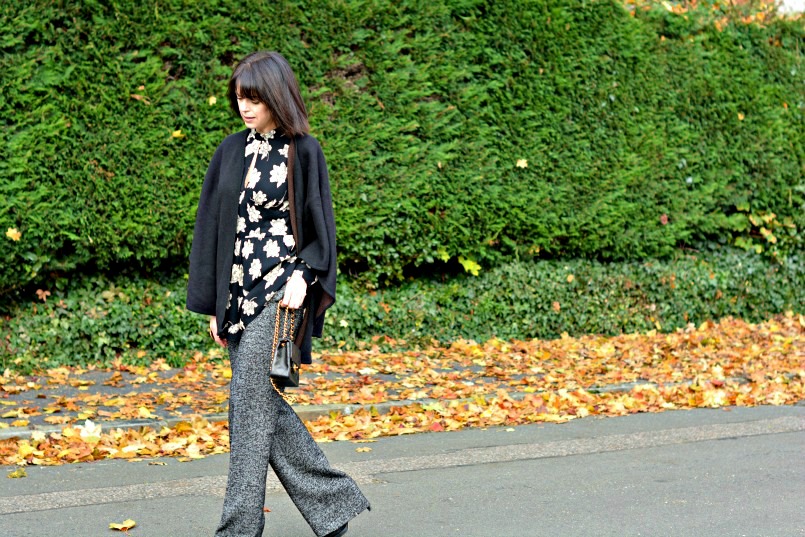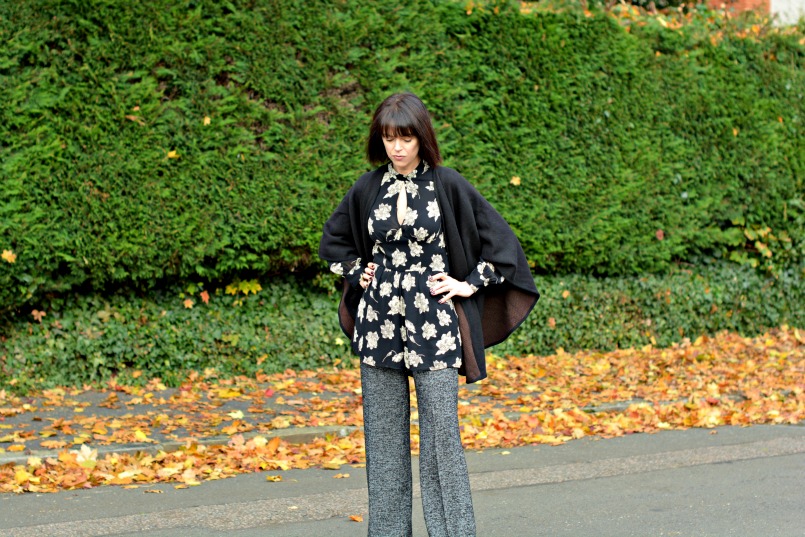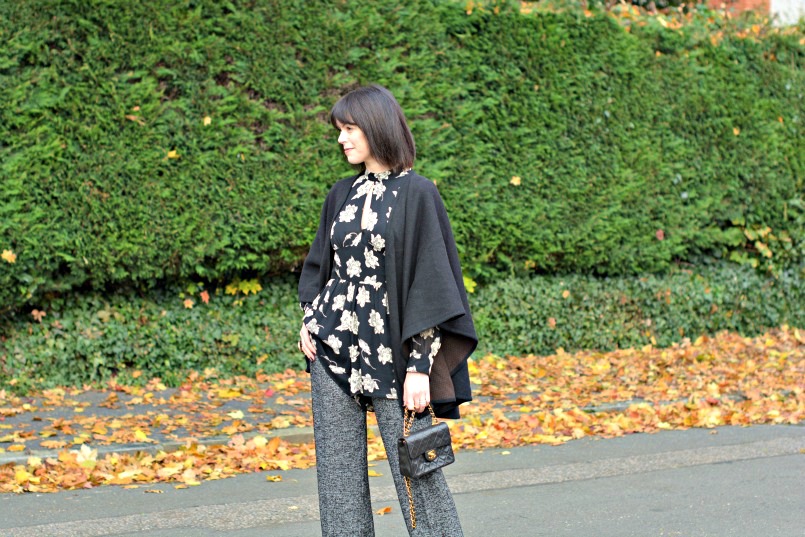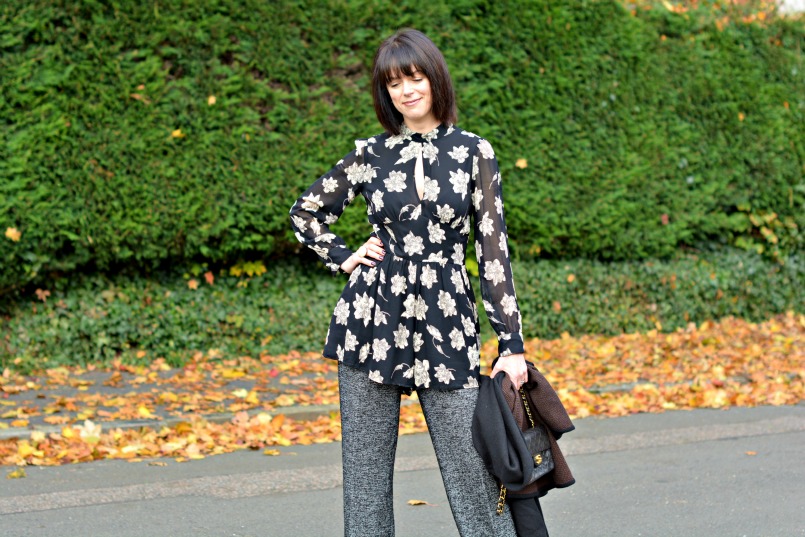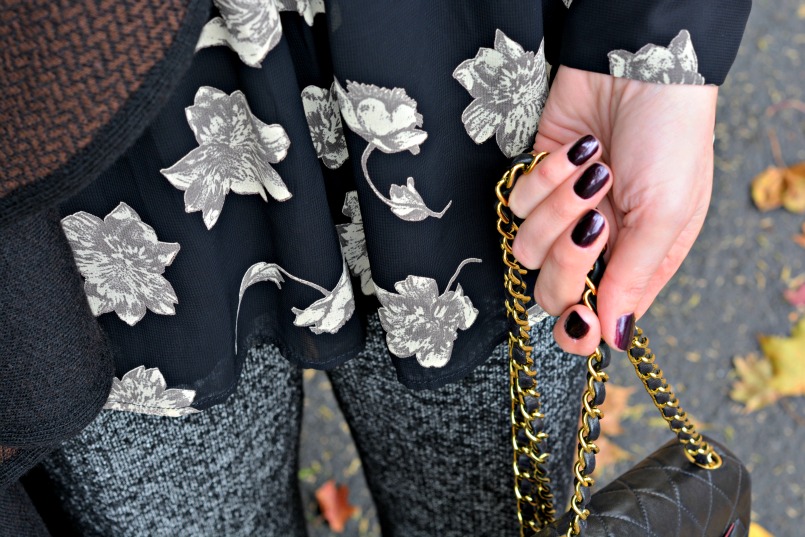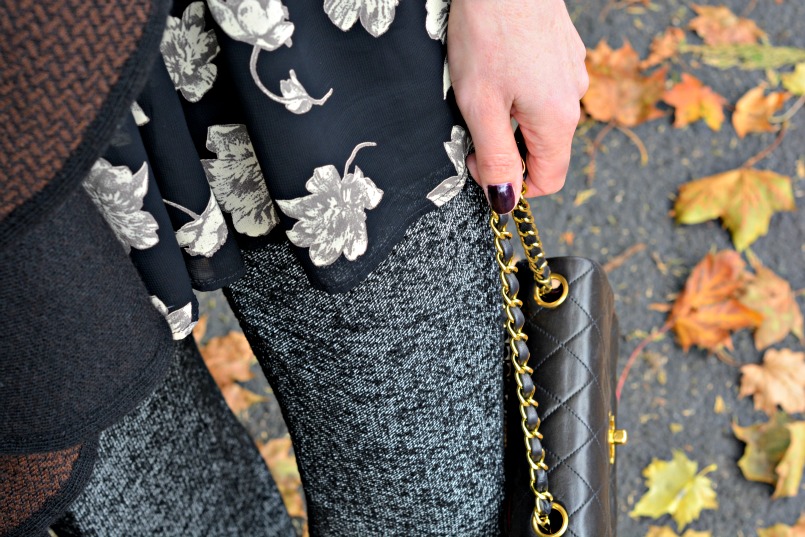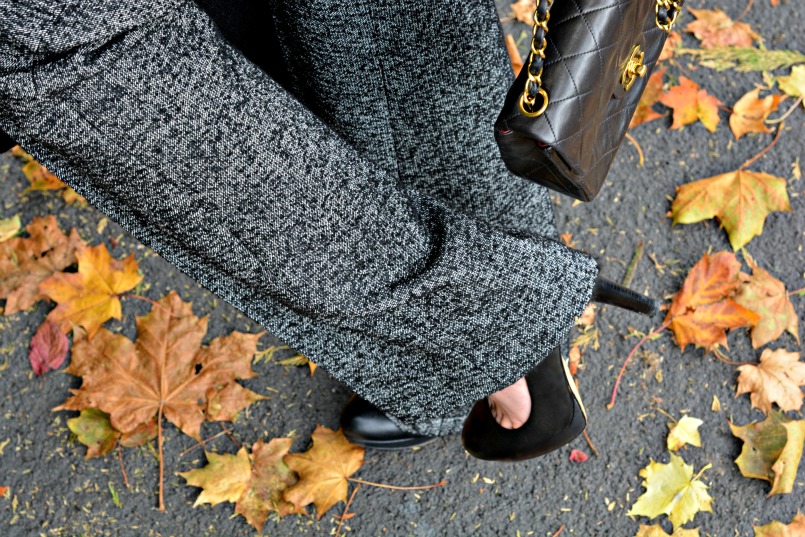 This past season Topshop playsuit is getting a new lease of life for Autumn by wearing it over my new Zara trousers.
Number one son, Jasper, says I look fat but I like the full skirt flare of the shorts over the wide leg of the trousers. As if I'd listen to an 8 year old anyway hahaha? This playsuit, or romper as they call it in the U.S, has a lot of lovely detail. A sexy slit in the front with buttons at the back of the neck & on the cuffs & a fitted band on the waist gives a flattering shape to the fullness of the shorts.
My new wide leg trousers are from Zara. Zara have a terrific range of trousers this year, I also really like this herringbone pair.
I've been saving for these Louboutins a very long time. However until I make them mine I'm wearing the LK Bennett pumps I bought on Ebay. Every girl needs a basic black pump in her wardrobe, whether it's a platform, stiletto, almond toe or pointed is entirely down to her hearts desire.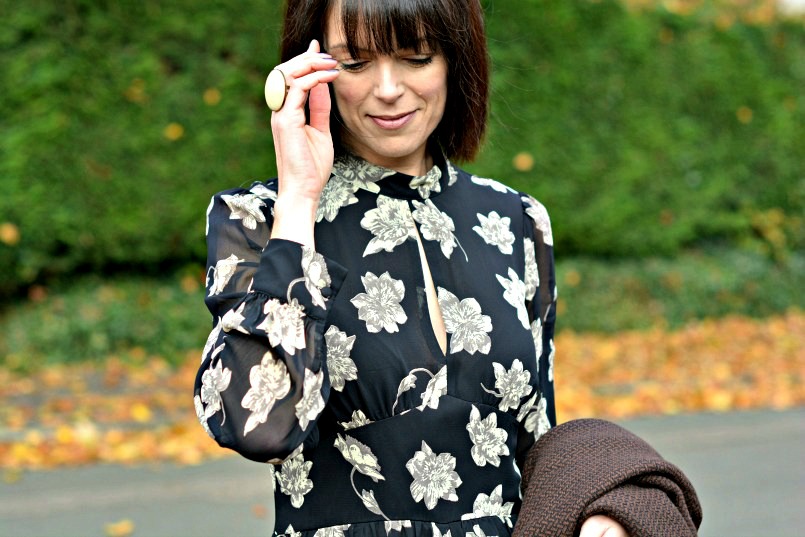 Shop my outfit
What are your black pumps like? Or do you call them court shoes? I wonder how many different shapes & heel heights there are? Do you have a dream pair you desire? I also absolutely adore Gianvito Rossi Plexi pumps but I'd go for a colour if I bought those….maybe next year. I hope my 5 Rules for a Hard Working Wardrobe have been helpful to you, let me know what you think.
Happy New Year & see ya in 2016! Mx