When you have Retro in your blog name & you were actually born in 1967 it kinda says everything about the design you favour right?
Yep that's me in a nutshell, adore genuine vintage & retro furniture, lighting & architecture in fact all mid century modern design. Naturally this style features heavily in my wardrobe too although with a more refined edge, less Hippy more chic if you know what I mean? Usually I struggle to find a single piece that will work for me without adding my particular style touch. Certainly long-sleeved dresses, a personal favourite, are rare yet the epitome of this era. I would go as far to say that a long-sleeved maxi dress is my sartorial Mecca. So when I first clapped eyes on Rixo London it was as if all my dress dreams had magically come true! In addition to long sleeves & trademark multi layered mixed prints they have created the most seductive cut, every style a unique bohemian treasure. This one in today's post you may have seen on my Instagram when I wore it to the UK Blog Awards.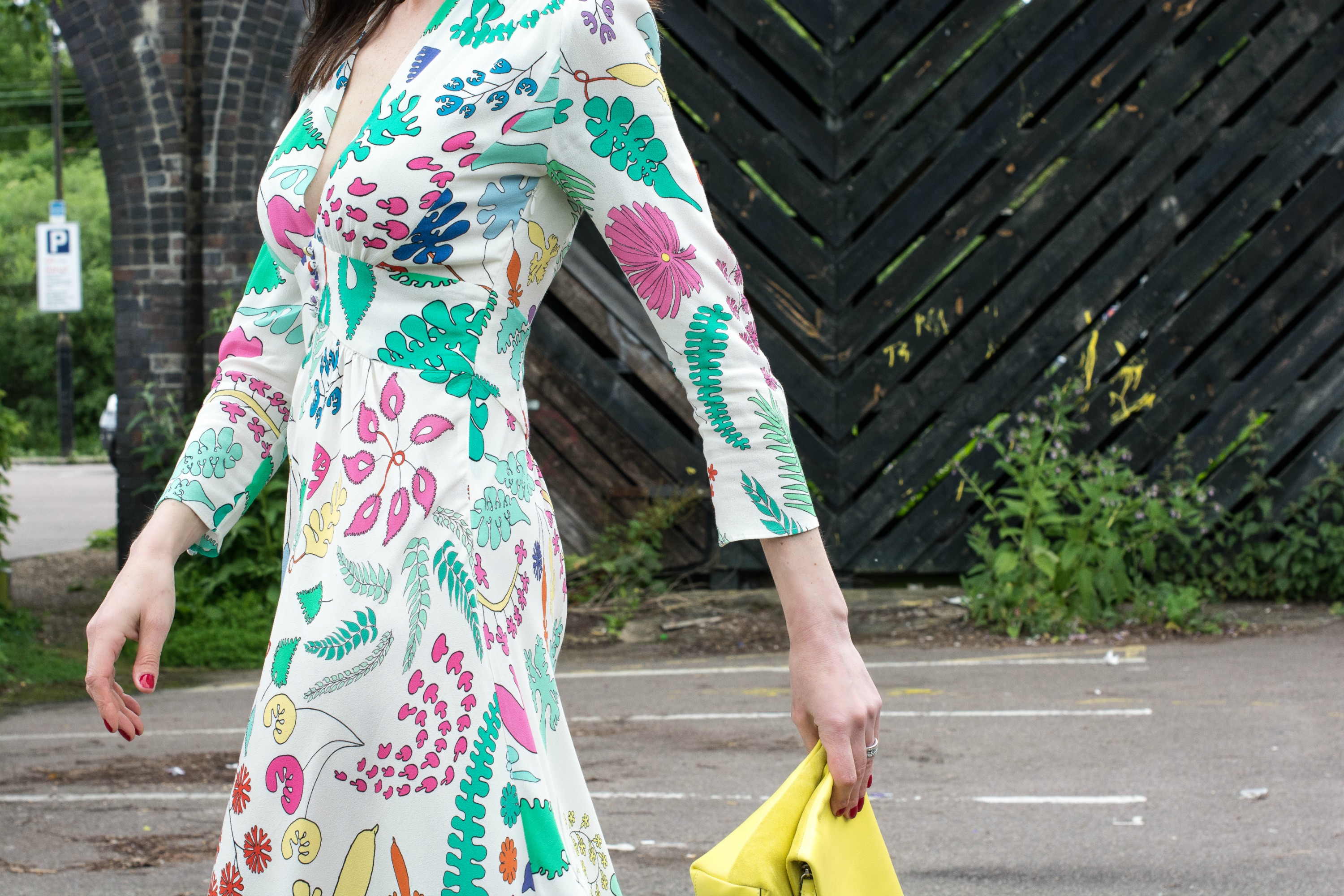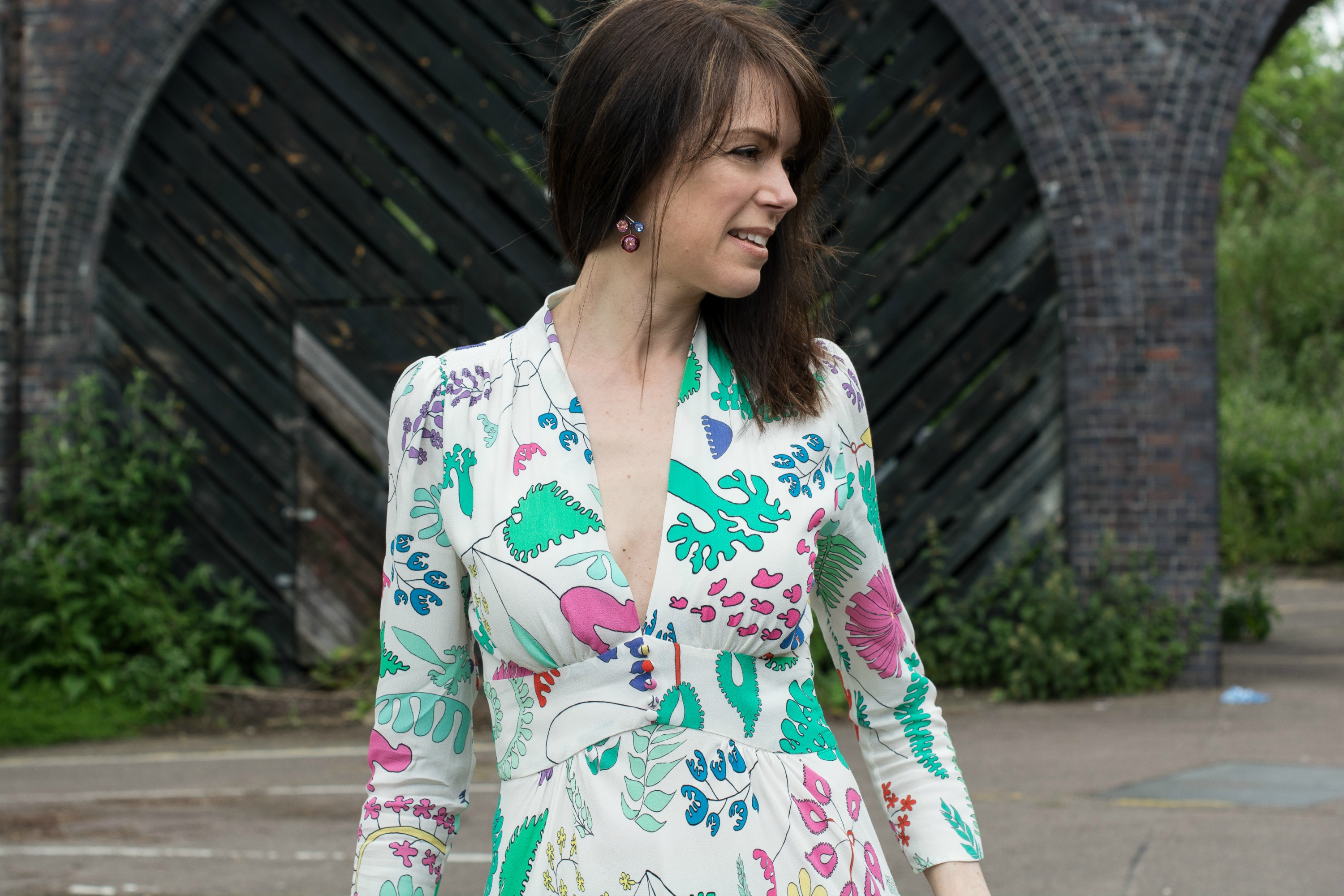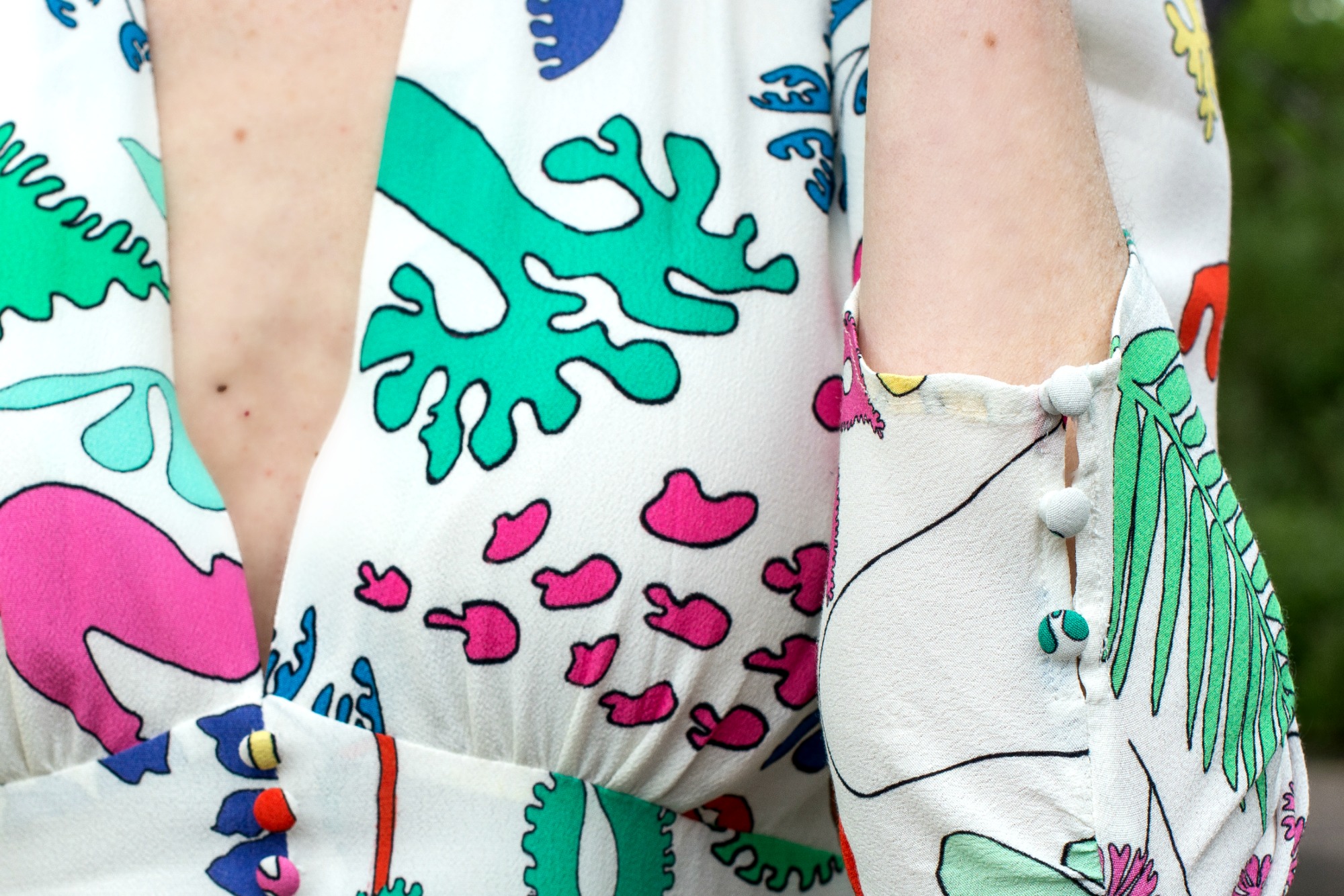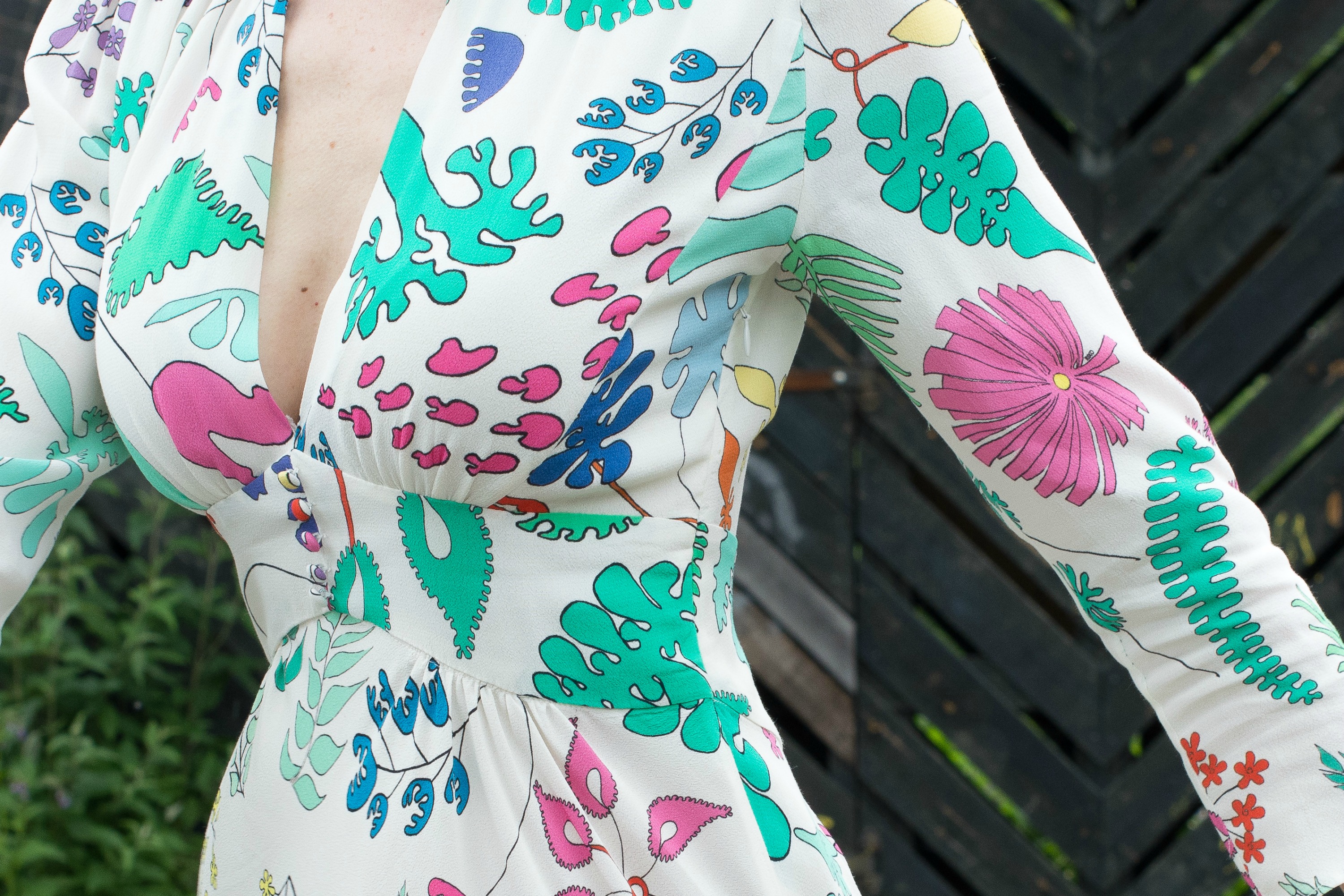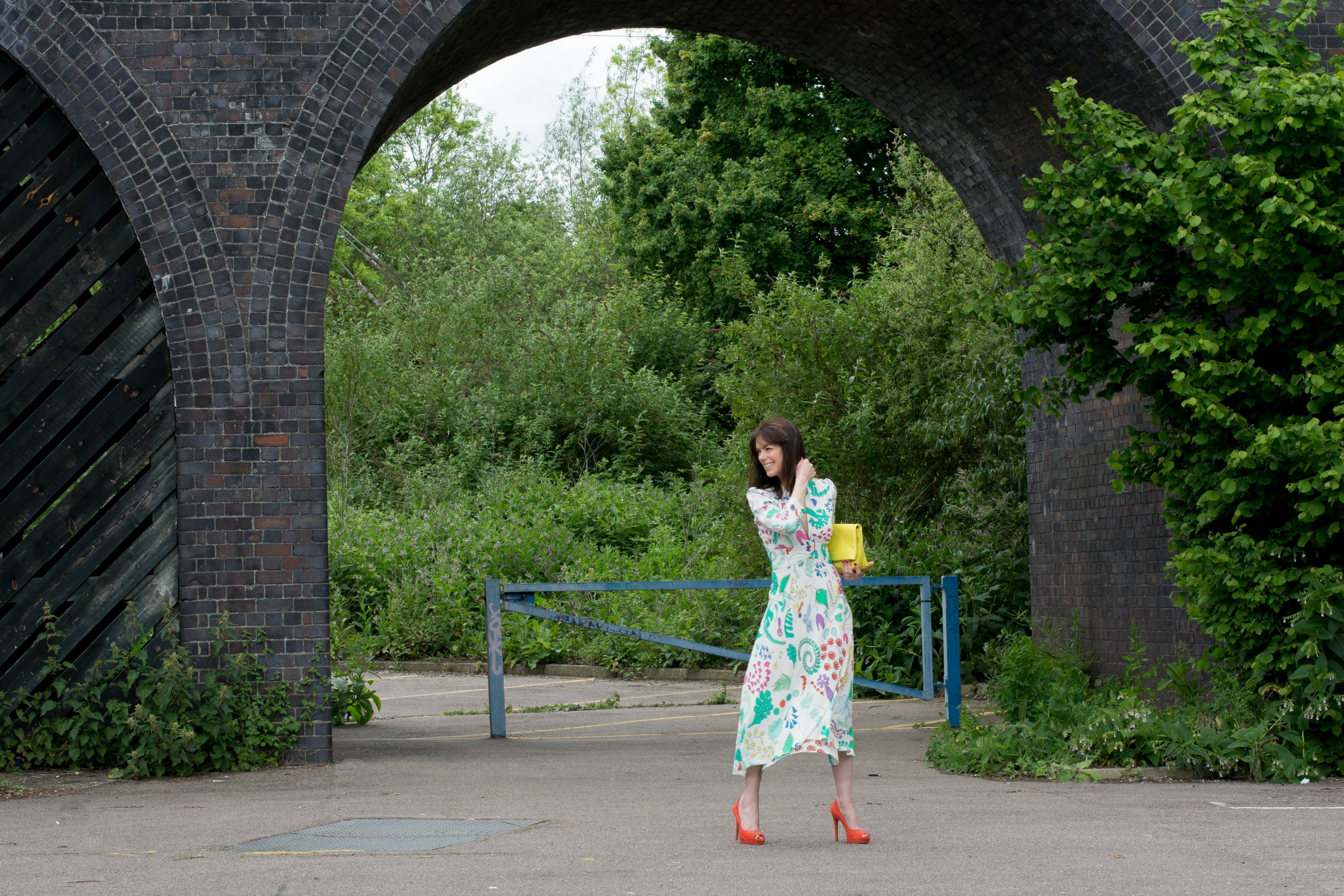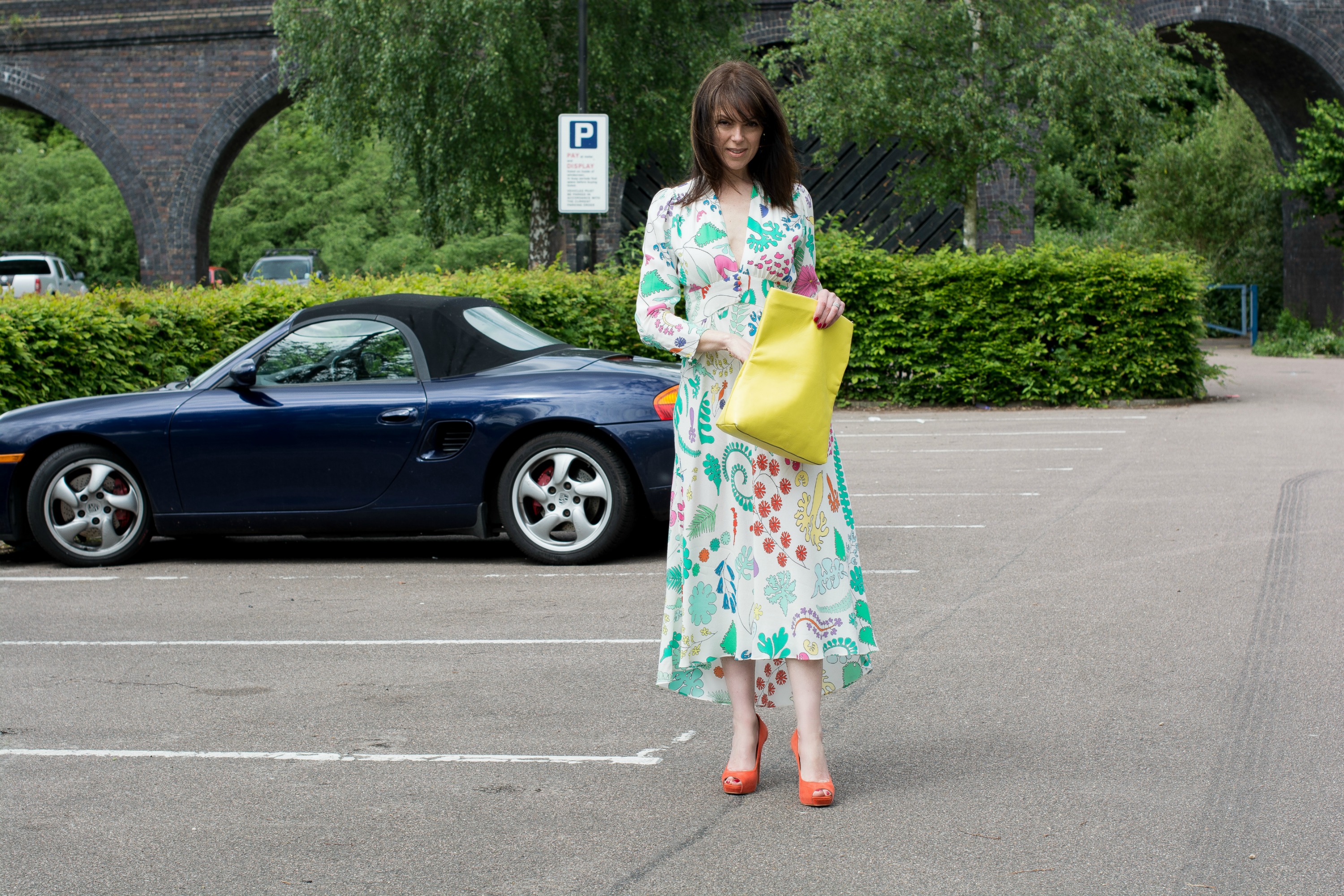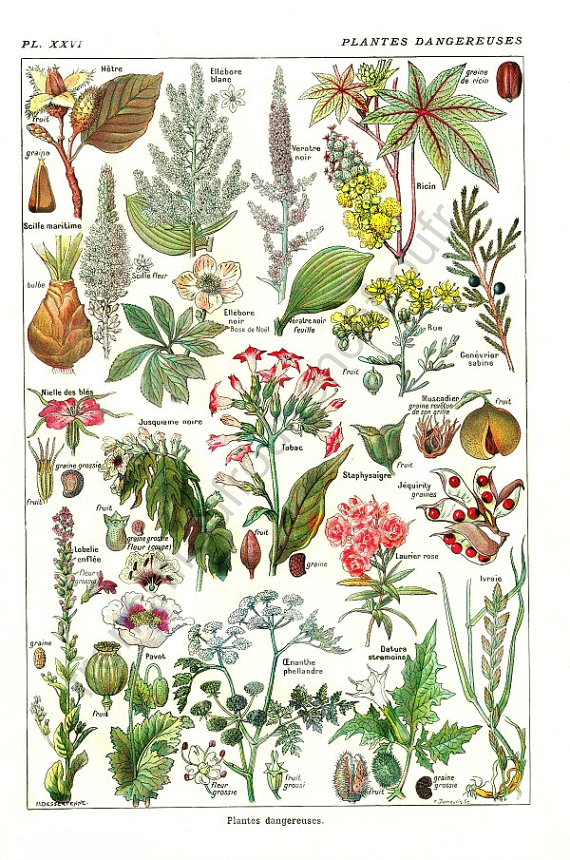 Young British Brand Rixo London
Recently I had the enormous pleasure of meeting co-founder Henrietta Rix at the Blogger Brunch hosted by The Dressing Room.
I asked her how they come up with the unusual images of their silk prints. Henrietta said she & her partner Orlagh MacCloskey spend hours pouring over vintage botanical books & flea market finds for inspiration. When you look closely at their dresses it's easy to recognise the type of sketches she's referring to. I mean just look at this stunning deep purple palm print  & swoon with me…  Henrietta & Orlagh are literally hands on throughout the entire process not least of which is actually hand painting their designs onto the silk template. Interestingly Henrietta explained that they have their silks printed up in double width which is unusual in the trade. The large swathes of material are then cut into perfectly proportioned panels & expertly constructed here in the UK making every single dress slightly unique. This means part of the print that shows up on one dress may not on another. I hope you can see the intricate detail in my photographs because the cut really is superb.
Their next line is inspired by traditional Chinese paintings & heavily features an embroidered dragon throughout. Fortunately for me I had a sneak peek at the samples & let me tell you they are genuinely exquisite ladies, you will die. The new contrasting colours are delectable along with their usual clever clash of prints making this range even more breathtaking than the last.
On the lady herself I have to say she's as vivacious as her silk prints. I couldn't help getting caught up in her enthusiasm for the brand & of course her talent is glaringly obvious. There's no doubt she & Orlagh have moved mountains in the short time since Rixo began a mere two years ago. Nor do I doubt this astute pair will take over the world with their distinctive designers eye & attention to quality. This is a label that appeals as much to 20 somethings as 50 somethings at a price point any fashion forward woman could afford. After all these are collectable pieces as covetable as any high-end vintage gem, worthy to pass down to our daughters & made to last. My only request to Henrietta & Orlagh is that they consider minibeasts for the next silk print design, Oh imagine how wonderful that would bee…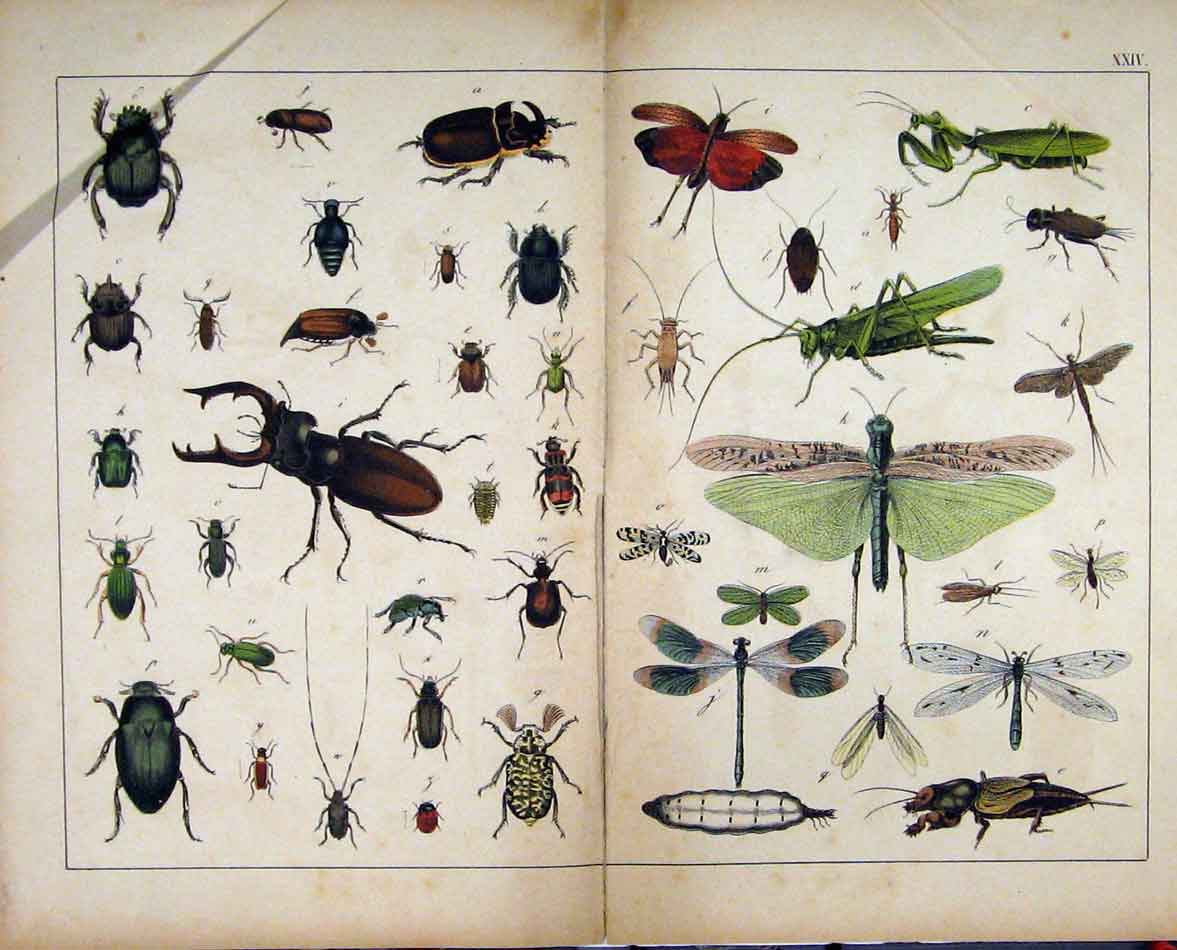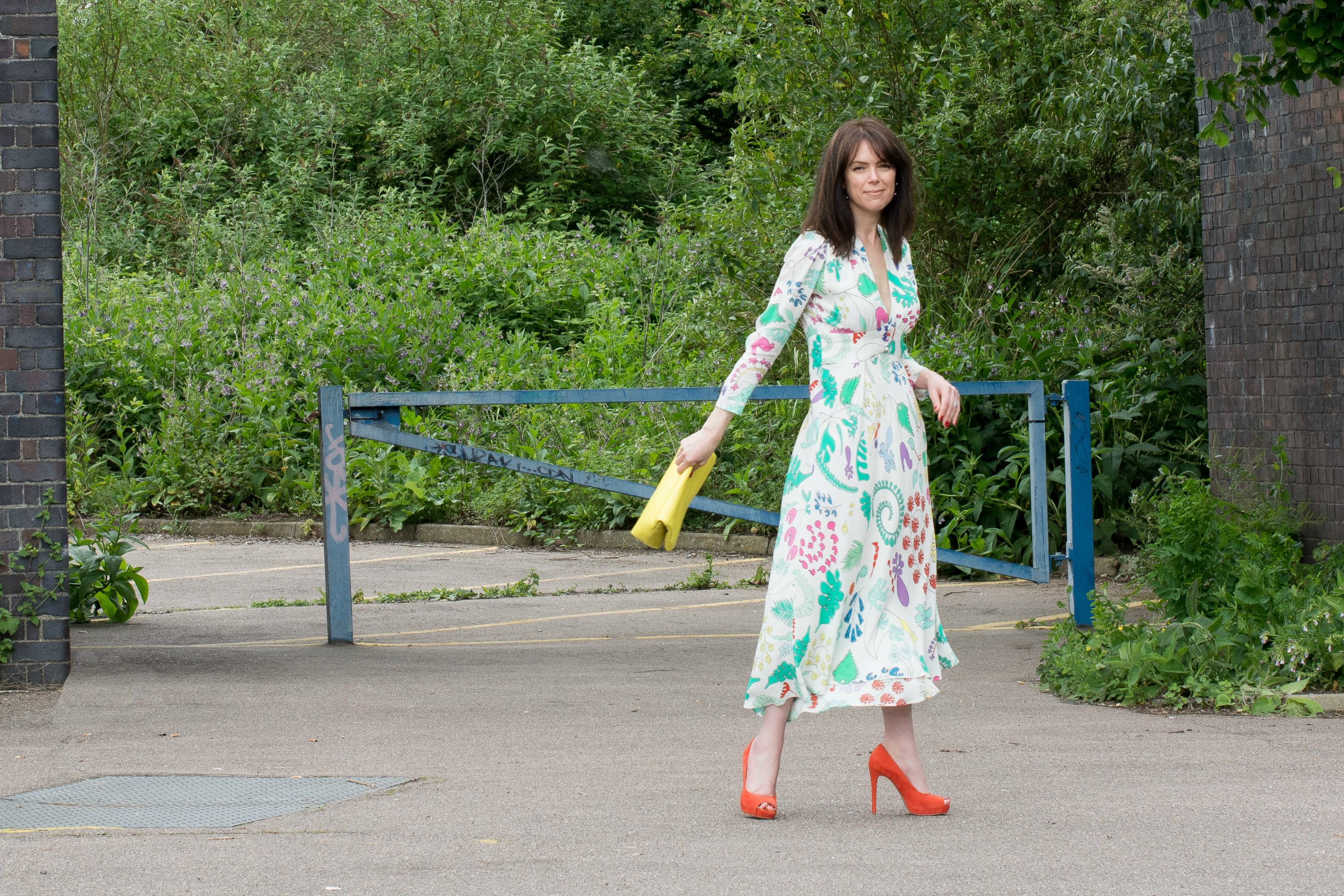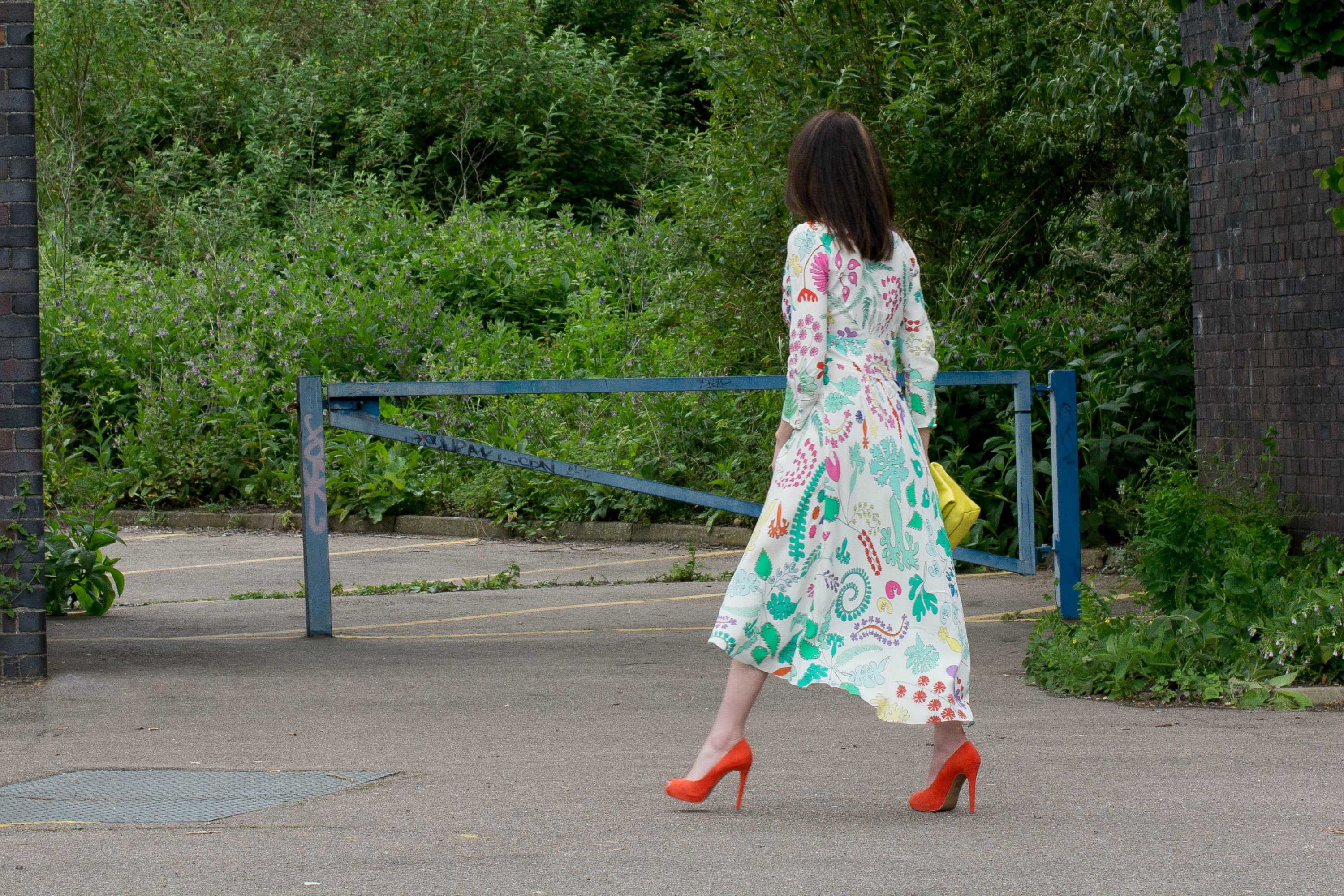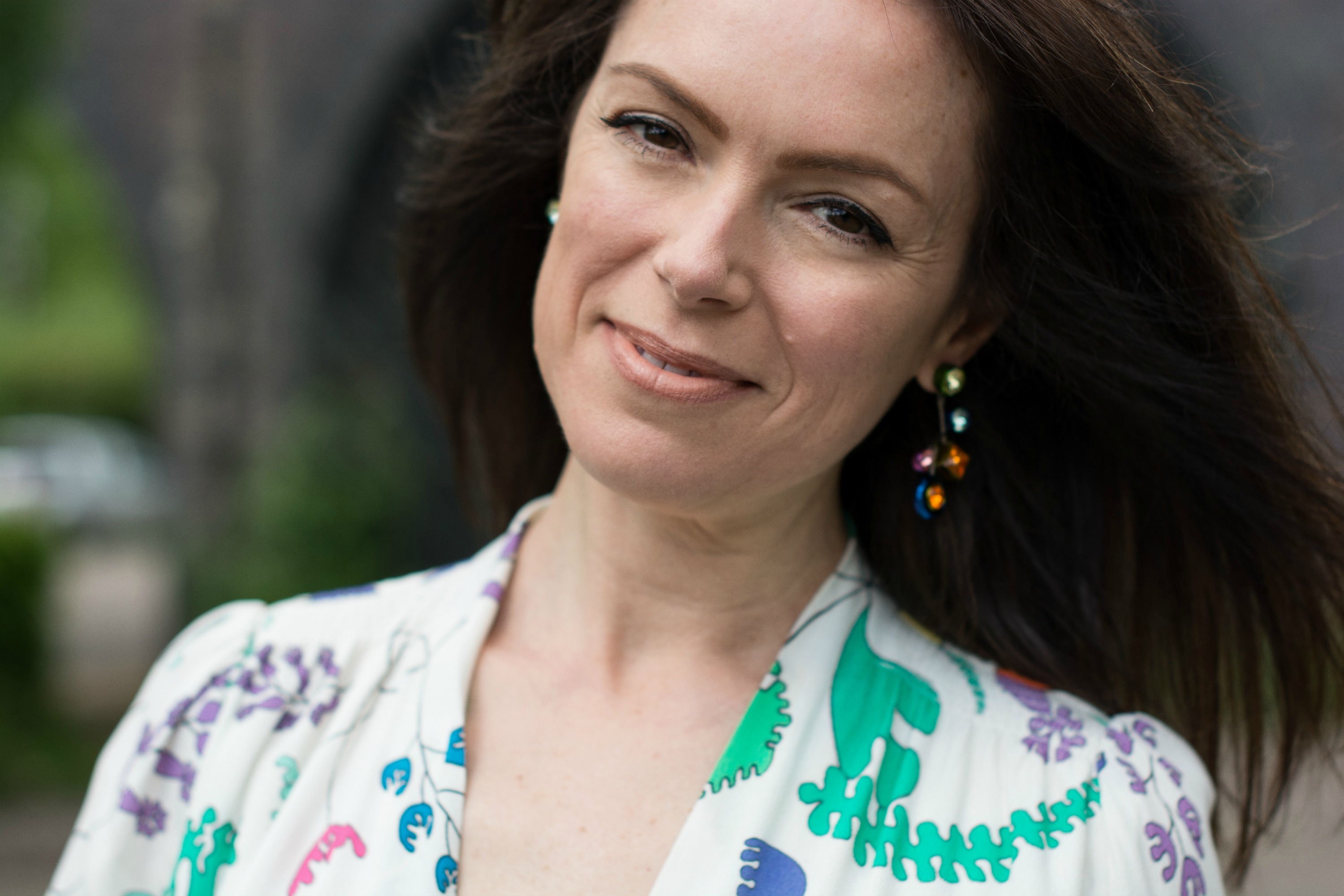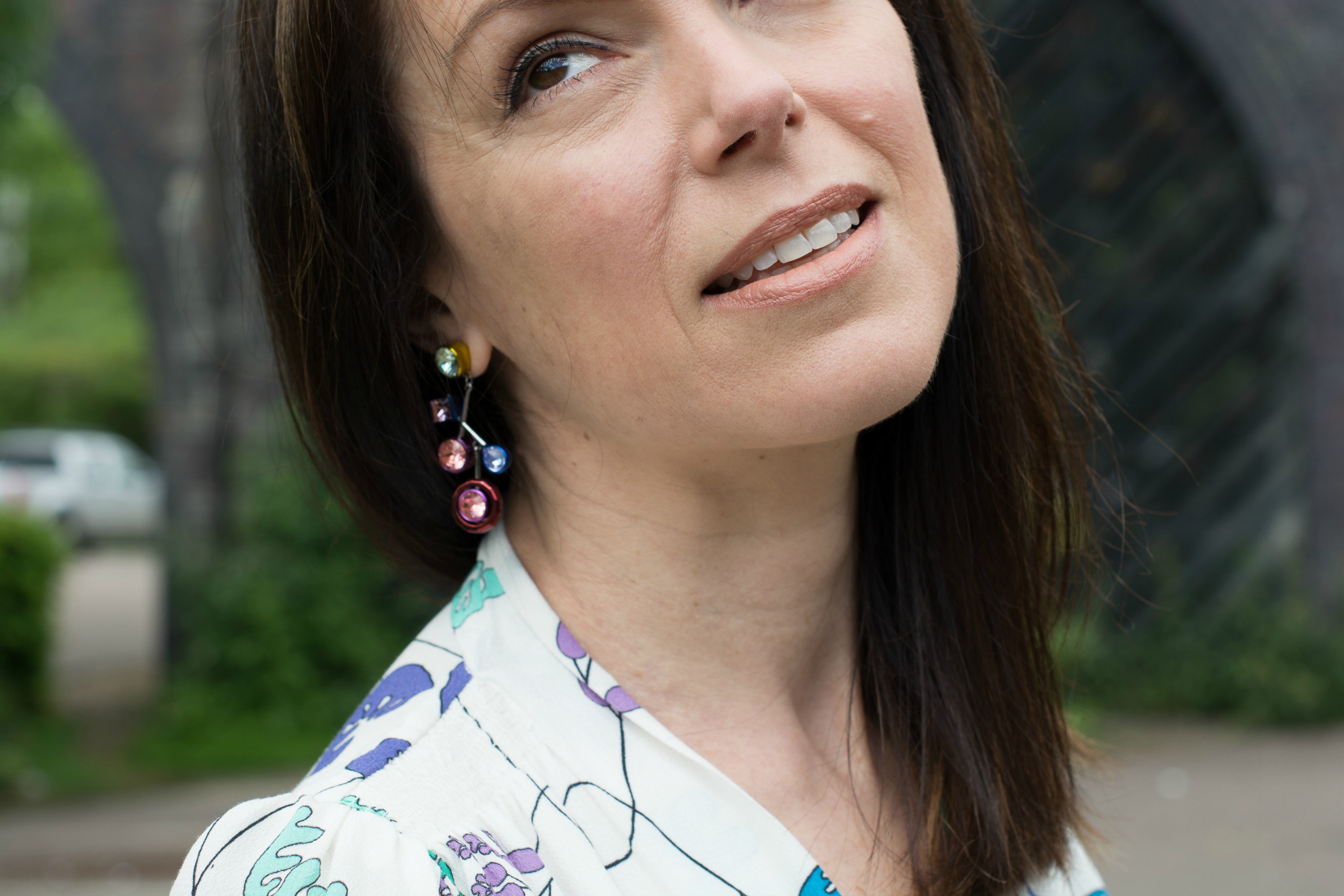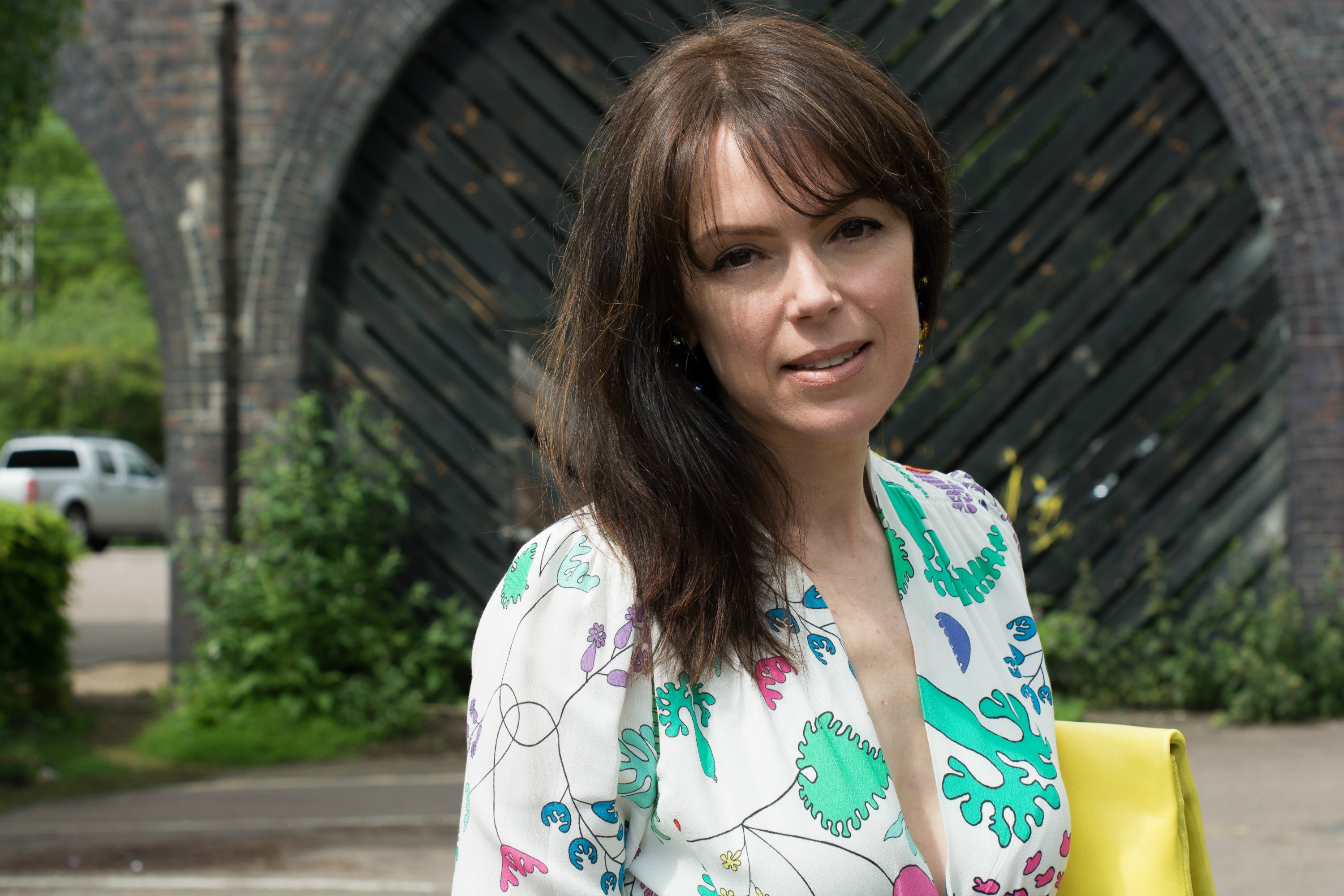 How to get a straight eyeliner flick over 40
Getting a straight eyeliner flick over 40 is bloody difficult for two reasons. One I can't actually see anything close up any more and two my eyelid is now hooded Ugh…
So what I've found the easiest course of action is to use an eyeliner pen on its edge & keep the line thin. If you go too thick on the flick it'll distort at the outer edge which makes the whole thing look wonky & actually accentuates the hood, not the look we're going for right? I have previously posted a tutorial about this technique here if you'd like more detail.
As for the perfect eyebrow, I go to Beautiful Brows stencil brow kit every single time. My tutorial on that is here if you haven't seen it yet.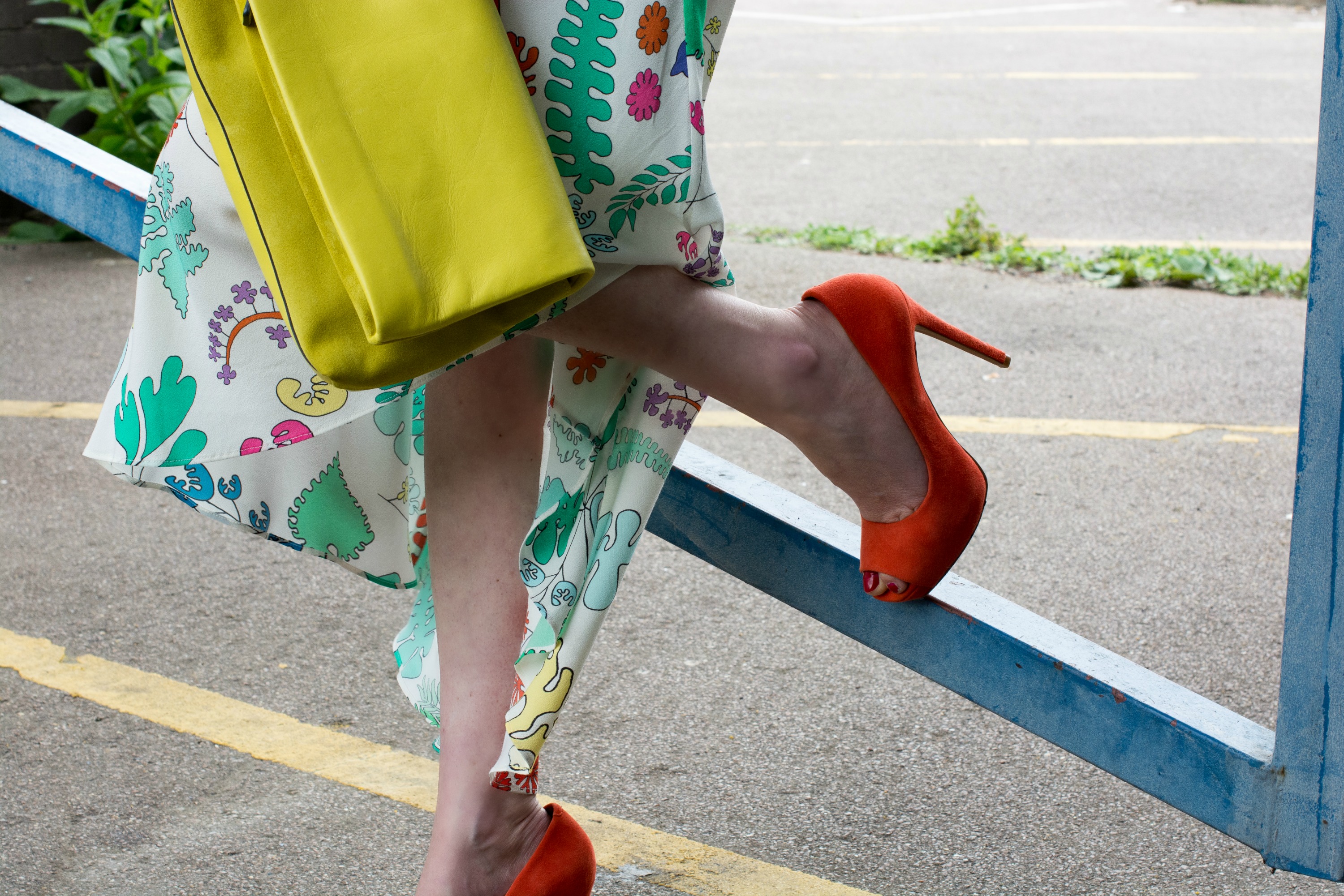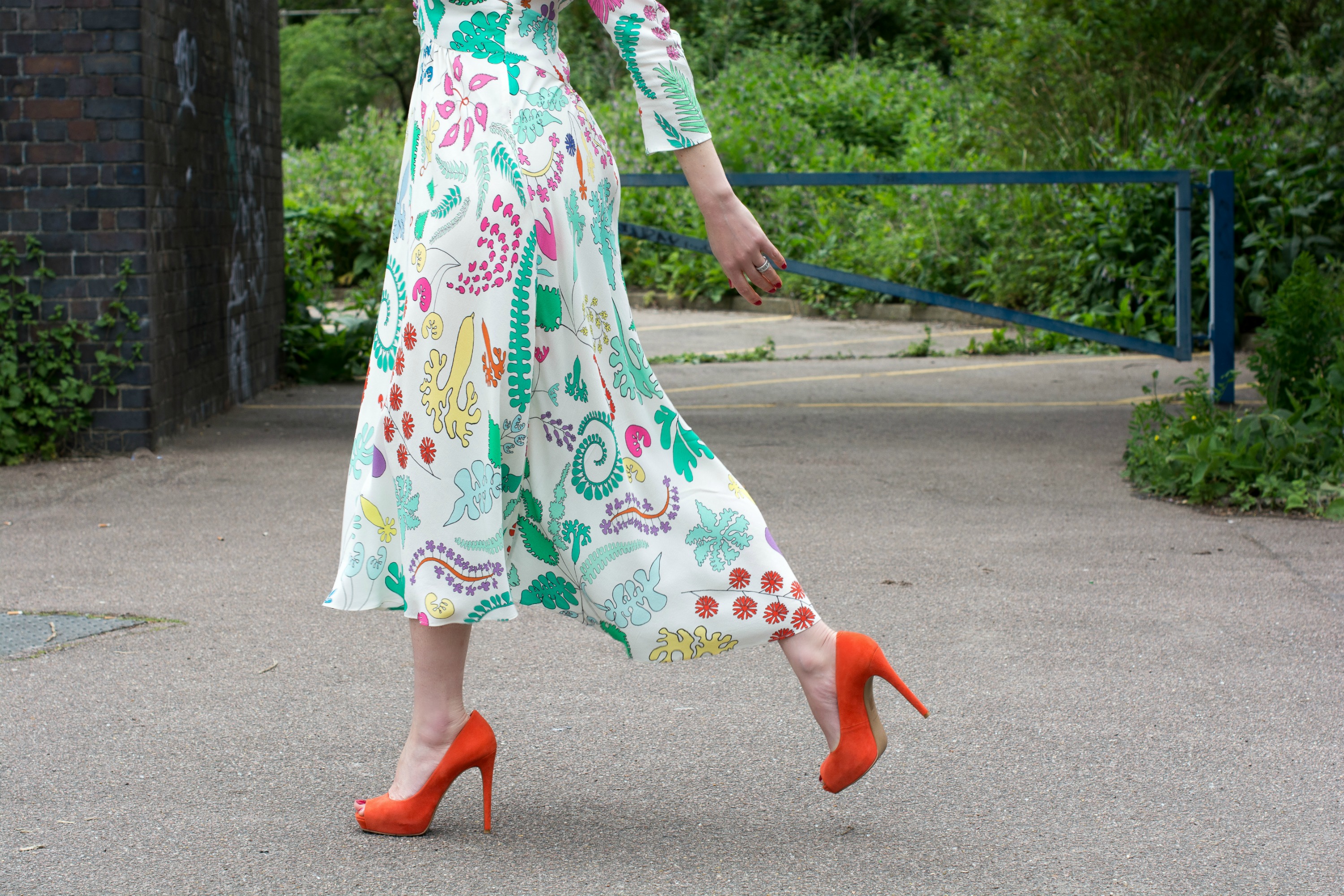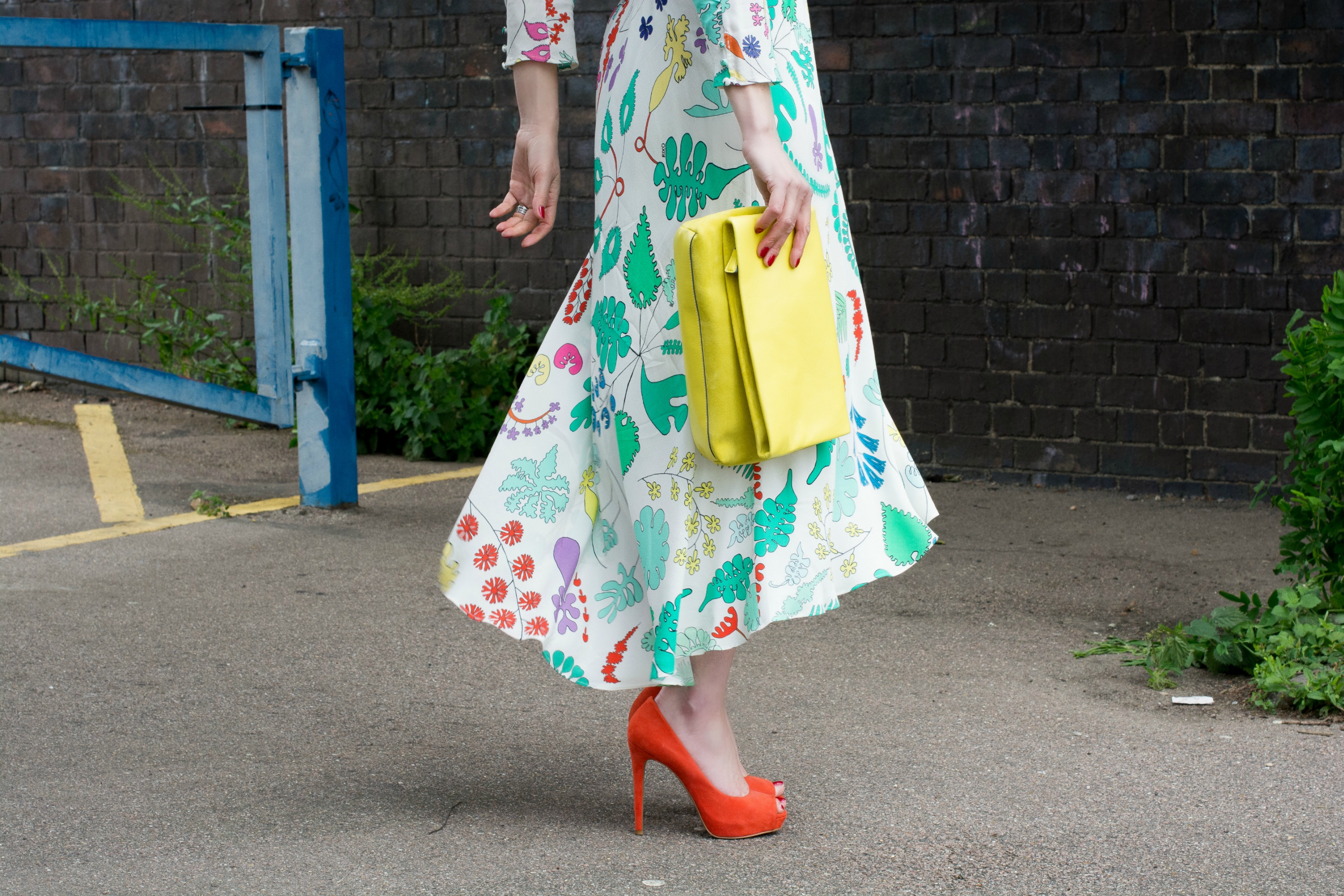 Going full on with citrus accessories
These Whistles tangerine pumps are a second-hand buy that I've styled on RCM here & here. I actually wear them a lot because not only is the colour a showstopper but believe it or not they're also super comfy! My bright lemon suede clutch is from Jaeger – Also styled here
Now I know you're wondering about the stunning Swarovski earrings. My sparkly girlfriend Lisa of The Sequinist kindly loaned them to me for the awards & then again to re-shoot the outfit. Sadly a one-off collaboration between Peter Pilotto & Swarovski, however if you like these you will love Lisa's own jewellery designs for sale now over on her blog shop.
Exclusive Winser London Competition
Speaking of  The Sequinist – I'm thrilled to announce she & I together with Nikki of Midlife Chic in collaboration with Winser London are holding an amazing competition beginning Tuesday 23rd. The girls & I have each chosen our favourite wardrobe staple from the Winser London collection that the winner will receive on Wednesday 31st May. Yes that's correct all three pieces! I chose the Tilda silk shirt, Lisa chose Milano cotton hooded coat & Nikki has chosen the Single breasted blazer. You get to choose the colour & size but of course if you need help deciding please do ask one of us, we know the range very well & would be delighted to help. The competition is open worldwide, all you have to do on Tuesday is pop over to my Facebook page to enter.
WooHoo I'm so excited about this awesome prize!
See you Tuesday gorgeous ones, Mx