When the cold weather suddenly hits with a vengeance are you caught short for suitably warm yet stylish outfits? Worry no more my friends! Here's a little trick I use to get more wear from my light-weight clothes through Autumn & Winter. It may sound simple but that's because it is…
Tah Dah the classic poloneck jumper! The most underrated of wardrobe staples, a good quality poloneck will layer comfortably underneath just about anything. The trick part is really that it must be fitted & of exceptional quality. Without those two points covered this won't work. Why is that? Well can you imagine feeling comfortable in a bulky polyester poloneck? Ahem, no. The material will get whiffy throughout the day for starters plus the cheap ones tend to itch, ick. Indeed it is of the utmost importance that you don't even notice you're wearing it otherwise once you start layering on your blouse or dress it'll ruin the entire look. Furthermore I can't be doing with the over-heating especially now that I'm in Menopause. Equally I'm not prepared to peel off my layers throughout a busy day. You know what I mean right?
In any case if you get the right poloneck you are all set to double your Winter wardrobe. It's that simple. The perfect poloneck in my wardrobe is this black one from Winser London. You all know I'm a huge fan of the label so it'll come as no surprise to hear this but Ladies I kid you not & here's why – The Winser poloneck is made from incredibly soft Merino wool & comes in a whopping eight colours! What makes this particular poloneck so awesome is the wide flat rib stitch allowing the jumper to mold to your shape without being tight & restricting movement. At just £79 I'm going to add the pretty duck egg & versatile camel to my closet. After all these little beauties will last a lifetime & won't ever date. As for the sizing, I'm wearing a small so I'd say they're true to size.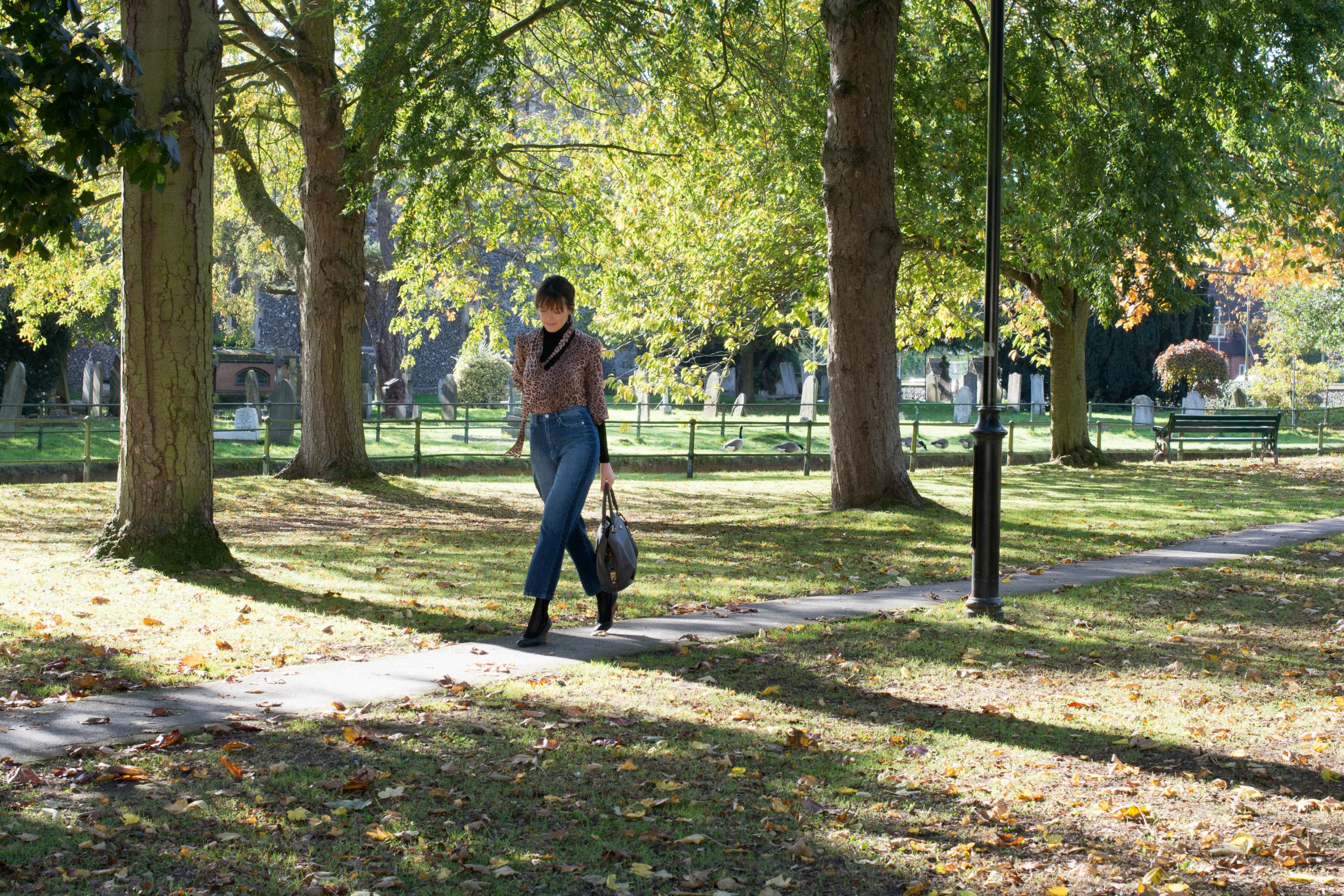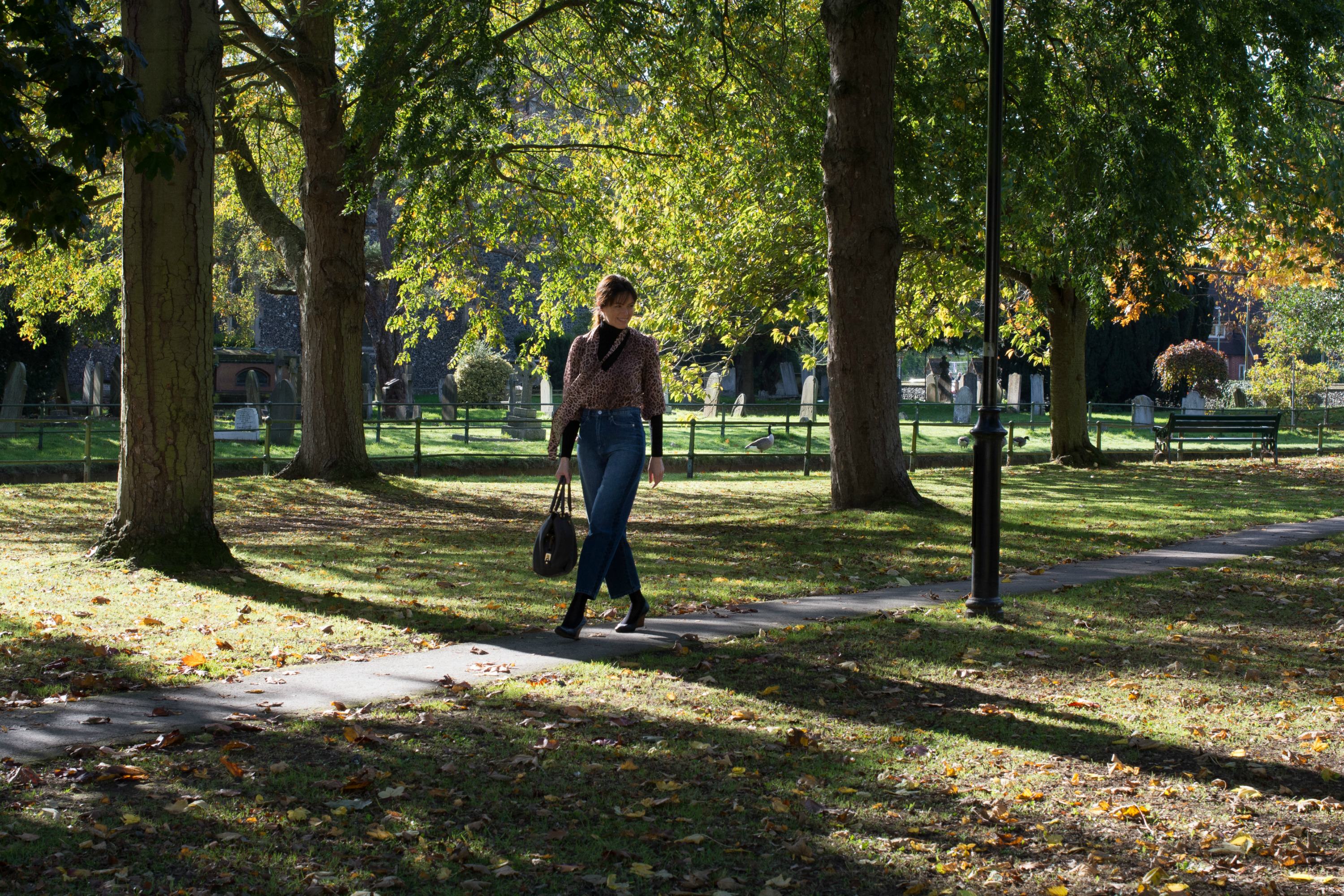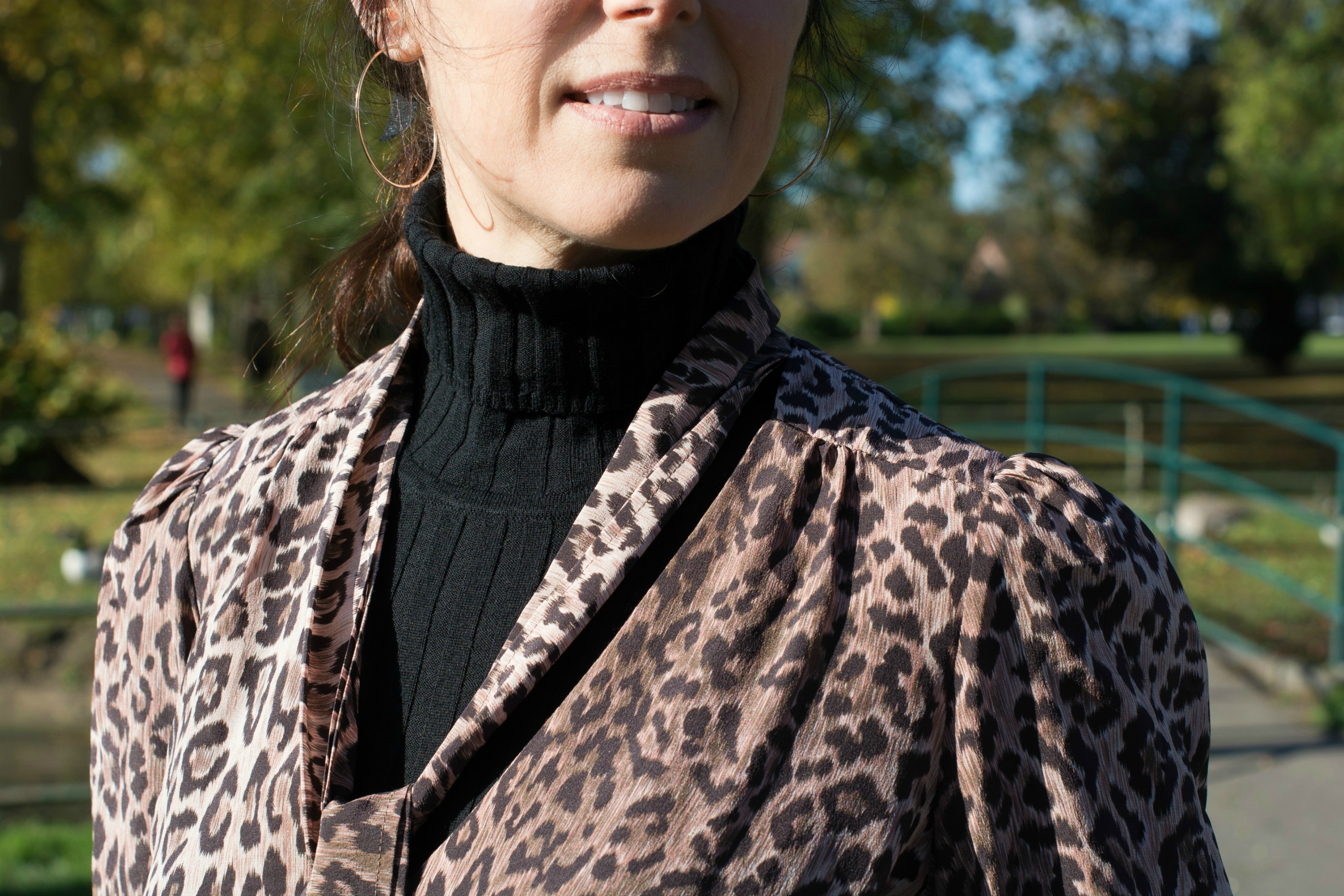 THE RETURN OF THE PUSSY BOW BLOUSE
Have you noticed the Pussy Bow blouse is back again? Funny name, fabulous concept – A blouse with its own neck tie! I've coveted this leopard print one from RIXO for ages. If you're unfamiliar with this young British brand you can read a little background on them in my post here. I was fortunate to have met co-founder Henrietta Rix & speak to her at length about their design process. So as a huge fan, you can imagine my squeals of delight when I opened that delicious black box from Net a Porter. I can't believe my gorgeous girls of the O40Co gave me this wicked blouse for my 50th, I'm spoilt rotten! Then again we are fashion bloggers who talk about clothes every day, I suppose I may have mentioned it at some point??? Cheeeky…
The fun thing about the Pussy Bow is being able to style it various ways. Wrapped around the neck twice or tied in an actual bow are a couple of other ways I like. Equally left untied looks rather sexy & relaxed. Almost a little undressed if you know what I mean wink? Here are a few more sensational Pussy's for you…miaow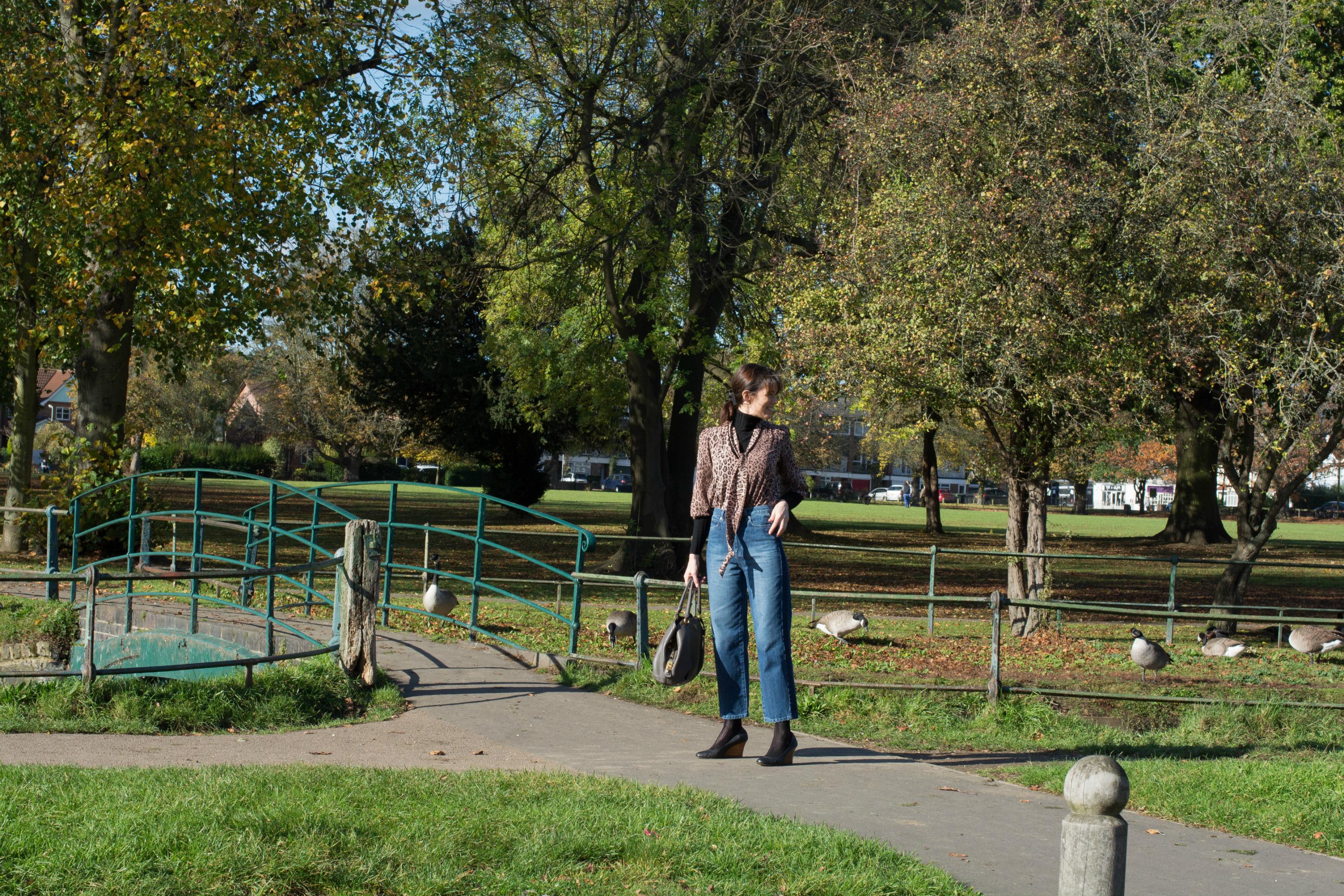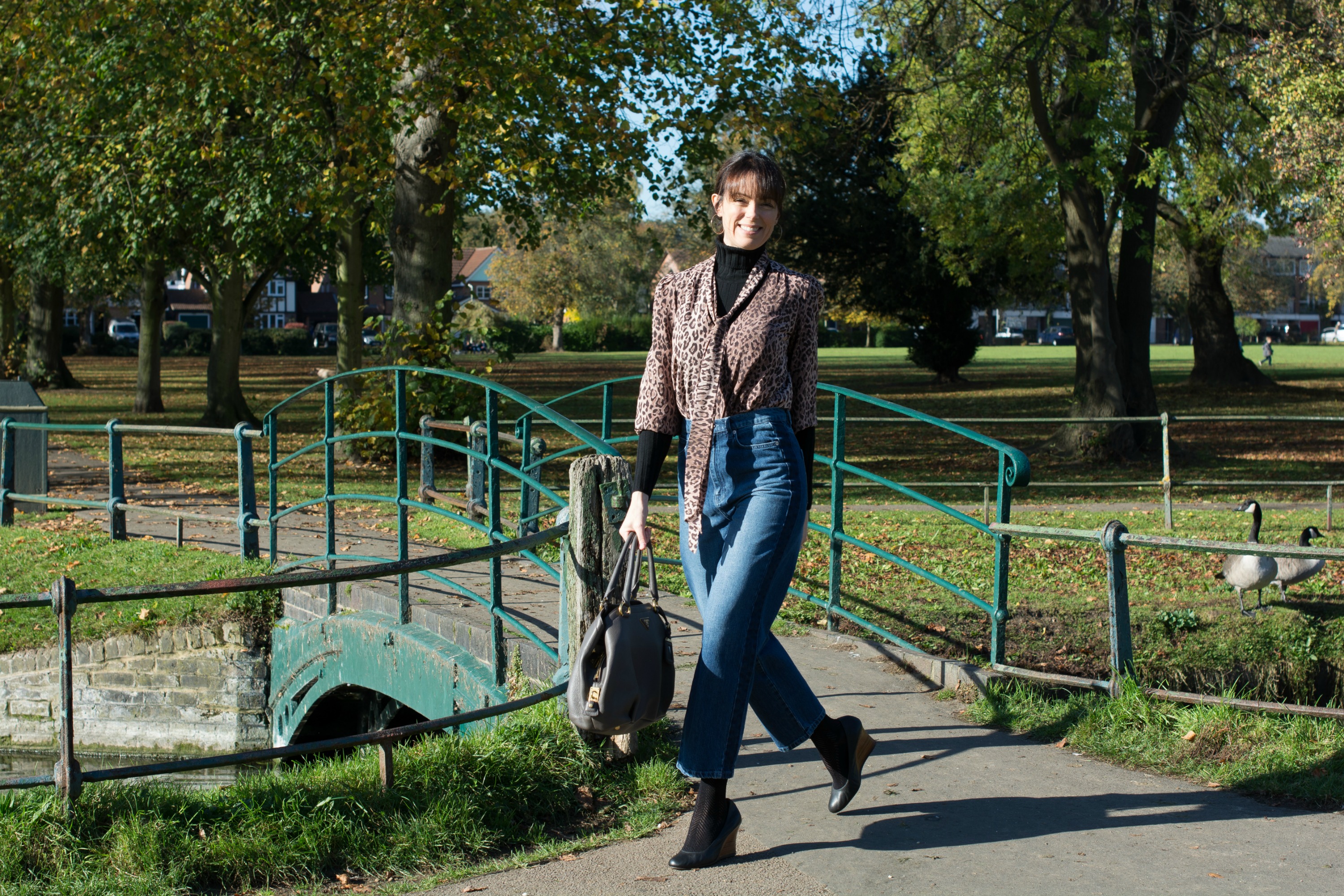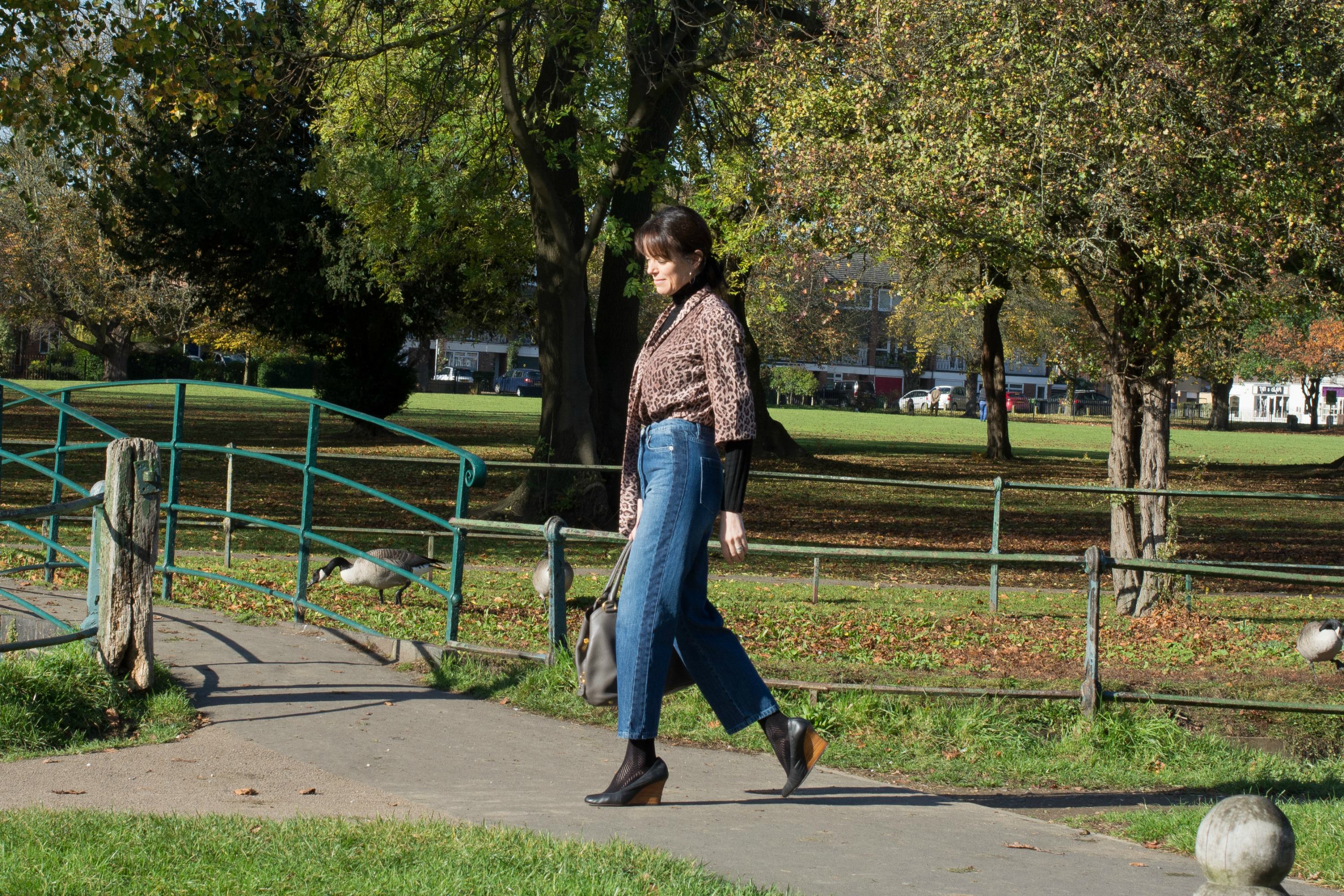 WIDE LEG, HIGH WAISTED, CROPPED JEANS
It's a mouthful alright & I didn't even include the side stripe in my title. By all accounts the high-rise jean isn't for everyone, it took me a while to get into this look. However with this pair from Whistles I have hit on a formula that works for me. A similar fit to the so-called "Mom" jeans, baggy yet not entirely shapeless, these are super comfy on. Surprisingly stylish with the addition of a dark denim stripe & funky cropped length. Yesterday I rocked them with my old kitten heel sock boots that have come back in fashion – see them here. Annnd to seal the deal they are ON SALE Hoorah! There are still some sizes left if you like them (I bought a 28 btw) or have a look through the other high-rise jeans I've picked below. A good way to gauge whether the shape will suit you is to imagine your silhouette when you're wearing a particular cut. It's all about balance. So if you're short avoid cropped & look at the narrow leg styles. If you're curvy or pear-shaped a kick flair should suit you. Is that making sense? If that all sounds too complicated why not just order a couple of different shapes online? Try them on at home & take photos to get a proper perspective, this works trust me. Then simply return what you don't like.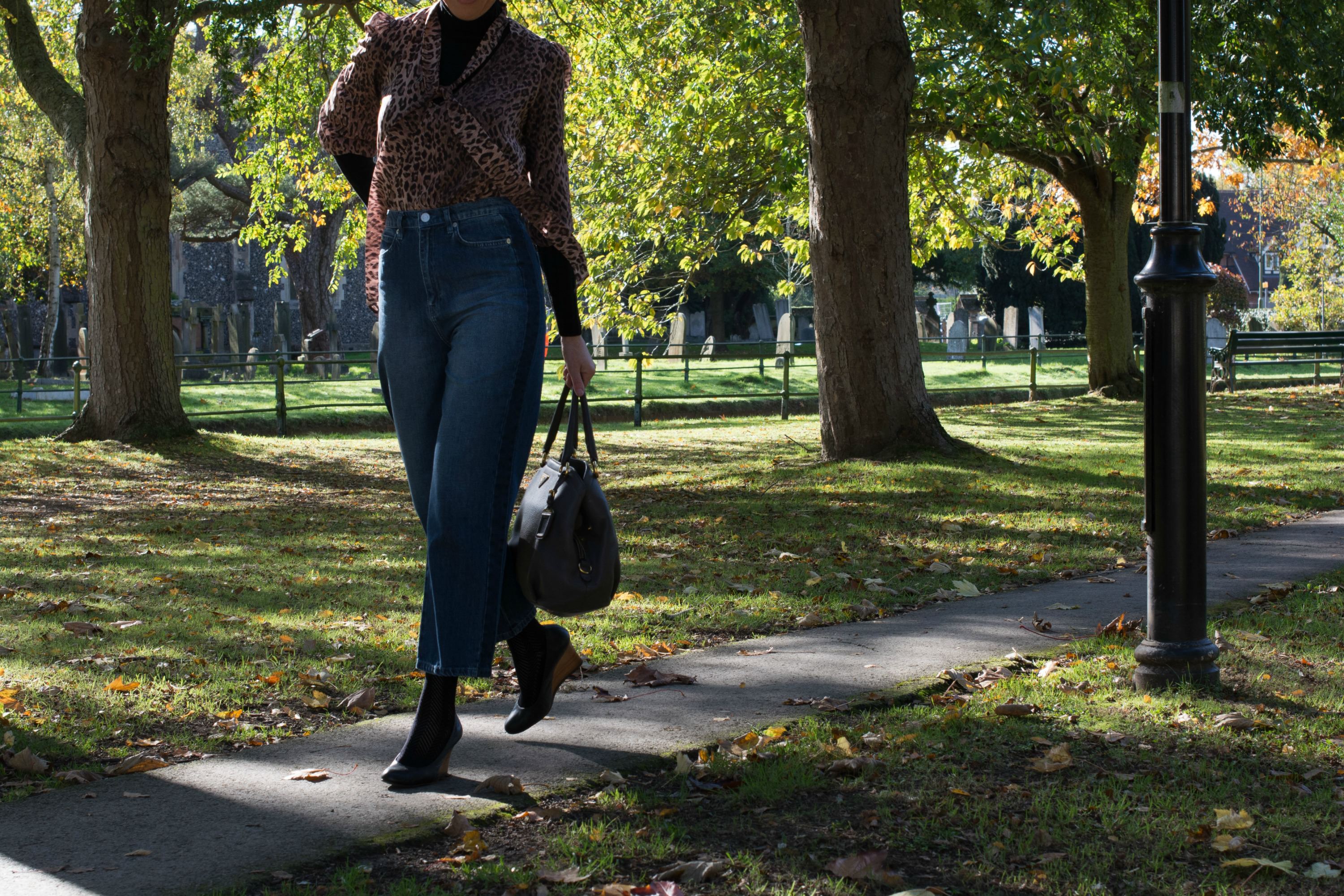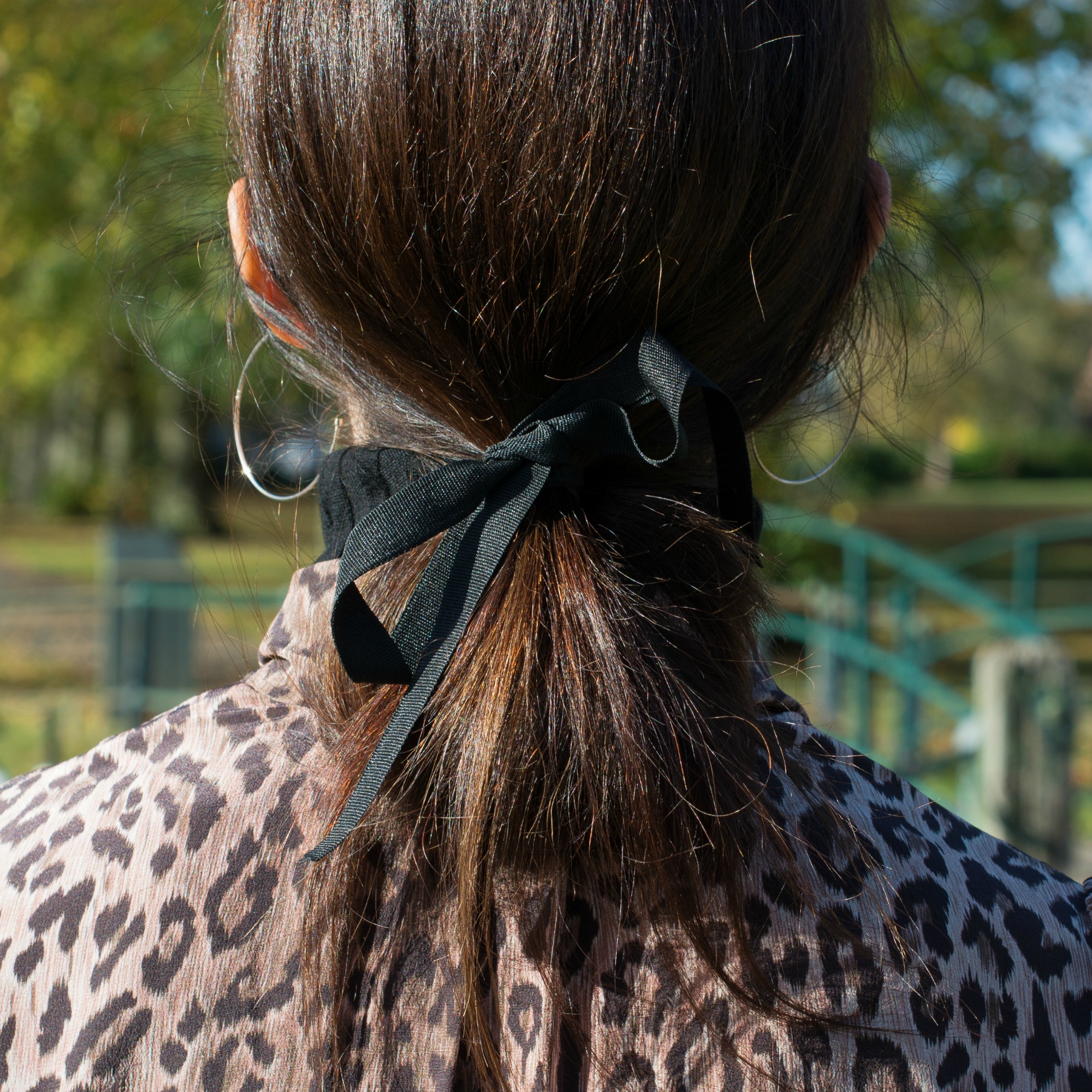 EASY TIE BACK PONY TAIL
Pull your hair into a low pony tail & tie with an elastic band. Secure another elastic band at the end of your pony tail & pull a ribbon through that band. Take the ends of the ribbon in each hand, pull up the underside to the base of the pony & tie in a bow.
Et voilà! A sweet little French chic hairstyle in seconds. Remember not to fuss or tidy loose hair, it looks best left natural. I promise it won't fall out. I can do a quick video of this if it's easier to understand, just let me know. P.S. This ribbon is just from shop packaging, I always keep them for hair decoration so there's never any need to buy. In fact I have a drawer full of various colours & sizes.
Bye for now loves, xxx
*Thank you to Winser London for gifting me the polo neck